Final Cut Pro X is a top video editing software by Apple for its Mac computers. It is popular among both enthusiasts and professionals.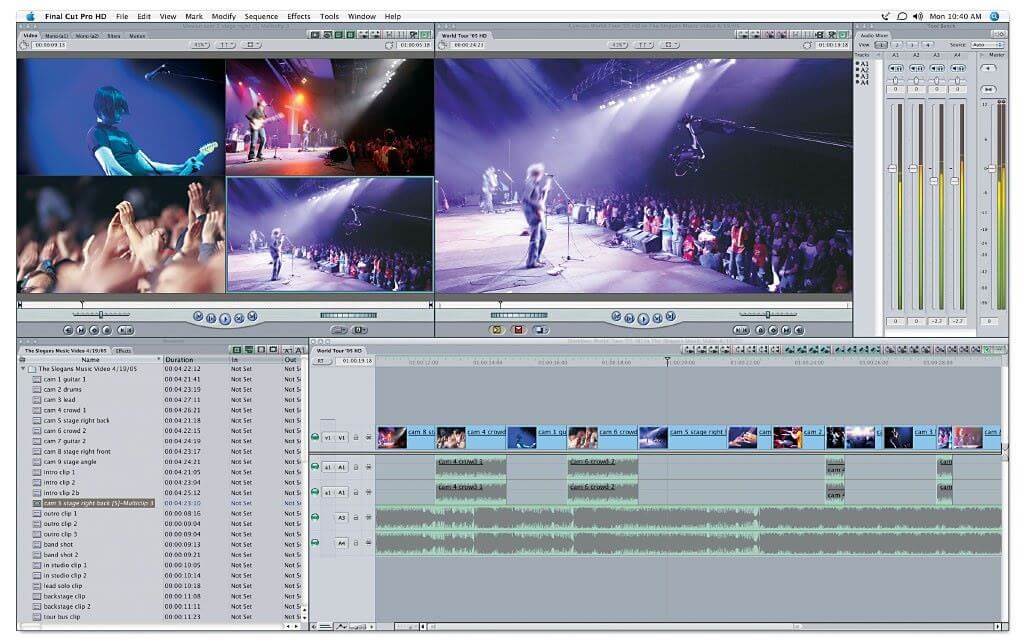 Final Cut Pro X video overlay allows you to create, edit and produce high-quality videos. With Final Cut Pro X you can do the following and more:
With Magnetic Timeline you can edit almost any video format by moving and trimming clips.
Final Cut Pro X offers the advanced organizing tools which allow you to easily tag entire clips or clip ranges with metadata for searching.
It allows you to create 2D and 3D titles, apply and modify filters, and create high-quality green- and blue-screen effects.
By using Final Cut Pro X, you can edit multichannel audio and remove background noise.
It allows you to export your edited videos in various formats as well you can directly publish videos to YouTube and Vimeo.
How to Edit a Video in Final Cut Pro X?
You can download Final Cut Pro X here.
Cut video in Final Cut Pro
Step 1: After successful installation, then launch Final Cut Pro X.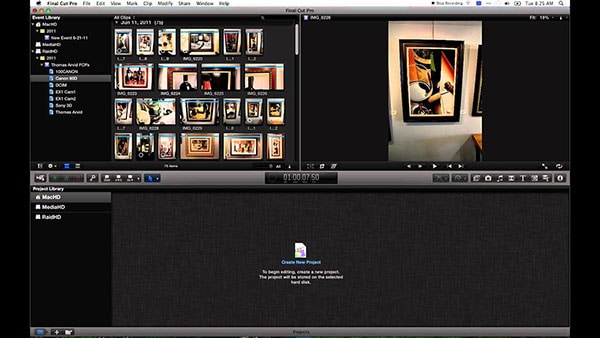 Step 2: Import your media into Final Cut Pro X.
For importing media, go to File - Import - Media or press Command+I on your keyboard.
From the media import menu find and select the file you want to import and then click "Import selected".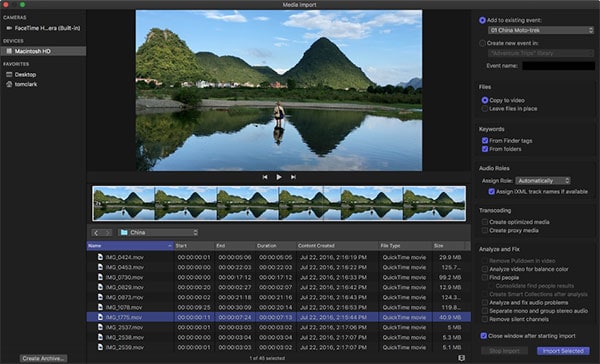 Step 3: Cut clips in the timeline.
Click the Tools pop-up menu in the top-left corner of the timeline and choose Blade (or press B).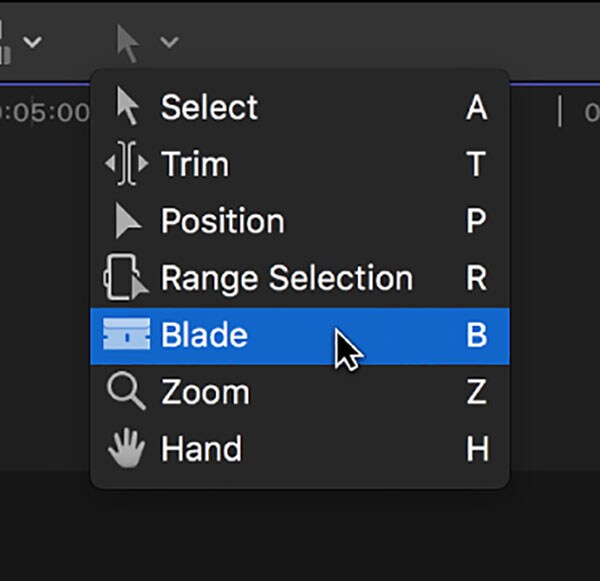 Step 4: Cut the video.
Now move the blade tool to the frame in the clip where you want to cut, then click.

Trim video in the Final Cut Pro
Click on Select tool from Toolbar. Now move the mouse pointer to the start or end point of the video you want to trim. The pointer will change to a trim icon. Now select the part of the clip that you want to keep and go to Edit - Trim.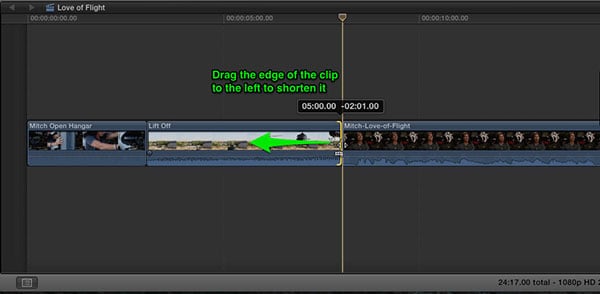 Put effects in Final Cut Pro X
Park the playhead over the clip in the timeline. Then from the far right side of the toolbar open the Effects browser (alternatively press Command-5). You can select from more than 130 video effects from 8 categories. You can preview the various effects before applying by skimming over the thumbnails of the effects. For applying the effect simply drag it over the clip in the timeline.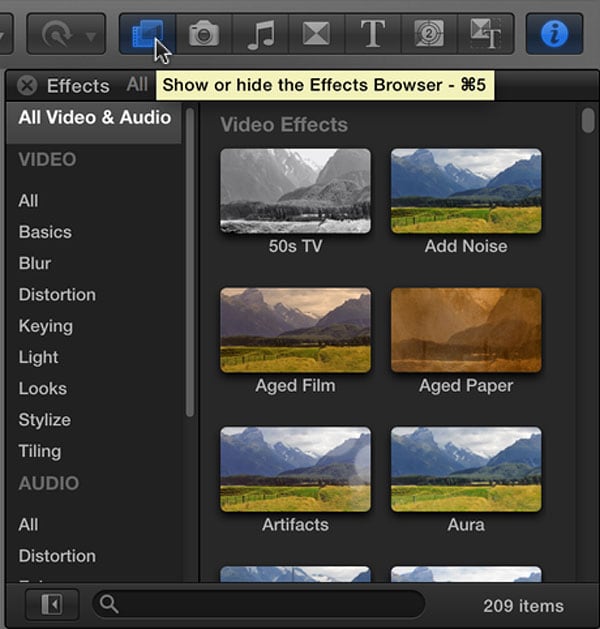 Edit with filters in Final Cut Pro X
You can alter or enhance the appearance of your videos by applying filters.
Click Effects - filters. Choose a suitable filter from the desired filter category. You can customize the filter settings to fit your clip.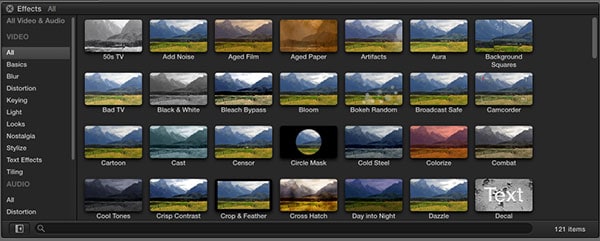 Change video size in Final Cut Pro X
Create a new Project by clicking on File - New - Project. Then click on Use Custom Settings button. Click on the drop-down menu located right next to Videos. Choose Custom from the menu and enter the desired resolution and hit OK.
Now import the video into the project. However, you will see black bars on top and bottom. To remove the black bars; from the side video, inspector pane click on the Type from the pop-up menu in the Spatial Conform section and then choose Fill.
Reduce video noise in Final Cut Pro X
To reduce noise go to Effects Browser - Basics and drag the Noise Reduction effect onto the clip you want to edit. Adjust the Amount menu to remove the amount of noise. You need to adjust the settings depending on the amount of noise in the image that you need to manipulate.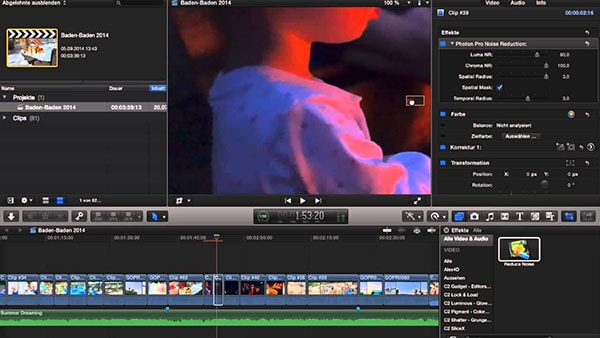 Read more:
How to rotate the video in Final cut Pro X
How to add text to video in Final Cut Pro X
How to export video from Final Cut Pro X
Conclusion
Final Cut Pro X can help us do a lot of editing jobs. However, it is exclusively made for Mac computers and is very expensive as compare to other top video editors. In spite of being so expensive, it lacks many important advanced features.
Also, Final Cut Pro X is very resource demanding and if you are not using high-end processor you might face frequent crashes. Here are some disadvantages of Final Cut Pro X:
• It is only for Mac users and does not support Windows or any other platform.
• Its nontraditional timeline is a turn off for many experienced users.
• It's export feature is not as advanced and need additional software (Apple Compressor) for the full range of export formats.
• Its interface is difficult to understand and require some experience.
Thus, we recommend the best alternative to Final Cut Pro X - Filmora Video Editor.
Can't miss: How to cut video in Filmora Video Editor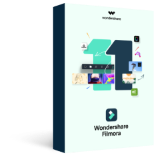 Compatible with versions of Windows and Mac.
It is fairly priced as compared to Final Cut Pro X and offers different buying options to meet your requirements.
It supports a wider range of formats like MP4, AVI, MOV, WMV, MKV and more.
Export the video to any popular format or directly share YouTube or Vimeo.