Vlogging on YouTube is very prominent these days and many brilliant content creators are working day and night to deliver the best content. In these vlogs, you can find all kind of small clips which are taken from other sources to enhance the visibility of a video and add some drama to it. While browsing for such videos many vloggers face an issue like YouTube videos not playing. This is common as there are several reasons behind it.
In this article, you will learn about 10 efficiennt methods that you could utilize to fix the scenario that YouTube videos won't play.
You can't miss the best way to solve problems of YouTube not working.
Okey, now let's get start.
Why YouTube Videos Won't Play?
There are certain reasons behind a YouTube videos loading but not playing such as browser cache, outdated app, cache issue, slow internet etc. The list can go long however to aggregate all the reasons at one place we are going to dive in every situation and provide you with the cause and cure at the same time.
What to Do When YouTube Videos Not Playing on PC?
There are instances when you are editing your video and browsing for video clips to add some crisp to your video. It happens with a lot of users that their YouTube videos won't play and they are not able to use it. While browsing videos on YouTube there are certain reasons why YouTube videos are not playing.
There are 5 ways to fix the issue of YouTube videos not playing on Win/Mac, you can choose the one best suits you according to the actual situation:
Now, let's check them one-by-one.
#1. Check the Network Connection
Sometimes it's possible that you are surfing the internet smoothly and at an instance, you stop getting network for your internet. While browsing your videos if your videos are not getting played, then you should always check the internet connectivity first if the wire is loose or the Wi-Fi has lost connection automatically. Finding such bugs in your connection is very easy and you can certainly fix them on your own.
#2. Modify the YouTube Video Quality
The internet connection might be the issue here again but in a different way. Sometimes due to low bandwidth, the internet connection you are using doesn't serve a high speed so in that case, you can change the quality of your video from HD to normal or Low quality depending upon the type of content you are consuming. For example, if you are listening to some songs on your YouTube and getting the audio clear is your only priority then you can change the video quality to low and enjoy your music without any glitch.
You might be interested in:
How to Speed Up or Slow Down YouTube Videos in 2 Easy Ways.
Top 3 Easy Ways to Improve YouTube Video Quality.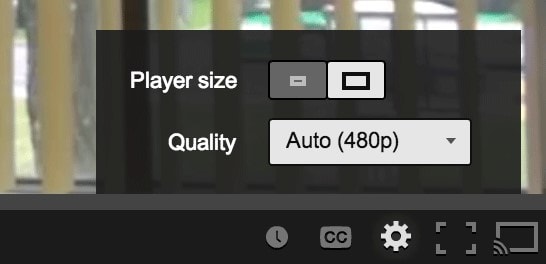 #3. Clear Web Caches
Web cache is another issue that might come into your way while browsing YouTube videos. Sometimes we surf websites very frequently and add a lot of bookmarks and content, but we forget to clear the history and cache timely, which will cause YouTube to not play the video normally. Let's learn how you can clear the cache on different browsers like Chrome, Firefox or IE to fix this video playing error.
For Google Chrome:
• Navigate to Google Chrome on your computer.
• Go to the right top corner and click the 3 dots to expand the option.
• Select More Tools and click on Clear Browsing Data.
• Now, you need to choose the time range and to delete all the history click on All Time.
• Checkbox the options that says Cookies and Other Site Data and Cached Images and Files.
• Now, click on Clear Data and your browser will refresh everything.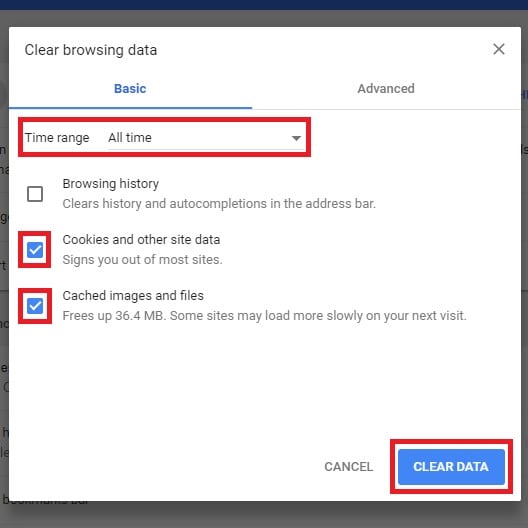 For Mozilla Firefox:
• Navigate to the menu tab with three lines and click hover on Options.
• Click on Privacy & Security option.
• Now, click on the Clear Data button on the Cookies and Site Data.
• You only need to select the checkbox which says Cached Web Content and uncheck the Cookies and Site Data option as it would delete your sign in details.
• When you are done, click the Clear button and your cache will be cleared.
For Internet Explorer:
• To clear the cache on your Internet Explorer, you need to use a keyboard shortcut by pressing Ctrl, Shift and Delete at once.
• A popup window will appear with the title Delete Browser History.
• Now, from the options, you only need to select Temporary Internet Files and Website Files and uncheck all the other options to avoid data loss.
• Click on the Delete button and clear the browser cache. There is no time option on internet explorer so you will be clearing all your cached data.
• The last thing you need to do is to refresh the page.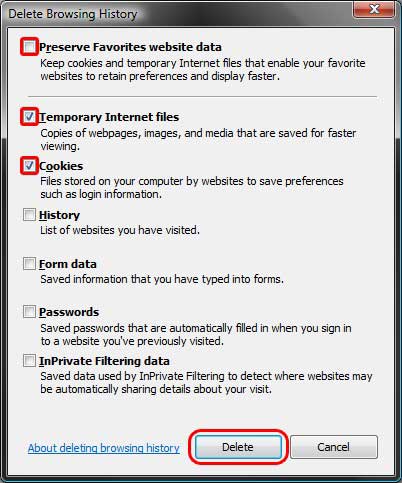 #4. Update the Browser
This is common in our busy schedule that we forget to update our important tools and software. We use them very frequently that there are bugs which need to be refreshed. In our browsers sometimes apart from the internet connection and cache issue, there is an update which is required to be installed to make the browser run smooth under any condition. So, if your videos can't play on YouTube, one of the reasons is probably the browser version. At this time, you need to consider updating the browser.
All the browser updates are either highlighted or you can simply type your browser name + update on Google and see if you have some files to download. This is very simple to do and you can easily update your browser and restart it for a better usage.
#5. Reboot Your Computer
If still, your YouTube videos are not playing then you can try restarting your computer. Apart from all the updates that we have discussed, several OS updates create default blockage on the system until and unless the computer is restarted and the changes are implemented for a smooth interface.
If the YouTube Video Is Still Not Playing, How?
This is scary!
If still, your YouTube video won't play then you have got some default error. You can try out checking other YouTube videos and play them randomly. If the videos are playing well so the video file you are trying to access is crashed or removed. Also, try to refresh the page and play your video again. There is no need to worry as sometimes the source file could be damaged but you can still try your luck searching that video on other social media platforms like Facebook, Instagram etc.
You can also try finding the video on different browser, so for example if you are trying to play it on Chrome then try it out on IE or Firefox.
Fix Issues That YouTube Videos Won't Playing on iPhone or Android
Most of the searches these are made on mobile phone for videos, songs, social media etc. There is a huge traffic that comes from iOS and Android users so it might be possible that the app you are using is not working fine or the internet connection is not suitable for the quality you are surfing. Even these reasons are not specific, there could be several other reasons that we are going to define here. Let's dive into it and provide you with a solution if you are not able to play YouTube videos on your Android or iPhone.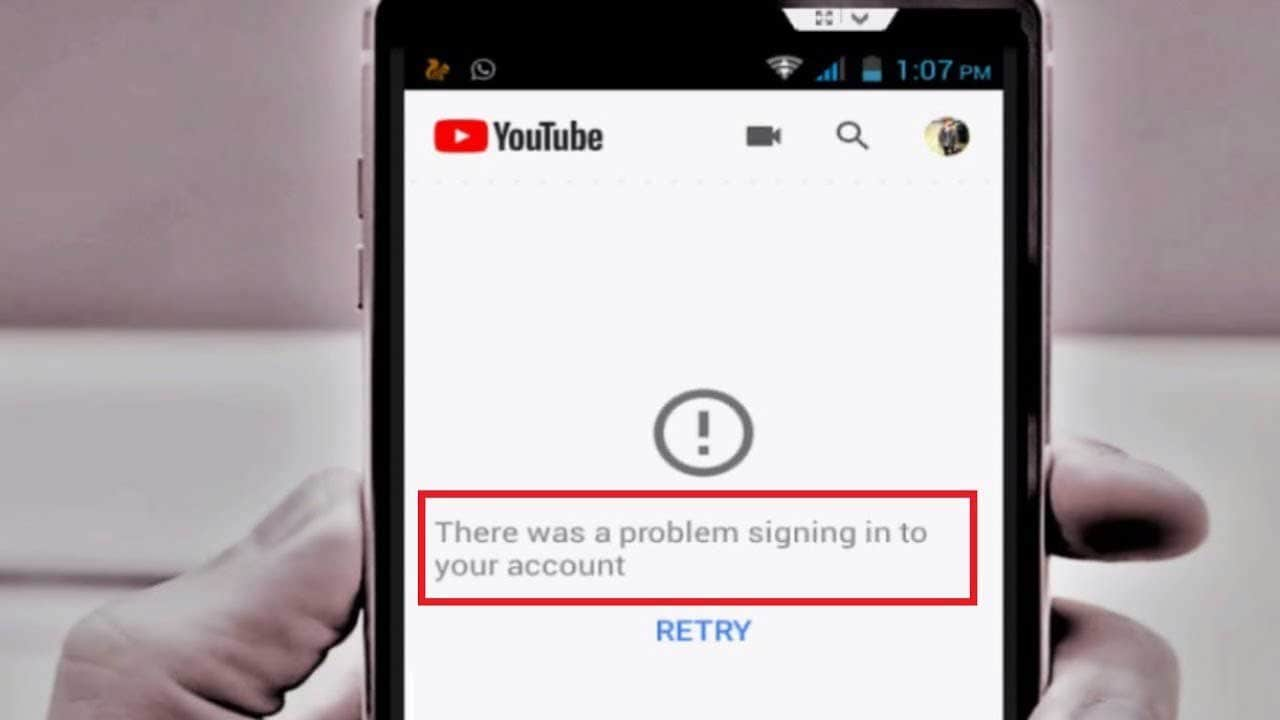 Here we list 4 solutions for you to solve problems of YouTube videos not playing on smartphone, let's check them one-by-one:
#1. Check Your Phone Internet Connection
Internet connectivity on mobile phones is dependent on the location you are and the type of Wi-Fi you are using. There might be instances that your browsing is going well but videos are not playing because the surfing and downloading speed are two different things. To watch videos your internet should be stable and if you are not able to watch videos on your mobile device then you should first check your internet connection and Wi-Fi connectivity
If the internet is not working fine then you can restart your internet or put the mobile phone on Airplane mode and restart all the cellular services again. This might help you figure out if the connectivity is a temporary issue or you have some other bug.
#2. Restart YouTube App
Like browsers the applications are also prone to cache issue, there might be instances when you have used YouTube app very frequently but didn't clear the cache on the application. High caching can cause blockage in your app functions even if you have good internet connectivity. If you are facing such issues then you can close the app and clear the cache by going into the app info located in the phone settings. Following these steps, you can easily run your app again and enjoy the videos on YouTube.
#3. Re-install/Update YouTube App
Mobile app runs on timely updates from the developers, there are instances when you have the app installed but you have not updated the app for a long time. That's one of those reasons that make your videos cannot play normally on YouTube. If you are using Android then Google Play Store has an inbuilt facility to remind you time to time about the app that requires an update.
If you are using iOS then the process goes the same, you get a notification if the update is available. But these notifications are never considered due to ample of reasons. Keeping an app up to date is the best thing you could do to your mobile phones as it would keep your mobile phone bug free and your app user interface would not be affected.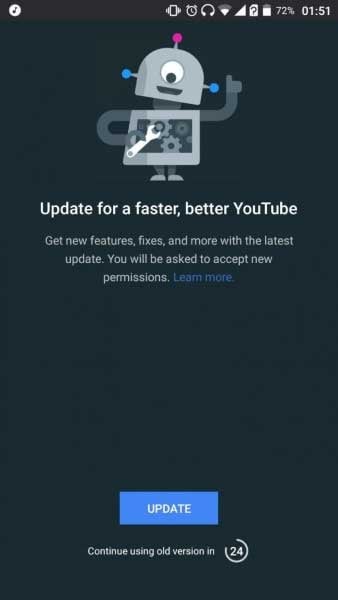 If you have encountered with the YouTube app and it's not playing then you could try re-installing the app or check for any updates on the app store.
#4. Using a Web Browser Instead of the YouTube App
Web browsers on the mobile phone are capable of doing anything these days as the integrations have made it possible to even run videos without an app. If you are facing any issue with your YouTube app and you have done everything possible to play your favourite songs or video clips then you can easily copy the URL of that video or search the name of the video on your web browser and try it playing from there. There are higher chances that if your video is not crashed and the internet is doing well then you will be able to watch your video on the browser itself without any blocker.
Conclusion
Watching videos on YouTube is a nice way to pass time and we can also learn so many things available on YouTube these days. There are courses and other tutorials that we want to consume but sometimes the technology is not in our favour. There are ample of causes that your YouTube videos won't play and this article has covered all of them without any doubt. From app to browser, every single bug is mentioned with the solution. There are major chances that you have found the solution to your problem. If you have found this article helpful and it solved your problem then you can go to YouTube and find the best clips that suits your imaginations.