YouTube is one of the biggest online entertainment Media that has been in use for a long time. People all over the world, who have access to internet connection use YouTube, and YouTube Live is the best live TV streaming service that offers a fast and powerful way to connect with an audience at the moment. You can use it to do live broadcasting video games, cooking shows, travelogue, music concerts, etc. and directly interact with your audience in real-time.
But...
Do you know how to live stream on YouTube?
Keep reading until the end and you will learn definitely how to live stream on YouTube on your PC/smartphone.
Want more?
Tips on how to live stream on YouTube like a pro are is ready for you! Now, let's get started!
Part 1. How to Enable YouTube Live Streaming
Even though there are several live TV streaming apps, the YouTube Live streaming completely breaks down the bridge between you and your audience and lets you engage with them in real-time through chats, video feed, and much more. To live stream on YouTube you must have a verified YouTube channel and should not have live stream restrictions for 90 days before streaming.
However, to watch YouTube live TV online you needn't log in or create an account. You can just watch live TV online free streaming. Now let us have a look at how the streaming option can be enabled to enable the streaming option of YouTube both on your smartphone and desktop.
If you also want to live broadcast on Facebook, Twitter, Instagram or Twitch, you can't miss:
Tips on how to live stream on different platforms for beginners.
How to do live streaming to multiple platforms at the same time?
#1. Enable YouTube channel on desktop
• Turn on your desktop and open YouTube on your browser.
• At the top right end, tap on the Create option and then on Go Live.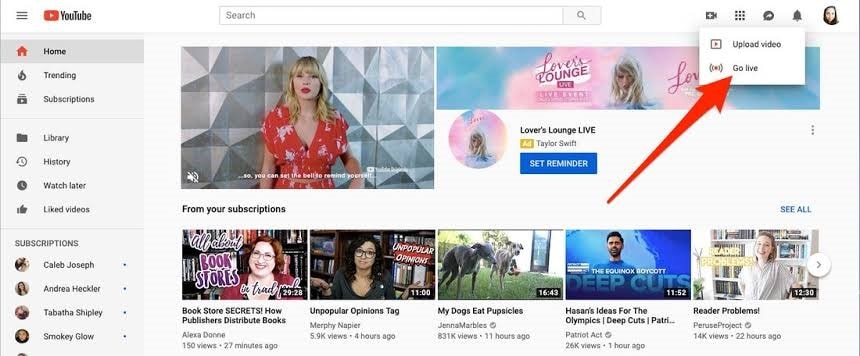 • If you haven't verified your channel previously, you will have to go through some steps to verify it.
• It may take up to 24 hours to enable your first live stream, after which you can go live whenever you need.
#2. Enable YouTube channel on mobile
Even though YouTube live offers free live TV streaming, to live stream from your mobile, there is one extra barrier you need to jump over compared to the PC. The user must have a minimum of 1,000 subscribers to go live from an Android or iOS device. It is not a difficult thing for most of the people, a mix of their streaming and social skills can do the job.
• Open the YouTube application on your mobile device.
• On the top right end of the screen, tap on the Upload option and then on Go live.
• It can take up to 24 hours for your first live stream to get enabled. Once enabled enjoy going live.
---
Part 2. How to live stream on YouTube on PC
Live streaming on YouTube can help creators to share their ideas and views across a platform with a large number of viewers while sitting at home. Unlike other live tv streaming sites, YouTube offers an open way of communication with people. This way of live-streaming also helps them to interact with the viewers through comments, likes, etc. Now let us have a look at how to do YouTube live streaming using the webcam.
You might be interested in what cameras or microphones you can use while live broadcasting.
Step 1: Open your browser and go to youtube.com. Sign in to your account if you aren't already signed in.
Step 2: On the top right end of the toolbar you will see some icons. Click on the camera icon and then on the Go live option.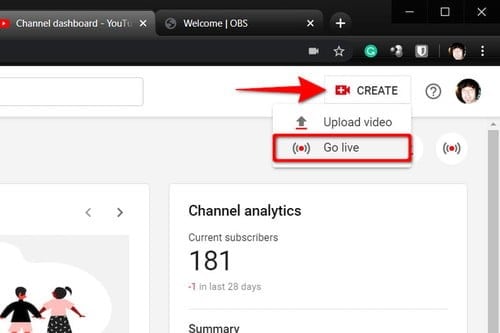 Step 3: Choose Webcam from the top of the window.
Step 4: Give an interesting title to your live stream and add some description. Also, set the privacy settings according to your wish.
Step 5: Tap on Save and your webcam will capture a picture to be kept as the thumbnail for your live stream.
Step 6: Now click on Go Live. Once your livestreaming is over, end the live streaming by tapping on End Stream displayed at the bottom of the screen.
Don't get fooled by other free live streaming sites on the internet. If you want your ideas and skills to be known by people all over the world, follow the above steps, and go live on YouTube live!
Part 3. How to Do Live Streaming on YouTube on a Smartphone
Going live from a mobile device will seem much easier than from a PC but that is not the case. For a user to go live the user must have a minimum of 1000 subscribers for his YouTube channel. If this bar is overcome, going live is very simple. The process is pretty much the same on Android as well as iOS devices.
Step 1: take your mobile device and open the YouTube application. Log into your account if you are not already logged in.
Step 2: Click on the Capture tab (Camera icon) and then select the Go Live option.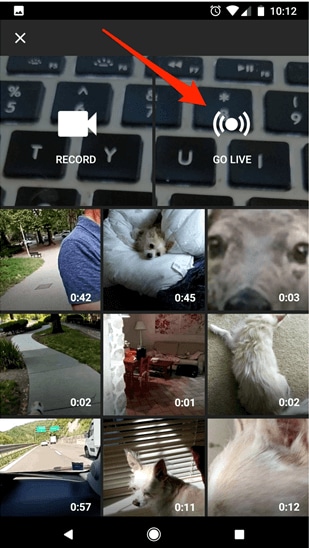 Step 3: If you wish to include audio on your live stream, allow the access to microphone and allow recording audio.
Step 4: Now from the top, either select the Phone icon – which helps you record whatever is on the screen or, select the Camera icon to use the camera to record.
Step 5: Create an interesting title and set the privacy settings. You can also enjoy additional features like scheduling the live, live chats, the age restriction for viewers, etc. by clicking on More Options.
Step 6: Click on Next and capture or upload a thumbnail image for your live. And then, tap on the Share tab and select Go live to start streaming.
Once you are done, you can end the live stream on your mobile by tapping on Finish and then OK.
You may also like:
Step by step guide of how to live stream on Twitch.
Tips on how to live stream for beginners.
Part 4. Tips on Live Streaming on YouTube Like a PRO
Going live on YouTube now and then is not enough. To increase the likes, shares, and subscribers for your videos and channel you must provide interesting and quality content to the viewers. As our content becomes more unique and interesting there will be a hike in your subscribers and you will become a pro-YouTube live streamer. Here are some tips from our side.
Tip 1: Make all the preparations
The preparation is the first and most important step. You must choose an interesting topic and give an attractive title and description that will catch the eye of the viewers. A majority of people surfing through YouTube decide what to watch by looking at the thumbnail and title.
The next important thing is to choose a quiet and calm place to live stream. Make sure to minimize the distractions in the background so that viewers stay focused on you and what you are showing.
Keep the props, slides, and everything ready while streaming. There should be no lag while the streaming is going on, or else some of the viewers might leave in between the live streaming.
Tip 2: Promote the event
Make sure to promote your event through all the social media channels before going live on YouTube. More viewers mean more likes and subscriptions which will make your YouTube channel famous among the users.
Tip 3: Check your device
Check your device and make sure that your audio and video delivery is clear and displayed the way you imagined it to the viewers. You can also give a demo live video and check if it is good enough from another YouTube channel. Make sure that everything is perfect before going live. As people say, the first impression lasts!
Click here to learn how to fix the issue of YouTube not working.
Tip 4: invite a special guest
Live streaming can be more fun when there are 2 or more people. The audience will feel more engaged and entertained when there are two people in a live video. It also helps to make the livestreaming video more interesting and also brings in a chance for cross-promotion, where you promote your buddy's channel in your live video, and he promotes yours in his live video.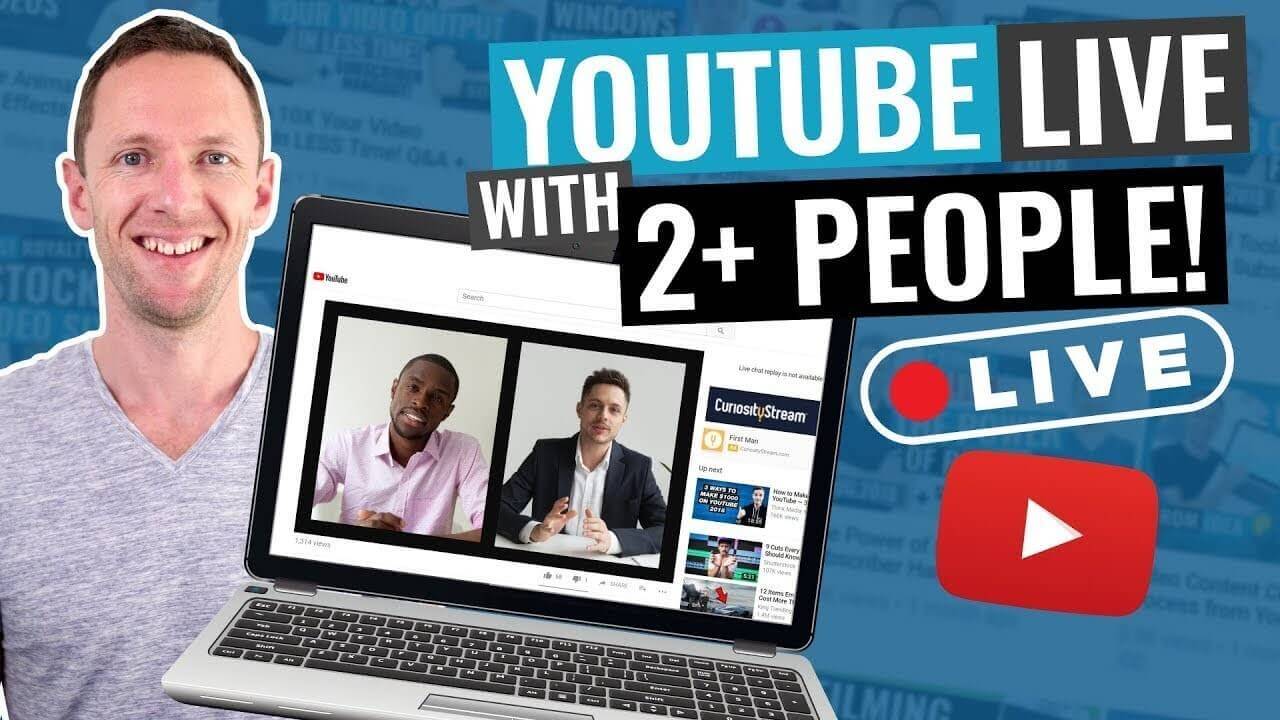 Tip 5: Respond to the comments in real-time
Comments have a short life while doing live streaming and responding to the comments will create a sense of interaction between you and the viewers, which will make the live video more interesting. People tend to feel more engaged in videos where their comments are noticed and keep coming back to watch such videos.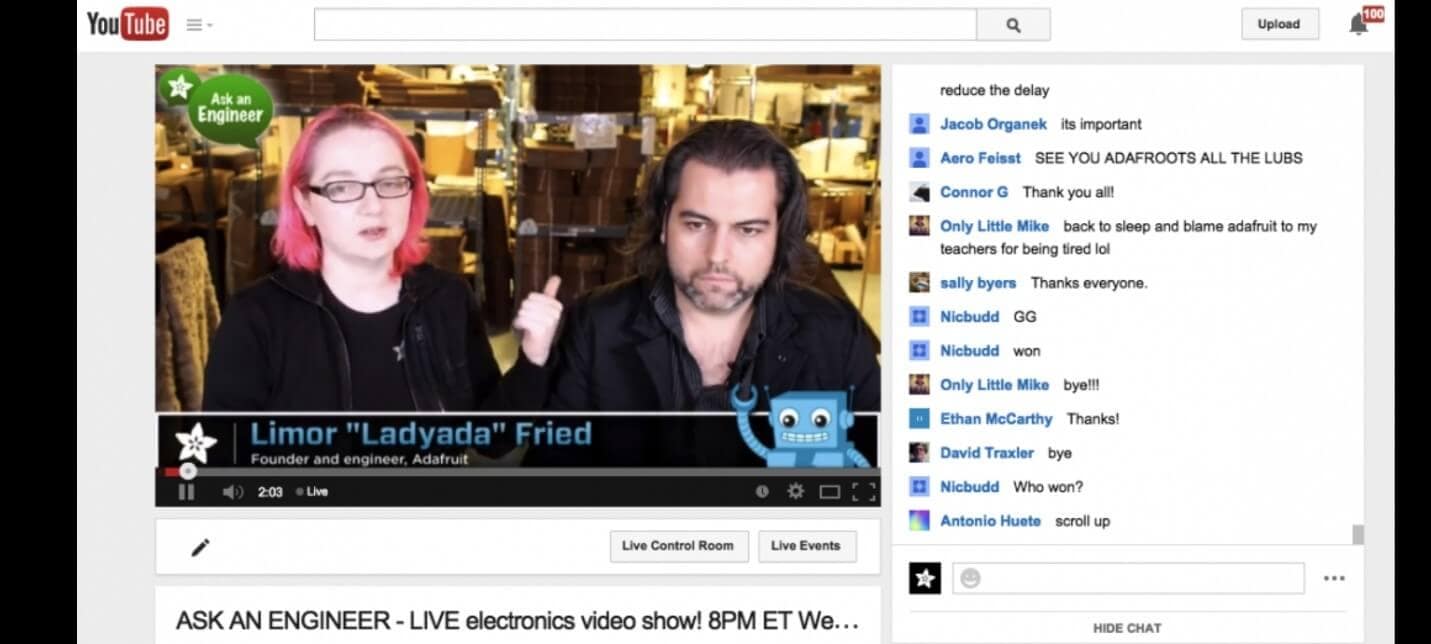 Tip 6: Relax and enjoy
Relax and enjoy being able to convey your ideas or views to a large audience on a platform like YouTube. When you are relaxed and tension-free, it can have a positive impact on your performance and the viewers are more likely to enjoy such live videos.
---
Summary
Streaming platforms like YouTube have created an opportunity for people to show their skills and ideas to a large audience from all over the world. It is an opportunity to be heard, seen, and become famous. Here we have discussed the ways in which you can go live on YouTube no matter what device you are using. Following the tips listed above will help you become a well-known YouTube entertainer within no time. Please leave your feedback about this article in the comment box below.
If you want to record & edit your YouTube streaming video, we recommend Filmora Video Editor to you. With amazing features like one-click recording, basic & advanced streaming video editing, Filmora is really worth trying it!