If you have been keen on Facebook then you might have seen a meme video. A meme video is normally a combination of short video and a small text above it, which aims at creating humor and also making the video standout in a very crowded social media feed. A meme can actually be anything - ironic, funny and also entertaining. But how to make a video meme for Facebook by yourself?
In facts:
Meme videos are quite easy to make especially when you have a great video editing software like Adobe video editor, Filmora Video Editor, etc. These kinds of software always provide users a simple way to split a video, and add animation title or customized text to a video within few clicks. So, in this post, I'm going to recommend an ideal Facebook Video Meme maker to help you create a Facebook video meme at seconds.
What's more? 2 advanced online tools are also offered here for your reference. You can compare them and pick up one solution to make your own Facebook video meme as easy as 1-2-3.
Now, let's get started.
Part 1: Best Facebook Video Meme Maker - Create A Video Meme in Seconds
Filmora Video Editor - The Best Video Meme Maker for Facebook, Instagram, etc.
Memes have become a common segment within most of the online platforms. Seeing memes popping on Facebook, Instagram and other social media platforms have become a common thing. Facebook meme videos are quite easy to make and all that one need is the right meme maker software.
Filmora Video Editor & Filmora Video Editor for Mac is a powerful video editing software with a lot of video editing tools that users can take advantage of. Apart from the intuitive and easy to use interface, there are other great editing tools that can be used to improve the video quality before you create a video meme for Facebook. What's more, this program allows its users to download videos from Facebook, Instagram, Flickr, etc. and import to the program for editing directly.
So, Filmora Video Editor can works as one of the best Meme making software for Facebook users. (Mac users please check here)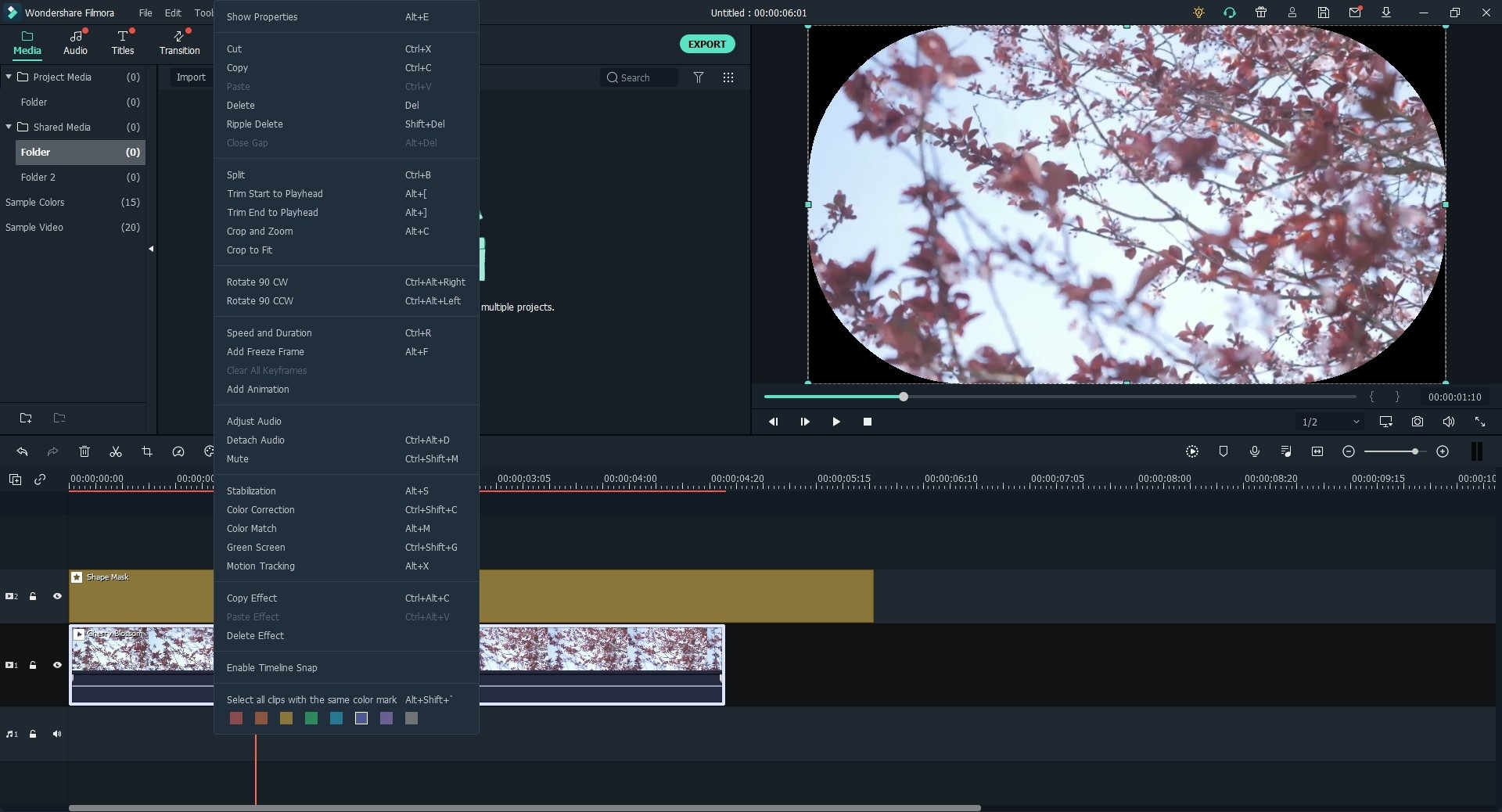 Now, let's check the key features of the best Facebook video meme maker:
Download video from Facebook and import to the program for splitting, adding text, transitions, filters, overlays, etc. within few simple clicks.
Hundreds of video editing tools to help you improve the video quality, like adjust brightness, volumn, etc.
1000+ video effects from the Effects store help you customize your output videos in the way as you like.
Output videos in your desirded formats with 1 simple click.
Tutorial: How to Create A Video Meme for Facebook with Filmora Video Editor?
Step 1. Launch the Filmora Video Editor after the installation, then click on "Full Feature Mode". Now, upload the video that you intend to use for creating meme.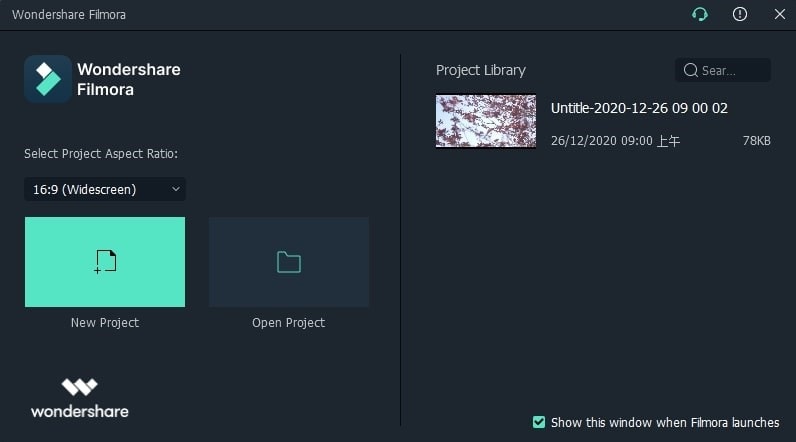 Step 2. Drag the video to your timeline then drag and stretch it. Edit the video by adding a few features you may want. If the video is too long, you might need to split and remove unwanted part from the video for sharing on Facebook. (See how to split videos.)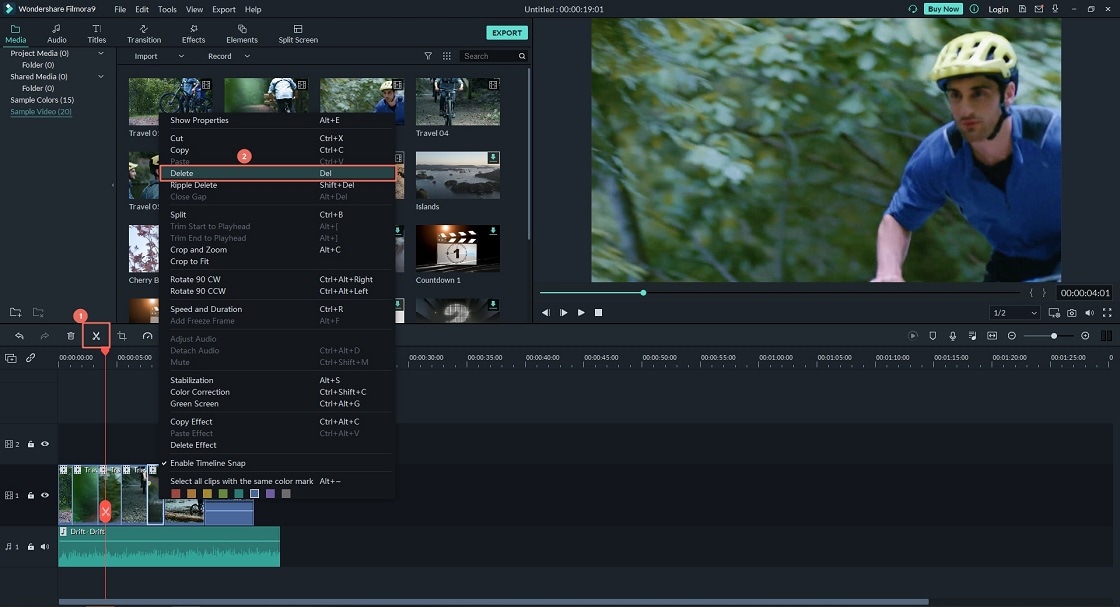 Step 3. Click on "Text/Credit" in the menu bar, and you can select a type of text to your video. Then, type the text you wish to add in the Preview window, and move the text to the postion as you like.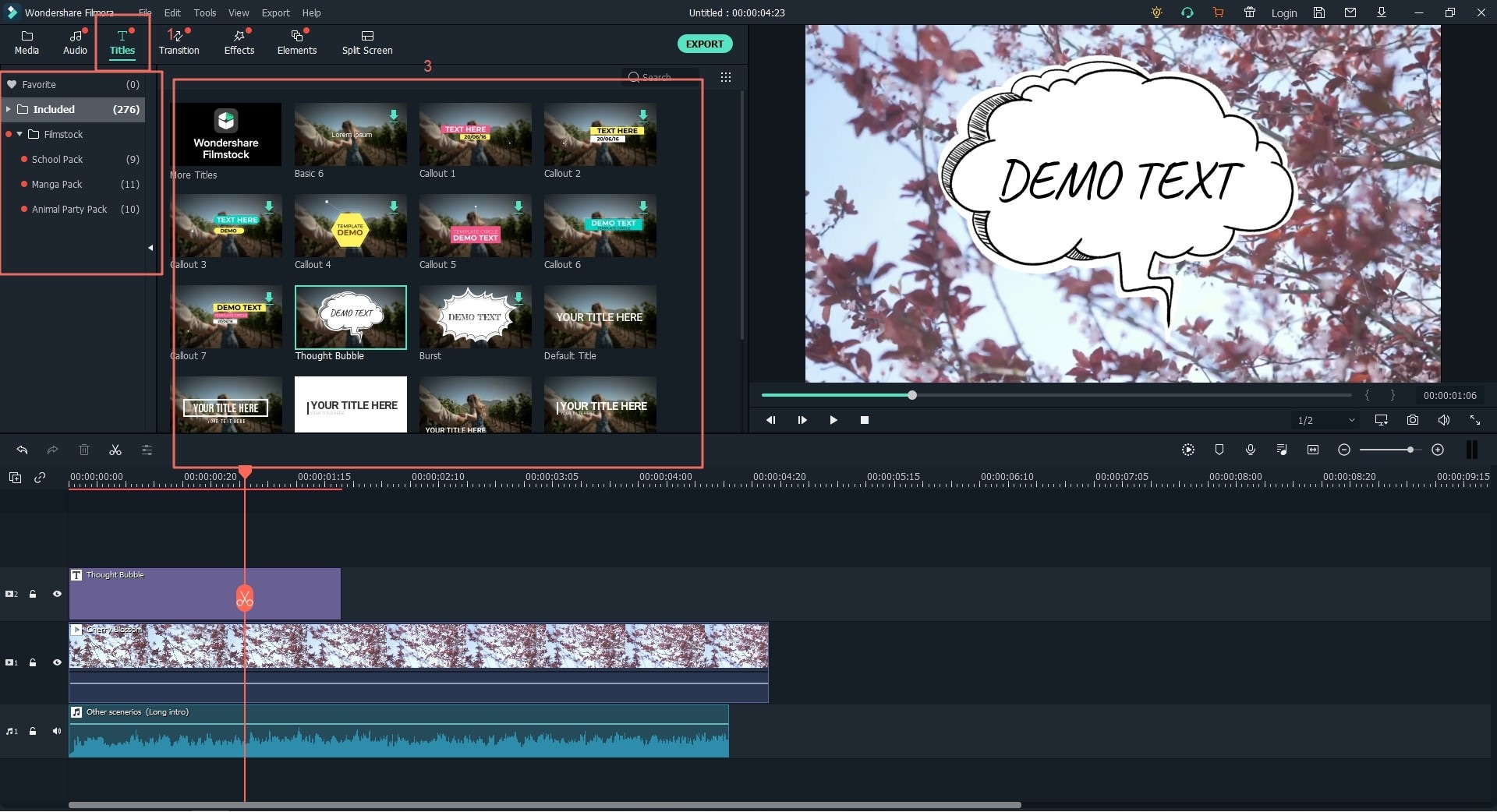 Step 4. Double click the text in the Timeline to open the setting panel. Here, you can change the font style, color, or create animation text as you like. Click "OK" to save all changes you have done.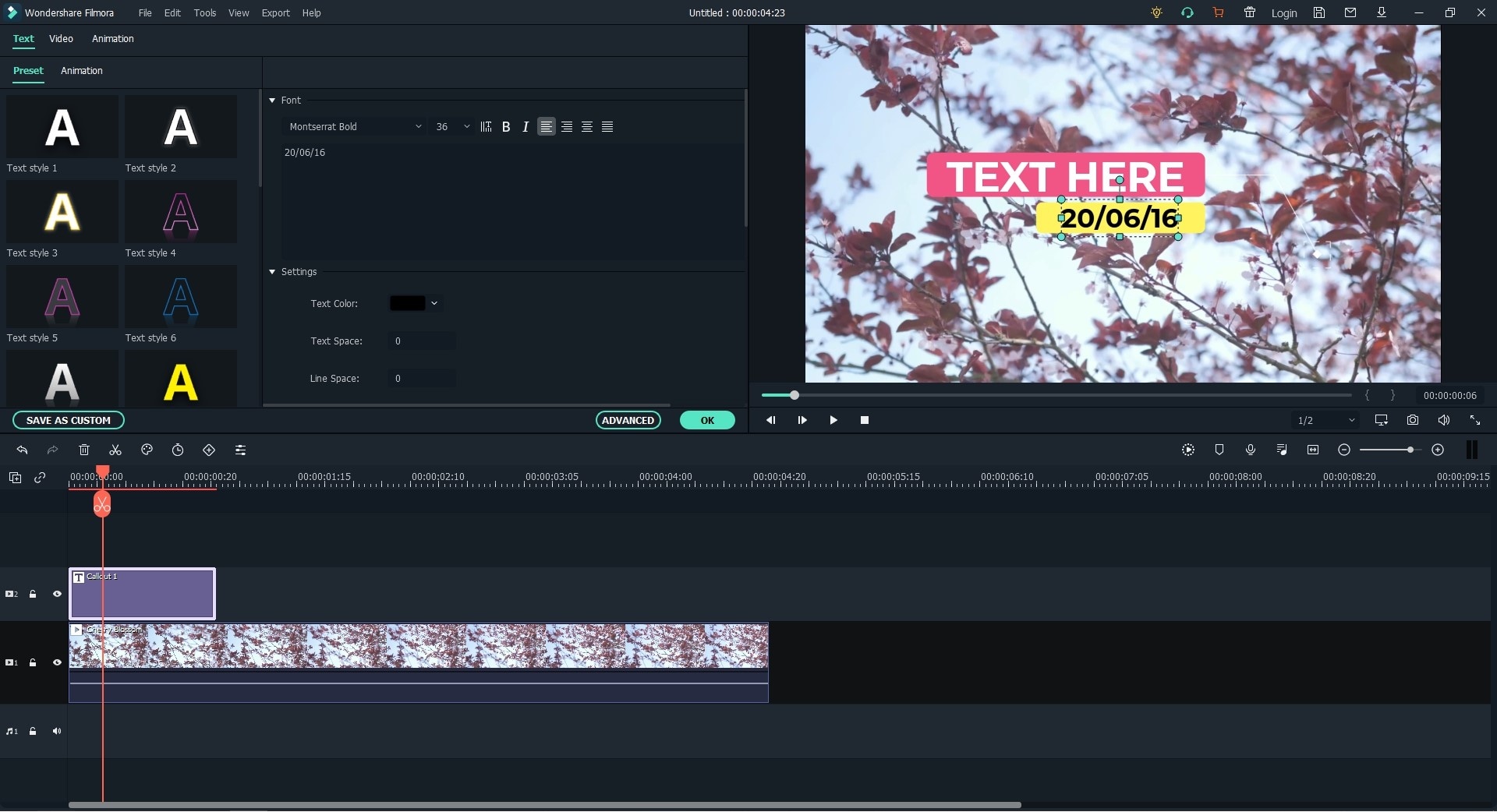 You might also wish to edit a video as follows:
[Tutorial] How to Edit A Video Completely
Step 5. When the above settings are completed, you can click "Export" button to choose an output format, and then share the video meme on Facebook as you like.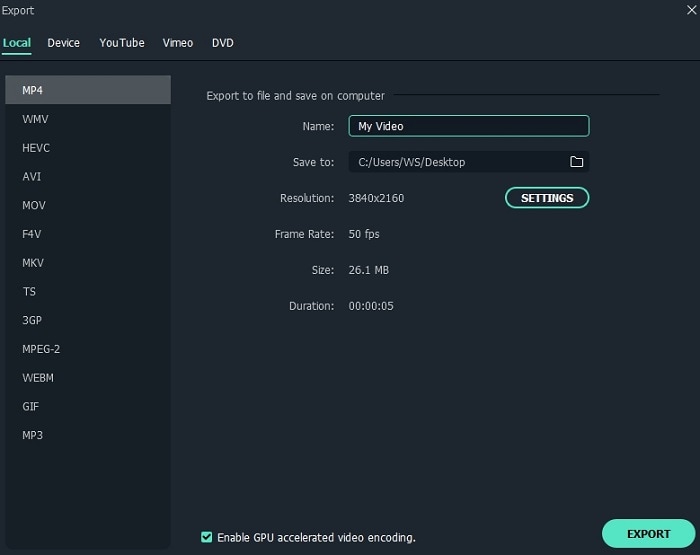 ---
Part 2: 2 Advanced Tools to Make Facebook Video Meme Online
Creation of meme videos on Facebook can be quite easy when you have a great software. Apart from Filmora, there is other video editing software that can be used to make Facebook meme videos. So here, I have picked up 2 top-rated online Facebook video meme maker software for your reference:
#1. Kapwing
Kapwing is a free online GIF, image and meme generator. It's quite easy to use and also takes no time to process video memes. Kapwing is suitable for use by beginners and professionals and can be used to execute other video production activities.
Step 1. Go to the Kapwing official site and click "Get Started >" button in the page. Upload the image directly to Kapwing. You can also paste a link from Twitter or YouTube.
Step 2. Create the meme by adding text to the right sections of the video. You can easily drag and drop to set the position and even change the font easily.
Step 3. Once you are through with editing it. Click on "Create" and the final meme will be produced. Download the created meme then share.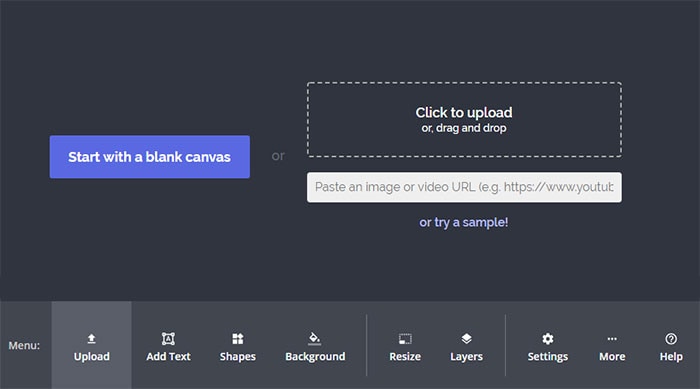 #2. Blubirz
Blubirz is another cool tool that can be used for making Facebook meme videos. And it is extremely fast and makes it quite easy for users to add text to the video images. Whether you are a newbie or already a pro with creating Facebook meme videos, you will find this tool to be quite easy to use.
Step 1. Create a new project and name it, then upload the video you intend to make the meme from. (GIF image is supported)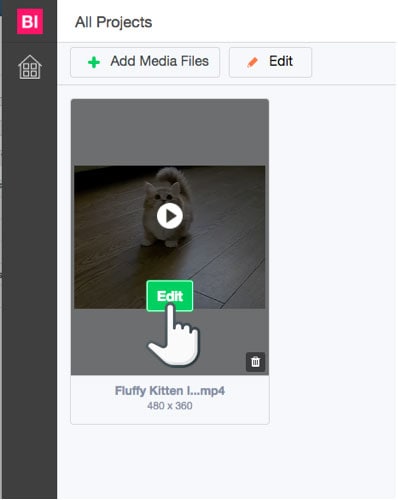 Step 2. Click on "Edit" by hovering over the uploaded video. You can then resize the video as desired from vertical, square to horizontal. Try to crop the video for the perfect ratio.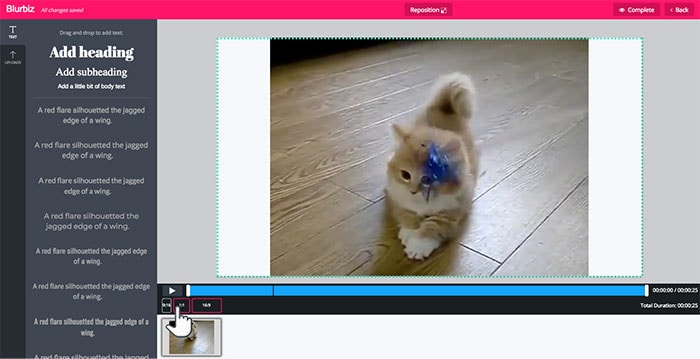 Step 3. Reposition the video and crop to fit your preferred dimension. Then, click on the text icon then add text. You can drag and drop the heading as desired. You can also change the font option to what suits you best.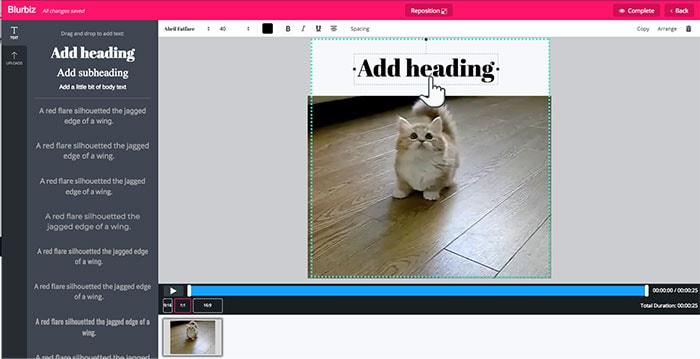 Step 4. Click on "Complete" then download your video meme in MP4 format.
[Attention] If you want to know more info about how to add text to video online, just click the link to learn more info.
---
Final Thought
Now, it's your turn. Which program are you ready to try first? Filmora Video Editor or online tools?
In my opnion:
Online tools are strongly depends on the connection of the network, so when the connection is poor, you might fail to create your video meme with these online tools. What's more, online tools always only provide simple cutting and texting features, which cannot satisfy your advanced editing needs while you're planning to create an awesome video meme for Facebook, Instagram, etc.
On the contrary, a desktop program like Filmora Video Editor always comes with both basic and advanced editing skills, which can satisfy almost all users' editng needs in the daily life. And it allows users to save the video program file for editing in the future.
So, if you don't know how to make a decison, I recommend you to start from the Filmora video edtior by clicking the below icons. Or if you have any other suggestions about how to make a video meme for Facebook, please leave a comment in the below area.