Are you looking for an efficacious, reliable online audio mixing tool to mix music? Does it exist?
Of course, they are available in good numbers and they usually couple up with other capabilities such as an online music mixer and cutter.
Read also: 7 Music Mixing Software for Mac or PC
Then, what are the advantages of these online audio mixer?
First of all, these online resources used to mix music are the most frequently employed due to their easy accessibility and are manageable. Secondly, they do not take up your computer hardware space, and most of them are readily free to use.
In short terms, with all the goodies music mixer online offers, they are right for the short and quick projects such as creating a party music mix or curating a workout music mix. Moreover, it's a perfect platform to introduce one to be a Disc Jockey.
However, not all the online audio mixing tool will meet your desires; hence, here are the six best ones which are worth giving a try. Note that the list is not ranked.
---
6 Music Mixers Online to Mix Music for Free
1. You.DJ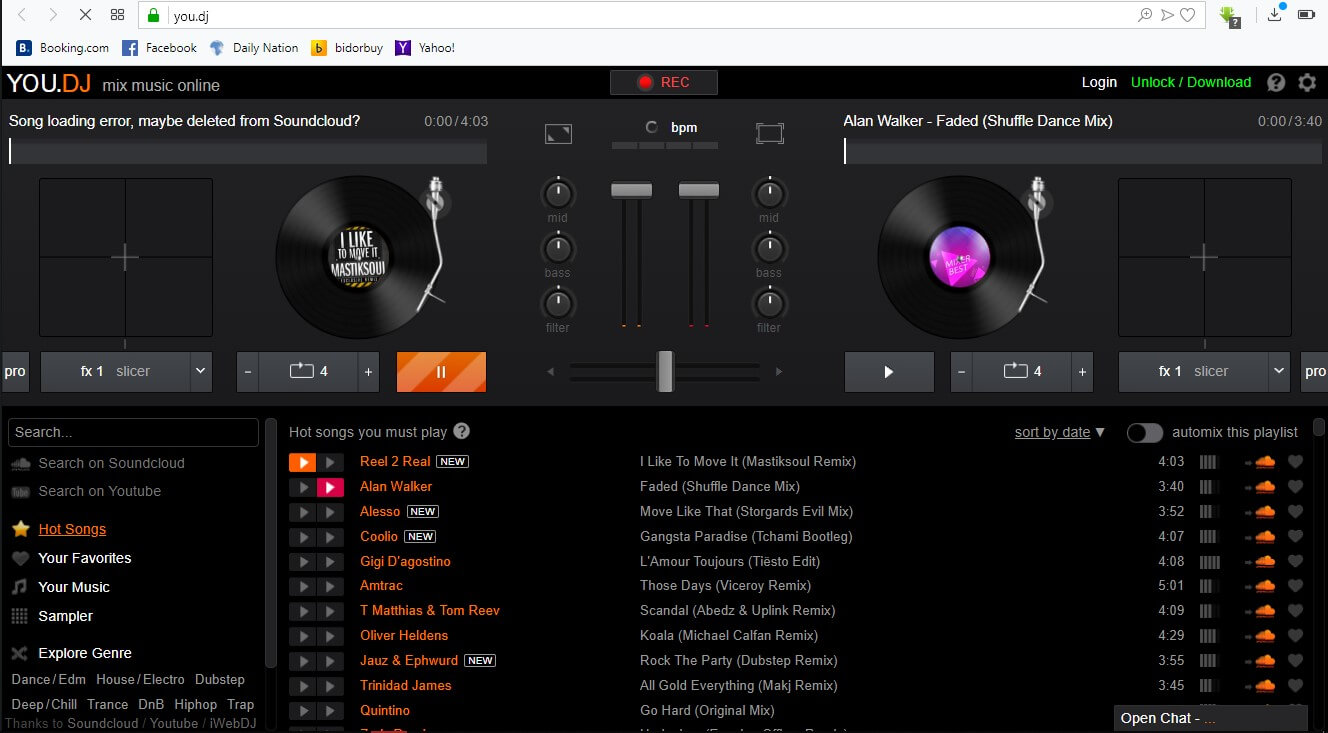 You.DJ is a professional-desktop-like web-based program which allows you to mix audio track online without any kind of restrictions. Its interface has a black background and is clear with a well-organized tool. The hot songs available are 7000+ which you can choose from and create a piece of memorable mix of music.
Features:
Has a BPM feature
Supports multitrack recording
Extended mixer with high frequency and gain knobs
Pros:
- Has intuitive interface.
Cons:
- Does not allow the import of songs from the local computer.
---
2. YouTube DJ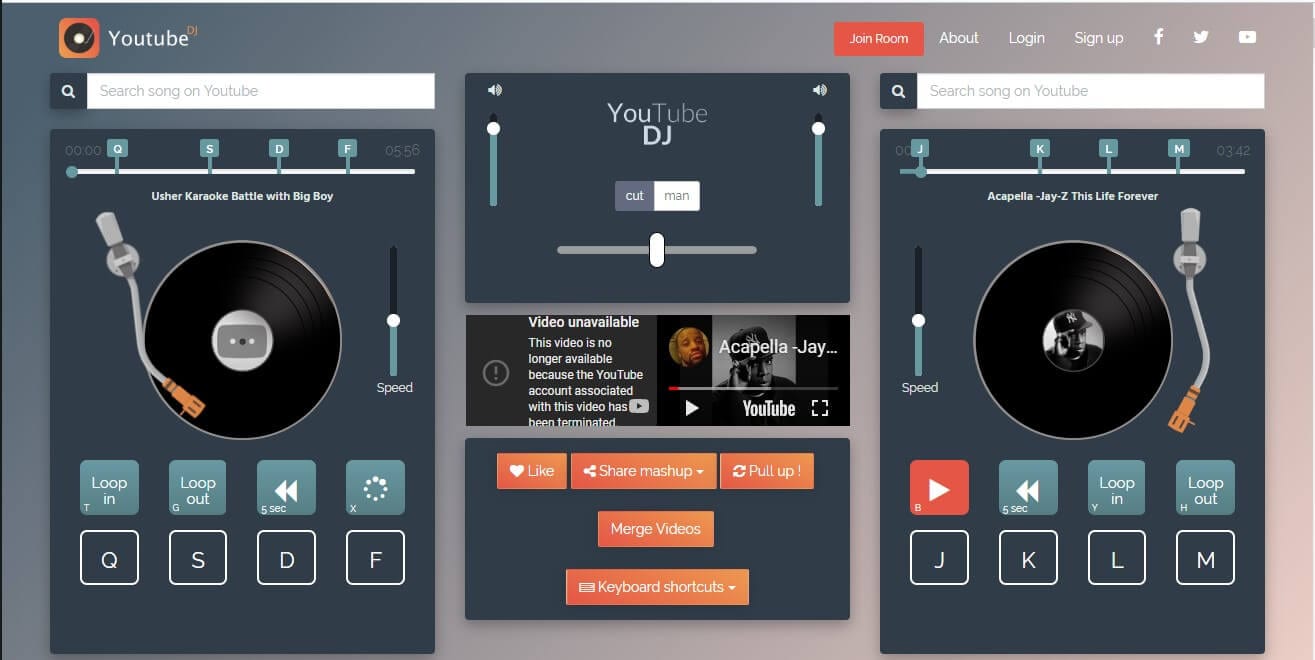 YouTube DJ is an appropriate music mixer free online software for amateurs and Novice individuals because it features a clean and straightforward interface, amongst all utilities on this list. You can select a track from over 8000 tracks available which are categorized as Popular, New, and Random.
Features:
Contains a merge tool
Supports Keyboard shortcuts
Pros:
- No subscriptions required
Cons:
- It is not available for smartphones
---
3. Looplaps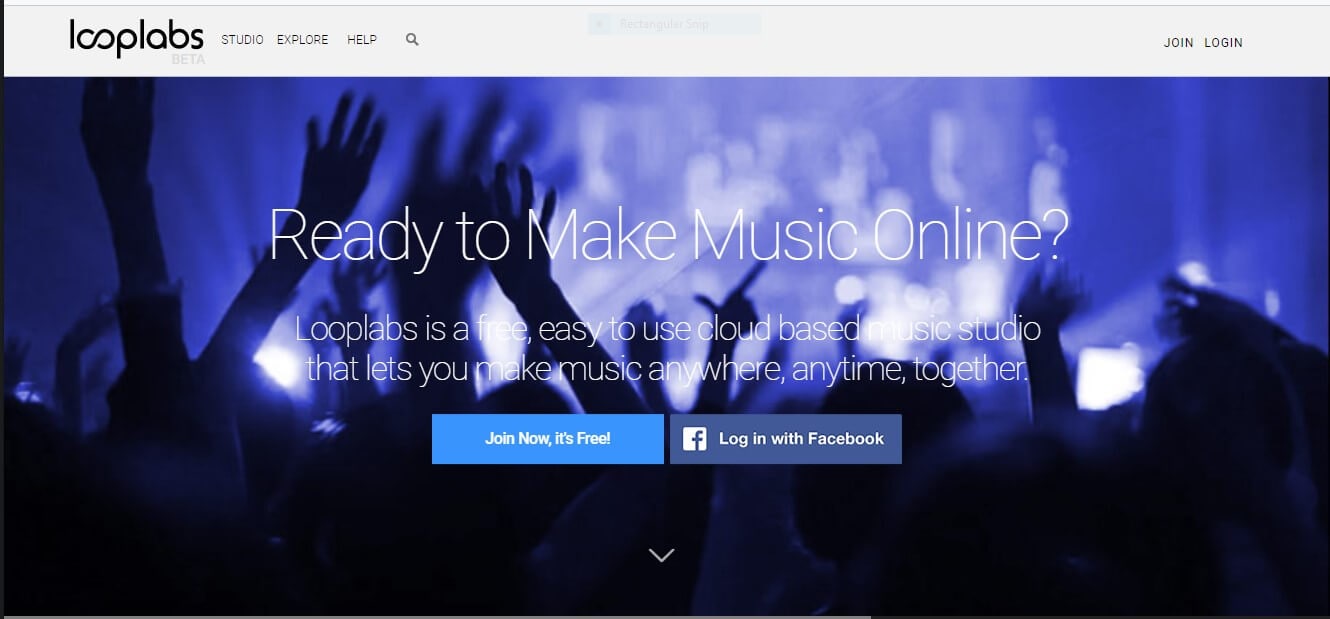 Looplaps, like the majority of the tools in the list, is a cloud-based free and easy to use online music mixer and cutter. If you are in a crew working for a mix music project, we recommend you employ Looplaps. It is based on Google Hangout meaning it permits collaboration amongst each member anywhere and anytime to produce a professional quality mix.
Features:
Integrated with Beatport
Has a record feature
Pros:
- Offers 1000+ royalty-free sound
Cons:
- Uses a proprietary format hence you can't export REX2 files from it
---
4. Soundation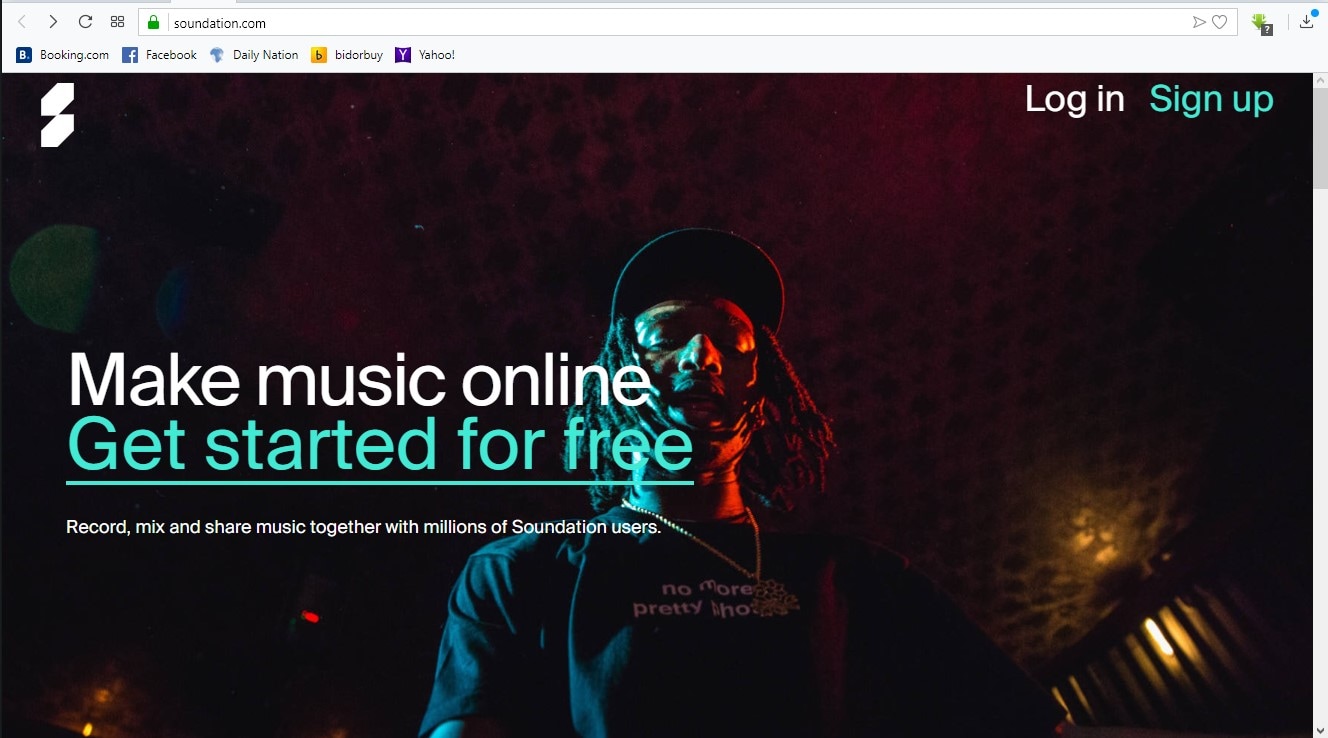 Soundation is yet another great tool to rely on to mix music online. Soundation functions as a multi-track digital audio workstation (DAW) this implies that you can have several tracks playing simultaneously. It features an attractive interface, and this makes it easy to record and perform volume and pan automation.
Features:
Supports time stretching feature
Has a range of effects and plugins
Awesome looping feature
Let's you adjust the color of tracks
Pros:
- Allows you to save mix music in the cloud once to have the Soundation account.
- Two or more guys can collaborate on a song in real time
- Allows you to write your MIDI tracks
Cons:
- At times it has problems in saving files correctly hence you might lose your work
---
5. TwistedWave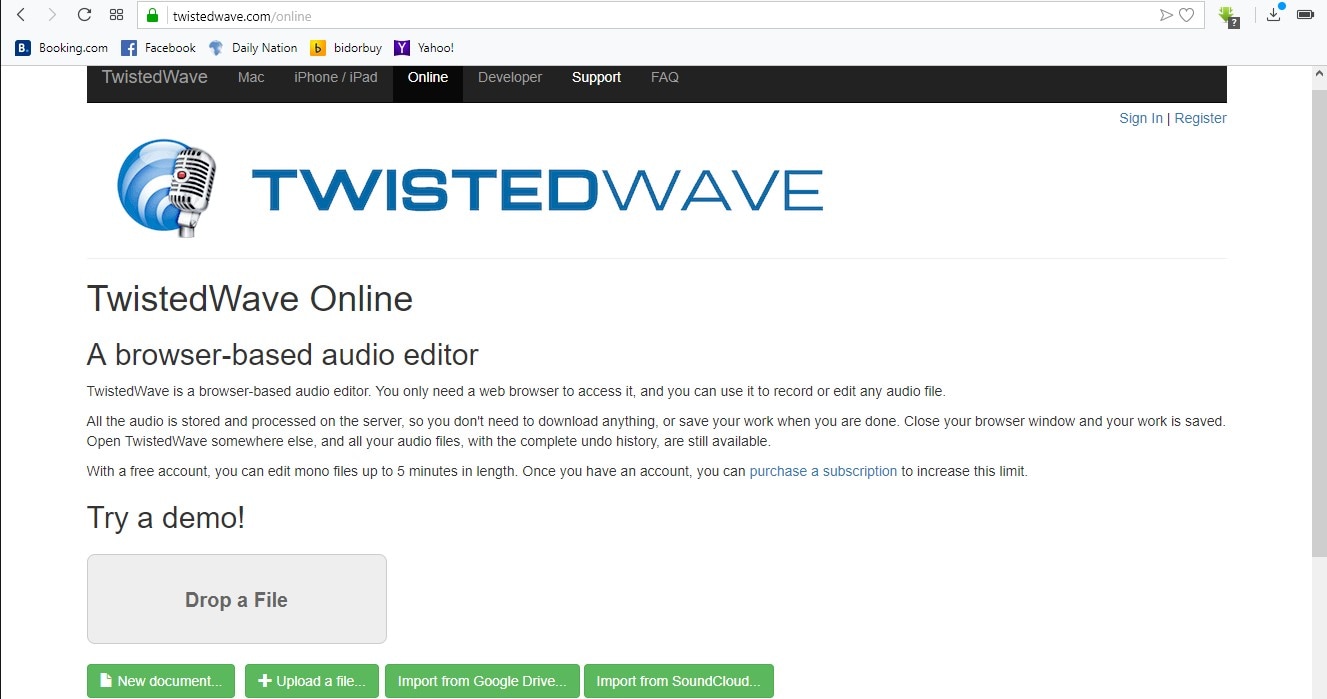 TwistedWave is also an awesome online music mixer and cutter which has made it to this list. You might be aware and familiar with how good the Mac and iPhone version of this parent name is, and now we assure you that the same excitement can be experienced from this web-based version. It is supported with almost all of your browsers like Google Chrome, Firefox Mozilla, Opera, Internet Explorer, and more.
Features:
Has a record feature
Contain built-in edit tools
Pros:
- Automatically saves your project on the server
Cons:
- The free version allows you to edit mono files of a maximum 5 minutes length.
---
6. MP3Cut.net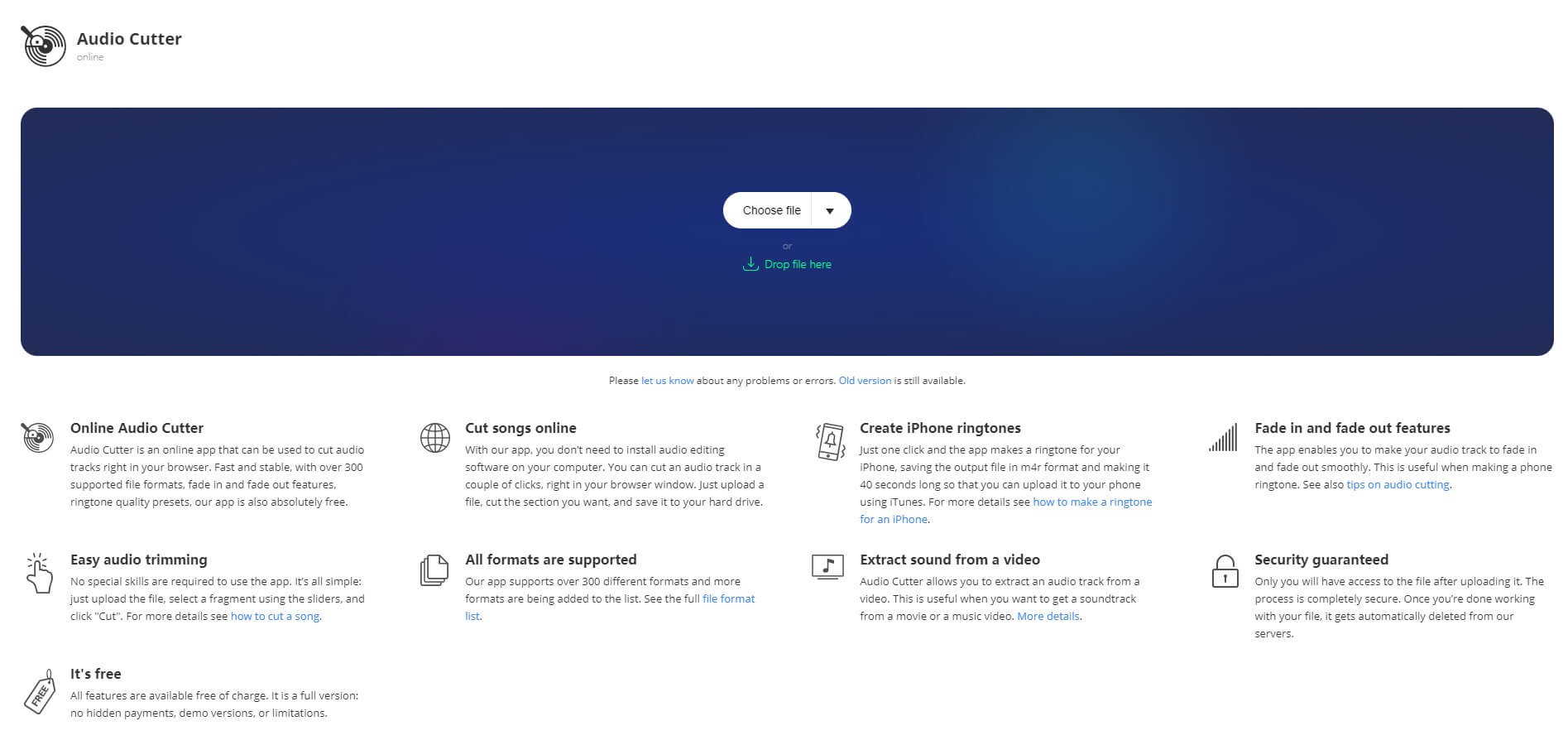 MP3CUT.net is a unique tool in this list in that it is made up of a lot of professional tools and offers them all free of charge. No registration required to start mixing music. MP3CUT.net allows you to import your files from cloud-based storage which include Dropbox and Google Drive and from URL.
Features:
Ability to rip audio from a video file
Edit features like fade in/out, audio trimming, cut, etc.
Pros:
- Full version available for free
Cons:
- Latency experienced when the network connection is slower
In summary, mixing audio online really is quick and something to brag about. However, a lot of limitations are experienced like some don't allow the import of songs from local computer storage, limited export options, limited preferred output format, lack advanced editing options, the conversion rate is slower because it's majorly dependent on a network connection, and more.
For professional experience, try an offline version of audio editor and mixer because it does not suffer from all those.
---
[Recommendation]
As earlier mention, Filmora Video Editor for Windows or Filmora Video Editor for Mac is one of the recommendable offline music mixer and cutter tool. If you have been using online tools and feel like that was not what you intended to get, avoid a second thought and take up Filmora Video Editor with both hands. It features a simple and straightforward interface that prompts a recommendable outcome in just the first try. With a 90X conversion rate, there is no limit on the number of files you can import and export at any instance. More importantly, it comes for both Mac OS and Windows system. The following are some of the Filmora Video Editor features as an audio mixer and editing software: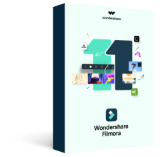 It allows to mix a number of tracks and add effects to your tracks.
Supports a wide range of audio formats both during the import and export process
Allows you to import tracks from local storage, camera, phone and from Social Media Platforms or through recording.
Let's you send your project directly to YouTube, Video, your device, share to Facebook/Instagram or Burn to DVD.
...
Let's check out the video tutorial to learn how to edit audio step by step.
You may also be interested in :
- Top 10 Music Mixert Apps for iPhone and Android to Mix Music
- How to Edit An Audio with Best Audio Editor in 2019