Editing music videos can be an easy task if you have the right music video editing software. But many people don't know how to select a proper music video editor to help them edit music videos easily. Why?
Well, it is known to all that Adobe Premiere Pro, After Effects, and Final Cut Pro is an ideal video editing software because almost all professional video editing users, vloggers, etc. are used them to cut, split or edit videos on Windows or Mac computer. But if you think you can use these tools to edit your music video easily, you might be totally wrong, especially when you're a beginner in video editing.
In facts:
Music Video Editor like Adobe or Final Cut Pro is too complicated to an ordinary user. So here I'd like to recommend an easy music video editing software called "Filmora Video Editor" and other 9 advanced alternatives for you to edit videos with music without any quality losing. You can compare them and pick up one according to your own needs.
Now, let's get started.
Part 1: Filmora Video Editor - Best Music Video Editor for Beginner & Semi-professional
Filmora Video Editor & Filmora Video Editor for Mac is an easy and powerful music video editing software to edit and personalize videos with vibrant music, filter, text, etc. anyone can learn and use this software regardless of their skill level, and the end results are fantastic. It has everything that you need to make a quality video. Its workflow and interface are among the easiest to grasp.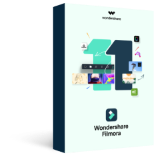 Best video editing software for beginner and semi-professional, that comes with powerful editing skills like trimming, splitting, rotating, editing, etc.
Advanced video effects like green screen, PIP, audio mixer, etc. can also be found and applied to your video within few clicks.
500+ free special video effects to customize and create an awesome movie by yourself.
1000+ standalone effects downloading resources to make videos in all kinds of styles.
Export videos to Chromebooks compatible format with 1 simple click.
Step-By-Step Guide to Edit Music Video Using Filmora Video Editor
They say that music is how we show our emotions and everywhere we go we need services to edit music video by adding background music, split, trim overlays etc. Filmora allows you to do this in an easy modern user interface. In this article, we are going to go step by step on how to easily achieve this.
Step 1: Import Video File
On opening the program click on "Import" followed by "Import Media Files" icon. Choose the music video that you want to edit and open with it with the program.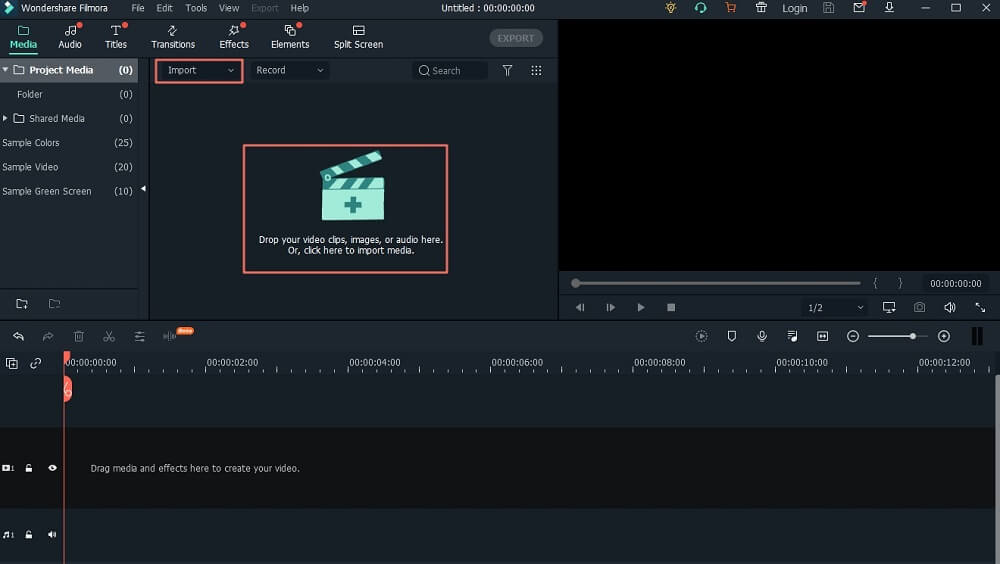 Step 2: Edit Music Video
Now drag the music video to the timeline at the bottom of the window. Then, you can follow the below steps to change the video settings.
1) Split Video into Multiple Parts
Split video by moving play head to where you want to split a music video, right-click and select "Split". Or you can use other ways to split a video with Filmora Video Editor.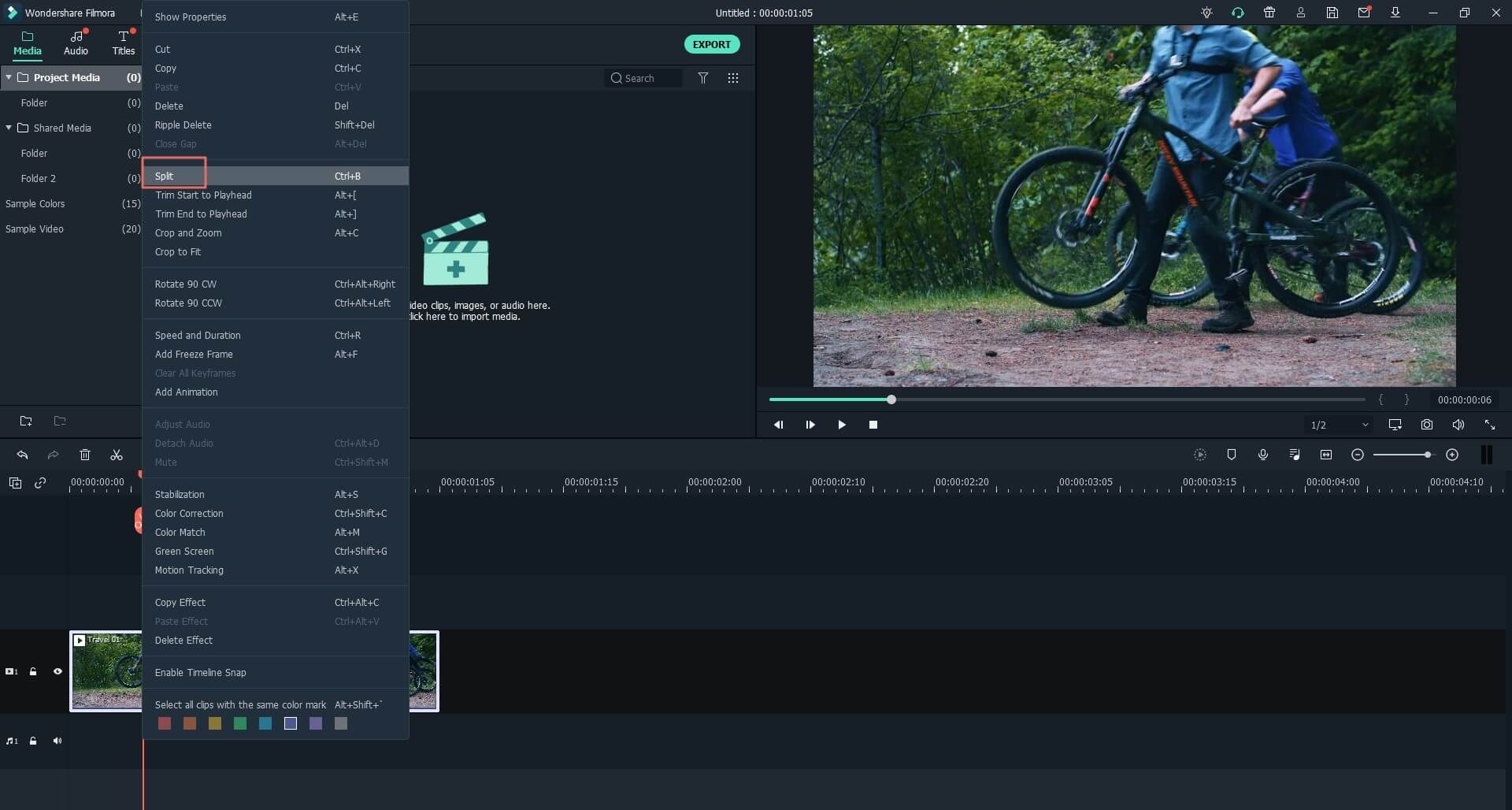 2) Detach Audio from Video
Right-click on the music video clip in the timeline that you want to change the background music, and choose "Auto Detach" or "Mute" button to remove the audio from video first.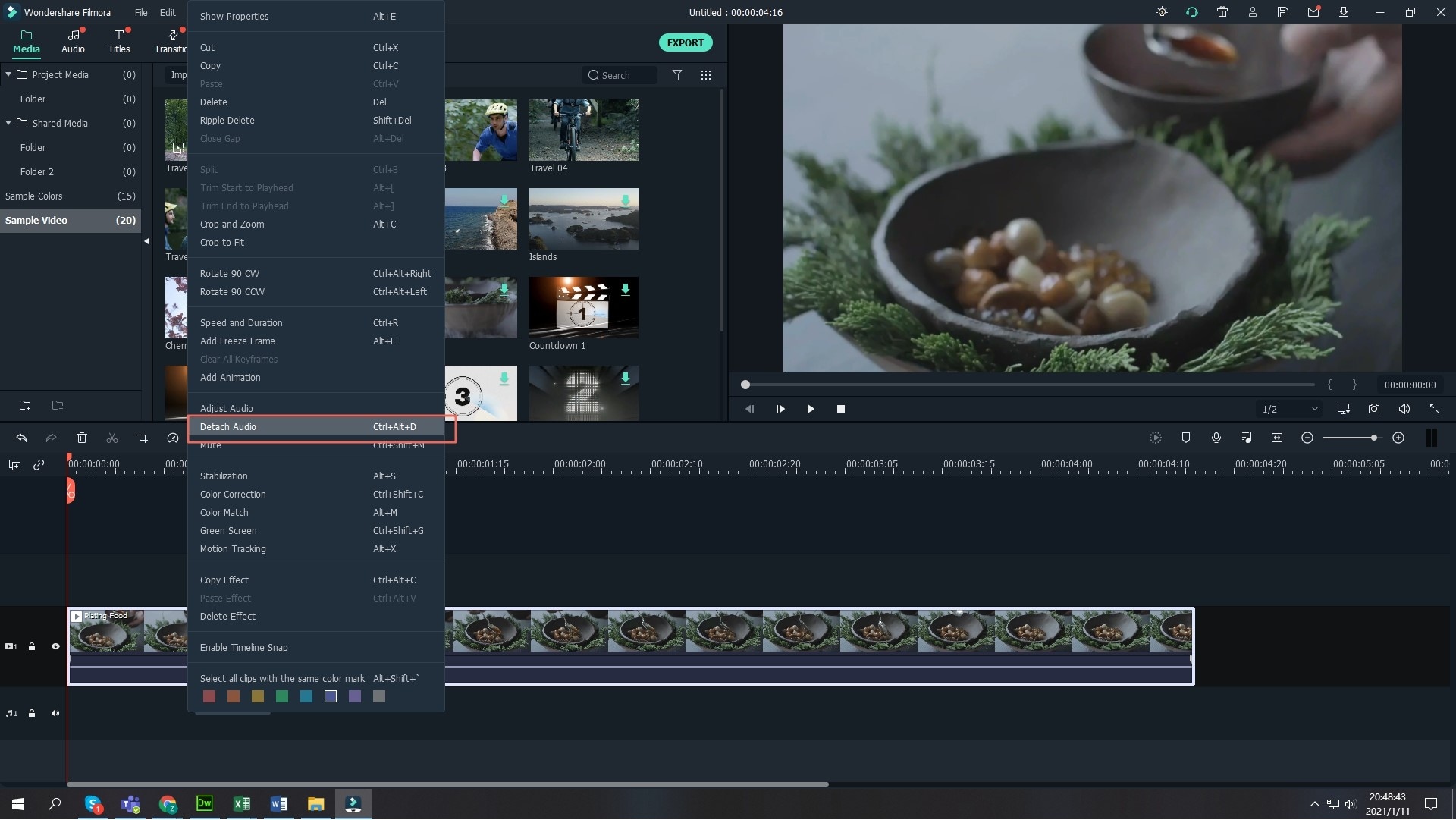 3) Add Background Music to Video
Now, you can add a background music to the video clip in two different ways:
Option One: Click on "Music" and directly choose a free music track from the music library to your video.
Option Two: Import your local audio file into the media library, and drag and drop it to the audio track in the timeline.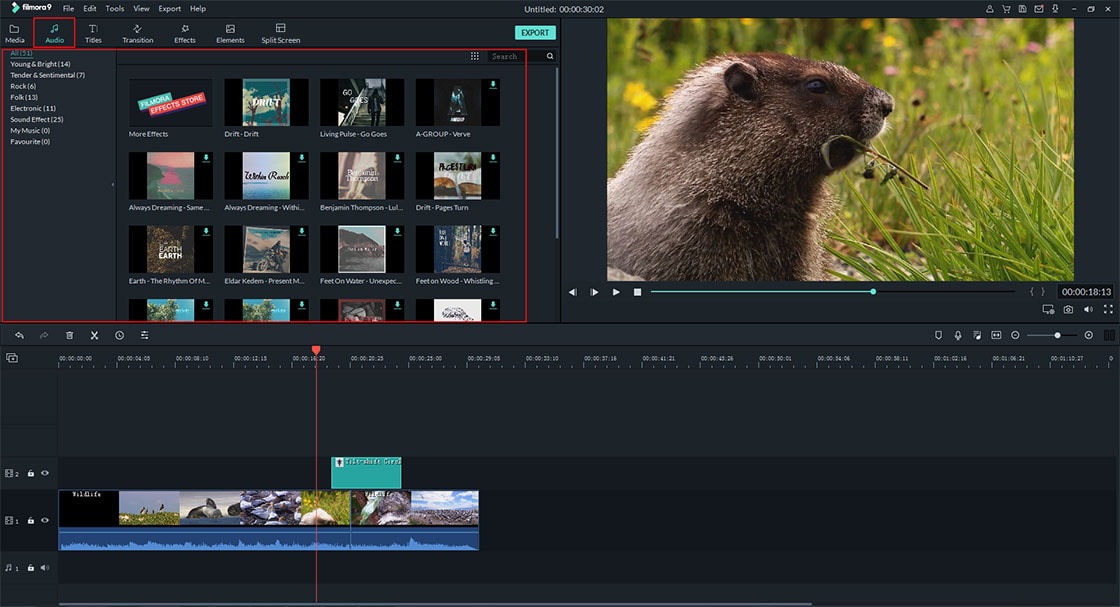 4) Adjust Audio Speed, Volume, etc.
Double-click the audio track in the timeline to open the audio setting panel. Here, you can adjust the audio's speed, volume, etc. as you like.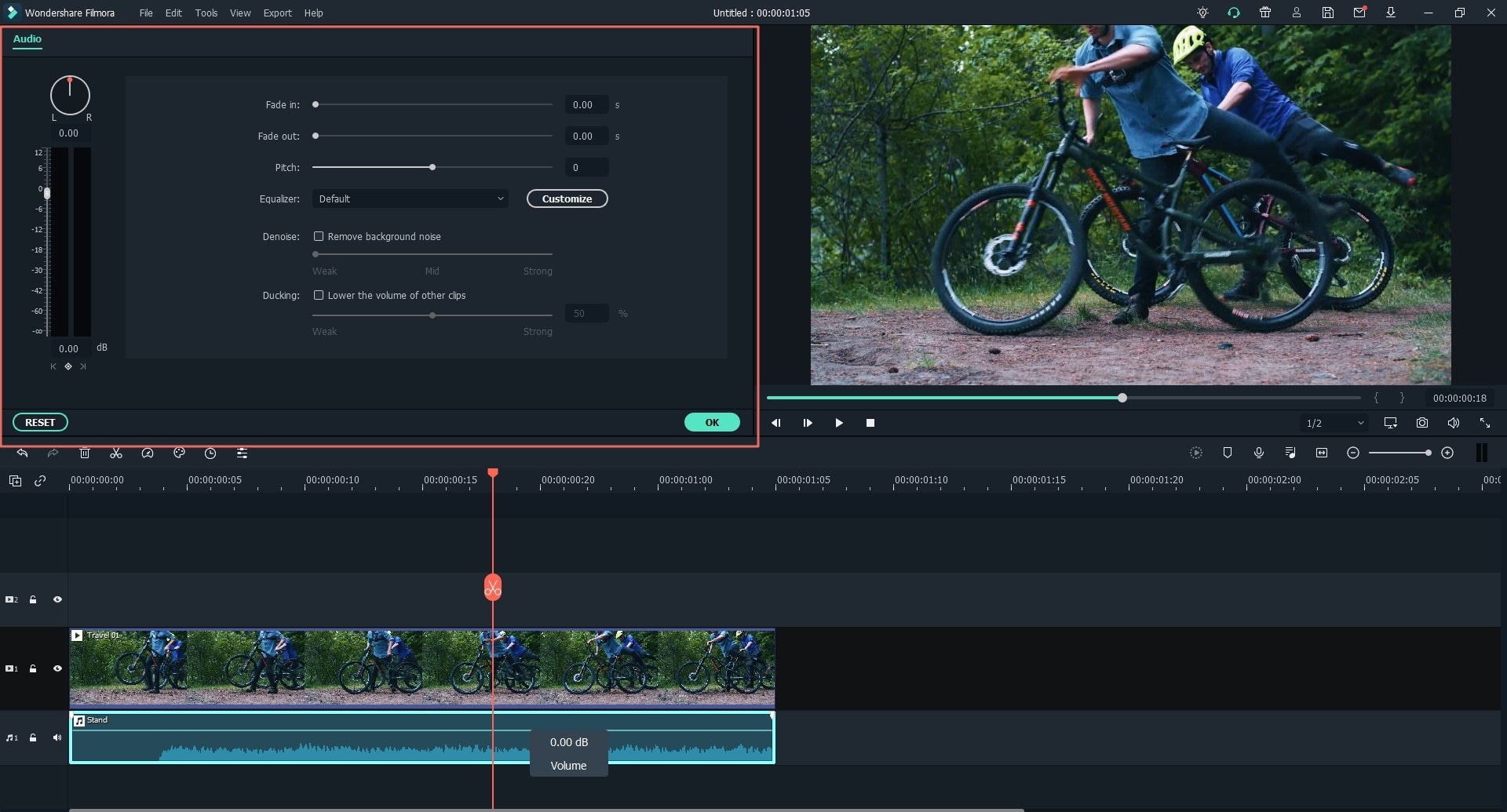 Now, a simple edited music video is created, you can directly go to the next step learn how to export music video with Filmora Video Editor. Or learn how to edit the video with more advanced editing tips as follows:
- How to make a split-screen video on PC or Mac
- How to make a cool video with effects
- How to create an awesome video intro/outro
Step 3: Export and Share
Once done with all editing works, you should now save and export your work. You can do this in multiple ways i.e. Exporting by Formats, Export by Devices, Direct Share to social Media or Burn to DVD. To achieve this, Click the "Export" button and select either of Format, Device, YouTube etc. After that, you can rename the video and location where to save it and other settings and finally click "Export" to start the conversion.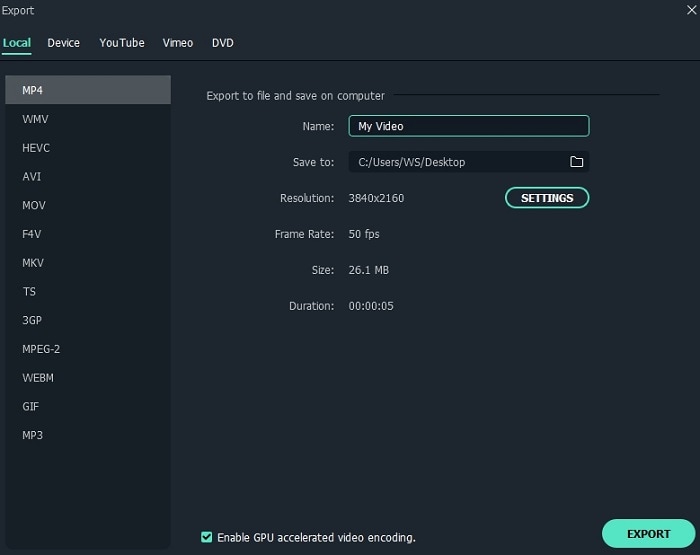 ---
Part 2: 10 Best Music Video Editing Software for Windows & Mac
#1. GiliSoft Video Editor
GiliSoft Music Video Editor can help you make excellent edited movies. It cuts and joins video clips with zero quality loss, applies fashionable video effects and filters, adds music, titles, etc. With the help of GiliSoft Video Editor, you can select the best material, delete unnecessary material, and add the best material to the movie. Add effects, graphics, music, and text to change the video's style, rhythm, or mood. Buy now only costs $39.95 and get 1 year free updates. It is an affordable and easy-to-use music video editing software.
Pros:
Stabilize the video from shaking the camera.
Attractive effects store.
Cons:
No screen recording tool.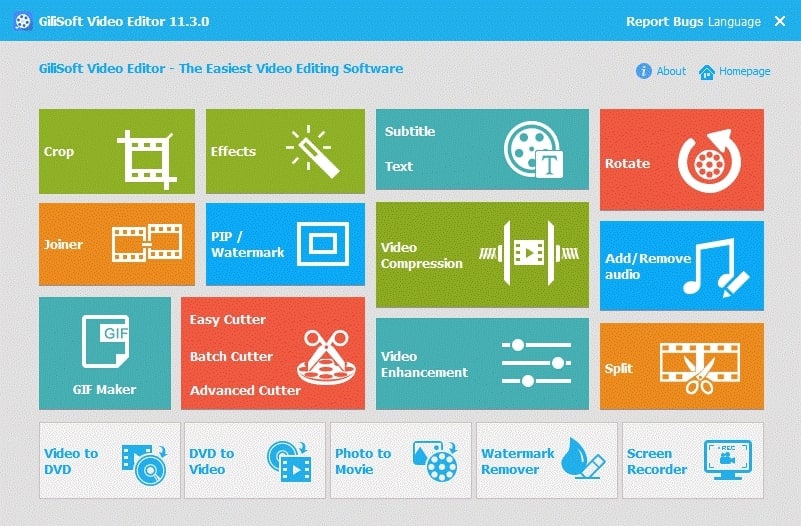 #2. Magix Movie Edit Pro
Magix Movie Editing Pro is not only a film editor but also a music video editor with professional level tools. It is a good choice for both novice and the advanced video editors. The editor produces high-quality video output with high quality on the edited videos.
Pros:
You can place any media on the editing tracks for editing
It employs proxy editing which creates lower-resolution versions of the video for you to work with.
When you are done with your project, the application will export it from the original files thus decreasing the time used in waiting for video files to be rendered in the editing space.
Cons:
It takes a long time to download and install the effects library.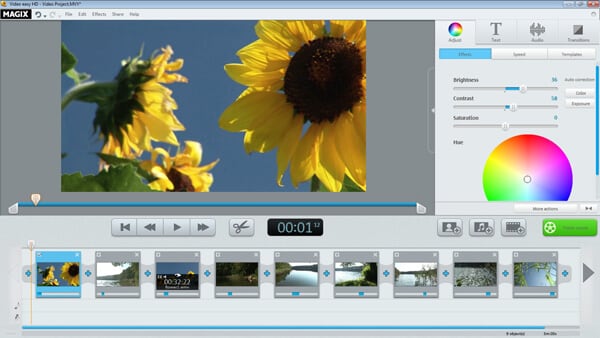 ---
#3. Power Director
Power Director is a video editing software for music videos that provides a unique combination of advanced editing features and high-end performance. With the power of a full-featured software and the ease of an entry-level program, Power Director 15 Ultra is an ideal application for casual users and beginners. The music and video editor strike a balance of making the software accessible to new and novice users without sacrificing the tools and the functionality that hobbyist, professionals, and prosumers demand.
Pros:
It supports an end to end 360 video editing.
It has leading Edge Formats and performance.
The editor is remarkably easy to use with intuitive Design Flow.
Cons:
There is no Mac version for this music video editing software
Read More about Power Director >>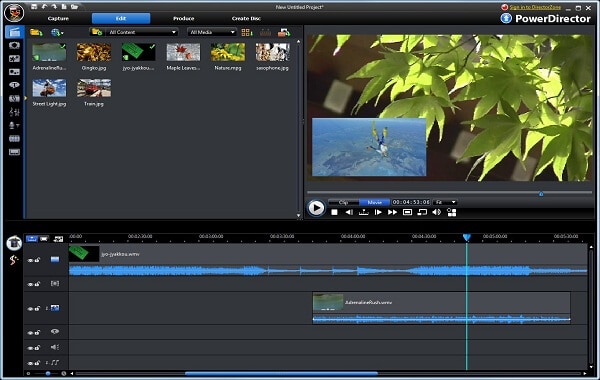 ---
#4.
is a music video editing software is ideal for anyone who wants to make online videos, or videos for friends and families. It contains all the necessary tools such as a good library transition, titles, and effects. Besides, it includes a good selection of video templates, and it comes with an automatic video creator called FastFlick. It also comes with all advanced tools such as a great multi-cam module, Chroma key and the ability to edit a 360-degree video.
Pros:
The editor has almost all features that you may look for in the best programs.
Cons:
It has only one main editing track.
---
#5. Adobe Premiere
Adobe Premiere is one of the most recognizable video editors. The tool simplifies the editing functions so that you do not have to be a professional to create videos. It also gives you a chance to learn the ins and outs of editing. The editor has three editing modes; Quick, Guided and Expert, each mode is true to its name. Moreover, Premiere Elements allows you access to more than 400 transitions, objects and effects that allow you to fine-tune your video.
Pros:
It offers multiple ways to learn about how to use its video editing tools.
Cons:
It has the limited device and social sharing optimization choices.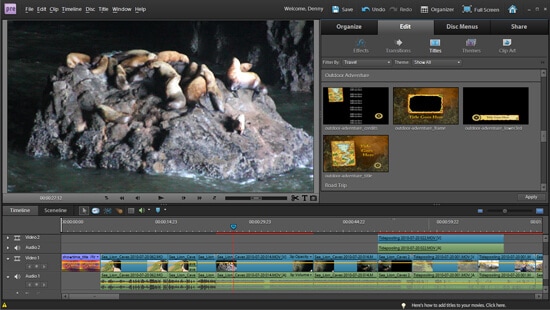 ---
#6. Studio
The software is good when making both straightforward and complex videos. It offers an extensive array of organizing, editing and exporting tools. It contains all the tools that you want to make a finely polished video. The workflow is also easy to learn, and you will get the hang of the software in few minutes.
Pros:
The software combines the timeline and storyboard workflows for a maximum usability for both advanced and novice users.
The unique and intuitive workflow lets you sort, import and builds videos from your media clips.
Cons:
You have to upgrade to the ultimate version if you want video stabilization, 4K support or 360-degree editing tools.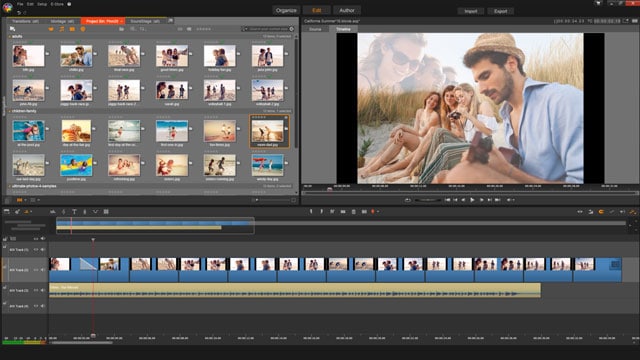 ---
#7. Vegas Movie Studio
Vegas Movie Studio has enough features to help you edit your music videos and produce quality results. It has a healthy library of titles, transitions, and effects to choose from. It also has an advanced tool set which includes Chroma key, audio mixer, video stabilizer, masking tools 3D editing tools and more. One notable feature is the multi-cam mode which allows users to synchronize a video footage from multiple sources.
Pros:
You can add up to 200 editing tracks which will help in crafting complex videos.
Cons:
It does not have a storyboard mode, and it omits several advanced features like motion tracking and 360-degree editing.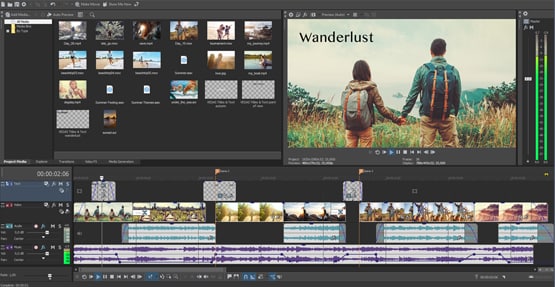 ---
#8. AVS Video Editor
AVS Video Editor is a consumer-level editor which allows the transformation of raw footage into a finished video that you can upload to the internet. It is easy to learn how to use it, but the quality of the exported video is not okay. When you launch the application, you will find prompts that will walk you through how to use the program.
Pros:
The software offers various videos to show you how to use it to its fullest potential.
Cons:
The quality of the exported videos can be spotty or pixelated, and it may require you to make multiple versions before you get what you want.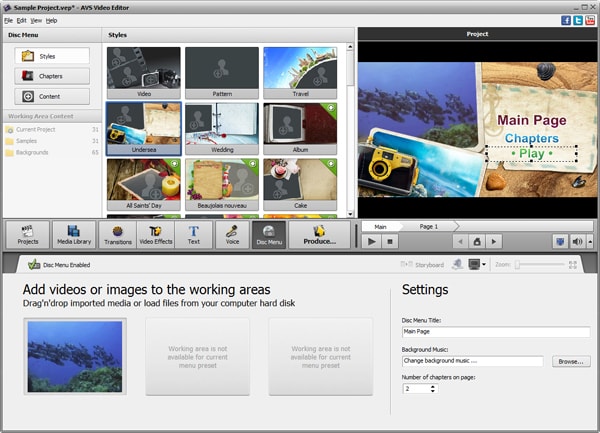 ---
#9. Videopad
Videopad is video editor which offers enough tools that make it worth its price tag. It has many of the features and tools needed in editing a music video though it lacks some advanced ones. It has a storyboard workflow which means that you can view your project linearly or by each object regardless of its length. The video maker software permits the addition of unlimited tracks giving the user the versatility to create complicated projects.
Pros:
Videopad allows users to add unlimited editing tracks for complex projects.
Cons:
It lacks some features such as themes, automatic video creator, templates and slideshow creator that would be essential for beginner and casual users.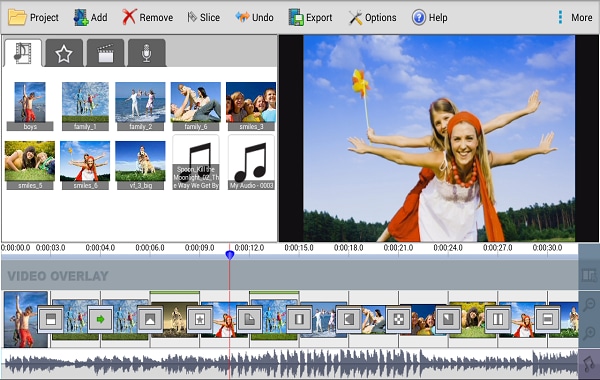 ---
#10. Nero Video
Nero Video is a decent music video editing software with two editing modes. The two ways let you choose an editing style which is right for you. It contains a fine selection of effects, transitions, and enhancements. However, due to its unique workflow, you may need to take a few hours to understand how it works.
Pros:
The software has a library of 400 effects, enhancements, and transitions to help you make the exact video you want.
Cons:
The interface can be counterintuitive, and it takes some time to master.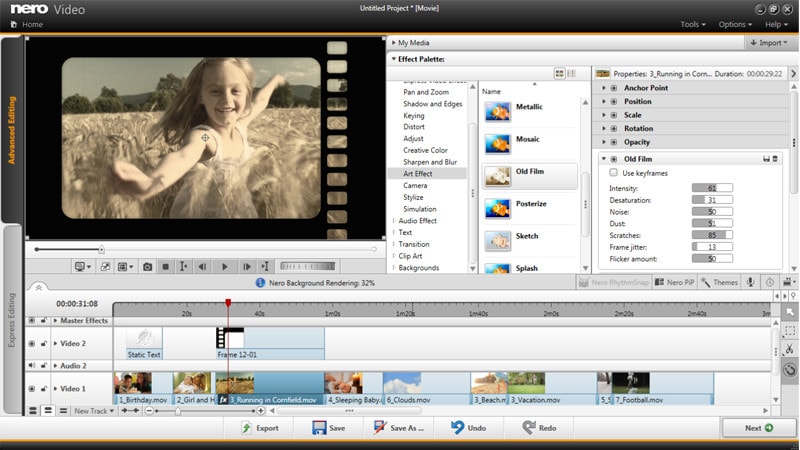 ---
Conclusion
There are 10 advanced music video editing software for Windows and Mac, which one are you ready to try first?
In my opnion:
If you're a beginner or semi-professional, then Filmora Video Editor could be the best choice for you.
If you're a professional user? Just use your familar video editing software to edit a music video as you like.
You can click the below icon to get Filmora Video Editor now.