What software is best for live streaming?
What hardware do I need to stream?
Live streaming is one that enables you to engage with your spectators in real-time through a video feed, broadcast vlogs, gameplay, etc., and lets you host things like webinars and share your screen with your target audience. The YouTube livestreaming hardware requirements include a camera, USB microphones, lights, encoding software or hardware encoders, dual monitors, etc.
An encoder is the best way to live stream a video online which can be software/hardware depending on the purpose and budget of your work. The purpose of encoding a video is to transform the video content into a digital copy to stream on various platforms.
Using an YouTube livestreaming software & hardware encoder allows you to:
• Share your screen to broadcast your gameplay or any content.
• Use external audio with video hardware.
• Manage a production advanced with devices like multiple cameras and microphones.
In this article, we will try to look at various YouTube streaming hardware and software encoders along with their key features as they have a major role in video live streaming from various devices like windows-10 free, android, iOS, etc.,
5 Best YouTube Live Streaming Software Encoders for Windows/Mac
Software encoders are computer programs that run on your personal computer to retrieve data from the capture cards, and send it over the internet. They are commonly preferred for their cost-effectiveness and it is exciting to know that some of the popular software encoders are free for users.
Now, let us take a look of which ones are the best software encoders for YouTube livestreaming.
#1. Open Source Broadcaster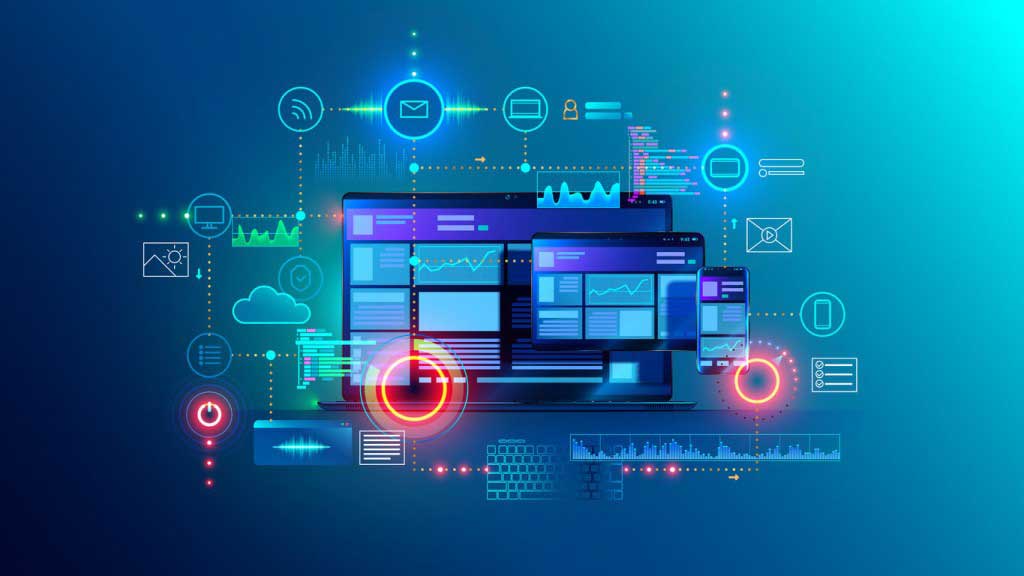 OBS or Open Broadcaster Source is an easy recording and best live-streaming software tool that is used by all the beginners. Since it is an open-source software tool, it allows you to customize your needs. It is a freely available application for recording and streaming for Twitch, YouTube, and Facebook. Studio Mode provides a preview of your video scenes before streaming them live.
Price: Free
Operating System: Linux, Windows, and Mac
Key Features:
Advanced design for customized transitions.
Necessary Filters, noise suppressors, audio mixers, and gain boosting facility added for creating classic videos.
Easy access to light and dark themes.
---
#2. Xsplit Broadcaster

Xsplit Broadcaster is a simple and powerful live streaming software tool that can foster an impressive video content with its user-friendly interface. It comprises all the basic video creation tools featured with audio support. It is surprising to know that it offers a Full HD video recording ability.
Price: Free/Paid
Operating System: Windows
Key Features:
It supports all kinds of capture cards.
It possesses custom integrations as well as plugins.
Easy video development along with other professional production tools.
Access to options like chatting and notifications for interactively organizing your video uploads.
---
#3. Wirecast play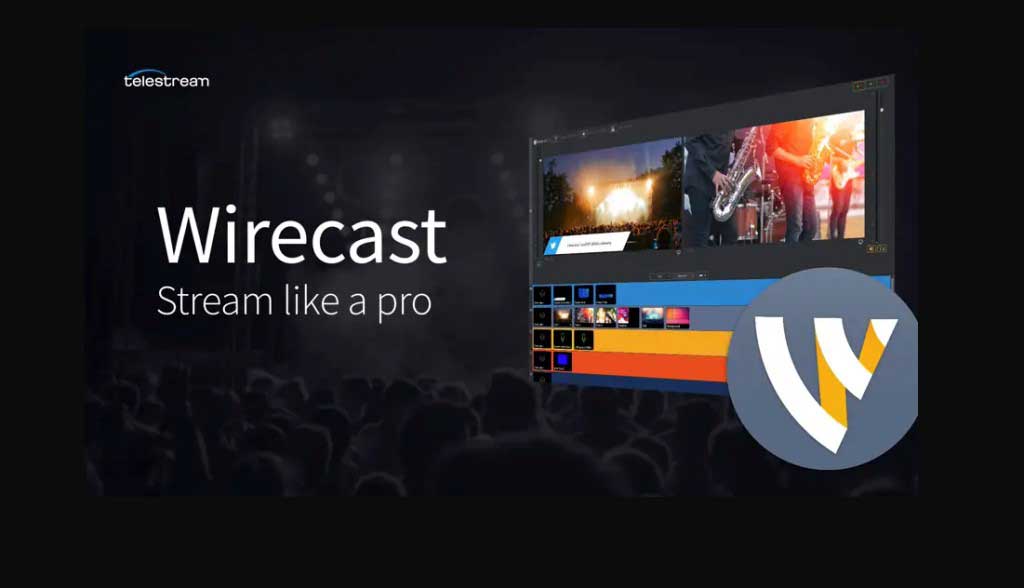 Wirecast play enables its users to enjoy professional live video recording facilities. Users are allowed to encode all their live streaming content over multiple platforms. It is the only all in one platform that enables you to capture content, production, and encoding of videos of your interest.
Price:
Wirecast Play 6: Free/$9.99
Wirecast Play Studio 6: $279
Wirecast Play Pro 6: $549
Operating System: Windows, Mac OS
Key Features:
Widely compatible with different online platforms.
Compatible with different camera inputs and devices.
Fine-tuning different compositional elements like audio delay, live switching, etc.,
The simultaneous broadcasting of contents on multiple platforms is possible.
---
#4. vMix live stream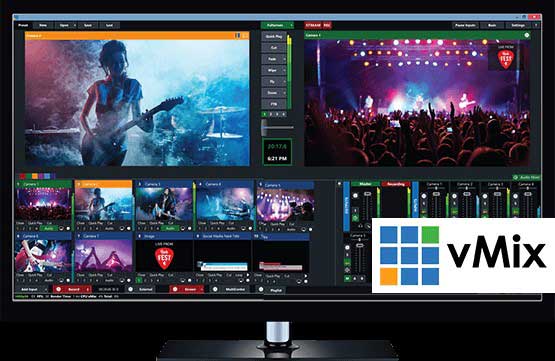 vMix is software that lets you create impressive and professional quality content on your device at a fraction of the cost. It is a downloadable product that involves production, streaming, and cost-effective mixing of the video content (as per the name of software).
Price: $350
Operating System: Windows
Key Features:
Facilitates high quality animated graphics.
Supports low latency audio and video content.
Good quality real-time chroma key.
Built-in audio mixer with compressor and noise gate effects.
---
#5. Livestream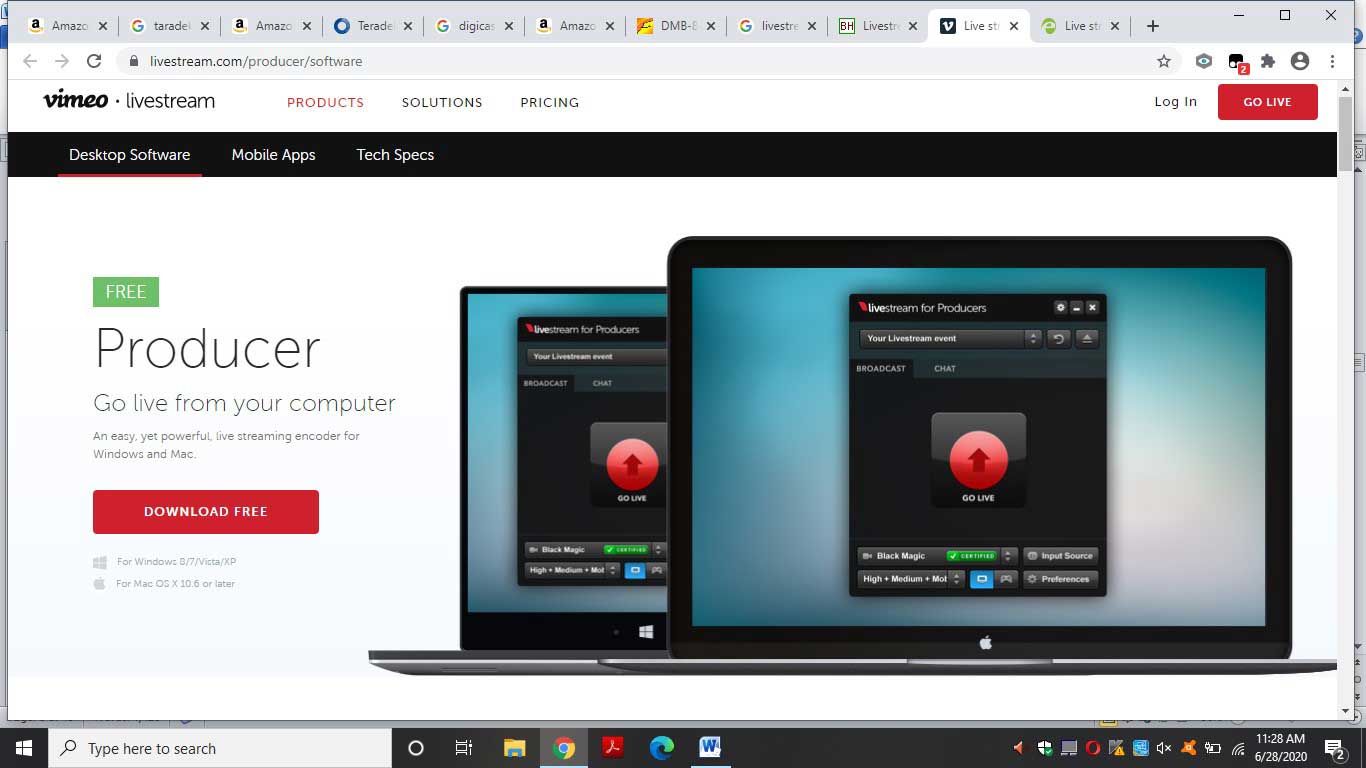 Livestream is the best livestreaming software for YouTube and Facebook. It is easy to use interface and simple settings make it the best suitable for the beginners who have just started streaming. It also supports simple and high-quality game casting.
Price: $75 per month
Operating System: Windows, Mac OS
Key Features:
Accurate compositing and live switching.
Compatible with various camera inputs.
Broadcast quality video output.
---
What Hardware Encoders Do I Need to Stream on YouTube?
Hardware encoders are powerful and reliable video developing tools used by professionally experienced streamers. A hardware encoder is a piece of physical equipment that is hooked up in the live streaming procedure. It has a lot of functionalities in an online video development process.
#1. Taradek VidiU Pro

The Taradek VidiU Pro is the ultimate live streaming device for schools, churches, production companies, and businesses trying to take their content to live online from anywhere without a computer. It is practically an alternative to VidiU Go and is the best YouTube livestreaming hardware for features like remote management etc.,
Price: $2690
Key Features:
Configurable with Bluetooth.
Supports multiple broadcasts on various destinations.
Ultimate reliability and maximum bandwidth.
Compatible with all platforms.
---
#2. Taradek VidiU Go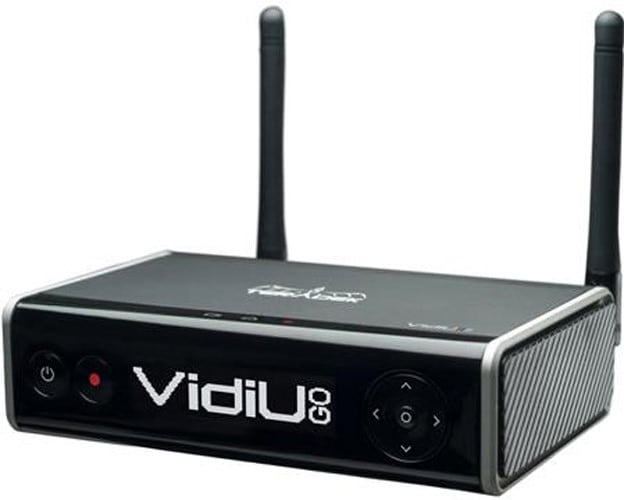 Taradek VidiU Go provides a solution to one of the greatest challenges to giving a high-quality content stream through network bonding. It is a bonded device using Taradek's core technology, which enables you to divide your signal bandwidth between modems reducing the dropping of frames and of course increasing the content quality.
Price: $1400
Key Features:
Dual video input.
Save 50% of the required bandwidth.
Streaming content is instant.
Stream on cutting edge.
---
#3. Digicast DMB-8800A Premium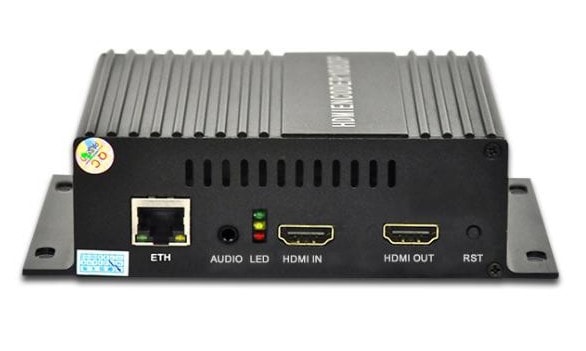 Digicast DMB-8800A Premium is one of the best YouTube live streaming hardware encoders used for remote education, health care operations, video conferences, news interview, public security, banking operations, transportation, and other industrial applications.
Price: $433
Key Features:
It provides clear delicate videos at low bit rates.
A built-in audio gain for independent volume adjustment.
Multi-resolution and multi-protocol configurable
Sharpening and filtering facility in video processing.
---
#4. Webcaster X1 for YouTube

Webcaster X1 for YouTube is a lightweight, portable hardware encoder device that enables you to live stream on YouTube using any device with an HDMI output or a camera or a mixer. It streams high-quality video with embedded audio.
Price: $299.95
Key Features:
Very simple and easy to use.
Versatile to live stream content from anywhere.
Facilitates scheduled live streaming and stream now options.
---
#5.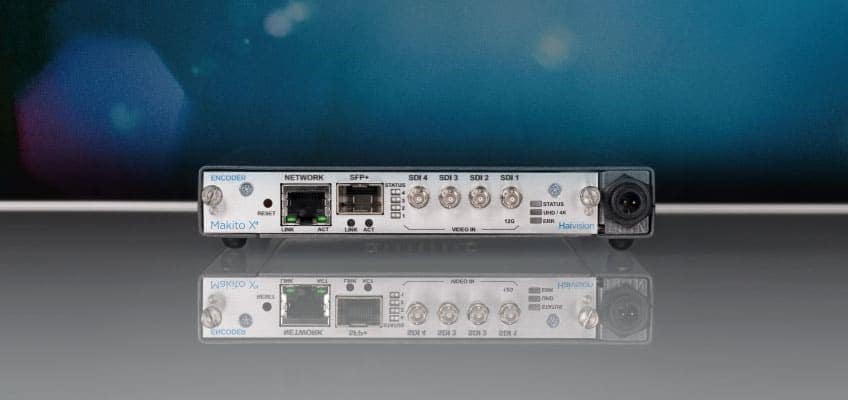 The is commonly called (High-Efficiency Video Coding). The move towards obtaining a better resolution has necessitated an improved level of compression efficiency in this version compared to its precursor versions of or AVC (Advanced Video Coding). AVC is also a video compression standard that is based on motion-compensated and block-oriented coding.
Price: $255
Key Features:
Compressed bit rate.
Better visual quality due to better resolution.
Secured broadcast of high-quality videos.
Most versatile and powerful video developer tool.
---
[Bonus Part] Software vs Hardware Encoders - Should I Use Software or Hardware Encoding?
Now that we are aware of various encoders, the common confusion that arises in our minds is, "Which one is better: hardware or software encoder?" An encoder is an algorithm and the hardware is what that is needed to run it.
The main difference between the hardware and software encoders is that the significant characteristic that lets hardware encoders to perform comparatively effective -is that hardware encoding devices are solely designed for encoding. Software encoders operate with your computer, so encoding is not the prime function. You should familiarize yourself with the pros and cons of both types of encoders if you want to arrive at a better decision. So, let's look at them a little deeper.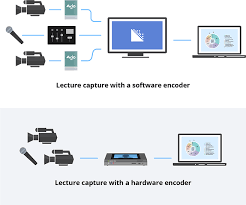 Using a hardware encoder
PROS
• Great performance and reliability.
• High encoding speed and lower latency.
CONS
• Expensive
• Difficult for timely upgrading
Using a software encoder
PROS
• Cheap and Flexible
• Customizability
CONS
• Lower performance
• Higher latency.
Depending on the budget of your stream and the purpose of your work, your choices may be different. For example, hardware encoders run upwards to around $1000 making them costly while encoding software is mostly less than $100 and even for free sometimes. Hence, hardware encoders are considered to suit best for professional and experienced broadcasters, while software encoders perform well for beginners. So, choose wisely!
---
Final Words
The encoder you use plays an important role in the quality of your live stream video that is to be delivered to your target audience. There are several choices and configurations to look into when choosing one of them to go for your live stream. While hardware encoders tend to produce better quality video live streams, software encoders are easier to handle and cost-effective.
Now, that we have come across different encoder tools, we have an idea of going on a YouTube live stream in the best way possible. If you think we have missed out on any other encoders from your list of recommendations, don't forget to leave it as a comment below. We are always pleased to accept such comments to upgrade our content. Thank you!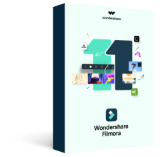 Key Features of Filmora Video Editor:
The software supports almost all available videos, images, and video formats. Besides, it also supports GIF files and 4K resolution videos.
Allows to import images and clips from Facebook, Twitter, and other social media channels.
The app also provides advanced functions, such as the audio mixer and picture-in-picture support, and basic functions.