YouTube, a platform having the world's second-largest internet traffic is the greatest source of skyrocketing your views and advertising your businesses from all over the world. Sometimes, the case may be different as there comes confidentiality in your content which you want to reveal to only concerned authorities, in accordance with such special content YouTube provides you the unlisted YouTube feature.
This question might be lingering in your mind that what does unlisted mean on YouTube?
Generally, YouTube video content is divided into three main types, unlisted YouTube videos, YouTube private videos, YouTube public videos. These three types concern with the sharing status of your video content as unlisted specifies views with a link, private specifies the selected audience meanwhile public is sharing with all the viewers around the world.
Now, let's get started.
What Does Unlisted Mean on YouTube?
In a simplified term, unlisted YouTube meaning videos with this setting will only be seen by the viewers having the link to that video. More generally, you decide and put a constraint on your video content that only those people who have that specific link of the video shall see the video content. Now the good thing is you can select numerous audiences by sharing the link with only those audiences which have concerns about such specific content.

A video that is unlisted would never appear in search box suggestion nor it will be available or can be viewed from the YouTube user's feed. Although any person with the link of video can be able to view it so you better decide to share the private and confidential content video to the concerned and trustful authority only as it can be viewed by any other person if they have the link. Because in general, YouTube sees that unlisted video as a public video.
---
Comparison Between YouTube Unlisted Vs Private Vs Public
If you are not familiar with the question of what does private and unlisted mean on YouTube? Here we have explained the answer in a brief detail.
Starting from the public videos, by default settings of your videos uploading to YouTube has public feature which means anyone can view that video, as well as the video, will appear in search box suggestion as well as in the subscriber's feed.
On the other hand, private videos are the opposite of public videos as Private videos are concerned with the only limited audience which you have selected to share the video with. It might be an introductory interview or an answer to a questionnaire. You can select a limited number of 50 viewers for your private videos.
In this section, we will give you a brief comparison between YouTube unlisted vs private and also with YouTube public videos. The main difference between them as stated above is the privacy concern that you might be interested in. For a more simplified understanding between these three kinds, the below table is explaining the main comparison analysis:
| Comparison Aspects | Unlisted Videos | Private Videos | Public Videos |
| --- | --- | --- | --- |
| Would I be able to share the video URL? | Yes | No | Yes |
| Would I be allowed to add a video to YouTube Channel? | Yes | No | Yes |
| Would my video show up in the YouTube platform? | No | No | Yes |
| Would I be allowed to post videos on the channel? | No | No | Yes |
| Can someone leave comments on my videos? | Yes | No | Yes |
| Would someone be able to watch it only with an account? | No | No | Yes |
| Would my video shows on subscriber's feed? | No | No | Yes |
---
How to Make a YouTube Video Unlisted?
If you are looking for smart ways to share your confidential information with only concerned people out there, then making an unlisted video is the best option available because with this option there's no sharing limit so you can share it with all the concerned viewers out there.
So, concerning how to make a YouTube video unlisted? Here you will find the easiest steps but before we proceed, you need to edit your videos professionally and in order to do that, you need a professional video editor - Filmora Video Editor, which will give your videos an effective look essential to make your viewers stick to your videos. Filmora simplifies the video editing for you with a user-friendly easy to use interface.
Learn more about how to edit your unlisted YouTube videos.
Here's how to unlist a YouTube video:
• First of all, get yourself sign in to YouTube account as follows:

• Select channel Videos as below to go to the video's list menu.

• Now click on the Edit button to see the settings of your selected video.
• Head towards Privacy section and select Unlisted option from that drop-down options: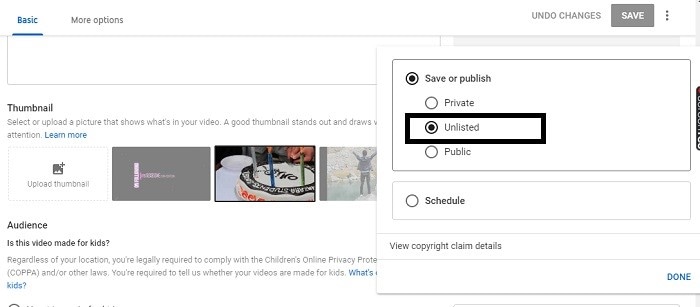 • Now click on Save Changes to proceed with your video as unlisted one.
In this way, you can mark your videos unlisted on YouTube however, if you want to mark them private or public, you can also select the other options right from there as well.
---
How to Find Unlisted YouTube Videos?
After you have unlisted your specific videos, now you need to know how to see unlisted videos on YouTube? As unlisted videos do not appear in your playlist nor on your channel feed so here are the steps explained to find your unlisted videos:
• Open your browser and head toward www.youtube.com.
• Go to your YouTube account and click on your profile. And then, select YouTube Studio to open your channel.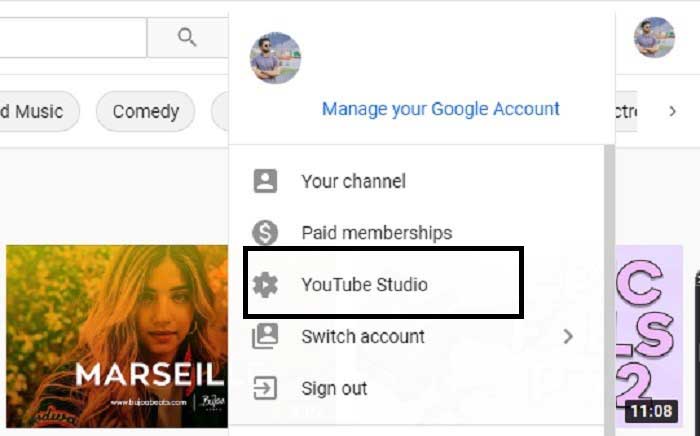 • From the left menu items, select Videos as shown below: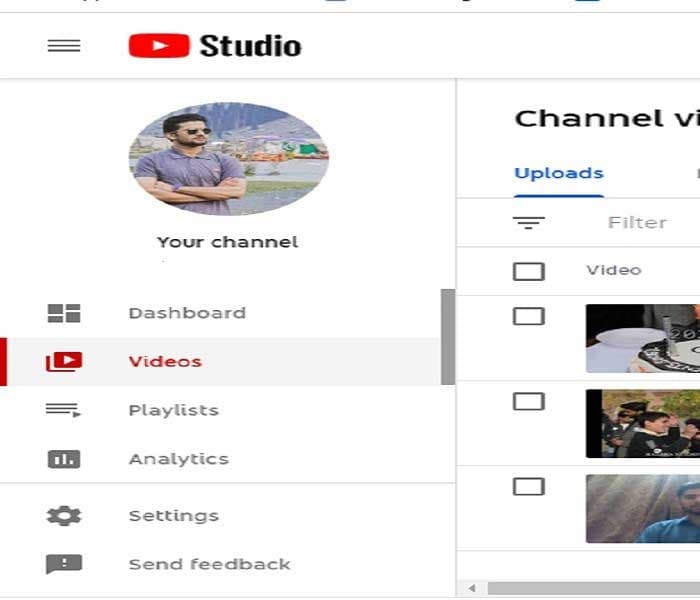 • Now you can see the unlisted videos of yours which you have marked unlisted before.
Note: You can also change the privacy from the drop-down options and after that if you want to know How to view unlisted YouTube videos? Simply follow the easy steps above. The enlisted YouTube videos will appear in your channel videos section and by the above steps, you can change the privacy settings of your enlisted videos.
---
How to Download Unlisted YouTube Videos?
Being a YouTube content creator, you need to know how to mark unlisted or private videos rather than the public ones because sometimes you want to keep your videos to yourself or a selected audience only. In addition to that, there might be a need of enhancing or changing something in the uploaded private or unlisted videos of yours so you need to download the previous one.
To do that, we have brought you a way to easily download all your YouTube private or unlisted videos:
• Open the YouTube on your browser and click on the profile in the upper right corner.

• Now you're into your channel here you shall see the Videos menu in the left portion as follows. By clicking on it, your private and unlisted videos are visible to you now

• Click on the three-dot button associated with every video of your channel. Select the Download option from the drop-down menu to download your Private videos.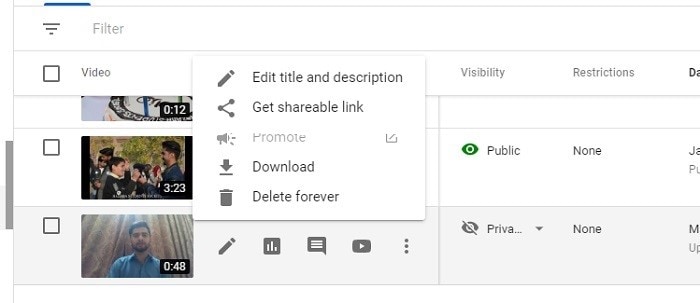 Now if you want to download someone else's enlisted YouTube video, you can use third-party software like a 4K video downloader to download all your private and unlisted videos with just a click using the software application.
Follow the steps below to proceed with the download:
• Launch 4K video downloader from your desktop to head towards the following interface. Copy the specific link of the unlisted video you want to download: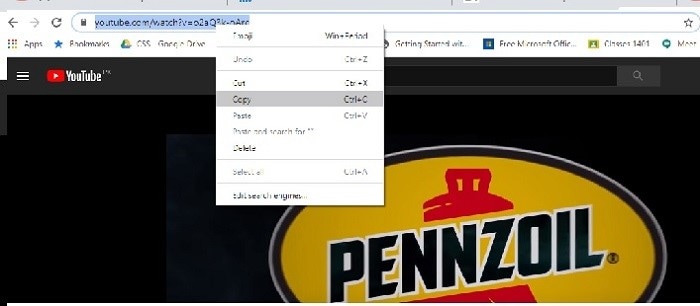 • In the next step, paste that copied link in 4k Video Downloader clicking the Paste Link in the top left corner, and customize the settings of your video to be downloaded:
• In the final step, hit the Download button to start the downloading of unlisted YouTube video: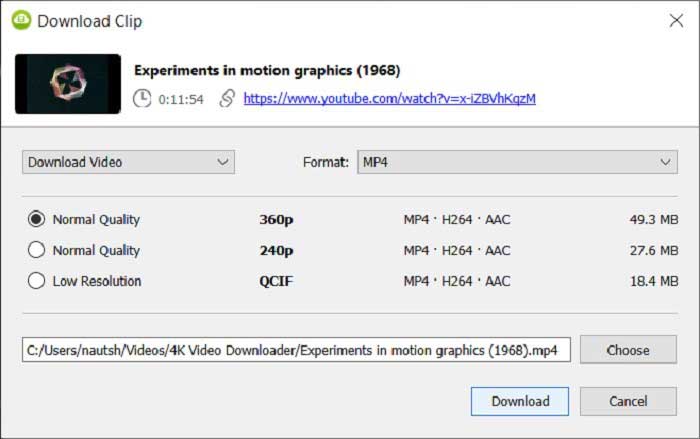 After the 4k video downloader finishes the downloading process, you can go and check out the video in your download folder of file explorer. You can check the video will be in the specified quality and with customized settings you have selected before downloading with 4k Video downloader.
[Bonus] If you are a YouTuber with having a huge fan following then it doesn't mean you can't have a private life. In order to protect your privacy and limit your viewers, YouTube offers these three kinds of videos to be uploaded by a YouTube content creator. The best thing is you can be a YouTube content creator with our Filmora Video Editor. You can download and start using it right now without any crucial steps. Filmora is a simplified video editor introduced specifically for beginners to start with their video editing career with just a couple of steps.
Learn more about how to share edited video to YouTube directly.
Conclusion
Now you can easily edit your videos by giving them a professional look to compete with your competitors and upload them to YouTube, if you want to enjoy the freedom of creating your videos and sharing it with your family then Filmora is the best choice for you to try because it's absolutely free to download and comes with a user-friendly interface.