Sometimes, little things have the highest worth. The same is the case with YouTube thumbnails. If you haven't used it yet, this article is the kicker for you, explaining how to add a thumbnail to your YouTube video. YouTube has a roaming viewer count comprises of half the internet users. This count is based on the logged in users, and plenty of viewers don't even log in before watching favorite videos on this platform. While in this fast era, you can quickly grab your audience's attention by adding a thumbnail to YouTube videos. As there's a mountain of digital content available for viewers, you need to make it most useful.
Contrary to the standard channels on YouTube, being one of the top-viewed channel owners is what every content maker's dream these days. The foremost essential on your way to achieving this target is to add your thumbnail to YouTube, which turns your channel content into standing out.
Part 1: What is YouTube Video Thumbnail
Video Thumbnails are the preview texts and images which are the representation of what's inside the videos. This small preview image has the sole purpose of attracting your audience, which indirectly becomes the reason for convincing your audience to watch your videos. You can rock the viewer's number on your videos if you know how to add a custom thumbnail to a YouTube video.
They say, "First Impression is the last impression." This correctly implies with add a thumbnail of a video on YouTube. The impression that video thumbnail is the primary source of attracting your viewers must be customized according to the viewer's mentality to be an attention-grabbing factor. This hint composed small preview is the collective context of your long-tail video, which has to be synchronized with your video content.
Add Thumbnail to YouTube: The importance of customized youtube thumbnails
If you're a YouTuber, then grabbing the audience's attention is your sole aim. You need to be aware of the query of how do I add thumbnails to my YouTube videos. You must be mindful of the importance of customized YouTube thumbnails, which has the following advantages:
• Thumbnails increase your YouTube channel videos' interactivity to rapid growth, playing a pivotal role for audience attention.
• Take quick snapshots of videos in the form of thumbnails, which can effectively and timely communication with your video content directly.
• The foremost source of the traffic to your video content on YouTube is the perfect video thumbnail, which biases the skimmers to watch your videos.
• Thumbnails are the robust impetus for your video conversion rates, which increases the users' clicks to your videos.
• You can quickly spread the awareness and the message of your video with the enticing video thumbnail.
---
Part 2: Add a Custom Thumbnail on YouTube
The most straightforward boosting technique you can opt for being a YouTuber is adding a thumbnail to a YouTube video. This technique will collectively rack up numerous views on your videos. Contrary to that, your video may crash because there is a lot of content on almost every subject on the world's most extensive streaming sites.
Here we will discuss the most appropriate steps you can follow to add a custom thumbnail to YouTube videos easily.
Step 1: Log in to your YouTube Account Before we dive into the steps involved in adding a thumbnail to videos, you need to log in to your YouTuber account by visiting the YouTube official platform.
• Go to the official YouTube website and click on the SIGN IN button at the screen's top-right corner.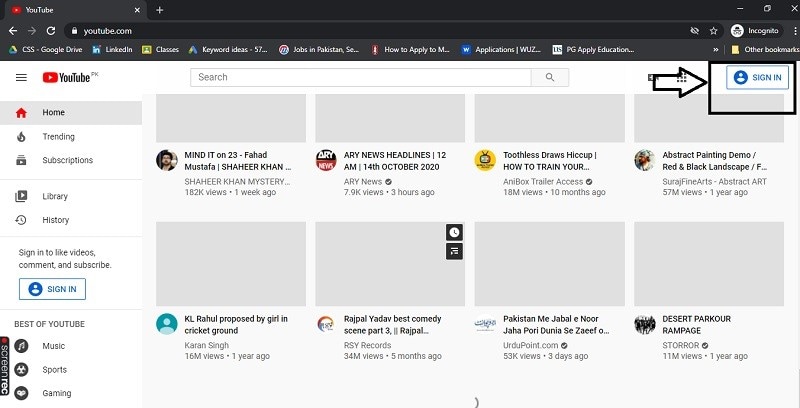 • Now you need to enter your YouTube account credentials to enter your YouTube channel.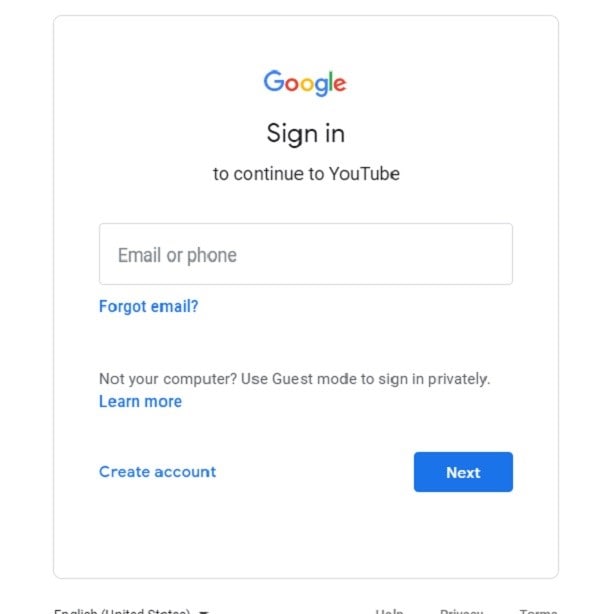 Step 2: Upload Your Videos After you logged into your YouTube account, the next step is to upload your video content. Follow the lead below:
• Click on your official YouTube avatar in your account and then select the YouTube Studio option as follows: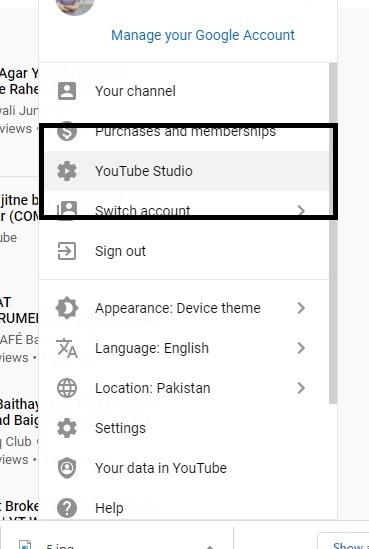 • Now in your YouTube studio, click on this Select Files button, which will allow you to select your video content fork your desktop: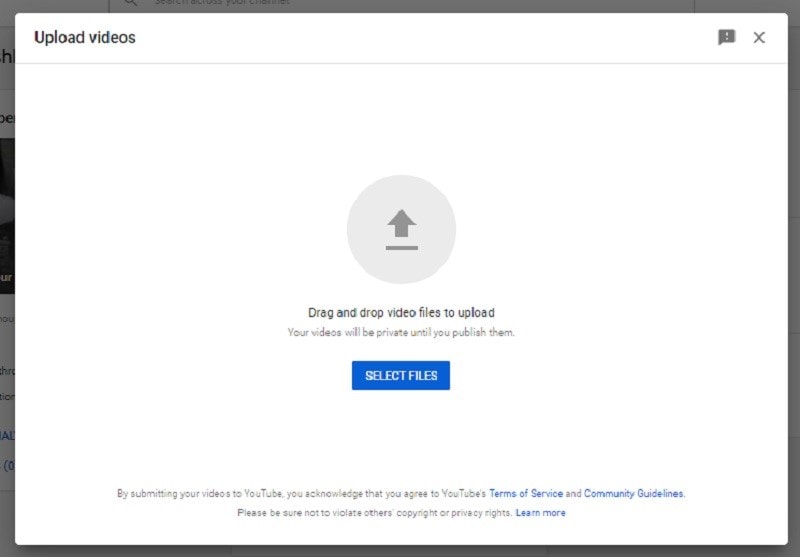 • After selecting the file, you need to upload and hit the Ok button to upload that specific video.
Step 3: Enter Details to Your Video In this step, we'll demonstrate on selecting an automated thumbnail for your video, which is automatically picked up by the YouTube server.
• In the detailed specification, after entering the title and description of your video, go straight towards the Thumbnail block as follow: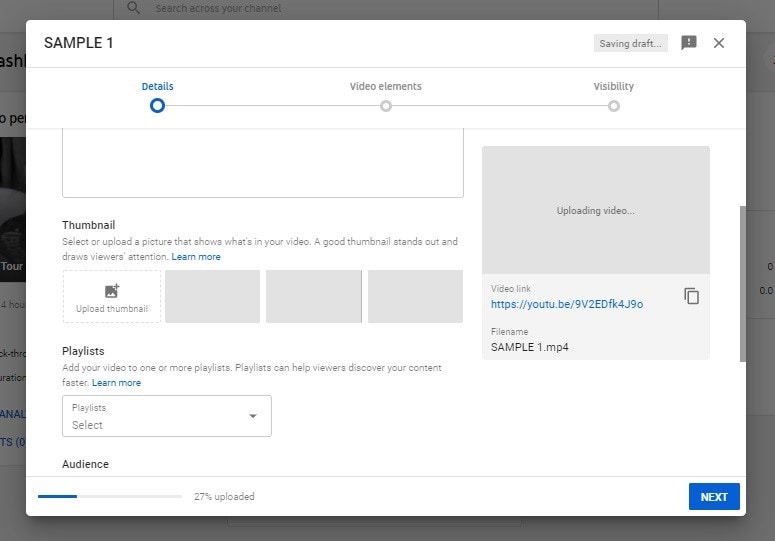 • Here you shall be witnessing the automated thumbnail shots from your video which you're about to upload to your: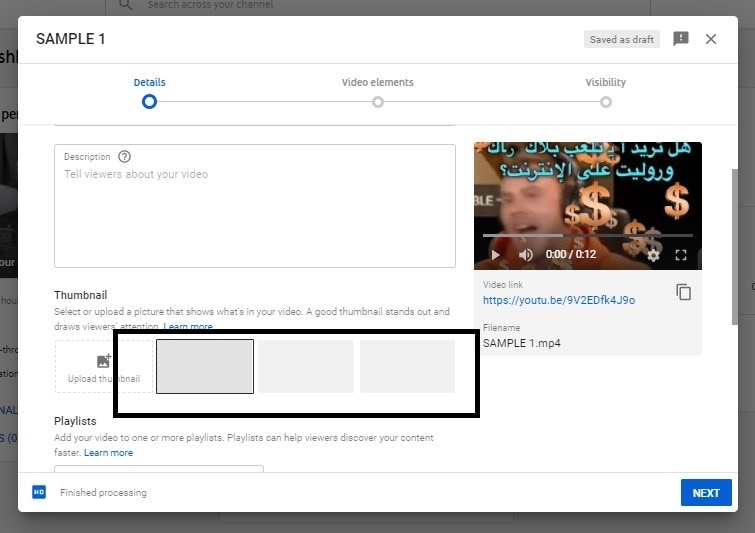 • Just select the one if you think that's feasible for you and attractive enough to rack up the views to your video.
Step 4: Add a Custom YouTube Thumbnail However, if the automatic thumbnails don't fulfill your requirements, then here's the kicker for you to select. Because in this step, we will demonstrate adding a custom thumbnail to your YouTube video as follow:
• In the thumbnail section of the details of your videos, you can see the Upload Thumbnail button as follow: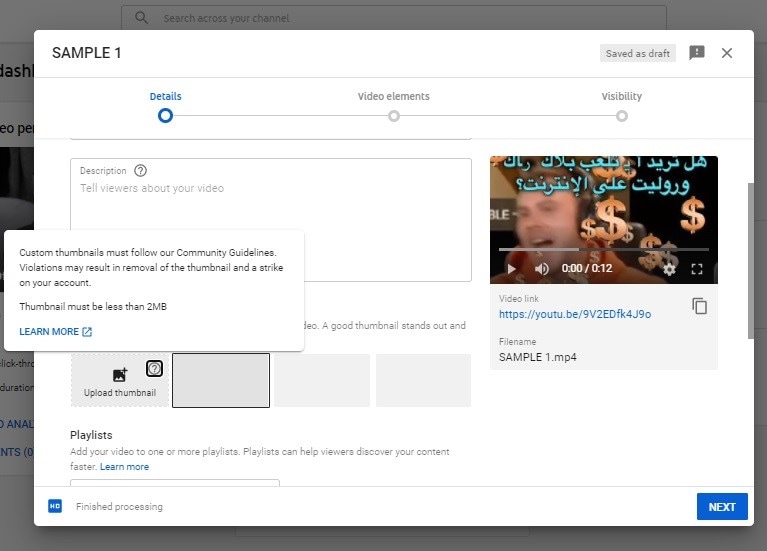 • After clicking on that button, you'll be asked to verify your YouTube account, just hit the Verify button, and follow the lead that adds you towards adding your custom thumbnail.
---
Part 3: How to Add Thumbnail to YouTube Videos on Android
Sometimes, it's a case when you're left with your mobile phone and do the video uploads to your channel with the stunning thumbnail. But how to add a thumbnail on YouTube android? Here in this guide, we'll give you a brief demonstration of how you would do that. Learn more in the below steps:
• Open the YouTube Studio App on your android phone, which comes built-in with your android device, as follows: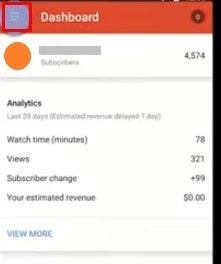 Note: If your device doesn't have one, then you can download it from Google Play Store on fingertips.
• Slide to the menu and select the Videos button on your YouTube studio app as follows: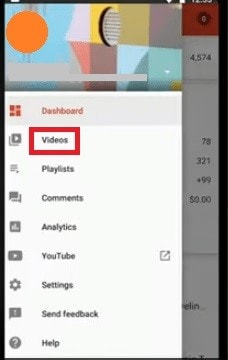 • Now you must see the list of videos on your channel. Just pick the one where you want to add your custom thumbnail: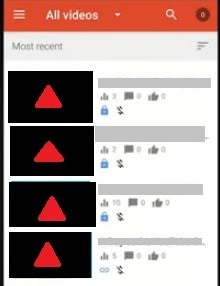 • Now you shall see the editing option for your videos. Just tap on that Edit icon as follow: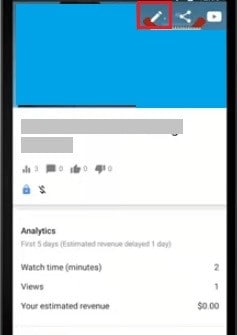 • Now you must have a variety of thumbnails automatically generated for your YouTube videos. However, to add your custom thumbnail, tap on the Custom Thumbnail button as follows: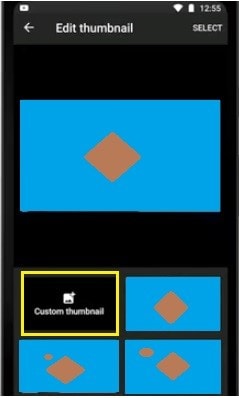 • This step shall take you towards the Gallery where you've designed your custom thumbnail as follow: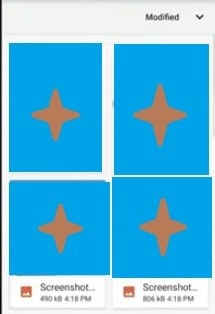 • Choose your desired one and hit the Select button on the top right corner of your android screen as follows: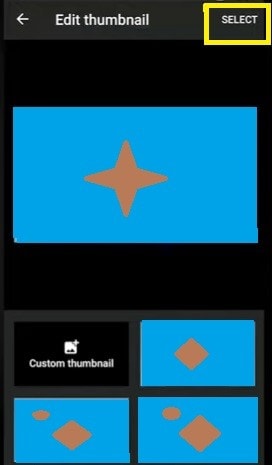 • And in the final step, as soon as the thumbnail got uploaded. Tap on the Save button, which shall add your custom thumbnail to your YouTube video.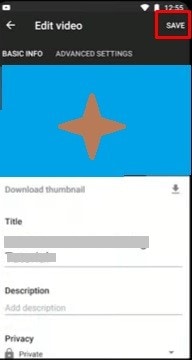 In this way, you can add your custom thumbnail to your YouTube videos right from your Android device.
---
Part 4: How to Add Thumbnail to YouTube Videos on iPhone
Meanwhile, demonstrating you on Desktop and Android, we don't miss out on iPhone users. In compliance with that, here we introduce the steps on how to add YouTube thumbnails on iPhone. So, if you're an iPhone user, then this section is for you! Find out in below steps on how to do that right from your Apple's device handily.
• The first step for you on iPhone is to install the YouTube Creator Studio App from Apple App Store, and if you haven't installed yet, then give it a try.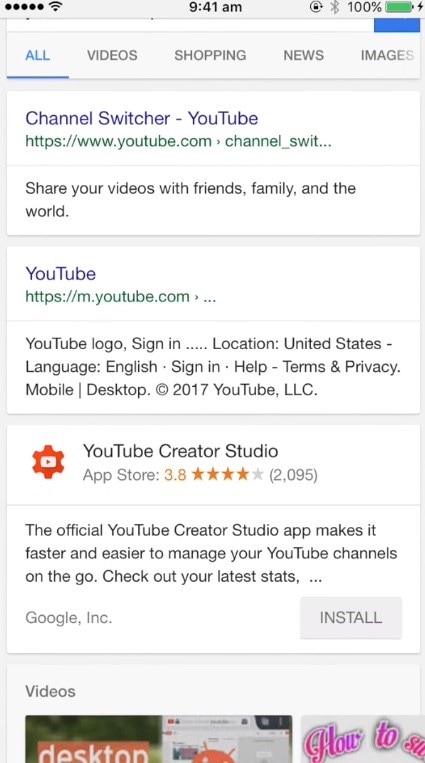 • As soon as you're done with the app installation, open it from your iPhone browser as follows: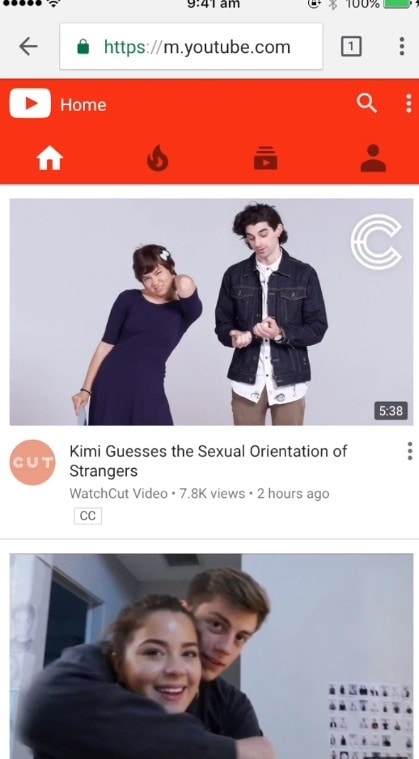 • Now, as in your browser, hit on the three dots at the top right corner, which shall ask you for several options as follows: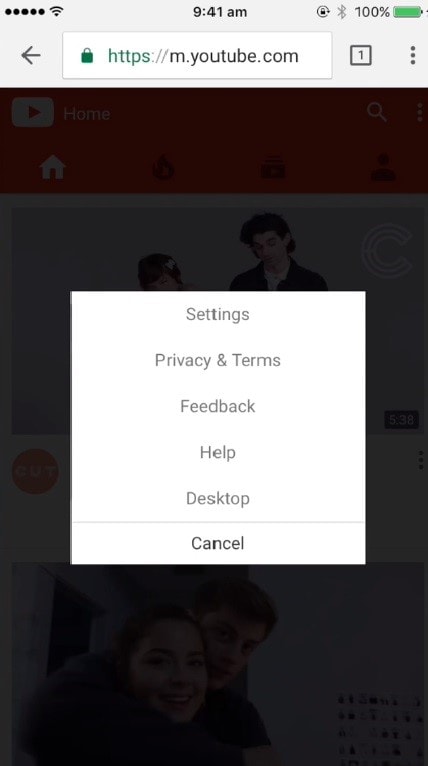 • Just tap on the Desktop option, which will lead you towards your official YouTube account on your iPhone as follows:
• Now in your YouTube Studio from the browser, open the menu bar and tap on My Channel as follows: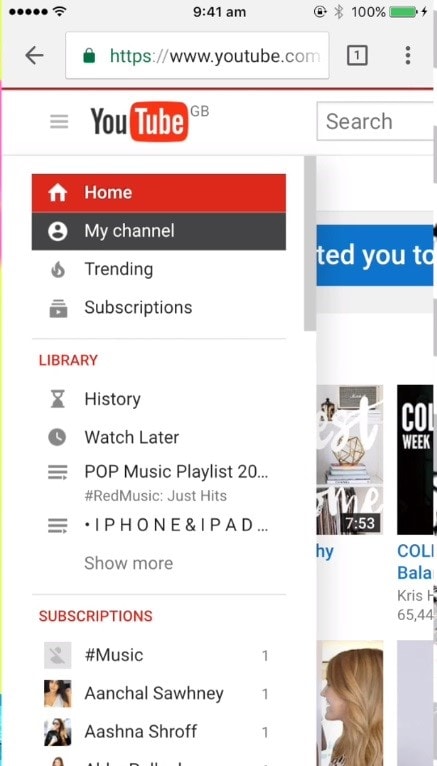 • This step will lead you towards your channel videos as follows: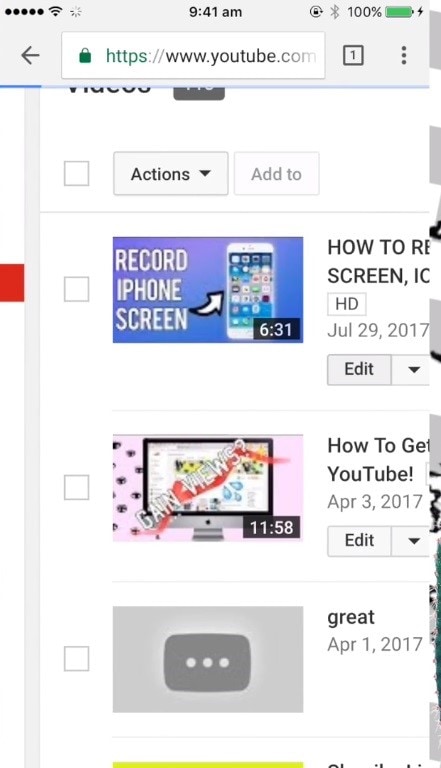 • Select the one on which you want to upload your custom thumbnail and tap on the Edit button associated with it: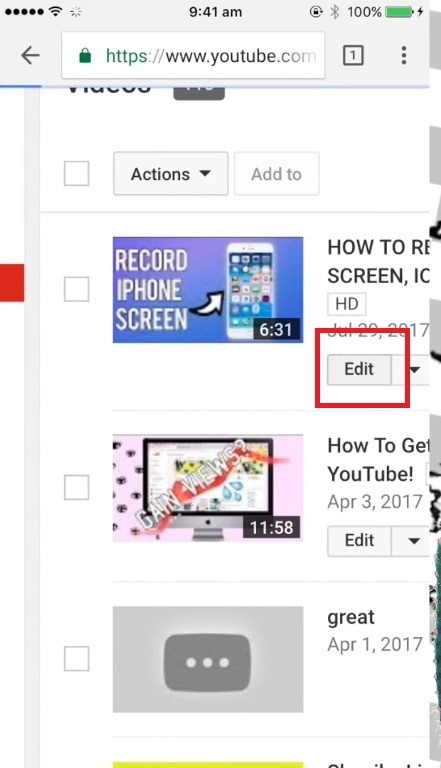 • Now in the studio interface, you shall have automated thumbnails for your specific video, which are generated automatically by YouTube as follows: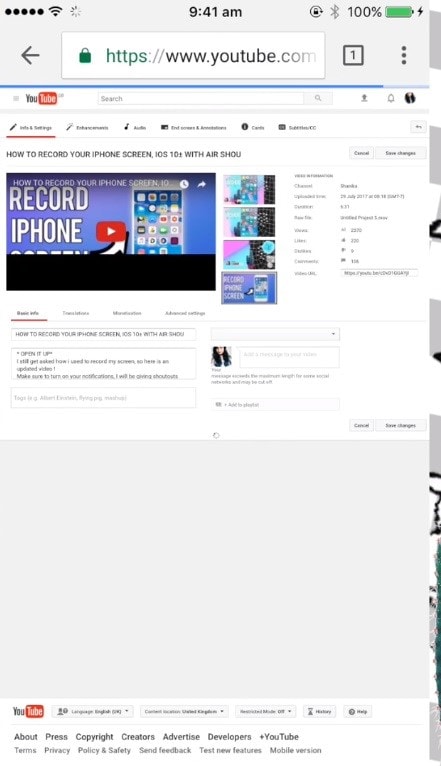 • Now, if you want to add your custom thumbnail, then click on the primary thumbnail of your video and tap on the Change Image button as follows: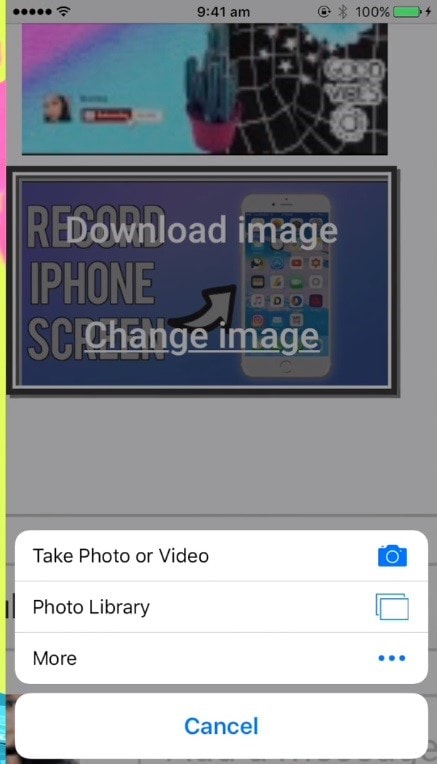 • In the options popped up, select the source where you want to add your custom thumbnail into the video, and here you go, your custom thumbnail has been successfully added to your YouTube video right from your Apple's device.
In this way, you can easily add up the custom or automatic thumbnails to your YouTube videos, which can, in turn, be the reason to spike your video views on YouTube. Unfortunately, YouTube doesn't offer a built-in tool to create video thumbnails. Hence you need to opt for the one which you find feasible for you.
---
Part 5: Tips On Creating The Best YouTube Thumbnails
To ease your research on adding a custom thumbnail on a YouTube video, here we've filtered some basic and essential tips on doing so. This will significantly help you create the one that'll give you the best output and, surprisingly, up to rank your viewers count on your videos. Sometimes, your context is being judged by the cover; hence you need to be unique and attractive concerning your video thumbnail covers. Here are some tips and tricks we've discussed below:
1. Using the Right YouTube Thumbnail Dimension
Your thumbnail's shape and size are the foremost essential while creating a one that will attract the audience. Ignoring this tip might cause the downgrade of your viewers' number. Hence it would help if you were more specific and accurate while designing your custom thumbnail.
According to the YouTube official support, it is being recommended that your thumbnail must have the following points:
• The proper dimension is 1280 x 720 pixels.
• The minimum width must be 640 Pixels.
• The maximum file size of that thumbnail is 2MB.
• The ratio must be within 16:9
• The acceptable format of the file is .JPG, .GIF, .BMP or .PNG
2. Using High-quality Image as Background
The second important and noteworthy point while considering a custom thumbnail for your YouTube videos is a devastating high-quality image that must be attractive enough to provide your viewers with a clean and clear picture of your video context.
The stunning and attractive background image will undoubtedly result in thumbnail among the other numerous search results from YouTube. All you need to do is grab your audience's attraction by considering a high-quality and royalty-free image as your custom thumbnail background so it can give a positive impression of your video context.
3. Using stylish and Proper text and annotations
This tip has its importance because only a picture as your thumbnail will have no meaning, which might be of no concern to your viewers. This directly influences your viewer's mind and have a direct impact on your audience numbers.
In compliance with this point's importance, you recommend using proper text as a headline with the appropriate styling according to your video context. Different annotations and symbols will also make it more eye-catchy, which will convince your audience to click on the custom thumbnail and watch your content.
4. Make a unique brand with custom thumbnails
This trick is also an essential factor while considering the importance of custom thumbnails for your YouTube videos. Follow a useful and unique content and structure for your thumbnail creation. It might turn out to be your brand uniqueness, and this factor will make your YouTube channel standing out among the others, which undoubtedly has a pile of other videos of the same search.
To make your brand and video unique, all you need to do is contrast your thumbnail and follow the structured content, which makes it outstanding and exemplary for the others as well. In this way, your channel videos with just the custom thumbnail will turn out to be a brand.
---
Conclusion
In a nutshell, we can say that a great and powerful thumbnail must be a reflection of your stunning and standing out of the video for which you've designed precisely. Contrary to that, if your thumbnail is outstanding, but the video is not according to the viewer's expectation, this might lead towards a downgrading result of your YouTube channel videos. In this regard, we recommend going for Filmora Video Editor, which provides you all the solutions towards your panicking of video editing. You can also check out more YouTube thumbnail makers to create your YouTube thumbnails.
The reason for choosing Filmora Video Editor & Filmora Video Editor for Mac is the creativity and powerful features that create and form a stunning video content handily and effectively. This video editor also provides you with many built-in effects and templates to empower your videos before sharing with your audience. This will form a perfect and creative context video that is right according to your audience's expectations and in compliance with the eye-catchy custom thumbnail for your YouTube videos.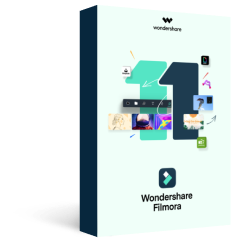 Features with Filmora Video Editor
Easily embed your video content and the customized thumbnail into this video editor and edit them both accordingly with the ideal synchronization approach.
With its enriched features, including titles and annotations, embed the best fit among the available resources into your video content handily.
Filmstock, the most extensive library comprising royalty-free images for your thumbnails and the powerful effects and templates for your video content.