Summary: Making YouTube video is not that tough task today, famous YouTubers are making magical videos with the best software they use. People love their videos and want to know what do YouTubers used to edit videos, so that they can follow their favorite YouTubers to create the same effects videos.
You might love to watch videos on the YouTube, and find that a good video always needs cool effects, better resolution, colors, animation, overlays and many more things. Obviously, all these features can be covered in a good video editing software, but there are so many tools on the market which make you hard to make a decision. Then, you might wish to know what do YouTubers used to edit videos, especially your favorite YouTubers, right?
In this post, I'd like to show you the top 6 video editing software that contains almost all YouTubers needs. No matter you're a beginner, enthusiast or professional on YouTube, you can find your ideal program after reading this post.
Now, let's drive right in...
What Software Do YouTubers Use to Make Videos?
To answer this question, I have made a survey, and now I'd like to introduce some of the best YouTubers and the editing tools they prefer in the digital life.
Final Cut Pro is a video editing tool demanded by veteran video editors and made to grasp the best of knowledge for the newcomers. This software built under the signature of Apple as it is continuing the company tradition in creating valuable programs that last for an era. If you are using MacBook and learning video editing or already a professional, then you were in minds when this software was on making.
Pros:
- Come with better transitions that are easy to include in the project.
- Color correction toolbar is great.
- Support video editing up to 4K resolution and with your Mac it can do faster.
- The great number of add-ons and plugins.
Cons:
- It might lag while loading or editing a project like 4K video.
- The UI design and layout is a little outdated.
- Only compatible with Mac users, not user-friendly to Windows users.
- The price is $299, which is expensive for individual users.
If you want to use Final Cut Pro to edit your videos, you might also want to know how to split screen, how to make time-lapse video, how to apply Picture in Picture Effect with it.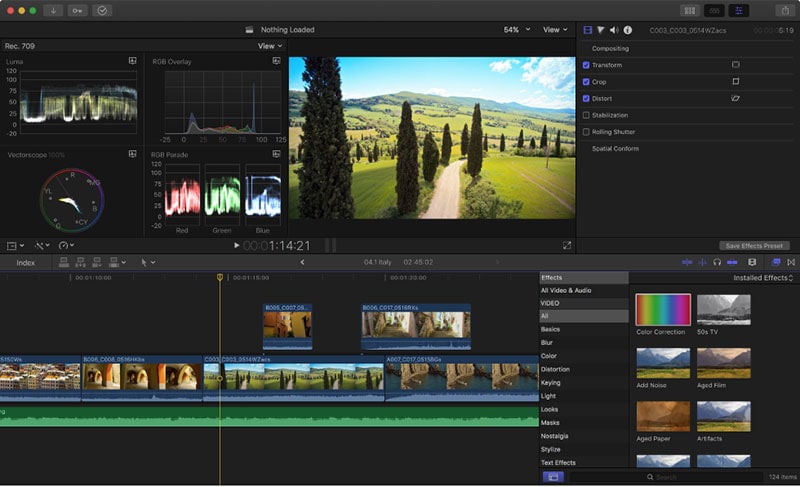 ---
Adobe Premiere Pro is a video editing software that is used globally on macOS and Windows system. This program is configured with all the editing qualities that are required in editing commercial videos as well as television shows and online videos that are supposed to be shared on YouTube and other platforms. Adobe has boosted this software with one of it's kind of editing features that are breathtaking.
Pros:
- Shoot, edit and publish your videos from any device, send all the work to Premiere Pro is you wish.
- All new DeNoise and DeReverb sliders are capable of removing the background noise or reverb on the essential sound panel.
- You can now fine tune the colors accurately with the paired values of two axes on each curve. The innovative Lumetri color tools could be utilized to select a color grading on your clip.
- Works together with Adobe After Effects and other Adobe programs as plugins in the Premiere Pro.
Cons:
- An ideal video editing software for professionals, so the process is complicated for a beginner.
- The price is $19.99/month, and you have to subscribe to the creative cloud with the price of $52.99/month.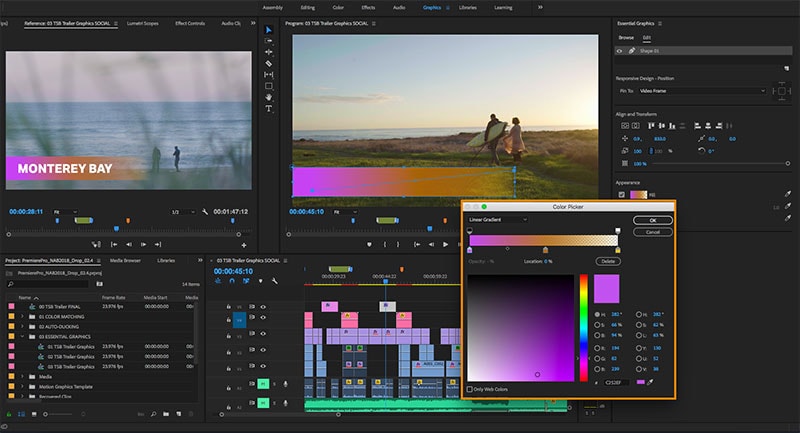 Premiere Pro Tutorial:
How to Make A Slow Motion in Adobe Premiere Pro
How to Add Transitions in Adobe Premiere Pro
---
Adobe after effects is an application with visual effect, composition applications and motion graphics that are developed by Adobe Systems. This program is used in the process of post-production of television and filmmaking. There are certain other aspects where After Effects are used such as tracking, animation, keying, and compositing. It also works as a media transcoder, audio-editor, and non-linear editor.
Pros:
- Professional tool to help you create cinematic movie titles, intros and transitions.
- Works seamlessly with other Adobe apps, including Premiere Pro, Photoshop, etc.
Cons:
- Requires a certain level of video editing skills, so it is not suitable for a beginner.
- $20.99/month, which is not affordable for some people.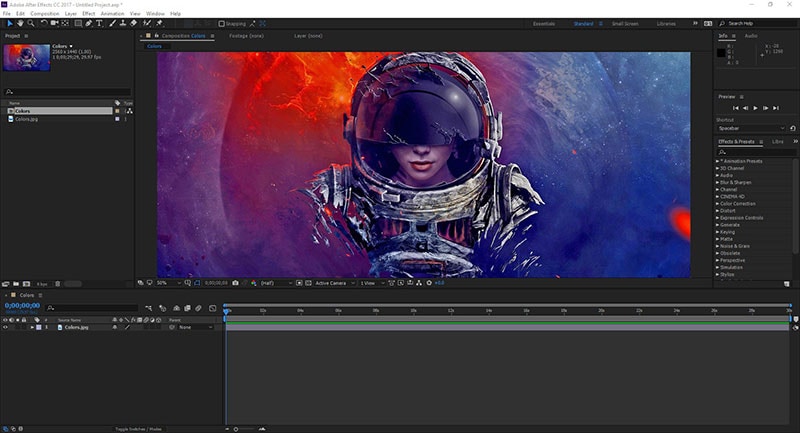 ---
What Video Editing Software Other YouTubers Use?
In addition to the above-mentioned video editor program, there are other video editing software that are widely used among YouTubers. Now, let's check them one by one.
#1. iMovie for Casual Users
iMovie is a built-in app on macOS or iOS system, which allows users to perform a simple editing on their targeted videos. Since this app is designed for casual users, so it only provides users with the functions like split, trim, crop, combine, speed up, slow down, picture-in-picutre, split-screen effects and limited filters for your reference. However, this app can work on your iPhone and iPad directly, so that you can edit video at anytime anywhere.
Pros:
- Works on Mac, iPhone and iPad at the same time, so that you can edit a video while you're on the go.
- Fix up the shaky videos and modify the audio on your video file.
- Give the video clip words of appreciation and credits with add text feature.
Cons:
- You need to work on the same computer for the entire project as transferring the project to another computer doesn't guarantee the same format in which your video is created, iMovie is very sensitive about this.
- The layout is not user-friendly, if your project is long, so it would take time to upload the video on any platform.
- Not designed for professionals, all functions is basic in video editing.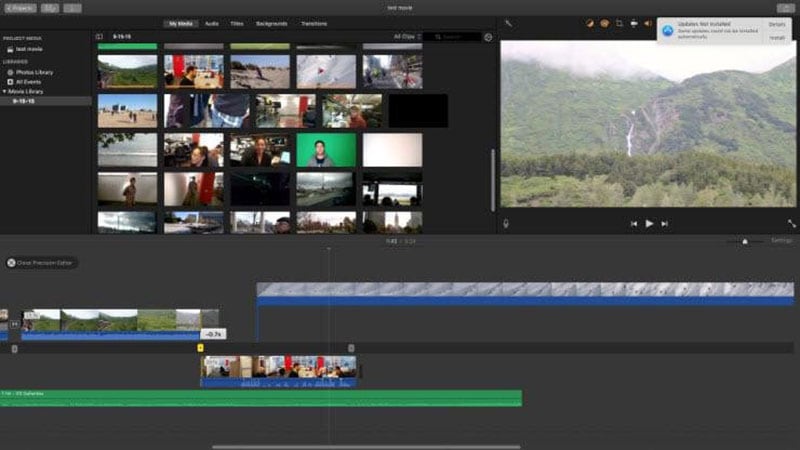 ---
#2. Filmora Video Editor for Beginners and Semi-professionals
Filmora Video Editor or Filmora Video Editor for Mac is uniquely designed to meet all your video editing needs. Be it a simple video or a professional clip, you can always add some magic to it with this software. The user-friendly interface can guide a beginner to edit a video and handle this program as easy 1-2-3, while the 200+ editing tools and effects come to help a semi-professional or professional user to create awesome video easily.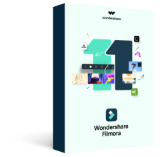 Key Features of Filmora Video Editor:
The software supports almost all available videos, images, and video formats. Besides, it also supports GIF files and 4K resolution videos.
Allows to import images and clips from Facebook, Twitter, and other social media channels.
The app also provides advanced functions, such as the audio mixer and picture-in-picture support, and basic functions.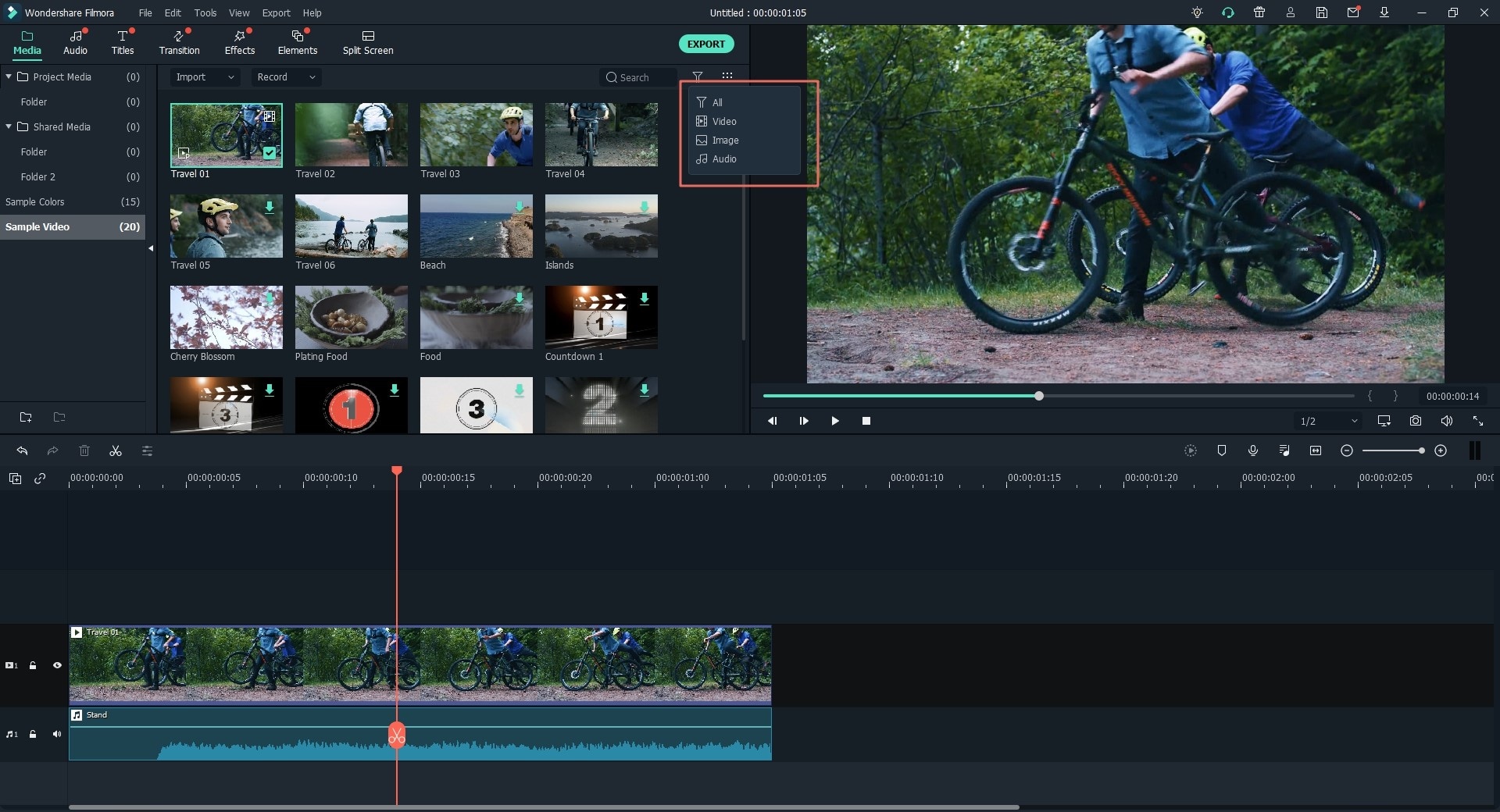 #3. Sony Vegas Pro for Enthusiast (Semi-professional)
Sony Vegas Pro is highly configured software that is taken on the panel to make HD quality videos. Vegas Pro is the fastest and professional solution to audio and video editing with disc authoring. The creative tool and storytelling timeline is framing every part with precision.
If you are thinking about making any video show or YouTube channel then this software would give you satisfying results when it comes to video merging and editing. You can get the best colors out of your video in HD quality. The software is a little complicated to use due to the high feature timeline but once you get used to it, then you are going to love it.
Key Features:
- Vegas pro editing software would make your HD videos to go stunningly. You can now create magic on the videos you have taken from the latest camera, Vegas pro has got the feature to project the video on an HDR monitor and deliver a quality work.
- The video stabilization engine has been designed with the state-of-the-art technology resulting in delivering you a pro-quality video which was earlier a shaky footage. This feature is very easy to operate and gives you great results every time.
- You can follow the moving objects on the video screen easily to add any effect or color with the masking and motion tracking tool.
- Switch between multi-camera videos more efficiently with Vegas pro now. With a click on mouse, you can easily transform a multi-frame clip into a single frame for detailed modification.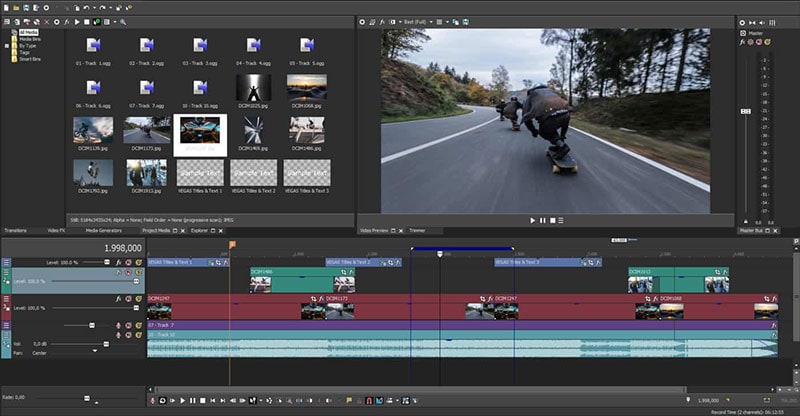 ---
Now, It's Your Turn!
There are 6 different video editing software that YouTubers use to edit videos, which program do you like?
In my opinion:
If you're a professional user, then Adobe Premiere Pro and Adobe After Effects could be the best choice for you. For Mac user, Final Cut Pro is also a nice option.
Or you're a semi-professional? Filmora Video Editor and Sony Vegas Pro is worth to try.
Or you're a novice in video editing? Filmora Video Editor can guide you to edit video from a beginner to professional.
Only need to simply edit the video? iMovie is a nice choice for Mac users. Windows user can also take the Filmora Video Editor as an option due to the affordable price and powerful functions.
Sum up:
All in all, Filmora Video Editor is a powerful video editing software for causal users, beginners, semi-professionals and even professionals, and it can be works on both Windows and Mac computer well. So, if you don't know how to start your video editing journey, let's start from Filmora Video Editor now!
If you're interested in Filmora, watch the short clip below to learn more about its new amazing features. Then, start your journey of creating!