Contents
Keep Memories

Valentine Gifts

Valentine Quotes

2. Sweet Valentine's Day SMS
Valentine's Day is often associated with love and compassion but this is not true for everyone. For some, it is an occasion to have the most heartfelt moments with their special one. For other, it's about learning the art of love and compassion. Yet, for a few, it's a day to make fun of the people in love. However, the sole uniting force between all these individuals is the Valentine's Day Messages. Whether they're filled with love or regret or even jokes, everyone shares these messages on this particular occasion similar to the other holidays of the year such as Christmas or Thanksgiving Day.
Valentine's Day Messages for Husband/Wife
Valentine's Day is almost around the corner and this is your opportunity to surprise your partner with a gesture of love. Gifts are always the first idea that comes to mind whenever we think of Valentine's Day but we often tend to ignore other manners of expressing our love such as a single message of love and admiration. Simply expressing your love for your spouse can mean the world to them. Think about it: When was the last time that you expressed your love for your spouse? What better time to do so than Valentine's Day? Just buy a card and write down everything that you want to tell your partner – express your love, admire them, compliment them, and let them know that they're special. Believe us, this is the best gift that you can give your consort on Valentine's Day. Here are ten special messages that you can use to express your feelings for your partner on Valentine's Day:
To the best [husband/wife], you're always in my thoughts and in my heart. Wishing you a very Happy Valentine's Day. From your soulmate, I love you.
Honey, from the first moment I saw you, I knew you were the man/woman for me. I can accomplish anything with you by my side; your strength inspires me. Happy Valentine's Day to my inspiration!
When I think of you, an uncontrollable smile crosses my lips because I'm so lucky to have a kind, smart and handsome/beautiful partner. Happy Valentine's Day!
You've always been my sunshine on a rainy day, my shoulder to cry on and my helping. You deserve this special day as a reminder of the impact you've made on my life.
Roses are red, violets are blue; our home is bless, because of you!
Sometimes we make love with our eyes. At other times, we make love with our gestures. At other times, we make love with our bodies. But always, we make love with our hearts.
You are my love, my best friend, my one and only. Now, let me be your Valentine once more.
Words are not enough to express how much I love you. But one thing is for sure, my life is meaningless without you.
The best and the most beautiful accommodation facility for me is your heart. I pay nothing and I get to live there forever! Happy Valentine's Day, my love!
The things that I need to live have been given to be my God. The reasons that I need to live have been given to me by you. Happy Valentine's Day.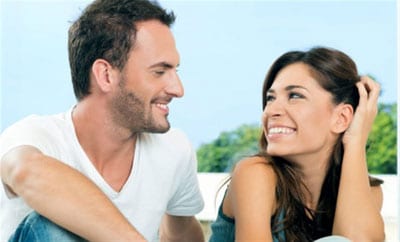 Valentine's Day Messages for Friends:
Friends are our chosen families. They may not be our blood relatives but they're as close as anyone to our hearts. Valentine's Day is the best opportunity for you to express your feelings and love for your friends. Let them know that they're special through your messages of admiration. Here is a list of messages that can help you show your love for them:
Who says Valentine's Day is only for lovers, it is for everyone who love and everyone who make life amazing, just as you, my friend. Happy Valentine's Day!
I have liked many but loved very few, yet no one has been as sweet as you. Happy Valentine's Day to you my friend.
Valentine's Day is all about celebrating love, passion, and a bond that holds together two people. What can be more special than this exceptional bond of friendship that we share?
Even the most caring and loving partner cannot ever take the place of a best friend. Thanks for filling that gap in my life. Happy Valentine's Day!
However rare true love may be, it is always going to be less so than true friendship.
I don't love you because you are my friend. You are my friend because I love you.
Friendship is all about understanding. This bond is all about forgiving and forgetting. It is all about arguing and then finding it so difficult to stay angry. Moreover, it is about loving unconditionally. Happy Valentine's Day!
Friendship is above all emotions, but the very essence of friendship is love. So, on this day of love, I wish you a very Happy Valentine's Day!
True love is rare in life, it helps you thrive in life. But, friendship is deeper, it helps you win at life. To my lovely friend, Happy Valentine's Day!
Friendship is as natural as love. So, on this day of compassion, let me confess that our friendship is true. Only for you, my friend. Happy Valentine's Day.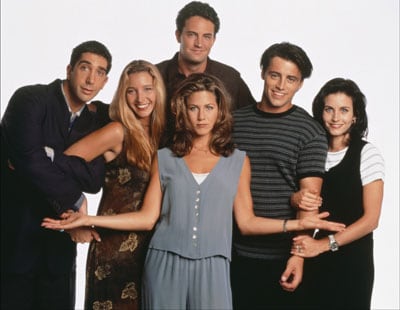 Valentine's Day Messages for Kids
While we're busy getting gifts and cards for our partners and friends, let's not forget the little ones that make life all so special. Valentine's Day messages for kids is a fun and cute way of letting them know about how you feel about them:
Even in a fairy tale where all dreams comes true, I could never even hope to find a child as amazing as you.
Life is filled with lots of things that make it worthwhile, but none of them is better than your little smile.
With all the little things you do, the dreams you make come true, the smiles you share. It's great to have a kid like you!
Valentine's Day is sweet. Giving out cards and receiving them is so much fun! Hearts and flowers are the decorations, a day to show you care is the reason for celebration! Candy and chocolates are sweet presents too. I really love Valentine's Day, do you?
If love grew on trees, I'd pick you a huge bouquet my little one. Happy Valentine's Day.
Since you're such a fantastic child, I've got a special Valentine's Day gift for you! I promise I won't kiss you in front of any of your friends!
Your angel like face and your sweet smile are everything I need to light up my world. Stay blessed always, my child. Happy Valentine's to you!
You know what I like about you? Umm. Let me think… Everything!
Wishing someone very close to my heart a warm and wonderful Valentine's Day.
You're always in my thoughts and in my heart. Happy Valentine's Day!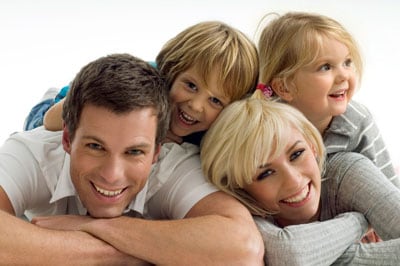 Part 2. Recover Deleted Love Messages from iPhone
Have you lost your iPhone or accidently deleted messages from iPhone? Natively, Apple doesn't provide any way of recovering the permanently data on your iPhone, however, it is possible using the third party programs such as iSkysoft iPhone data recovery software. With the minimalistic user-interface and improved functionality, you can recover any type of file from your iPhone. The best part about this software is that it can recover data from your iPhone, iTunes backup or even the iCloud backup. You don't have to spend hundreds of dollars to buy the expensive software, this amazing small yet functional utility will do all these tasks for you within the fraction of minutes. It doesn't end here, you can't only retrieve the important photos and videos, but it will restore the text messages, call data, contacts, applications, app data and even the settings of your iPhone. You can either export the messages in the text file or can directly export them to your iPhone. Given by the interface of the software, Recoverit (IS) works just like magic. Here's the step by step guide to recover the deleted SMS from iPhone with iSkysoft iPhone Data Recovery.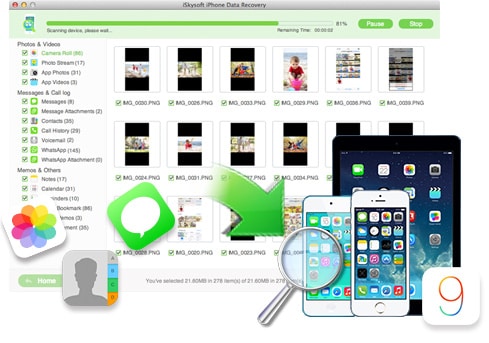 Step 1. Download and install the latest version of the software from the links given below. After installation, run the program and connect your iPhone with the PC. As you soon as you connect the iPhone, it will automatically detect it and a new screen will be opened.
Step 2. As you only want to recover the message, select Messages and Attachments, and click on Start Scan. Now, it will analyze your iPhone and may take some time depending upon the number of message present on your iPhone. Once the scanning is finished, hit the messages button from the left tab. Select the messages that you want to recover and hit the Recover button in the bottom right corner.
Step 3. Select the Phone or other location, it may take some time depending upon the number of messages that you are recovering. Once completed, it will show a dialogue on the screen. That's it! You have successfully recovered the deleted messages from iPhone using Recoverit (IS) for iPhone.