Contents
Is there any way for me to add special effects to videos? If you want to add effects to videos, you need to get help from a third-party video editor program. However, there are plenty of video editors allowing you to add effects and it is hard to decide which one is the best. No worry! This article will introduce you to an easy-to-use video editor with effects to customize and stylize your videos.
How to Edit a Video and Add effects to the Video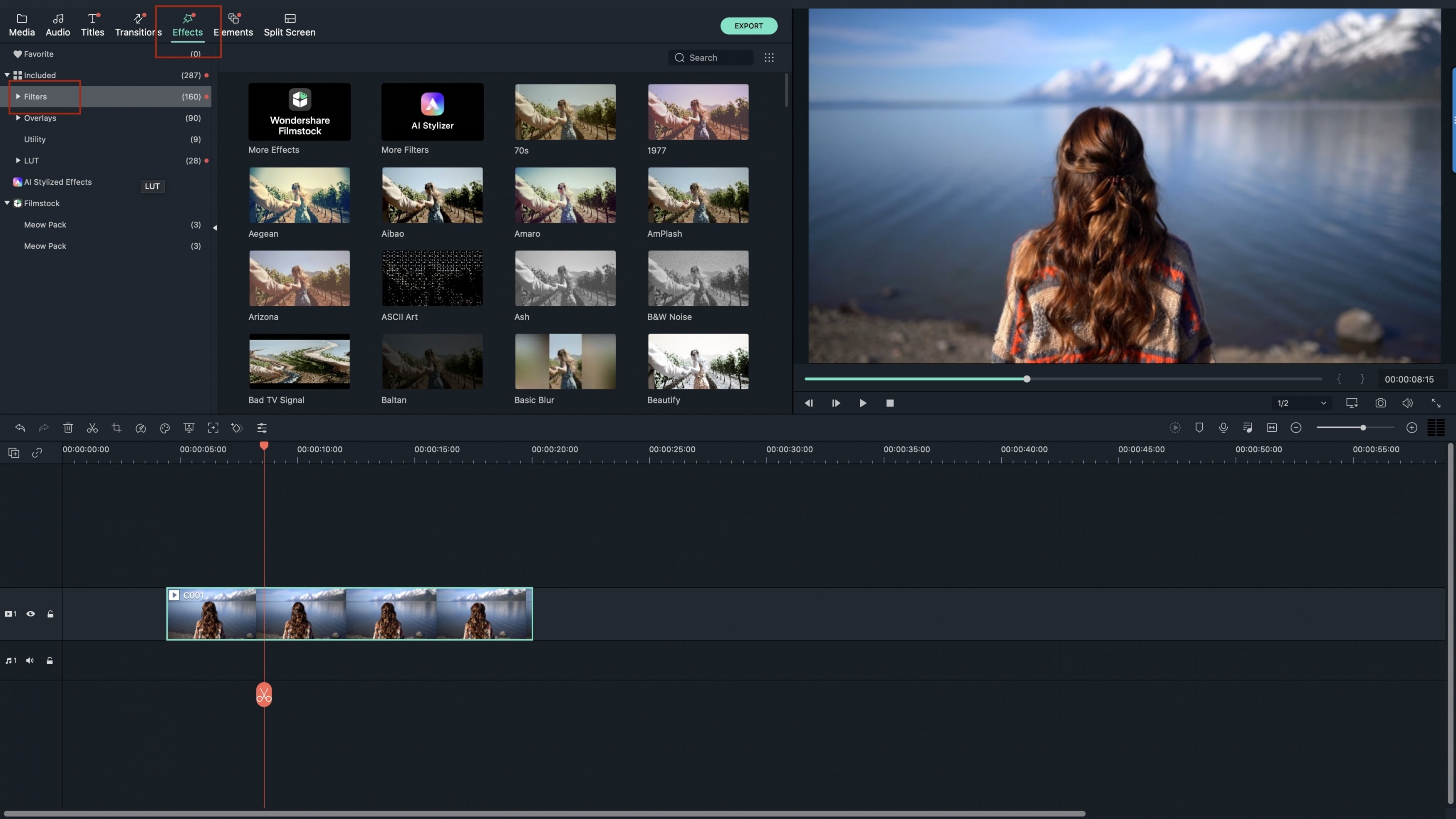 If you have been looking for an easy-to-use software program to apply effects to your video, Filmora Video Editor for Mac (or Filmora Video Editor for Windows) will be an outright choice to go for. It has a friendly interface for users and is loaded with unique features that will enhance your experience. You will have effects options of 200 types of filters and overlays, 300 types of motion graphics, 120 types of titles and text, 80 types of basic and fancy transitions.
Jump cut - the jumping effect in video helps to move the file forward and view them with ease.
Video optimized mode - this feature makes it possible to have a close-up view of the video. If you are coming up with an action movie, this feature will be good enough because it helps come up with jump cuts.
Speed changer - you should not have problems increasing or decreasing speed of your video with this feature available to do that.
Timeline - this is where all the editing work takes place. You will be able to view your projects easily.
Make 5 most popular effects with Filmora Video Editor
You should have an easy time when using Filmora Video Editor to work on your video file. It has limitless effects that you can choose to make the file more attractive and effective. Consider the following five of the most popular effects of Filmora Video Editor.
#1: Color Correction

This is one of the many effects that you will enjoy using with this editor. It will give you the freedom to alter saturation, contrast and brightness of the video. The experience it offers is fine-grained to ensure you get perfection with your video. The way color appears on your video will determine quality in a great way so put more weight on that.
#2: Animated Titles

This program is the best to come up with animated titles which is a very critical effect in movie making. This allows for easy customizing of the titles to meet your specific requirements.
#3: Picture in Picture

Very few editors can offer this effect but Filmora Video Editor will allow you to enjoy that for free. This works by having more than one video files laid on each other to come up with a flawless effect. It is commonly used in action movies but it's not that selective. You can have it for any type of video.
#4: Mosaic

There is different animations that you will get to use with this editor in coming up with an attractive movie. The editor has different features for creating mosaic that you should make good use of in getting the right results. The type of video mosaic you end up getting will depend on how you use the features and Filmora Video Editor will not frustrate you.
#5: Filters

This effect helps in decoding video and you will have more options to consider with Filmora Video Editor. The main advantage of filters is that they attach a visual effect to video through texts, shapes and images.