Cut, split, combine, or rotate a video might not be a tough thing for you, but if you wanna to create a cinematic or awesome video by yourself, you have to know some advanced editing skills and apply various cool & special effects to enhance the video performance. So here is a question - where to get unlimited effects and how to apply special effects like title, transitions, filters, overlays, etc. to a video?
Well, this article is going to show you how to reach it step by step, and also share the top 5 video editor online free software for you to edit videos online.
See Also: 10 [Best] Video Effects Apps for iPhone and Android
Now, let's get started...
Filmora Video Editor - The Best Desktop Video Editor with Effects
You will enjoy ease in using this Filmora Video Editor for Windows (or Filmora Video Editor for Mac) software thanks to its intuitive interface. It has very amazing effects that will help create impressive videos with few touches. Lookout for filter effects, title effects, sound effects, transitions to make different scenes seamless and filters. You will have a lot to enjoy with Filmora Video Editor.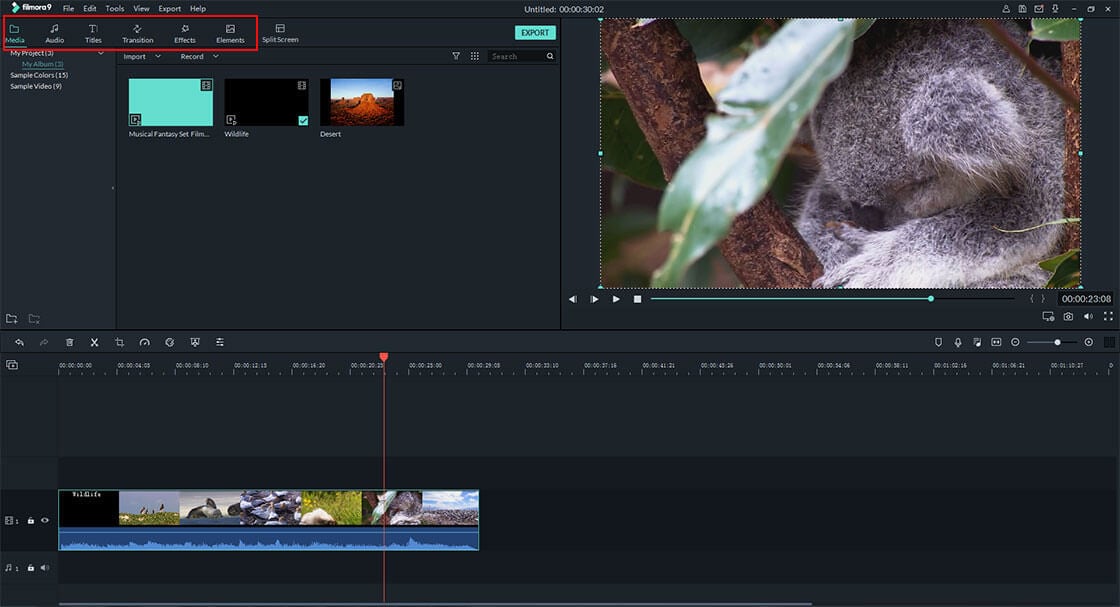 Why Choose Filmora Video Editor
Comes with 300+ built-in video effects for using for free, including title, transitions, filters, overlays, music, etc.
Special effects like tilt-shift, face off, PIP, split screen, etc. can be done in the program as easy as 1-2-3.
Standalone effects library - Filmstock provide users with continously effects and media assets. All effects and media assets can be used in the Filmora Video Editor without restrictions.
Easy to use and works on both online and offline.
How to Make and Apply Video Effects with Filmora Video Editor
Step 1: Select Video to Add Effects
First, you need to upload media files under "Import" button or select the video file from the Media Library panel and drag to the timeline panel.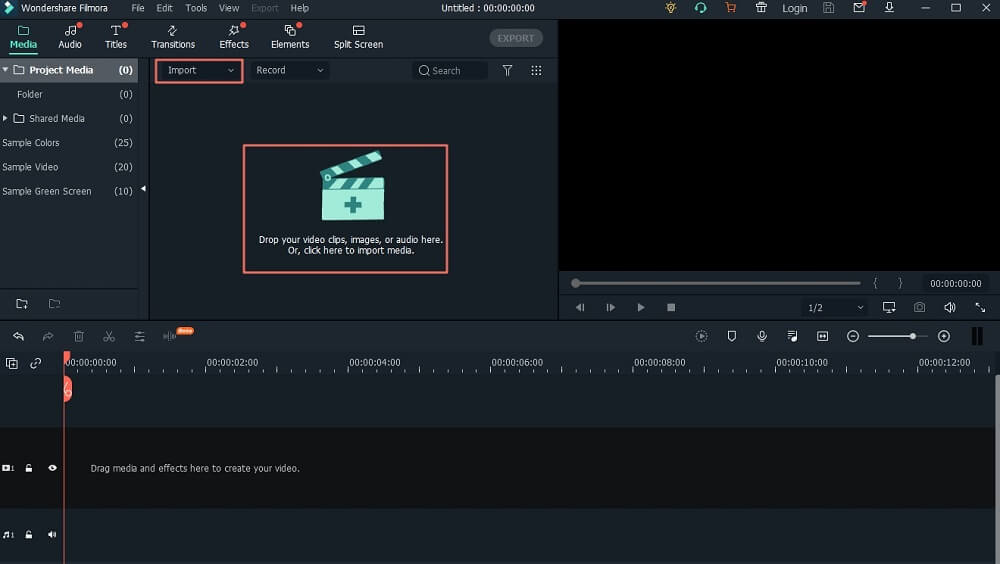 Step 2: Select Effects to Apply
From there, click on "Effects > Filters" tab to access all the filters available. There are many filters put into categories and double-clicking on each of them will show a preview of the video with the filter applied.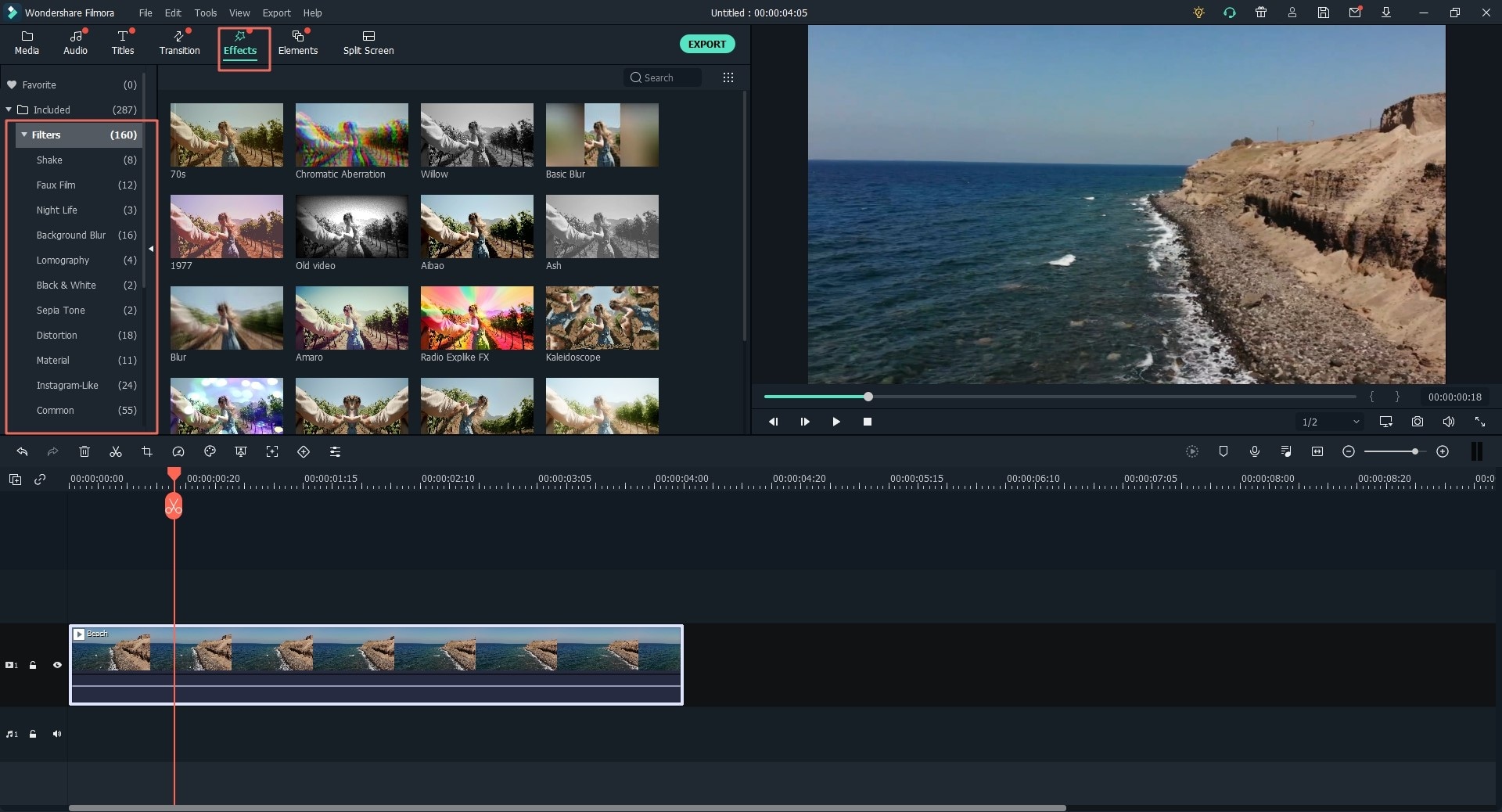 For overlays, click on "Effects > Overlays" tab, double-click on the available overlays to show a preview on the video and drag it to apply to the video.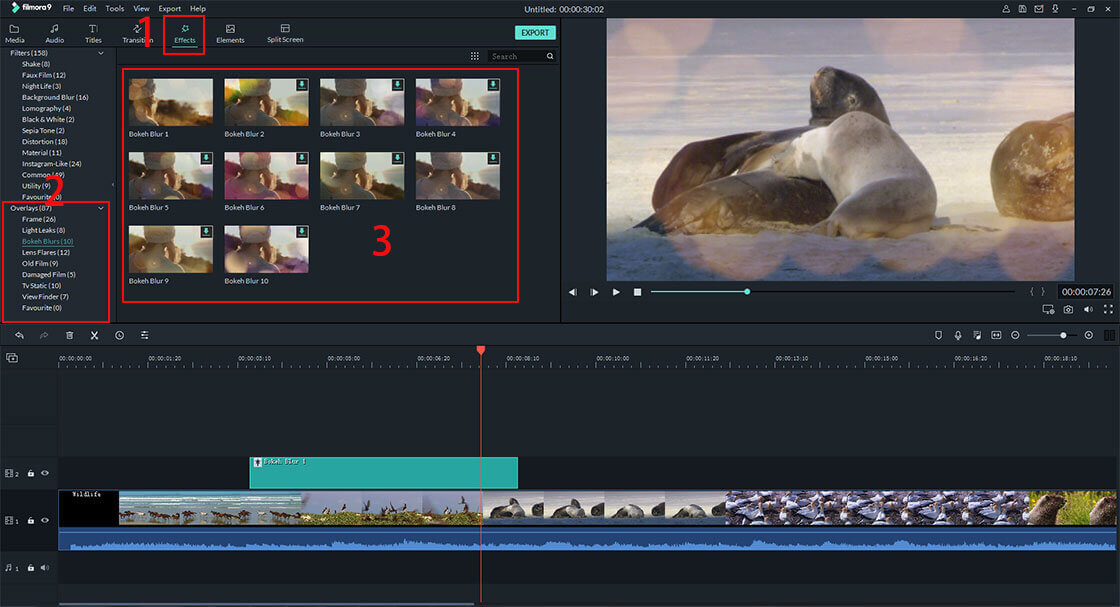 To add transitions, click on the "Transitions" tab from the timeline to access the transition library and drag one of the transitions to the start or end of a video/image on the video track.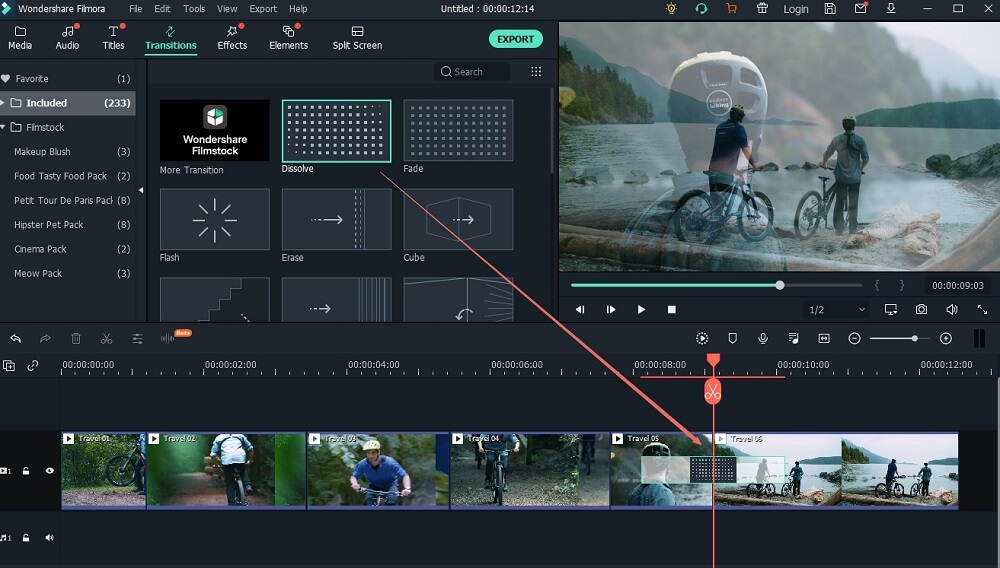 Step 3: Customize Effects
Some effects allow you to customize how they look on the video by clicking either the edit icon on the timeline or right-clicking the target effect in the overlay track and selecting edit or delete to delete effect.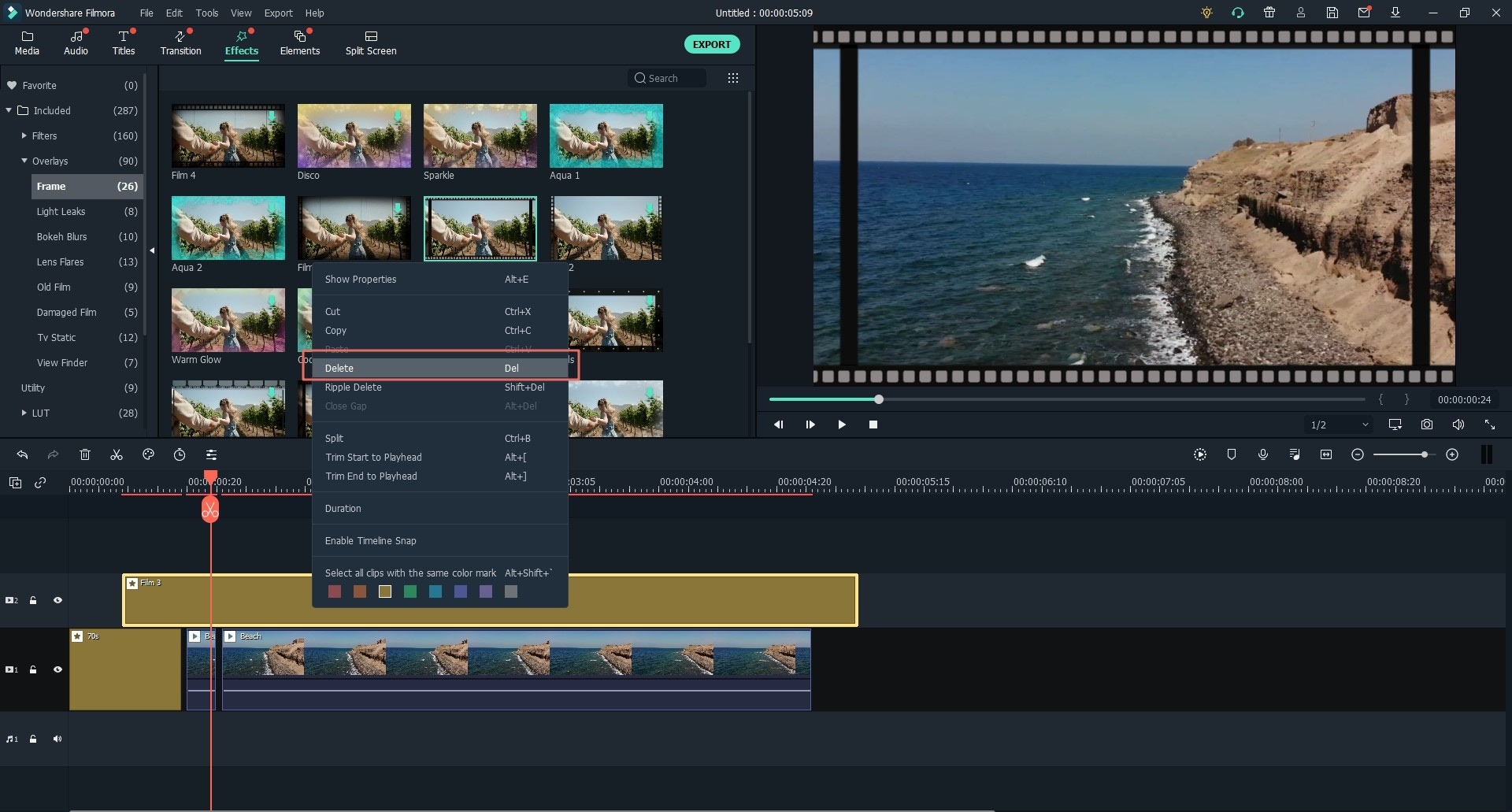 Step 4: Export and Share
Once done with all editing works, you should now save and export your work into multiple targets e.g. by formats, by Devices, Direct Share to social Media or Burn to DVD. To achieve this, Click the "Export" button and select either of Format, Device, YouTube etc. After that, you can rename the video and location where to save it and other settings and finally click "Export" to start the conversion.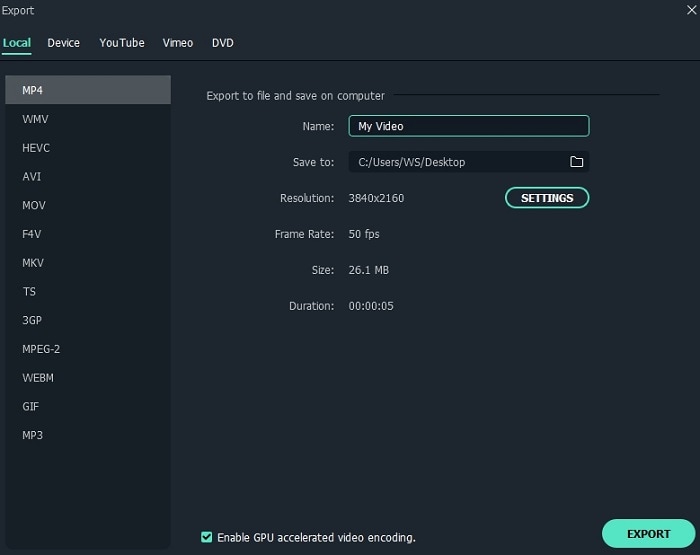 [Bonus]
The above contents are all about how to apply the free built-in effects to a video with Filmora Video Editor.
The existing video effects cannot satisfy your needs?
It doesn't matter. Filmstock is here with 1000+ special effects and unlimited media assets for your reference. To apply Filmstockeffects in Filmora Video Editor, you only need to login to the Filmstockwith your account ID (the account you've used to login to Filmora Video Editor), then explor and download the effects you're interested in. After that, you can find the effects in the Filmora Video Editor directly.
For more detailed tutorial of how to access, login, download and install Filmstockeffects, you can read its detailed tutorial here.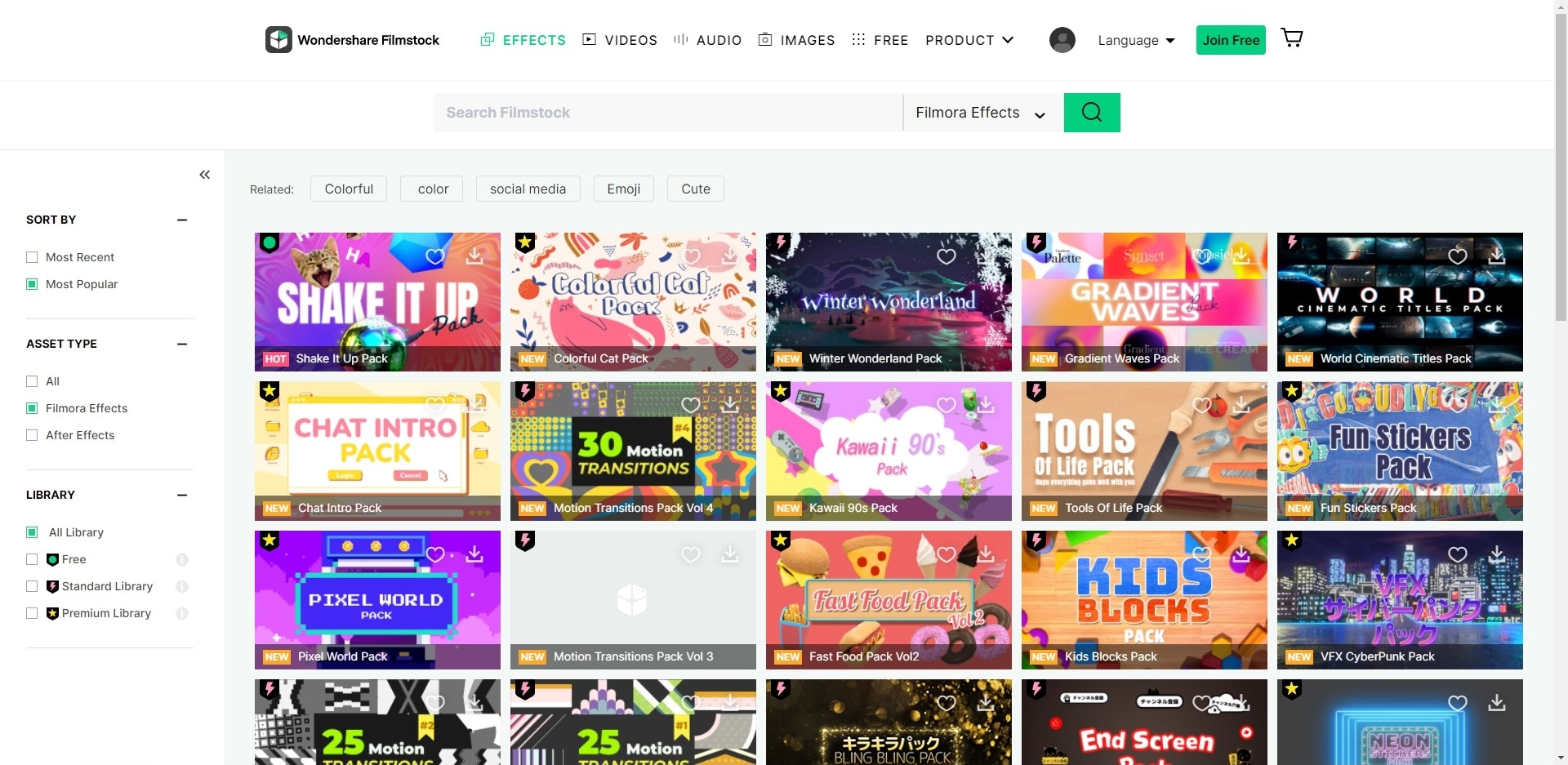 If you've downloaded media assets like images, footage, audio, etc. from the Filmstock, then you need to use the Filmora Video Editor's "Import" function to load these assets to the program manually for editing.
---
Top 5 Free Online Video Editor with Effects
You can make the right choice from any of the following top 5 free online video editor with effects. Be very keen on the type of features they have as well as their merits and demerits. They will surely lead you to the right choice.
#1: Magisto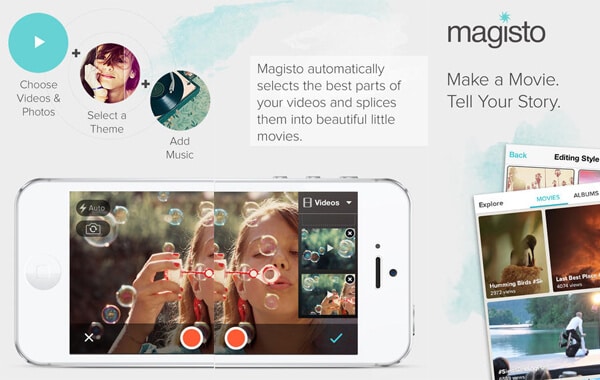 The magnificent work done by Magisto will mesmerize you. It can transform your video into a beautiful movie more than your expectations. It has a very intuitive interface making it easy to use while its speeds are incredibly high. That is something you will be looking out for in a video editor. The most notable feature of this video editor is video sharing which is very fast and easy. You will be able to let your close friends know what you are experiencing. Talk of personalizing video files and Magisto will deliver that to you. It adds themes, music and effects to the video and selects only the best sections.
---
#2: Clipcanvas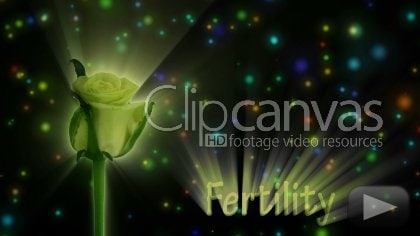 Clipcanvas is another of the effective online editors for video that you will get to consider using. It will take only few minutes to work on your video file and deliver the best quality. Make sure you have the most creative collection of online video content by choosing to use Clipcanvas. You can try any video clip at no cost and save projects to complete at a later date and time. It has very attractive price offers for original HD formats to allow you save costs.
---
#3: Movavi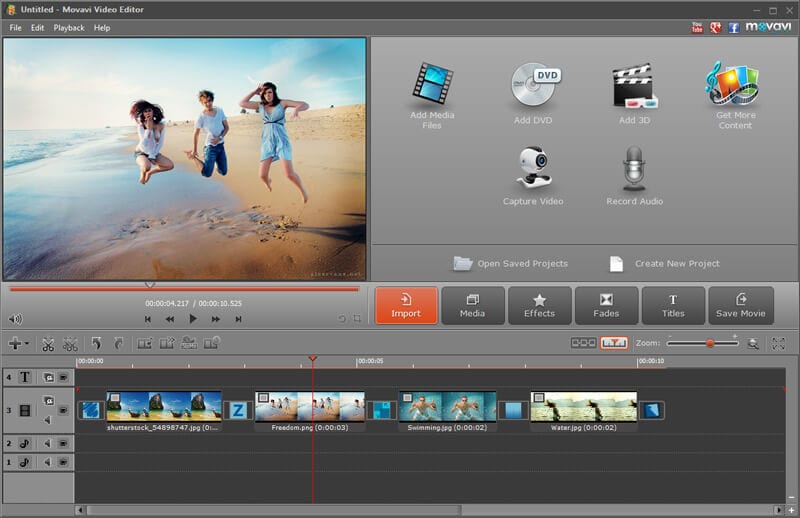 Movavi should be one of the special video editor with effects that you use to add video effects online. Apart from application, it will allow you to easily manage your special effects as well as refine the quality of your video with automatic filters. Cropping is another thing that you will be able to achieve with this video editor and it will be useful in getting rid of all unwanted sections. Your viewers will have the privilege of enjoying only the best content.
---
#4: Pixorial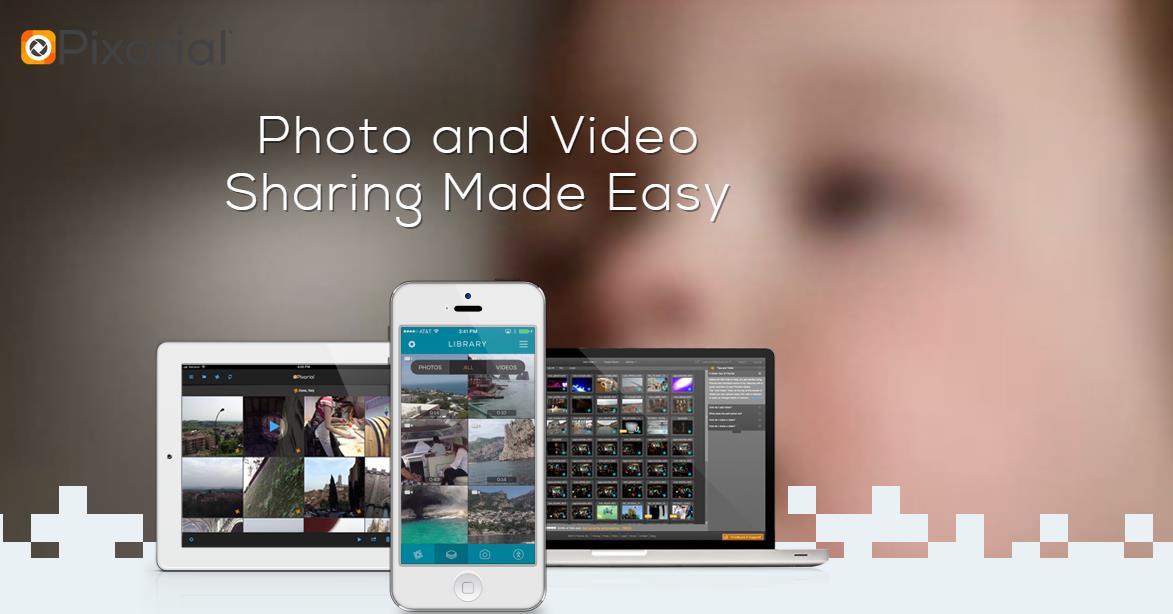 Pixorial Movie Creator is the key feature to enjoy with this video editor and it will offer you enough space to create and upload video files. Its editing is well advanced so you should not be worried about the final quality to get for your video. There will be more than 500 free music tracks that you will add to your video. Pixorial will definitely offer you a collaborative editing experience on cloud.
---
#5: FileLab Video Editor

The interface for FileLab Video Editor free online video editor with effects is easy to use and you will be more than impressed by its performance. Some of the editing tasks it will perform on your video include rotating, merging, splitting, cutting, trimming and mixing. This is completely creative software that you will not ignore when making a choice. On that, it is possible to add overlays with ease in setting their direction, position and transparency.
Update:
Generally speaking, the functions of free online video editor are limited, if you want to create a more attractive and better video, we recommend you use powerful video editor like Filmora Video Editor. So, in order to give you more choice, we prepare the articles about video filter software and video filter apps for you as below.
• 5 Best Free Video Editing Software for YouTube
• Top 3 Video Filter Programs
• 10 Awesome Video Filter Apps on App Store and Google Play