Can I create multiple YouTube channels on one account?
Should I have multiple YouTube channels? How many channels can I create on YouTube?
Creating multiple channels on YouTube is an excellent practice to attract new viewers and generate more revenue. If you wanted to create a different channel in the earlier days, you'd have to set up a new Gmail account altogether. Fortunately, that's not necessary anymore. Today, YouTube gives people the liberty to set up multiple YouTube channels using the same Google account. You can use your existing Google account to create up to 50 YouTube channels.
If you've been planning to create a different channel for your brand, continue reading, this guide contains detailed procedures on how to create another YouTube channel with the same email account. Without further ado, let's get started.
Part 1: Reasons to create separate channels underneath one account
First of all, let's understand why someone would want to create multiple YouTube channels with the same Google account. Using the same account for all your YouTube channels has several benefits, such as:
Easy Searchability
When you use the same account for all your channels, it'll be easier for viewers to watch all your videos easily. This will also help your videos climb YouTube's search engine ladder and acquire more and more views organically.
Good for Brand
Today, YouTube allows people to set up a separate channel for their brand using the same Google account. This is an excellent feature for YouTubers who want to run personal and the "official brand channels." Since you won't require two separate Google accounts, it'll become much easier to manage both your channels. The "Brand" channels on YouTube have a few exclusive benefits tailored to get targeted views.
Different Content
When you create multiple YouTube channels with one Google account, you'll be able to publish a wide variety of content. For instance, you can use the personal channel to upload daily vlogs whereas your brand's channel will help you upload promotional content for the products/services.
Large Audience
This one goes without saying; having multiple YouTube channels is the easiest way to target a wider audience. This will eventually improve the overall viewership and you'll generate more revenue through YouTube ads.
---
Part 2: Creating the Second YouTube Channel with Your Google Account
So, now that you're familiar with the benefits of having multiple YouTube channels.
Step to create your second channel using the same Google account
Step 1: Go to YouTube Channel Switcher. Here you will see all the existing YouTube channels, that is, the YouTube channels you created before. Click Create a New Channel to get started.

Step 2: Now, enter the account name for your second channel and click Create.

Step 3: Congratulations! Your second Google account is now ready. You can now proceed and customize this channel by adding a banner and dedicated channel icon.
---
Part 3: How to Add Multiple Users to Manage Your YouTube Channel
As we mentioned earlier, having a separate channel for your brand has multiple benefits. One of these benefits includes the ability to add multiple users to manage the same channel. This is an excellent feature as you'll be able to share the channel with your entire team, and anyone could add new content.
Steps to add multiple users to manage your new YouTube channel
Step 1: Go to your new YouTube channel and click Settings from the left menu bar.
Step 2: Click Add or remove manager(s) next to the Channel Managers tab.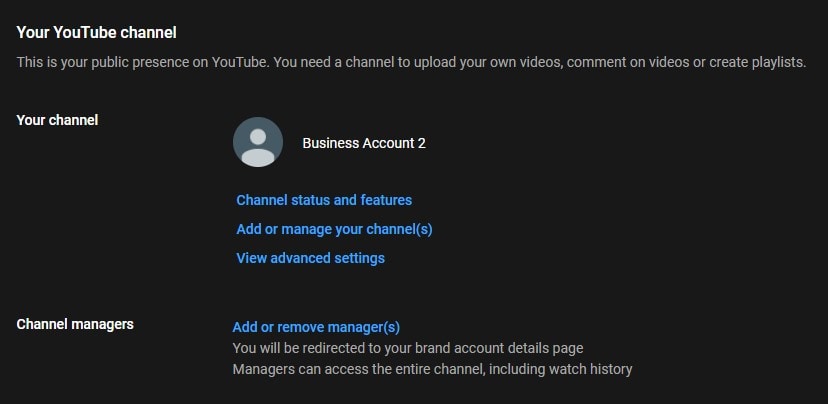 Step 3: Now, click the Manage Permissions button. You'll be asked to authenticate yourself. Make sure to follow the instructions on the screen to verify your identity.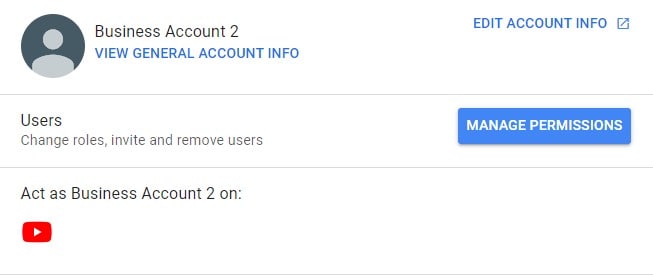 Step 4: Tap the Invite Users icon in the top-right corner and enter the person's email address whom you want to add as a new manager.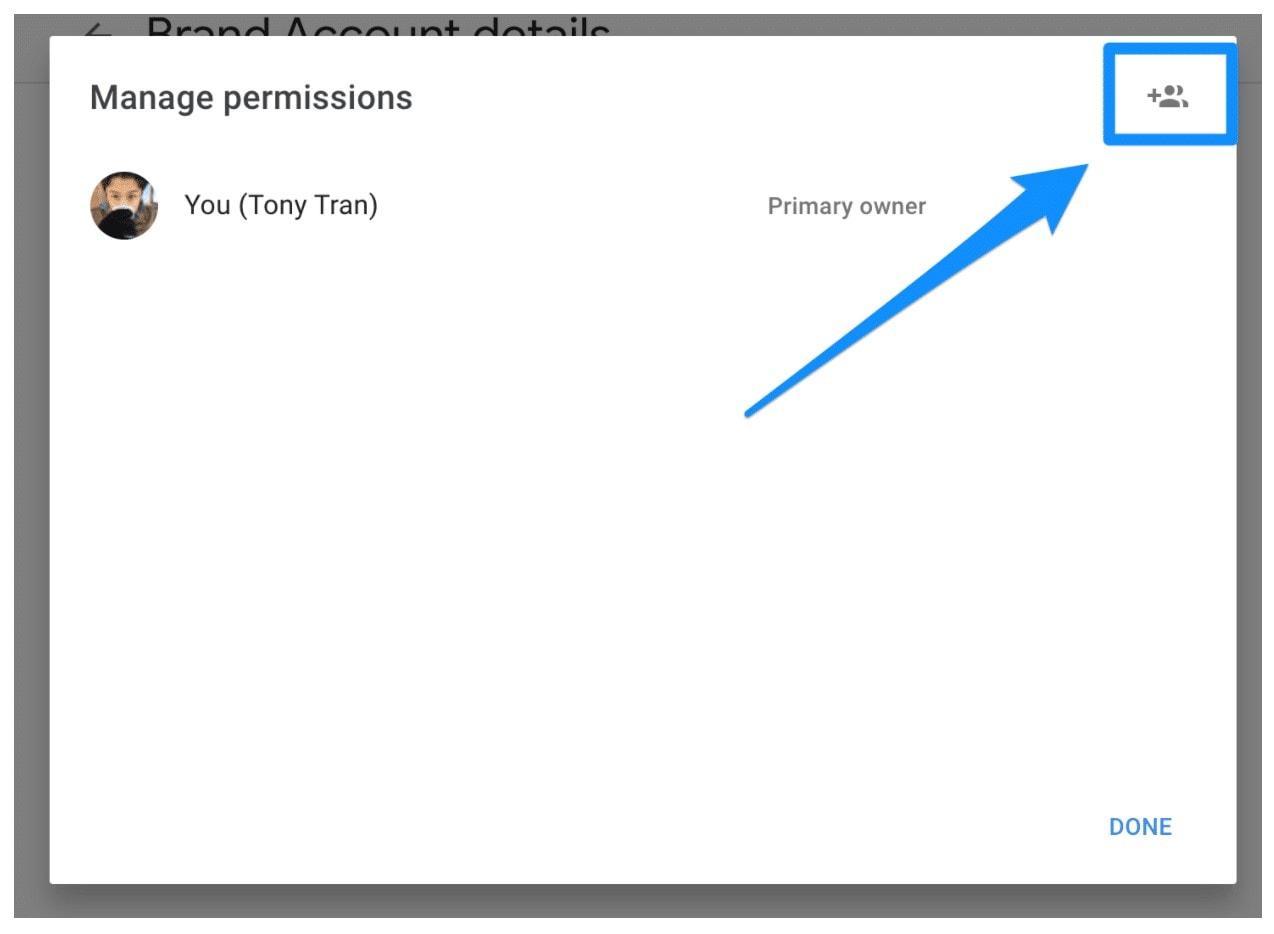 Step 5: Specify the person's role. You can choose between Owner or Manager. An owner will have all the rights to customize the channel whereas the latter only has limited authority.
Step 6: Finally, click Invite and tap Done to complete the process.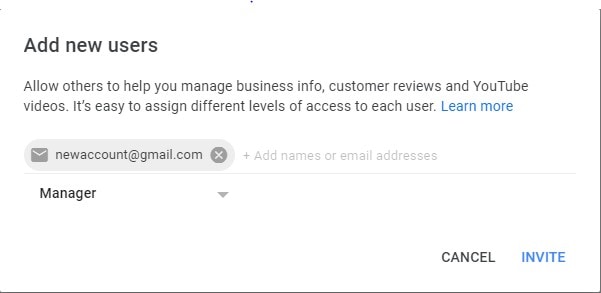 You can follow the same procedure to multiple managers for your YouTube channel.
---
Part 4: How to Delete Multiple YouTube Channels
After you know how to create another YouTube channel with the same account, it's also crucial to understand how to delete a channel. Let's say you've created too many channels and want to cut down the clutter by removing a few of these unnecessary channels.
Step 1: Open your YouTube channel and click Settings.
Step 2: Again, click Add or Remove Manager(s).
Step 3: Click Delete Account.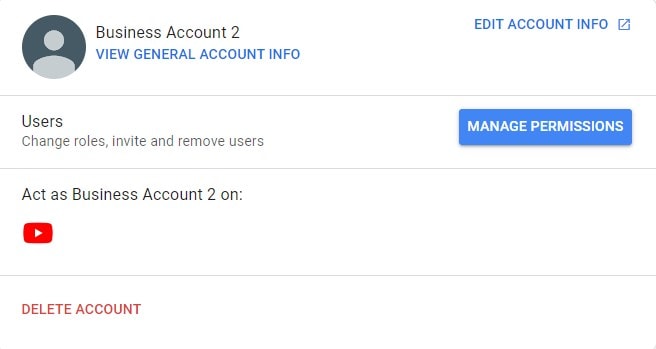 Step 4: Make sure to check all the boxes and click Delete Account to delete the selected channel permanently.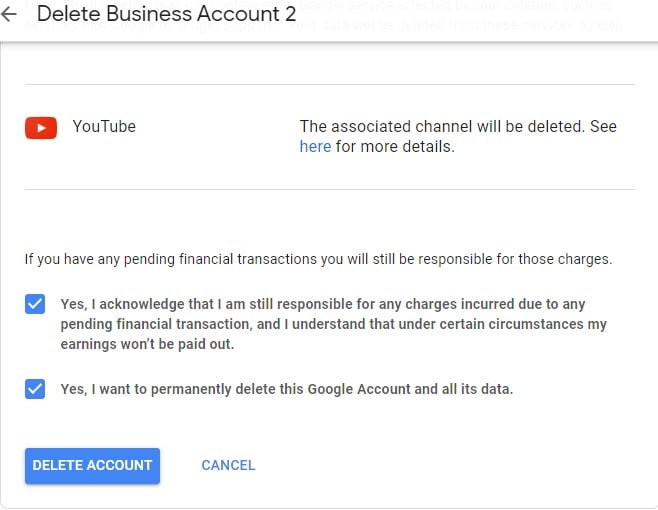 ---
Useful Tips: How to Manage Multiple YouTube Channels
Now that you know how to create a second YouTube channel. Let's talk about things that'll help you manage multiple channels at once.
1. Improve Brand Visual Identity
As soon as you create a new channel using your Google account, it becomes crucial to separate it from your existing channel. To do this, you can add a different profile picture and channel banner for each channel. This will give all your YouTube channels a separate brand identity, and you'll be able to attract the targeted audience more quickly.
2. With a Good Channel Description
Along with a dedicated profile picture and banner, you should also write a unique description for your new channel so that people can know what your channel is all about. Always make sure that each channel has a unique description.
3. Post Videos Regularly
Finally, make sure to post regular videos on all your YouTube channels. It's a great strategy to decide a specific schedule day/time for each channel and post videos accordingly. Keep in mind that when you'll post regular videos, YouTube will automatically push them higher in YouTube search results, and you'll get more organic views.
4. Improve the Efficiency of Video Production, and enhance the Video Quality of Your YouTube channel
The key is that you need choose a powerful and easy-to-use video editing software.Filmora Video Editor & Filmora Video Editor for Mac has an extensive range of features to make professional-looking videos. For instance, you can use its color correction tab to edit the RAW clips and make a cinematic short-movie for your channel. It also has different built-in effects that'll let you enhance your videos' overall quality for better user engagement.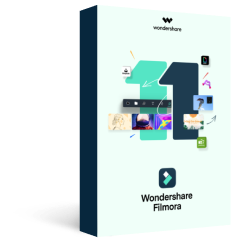 Filmora Video Editor
It has basic editing features, such as Crop, Split, Trim, etc.
Add built-in visual effects to enhance the overall quality of your videos.
Add keyframes to create customized transitions.
Motion tracking to apply effects on a moving object.
Color grading to make your videos more cinematic.
If you are also looking for a professional video editor to boost your YouTube game, make sure to choose Filmora Video Editor.