Looking for the best video overlay software and apps to use on YouTube, Twitch, and more? Choose your favorite one from our editor's pick list now.
By video overlay, we mean a picture, another video or an effect overlay that can potentially superimpose over the video. Overlays can be used to place the logo on the top of your videos, add a clickable call-to-action and use the first-person webcam for Twitch sessions. Here, we have picked the top 3 each in the categories of video overlay software for PCs, apps for phones and browser-based online tools.
Part 1. Top 3 Video Overlay Software
1. Wondershare Filmora
Filmora is the main video editor from Wondershare and it is available in all desktop and mobile operating systems - which makes its cross-sharing over different platforms very helpful. Filmora borders with most of the studio-level and editing software. It contains some very state-of-the-art features and lets you overlay pictures and videos with ease.
It also has equally impressive audio controls and you can use it to create many different types of videos. Superb color grading tools and screen recordings complement the video overlays for editing that Filmora provides.
Key Features:
It supports high quality 4K video for editing and exporting

PIP (Picture-in-picture), video and effects overlay

Lots of tools, transitions, filters and effects

Excellent collection of audio and video library

Color grading and template of color filters are included
Auto aspect making for multiple video tracks

It supports various file formats for audio and video inputs and outputs

Screen recording function is included which works Best for Twitch

Audio de-noising and audio ducking feature is also included
Best for: Consumers and Prosumers; YouTubers; Documentary makers
Compatible with: Microsoft Windows; Mac OS
Reasons to Buy
4K Video editing and recording
Motion tracking option is added
Auto aspect matching and color matching
Video Stabilization is included
Green Screen and Chroma key effect
Cons
Multicam video editing is not allowed
No 3D video editing option
No 360-degree video editing option
Pricing: Free trial version. Exclusive offer only for iSkysoft: $39.99 for one year, $69.99 for perpetual.
Wondershare Filmora
An Easy-to-use video editor software to bring your imagination to life! Let's create Inspired Storytelling Videos Without Limitation now.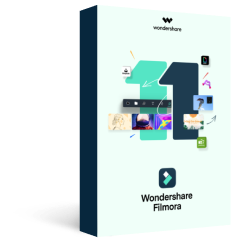 iMovie is one of the two official video overlay and editing software from Apple. Unlike Apple Final Cut Pro, iMovie is more positioned to help beginners and amateurs in adding and editing overlays. It offers its users the Picture-in-picture (PIP) effect and the split-screen feature to add different dynamics to your video.
It also comes with a good collection of themes and trailers to quickly make videos in a particular format. While it is the more consumer-oriented variant from Apple, it still features some high-tech options like 4K video editing, Green screen effect and Multicam video capture and editing. It is the most commonly used video editing software among the Mac and iPhone users.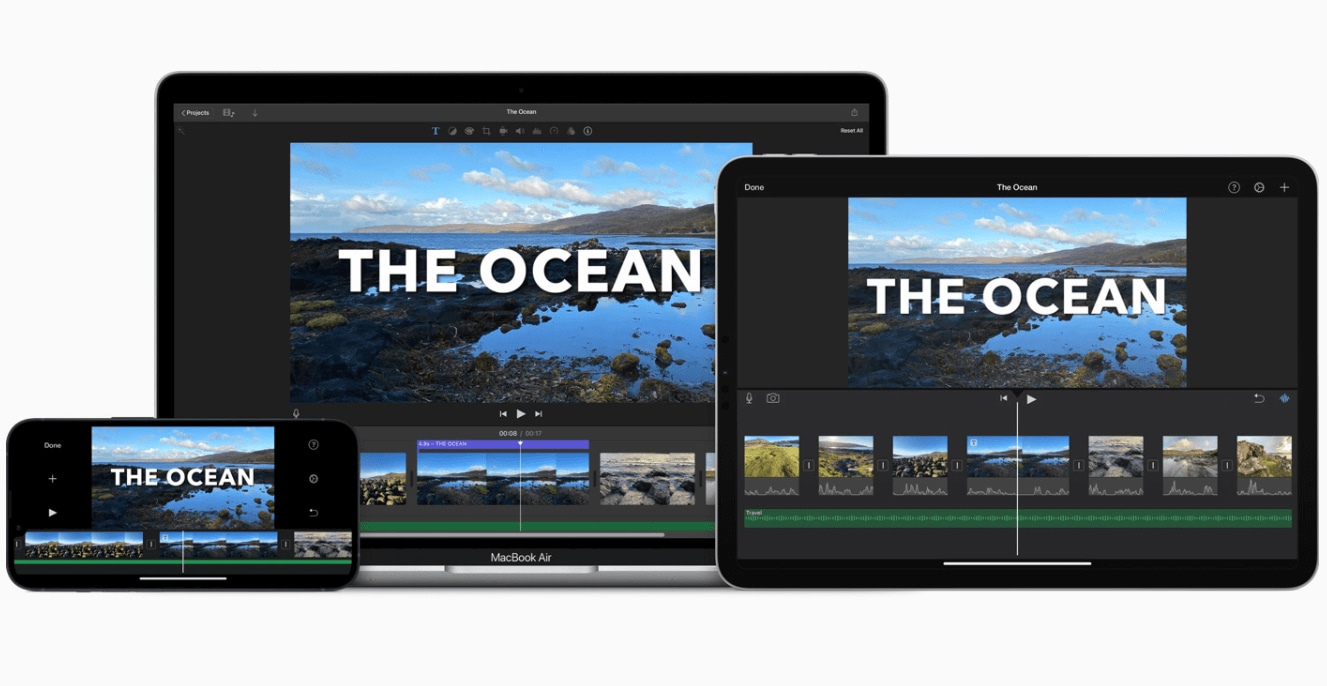 Key Features:
Combines the ease of use with excellent performance

Suitable for quickly creating videos of very high quality

The flagship editing software on Apple iPhones and Mac OS

Comes free of cost with most Mac operating systems
Split-screen and Picture-in-Picture (PIP) effect

The auto music adjustment feature

Green screen with Chroma Key effect

Collection of themes and trailers are built-in
Best for: YouTubers; TikTok Users; People who only use Apple products like iPhone, iPad or Mac computers
Compatible with: Mac OS; iOS
Reasons to Buy
Multicam video editing is possible
4K video editing is also possible
All the features are completely free to use
Cross platforming for Apple products
Extensive audio mixing is possible
Cons
No available on any other operating system apart from Apples'
Not suitable for performing high-end editing functions
Does not support motion tracking
Does not support 360-degree videos
Does not support 3D videos
Pricing: Free of cost and comes pre-installed with the Mac operating systems
Adobe Premiere Pro by Adobe is widely considered the industry standard of video editing and overlays for editing. It is packed with a powerful system that gives its users a very in-depth level of control. Its thoroughness makes it a popular choice of video editing software among professionals.
You can record and edit very high quality (8K and HDR) with Adobe Premiere Pro. Auto-remixing and auto-reframing are also two of its many other excellent features. However, it does make Adobe Premiere Pro a bit overwhelming for beginners. Yet if you want all the overlay options in your hand, you cannot miss with the Adobe Premiere Pro.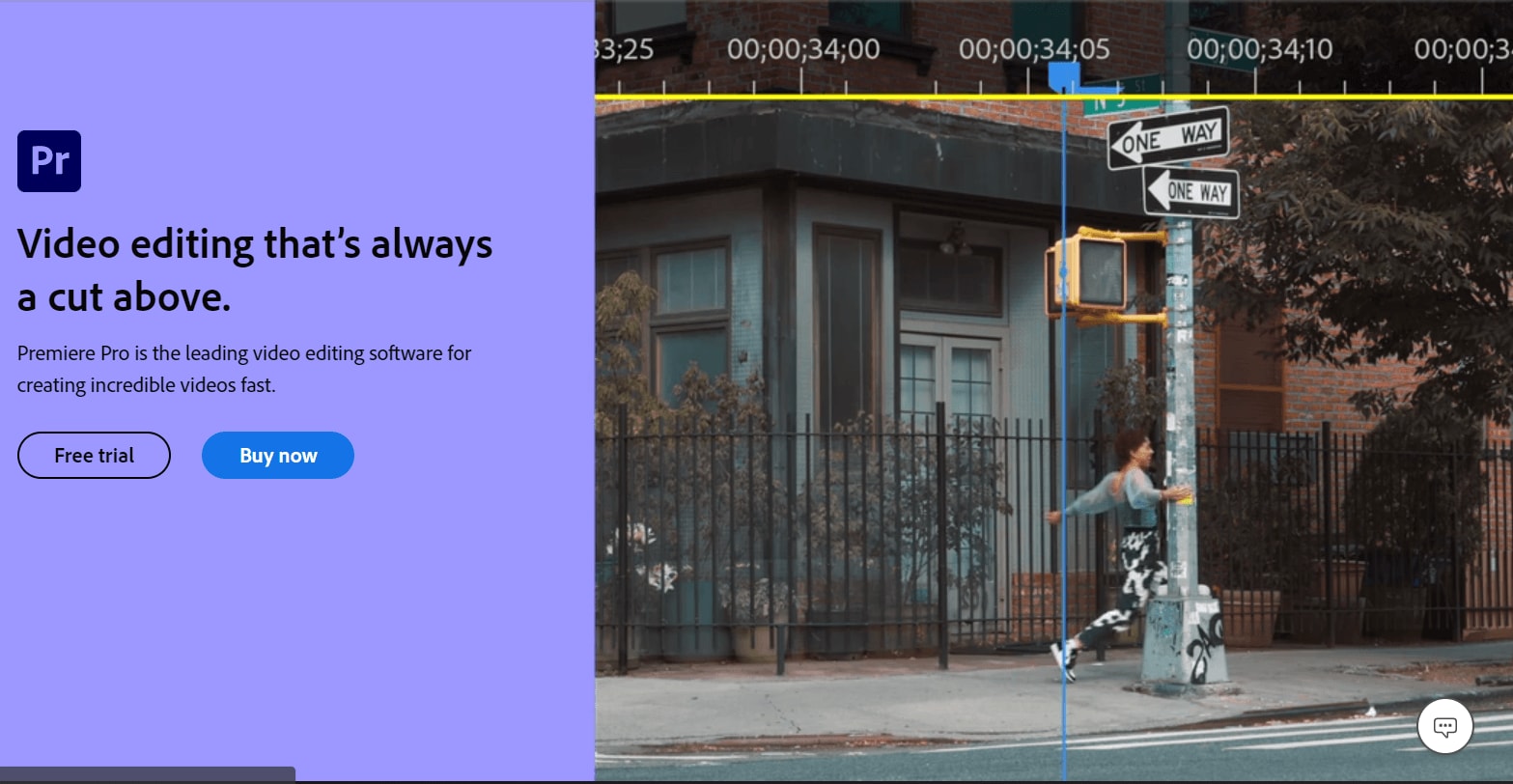 Key Features:
Auto reframing option to make videos for various platforms

Audio remixing and smart auto-assigning of music tracks

It comes with the Lumetri Color panel to adjust color grading, white balance, curve adjustment

Auto-match feature to correctly predict the color schemes
With Speech-to-Text features, you can automatically transcribe captions and subtitles on your videos

HDR editing and recording is also supported

It supports various graphic cards for performance enhancement

It is widely considered as the benchmark and industry-standard video editing and overlay software

Performance enhancement tools are builtin with the software
Best for: Professionals; Users who work in a film studio; Users who work with movie-making
Compatible with: Microsoft Windows; Mac OS; Linux
Reasons to Buy
Smart and auto reframing option for precise editing
360 degree VR video support
An all-in-one tool for a complete transformation of your videos
Supports 8K video editing and recording
Multicam video editing and recording
Cons
Not an easy software to use especially for beginners
Sound effect samples are not available for free
The motion tracking feature is missing
No keyword tagging support is available
Pricing: Free trial version; $20.99 per month.
Part 2. Top 3 Video Overlay Apps
Video and photo overlays are increasingly being used through phones and other handheld devices especially for phone recorded videos. There are Android and iPhone apps that let you insert the logo of your YouTube channel directly on the video that you record for their own app camera.
Most of these video overlay apps let you work with the other videos (not phone recorded) on your phone and support a number of aspect ratios as well. These apps provide various options that support video-on-video and picture-in-picture effects.
We have finalized the following top 3 video overlay apps for phones and handheld devices. These three will provide you with the best layout to easily add different types of overlays to your videos.
KineMaster is one of the rather few apps present in either Android or iOS with a more advanced level of editing and video overlay features. From your phone, you can now create, edit and record the videos in high quality 4K resolution and quickly share the exported videos.
It provides various features which are perfect for Twitch or YouTube. There are multiple tracks for video and audio so you can work with many files at the same time. Also, you can export videos with a very high framerate of 60 frames per second.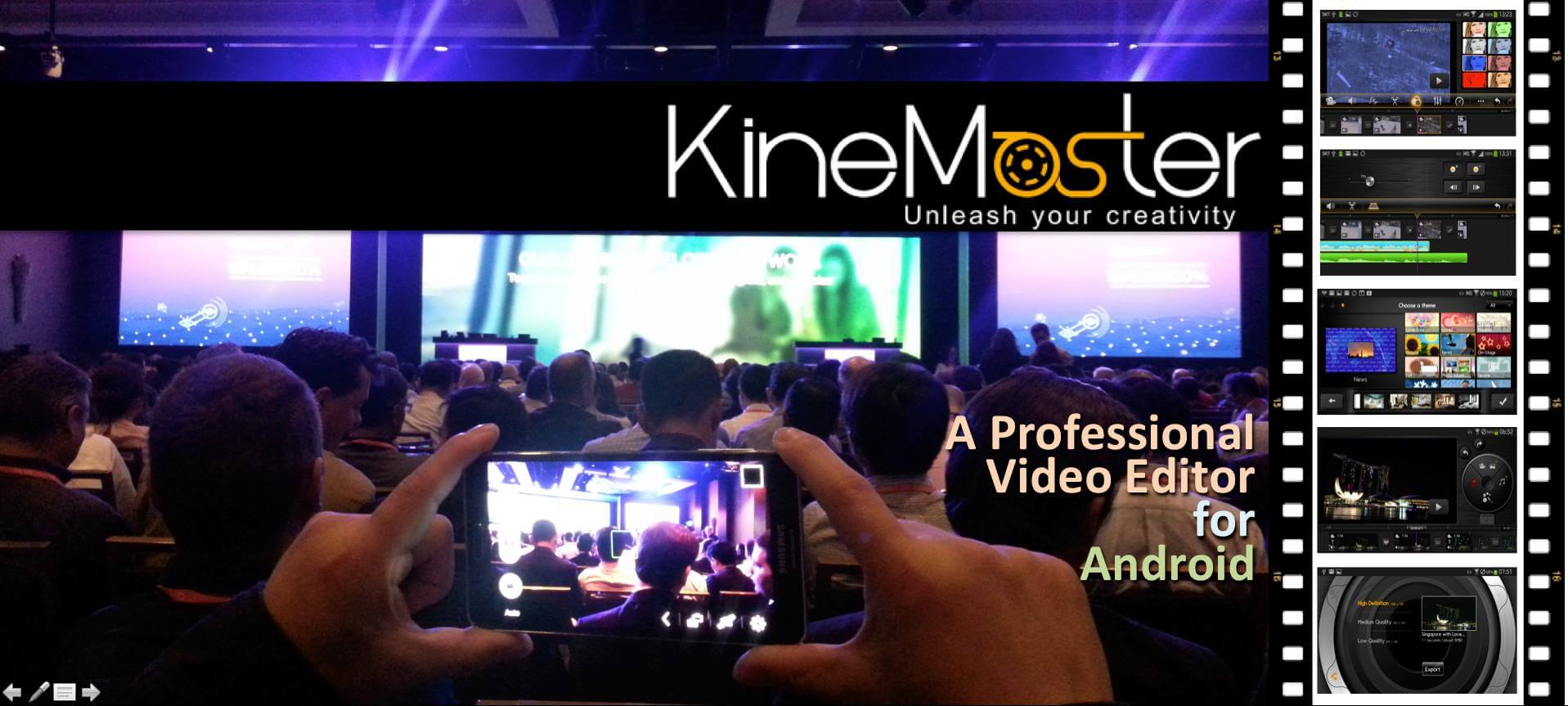 Key Features:
It lets you create, record and edit videos with quality up to 4K

Its basic tools for cutting, trimming and joining offer good precision

Video speed adjustment option is added

Easy enough video overlay apps for prosumers and professionals
Some advanced video editing features are included in KineMaster

Multiple tracks for video and audio layers

You can create and edit videos with up to 60 frames per second

Several VFX tools for great final effects
Best for: Prosumers and professionals; Filmmakers who use their phones for some advanced video editing; twitch stream overlay users
Compatible with: Android Phones; iPhones
Reasons to Buy
Despite its plethora of high-end editing features, it is surprisingly quick
Green effect with Chroma key function
Keyframe animation option is included
Good collection of stock images, sounds and videos
Quick sharing of videos on online platforms and social media
Cons
The free version will produce videos with a visible watermark in front
The user interface is not very friendly and could be difficult to comprehend by beginners
The timeline and the interface is not very conventional-looking
Pricing: Free of cost
Adobe Premiere Rush is the flagship video editing app by Adobe for phones and other handheld devices. As expected by Adobe, the Adobe Premiere Rush makes it easier to share the project and its contents across the various tools offered by Adobe. Again, it is one of the apps with advanced overlay and editing effects.
It comes with its own camera to record the video and edit it then and there. It also has a set of strong color grading and color correction tools. Its quick processing methods and easy sharing online make it a top choice of software for TikTok users.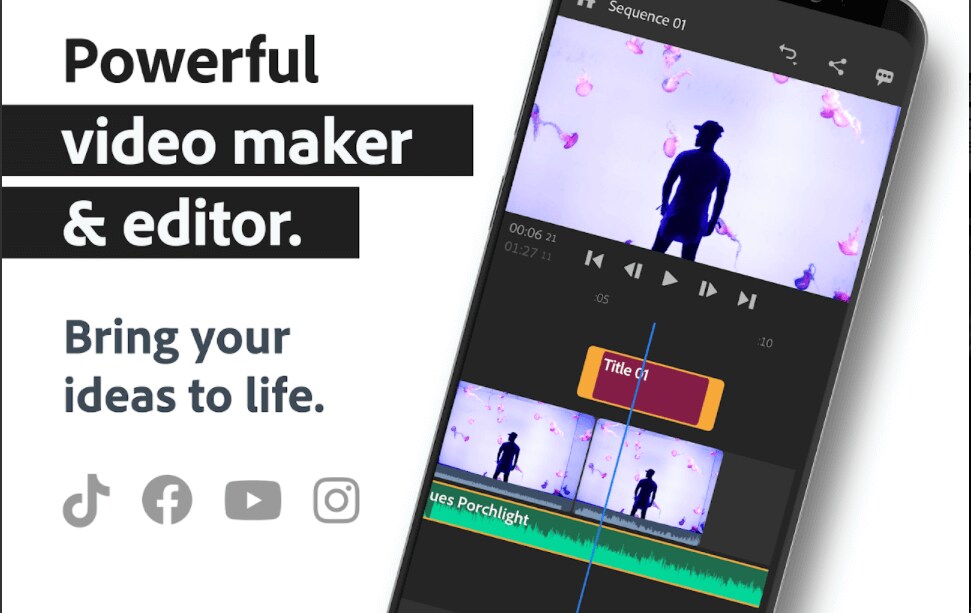 Key Features:
Power color correction and color grading tools are embedded

Excellent online technical support from Adobe for all its products

Cross platforming with other products of Adobe is possible

The flagship video editor from Adobe for phones and handheld devices
It has its own camera for quick recording and adding a video overlay

Quick video encoding and processing speed

Has some advanced level video editing features like Motion graphic, 4K and multitrack video editing
Best for: Prosumers and Professionals; YouTubers; TikTok users
Compatible with: Android Phones; iPhones
Reasons to Buy
Motion graphics and video speed adjustment
It supports video editing for resolutions up to 4K
Multi-track video editing is also possible
Strong video compression tool for making high-quality videos with nominal file size
Cons
No support for Multicam video recording and editing
No Chroma Key or Green screen effect
While free to use, some features are locked behind a paid subscription plan
Pricing: Free to use
Quik by Go Pro is the editing app that was popularized by the most ardent of Instagram users. It is based on a very sophisticated artificial intelligence system which makes adding overlays much easier.
Since it is mostly used for Instagram videos, it has horizontal leveling and vertical video support options. The user layout is not too bad at all and it will grow on you as you keep on using the app. It also offers its users unlimited cloud storage for backup.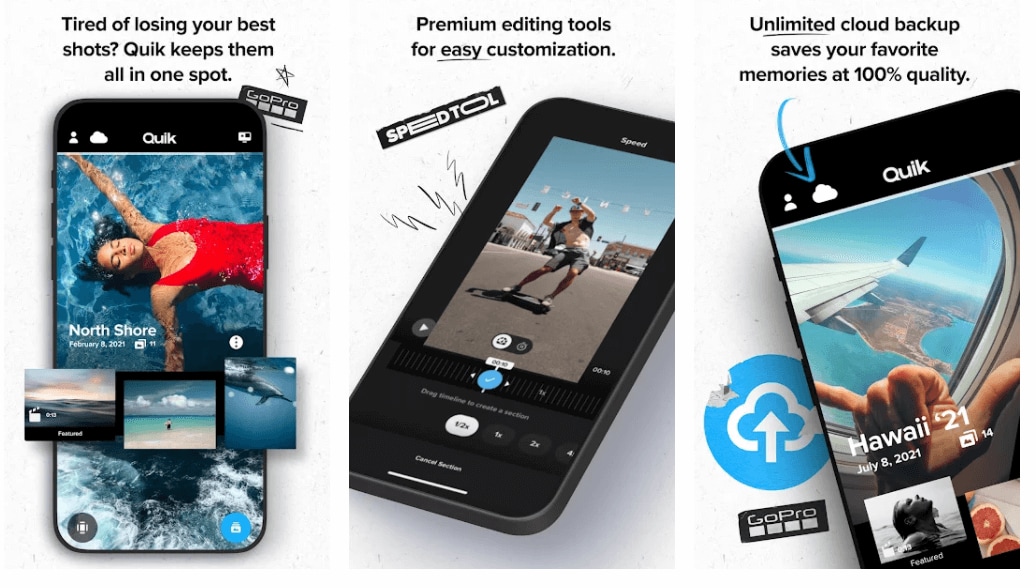 Key Features:
Quik by Go Pro is a popular choice of video editing app for Instagram users

Smart AI-based basic video editing for batch processing

Neat and clean layout that will grow on you instantly

It also has a horizontal leveling option
Swift video encoding and processing speed

It positions itself as a surface-level editing app for adding overlays

Auto highlight maker for making teaser videos
Best for: Beginners; Prosumers; People who quickly want to perform basic editing and overlay functions; Instagram users
Compatible with: Android Phones; iPhones
Reasons to Buy
Auto-audio synchronization
Supports editing and exporting files with a resolution up to 1080p
Smart detection and reframing option
Automation in various functions makes video editing faster
Cons
It is not compatible with all the phones, hence you will need to check beforehand if it will work on your phone
It lacks the more advanced level video editing functions
The app is also known to be a bit glitchy at times
Not suitable to use with large-sized video files
Pricing: Free of cost
Part 3. Top 3 Online Video Overlay Software
With the increasing usage of cloud-based storage for keeping most of the sizable file data - many video editing software now coming forward in a form of a completely online operational tool.
That means as a user you don't have to worry about the shortage of local storage and next level hardware requirements. Because there are now many online video overlay software that let you creatively use the overlay tool for various applications.
Most of these online video editing tools are able to work on a system having an average specification. Also, most of these online and browser-based video editing software will work on both desktop and phone browsers.
From the list of many such online video overlay and editing software, we have shortlisted the following top 3 video editing and overlay adding online tools available to you today.
Kapwing is becoming increasingly popular among all the online video overlay software due to its thorough level of controls. It has a very effective Picture-in-picture (PIP) and video overlay for editing effects. You can very easily add subtitles for speech and all this can be done in a pleasant-looking user interface.
It supports various file types and you can even add videos for overlay and editing from the web as well. It also supports the vertical video for overlay and editing for phone viewing. The collaborative video editing feature is a unique way of working as a team on large projects.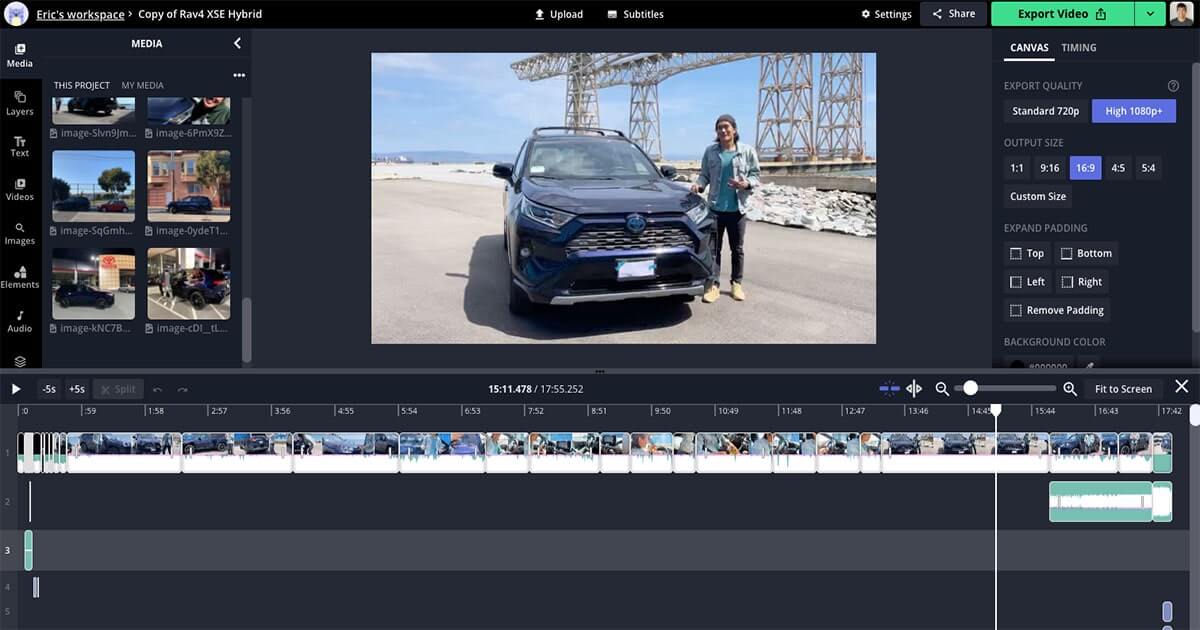 Key Features:
It makes it very convenient to export videos on social media and other file sharing cloud-based storage

It has the popular vertical video support and conversion to make phone viewing easier

Apart from the files on your storage, you can also use Kapwing to edit the overlay of online videos

You can import and export video files with a variety of file formats
The user interface is very simple and based on the drag and drop mechanism

Option to add subtitles

Picture-in-Picture (PIP) video mode is supported
Best for: Consumers and Prosumers; YouTuber Short makers; TikTok users; Instagram users
Compatible with: Microsoft Windows; Mac OS; Linux
Reasons to Buy
It supports loads of aspect ratios for various types of devices
The multi-track video timeline feature
Collaborative video and overlay editing
You can export the videos in very high quality
Cons
The online platform freezes sometimes while processing a large-sized video file
Video processing speed is rather slow
There is a watermark visible in the exported videos
With the free version, you can only export videos with a duration of 30 minutes
Pricing: Free to use
Clipchamp is a comprehensive suite of tools for video recording, compressing and converting into a bunch of file formats. It is also synonymous with its simple usage of adding video overlay for editing. You can use from a variety of preset aspect ratios or set one yourself to make your videos appropriate sized for specific devices. There are many transitions and overlay effects that can be used free of cost too. You can export the final videos to your local drive or the online storage with much convenience. Clipchamp will take care of most of your editing and overlay needs due to its range of editing tools.

Key Features:
It is one of the most well known online video overlay editors

It provides an all-in-one video recorder, compressor and converter for all your needs

There is an intuitive user interface that helps beginners to get used to the tool

Exported videos can be easily saved on the local drive or shared online
Provides support to record videos through the webcam

Tons of transitions, overlays and effects

It also supports various aspect ratios for making videos suitable for any device

Text-to-speech option for adding captions and subtitles automatically
Best for: Users who want comprehensive editing, converting and compressing solutions online
Compatible with: Microsoft Windows; Mac OS; Linux
Reasons to Buy
Completely free to use and export videos without any watermark
It supports many different file formats for input and output
An all-in-one solution to several issues related to video overlay editing
Cons
Video quality in the free version is restricted to 480p
While it is completely free to use, you will need to log in to it using your Facebook or Google account
The audio synchronization does not work perfectly sometimes
Pricing: Free to use
Flexclip is yet another online video overlay and editing software that positions itself to be helpful for beginners and experts alike. It has the presets of aspect ratio for all the social media and video sharing platforms. Video creation templates make it quick and easy to develop videos in a set format.
Its overlay function is very detailed and lets your use various video overlays for editing effects on your videos. There is also a good collection of stock images, videos and audio to use with your own content. The user interface is helpful for both novice and expert alike. Other video theme templates will let you make a particular type of video in no time.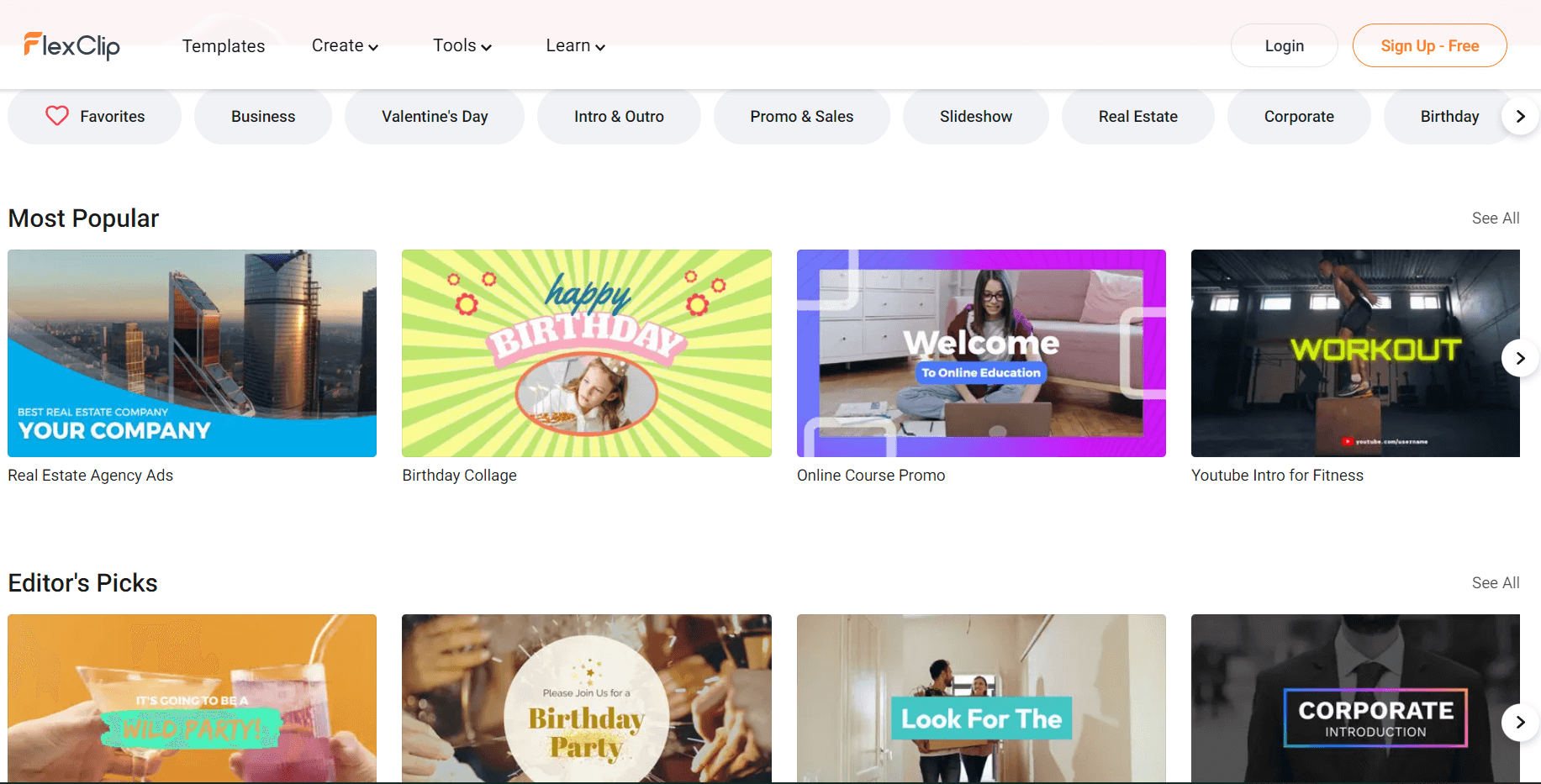 Key Features:
It positions itself as an online yet advanced video overlay editor

Deep video overlay customization and application

A good library of free elements and effects for videos

Thousands of royalty-free and stock image, audio and video samples
Super-easy user interface that lets you do basic and advanced editing with simple clicks

Lots of presets and templates to make quick videos

Preset of aspect ratios to fit videos on several social media and video sharing platforms

A slideshow maker and a meme maker are also included in the list of various tools that Flexclip offers to its users
Best for: Prosumers and professionals; Users who want to apply professional-grade editing tools without having to download an app or a software
Compatible with:Microsoft Windows; Mac OS
Reasons to Buy
Aspect ratio manual adjustment and presets for different viewing
The video can be exported to many file formats
The templates are completely customizable
Cons
It is free but you will still need to log in to the website using your Facebook or Google credentials
The free version will only let you export a video for a duration of up to 1 minute
Also, some other key editing features are locked behind a subscription
Pricing: Free to use
Part 4. How to Overlay Videos with Filmora Video Editor
Wondershare Filmora combines a complex level of video overlay editing capability with the amazing ease of doing so. Whether you want to place a picture at the bottom right corner as the logo of your YouTube channel or you want to record from your webcam to work as a video overlay for Twitch gaming sessions - Filmora will let you do all that with a simple few clicks
Let us have a look at how to use the Picture-in-picture effect, video-on-video and filter overlay with Filmora.
Step 1
Import a video file
Firstly, you will need to add image and video files that you need to work as the background track and overlay in your project. As shown below I have imported two video files and one image file into the Media library of my project.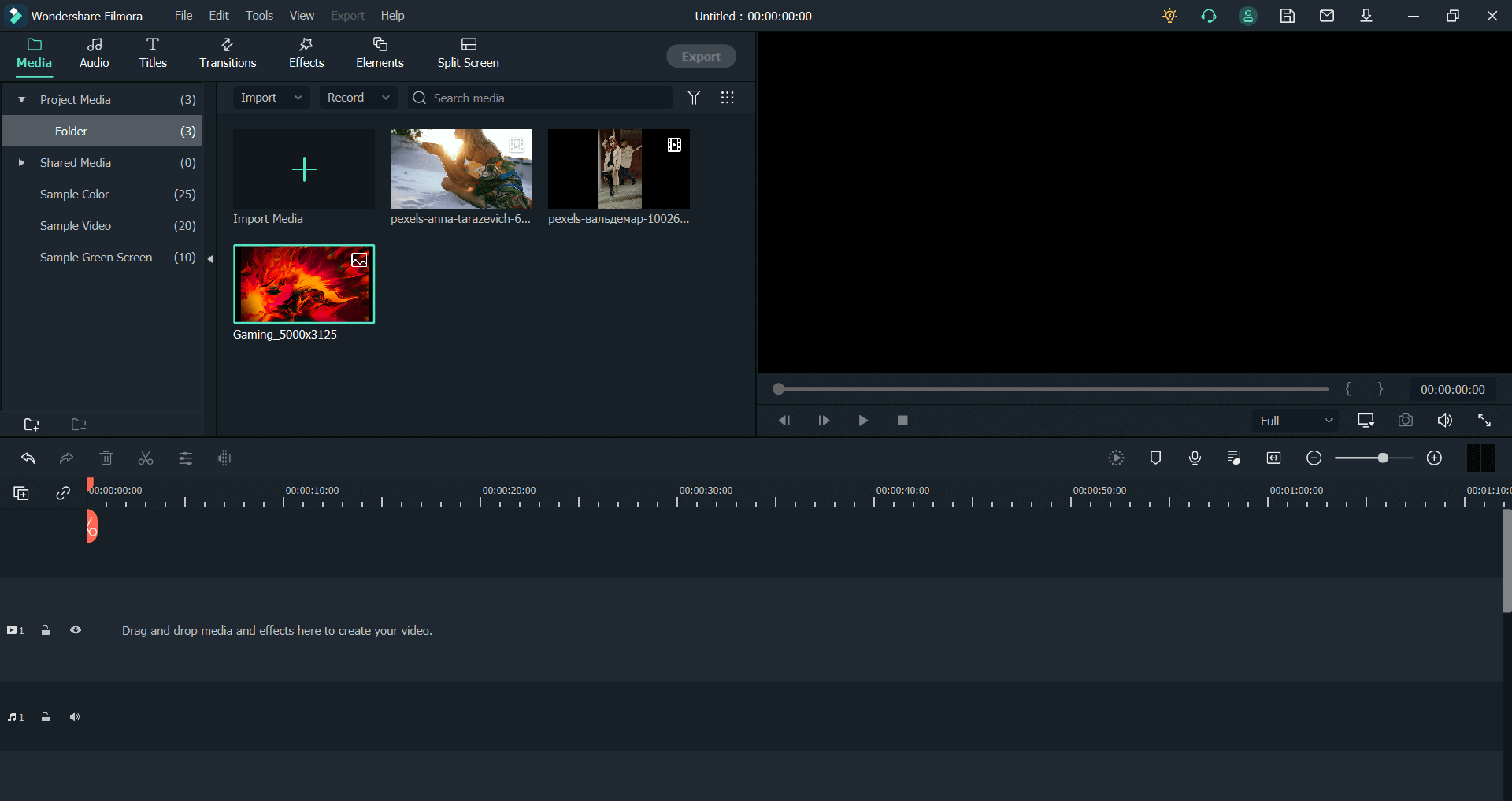 Step 2
Overlay picture on a video
Drag and drop the video file on your timeline (this will work as the background track and the project will adopt its aspect ratio as default for the project) and then drag and drop the image in the timeline above the video track.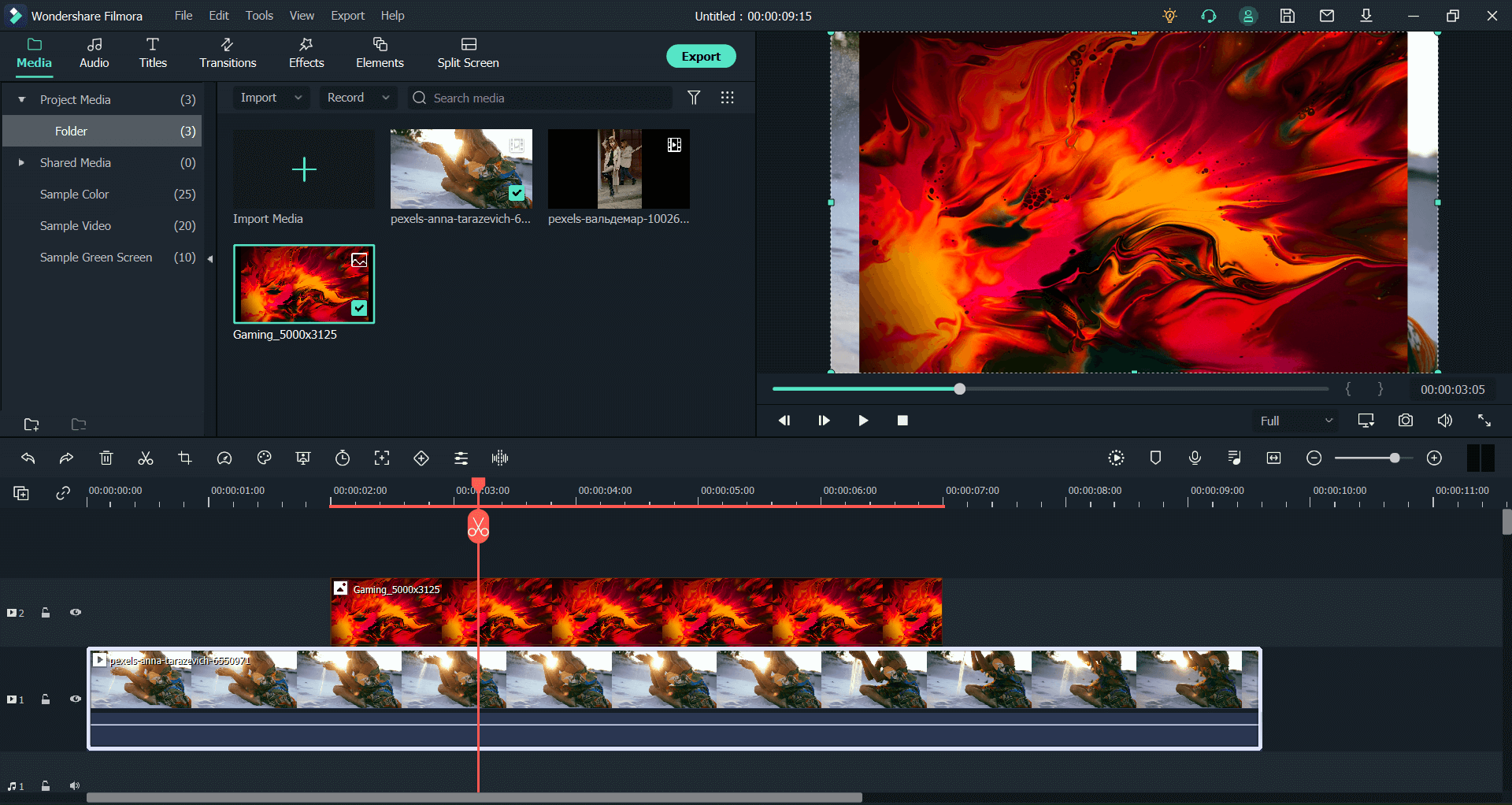 You can resize the picture overlay by clicking the image in the Preview Window on the top right-hand side of the main window. As you click on it, it starts displaying its borders.
You can drag these borders to resize the image and also drag the image around to place it appropriately on the video. Something that looks like this.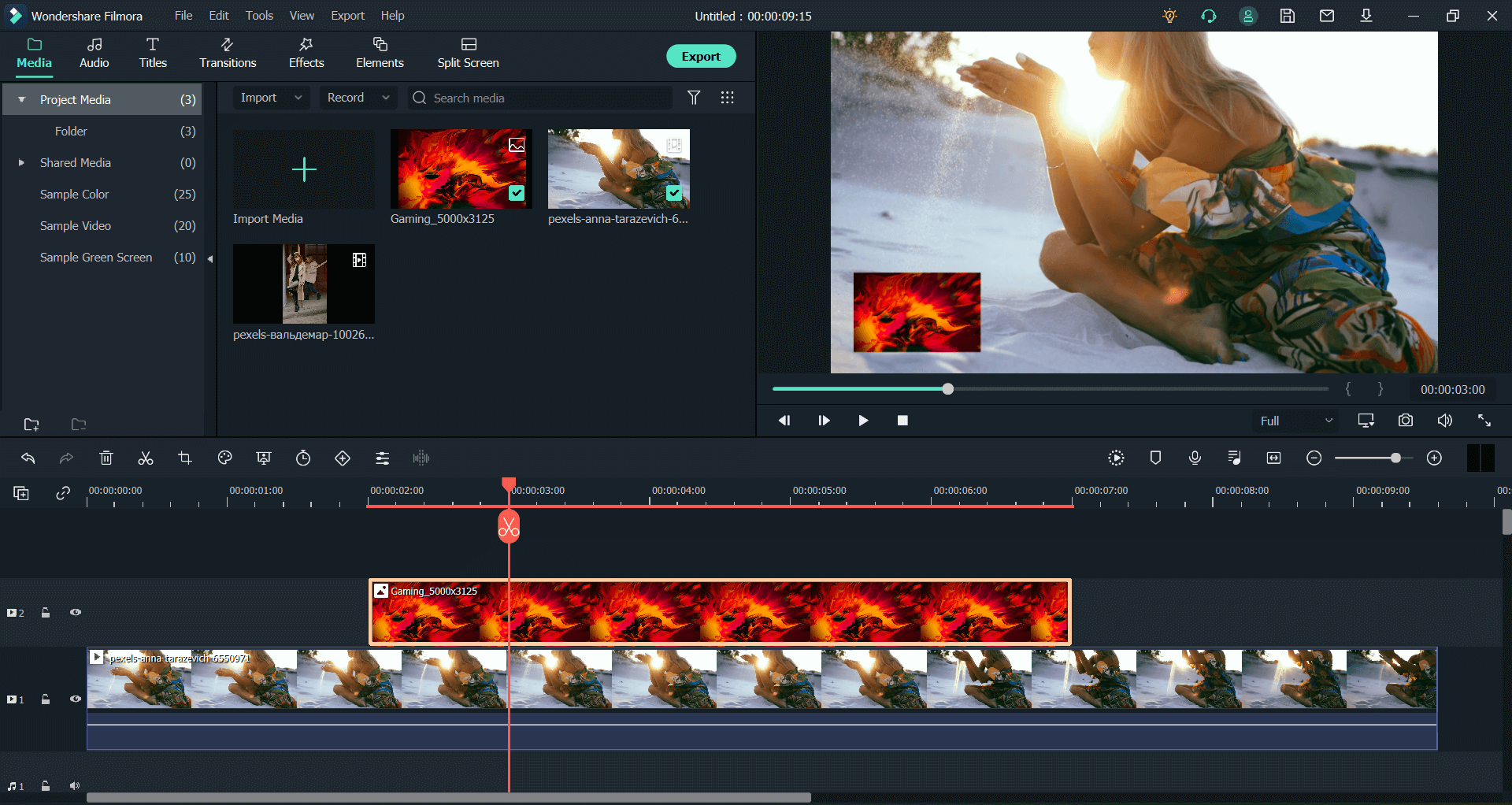 Step 3
Overlay video on a video
Likewise, you can follow the same steps to overlay a video upon video. Just drag the background video to the timeline first. Then add the other overlaying video in the timeline just above the previously added background video.
When you overlay on the timeline, Filmora asks you by default to convert the overlay video to the aspect ratio of the background video. Otherwise, you can choose to work with the original aspect ratios of two videos- as shown in the image below.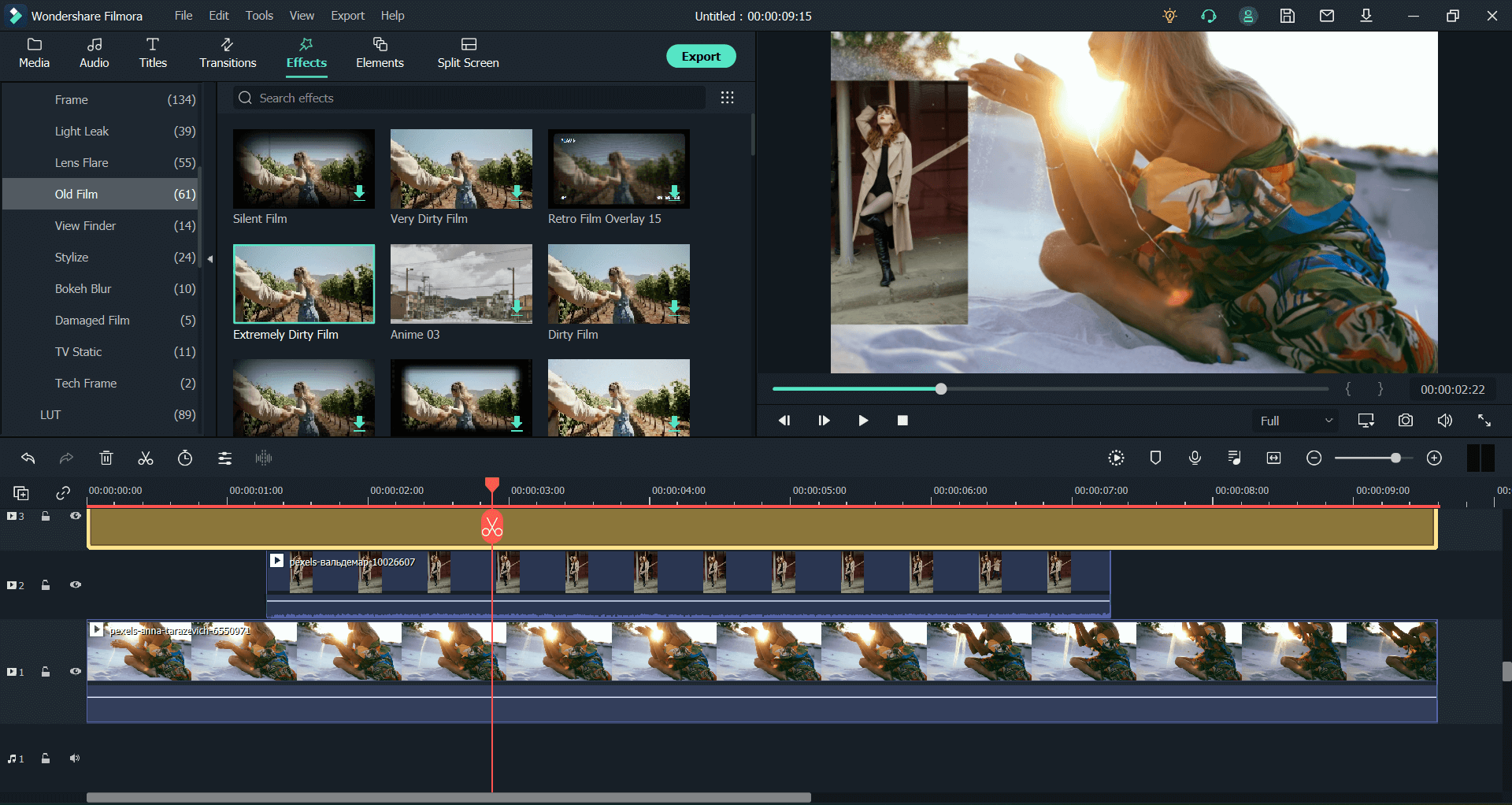 Step 4
Overlay filters on a video
Filmora gives you hundreds of overlay filters that you can apply to your videos for free. While you still have your video added to the timeline, just go the the "Effects" on the top left-hand side of the main window.
Just download the overlay of your choice and drop it to the timeline. You can also drag it into the timeline to decide its duration and placement within the entire length of the project.
You can also place more than one video or effect overlay on top of another. Hence giving your video the combination of both effects overlay. Otherwise, you can also overlap the two or more filter overlays to combine the effect - as shown in the image below.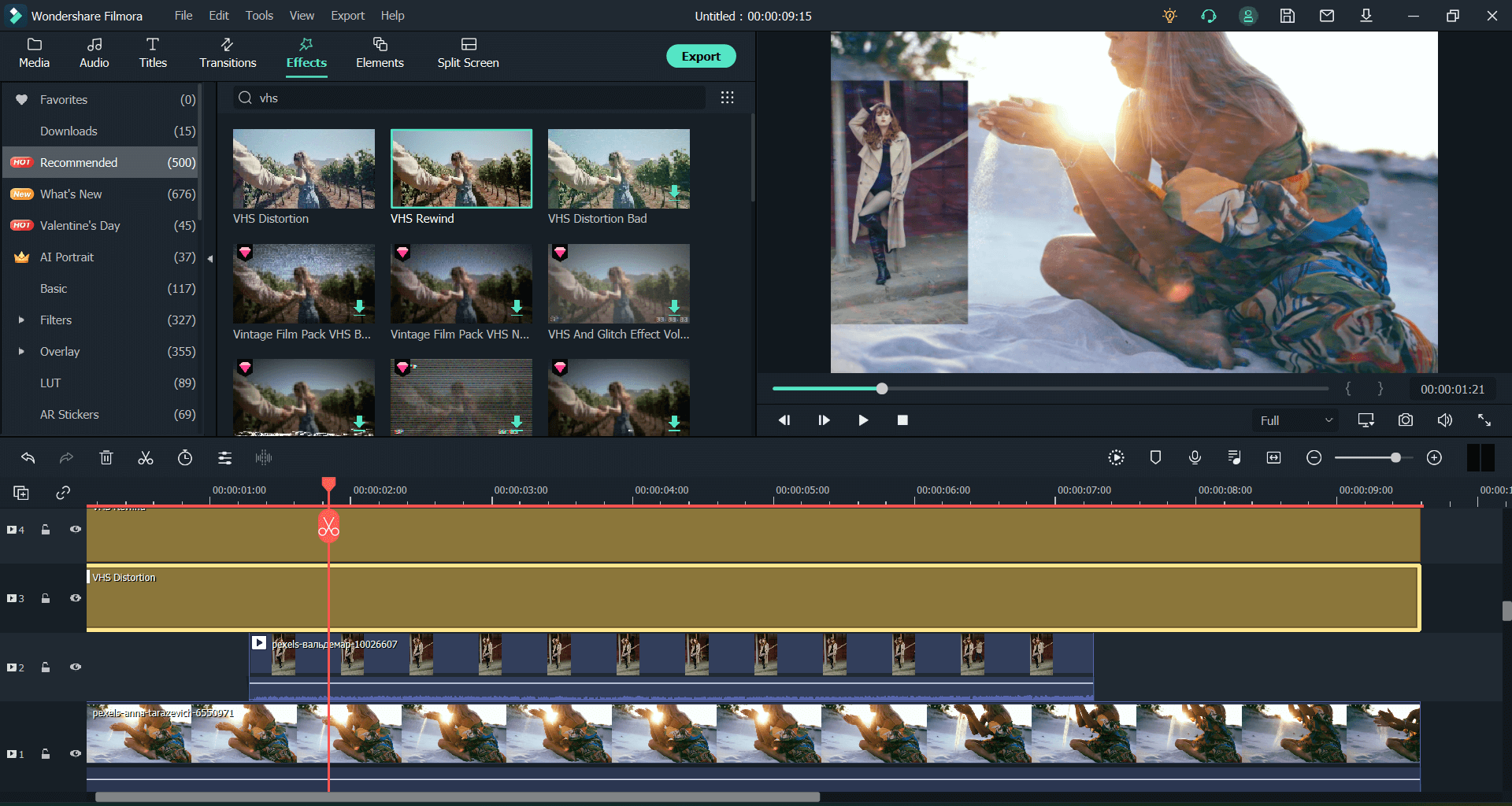 Step 5
Exporting the video file
Lastly, Filmora gives you the option to export your project file in several most commonly used video file formats. You can very easily select the file format, edit its details, video quality, resolution, frame rate and clik export to save it in your local drive or cloud-based storage.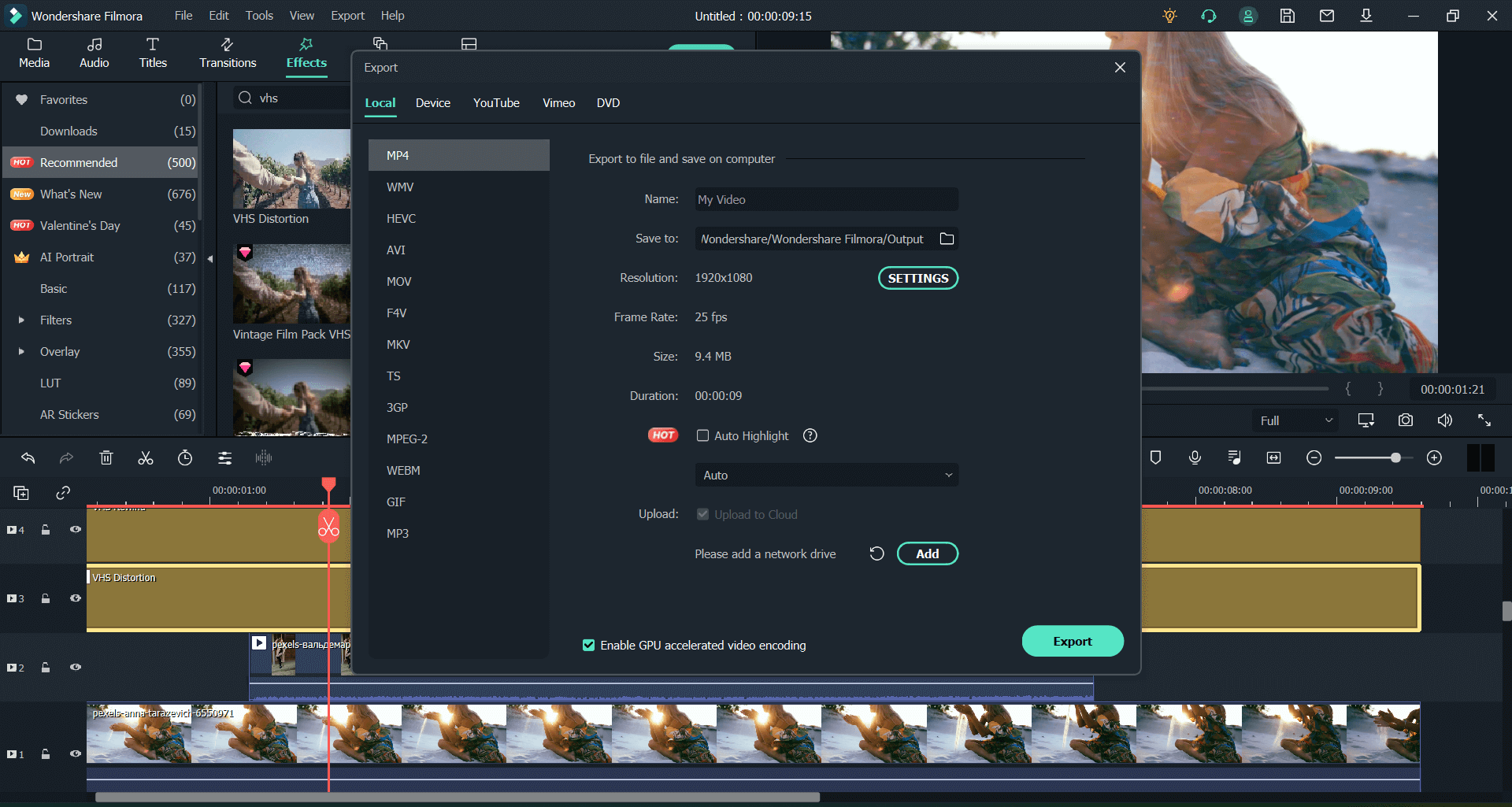 Part 5. Conclusion
Video overlays are one of the most commonly used video editing features around. That is why there are now a growing number of software, apps and online tools that let you use thousands of overlays for editing.
While most overlay software do provide the basic overlay of editing in terms of placement of a logo or a simple twitch stream overlay, if you want to go in-depth with a deeper level of editing, you are going to need powerful software.
Therefore, if you just want to, let's say, place a logo in your videos, you can use one of the video overlay apps like KineMaster. But if you want to really delve into the process and edit the overlay effects yourself for precise customization, you are better off using a more powerful system like Adobe Premiere Pro or Wondershare Filmora.
In the end, the choice of the video overlay software depends on how you want to use the overlay feature - because there are hundreds of ways in which video overlay can be used for editing and transforming your videos in a creative way.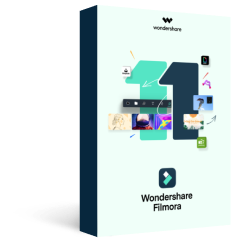 Wondershare Filmora - Best Video Editor for Mac/Windows
5,481,435 people have downloaded it.
Best video editing software for beginner and semi-professional, that comes with powerful editing skills like trimming, splitting, rotating, editing, etc.
500+ free special video effects to customize and create an awesome movie by yourself.
1000+ standalone effects downloading resources to make videos in all kinds of styles.
Record voice in real-time: you can have you voices recorded in realtime and instantly add them to the video files.
The software supports almost all available videos, images, and video formats. Besides, it also supports GIF files and 4K resolution videos.