Filmora or Movavi, which one is the best for you? Read this ultimate comparison review and compare their features, pricing plans, system requirements, and more.
Filmora and Movavi are two of the best video editing software in the market today. That is because both are strong and stable software that also provide excellent support and a free trial version.
Filmora by Wondershare is a household name in the field of video editing. Even if you are new to video editing, there is a strong chance that you have at least heard of Filmora. It is a full package with most of the common video editing features built-in. Movavi is a trendy and user-friendly software that is very well known as well in the video editing community. It offers a near-perfect and easy-to-use interface, especially for newbies. It is the first software that I used for video editing and within minutes I was familiar with most of the functions.
In this comparison review
01. What are you planning to use it for?
The most fundamental question to ask yourself is what do you want out of the video editing software.
Filmora is a suitable video editing software for almost all kinds of requirements. It gives its users a helpful interface to do everything from the basic to a very advanced level of customization. That is why it is equally favoured both by the novices and experts in the field of video editing.
The software is available for both windows and mac systems, and it gives you numerous options to record and edit videos, add effects and transitions, and export easily to your pc or various online destinations.
While it is quick and simple to use Filmora to create surface-level videos, its true potential lies in the advanced transformative features that it offers. It is a perfect choice for creating complex videos using its impressive collection of customization.
Movavi specializes in providing a friendly and stabilizing interface that works perfectly for beginners especially. Efficiently, you could go on and develop loads of videos one after another in no time. Being a lightweight program, Movavi also helps you in swiftly converting videos.
While it may be lightweight, Movavi does not lack in providing its users with an effective way of editing a video. You could add effects, transitions, titles and stickers - just like any other good video editing software.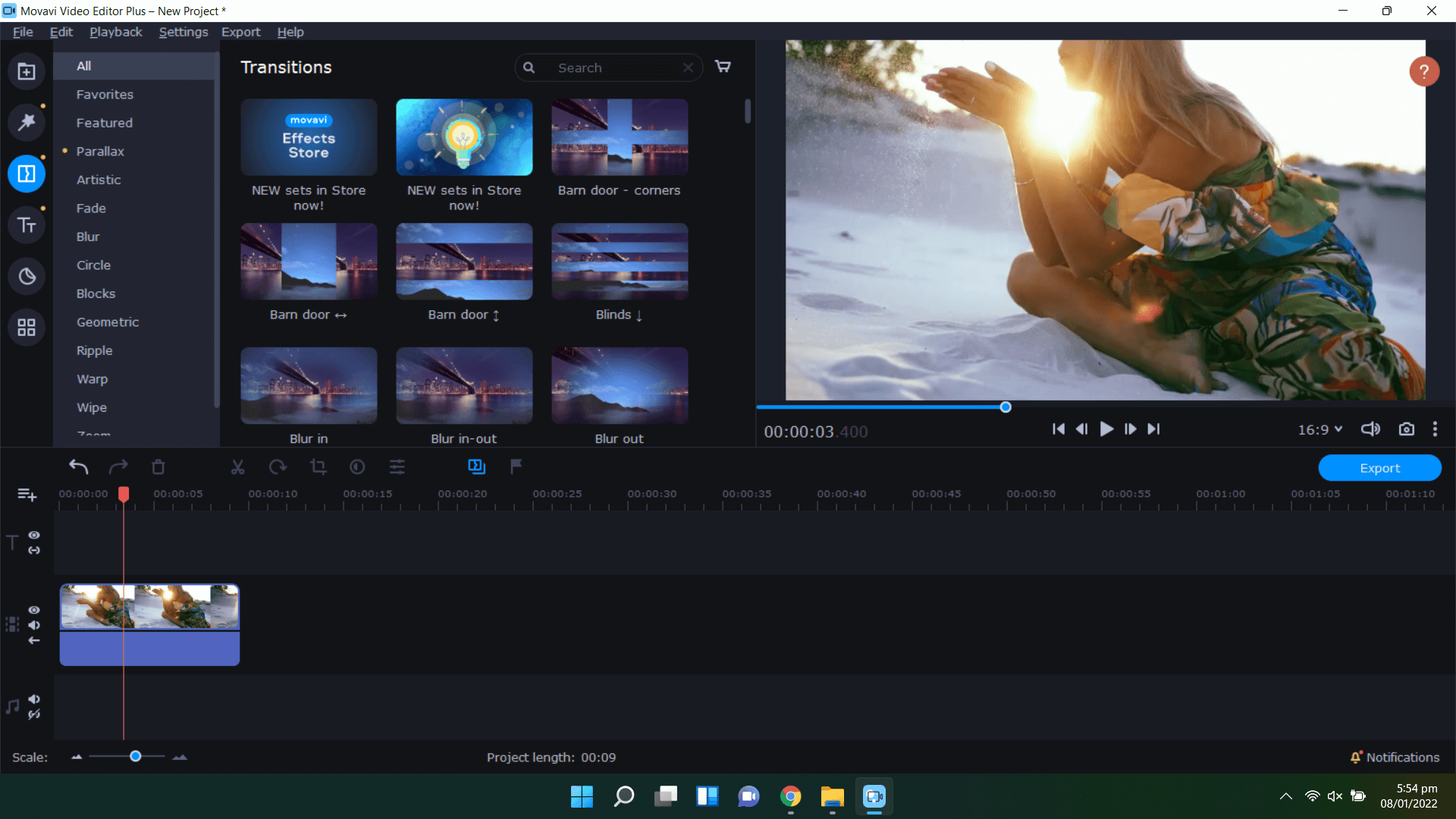 Still, Movavi's unique selling proposition is to provide its users with an easy-to-use and handy environment to quickly create videos. It works best for you if you need to use the usual editing features to create videos with balanced modification.
Wondershare Filmora
An Easy-to-use video editor software to bring your imagination to life! Let's create Inspired Storytelling Videos Without Limitation now.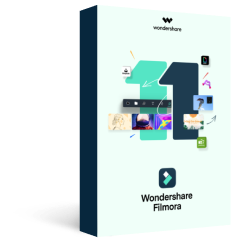 02. How easy it is to use?
Quite frankly, if you look at the main screen interface of both Filmora and Movavi, they look very familiar at the first glance. Both look very user friendly, appealing and gives users the confidence to explore what that software has to offer.
This is the reason why each of these software has been such a big hit among aspiring newcomers who want to test their editing skills for the very first time.
But if you look closer, you might find the user interface of Movavi to be more simple and easier to use. It gives you enough options in every aspect to make a quick decision and complete your project more conveniently.
Filmora gives you more freedom to play around with the user interface. You can move and rearrange some buttons and adjust the size of interface boxes. Its interface is more modern looking than that of Movavi.
03. What editing features does it offer?
So the basic and most commonly used video editing features are present in both Movavi and Filmora. I am talking about effects, transitions, titles, stickers - both have these. That means you can create a very impressive level of edited videos using any of these software.
Movavi gives its users a good range of advanced editing features too like object animation, montage, video stabilization and 4k rendering. Filmora, on the other hand, has all that and more.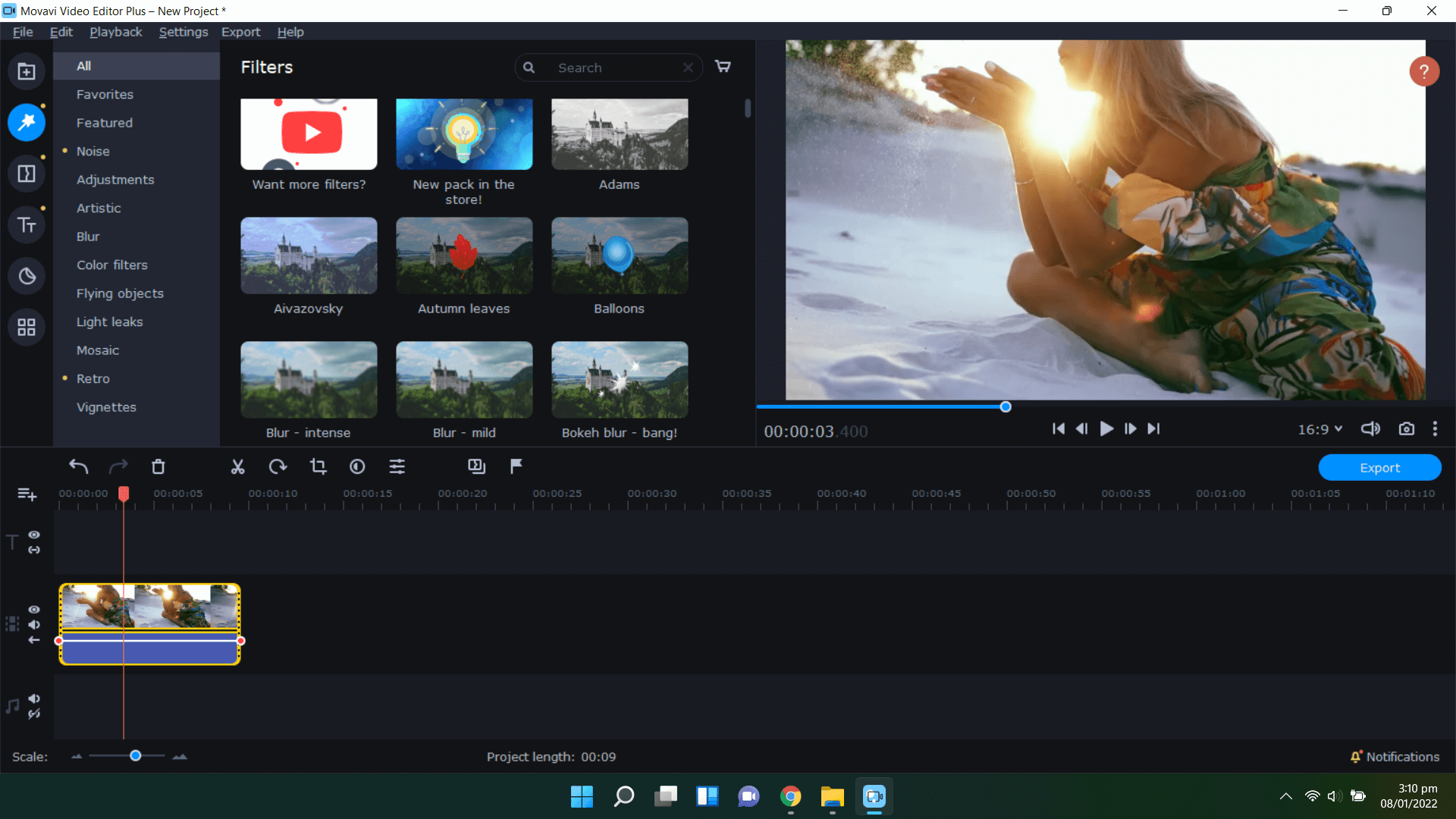 Filmora gives you all that and then some. Also, it has a greater collection of effects, titles, transitions and other presets. It also offers some state-of-the-art functions like slow motion, time effects, lens correction and drop shadow.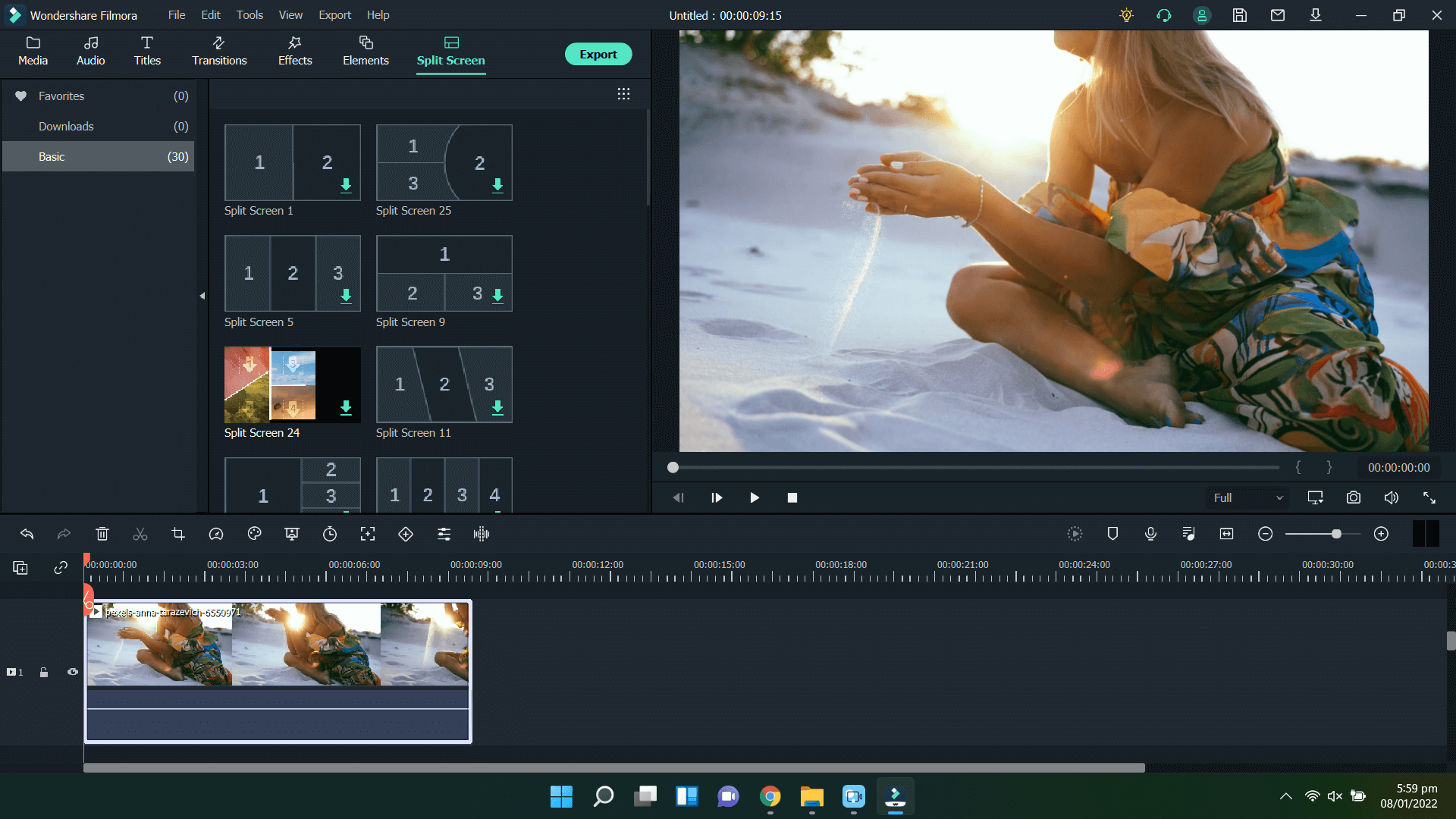 In fact, Filmora is the most formidable choice for beginners in terms of video editing features.
04. What are the system requirements?
The latest desktop version of Filmora (Filmora X) and Movavi (Movavi Video Editor Plus 2022) has the following system requirement mentioned on its official website.
Requirements

Filmora

Movavi

Supported OS
Microsoft Windows 11, 10, 8, 7 (64 bit)
macOS v10.14 or later (compatible with macOS Monterey)
Microsoft Windows 11, 10, 8, 7
macOS version 10.13.6 or higher
Processor
Intel i3 or better, 2 GHz+. (Intel 6th Gen or newer recommended)
Intel, AMD, or compatible dual-core processor, 1.5 GHz
Memory
4 GB (8 GB required for HD and 4K videos);8 GB for macOS
2 GB
GPU
NVIDIA GeForce GTX 700 or later; AMD Radeon R5 or later.2 GB VRAM; Intel HD Graphics 5000 or later
NVIDIA GeForce series 8 and 8M, Quadro FX 4800, Quadro FX 5600, Intel HD Graphics 2000, AMD Radeon R600, Mobility Radeon HD 4330, Mobility FirePro series, Radeon R5 M230 or higher graphics card with up-to-date drivers
Storage
10 GB hard drive space (SSD recommended)
400 MB hard disk storage for installation and 600 MB for operations
Naturally, being a lighter program, Movavi has less demanding system requirements when compared to Filmora - which needs higher system requirements to provide an advanced level of editing.
05. What video input formats are supported?
Both software provides excellent support when it comes to supporting a wide range of video file formats.
| | |
| --- | --- |
| Filmora | Movavi |
| MP4, AVI, MPG, MPEG, M1V, M2V, M4V, 3GP, 3G2, 3GP2, MOV, DV, MOD, FLV, F4V, WMV, ASF, MKV, WEBM, OGV, MP3, M4A, WMA, OGG, FLAC, AAC and others. You can export your project in any of these formats, AVI, MP4, MKV, MPG, WMV, MOV, WEBM, F4V, TS, 3GP, GIF, ISO and some more. | MPG, MP4, AVI, MPEG, MKV, M4V, MOV, 3GP, ASF, DivX, FLV, SWF, TS, WMV, M1V, MOD, OGV, QT, RM, WebM, AAC, FLAC, MP3, M4A, M4B, OGG, WMA and some other. It can convert your project into the following formats, AVI, MPG, MP4, WEBM, WMV, MKV, FLV, SWF, MOV, OGV, AAC, FLAC, MP3, OGG, WMA, GIF. |
In short, both Filmora and Movavi support all the file formats that are used in about 90% of the situations. Each software also gives you support for some exclusive file formats but you are not much likely to have to use those.
06. How much does it cost?
The latest version of Filmora is available on a subscription basis in which you can pay the monthly or annual fee. Otherwise, you can also pay a one-time fee for a lifetime license to use the software.
The following pricing plan is given on the official website of Filmora: Annual Plan for windows($39.99); Annual Plan for mac ($44.99); Perpetual Plan for windows/mac($69.99). Also, you can get a 26%-27% discount through its a bundle with Filmstock, a one-stop station offering unlimited royalty-free music, stock media, effects, templates.
The Movavi Video editor can be purchased through a yearly subscription or a one-time fee for a single pc license for a lifetime. A Movavi Video Suite is also available as a purchase option if you want to convert your media files or record from your pc screen.
These variants are being sold at the following prices according to the official website of Movavi: One year license for 1 PC ($39.95); Lifetime license for 1PC ($59.95); Video Suite ($79.95).
Filmora gives you more options than Movavi for purchasing plans and it does not require any additional download to enjoy the complete experience of video editing software.
07. Any unique or exclusive features?
In terms of audio editing, Movavi has a greater collection of customizations and tweaking features. You do not need an internet connection to run Movavi and its complete features. With Filmora, you need an internet connection to truly make the best out of it.
Unlike Movavi, Filmora does not need any additional purchase or download to give you the option of creating videos through recording your pc screen. In terms of presets and templates, Filmora has probably the greatest collection among all beginner video editing software. It has a huge library for effects, customizations, correction features, and its screen-splitting feature is much more advanced than that of Movavi. You can add up to five different clips with this feature.
Filmora also gives you bigger freedom to customize the software interface. You can set up the program according to your requirements. It has a render preview mode which is not present in Movavi. This allows Filmora to give you a much smoother experience even while doing large scale and complex operations.
Another option that is only present in Filmora, is the ability to change the playback quality of your video while editing it. Filmora also has a more customizable layer mechanism compared to that of Movavi.
Motion Tracking is yet another feature that is not present in Movavi. Also, only Filmora allows you to burn your projects directly to the DVD.
Conclusion: How to Choose?
There is a reason why both FIlmora and Movavi are often the go-to video editing software for beginners and experts alike. Both offer a wide range of functionalities that appeal to almost all types of users. Each software is an excellent choice given the overall experience of creating and editing a video.
So if you consider the points mentioned above, it seems that Movavi is more focused on providing a simple background that gets familiar rather quickly. Its strength lies in the ease at which you will be able to get used to the program almost instantly.
Naturally, this allows for an express operation in which you can finalize your videos in a shorter time. So good efficiency is what you get from Movavi.
Filmora borders more towards the high-end genre of video editing software in the market. At the same time, it is user-friendly and comes with advanced features to create professional-level videos.
It has hundreds of templates and presets in effects, transitions, titles, stickers and more. You can also download more presets online. Filmora allows you the space, as a video editor, to grow and explore more features that it offers. It gives you a great learning platform to improve your skills and make better videos with time.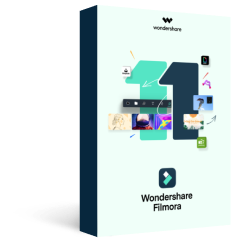 Wondershare Filmora - Best Video Editor for Mac/Windows
5,481,435 people have downloaded it.
Best video editing software for beginner and semi-professional, that comes with powerful editing skills like trimming, splitting, rotating, editing, etc.
500+ free special video effects to customize and create an awesome movie by yourself.
1000+ standalone effects downloading resources to make videos in all kinds of styles.
Record voice in real-time: you can have you voices recorded in realtime and instantly add them to the video files.
The software supports almost all available videos, images, and video formats. Besides, it also supports GIF files and 4K resolution videos.