Filmora Video Editor
An easy-to-use video editing software for beginners and professionals.
Instagram stories are a really fun way to interact with followers, whether a personal account or a business one. But what if we could add music to Instagram stories to make them more interactive and interesting? Adding music to your stories will make them stand out and increase engagement, make them appear more dynamic and aesthetic. Want to learn more? Let's see how music can be added to Instagram stories.
Part 1. How to Add Music to Instagram Story
Just follow these quick and easy steps to add music to your Instagram stories!
Step1:

Update your Instagram to the latest version.

To get started, download the latest version of Instagram from AppStore and Google Play Store on your iOS and Android devices, respectively.

Just follow these quick and easy steps to add music to your Instagram stories!
Step2:

Open Instagram story

Tap the "+" on "Your Story" or tap and hold "Your Story." Click new story or select existing photo or video to set your story. If you have set any existing photo or video and want to set music on it, tap the sticker icon on the top right and select "MUSIC."
Step3:

Choose your Desired Music

Once you click the "MUSIC" sticker, you will see a library of music that you can pick from. The whole library is divided into two tabs. The first is the "For You," which shows the suggested personalized music. In the second tab, i.e., "Browse, " you can find music based on genre.
Step4:

Customization

Once the music has been chosen, you can set a specific music segment, clip it, personalize it, and change the appearance of the music sticker. Amazing right? Whether or not the lyrics get shown can also be controlled. Along with that, you can also fast forward or rewind the track to best fit with your story. The time duration of the clipped music can also be changed (15 seconds being the limit).

Once the lyrics are shown on the story, you can change its font, font colors, and designs as desired. Lastly, you can change the music sticker by tapping on it.

Note: Business account would only access limited music collection due to Instagram's license agreements.
Step5:

Step 5: You're all set!

Once all the above steps are done, your Instagram story is all set! You can use GIFs, hashtags, reactions, and polls as per your choice as well.

Once you're satisfied with your story, tap the "Your Story" or "Close Friends" option, and you're ready to roll.

Why Can't I Add/Hear Music on Instagram Stories?

Instagram music is only available in specific countries. These countries include the US, UK, Germany, France, Sweden, New Zealand, Australia, and Canada. If you try to scroll through stories containing Instagram Music outside these regions, you will get an error message saying, "Instagram Music isn't available in your region."

If you're not from these locations, unfortunately, there is not much that could be done since it's still unknown when other locations will have access to Instagram Music.
Part 2. How to Create High Quality Instagram Story with Filmora: A Step-By-Step Guide
So, you've decided you want to take your Instagram Stories to the next level? If you really want to create high-quality Instagram stories, we suggest using video editing software such as Filmora with its easy-to-use and powerful functions. Let's get started with that perfect and amazing Instagram Story you have in your mind!! Follow these simple steps!
Wondershare Filmora
An Easy-to-use video editor software to bring your imagination to life! Let's create Inspired Storytelling Videos Without Limitation now.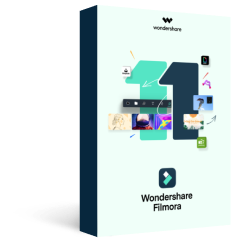 Step1:

Project Settings

First, you'll need to create a new project with specific settings. Instagram stories play at 30 fps with a resolution of 1080 x 1920. Your video frame rate, bitrate, and resolution must be as close as possible to look when it is playing on Instagram. Hence, you'll need to create a project with these specific settings so Instagram doesn't compress it when uploading.

To do this, go to File, with the dropdown menu, click on Project Settings. A settings window will pop up, set the Aspect Ratio and Resolution to Custom, type the resolutions 1080 x 1920, and the automatic aspect ratio would be 9:16, i.e., Portrait. Next, choose the frames per second as 30 fps.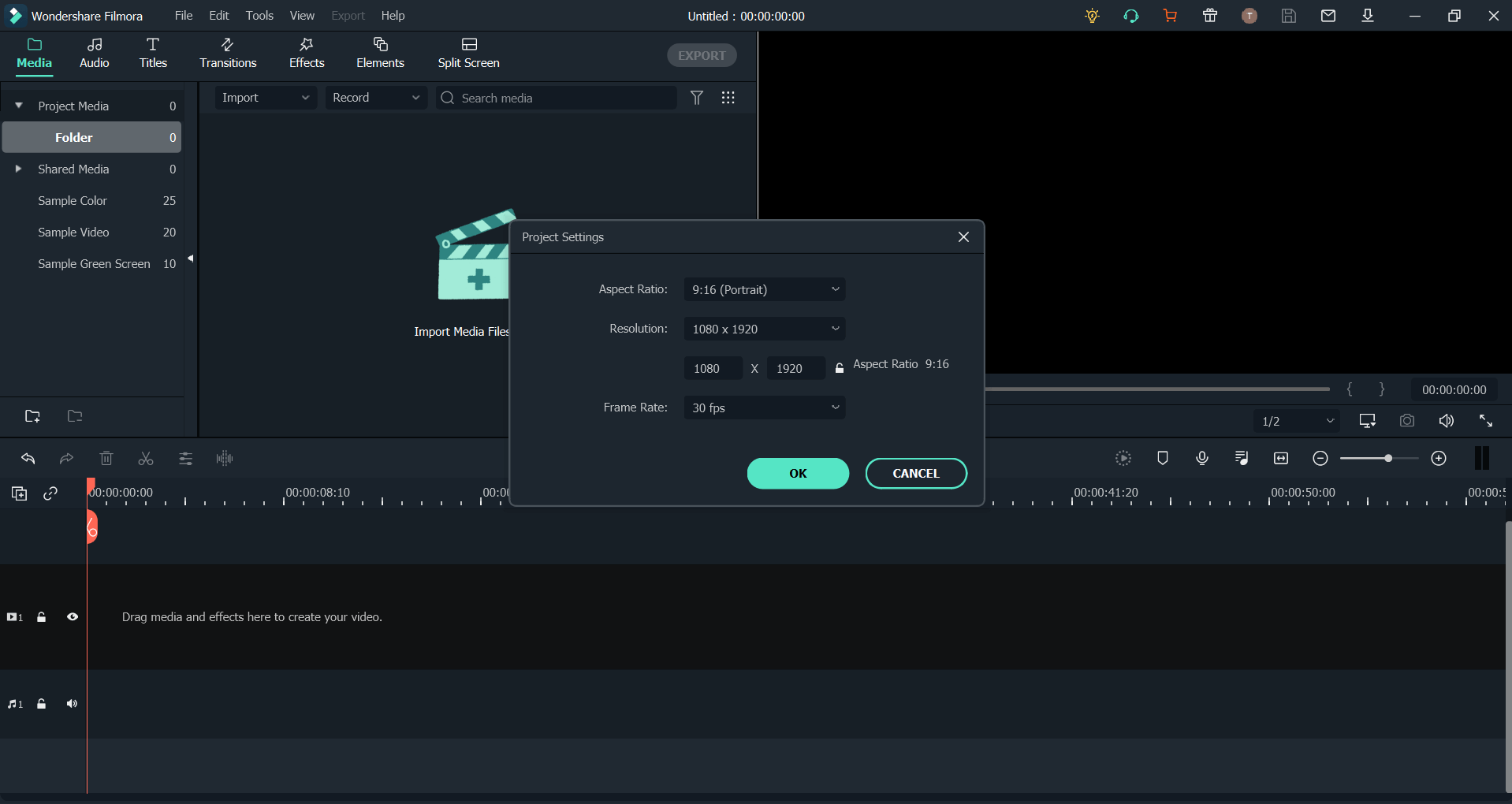 Step2:

Import Media

Now that you've chosen the specific settings import your video to the media library. To do this, simply drag or drop it, or you can select Import and then select your media files and open them.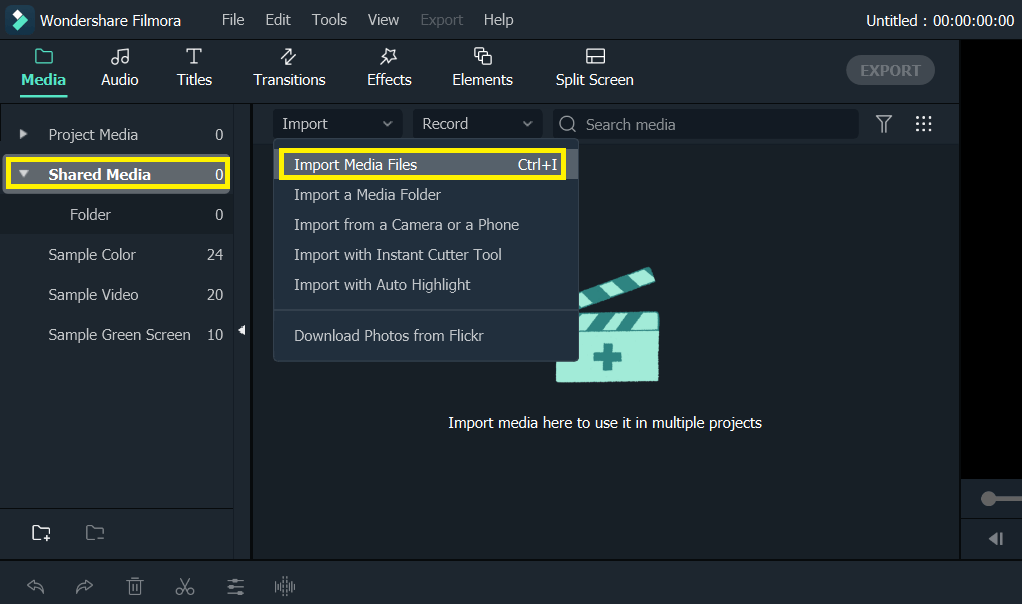 The next step is very important. After importing the media, when you drag and drop it to the timeline, a window will pop up which will ask you whether you want to "match the project settings to media" or "keep the existing settings." You will need to choose to keep existing settings; this will make your media 30 fps and 1080 x 1920 resolutions. We want to resize the clip to existing settings and not the other way around.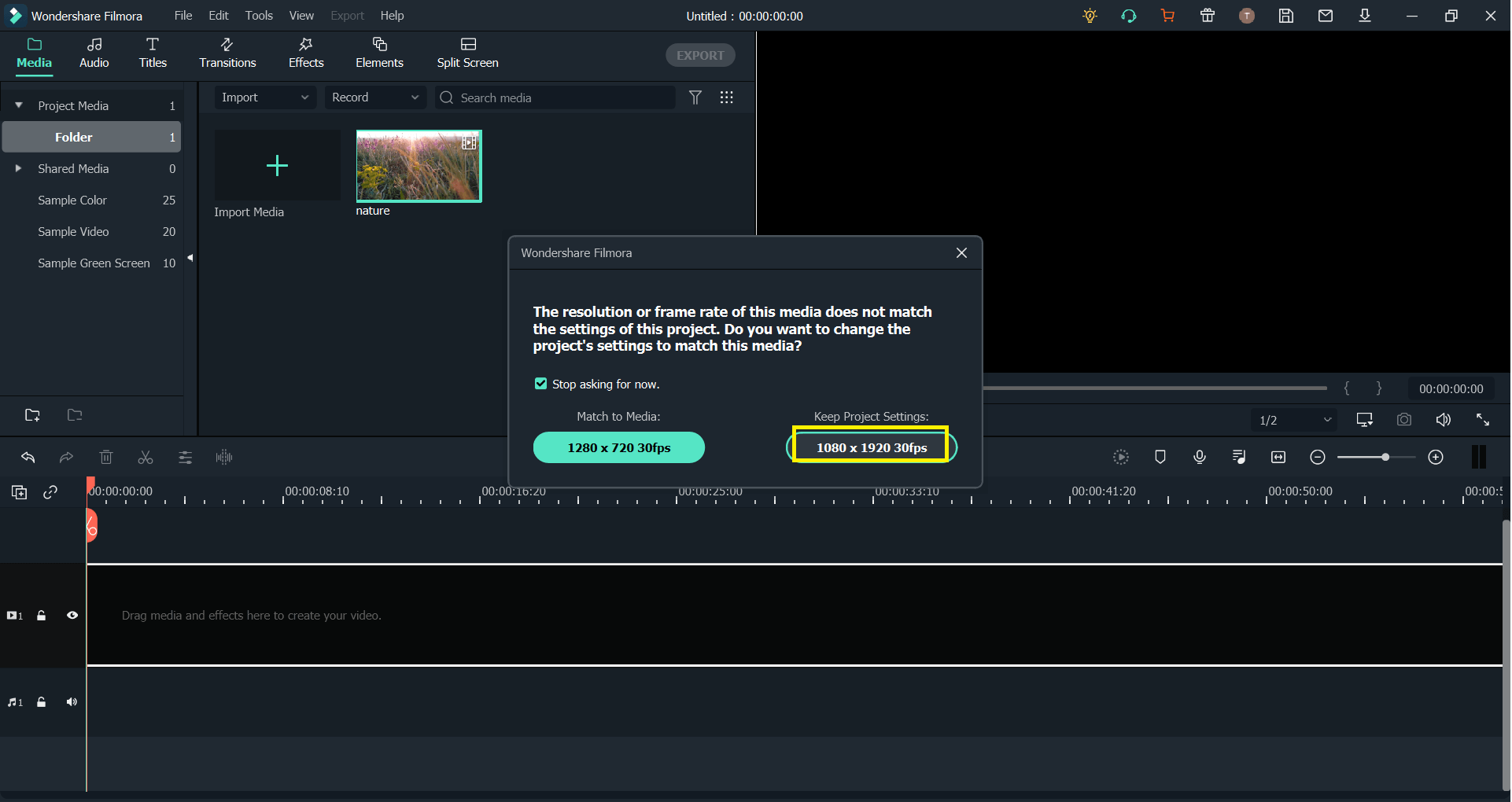 Step 3:

Crop and Zoom

The next step is to crop and zoom the video to your desired part; you want the best part to appear in the Instagram story, choose that by dragging the clip in the preview pane, and zoom the video, fitting the window, because you don't want those black parts appearing up and down in your video, right? Once you're satisfied with how it looks, the next step is to cut it to a specific length.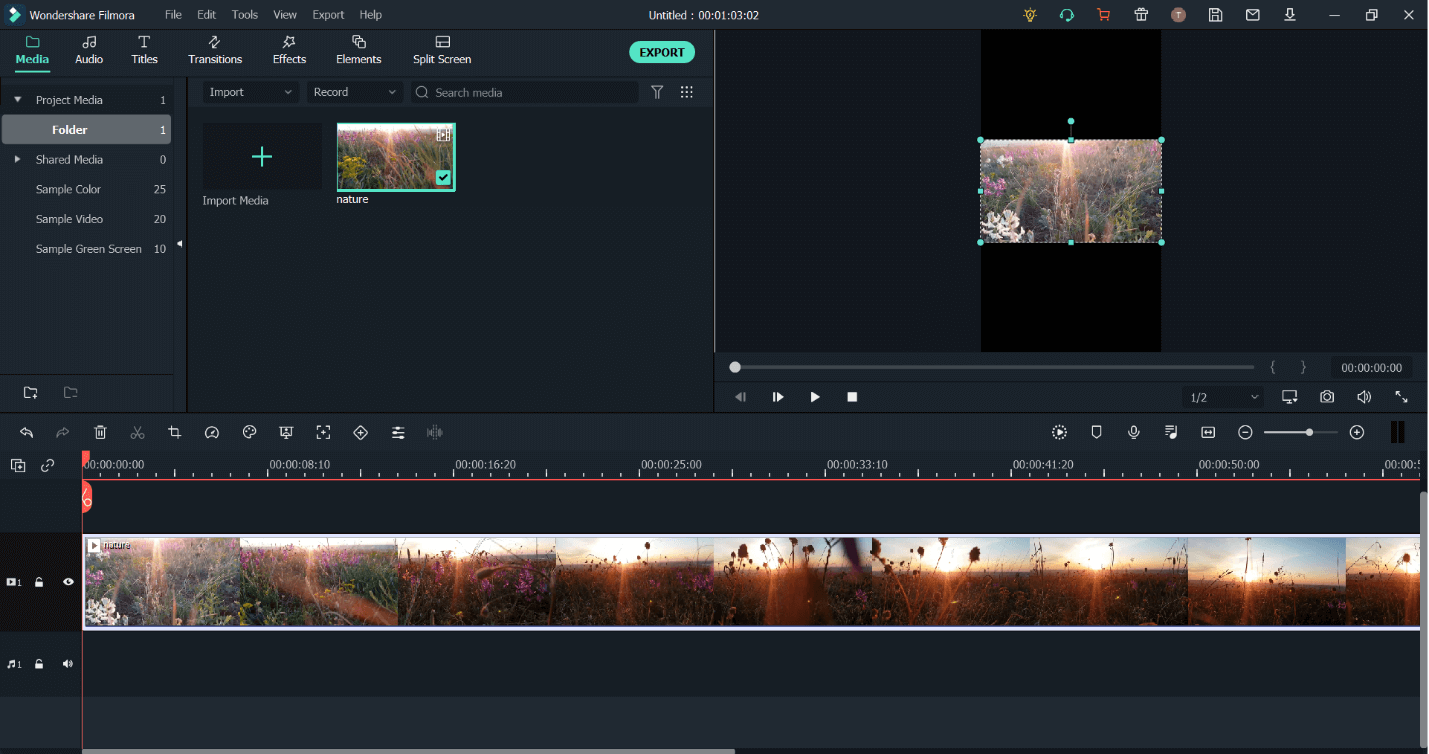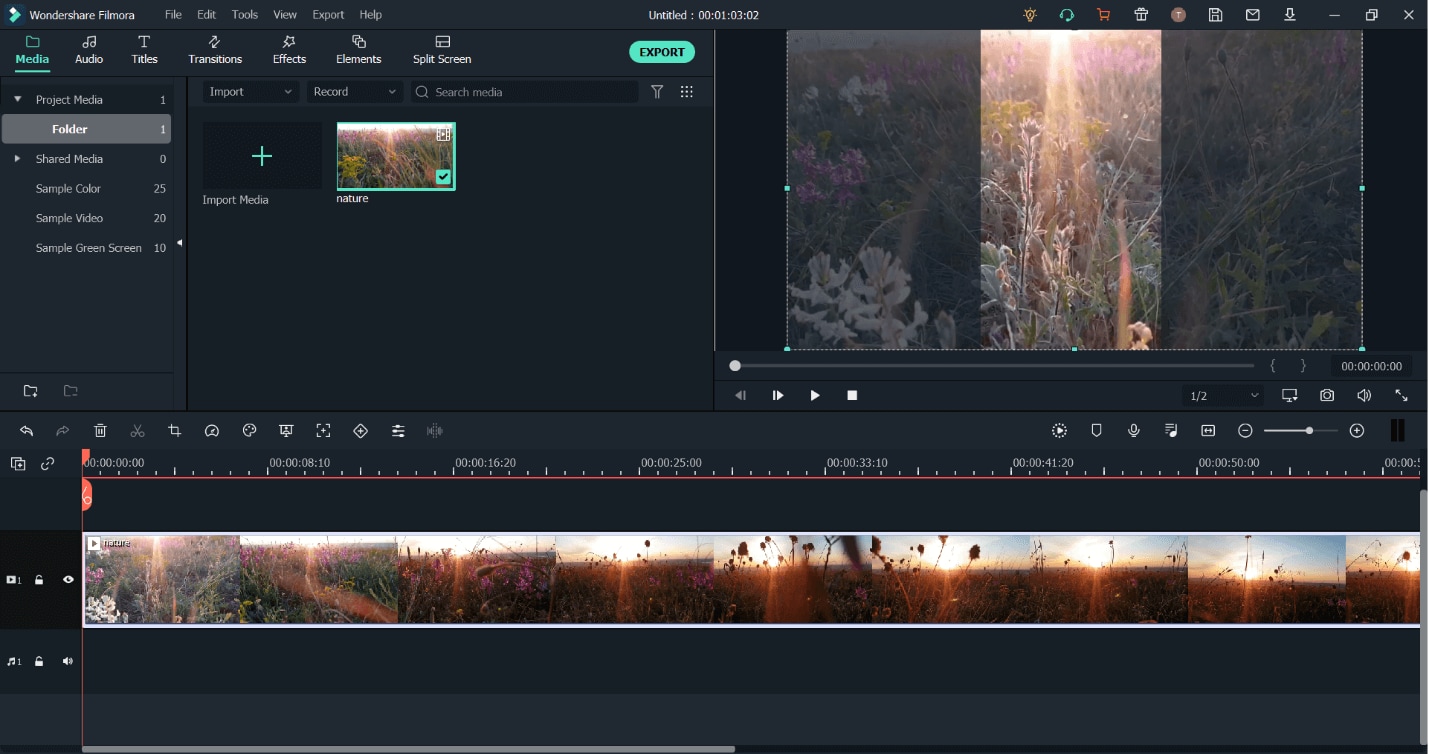 Step 4:

Use cut, trim, tools, 15 seconds is the limit!

Did you know Instagram stories are 15 seconds in length? When was the last time you saw a whole long video and didn't skip by tapping it? And if your video is long, will you break it into segments of 15 seconds?

You would really want your Instagram story to stay within the limit of 15 seconds! Just clip the best part of your video to 15 seconds. Adjust your clip to 15 seconds, cut the front and back by clicking on the scissor icon, and delete those parts; next, drag your clip to the beginning of the timeline, and you're all set! It'll have that unique touch to it!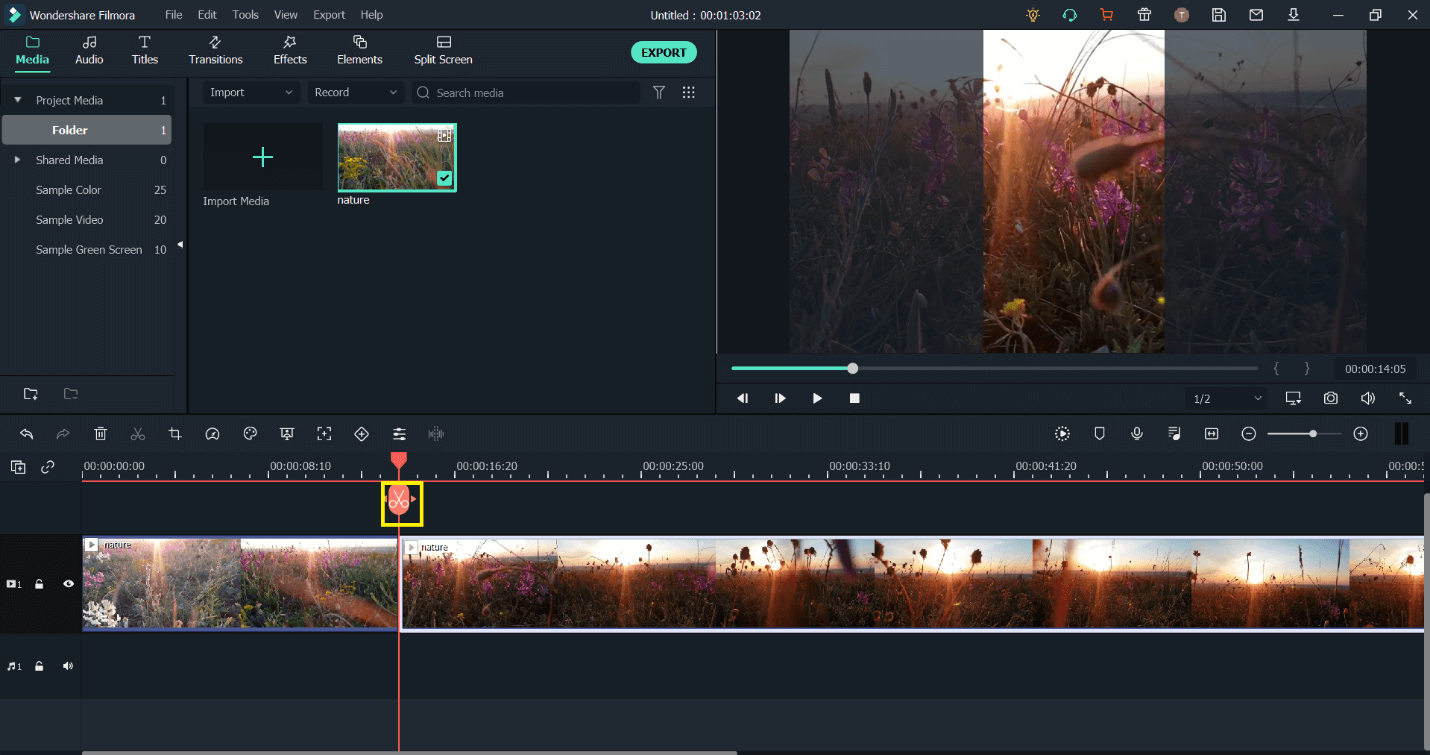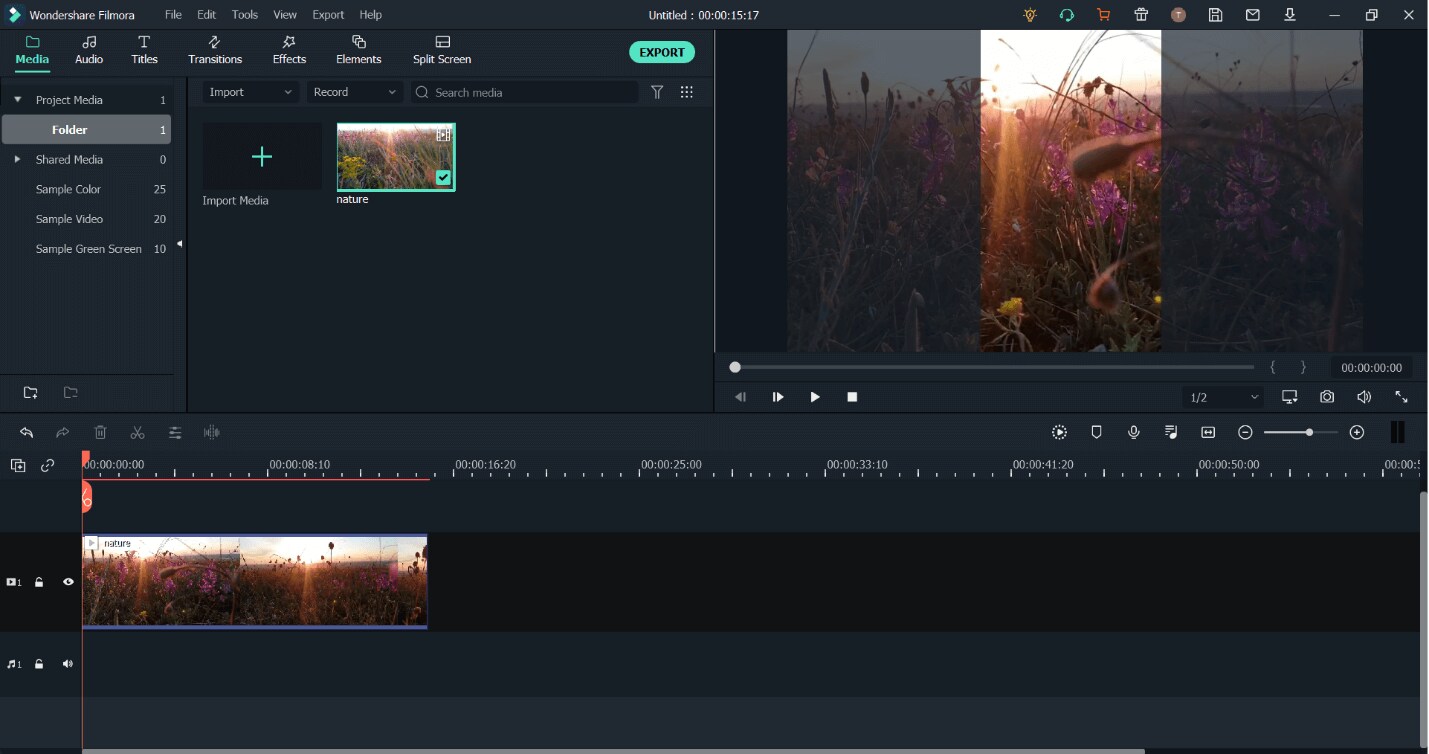 Step 5:

Add music

You wouldn't want your video to be silent and boring now, would you? Adding music for the background would be amazing and aesthetic vibes to it! Choose the music that goes well with your video's aesthetics!

To add music, simply click on the audio tab at the top and choose the desired music, and drag and drop it to the timeline; cut the best part of it to 15 seconds, and you're all done!

Or, if Instagram music is available in your region, simply export your video, add your clip to the Instagram story and choose music from the music library of Instagram, cut it to the desired length and upload that amazing video!!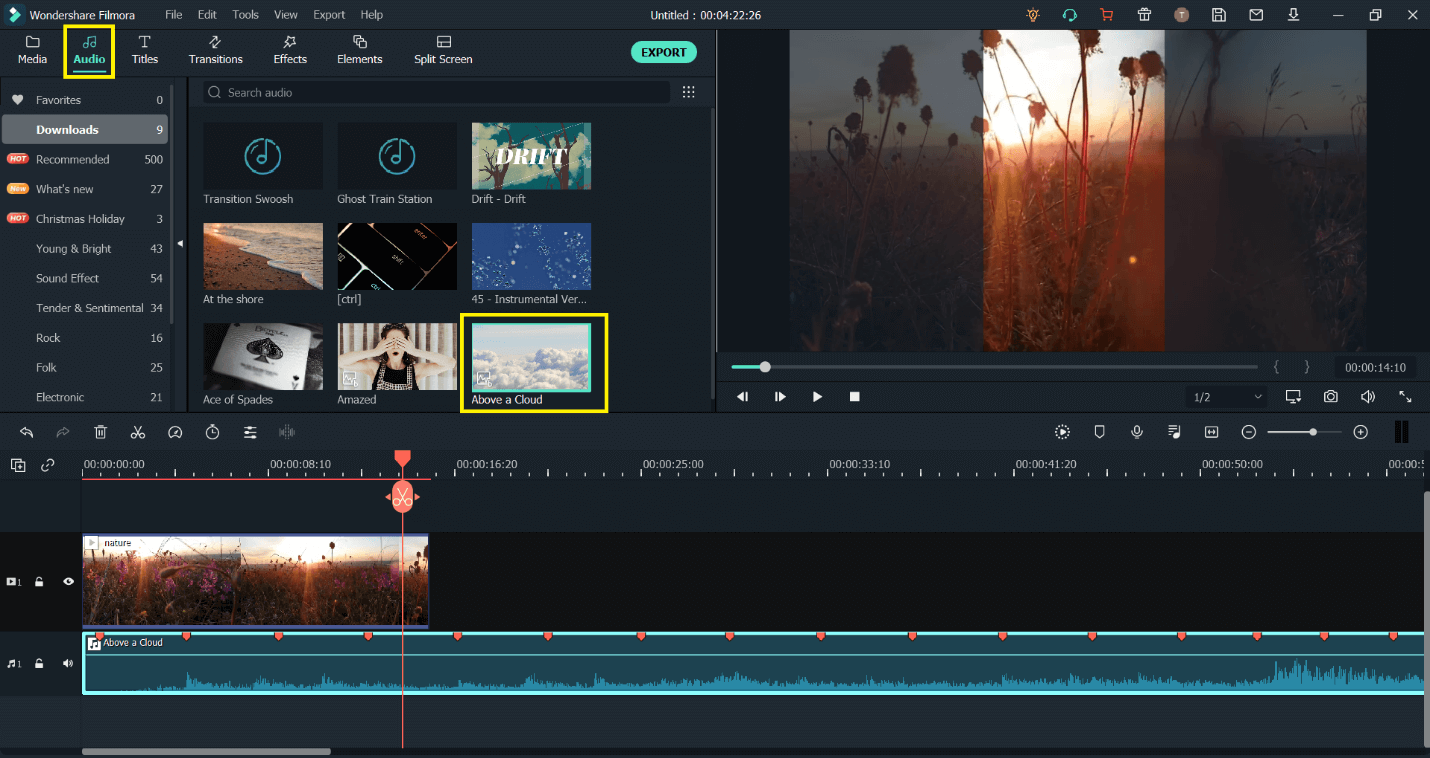 Step 6:

Export the Instagram Story!

Now that you're all done with the video preview to see how breathtaking it looks! It's time to export it and upload it to Instagram!

You want to make sure that it's exported with the best settings that match the Instagram quality, click on export, and choose the video's location.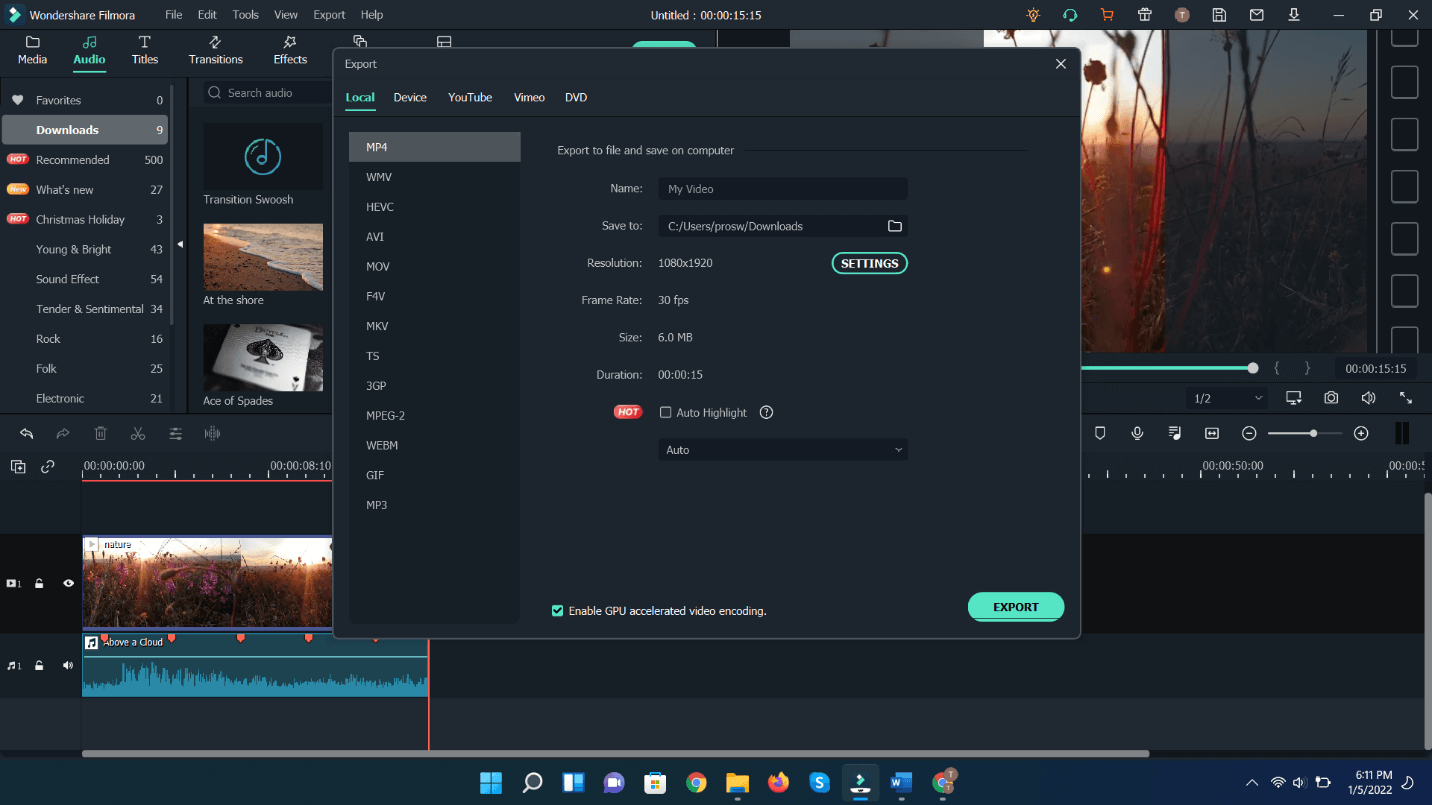 Next, select Settings choose the video bitrate to 3000kbps and then select the audio bitrate to 256 kbps. Click on OK and export!!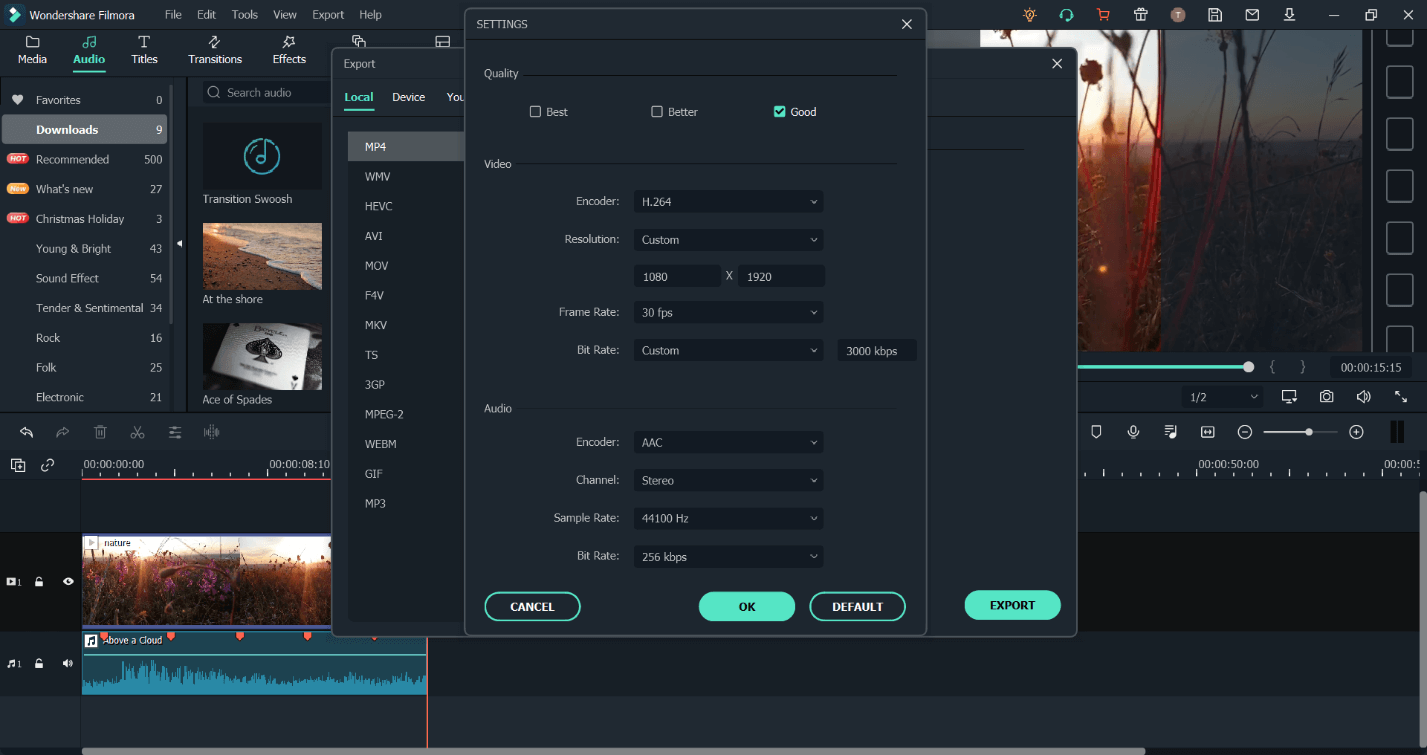 Upload your story to Instagram and check the Amazing results!! Finally, upload your video to Instagram!! Add stickers, locations, or captions!! You're all done! Wait for a moment till Filmora gets done finalizing the video.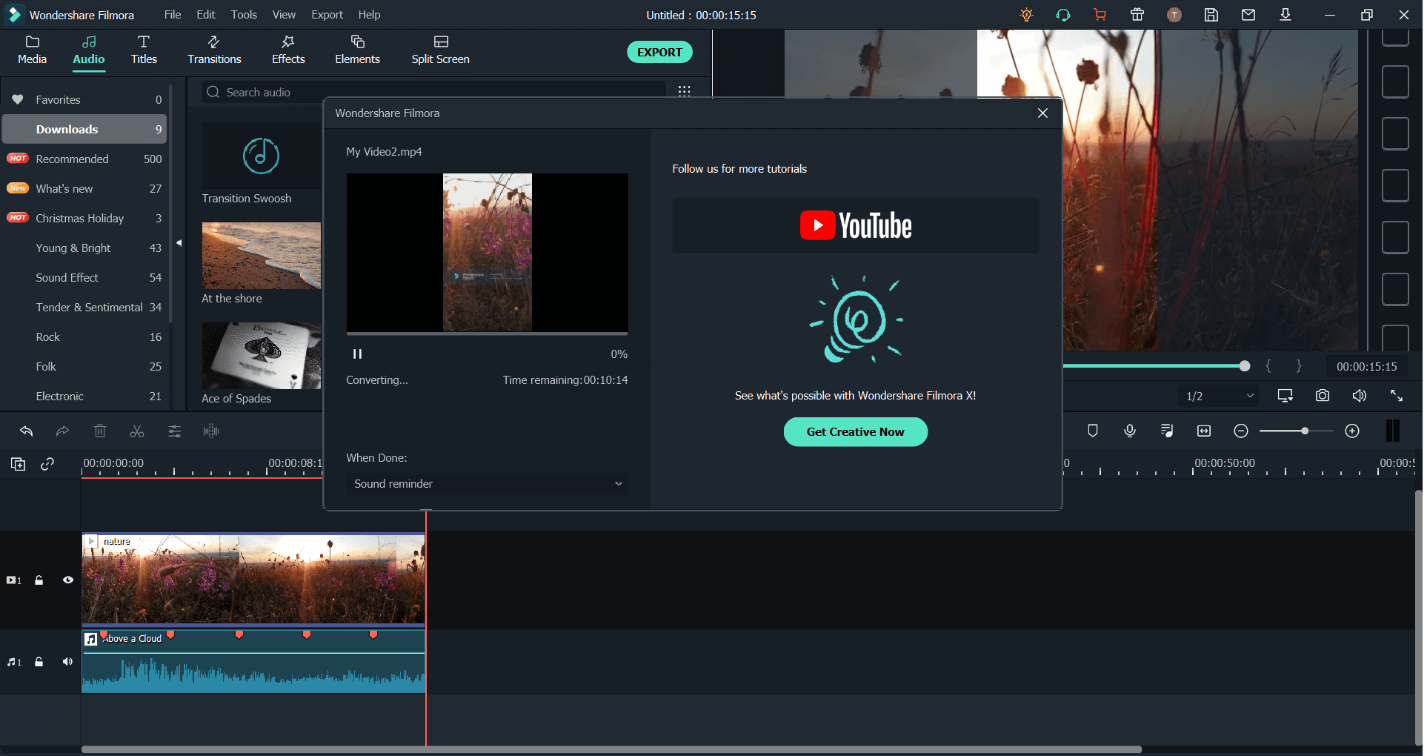 Part 3. Frequently Asked Questions
1. Why Should We Use Instagram Story?
Instagram stories let you post several photos or videos to your story without affecting your main feed. Instagram stories are mainly used to showcase your special moments, happiness, and inspiration. For businesses, it can showcase exclusive content to your followers. These stories can later be compiled to create a highlight.
2. What is the Instagram Story's video size?
The length of an Instagram video story is 15 seconds. You can post longer videos on stories, but they will be chopped down to continuous 15-second pieces. As far as the aspect ratio and video resolution are concerned, it's 9:16 at 1080 x 1920 px.
3. How to Add a Link to Instagram Story?
To add a link to the Instagram story, tap the sticker option. In stickers, choose the "LINK" sticker. After that, in the URL, type your desired link. You can customize the sticker text by tapping "Customize sticker text." Once you're satisfied with the URL and the customized sticker text, press "Done."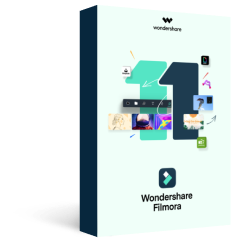 Wondershare Filmora - Best Video Editor for Mac/Windows
5,481,435 people have downloaded it.
Best video editing software for beginner and semi-professional, that comes with powerful editing skills like trimming, splitting, rotating, editing, etc.
500+ free special video effects to customize and create an awesome movie by yourself.
1000+ standalone effects downloading resources to make videos in all kinds of styles.
Record voice in real-time: you can have you voices recorded in realtime and instantly add them to the video files.
The software supports almost all available videos, images, and video formats. Besides, it also supports GIF files and 4K resolution videos.