New Year comes every year, so what's new in it? If you're a social media user, you must have made different clips throughout the year, or maybe you are drinking a coffee, going on a walk, or having a fantastic time with friends or family. How about you create a new year video combining all these clips? Your new year video can definitely reflect the previous year or your new year resolutions, what you're hoping for this year, and what you want to achieve—or spending new year's eve with your family and friends! There are so many ways to celebrate new beginnings!!!
Part 1. How to Make a New Year Video with Filmora
Now that you've decided to make a New Year video, your mind must be having so many new ideas coming in for that fantastic New Year video; now it's time to get started! The new update of Filmora is just outstanding when it comes to video editing software with unlimited features! It's super easy and simple to use and has all that you're looking for in a fast and creative video editor for that perfect New Year video you're looking for!
Let's get started with that perfect and excellent New Year video you have in your mind!! Follow these simple steps!
Step 1: Import Media
First, import any data you want in your new year video; it can be any media, video, images, text, music, anything at all! Drag and drop your clips, preferably in order onto the timeline to get started with editing!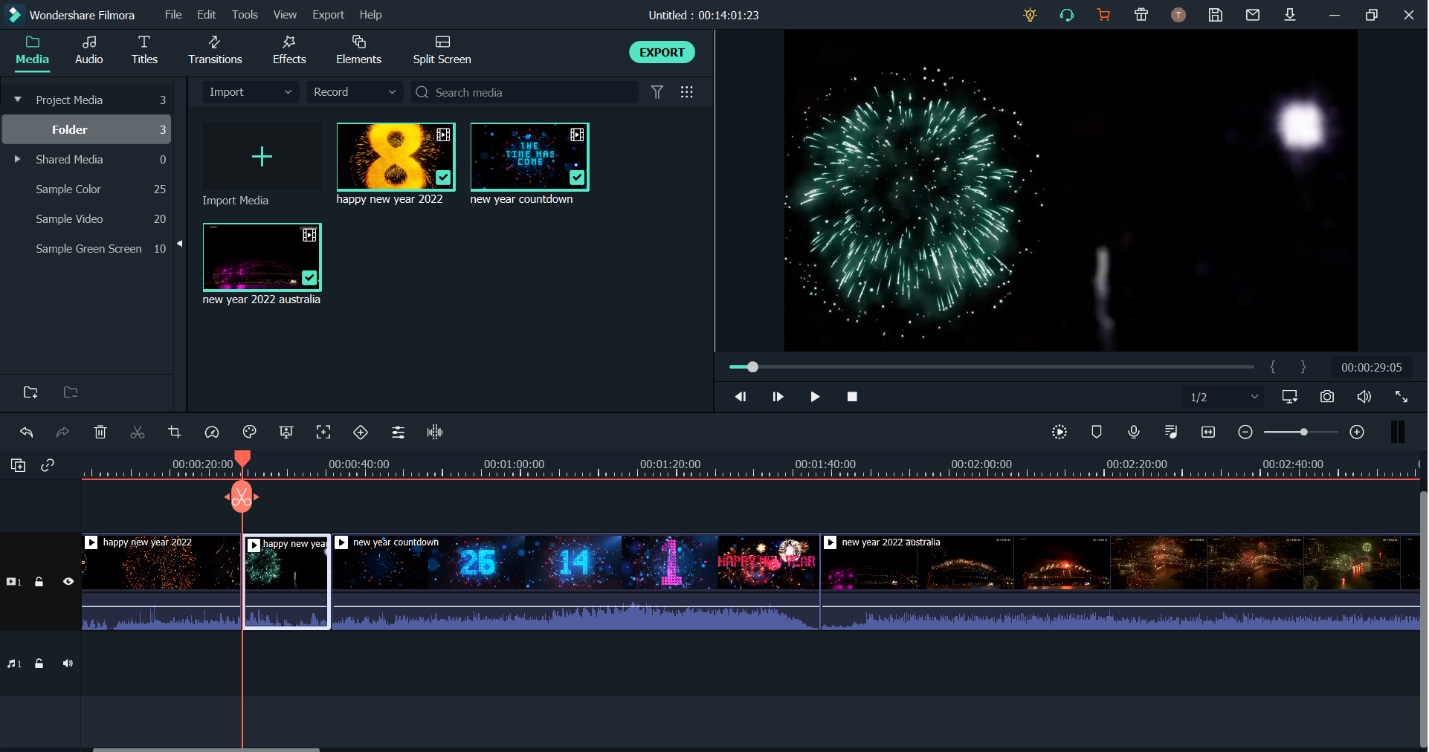 Step 2: Use cut, trim, tools
Now, edit the clips to your desired length and omit any part you don't want by clicking on the trim (scissor) tool on the timeline; your video will get cut into different segments depending on where you drag the cut tool. Once you're done editing and reshaping the clips, merge them into a single video removing any gaps. This gives you an essential ground to work with.
Tip: Start with New Year's Eve videos and clips, then add countdown video in the middle and then the celebrations of the beginning of the New Year in the end.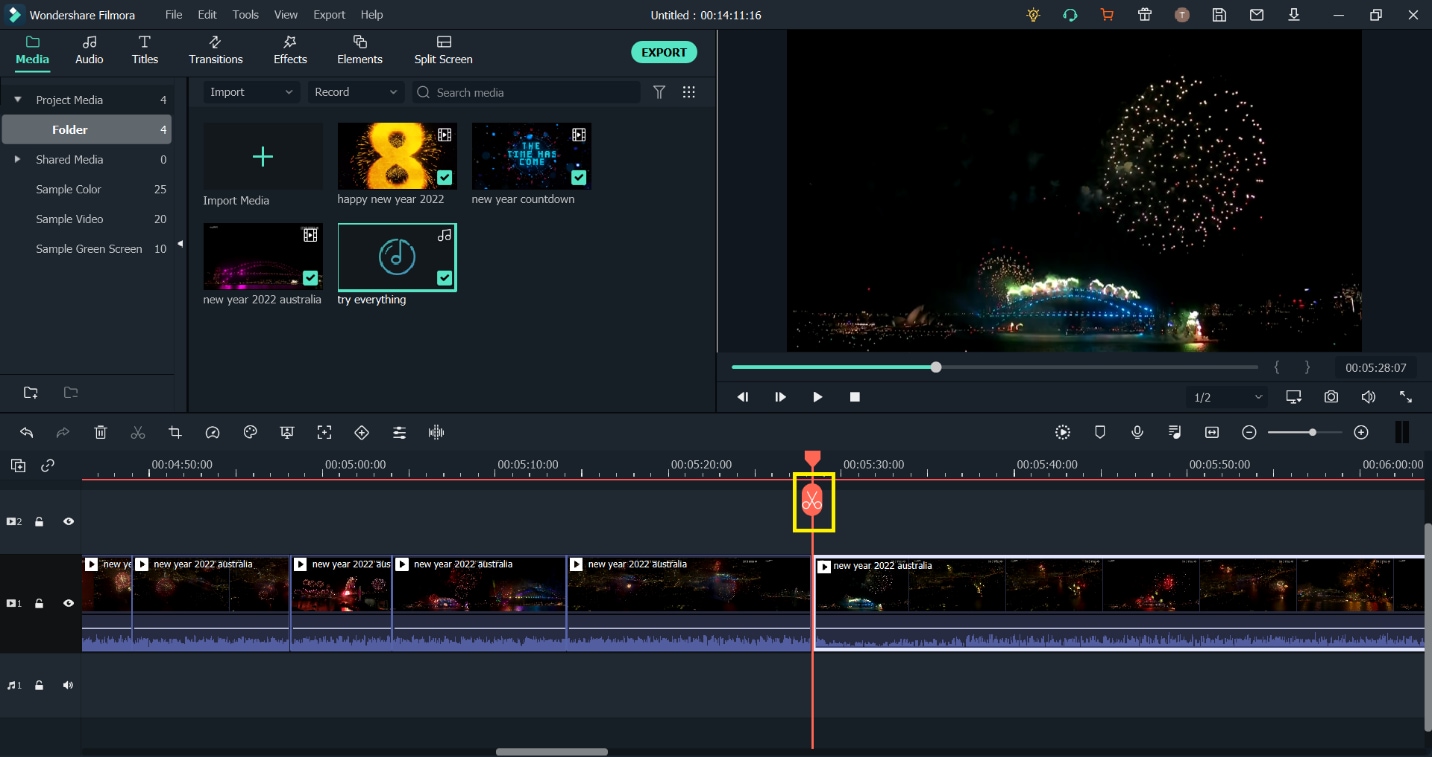 Wondershare Filmora
An Easy-to-use video editor software to bring your imagination to life! Let's create Inspired Storytelling Videos Without Limitation now.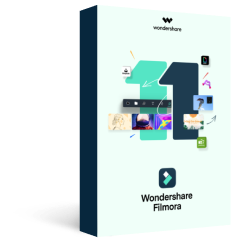 Step 3: Choose an animated title for your vlog
Now, it's time to choose an animated title for your Happy New Year video! To add an animated title, first, you need to add a video track above the original video track, right-click on the left side of the timeline and click on Add Video Track.
Once you have chosen your desired Title, simply drag and drop that to the beginning of your clips on the new video you added.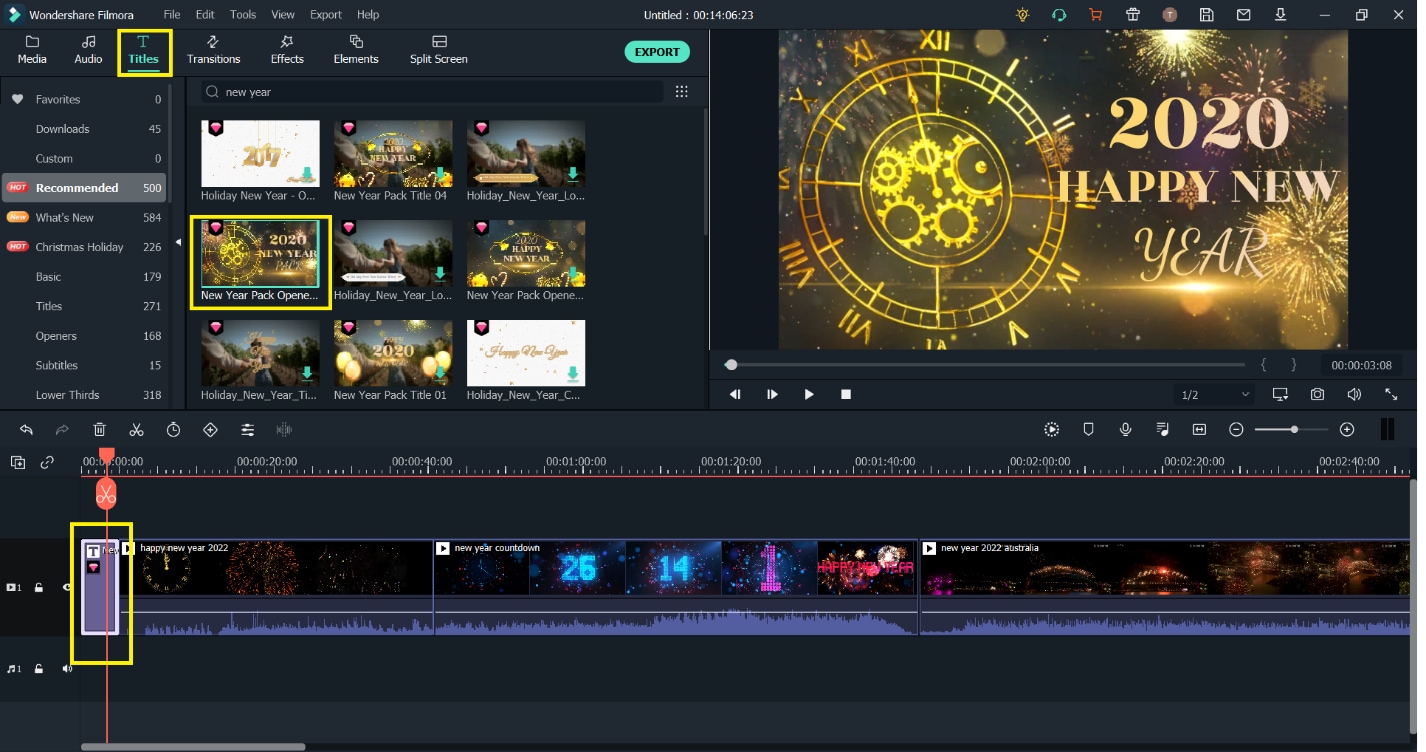 Step 4: Add Effects, Elements and Transitions
This is the part of your video that will make it stand out; New Year videos become even more impressive when you tweak them a little bit. And for that, you'll need to add different effects, elements, and transitions.
First, add elements, click on the element's icon on the top and choose any you think will express more. They may be different emojis or arrows to communicate well to your audience, expressing emotions and your joy for the New Year!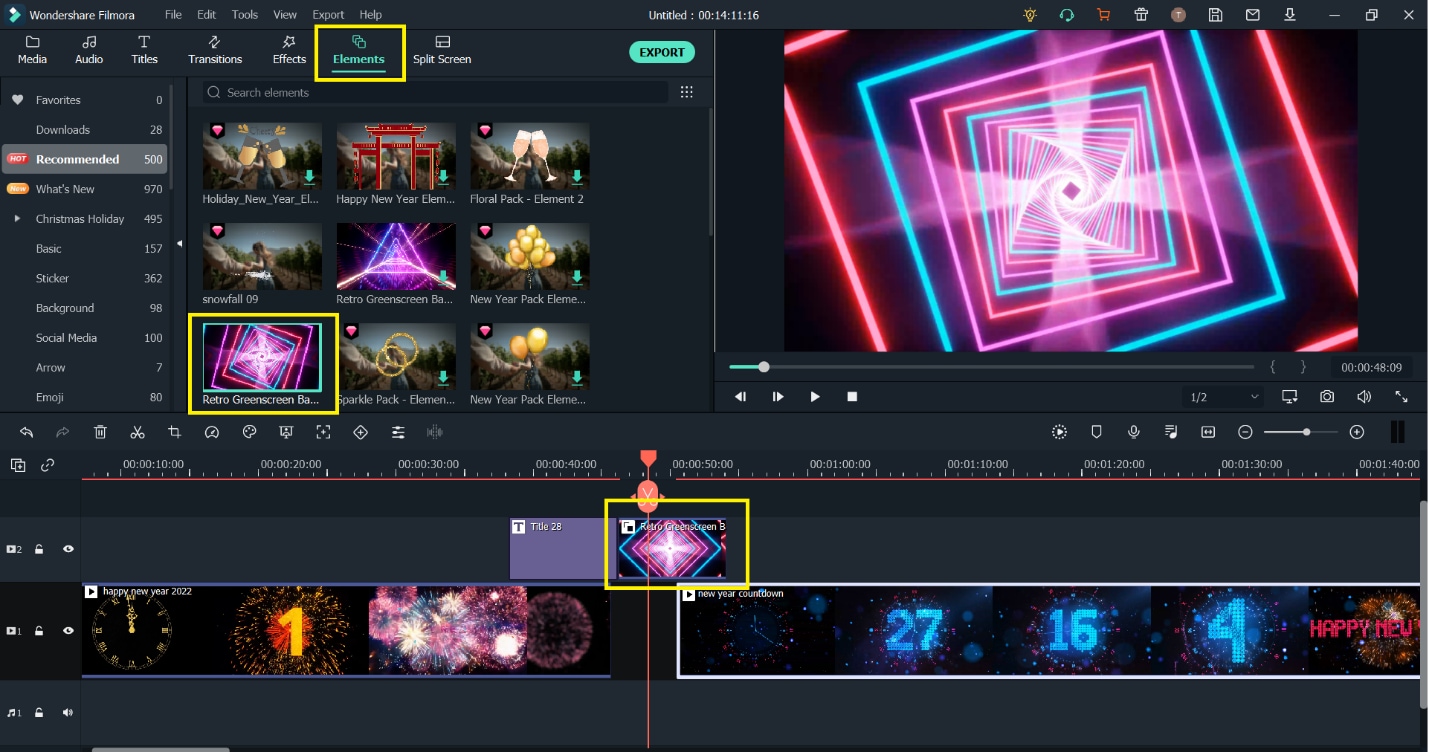 Next, add different effects to bring those elements to life. Finally, choose different transitions from the numerous available in Filmora to truly make your video one of a kind!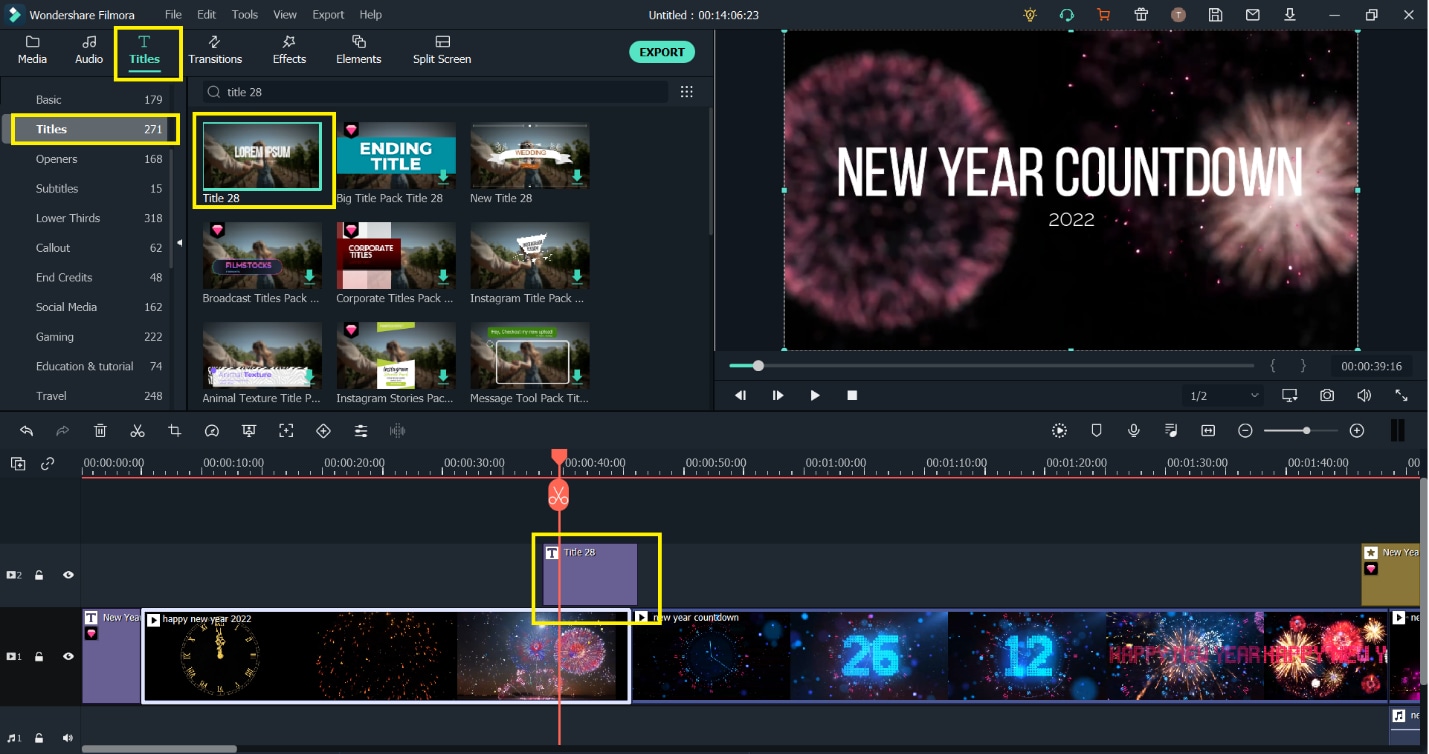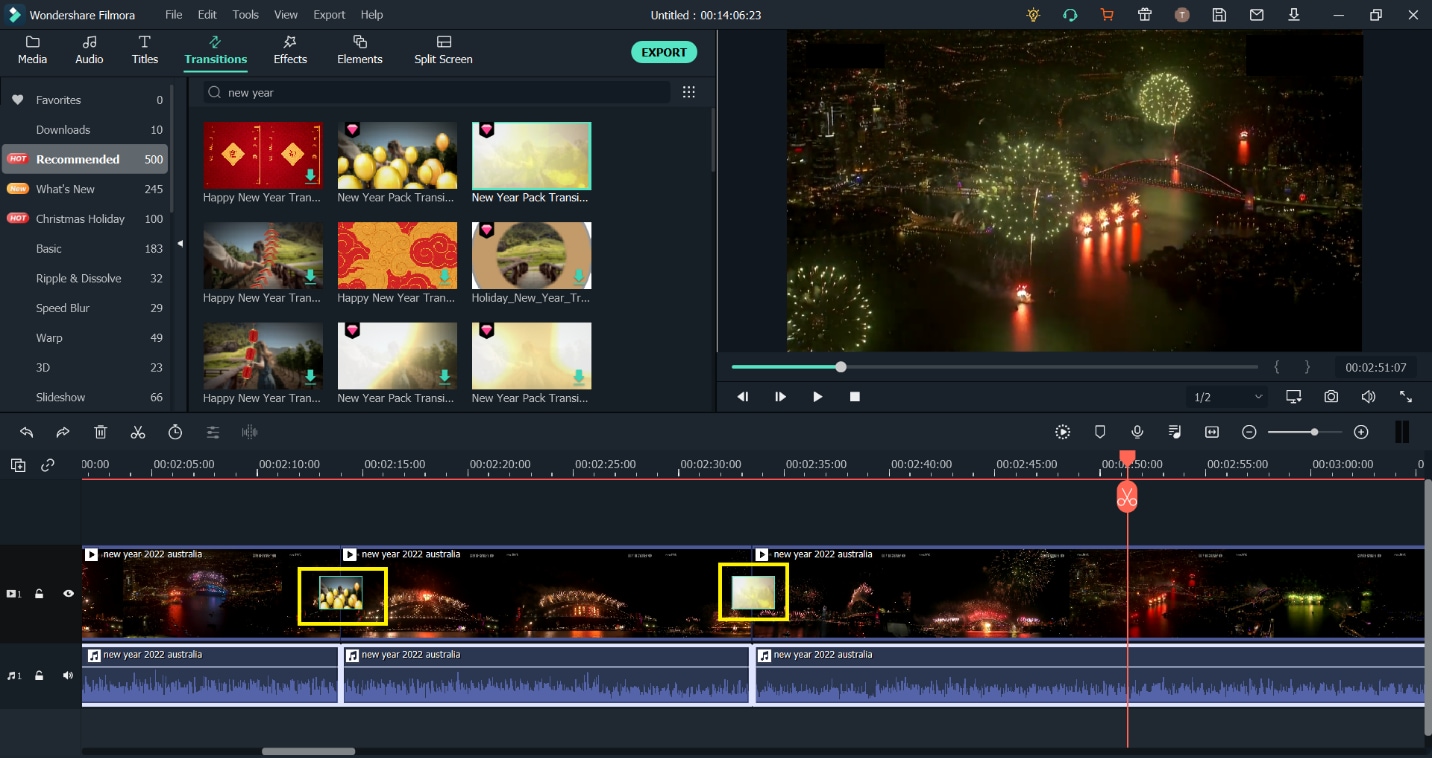 Step 4: Add music
Drag and drop a song you like from the audio library onto the audio track, trim the audio, preview it with the video and sync the audio or the clips with each other; this would make the transition smoother.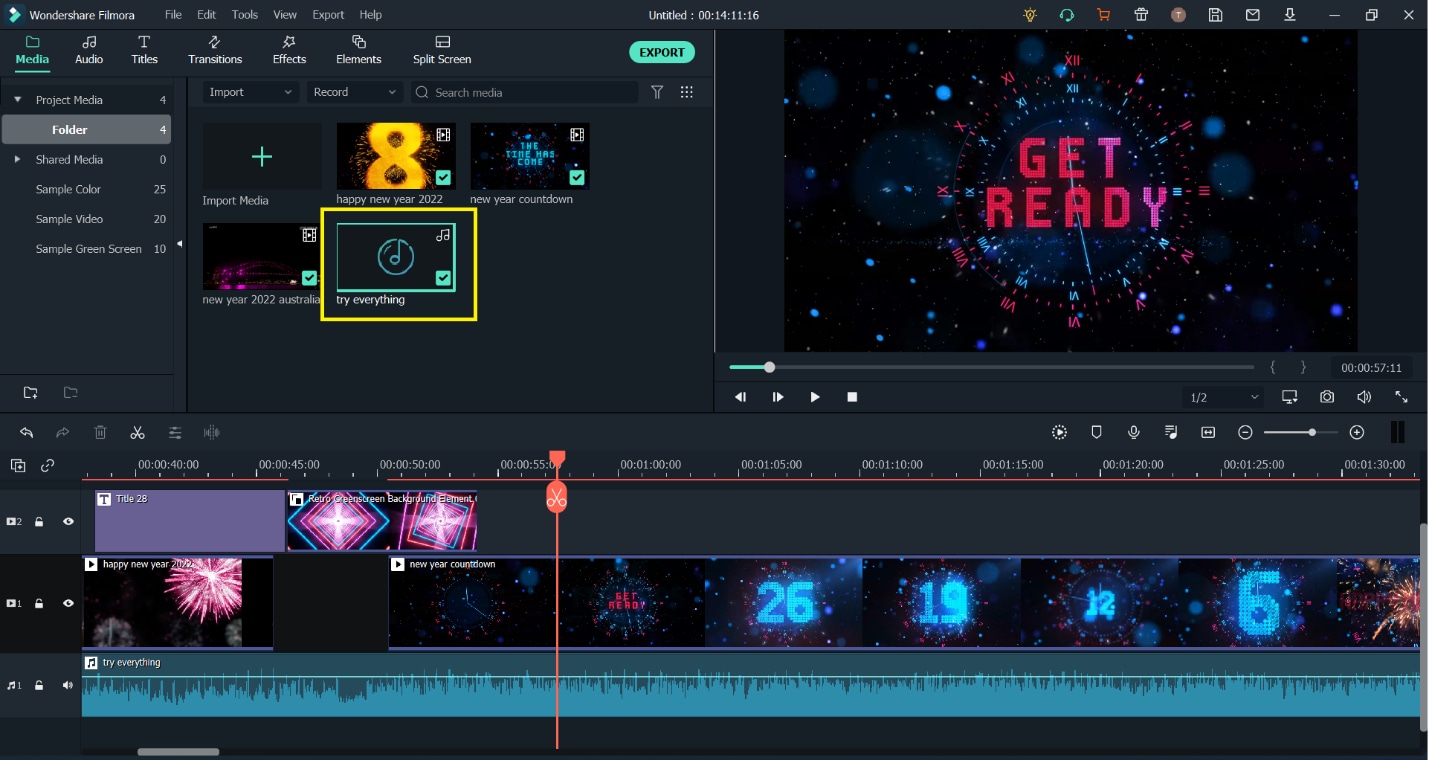 Step 5: Export the New Year Video
Once you're done with previewing how amazing and beautiful your New Year video has turned out, it's time to share it with family and friends! Export the video by clicking on export, choose the settings and location of the video, once set, and click on export. Wait for a while until Filmora finishes the perfect New Year video and gets ready to view the outstanding result and share it with your family and friends!!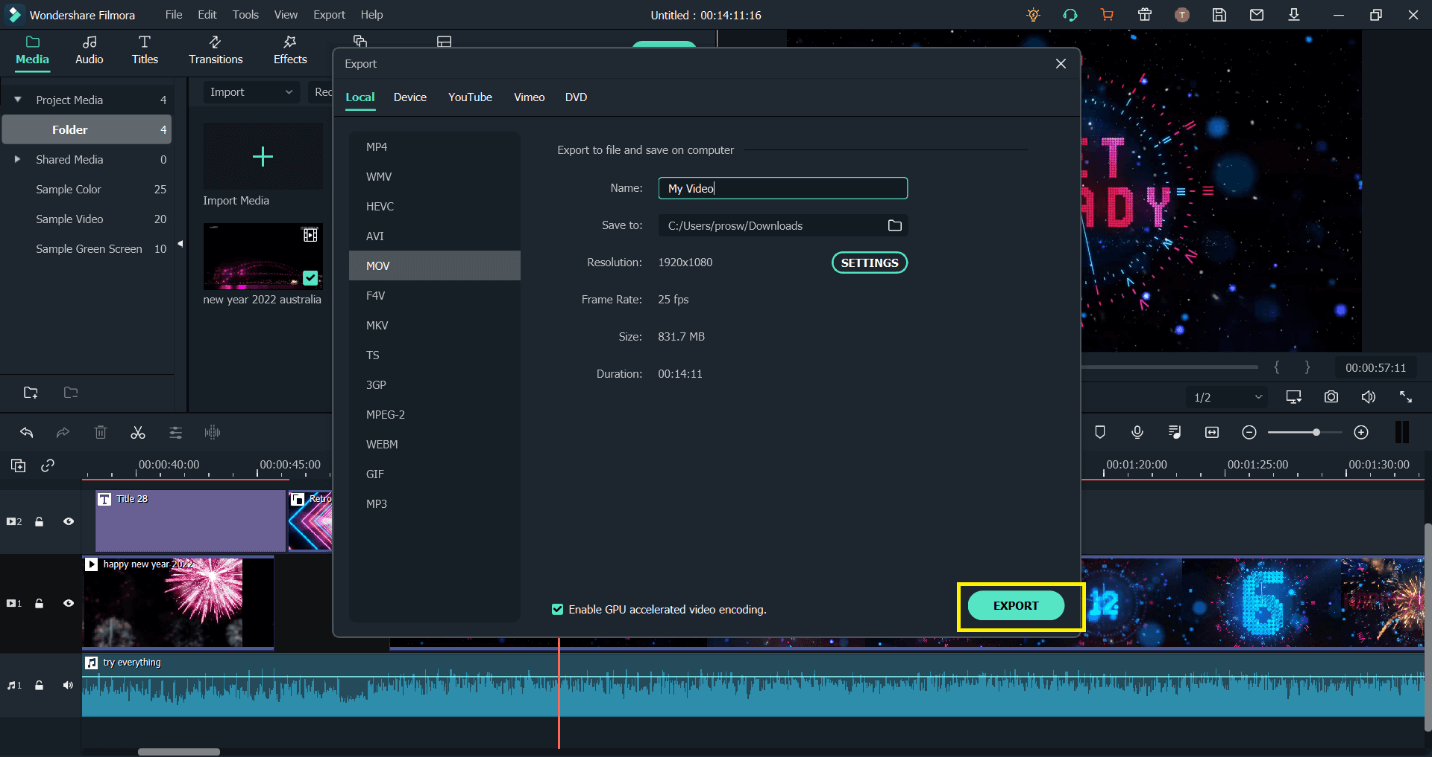 Filmora
Easy to use and powerful video editor for all creators
Filmstock
One-stop-shop for stock media including video effects, stock footage and photos, and royalty-free music and sound effects.
Yearly Plan
$99.87 $135.87
Part 2. Happy New Year Video Ideas for 2022
There are just so many ways you can celebrate New Year 2022! If you've already decided to make a new year's video but don't have any ideas, don't worry! Here are some popular New Year video ideas we have gathered specially for you!
1. New Year Wishes Video
Entering the New Year without wishing your family and friends? It looks a bit off, doesn't it? Celebrating New Year wishing family and friends is one of the best things you can do to start your New Year! Create a customized video, either yourself saying a wonderful wish or even asking your family and friends to create a new year wish video and merge them all! How amazing would that be!
2. New Year Countdown Video
Final moments of the year are exciting, with a wave of nostalgia. Everyone looks forward to the countdown and takes part in it. It creates a sense of harmony and synchronizes everyone to the same beat and thought, i.e., entering the New Year all at once. Creating a countdown video is also a good idea to celebrate your happiness with your loved ones!
3. Year Recap/Review
We enter the New Year with many hopes and wishes, and there are also a lot of mixed feelings when we look back at the previous year. Making a Year Recap or Review video gives us an insight into how the year was for us, with good and bad memories and whatnot. Even when we look through the clips, we see how we were at that particular month and now where we are, how life changes, and these thoughts keep coming into our minds making us wonder many different things. Go ahead with this if you have so many clips of the year!
4. New Year Resolution Video
What goes better with a New Year Wish and New Year Resolution video!! We all have plans for New Year, celebrate what we want to achieve this year, be a better version of ourselves, and whatnot. Why not make a New Year resolution video to lay out your major resolutions for the year? Because when we have a solid goal in mind, we work for it!
5. New Year Party Vlog
Celebrating a new year's party would be the most fun! Making different clips at points in time, whether goofing with your friends or sharing moments with your loved ones, celebrating the last moments of the year, and entering the New Year with joy and happiness, would be memorable! And creating a vlog with it would light up the celebrations even more!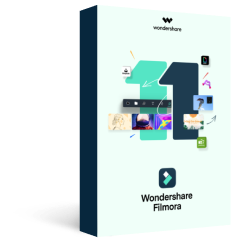 Wondershare Filmora - Best Video Editor for Mac/Windows
5,481,435 people have downloaded it.
Best video editing software for beginner and semi-professional, that comes with powerful editing skills like trimming, splitting, rotating, editing, etc.
500+ free special video effects to customize and create an awesome movie by yourself.
1000+ standalone effects downloading resources to make videos in all kinds of styles.
Record voice in real-time: you can have you voices recorded in realtime and instantly add them to the video files.
The software supports almost all available videos, images, and video formats. Besides, it also supports GIF files and 4K resolution videos.