Filmora VS Cyberlink: Which One Will You Choose?
Both Filmora and Cyberlink are great video editing softwares. Simply put, you should choose it depending on your own needs. Filmora will be your best choice if you are a YouTuber who wants to edit fast and easily. Or Cyberlink if you prefer more professional style.
According to Video Marketing Statistics 2021, 84% of online buyers believe that they were persuaded to purchase a product after watching its promotion video.
That is why 86% of organizations today utilize video as an important part of their marketing strategy and video is considered as a more personalized medium of communication. This growing interest and adaptation of video as a key component in digital content makes video editing a very attractive skill.
So if you want to secure a stellar career in video editing, or have a website or a blog, or maybe if you post on your YouTube channel often - it is a good idea to develop some video editing skills.
So how can you edit your videos?
As it turns out, there are many software available today which you can turn to. These video editing tools come with a variety of features and options. These software offer everything from simple video editing to high-end and professional creation of large video projects.
Let us compare two of the most commonly used video editing software today. We are going to analyze Filmora and Cyberlink Powerdirector.
01
A brief comparison between Filmora and Cyberlink PowerDirector
Let us first have a look at Filmora.
Filmora by Wondershare is an extremely successful video editing software that provides all the essential attributes. It has become the go-to software for newbies and aspiring YouTubers who want to try their hand at video editing for the very first time.
The desktop version of the software comes with a bundle of templates, effects, filters and transitions. The user interface provides an easy-to-learn experience and most features can be accessed through the main screen.
With so many templates and basic tools, Filmora makes video editing a very enjoyable thing to do. You don't have to be an expert at video editing to get a hold of Filmora. Try spending a little time on this software and you will be able to edit videos yourself in no time.
Filmora X has now over 84 million users across 150 countries around the globe. Since its launch, it has got over 3 million downloads, confirming its user-friendly nature.
Filmora X has received several recognitions by publishers and reviewers: 1. A leader in the field of video editing by the G2 Crowd in its 2021 Winter Report; 2. Ranked on the Top 10 Best Video Editing Software list of PC Magazine; 3. Best Video Editing Software in Tom's Guide; 4. Top 17 Best tools of 2020 by Creative Bloq; 5. One of the 10 Best Video Editing Software for YouTube Beginners by Fotor.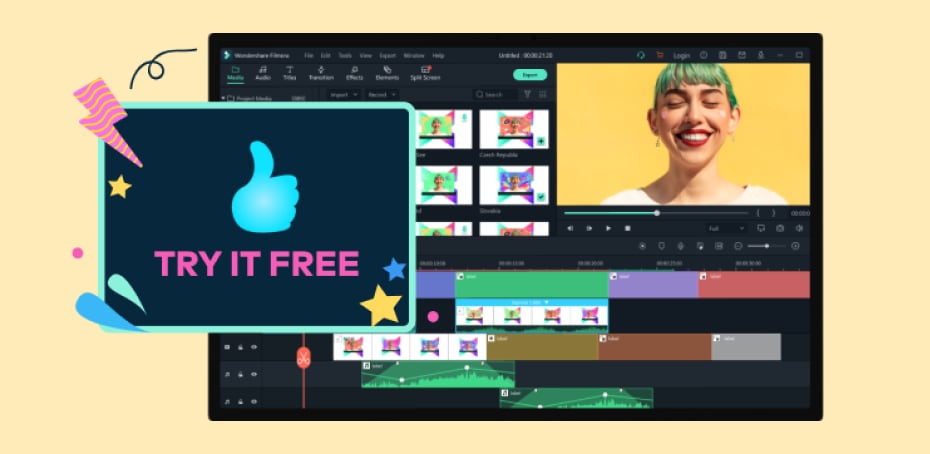 What's more, Filmora has established a fun-filled creative space for its users. Tap the Little Bulb icon on the upper right corner and you will enter the "Creator Academy", which contains endless inspiring ideas including beginner guides, budget fiming tips, editing tricks. They are produced either by experienced professionals or enthuastic beginners. And it gets updated everyday!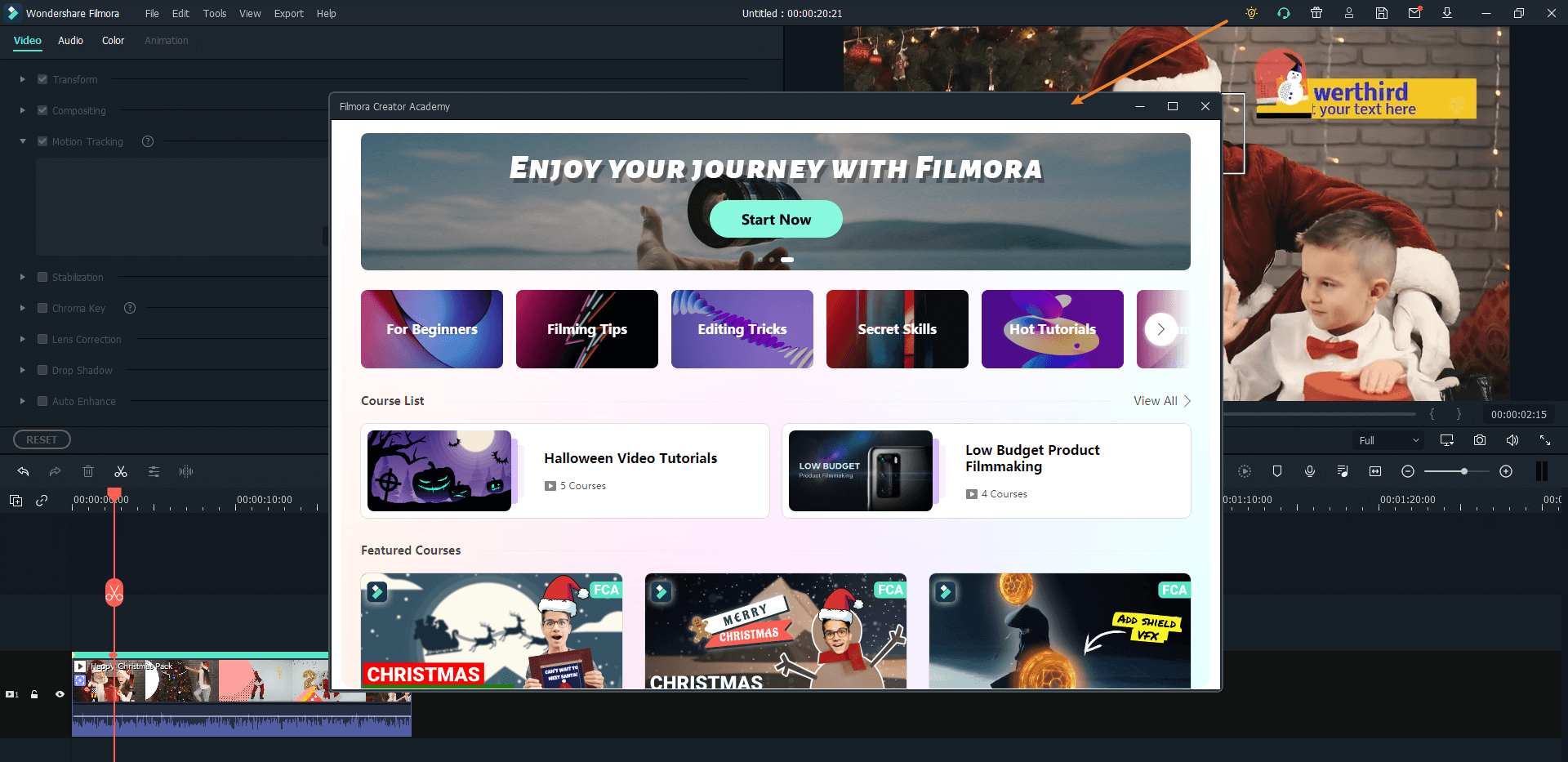 Cyberlink Powerdirector is one of the fastest and most powerful video editing software available in the market today. It is a professional and industry level video editing tool that comes with some advanced capabilities.
It allows its users to get in the depth of video editing and customize it according to their creative requirements. Cyberlink comes with a vast pool of templates for animation, transition, effects and filters.
It also gives control to its users to finetune these editorial options to add a more personalized touch to any part of their video. So if you want your creative skills to be fully reflected through the videos that you edit, then you are going to enjoy using Cyberlink Powerdirector.
Now that we understand the product positioning of these two, let's see some other questions that you need to ask yourself if you want to choose between Filmora and Cyberlink.
02
What do you want to do with it?
With Filmora, you can quickly make some basic edits to a video, filter and upload it in no time. It positions itself as the prime video editing software for people with little or no experience of editing videos and it delivers on its promise. It offers the most commonly used video editing options to use in a very quick and easy manner.
With Cyberlink Powerdirector, you get the most advanced and powerful tools to make specific edits in your video. This software equips its users with the freedom and functionality to make highly customized and unique video edits. It comes with tons of features to choose from which can reshape the end result of your video.
03
How easy is it to use?
Since Filmora targets all kinds of users which also includes novices and newbies, it offers a very easy and convenient user experience in its desktop version. The basic interface includes sections for timeline, media, tools and video preview.
Also, a welcome screen with simple design will greet you once you open the software. You can choose to create a new project or open an existing project, change the aspect ratio for your video, and select one of the most popular editing tools: Auto Reframe, AI Portrait, PC Screen.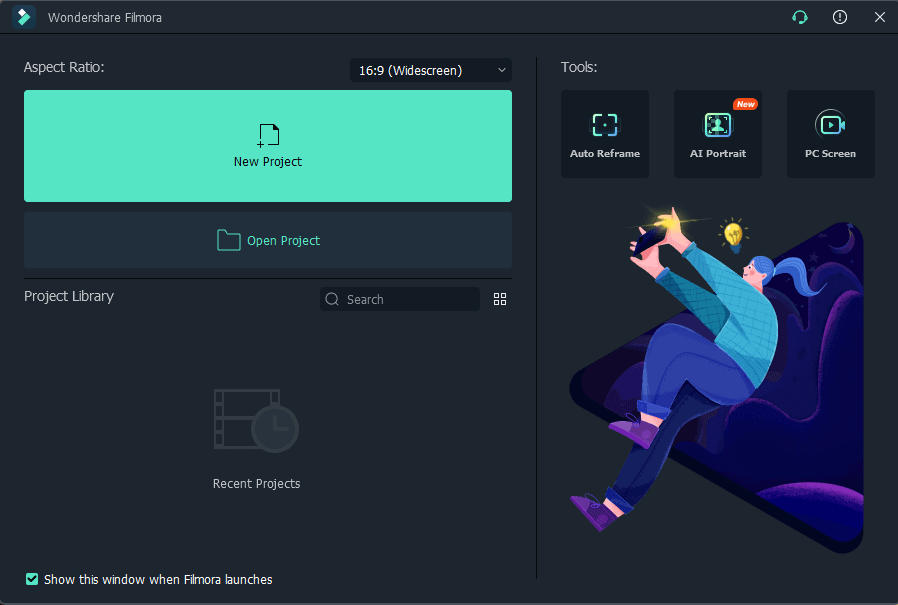 Almost all the features that Filmora offers, can be accessed from the main window. That means you won't have to explore dozens of menus to find the feature that you want to use - everything is always in front of you.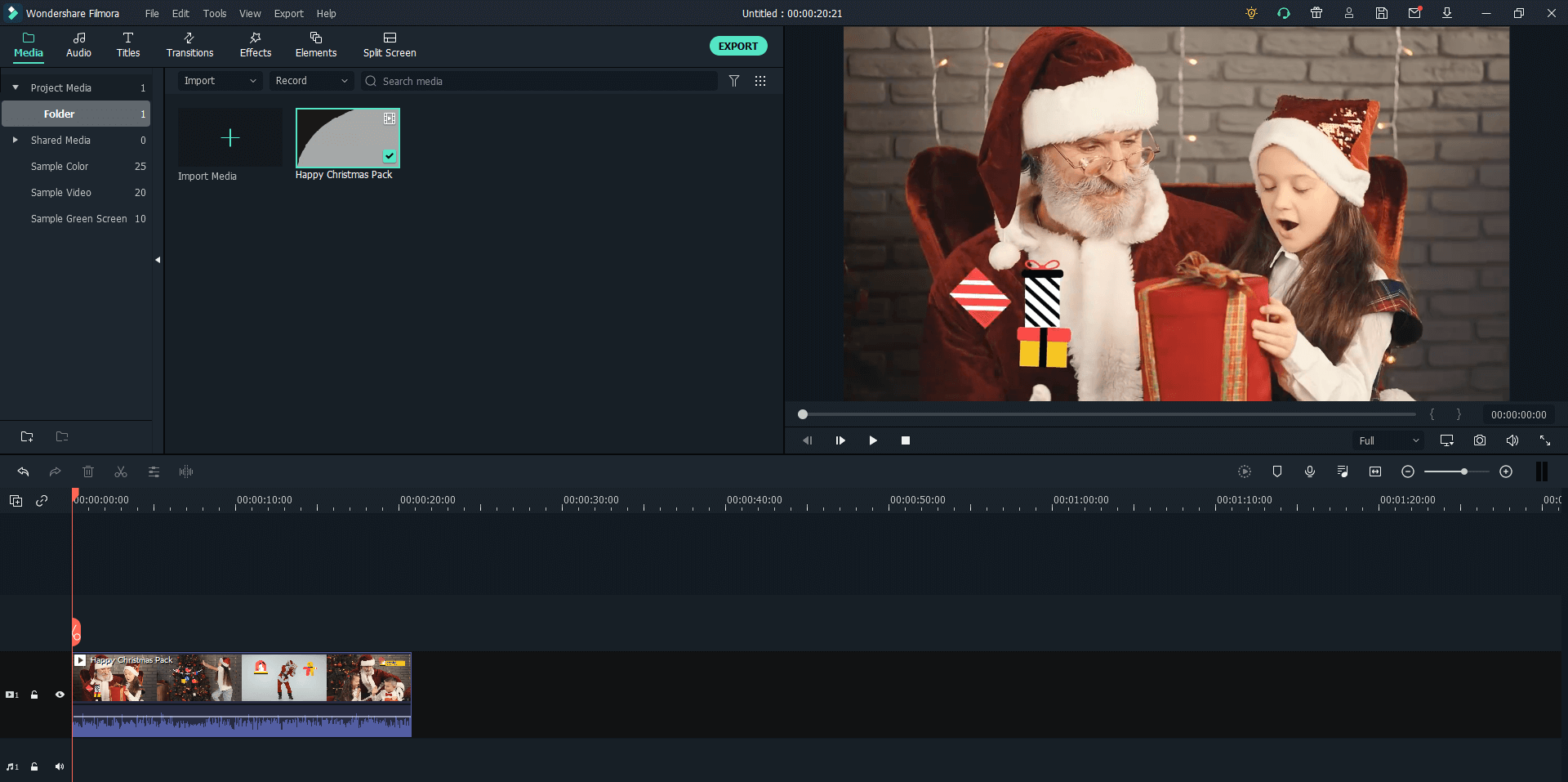 When you start Cyberlink Powerdirector, you get to see a welcome screen as well. From this window, you can select aspect ratio, tutorials and four modes for video editing. You can also choose to disable the preload screen for the future.
Once you select the Full mode (which is most commonly used), you will be taken to a more familiar main window with timelines, a preview window and an advanced looking control panel.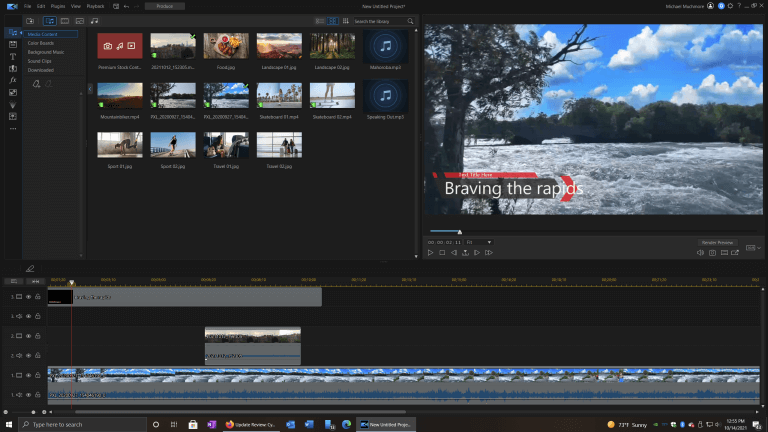 For seasoned video editing individuals, there does not seem to be too much difference in the interface and accessibility for users by both software. However, beginners might find the interface of Cyberlink Powerdirector a bit cluttered and overwhelming.
04
What editing features are included?
Filmora X which is the latest desktop version of Filmora comes with the most essential tools for video editing. It gives you the option to import your media (images, sounds and videos) and use the already included features like titles, transitions, effects, elements and split-screen.
This version also comes with the increasingly popular motion tracking, keyframing, AI Portrait functions.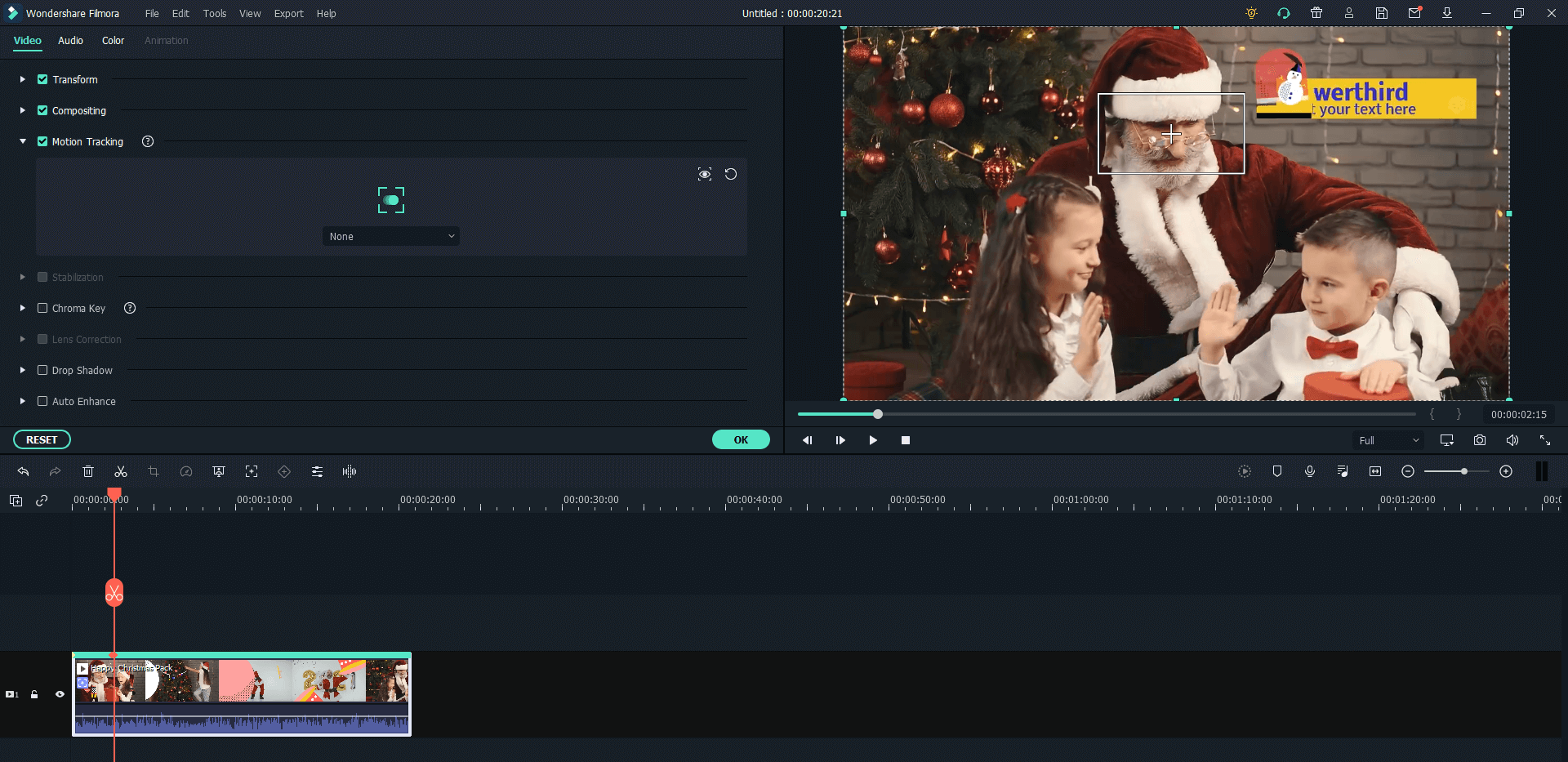 Powerdirector 20 is the latest version of Cyberlink Powerdirector available in the market today. In addition to basic features like titles, transition, effects, etc. this software also gives you the ability to use some very highly advanced tools, like video overlay, particle management, motion tracking and 360-degree editing effects.
It also gives its users exclusive access to the large collections of Shutterstock and iStock. When it comes to how much can you perform with the software and which software comes with the bigger number of editing features, Cyberlink Powerdirector takes the lead.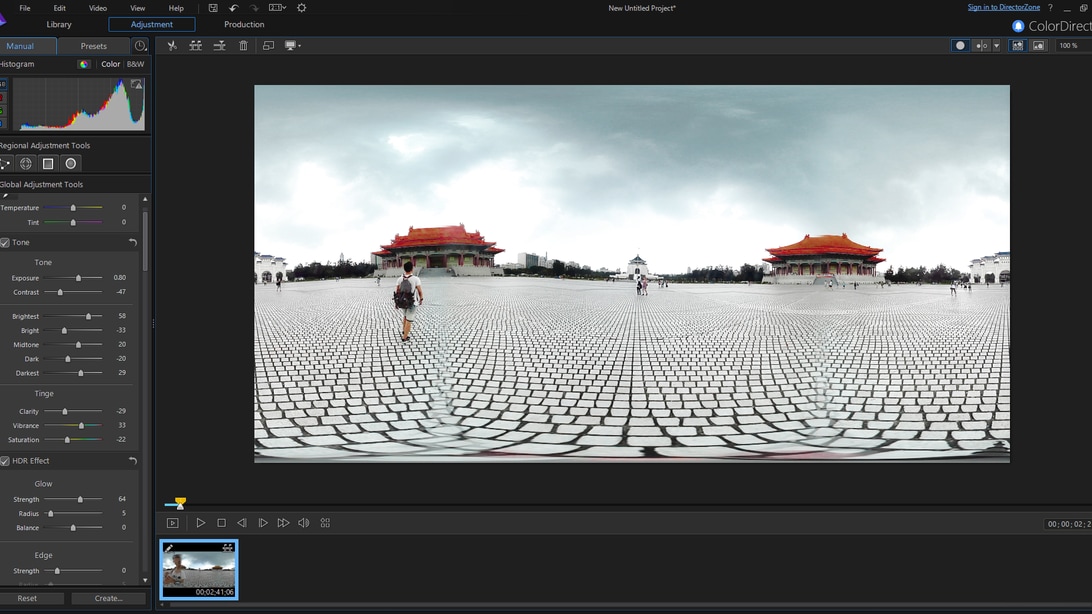 05
What is the system requirements?
On its official website, Wondershare has listed down and recommended the following system requirements of the desktop version of Filmora X.
Cyberlink has mentioned the following system requirement information for using Powerdirector 20 on its official website.
| | | |
| --- | --- | --- |
| System Requirement | Filmora | Movavi |
| Supported OS | 64bit Microsoft Windows 11, 10, 8, 7 | 64bit Microsoft Windows 11, 10, 8, 7 |
| CPU | Intel i3 or better multicore processor, 2GHz+. (Intel 6th Gen or newer CPU recommended for HD and 4K Videos) | Intel Corei5 or AMD Phenom II X4 above (Intel Corei7 or AMD FX series above recommended for 2K/4K/3D/360° video editing) |
| RAM | 4GB (8GB required for HD and 4K videos) | 2GB required (8GB or above recommended) |
| GPU | Intel HD Graphics 5000 or later; NVIDIA GeForce GTX 700 or later; AMD Radeon R5 or later. 2 GB vRAM (4GB required for HD and 4K videos). | Intel HD Graphics and above; NVIDIA GeForce 8500 GT and above; AMD Radeon R5 or later. 1GB VRAM or higher |
| Storage | 10GB free hard-disk space (SSD recommended for editing HD and 4K videos) | 7GB required minimum 10 GB (20 GB recommended) for DVD production 60 GB (100 GB recommended) for Blu-ray Disc/AVCHD production |
It is really common for video editing software to be huge in size and require a strong system to run smoothly. However, given the features that it offers Filmora is rather lightweight and does not require the latest system configurations to run.
06
Which video input formats does it support?
Filmora X gives you the ability to use all the basic and most commonly used video formats for input and output. You can work with files having MKV, MP4, WMV, AVI, MOV, FLV, 3GPP, WebM or MPEG format. It is very unlikely that you will come across a video in the format which is unrecognizable by Filmora.
Cyberlink, on the other hand, opens up a whole pandora's box of numerous file formats that it supports for input and output. In addition to the basic file formats generally supported by video editing software, Powerdirector also comes with support for dozens of other formats for 2D and 3D videos.
In the end, Cyberlink provides you with compatibility with more formats, however, Filmora also supports all the most commonly used file formats.
07
How much does it cost?
With the current version, Filmora X, you can have the option to either subscribe to a monthly / annual fee or even purchase it by paying a one-time fee. The software is available to buy on our websites with these three pricing plans. You can get an annual plan with $39.99 for windows version and $44.99, or buy the perpetual plan with $69.99 for windows/mac. What's more, a superb valuable bundle is the Annual Bundle of Fimora and Filmstock (One-stop shop for royalty-free video effects, footage, audio and more), which costs and $99.87 for windows or $104 for mac.
Three different variants of Powerdirector are available on the website of Cyberlink. Ultra and Ultimate versions can be bought by paying a one-time licence fee (Ultra costs $99.99, Ultimate $139.99). The 365 version offers monthly ($19.99) and annual ($69.99) subscription plans.
Filmora is more reasonably priced than Cyberlink Powerdirector, both in terms of one time and annual subscription fees. The trial version of both software can be downloaded for free as well.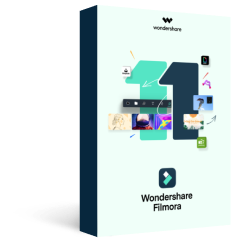 Wondershare Filmora - Best Video Editor for Mac/Windows
5,481,435 people have downloaded it.
Best video editing software for beginner and semi-professional, that comes with powerful editing skills like trimming, splitting, rotating, editing, etc.
500+ free special video effects to customize and create an awesome movie by yourself.
1000+ standalone effects downloading resources to make videos in all kinds of styles.
Record voice in real-time: you can have you voices recorded in realtime and instantly add them to the video files.
The software supports almost all available videos, images, and video formats. Besides, it also supports GIF files and 4K resolution videos.
08
Conclusion
It is not straightforward to compare Filmora with Cyberlink Powerdirector and say which software is better. Both come with great functionality and a wide range of features. Both are successful and popular among different groups of the consumer market. So which one should you get? If you want to quickly edit small videos for your YouTube channel, you are going to need a software that is light, quicker to use and comes with a simple user interface. In this case, Filmora would be the best choice for you. But if you work in a studio and you want to really transform the finer details of your large videos, you are going to need a powerful program to give you that level of control to be able to do all that. In this case, you should invest in Cyberlink Powerdirector. While Cyberlink Powerdirector provides a greater number of effects, transitions and other features, Filmora is more reasonably priced and has lower system requirements. Even though it is smaller software, it will still give you great results with its attributes. In the end, there is no wrong choice with this one.