What if you could Teleport? From your location to direct your friend's home or the sea? Or even another planet? Sounds cool? Yes! Remember those cool teleportation effects in movies that seem unreal but are so finely edited that it blows away your mind?
The teleportation effect involves having a sound and visual effect that makes the viewer seem that the subject in the video has traveled from one place to another. It is used in numerous sci-fi movies and is trendy, giving a very cool effect to the audience and making the transition smooth. But what if you could make a video and teleport it?
Now it may seem a little too advanced or tricky; trust us, it is not! It's super straightforward to create! First, let's see a few of the most popular teleportation effects nowadays and get on with the editing!
Part 1. Popular Teleportation Effects [Editor's Pick]
There are a lot of different teleportation effects used, and there are numerous ways in which you can create one! Some of the most popular ones are listed below.
#1. Umbrella Academy Teleportation Effect
The Umbrella Academy is a Netflix television series, and its teleportation effect is like a person coming through walking an invisible wall, and it's trendy, creating a unique effect!
#2. Jumper Teleportation Effect
Jumper is a sci-fi movie in which the teleportation effect includes the character jumping and teleporting at another place, its super simple!
#3. Impulse Teleport Effect
Impulse is a YouTube original Television series, and the main character has a sort of impulse, seizure like which transports her, and it's not in her control.
---
Part 2. How to Make a Cool Teleportation Effect with Filmora [A Step-By-Step Guide]
Now that you know what the teleportation effect is and how popular and unique it is, you want to try one for yourself, but what software to use? Filmora is a video editing software that is extremely simple and easy to use and has numerous features, whether it be themes, stickers, titles, intros, outros, and even more for that perfect video you have in your mind!
There are many ways you can use teleportation effects in Filmora, you will need to film the videos, add a few sound effects, elements and effects, and you're done! Don't worry, and it is easier done than said! Yes really! Now let's go on bringing those cool ideas from your mind to reality!
We have prepared a step-by-step guide for you to make it even easier!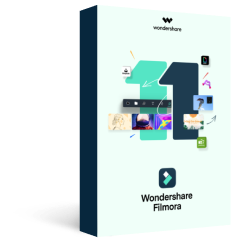 Key Features
Best video editing software for beginner and semi-professional, that comes with powerful editing skills like trimming, splitting, rotating, editing, etc.
500+ free special video effects to customize and create an awesome movie by yourself.
1000+ standalone effects downloading resources to make videos in all kinds of styles.
Record voice in real-time: you can have you voices recorded in realtime and instantly add them to the video files.
Preparation: Filming for the Teleportation Effect
First, you need to film the clips you need for the teleportation effect. Having a steady camera or a tripod stand for better results; make sure the frame you are filming in stays in place.
Now, let the subject, or even you can act when filming, until the teleportation clicks, may it be a sneeze or a button or just a snap even, when done, move out of the frame and let the camera take a few more seconds to roll.
Next, set up the camera in another location and repeat the same, and this time record the frame without the subject and let the subject enter after a few seconds and resume the acting from where they left off at the first location. Repeat this as many times as needed, and once done, it's time to start editing on Filmora!
Next: Editing the Teleportation Effect on Filmora
Once you're done filming the teleportation effect, it's time to edit the clips on Filmora, don't get overwhelmed. It's super easy! Let's start!
Step 1: Import Videos
First, import the media clips; drag and drop them to the media library or click on shared media. Further, click on Import Media and open the files you want to add.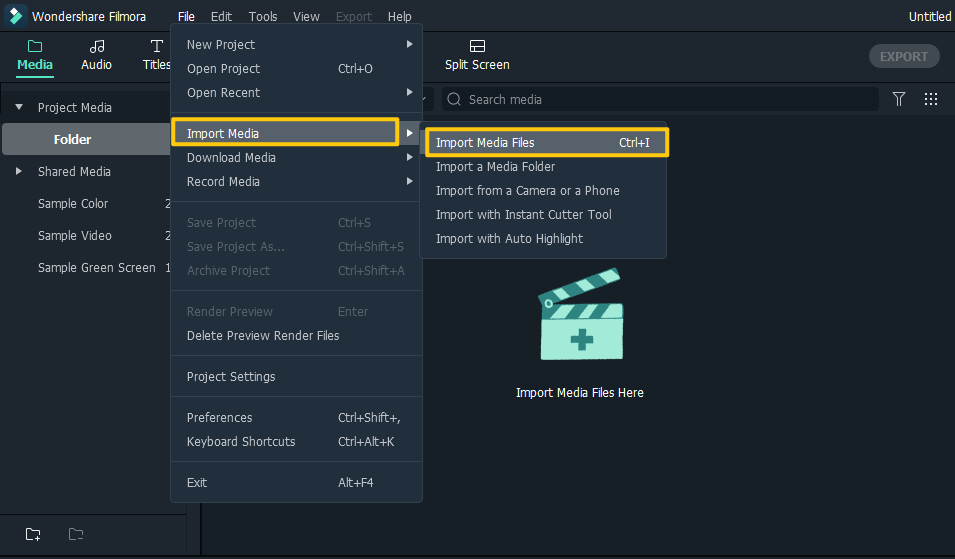 Then, add the clips on the timeline in order of how you want the teleportation effect to work.
Step 2: Edit the Clips
Once you're done adding the clip, time to edit them. Cut the clip where the subject starts to sneeze or activate the teleportation and move the play head further to the end of the clip, and cut where the subject is entirely out of frame. Delete the middle part. Do the same for the following clips.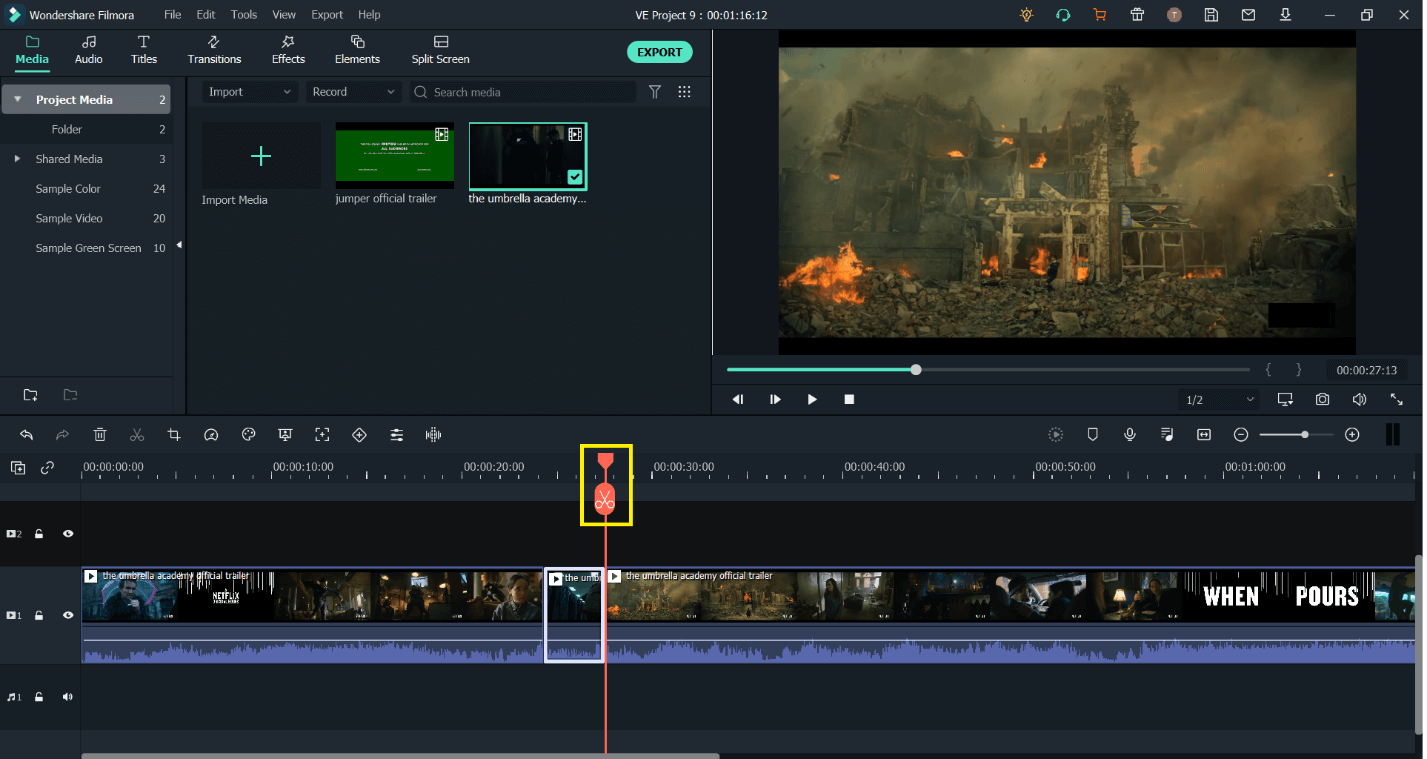 Step 3: Add Teleportation Effects
Now, let's add some teleportation effects. First, click on Elements in the menu toolbar, and find a Yellow Energy in the section of Fun. Add that to the video track above clip, where the clip was cut from. Adjust the size and position and now let's add some space vibrations to the teleportation.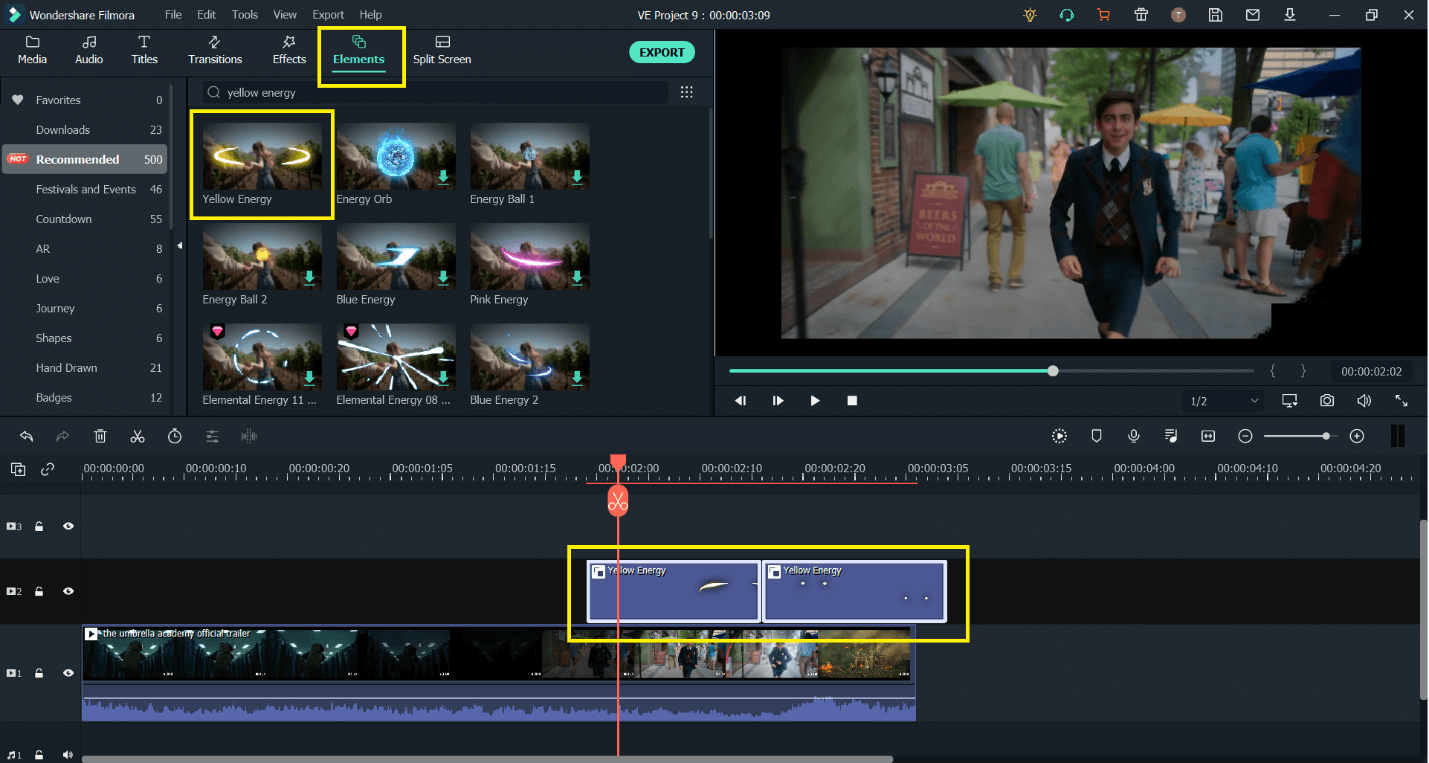 Click on the Effects on the menu toolbar, find the shake section, and add that to the same place on the timeline but on a new video track above the last two. Adjust the length, and you're done!
Tip: Drag the shake a bit before the Yellow Energy, so the transition is smooth!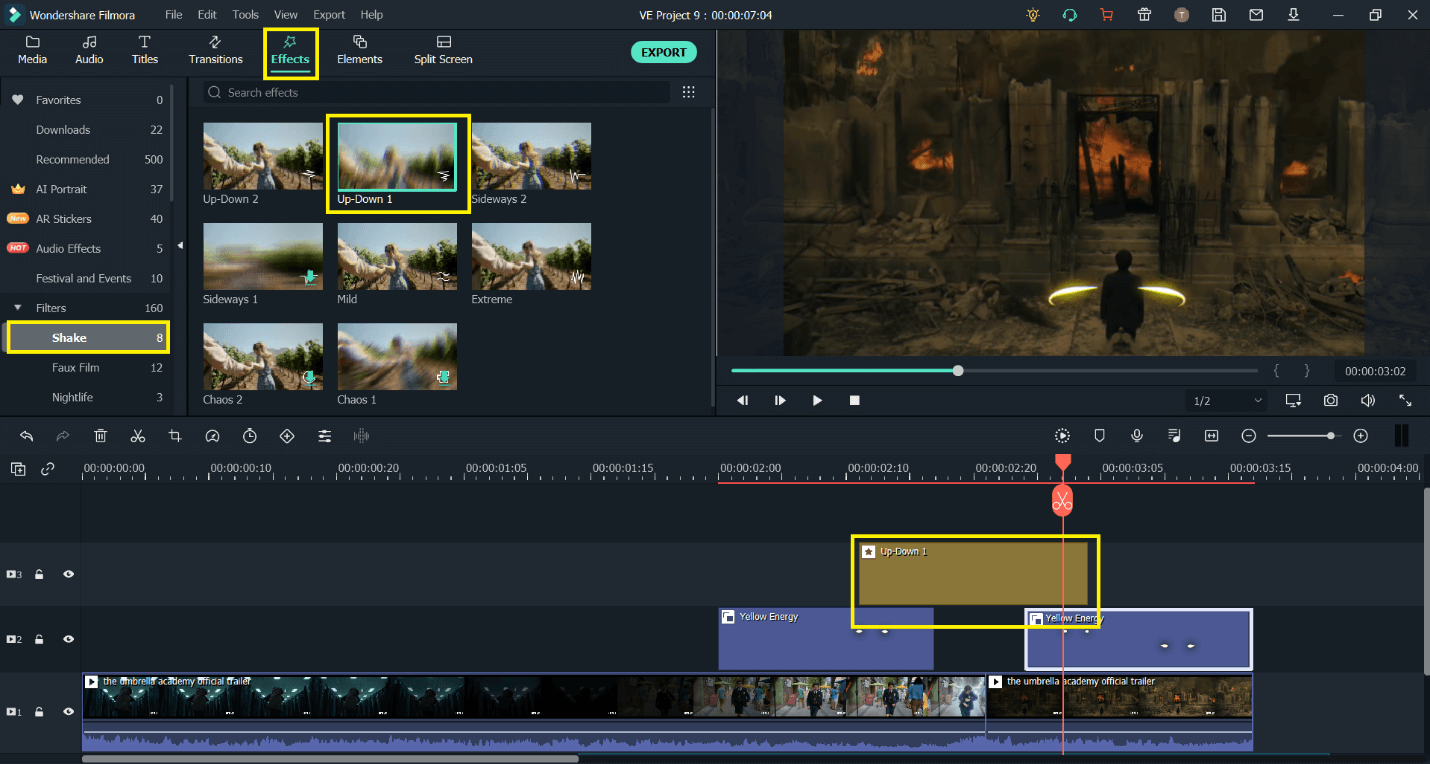 If you want to learn more tricks of adding magical teleportation effects, don't hesitate to watch our tutorial video!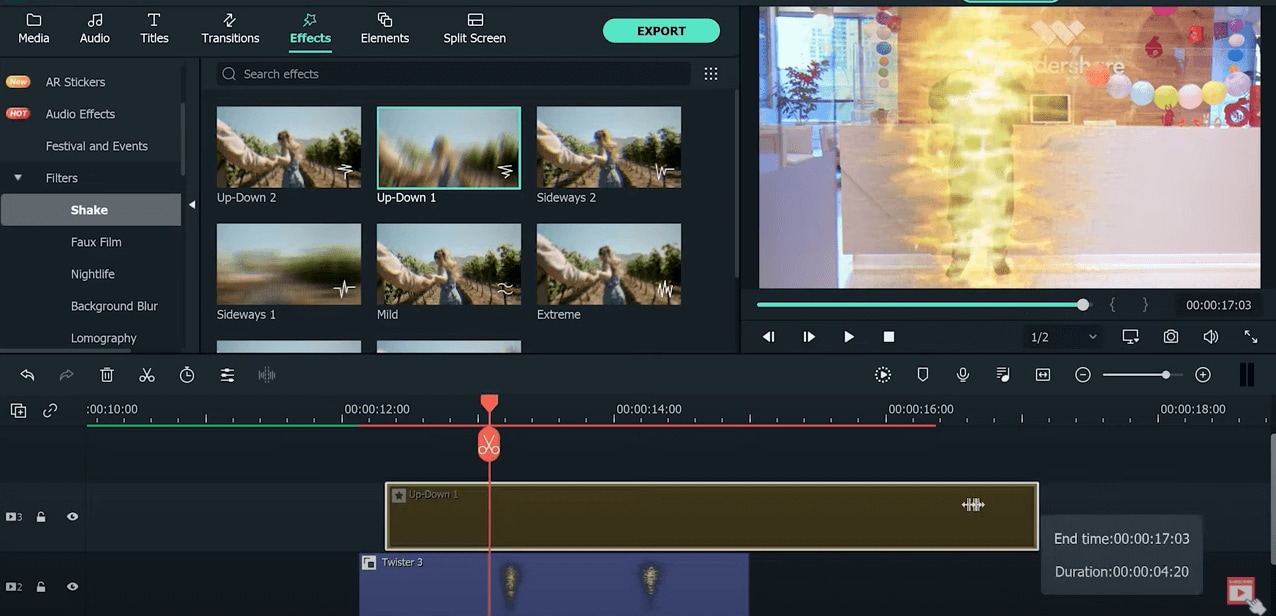 Step 4: Add Sound Effects
Let's add some sound effects because, well, there's no silent teleportation, is there now?
To add sound effects, find a sound effect that matches your teleportation effect in the audio section or import your own, for example, a buzz sound effect, etc.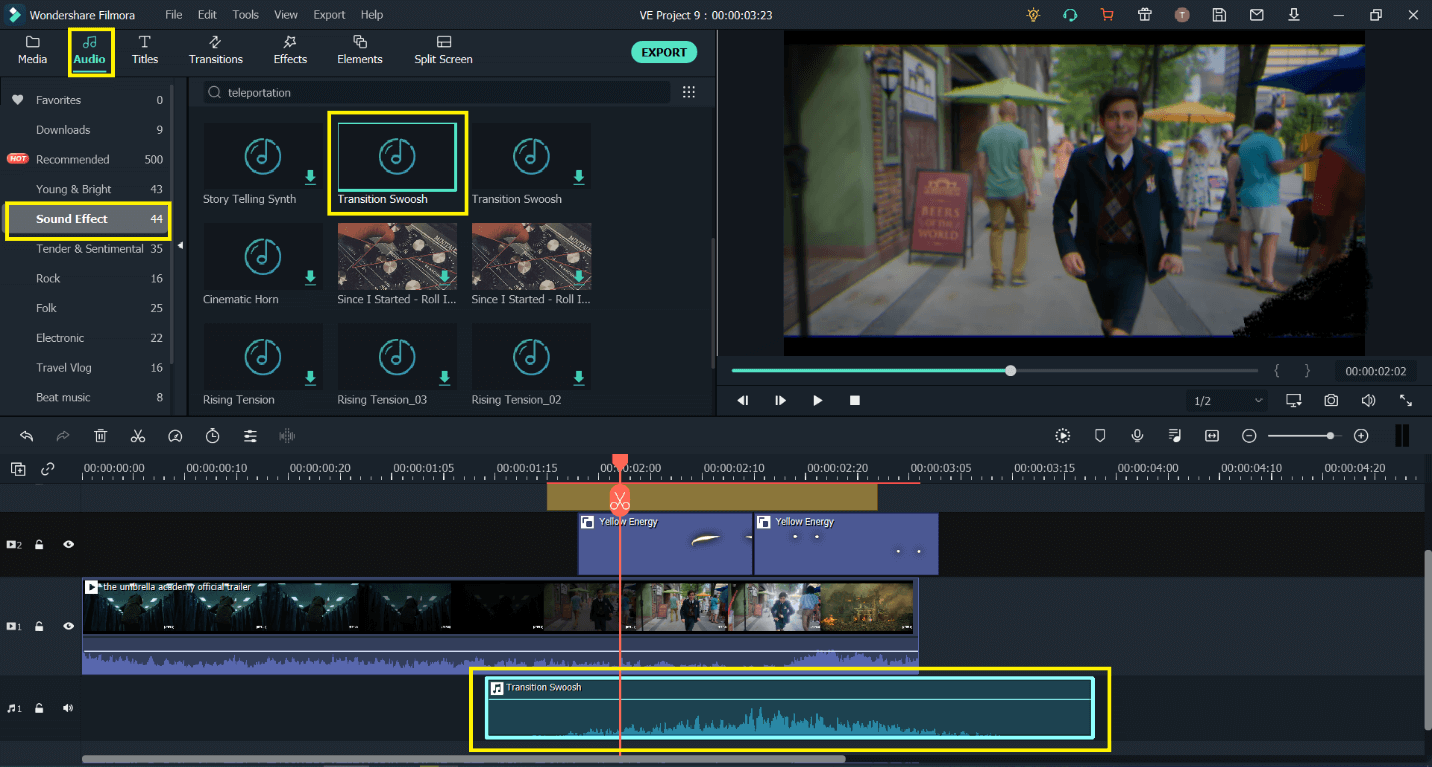 Step 5: Repeat the Same Process for the Remaining Clips
You're done with your first teleportation clip! Pretty cool, right? And it was so easy!!
Do the same for the remaining clips and preview them!
Step 6: Export the Video and Share
The final step is to export the video and enjoy the final result!
Click on the export video, choose your desired settings and location where you want the video to be saved, hit export, and wait for the result!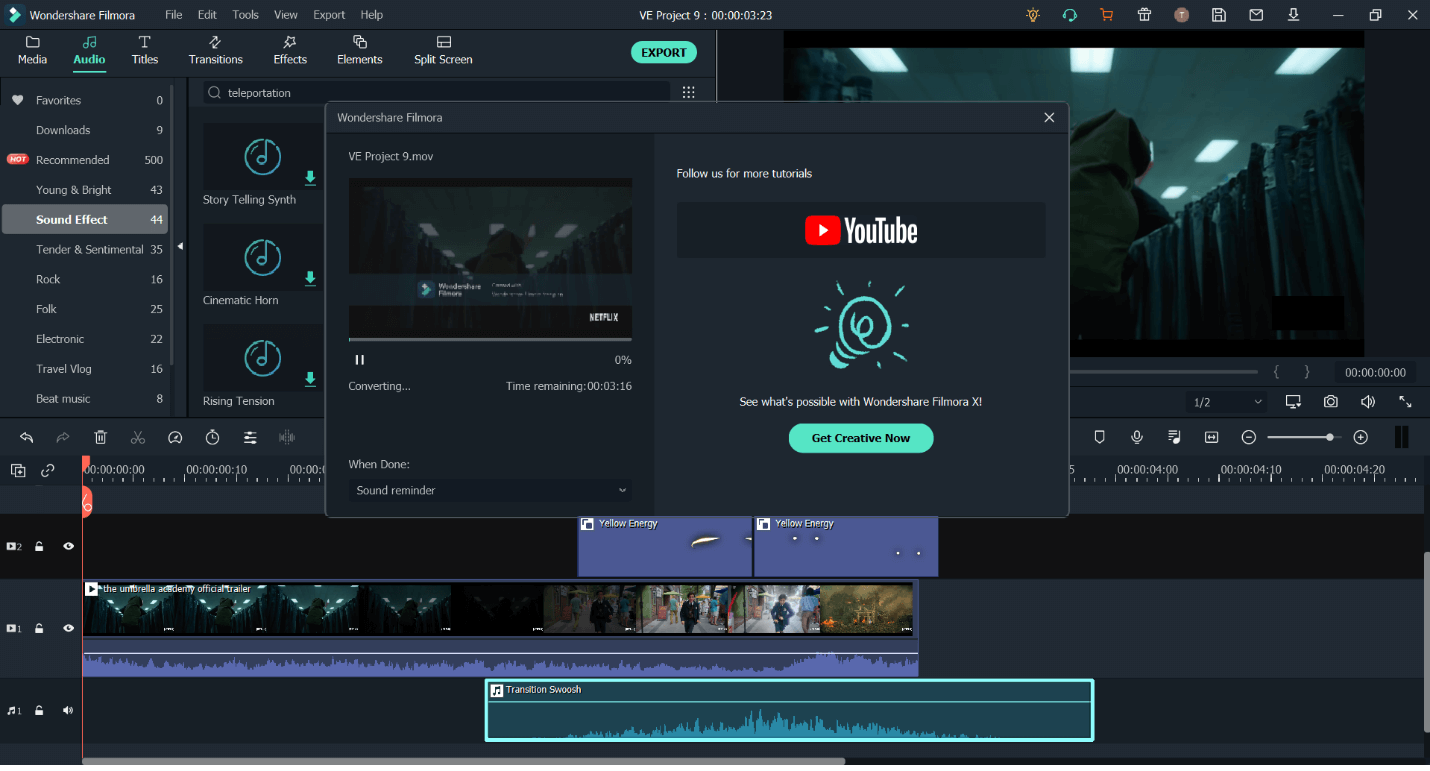 If you're interested in Filmora, watch the short clip below to learn more about its new amazing features. Then, start your journey of creating!
---
Part 3. Frequently Asked Questions
1. Where can I download green screen teleportation effect?
You can download green screen teleportation effects from many different websites, and Filmora also provides green screen teleportation effects in its Filmstock. With it, you can easily import screen captures and various media and make a green screen effect in just a few simple steps!
2. Where can I download teleportation sound effect?
This is super simple. There's no teleportation without a sound effect now. Many sound effects aren't copyrighted, so you can easily download them from YouTube or any website, even Filmora. Some would be free, some would be for buying, but choose the one you love!