Are you looking to try some other OS than the more common Windows and Mac versions? Chromebooks with Linux-based ChromeOS software are one of the best devices with a lightweight structure and good performance.
While video editing experts like Chromebook for their robust video-making and editing work, it is important to find compatible software for the tasks. These include options with speedy performance, a rich feature base, and multi-functional quality.
On that note, here are some options you should try out.
Part 1. 2 Free Video Editing Software for Chromebook
The following are the two best free video editor software that you can try out when operating on Chromebook.
With KineMaster, it is simple to edit and prepare dynamic video projects and get all projects stored in one location. You can download additional features from KineMaster Asset Store.
It is easy to combine images, videos, and special effects with stickers and background songs or sound effects. The software contains strong speed control and reverse functions.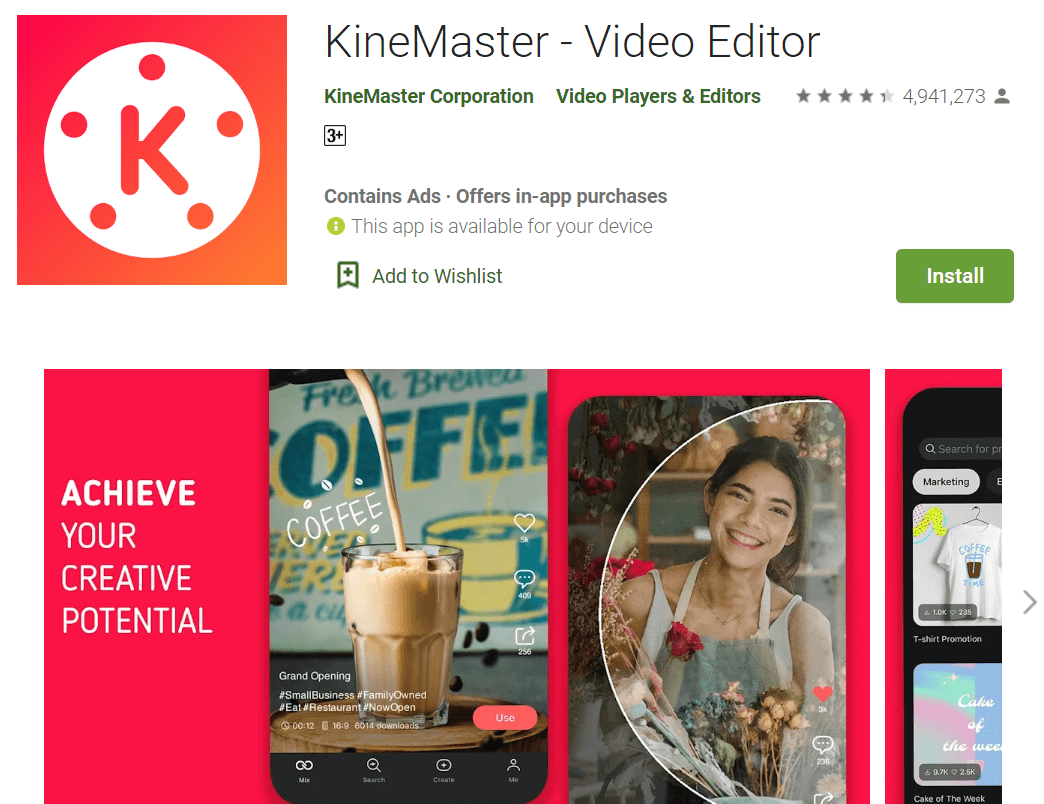 How to Download: Website, Google Play Store, Chrome Web Store
Compatible Platform: Chromebook, Windows, macOS
Price: Free with in-app purchases starting at USD 1.99.
Main Setting Points:
Edit features like color adjustment, stickers, and special effects.
Add around 9 different layers.
Chroma key support provides features like a preview (alpha mask).
Include blending effects in 8 different types.
Pros:
Open-source platform.
It is easy to share videos as .kine files.
Export final video files at 30FPS in 4K.
Cons:
Watermark in the videos in the free version.
The advanced features are available under the paid version like all tool presets.
Best For: Users who want a smooth application for mobile-based video editing functions and open-source support.
---
This software is one of the best video editors for Chromebook, with fast functionality and high-quality modern features. Users can get 3000+ templates and effects to choose from and additional royalty-free music as well.
It is simple to adjust speed, edit short to long videos, add thematic filters, and use its intuitive workflow.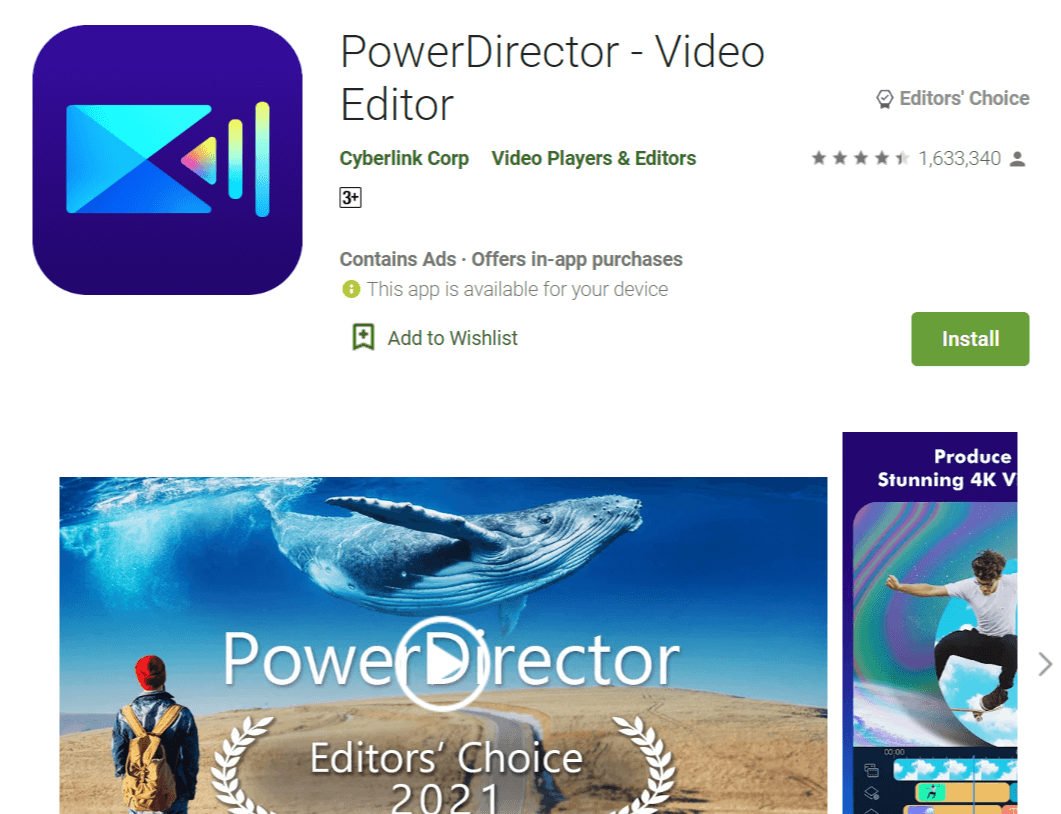 How to Download: Website, Windows, Google App Store, Mac
Compatible Platform: Windows, macOS, Chromebook 
Price: PowerDirector Premium (Android)- USD 27, Director Suite for Windows- USD 89.99, PowerDirector for Windows- USD 48.99 
Main Setting Points:
Apply masks to objects or people automatically to remove backgrounds.
Refine audio quality and delete background noise.
Color match and LUTs support.
Interesting templates and customizable tools are available.
Pros:
Accessibility to royal-free songs, images, and videos.
Live streaming option available.
Record and save screen recordings.
Cons:
Users have to pay extra to upgrade audio, color, and photo editing functions.
A costly option for many who want simple editing features.
Best For: Professionals who need high-grade premium-level editing features for movie-level editing.
---
Part 2. 5 Best Online Video Editors for Chromebook
Multiple high-powered tools are available for direct online video editing compatible with Chromebook. Here are some of the best ones we tested out.
Adobe Express is a suitable platform for online video editing for Chromebook users. All intuitive editing tools are available, and users can expect 2GB of cloud storage even in the free plan.
Users can easily edit the background, add animated texts, and share the final project across platforms. It is good for all types of businesses and users.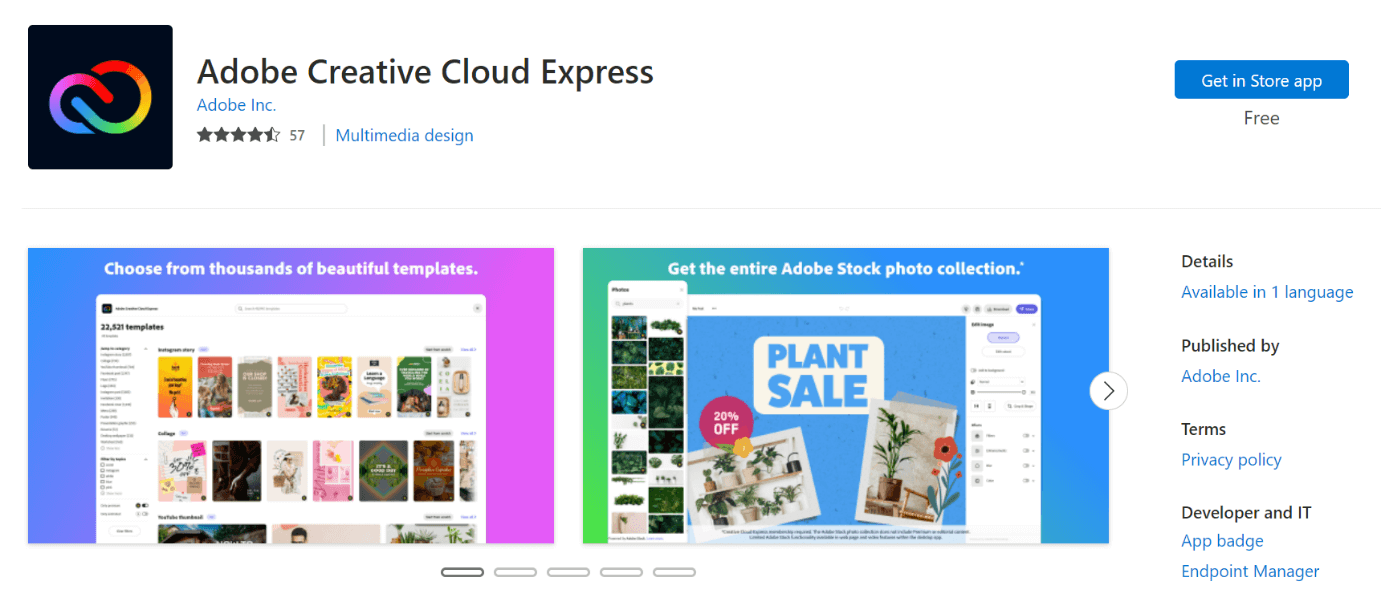 How to Download: Website, Windows
Compatible Platform: Windows, macOS, Chromebook 
Price: Free, Premium- USD 9.99 per month
Main Setting Points:
Remove the background of objects automatically.
More than 100,000 assets and assets available, like fonts, GIFs, and icons.
Change custom font and title in videos.
Share Adobe Acrobat-supported files smoothly.
Pros:
Crop and resizing functions are available.
All Adobe-based devices and platforms can access the same projects from one platform.
Adjust video speed easily to slow motion or fast.
Cons:
Video conversion options are limited, like MOV to MP4 or MP4 to GIF.
Many features like Adobe stock images collection require paid membership first.
Best For: Video editors that want strong editing functions and diverse filters with Adobe support.
---
With Clipchamp, you can easily delete unnecessary sections of the video for the best video editing. Here, users can access the webcam recordings and flip/mirror them. This is acceptable horizontally and vertically.
You can cut the videos into lesser bits or clips for an easier combining process. Besides cutting the longer video files into small sections, users can also combine multiple shorter clips into a long video.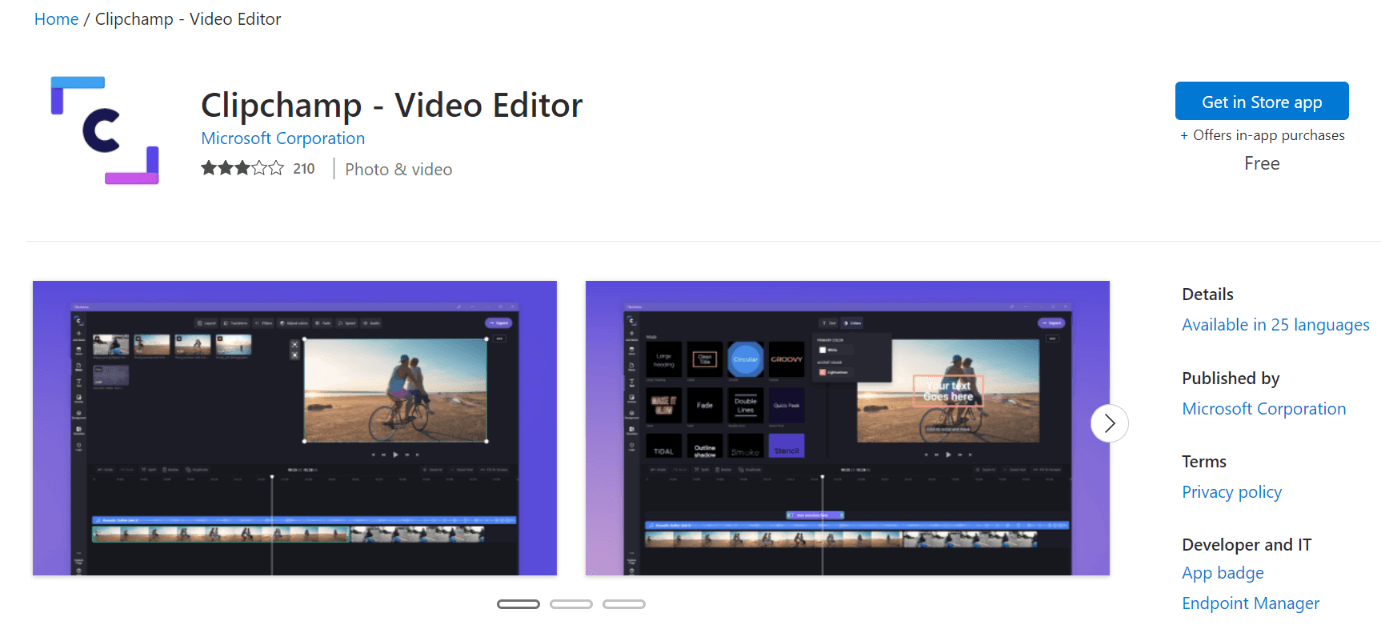 How to Download: Website, Google Play Store, Windows
Compatible Platform: Windows, macOS 
Price: Basic- Free, Creator- USD 72/year, Business- USD 156/year, Business Platinum- USD 324/year
Main Setting Points:
You can adjust opacity in video overlays and balance colors in videos.
Include titles, text, font, color, and other editing functions.
Crop sections of the video while preserving their aspect ratio.
Rotate videos counter-clockwise/clockwise by 90-180 degrees.
Pros:
You can add audio from your device or online Assets here.
Users can replace or mute audio files easily.
Include your personalized watermark or logo with the Brand features.
Cons:
Poor ratings.
The free version only supports video export at 480p or less.
Best For: Beginner-level users who want the standard editing function with noticeable quality improvement.
---
Kapwing is another notable video editing software for Chromebook that comes with timeline support. Users can add and then change the sequence of different tracks without much issue. You can make adjustments to the video, adding overlays and layers.
The drag-and-drop functionality improves functionality for users with Kapwing. Later, you can save the complete projects and organize all projects in the cloud.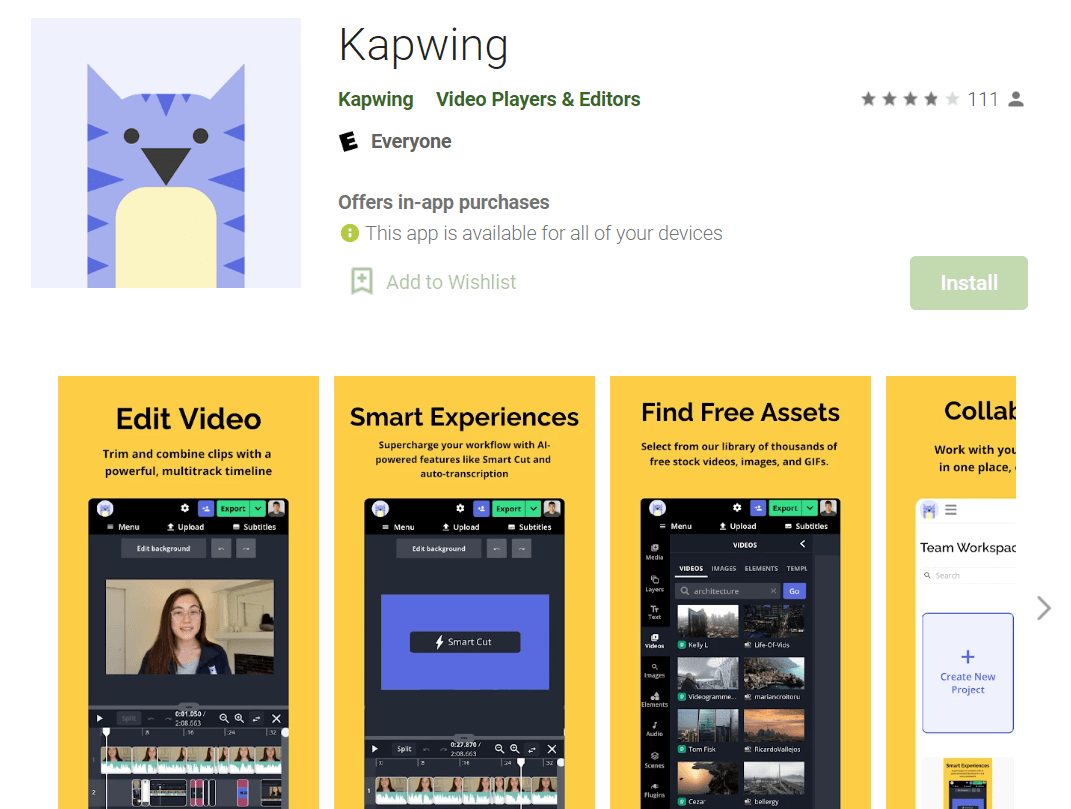 How to Download: Website, Google Play Store
Compatible Platform: Windows, Chromebook 
Price: Free, Pro- USD 16 per month, For Teams- USD 16 per month for each user
Main Setting Points:
Tool available that automatically generate accurate subtitles.
Remove background from behind objects precisely.
Detect and remove silent sections from the video audio.
Automatic translation is available for videos.
Pros:
This is an extremely lightweight online editor.
Community support and resources are available for information.
Access all tools like a collage maker and smart cut in one location.
Cons:
To remove watermarks on videos completely, upgrading to the paid version is necessary.
Kapwing Pro has no free trial.
Best For: Business teams of any size can use even Kapwing for robust video editing functions.
---
Kizoa is a good online video editor with high-quality video editing functions, either customized or preset templates. Users can get non-watermark content with the paid version and access to Premium media and iStock media components.
To note, it is simple to set new animations and transitions, and even you can adjust video audio easily with Kizoa.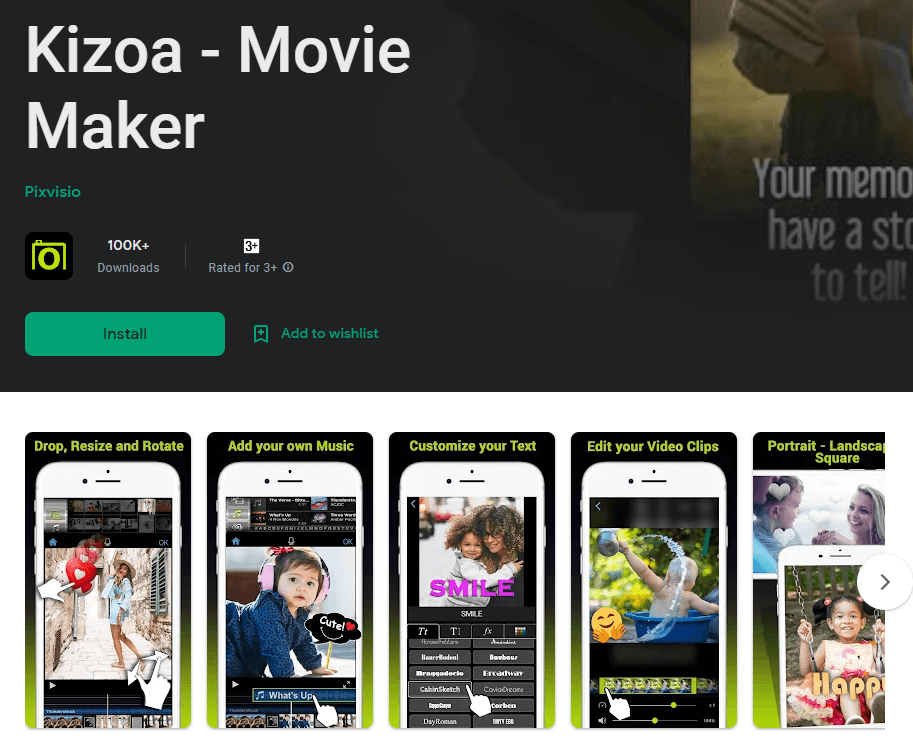 How to Download: Website, Google Play Store
Compatible Platform: Windows, Chromebook
Price: Free, Business- USD 15/month, Unlimited- USD 30/month, Enterprise- custom price on a quote
Main Setting Points:
Text to speech function is automated in this editor.
Multiple fluid animation options like blur, slide, and disco.
Create and edit new videos with text, stickers, and animation options.
Work collaboratively with the team and share through the platforms.
Pros:
Over 5000 video template options are available.
The software has a 3M+ media library with standard-level elements.
Under the free plan, you can create 40-minute videos.
Cons:
Limited category options.
HD-quality video exports are not available for free.
Best For: From beginners to professional-level editors in enterprises, there is a plan for everyone with strong editing features.
---
WeVideo is another notable software for video editing that works with different devices well. Users with different levels of knowledge on video editing can use this flexible software or the work.
It is important to customize the videos in the right manner for professional marketing plans. There are built-in stock options for images, videos, and royalty-free songs that users can opt for during the editing process.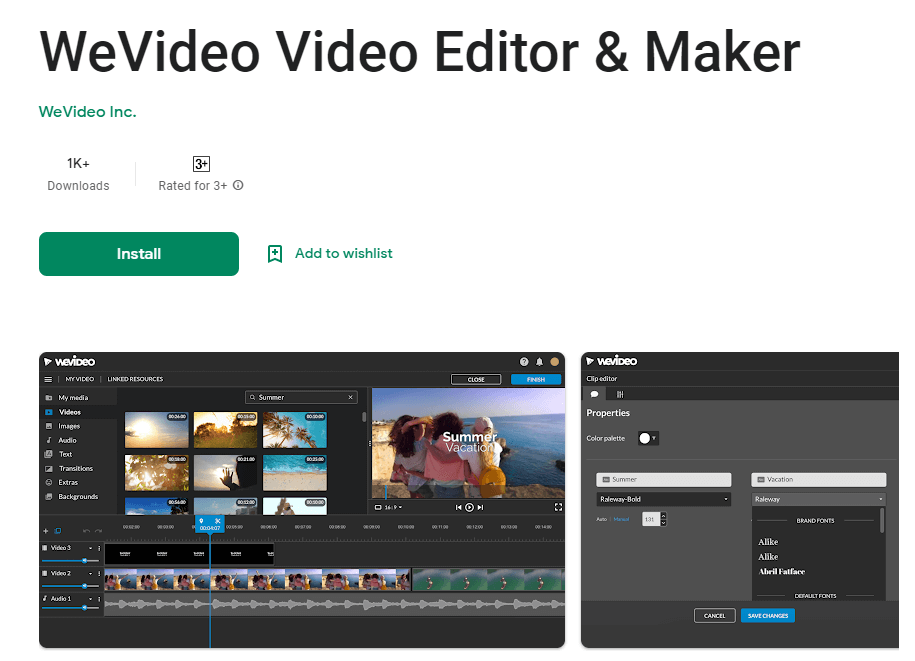 How to Download: Windows, Chrome Web Store, Google App Store, Website
Compatible Platform: Windows, Chromebook 
Price: Free, Power- USD 4.99/month, Business- USD 36.99/per month, Professional- USD 19.99 per month, Unlimited- USD 7.99/month.
Main Setting Points:
Quick sharing function for the finished product on different communication channels.
Trim the longer videos into shorter clips for customized final video products.
The screen recorder function is available for recording the process of editing.
Green screen support in the background makes it easier to add the image's primary subject.
Pros:
Quickly create and post the videos online to social media sites.
It works on different types of devices, like Mac, Android, Chromebook, and other options.
Cloud storage support assures better security and ease of use for people.
Cons:
With the Free, the highest support video output resolution is 480p.
The power to customize your own templates is available only under the Business plan.
Best For: Marketing team members in different companies and education experts can use video editing to create personalized and engaging promotional videos.
Multiple high-powered tools are available for direct online video editing compatible with Chromebook. Here are some of the best ones we tested out.
---
Part 3. Best Video Editor on Desktop - Filmora Video Editor
While all of these software options are strong contenders, Filmora is without question a noteworthy mention in terms of usability. With features like audio synchronization, video speed ramping, AI portrait, and green screen support, the uses are limitless for creators.
For Chromebook specifically, though, PowerDirector is one with the best variety of features, while Kipwang is a suitable tool for simple usage. Moreover, Kizoa stands out in terms of usage simplicity, and KineMaster is good for people who consider affordability.
Finally, choose based on whichever you see value in the long run.