Chromebooks are awesome machines, which can perform many of the same tasks as Windows and macOS. However, Chromebook users always feel head spin when they need to complete some content creation projects like edit videos on Chromebook. Therefore, today I'd like to introduce 5 free video editing software for Chromebook. You can compare them and decide which one is better according to your own needs.
There are 4 video editing apps for Chromebook and 1 online video editor for your reference. And I'd like also to recommend a desktop video editor for Chromebook as an alternative if you're not satisfied with the listed Chrome video editor.
Part 1. 5 Free Video Editing Software for Chromebook
For those who have already heard about WeVideo is a video editing tool, you'll probably agree that it's one of the most popular online video editor available for free. The reason behind this is that it's user-friendly, has an intuitive interface, and is packed with several great features. It has three editing views, namely: Timeline Simple, Timeline Advanced, and Storyboard. Furthermore, aside from your media files, you can also access WeVideo's database that's filled with audio, graphics, and complete themes that are available for download.
Pros:
The file to be used for your video can be uploaded from several sources, such as OneDrive, Instagram, Facebook, Flickr, Dropbox, Box, Picasa, and so on.
It has 5GB of space and there are no file size restrictions. However, the larger the file, the longer it will take to upload it.
This video editing tool allows the user to access and reuse the uploaded media.
Cons:
There's no option to drag and drop the media files.
Supported Platform: Web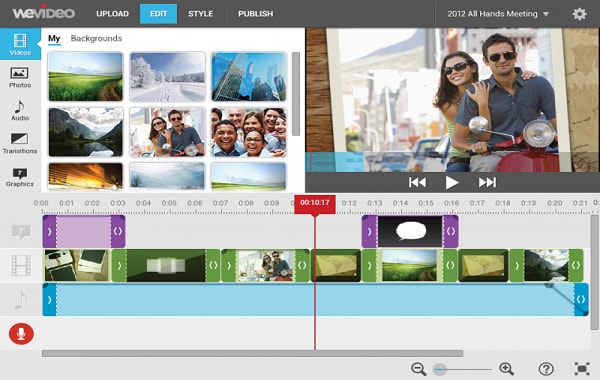 ---
For those who are looking for a video editor for Chromebook that allows you to create a video without spending much time, then the Magisto is for you. All you have to do is to upload the file, pick a theme, audio, and Magisto will do the rest. The movies published using Magisto can be accessed by clicking "My Movies," and you can share it with any social networking sites, such as YouTube, Twitter, and Facebook.
Pros:
The upload process will never be interrupted by Internet connectivity issues, unlike other video editing tools.
The video creation process is pretty simple and straightforward. All you have to do is pick from the "Editing Styles," then select a tune from their large selection of audio tracks-- or upload your own audio.
Cons:
This video editing tool doesn't connect with a wide range of services that Stupeflix and WeVideo do. However, it allows the user to drag and drop the files from the folder.
Supported Platform: Web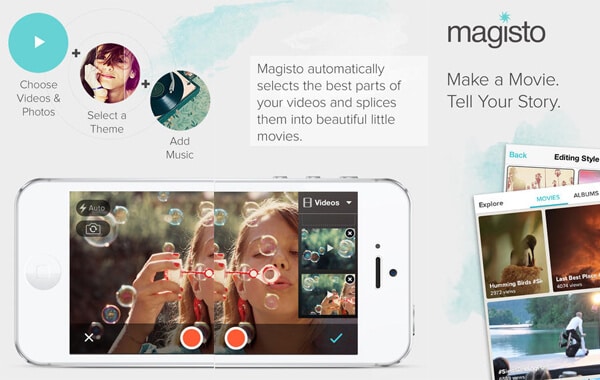 ---
Stupeflix Video Maker is a video editor for Chromebook that's packed with all the features you need to create a good movie. It comes with several themes to choose from, and having an account allows you to save previous projects or edit an already published video.
Pros:
This video editing tool is packed with small, but high-quality features, such as adapting the pace of the video to match the audio.
You can download a 360P with a free account.
Videos can be shared directly to Twitter, Facebook, YouTube, and even through email.
Cons:
Less advanced than WeVideo, but it still has many good features, such as the adjusting video clip speed.
When adding clips, there's no way to drag and drop the files from a folder to Stupeflix, but it's possible to select multiple files and upload them all at the same time.
Files larger than 40 MB can't be uploaded for free.
Supported Platform: Chrome OS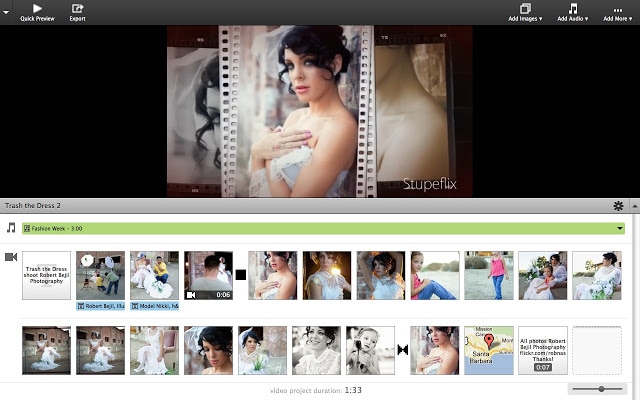 ---
JayCut is a video editing software for Chromebook. It has a familiar interface that's similar to non-linear video editors, such as Windows Movie Maker, iMovie, Final Cut, and Sony Vegas.
Pros:
It has several effects and transition effects available-- something that's uncommon for free video editors.
You can change the speed of the clips, and there are a couple of video effects as well.
It has a drawing tool that allows the user to draw directly on the video.
This video editing tool has a chroma key function that can be used for green-screen work.
Cons:
The settings, such as saturation, brightness, and so on are unchangeable.
The amount of text effects is somewhat limited.
Supported Platform: Chrome OS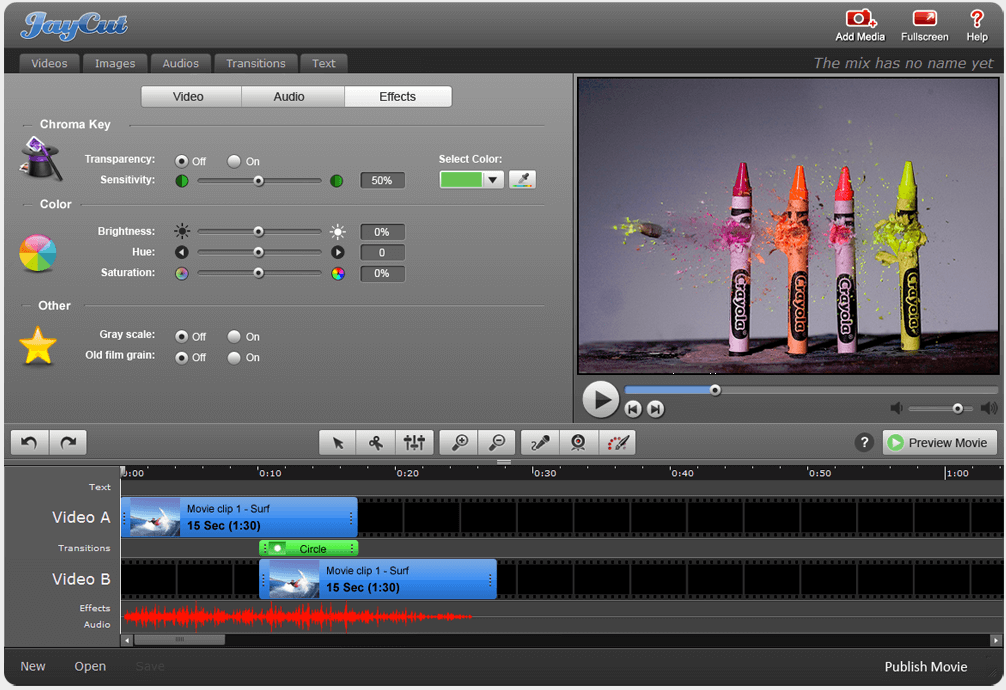 ---
By far, this video editing tool is an online Chromebook video editor. It's an editor that allows you to edit videos right from the page on YouTube. You can also add timelines, effects, transition, and crop the parts that you don't want to show.
Pros:
It has a wide range of creative commons for you to search, edit, remix, and so on.
Drag and drop feature.
Direct upload once you're done editing.
Cons:
Unfortunately, it seems like it's impossible to shorten the music clips.
Even though you can use multiple songs, they don't overlap. This can result in choppy audio.
Supported Platform: Web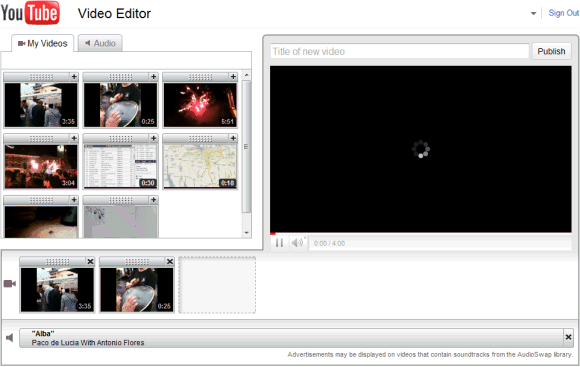 ---
Part 2. Best Video Editor on Desktop - Filmora Video Editor
The above 5 video editors all work well on Chromebook, but we have to admit that one of the biggest drawbacks of video editing on Chromebook is you can only complete light duty editing. You can't perform many of the same video creation tasks as Windows and Mac.
If you now need to simply edit a video, for example, trim or combine videos, Chromebook is enough. But, if you want to create an amazing and stunning video with cool effects, I think you had better choose to complete the task on Windows or Mac.
Most professional video editing software like Adobe Premiere Pro CC, After Effects, iMovie, and Filmora Video Editor can't directly work well on Chromebook. But when you intend to apply a transition, pan & zoom, green screen, and other stylish effects to videos, they can provide you with the best editing experience in Windows and Mac computer.
Thus, here I'd like to recommend Filmora Video Editor for Windows (or Filmora Video Editor for Mac) to edit videos on macOS Mojave and Windows 10. And it requires no professional skills for every user.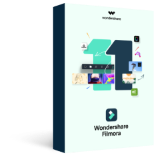 Best video editing software for beginner and semi-professional, that comes with powerful editing skills like trimming, splitting, rotating, editing, etc.
Advanced video effects like green screen, PIP, audio mixer, etc. can also be found and applied to your video within few clicks.
500+ free special video effects to customize and create an awesome movie by yourself.
1000+ standalone effects downloading resources to make videos in all kinds of styles.
Export videos to Chromebooks compatible format with 1 simple click.
So, when you find the video editor for Chromebook can't achieve your purpose or Adobe video editing software is too complicated to learn, you can try to use this alternative solution and you could get the best out of it.
If you're prepared to make creative videos and looking for a beginner-friendly software with advanced features, try Filmora for free. In case you are not familiar with this software, check the short clip below to learn some of its useful new features in the latest version: AI Portrait, Text Keyframe, and etc.