Video content has continued to lead with no chance of stopping, especially with the dominance of video-centric platforms like TikTok, Instagram, and YouTube. More businesses and individuals are creating video content every day, and this is where good video editing software comes in. Besides, if you have a windows laptop or desktop, there are numerous video editing software, both free and paid, available in the market, and it can be challenging to find one that fits all your needs.
Whether you are a beginner or a veteran video creator, this article will help you narrow your options and make your decision easier. This article will discuss the top video editing software for Windows, highlighting their selling points, features, benefits, and drawbacks. So, let's get right to it.
Part 1. Top 5 Video Editing Software for Windows 10
Filmora is the best choice if you are looking for a video editing software that offers numerous features, like an audio equalizer, screen recorder, audio separator, advanced text editor, and a tilt-shift, but isn't heavy to download.
Platforms accepted – Windows 8, 10, & 11
Filmora offers users different video editing features like auto reframing, green screen, text editing, picture in picture, audio mixer, keyframing, split-screen, motion tracking, AI Portrait, Preview Render, transition, effects, and AR stickers. Users can use this software to enhance the quality of their videos. It is compatible with the Filmstock effects store, enabling users to access different video effects, music, stock images, and sound effects. Apart from uploading to popular video sharing platforms like YouTube and Vimeo, Filmora allows users to transfer their videos to a DVD or any portable device. This software's drag and drop feature makes it easy for users to edit and rearrange their video clips, and its major selling point is the multiple features it offers.

Pricing:
It offers a 7-day free trial and a pro version, with the pro version giving users more control over their videos. Filmora pricing starts from $49.99, while Filmora Pro starts from $89.99. Our website, iSkysoft, an authorized reseller of Wondershare, offers amazing discount for Filmora ($39.99/year, $69.99/lifetime). Check it out now.
Pros:
Intuitive user interface
Easy to use
Multiple video editing features
Over 300 effects for different niches
Real-time video preview render
It supports social media platform video format
4K editing support
Frame by frame preview
Speed control and noise removal
It supports MP4, MPEG2, HD, and FLV video formats
Cons:
No Multicam editing support
No custom animation effects
No chapter authoring
Watermark included in the free trial version
How to Download:
---
2. Video Editor App
Suppose you are looking for a video editing software that offers creative tools that are easy to use and editing tools that enhance your video quality. In that case, Video Editor App is the best choice.
Platforms Accepted – Windows 10 and 11
The Video Editor app, which is a successor to Movie Maker, enables users to create and edit videos seamlessly using various tools and features like 3D effects, motion, filters, text, and music. You can choose from several tracks, or you can use your custom audio and sync it to your video easily. This in-built Microsoft editor is suitable for making quick video edits as you can use it to crop, trim, and customize video clips. Besides, the primary feature that I liked in this software is the animation tab that makes it easy to add credits, titles, and music.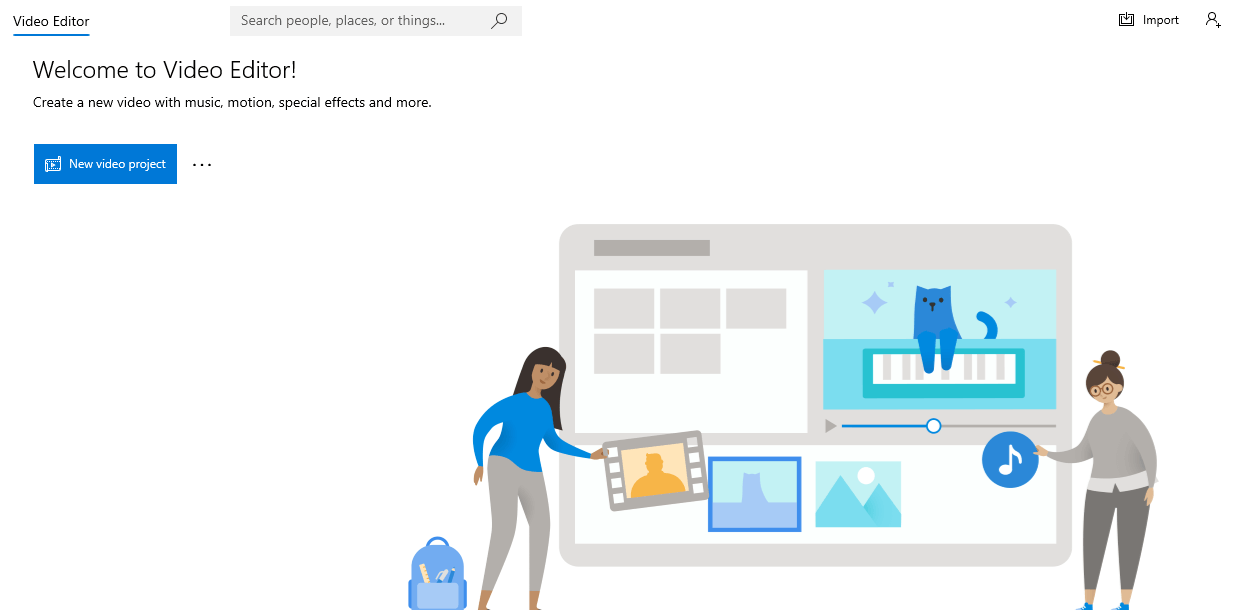 Pricing:
This in-built app is free to use
Pros:
It is free to use
It offers numerous features and tools
4K video export support
It supports speed ramping
Cons:
It is only compatible with Windows 10 upwards
No Multicam support
How to Download:
The software is in-built on Windows Laptops and Desktops.
---
3. OpenShot
OpenShot is the best choice if you are looking for video editing software that offers advanced features and cross-platform support across many devices.
Platforms Accepted – Windows 7, 8, and 10+
OpenShot is a free video editing software that seamlessly enables users to switch between simple and advanced editing modes. This beginner-friendly application is open source. Users can use the in-built video templates, real-time previews, unlimited layering options, and advanced timeline functionalities to edit and enhance their video quality. While using this software, we found that some of the features don't work as expected, and the software can be slow. However, you can use OpenShot for scaling, snapping, trimming, rotating, and resizing your video clips.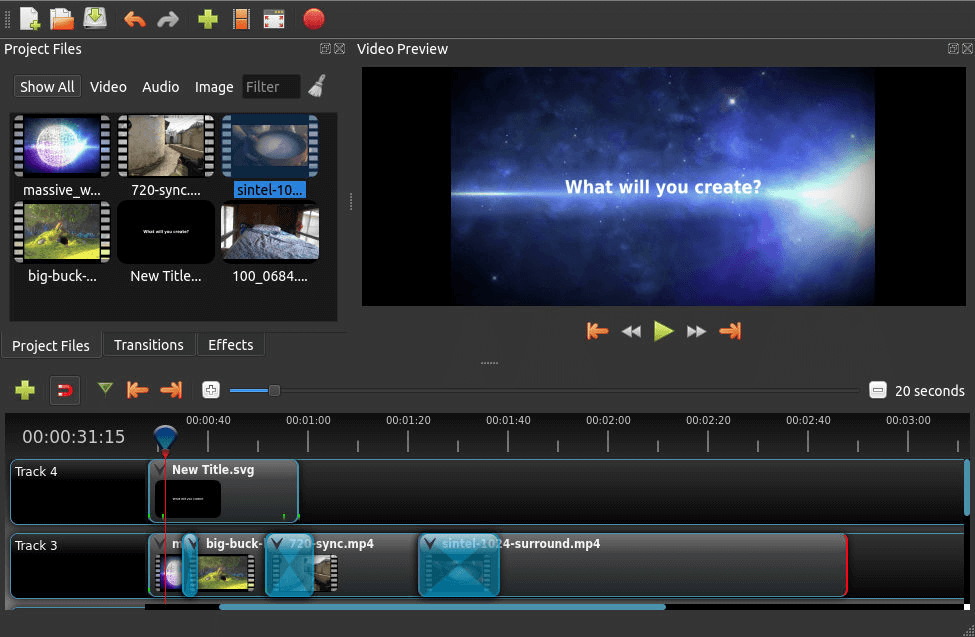 Pricing:
This software is free to download and use.
Pros:
Simple user interface
Unlimited layers
Cross-platform support
Easy to use
Open-source
Numerous video effects
Keyframe animation framework
Unlimited layers
Cons:
It is slower than commercial editing software
No Multicam editing support
How to Download:
You can download the software from the OpenShot website.
---
4. VSDC
VSDC is the top choice for you if you are looking for a user-friendly video editing software that offers a range of multimedia tools for desktop screen capturing, audio improvement and video editing.
Platforms Accepted – Windows XP, Vista, 7, 8, and 10
VSDC offers users a chroma key tool to remove background colour. There are other features like effects, colour correction, transitions, enhanced resolution, hardware acceleration, and filters they can use to improve their video quality. Users can also use this software to blend multiple footage layers into a single composition, and it supports a picture-in-picture effect and split-screen effect. The main selling point of this software is that users can use a sound graph to precisely edit tracks on their video. Additionally, they can apply video masking and stabilize shaky video footage with ease.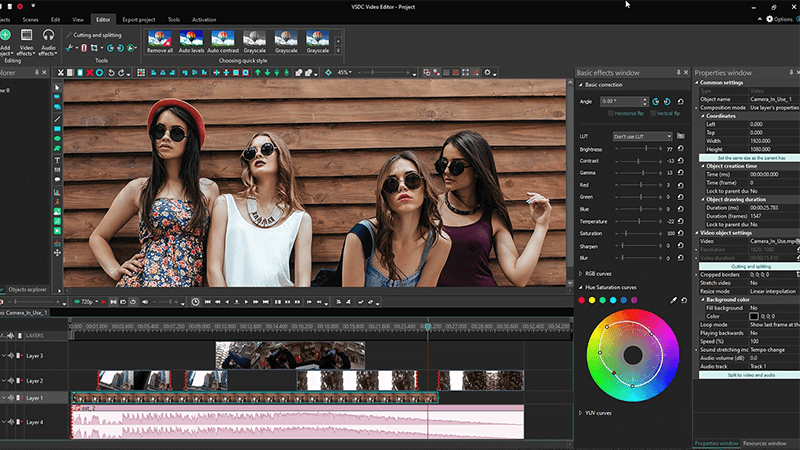 Pricing:
VSDC offers a free and paid version, with the paid version having more features like post-production effects, 3D diagram templates and video stabilization. The paid version goes for $19.99
Pros:
Motion tracking
Social media export
Video sync
Multi-colour chroma key
No watermarks
HD and 4K video export support
Cons:
No Multicam editing support
The interface is not intuitive
How to Download:
Visit the VSDC website to download the video editing software.
---
5. VideoPad
Suppose you are looking for a video editing software with that multiple effects, transitions, and supported video formats you can use to create and edit videos within minutes. In that case, VideoPad is the best choice for you.
Platforms Accepted – Windows Vista, 7, 8, and 10
VideoPad is a fully-featured editing software that enables users to create and edit videos quickly. You can use this software to edit videos from your camcorder, webcam, VHS, and GoPro, and it supports video file formats like AVI, MP4, MPEG, WMV, APNG, and DIVX. Users can export their edited videos to social media platforms, save them to portable devices, or burn them into a DVD. The main selling point of this software is the over 50 video effects and transitions available that you can use for 2D and 3D video editing. Besides, users can use audio effects like distortion, echo, and choral to edit their audios.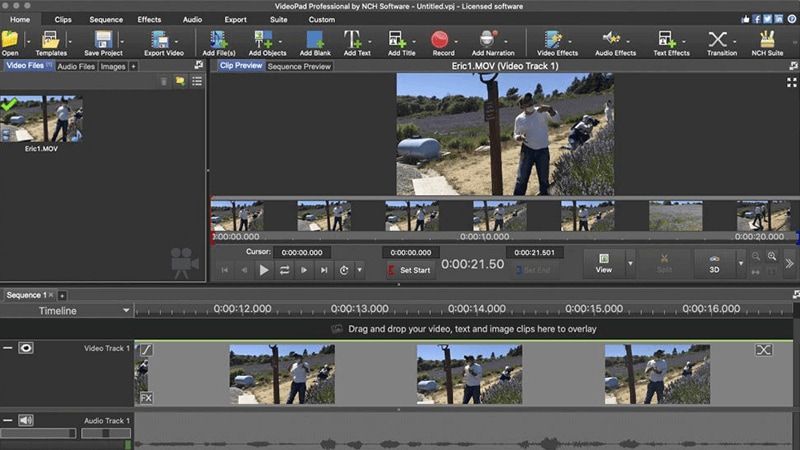 Pricing:
A free version is available for non-commercial uses. However, the VideoPad master's edition is $69.95, while the home edition is $39.95 per month. The paid versions offer more advanced features than the free version.
Pros:
Text overlay
Chroma key
Video customization and watermarking
Multi-track mixing
Sound effect library
Speed ramping support
Video templates
Full HD, 2K, and 4K video export support
360 video editing
Cons:
No Multicam editing support
How to Download:
You can download the free version from the VideoPad website.
---
Part 2. Filmora Video Editor - Best Windows 10 Video Editing Software for Beginners & Semi-professionals
We are in a digital age, and social media is taking us by storm, so you probably recorded a video of you and your friends, and you want to share it on social media platforms, but first, you want to edit it. So, you're wondering how. Relax, since this article introduces you to the best windows video editor called Filmora Video Editor. This program is a media editor that has many functionalities including, enables you to add moving graphics into your video, add texts to your video, adjust the white balance and dynamic range of your clips.
Step-by-Step Guide on Editing Videos on Windows 10 with Filmora
Step 1. Import Videos to Filmora
After opening the installed Filmora Video Editor, click the "Import Media Files Here" button on the interface. From there, choose the videos and photos you want to edit from the pop-up menu.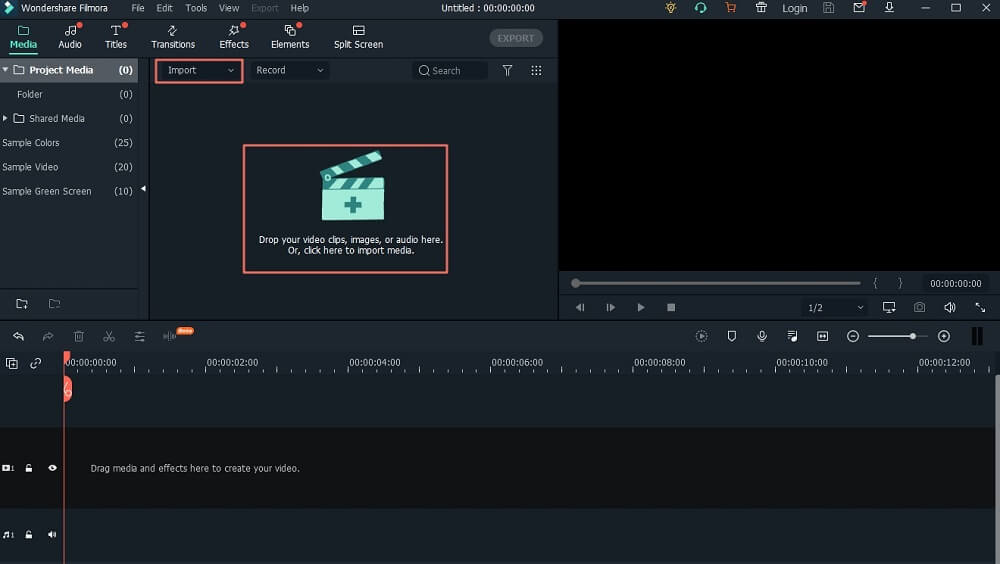 Step 2. Begin Editing Your Video
When you have uploaded the video, you can then drag and drop it to the timeline to make necessary editing.
To split the video into two parts or trim unwanted parts, drag the edge of the clip. Open the basic editing tools on the interface to rotate clip, adjust contrast, saturation, brightness, and speed then press OK.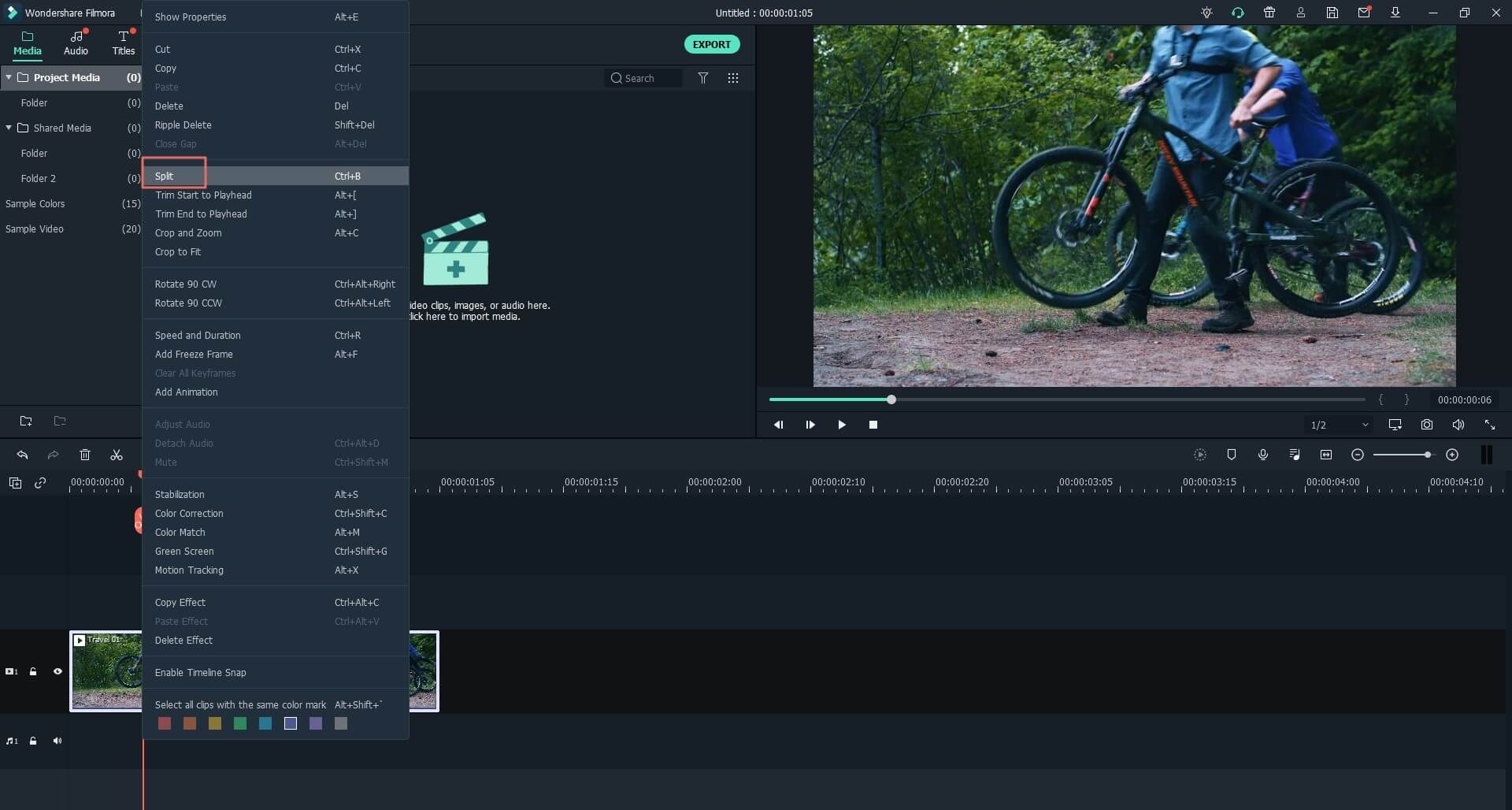 To add music to your video clip, drag your desired music from the music library and drop to the video, then you can edit audio as you like.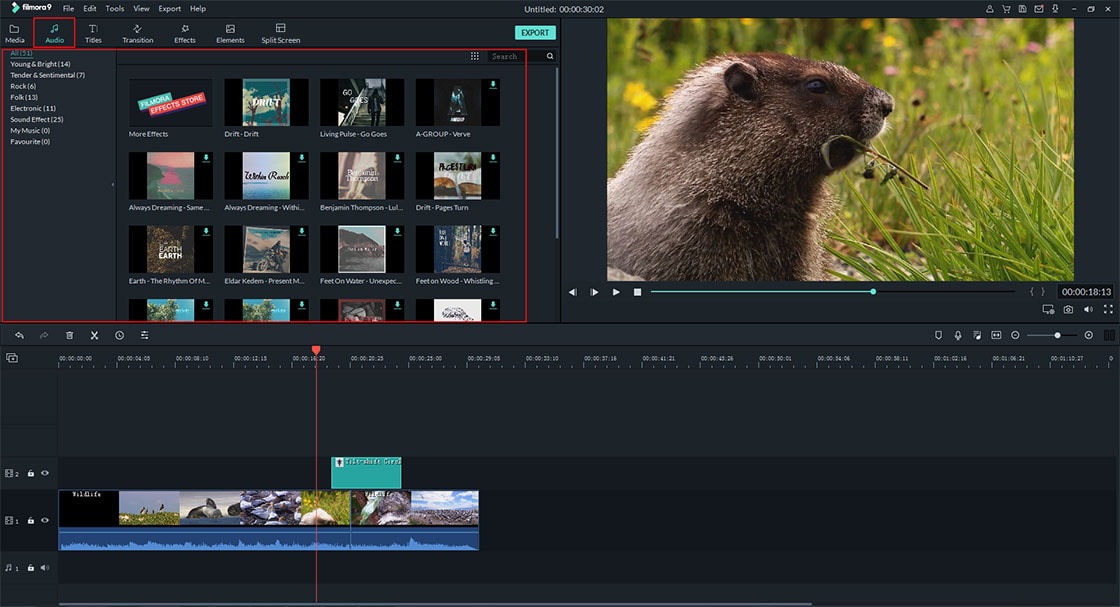 To crop the video, right click on the video and then select crop and mark the unwanted parts and crop. You can also zoom and then crop the parts clearly.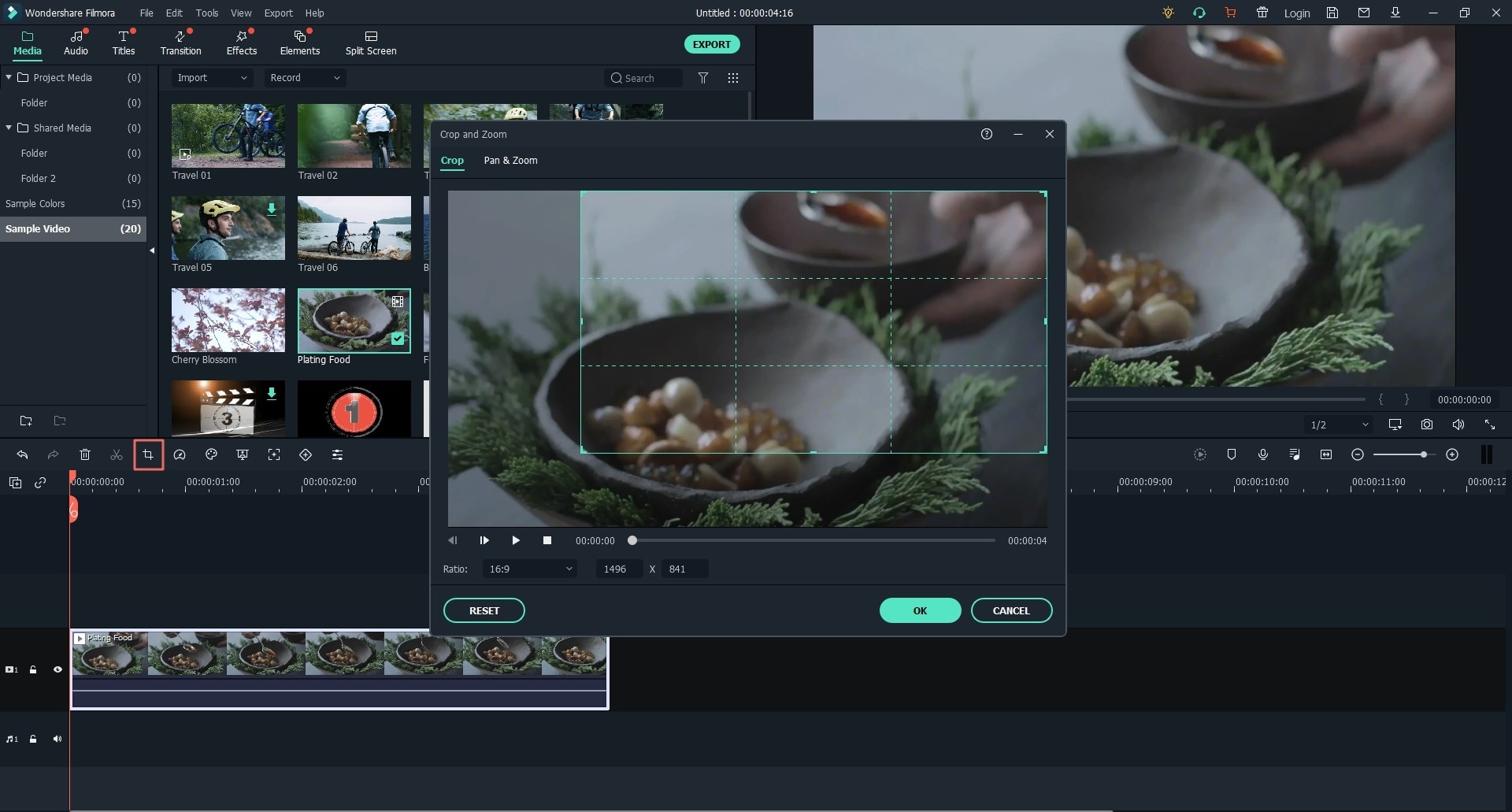 Step 3. Export Video
It is now time to save the edited video once you are satisfied with the editing. Click on the "Export" button and then select "Output" format. Choose the output format and then rename the video and choose a new path on the computer if you want. Finally, click on "Export" to save the video on your computer.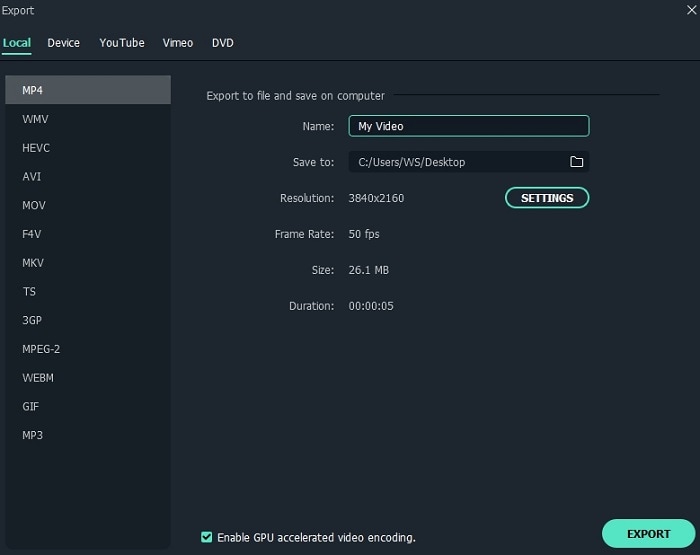 Filmora Video Editor is the best video editing software for Windows 10 because of its key features and its modern interface. If you want to know more basic editing skills about Filmora Video Editor, here is a simple guide to show you how to edit a video step by step.
And if you want to get more detailed guide on how to edit videos or apply effects in Filmora Video Editor, please check the user guide.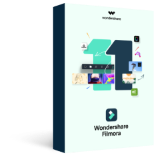 Supports almost all kinds of video formats, including MP4, AVI, MOV, AVCHD, MKV, and more.
Best video editing software for beginner and semi-professional, that comes with powerful editing skills like trimming, splitting, rotating, editing, etc.
Advanced video effects like green screen, PIP, audio mixer, etc. can also be found and applied to your video within few clicks.
500+ free special video effects to customize and create an awesome movie by yourself.
1000+ standalone effects downloading resources to make videos in all kinds of styles.