- What is the best/easiest video editing software for Windows 10?
When looking for the best video editing software for Windows 10, this article is a nice place to help you get out of the trouble. Here, I have picked up 5 advanced video eidtors for Windows 10/8/7 users and listed their functions, advantages and disadvantages one by one.
The best part?
I have also designed a tablesheet to help you compare these 5 top-rated video editing software intuitively, so that you can get a video editor for Windows 10 which can satisfy all your editing needs and with an affordable price.
If you're not good at video editing (like me), and want to get the best video editing software for Windows, you'll love this ultimate list of Windows 10 Video Editors for beginners, semi-professionals & even professionals.
Now, let's get started.
#1. Filmora Video Editor - Best Windows 10 Video Editing Software for Beginners & Semi-professionals
We are in a digital age, and social media is taking us by storm, so you probably recorded a video of you and your friends, and you want to share it on social media platforms, but first, you want to edit it. So, you're wondering how. Relax, since this article introduces you to the best windows video editor called Filmora Video Editor. This program is a media editor that has many functionalities including, enables you to add moving graphics into your video, add texts to your video, adjust the white balance and dynamic range of your clips.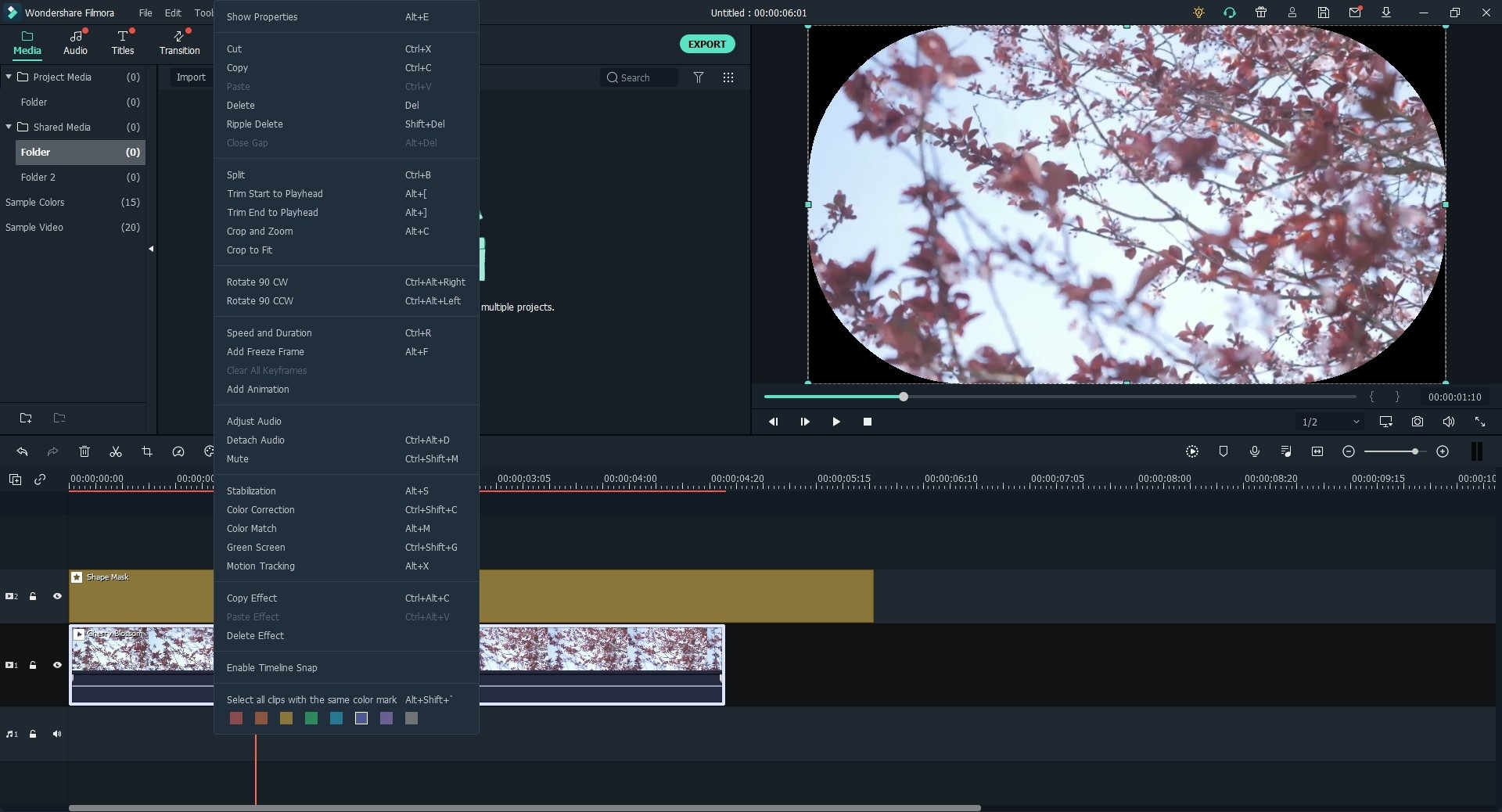 Why Choose This Video Editing Software for Windows 10
With this video editor, you can edit audio by, fading in and fading out, audio splitting, audio trimming, adjusting volume and managing pitch.
This software has the best video controls which are: video cropping, video rotation, video saturation, merging of videos, increasing of video brightness and speed.
Filmora also has advanced features including Picture in Picture video editing, videos stabilization to eliminate camera shake effect, video reverse controls, audio equalizer just to mention a few.
This video editor has a variety of filters and graphic overlays to enhance your videos.
Supports exports and sharing of files to online sites like Vimeo and YouTube.
What's important, this program provide users with an user-friendly interface, that requires no professional skills in video editing.
How to Edit Videos on Windows 10 Using Filmora Video Editor?
Step 1. Import Videos to Filmora
After opening the installed Filmora Video Editor, click the "Import Media Files Here" button on the interface. From there, choose the videos and photos you want to edit from the pop-up menu.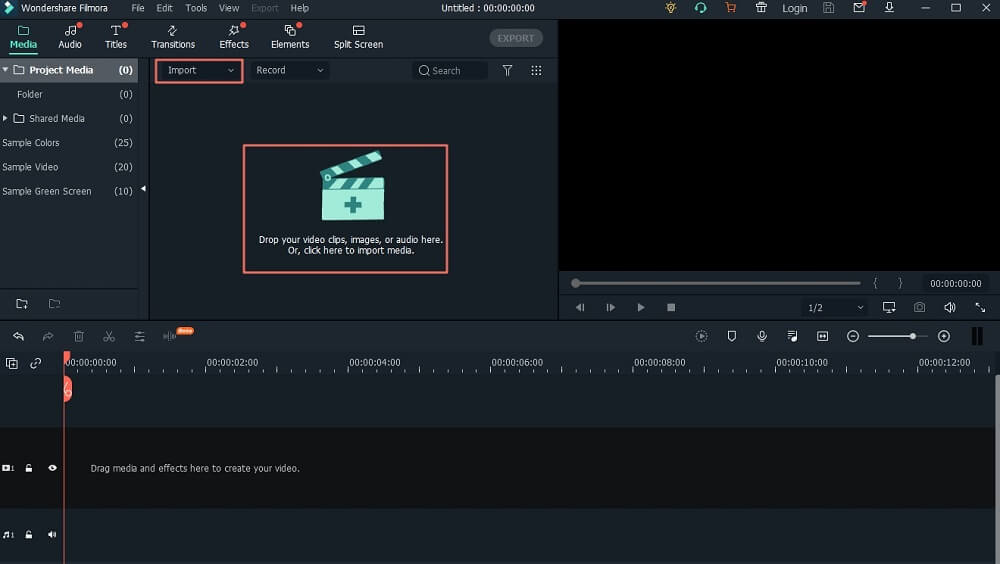 Step 2. Begin Editing Your Video
When you have uploaded the video, you can then drag and drop it to the timeline to make necessary editing.
To split the video into two parts or trim unwanted parts, drag the edge of the clip. Open the basic editing tools on the interface to rotate clip, adjust contrast, saturation, brightness, and speed then press OK.
Can't Miss: How to Split Video into Frames with Filmora Video Editor [3 Ways]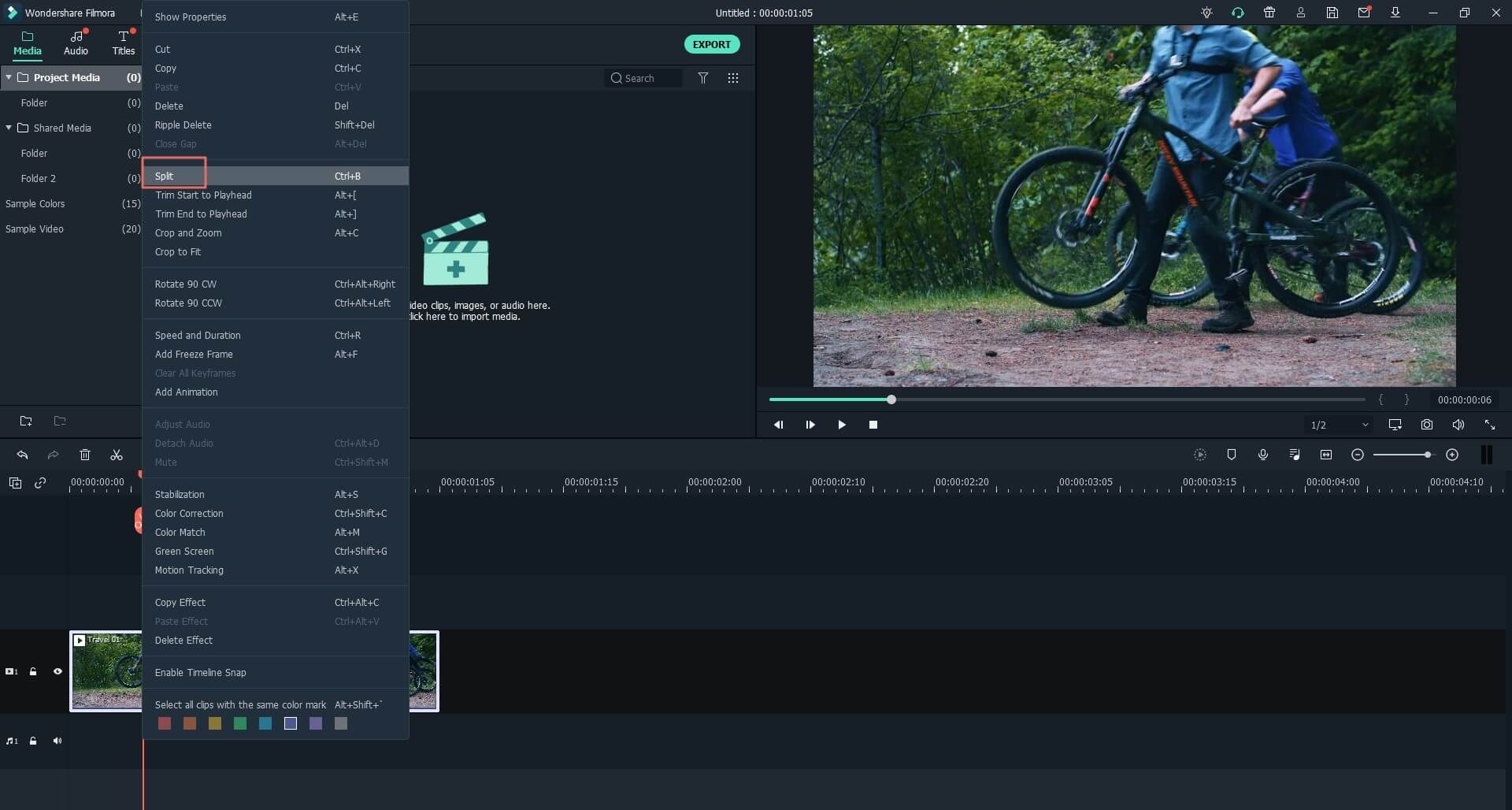 To add music to your video clip, drag your desired music from the music library and drop to the video, then you can edit audio as you like.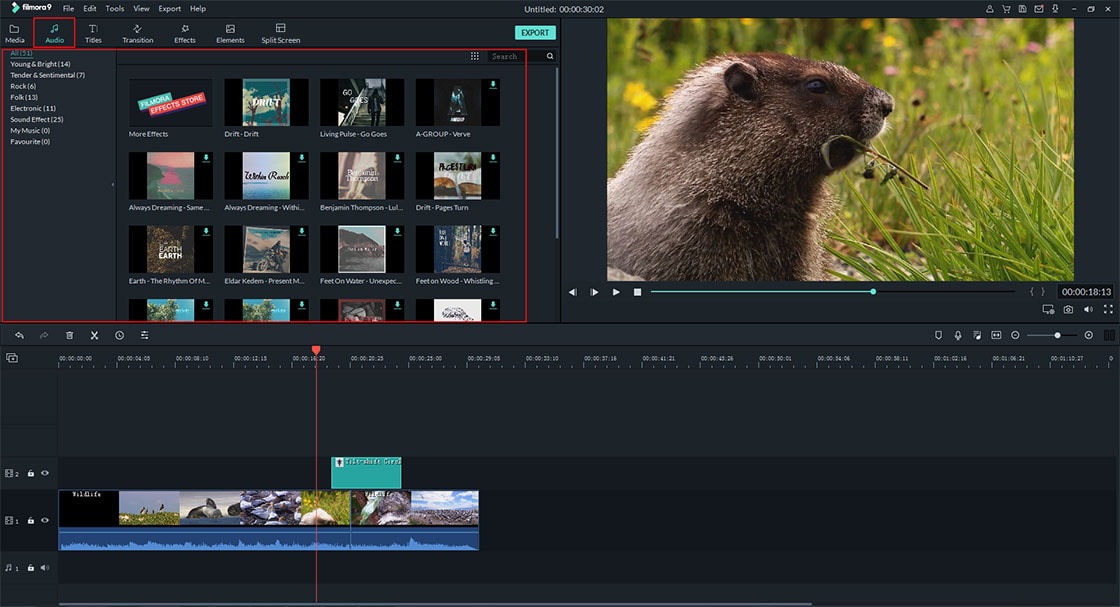 To crop the video, right click on the video and then select crop and mark the unwanted parts and crop. You can also zoom and then crop the parts clearly.
See Also: How to Crop A Video on Windows in Details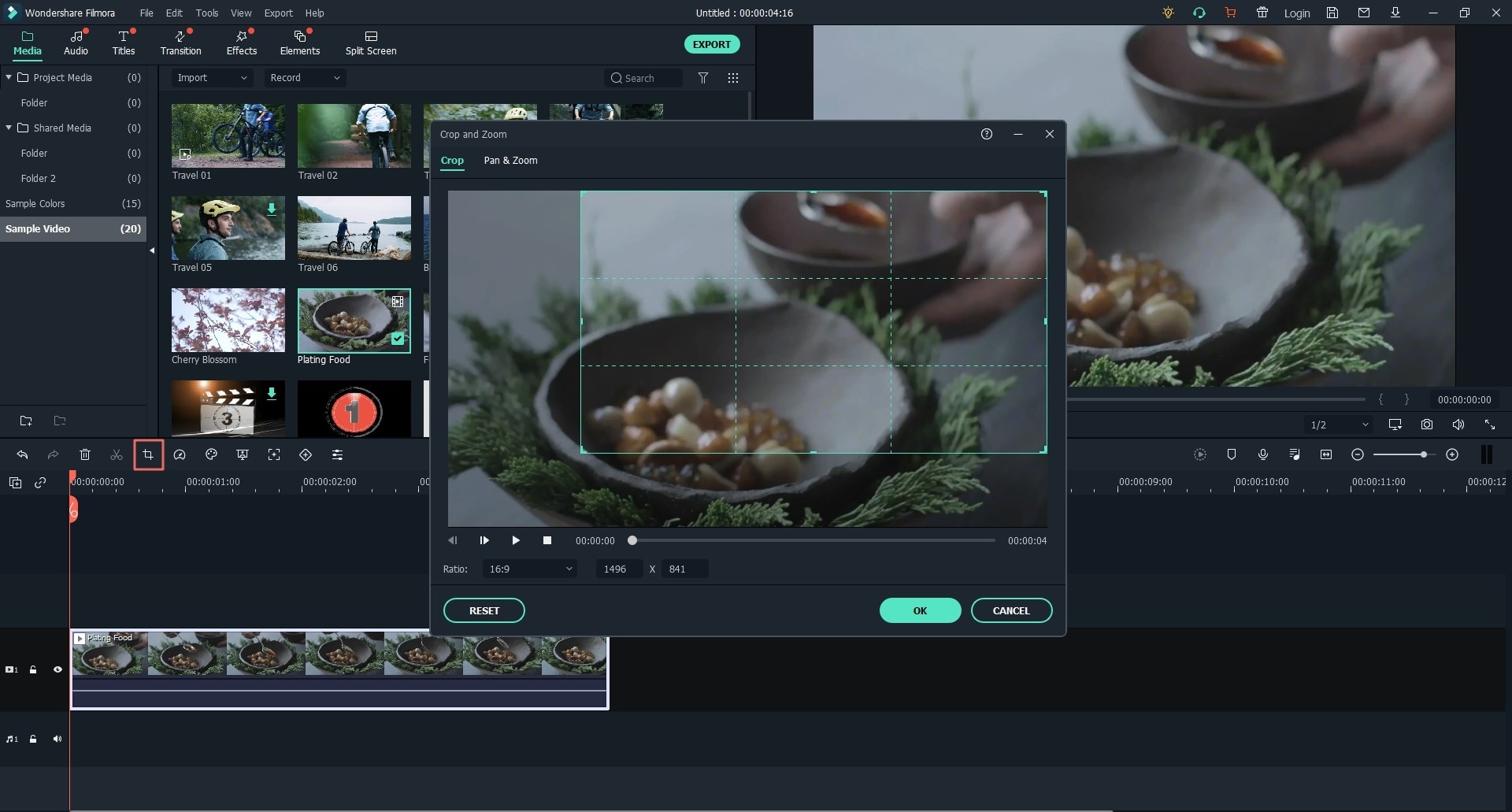 Step 3. Export Video
It is now time to save the edited video once you are satisfied with the editing. Click on the "Export" button and then select "Output" format. Choose the output format and then rename the video and choose a new path on the computer if you want. Finally, click on "Export" to save the video on your computer.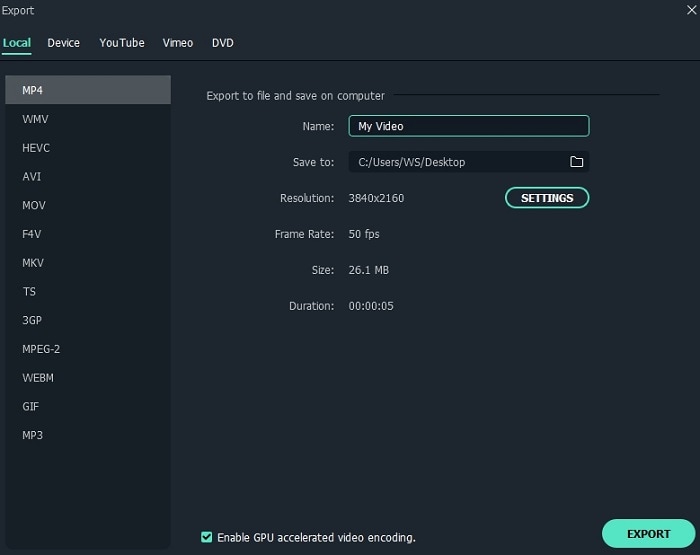 Filmora Video Editor is the best video editing software for Windows 10 because of its key features and its modern interface. If you want to know more basic editing skills about Filmora Video Editor, here is a simple guide to show you how to edit a video step by step.
And if you want to get more detailed guide on how to edit videos or apply effects in Filmora Video Editor, please check the user guide.
---
#2. VirtualDub
VirtualDub is an open-source video editing software program for Windows 10. The user-friendly interface makes this video editor for Windows easy to use and will help you to perform editing tasks like adding files, deleting files, cropping side bars, reordering video parts and rotating videos. This video editing software for Windows 10 is an all-in-one program that can as well convert videos apart from editing. Those are the main features that you will get to enjoy by choosing to edit your videos with VirtualDub.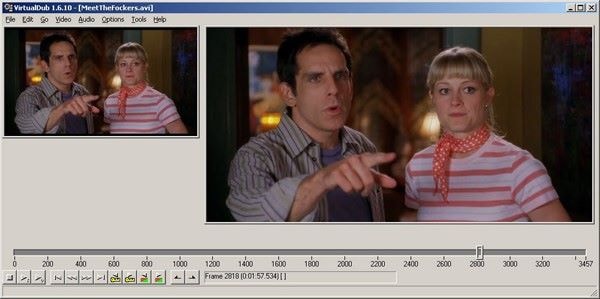 Pros:
This program offers the option for video capturing so you don't have to import your files during editing.
You can resizes video using Super Resolution method.
It supports batch processing which means it's possible handling multiple video files at the same time.
Cons:
Despite the interface being user-friendly, it can frustrate at times since it is prone to delivering poor performance.
Beginners will have difficulties understanding how it works.
---
#3. Pinnacle VideoSpin
Pinnacle VideoSpin is a Windows 10 video editor software points out to intuitive software that you can rely on for professional video editing. It offers simplicity for those who are beginning with video editing and experienced ones as well. Standout features for Pinnacle VideoSpin are making photo slideshows, deleting needless scenes from a video, 2D transitions, video effects and adding audio or text overlays. You should not have reservations for choosing to have Pinnacle VideoSpin as the preferred program for video editing anytime you have such needs to satisfy.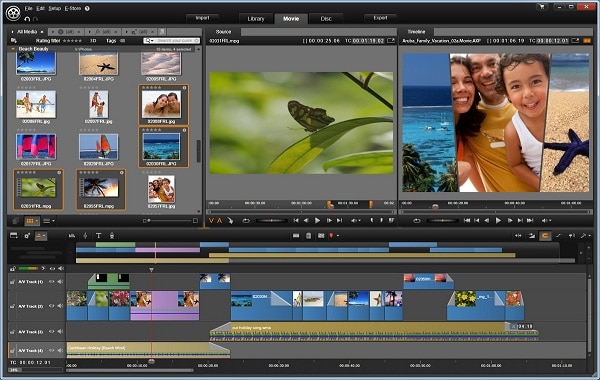 Pros:
This program has support for many file formats pointing to its high compatibility rate.
the timeline makes it easy to edit so you will not experience any difficulties.
Cons:
You will have to seek registration prior to installing this program to your computer.
You might have to buy Advanced Codecs Pack at a cost of $10 in advance which will have restrictions to certain formats.
The fact that the program has not been updated since 2009 casts its suitability in doubt. So it might not compatible with the latest Windows system well.
---
#4. Sony Vegas Movie Studio
Sony Vegas Movie Studio is a video editor for Windows 8, 7, 10 that will be a top consideration when editing video. It will be the right choice for coming up with stunning videos at very minimal of your effort and resources. If you are passionate about video editing, then Sony Vegas Movie Studio should be the program that you go for and its retails start at $49.95.
If you want a free trial version, this video editing software for Windows 10 is available for consideration. Sony Vegas Movie Studio is an all-in-one solution for video editing thanks to unique features that include simple interface, video stabilization, texts and real-time effects.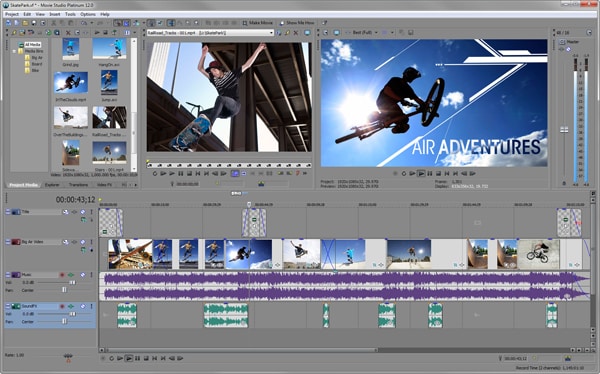 Pros:
It has support for limitless input and output formats. You will enjoy assured compatibility regardless of the format for your videos.
Provide lots of versions to satisfy customer's different needs.
Cons:
Many people are unable to afford it due to the high price while trial version has limited functionalities.
---
#5. Windows Movie Maker
Windows Movie Maker is free video editor software for Windows 10. You will be lucky to get a free version of Windows Movie Maker. With no cost incurred, you might be unable to enjoy some of the basic features in this free video editing software for Windows 10. But, that should not be a discouragement because Windows Movie Maker has features to make you comfortable including basic editing tools for slowing down and speeding up video, split, trim as well as adding effects and transitions.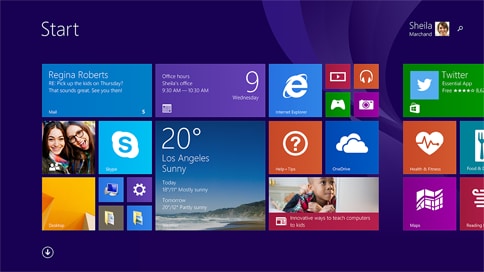 Pros:
You will have unlimited options for video editing to enjoy.
The timeline feature makes editing easy.
Increased output options will enhance compatibility.
Cons:
You will not have the option for video cutting and it is selectively available as part of Windows OS.
You might encounter no Windows Movie Maker icon on Windows 10 and Windows Movie Maker not working on Windows 10 sometimes.
Now, Microsoft has announced that it will no longer maintain the Windows Movie Maker anymore.
---
Comparison - Which is the Best Video Editing Software for Windows 10?
There are five different video editing software for Windows 10, which program are you ready to try first?
In order to help you make a decision, here I have created a tablesheet to help you make a comparison between these Windows video editor.
Just pick up the best video editing software for Windows according to your own needs.
|   | Filmora Video Editor | VirtualDub | Pinnacle VideoSpin | Sony Vegas Movie Studio | Windows Movie Maker |
| --- | --- | --- | --- | --- | --- |
| Targeted Users | Beginners & Semi-professionals | Semi-professional | Beginners | Ethusiast | Casual |
| Import Videos in Different Format | Yes | Yes | Yes | Yes | Yes |
| Supported Platform | Windows, Mac | Windows | Windows | Windows | Windows |
| Lowest System Requirement | Windows 7 64bit, macOS 10.12 | Windows 7 64bit | Not Update since 2009 | Windows 7 64bit | Not Update since 2012 |
| Price | $39.99/Year | Free | Start at $54.95 | Start at $49.99 | Free |
| Advantages | Easy to use, provide users with basic and advanced editing skills. And 200+ special effects for users' reference. | Open-source program, allows users to edit videos easily | Easy to use and compatible with a large amount of video formats. | Powerful ability to edit videos with multiple timelines. | Windows built-in video editing software and free. |
| Disadvantages | Might not suitable for professionals | Not easy to use for a beginner and no lifetime technical support service | The version has not updated since 2009 casts | Not easy to use for a beginner or semi-professional | Only provide users with the basic editing skills and cannot be found on Windows 10. |
Now, if your choice is Filmora Video Editor, just click the below icon to take a trial!