Are you a diehard fan of TikTok but cannot make videos up to the mark?
Many users on TikTok have managed to create a firm place on the market, owing to their dancing, acting, and communicating skills. From teenagers to elderlies, almost everyone has their profiles on TikTok and actively posts different types of videos on this platform. But before you post these videos, you need to edit them so that they look flawless and charming.
It is almost impossible to achieve perfection without using the TikTok editing app. This application comes with a wide range of features that will help you make desirable changes in the videos to get more views and likes.
Part 1. How to edit with TikTok's built-in editor?
TikTok itself comes with a built-in editor. If you are not proficient with using other types of applications, you can use this TikTok video editing app without any hassle. But before you do so, don't you think it would be better to know more about the entire process? Yes, it is, and that is why we have explained the entire process in the below section.
1. Adjusting the camera settings
Once you open the application, click on the plus button at the bottom bar to open the camera screen. Here, you will get a lot of features that you can adjust to get the desired effect. For instance, you can choose between slow record and time-lapse shoot, turn on the beauty mode, select the filter, and even choose a timer.
2. Adding effects to the video
One of the best things about the TikTok video editing app is the availability of several customizable features that you can choose to get the best effect. For example, you can create multiple clones of yourself who will move along with you during the video. You can even choose a background from your gallery to change the entire scene.
3. Recording the video
Once done, you need to record the video. Ensure you are not changing any settings once you are done with the camera adjustments.
4. Adjusting clip durations
After recording the entire video, your next task will be to adjust the clip duration. Since the clip you want needs to be perfect, it's better to record a longer video. This way, you can trim it from either end to the best part in your hand.
5. Editing all sounds
You can also add sound effects to the video post-recording, which is the best part of the in0built app. You can either add library sounds or the ones you have downloaded. But make sure the audio you want to add is within 15 seconds to 60 seconds.
6. Adding transitions and stickers
Lastly, you need to add transitions and stickers to bring the desired effect into the video easily. Once it is completed, you can upload the video on TikTok.
---
Part 2. Top 10 TikTok editing apps in 2022
With the growing popularity of TikTok, users are demanding more advanced features in the video editing app. As the in-built editor doesn't come with much flexibility, the demand for the TikTok editing app is rising. This is why we have listed down the top ten applications using which you can easily edit the videos and make them flawless, just like what you want.
1. Wondershare Filmora
Wondershare has truly outsmarted all its competitors with this wonderful TikTok editing app. It comes with some of the best features you won't find anywhere else, like masking the clips, automatic synchronization of the beats, speed ramping, and so on.

How to download:
Rating: 4.1
Platform: Windows, Mac
Price: Monthly plan is $9.99
Main features
Change backgrounds and allow the addition of new pictures
Ducks all audio to make your voice sound prominent
Motion tracker for different videos
Preset video editing templates
Pros
Advanced editing features for animated videos
Custom options for texts and transitions
Split the clips into different portraits
Cons
Might become slow when too many edits need to be done
Best for which users: Filmora is best-suited for professionals or experts
---
Adobe has always launched some of the best applications, and Adobe Premiere Rush is no exception. This outstanding TikTok editing app has tons of features for adding audio, setting transitions, making motion videos, and even adding multiple filters.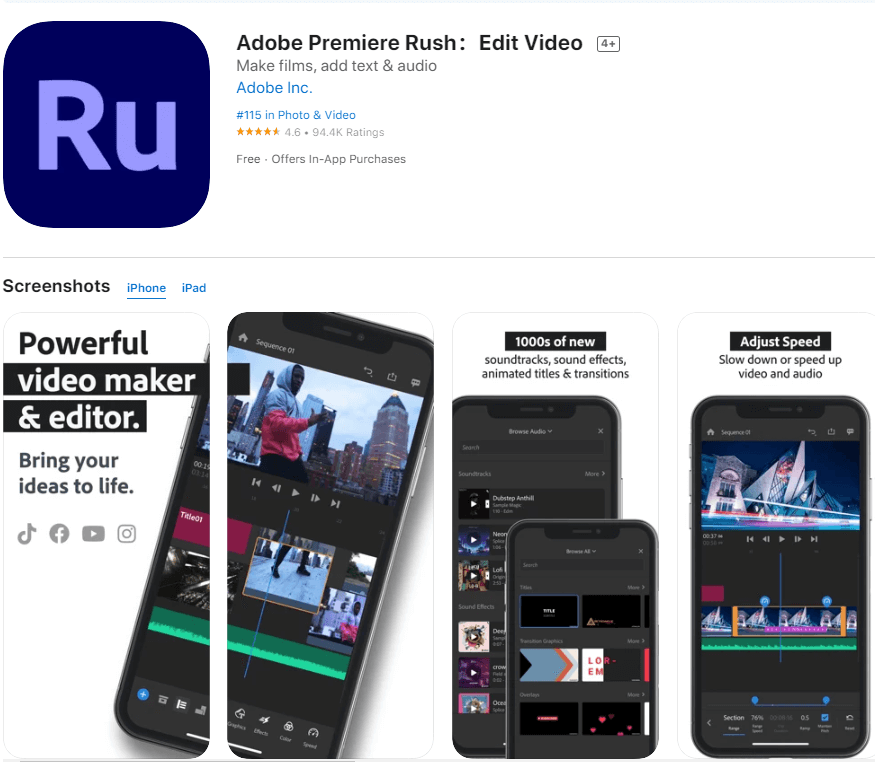 Rating: Google Play- 3.2; Apple Play- 4.6
Platform: iOS, Android, Mac, Windows
Price: Free
Main features
Transitions tailored to match needs with drag-and-drop feature
Built-in templates for adding custom titles
Change video speeds on the professional interface
Voiceovers and audio ducking for excellent media incorporation
Availability of both manual and preset color correction
Pros
Exports the edited videos to TikTok directly in a right aspect ratio
User-friendly interface with tons of on-screen features
Sound library is stocked with different music and is free
Cons
Doesn't come with storyboard templates
Has fewer editing options
Best for which users: Adobe Rush is for any user on TikTok. But if someone searches for multiple edit features, then this is not the right choice.
---
If you are looking for an easy-to-use TikTok video editing app, Viamaker is one of the best apps. Its intuitive user interface and excellent features are some of the main reasons why it has become a favourite. For example, you can cut, trim, and layer different videos and achieve the best edit that might earn more followers.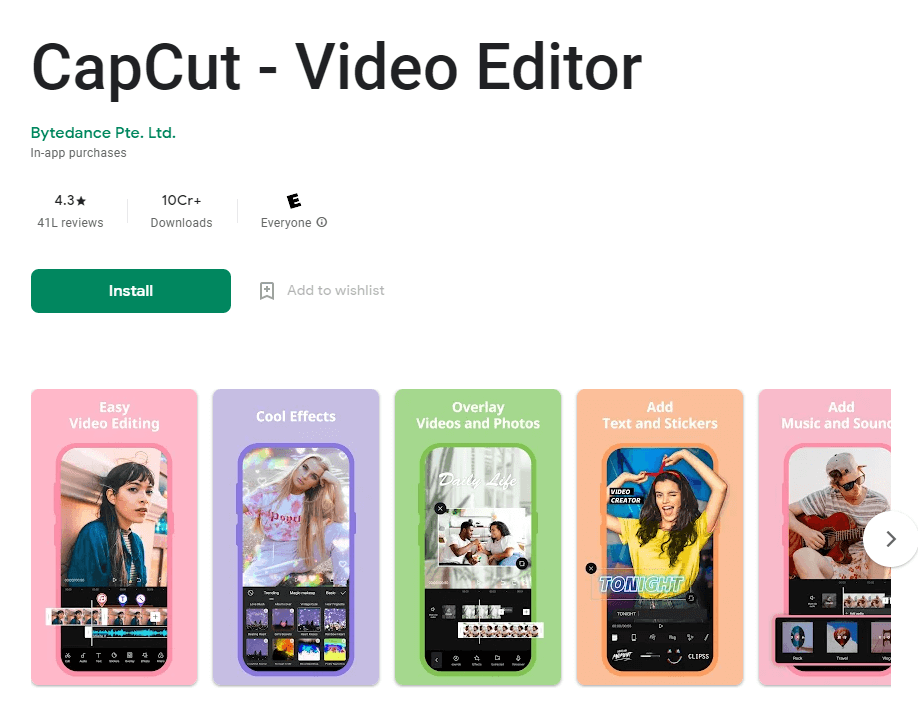 How to download:https://play.google.com/store/apps/details?id=com.lemon.lvoverseas&hl=en_IN&gl=US, https://apps.apple.com/us/app/capcut-video-editor/id1500855883
Rating: Google Play- 4.3; Apple Play- 4.3
Platform: Android, iOS
Price: Free
Main features
Supports 46 languages for a lot of users
Allows adding and trimming of multiple clips at once
Huge library of stickers that can make your video outstanding and very much different
Allows users to layer different layers along a timeline
Comes with a huge collection of fonts for adding custom titles and texts
Loaded with multiple filters that can accentuate the images
Pros
Free audio songs from the in-built library
Layered images and videos
Trimming and merging different clips
Cons
Doesn't come with advanced features
Best for which users: This video editing app is suitable for beginners or people who don't want to go into the details of editors.
---
If you make TikTok videos anywhere, having a mobile app sounds great. This is where Music Video Maker is included in the list. With an outstanding user interface and tons of loaded features, you won't get bored, and that's for sure. Apart from editing the videos, you can also create slideshow animations and upload them on TikTok.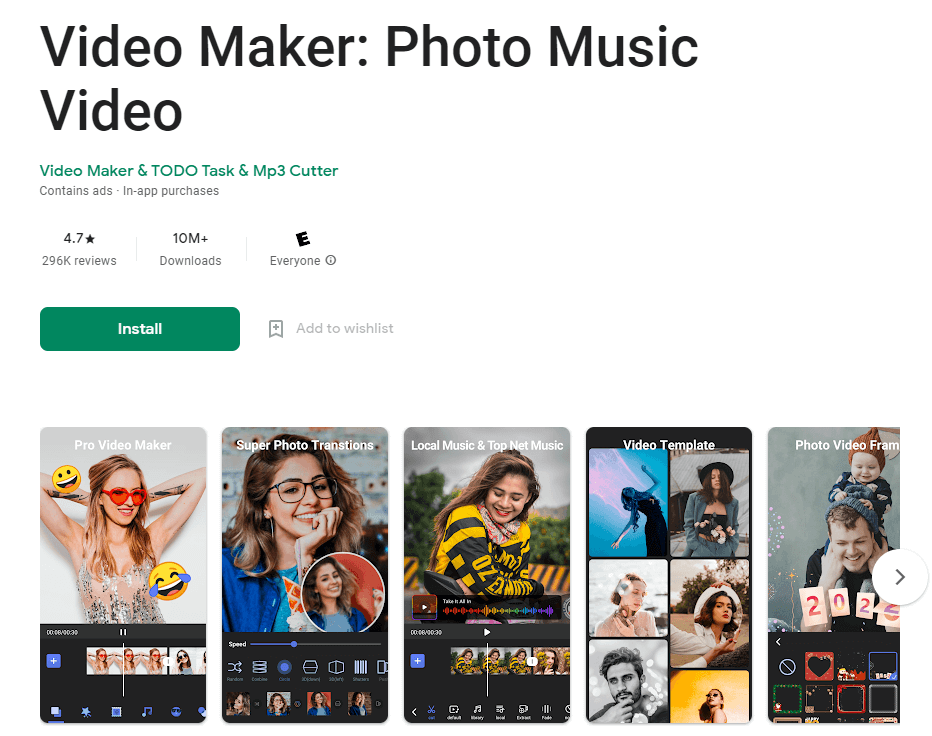 How to download: https://play.google.com/store/apps/details?id=com.musicvideomaker.slideshow&hl=en_US&gl=US
Rating: Google Play- 4.7
Platform: Android
Price: Free
Main features
Loaded with a wide range of music and songs
Stickers and emojis can be pasted directly on videos
Customizable animation duration with trimmer
Multiple options for color filters
Pros
Rotatable photo
Instant share to different applications
Free background music
Cons
Custom title not available
No feature for adding transitions
Best for which users: Ideal application for Android users
---
Having some of the best features, this TikTok editing app will be your best friend without any errors. From layering the video stills to trimming the clips, you will get many options to make the perfect videos that will get more than a hundred likes easily.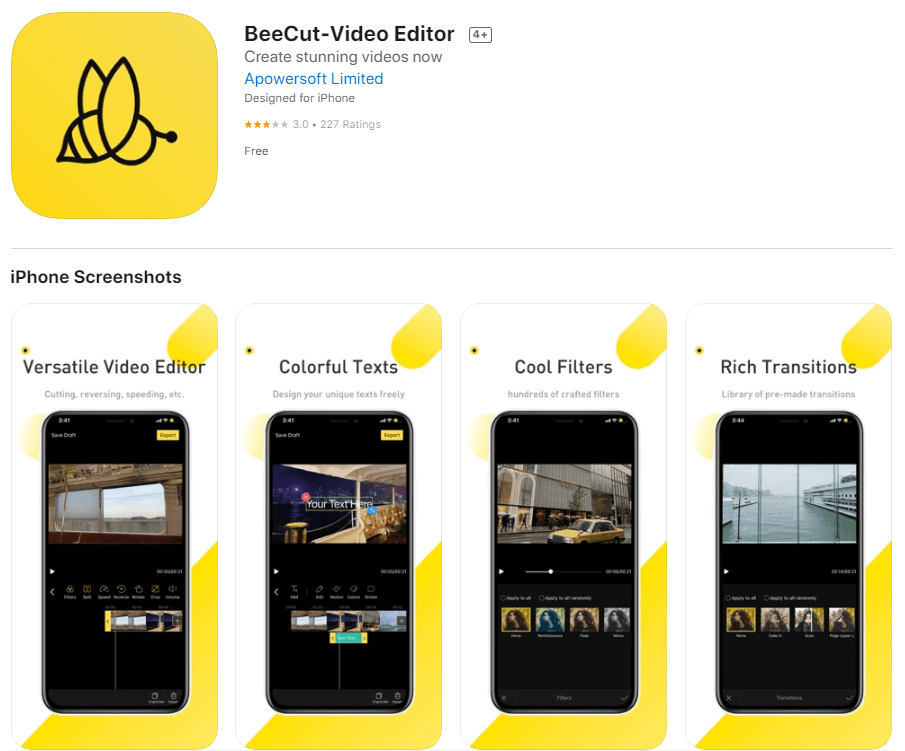 How to download: https://apps.apple.com/us/app/beecut-video-editor/id1445377713
Rating: Apple Play- 3
Platform: Mac, iOS, Windows, and Android
Price: Monthly package is $29,95
Main features
Split and merge image frame
Allows the addition of multiple layers in timeline mode
Custom text overalls and frames
Features speech recognition technology
Pros
Converts audio to text
Loaded with multiple overlays and transitions
Helps in fine-tuning colors
Cons
Starts lagging while working with 3D videos
Best for which users: Thanks to the advanced features, this application is best suited for professionals.
---
Packed with outstanding features, you can not only create amazing videos but bring life to the clips with overlays, colour settings, customizable texts and logos, and so on.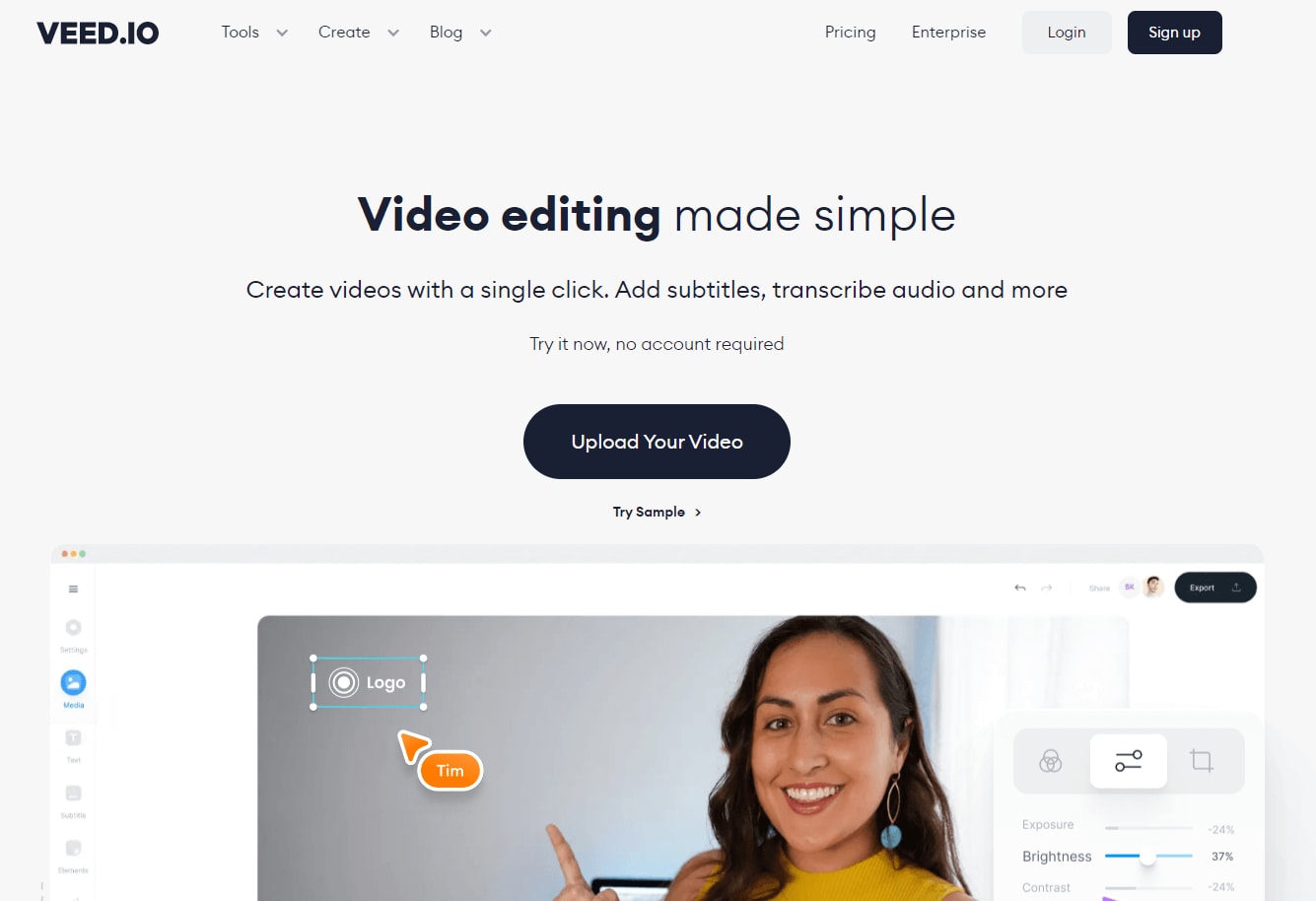 How to download: https://www.veed.io/
Rating: 3.9
Platform: Web browser
Price: Basic version costs around $3.86
Main features
Features manual, auto, and uploaded subtitle add options
Customized title box with controls on screen
No chromatic aberrations or distortions, thanks to color correction
Loaded with sample video templates for easy referencing
Upload any video and easily convert them into GIFs
Pros
Easy to use with intuitive UI
Comes with a free plan for trials
Compatible with multiple media file formats
Cons
Isn't compatible with different OS systems
Best for which users: Laptops or computer users who are yet to use any video editing app.
---
Used by more than 30 million users, this wonderful TikTok video editing app will help you create the perfect videos without much effort. It comes with a new feature called Snippets that can add more life to the clips.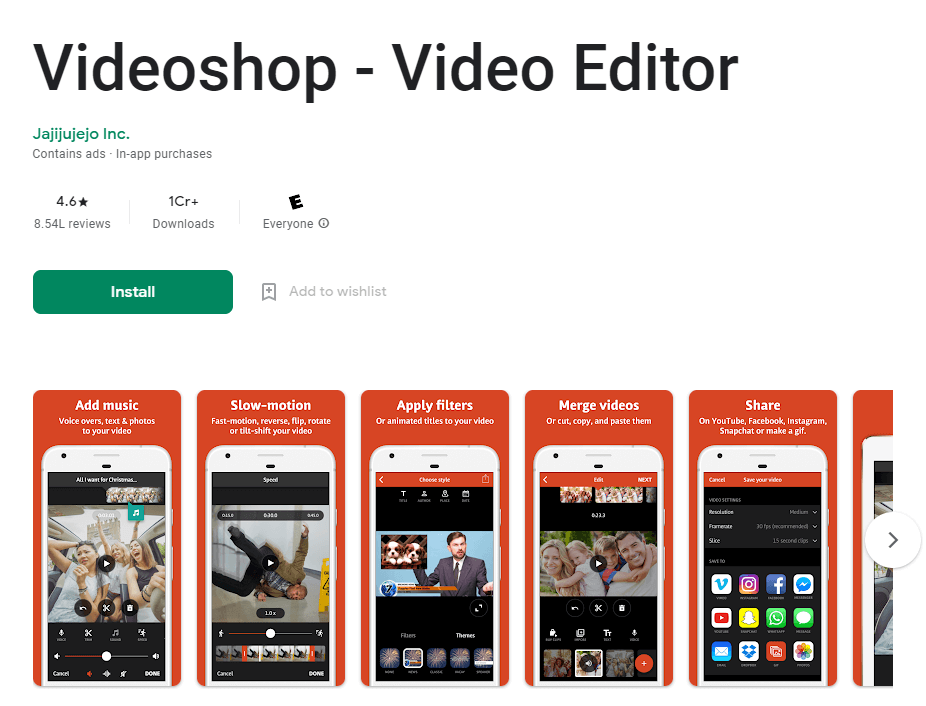 How to download: https://play.google.com/store/apps/details?id=com.videoshop.app&hl=en_IN&gl=US, https://apps.apple.com/us/app/videoshop-video-editor/id615563599
Rating: Google Play- 4.6; Apple Play- 4.9
Platform: Android, iOS, Windows, MacOS
Price: Free
Main features
Comes with more than 1 million songs in different languages
Customizable fonts, texts, clip arts, and pictures
Advance editing features are reversal and freezing, along with slow motion
Superimpose images along with tiltshift
Pros
Loaded with different types of filter or edit options
Curated texts and banners
Export to TikTop with no distortion
Cons
Customized fonts and texts are available for iOS only
Best for which users: Expert users who have been editing videos on professional apps.
---
HitFilm Express is a popular TikTok video editing app that you can easily enjoy and get the desired clip that can earn you a lot of likes. It is loaded with some of the best features needed to edit the videos, like overlays, customization, transitions, etc.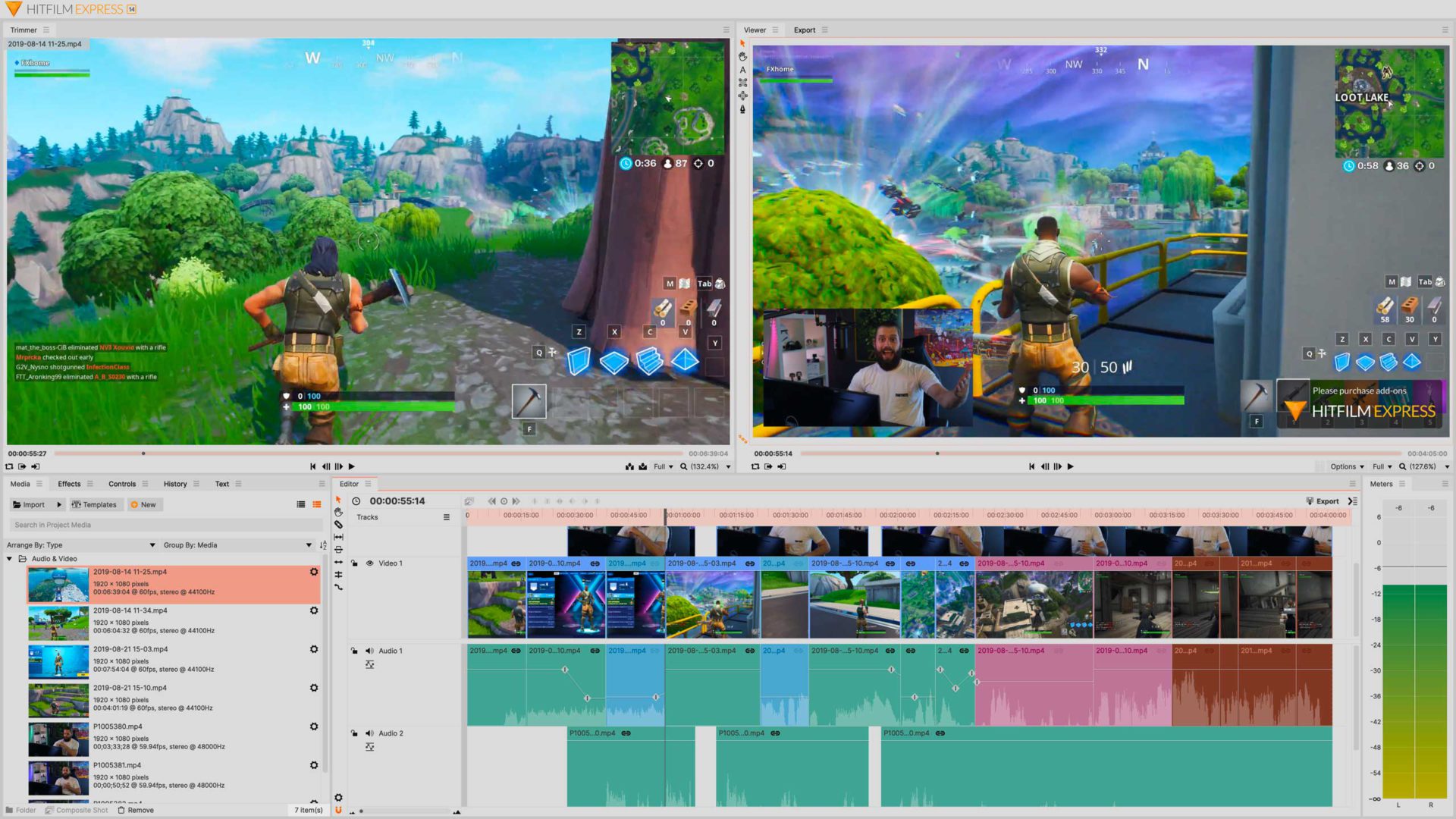 How to download: https://hitfilm-express.en.softonic.com/download
Rating: 4
Platform: Windows
Price: Free
Main features
Split tool to help you work with different clips on one window
Customize titles, texts, emojis, and cliparts
Control panels will show all edits being done
Premier review is meant to go through the edited file in preview mode
Pros
Comes with 100 hours of tutorial videos
Doesn't have any watermark
Easy drag-and-drop editing window
Cons
Doesn't come with too many customizable features
Best for which users:
---
EaseUS is one such TikTok video editing app that can never ruin your videos or animated clips. It comes with basic functions like trimming, rotating, cropping, and cutting, allowing users to deal with complex work.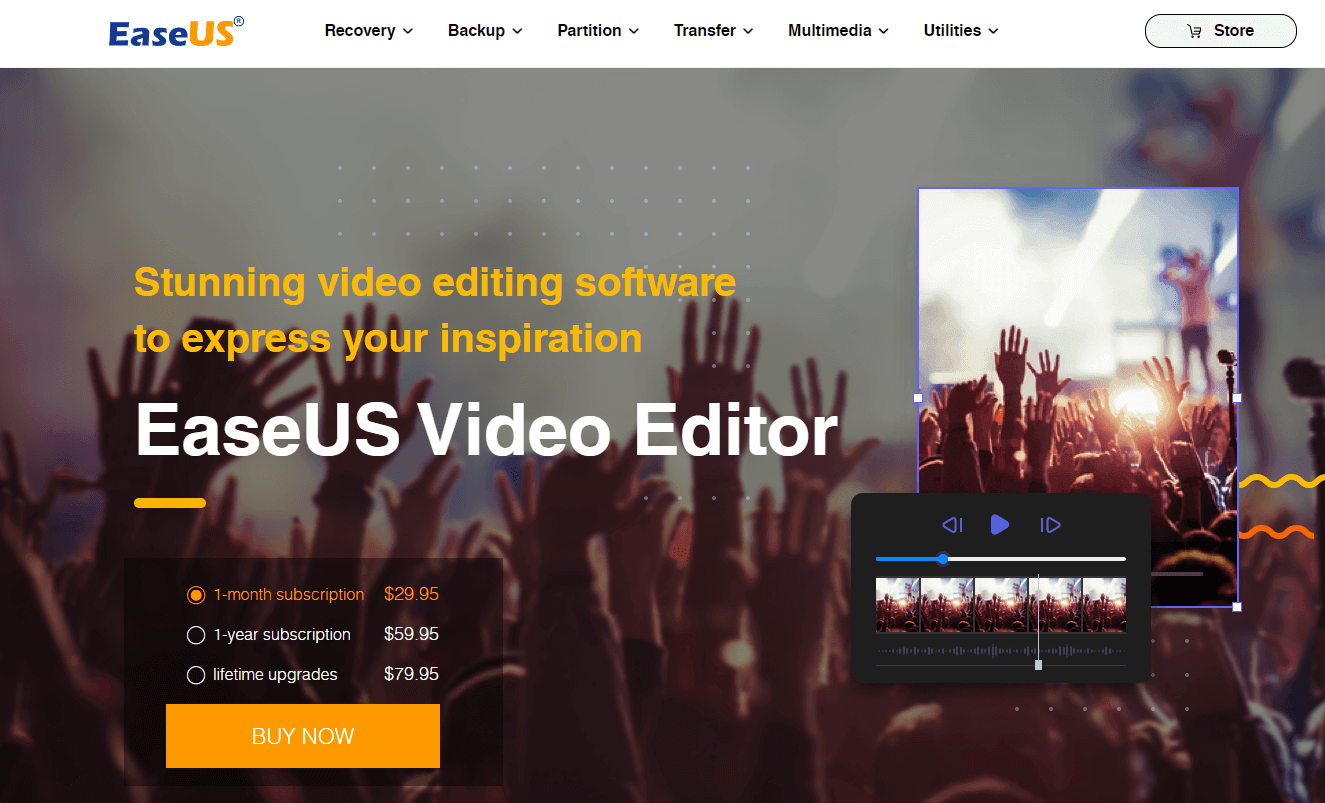 How to download: https://www.easeus-software.com/multimedia/video-editor.html
Rating: 4.3
Platform: Windows
Price: Monthly pack is $29.95
Main features
Comes with 50 transition and visual effects
Imports and mixes different music tracks
Records all speeches
Multiple color filters for better use
Pros
Loaded with different live features
High range image adjustments
Transitions are available
Cons
Best for which users: Made exclusively for beginners, intermediates, and pros who want to create some outstanding videos.
---
Solely made for Apple users, this is one of the best video editing apps that can help edit clips in a snap. Thanks to the outstanding quality and tons of features, editing the videos was never so easy.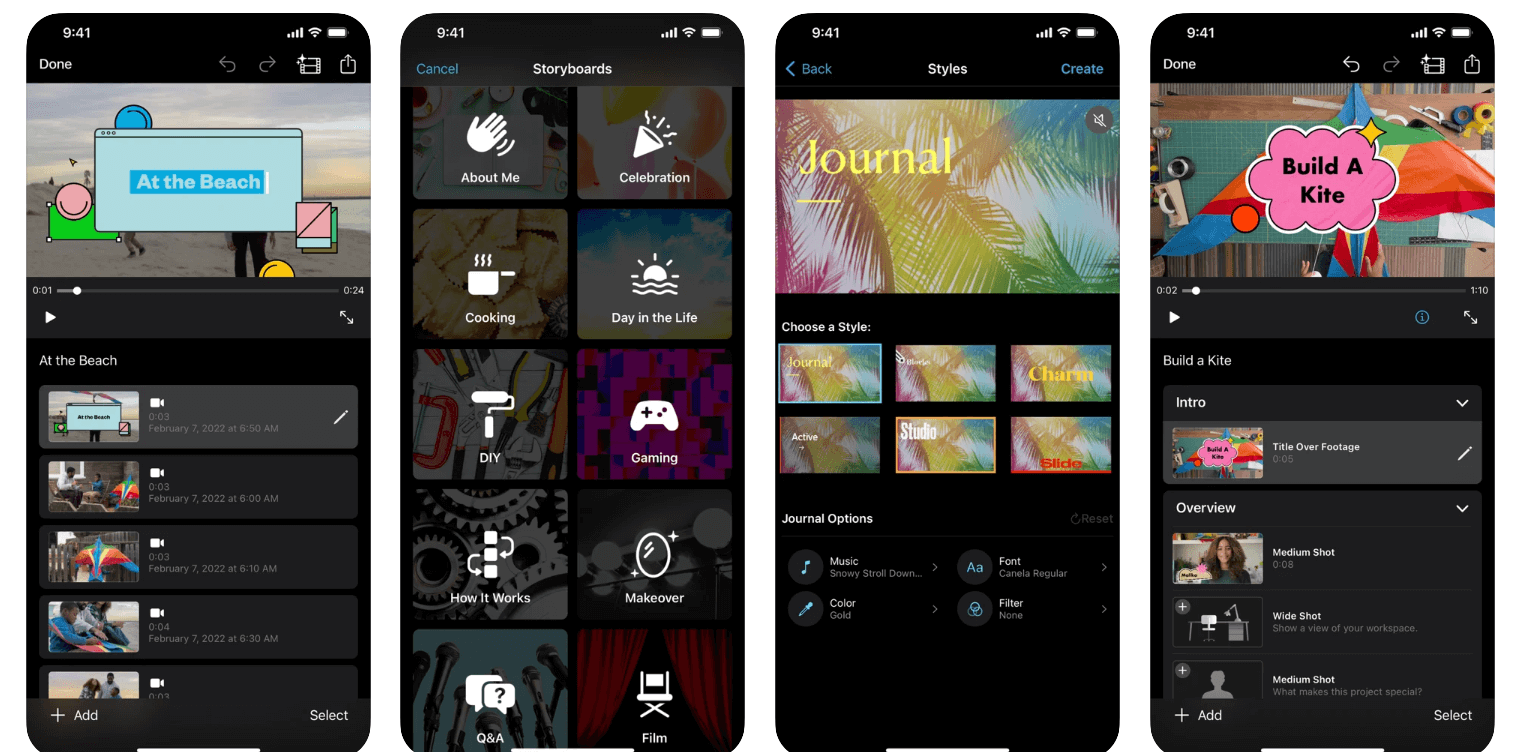 How to download: https://apps.apple.com/us/app/imovie/id377298193
Rating: Apple Play- 3.9
Platform: iOS and Mac
Price: Free
Main features
Twenty video looks
Trim, cut, and rotate the clips
Twenty storyboards
Custom camera and lens shots
Pros
Helps capture shots with higher quality
Comes with a Cinematic mode
Supports 4K videos
Cons
Best for which users: Suitable for Apple users only
---
Part 3. Conclusion
With the best TikTok editing app in hand, you won't have to worry about not getting any likes on your video posts. Some of these apps are best for the beginning, like Viamaker and Filmoro, while Adobe Rush and Veed are best for experts or professionals. Similarly, EaseUS, Veed, and Adobe Rush are the best if someone wants advanced editing features. Go for Viamaker or Music Video Maker since they come with free subscriptions if you are on a budget. So, with so many apps, you need to choose the best one wisely so that your videos can get likes and comments just like you envisioned.