Contents
1. Get to Know WhatsApp
2. WhatsApp for Desktop and Mobiles
3. How to Use WhatsApp
In this technology age, it is hard to imagine one's life without WhatsApp. WhatsApp is an amazing economical application that allows the user to send text messages, pictures, video, voice notes and acquaintances using this application. It functions through a reliable internet connection or WiFi connection or with 3G or 4G data connection. If you are looking forward to use WhatsApp specifically on a Windows Phone then it should run at Windows 7.5 or higher version than it. It will work for lower versions. This article will instruct you to get and use WhatsApp for Windows Phone.
Part 1. How to Get WhatsApp on Windows Phone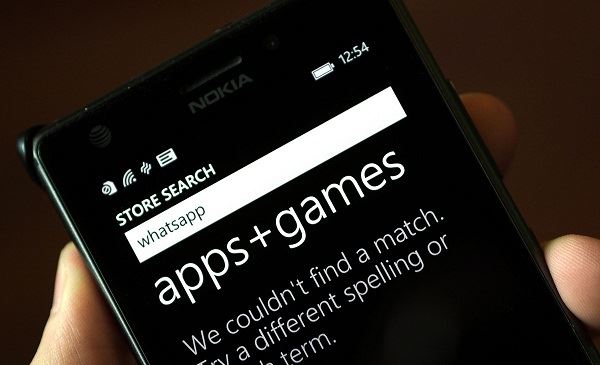 Steps 1. One can find WhatsApp at Windows Phone store, simply tap on it and start downloading it. Once application is installed tap on WhatsApp, it will open application.
Step 2. As soon you open up application, a "Terms and Condition" will show up on the screen. It is better to read them once and then agree with them. Next is to proceed further.
Step 3. Next step is to enter to the required country code and mobile number. As soon as one fills information a verification message is sent through SMS or Voice message. Once that code is filled WhatsApp starts functioning.
Part 2. How to Send Messages Using WhatsApp on Windows Phone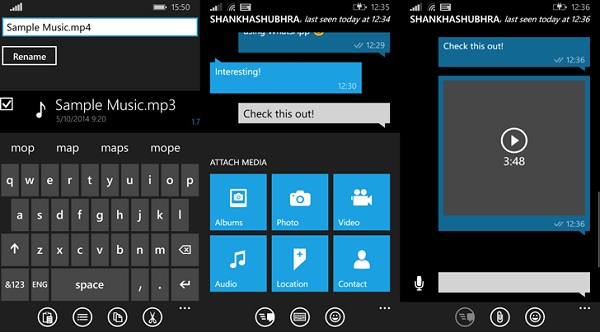 The people in contact list who are already using WhatsApp will already appear in contact list and one can simply start sending them one to one messages.
Step 1. You need to come on the main page of WhatsApp, after that you need to tap the "New Message" icon which can be found on the right corner of window phone screen in order to send messaging your saved contacts.
Step 2. In the list of contacts, you can tap one of your friends you would like to send a text to. Then, you complete composing your message; you need to touch the arrow in order to send text to your friend message.
Step 3. If you want to add voice, videos, pictures messages, and multimedia message in your message, you need to tap "paper clip" icon which can be found on the right corner of the screen.
Part 3. How to Group Chat Using WhatsApp on Windows Phone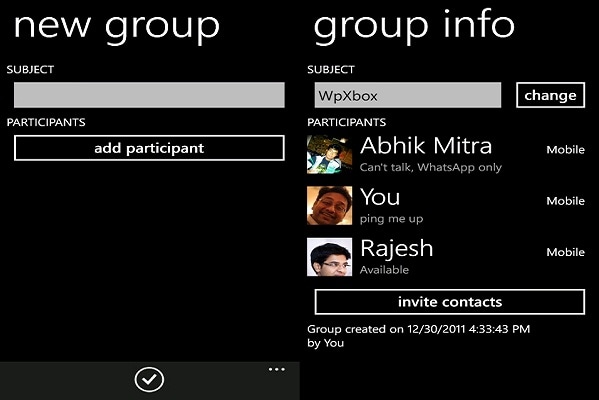 Step 1. First you need to tap the WhatsApp icon on your window phone. After that, on main page, you need to tap the "Menu" button in order to access menu box.
Step 2. It may show at the bottom of mobile screen. You can Tap "New Group" in order to make group.
Step 3. In next step, you need to type your friend or colleagues name you would like for your group and tap "Next".
Step 4. After that, you will come on next page. You can add few important people in order to group. On the list of contact, you can click the box beside the name of person you would like to add into your created group. After that, you need to tap "Done".
Step 5. In order to start chatting with your friends, you need to only tap the group icon.
Try to use WhatsApp only with Wi-Fi connections. As this is an App specially designed for Wi-Fi not normal data connections. Otherwise it might lead to battery drain faster. If you want hide your real name then you can use verification code that will allow preventing calls or messages from unknown numbers. As WhatsApp uses one's mobile number even if one's SIM is not working one can use WhatsApp on phone, tablet, or such like device just with WLAN or Wi-Fi connection on windows phone.
If by chance one has lost WhatsApp messages then it could be easily recovered. Messages are stored in the SD card. So, one can easily use saved messages in SD card. These messages saved are from past week to the day. To get messages back go to SD card, tap WhatsApp and type database. Voila!! Messages are back!
WhatsApp is a very useful app it could be tagged to other apps also linked to function on their behalf. For example as to Magiapp tricks available for WhatsApp. This helps one to send and also hide pictures location in any other photos. WhatsApp is just an exceptional App that makes your friendships, business communications, and conversations as easy as possible. So go ahead download it on your phone and enjoy it.