Contents
20. Transfer Photos from Phone to Phone
Transfer of photos from one phone to another is an everyday activity that almost every phone user does. It may be that you have bought a new phone and would like to transfer photos to new phone or it could also be that you want to transfer photos from a friend's phone to yours. Moreover, the situation can also be occasioned by the need to share photos with family members. At such times, you need to find a transfer software that can transfer photos from phone to phone easily, faster, safer and get assurance of 100% transfer of the original photo without any alteration or damage. Do you know of a software that has all those features? Here you will get the solution.
The best software that can efficiently and effectively facilitate the transfer of photos from phone to phone in 1 click is MobileTrans for Mac ( or MobileTrans for Windows). This is a high quality professional transfer software that facilitates transfer of contents in 1 click, safely and risk free. With this software, transferring all datas from phone to phone becomes very easy and a 1 click job. You can do more with it:
It is an easy-to-use solution to share or transfer photos from phone to phone. Does not need special skill nor ability and transfer is just in 1 click.
It transfers data 100% as the original data. Photos in our context.
It comes with easy-to-use data backup and restore feature.
You can transfer contacts, messages, videos, music, and more between iOS, Android, BlackBerry and Symbian.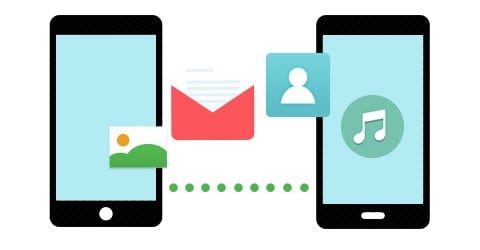 How to Transfer Photos from Phone to Phone
This program allows you to transfer photos from phone to phone on Mac and Windows. The transfer steps are simple.
How to Transfer Photos from Phone to iPad
If you have some beautiful photos and would like to transfer them from your phone to iPad then you have found the right answer to the problem. The process is simple using Phone Transfer and can be done with the following easy steps using this amazing software:
Step 2

Connect your phone and iPad to Mac

Connect both your phone and iPad to Mac with USB cables. Your devices will be detected by the program. And you will see your phone and iPad with the phone information shown on the transfer window. You also can click the "Flip" to change the source device and destination device.