This generation is really the addicted to social media; social media has become a vital source of communication. Photos have become the fun way of communication for this generation. Scrolling through our social media account we can see people posting their clicks. It started as a hobby now has become a habit for youngsters. Photography actually is a simple art which brings out the viewer emotion in one click, we need help from the technologies to retain or edit the Images. A little alteration can be done here and there to make our picture flawless. Cartoon editor is actually the fun way to edit a photo editor cartoon effect. It can make your photo cute looking. Filters like puppy dog face are commonly used which is really famous in social media. It can be really interesting to see our pictures getting edited into those cartoons. There are few really famous cartoon photo editors which can be easily distinguished as the best ones in the market. So, to know more about best cartoon photo editor, giving details below.
Top 5 Best Cartoon Photo Editor
#1. Filmora Video Editor
Filmora Video Editor is one of the best cartoon photo editors, it's free of cost to download and it has more than all needed features required. The popular cartoon editing features, music, trending movie clips can be used. Majority of the editing is done for editing YouTube, Instagram and face book videos/images so it is really popular among teenagers. It is also very easy to work, using only three or four steps. Selecting the photo editor cartoon picking a theme, image effects, cartoonistic twist, music, filters and so on is an easy task. The next step is to save and the video/image and is ready to use.
Pros:
Finding the perfect cool animated effect to your image with additional soundtrack will add life to it.
Various motion effects, with adding or making the cartoon of your images out of list of options such as still, tilt, animation, extra mask, color effects etc.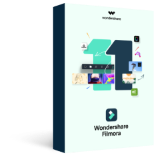 Best video editing software for beginner and semi-professional, that comes with powerful editing skills like trimming, splitting, rotating, editing, etc.
Advanced video effects like green screen, PIP, audio mixer, etc. can also be found and applied to your video within few clicks.
500+ free special video effects to customize and create an awesome movie by yourself.
1000+ standalone effects downloading resources to make videos in all kinds of styles.
Export videos to Chromebooks compatible format with 1 simple click.
---
#2. Cartoon Face-Selfie Foto Edit
This can help you to add a function of a filter and it can make you look different from other software. It can interpret your photos with colored cameras. Using black and white cartoons is a great feature in Cartoon face-selfie foto edit. Using this you can capture your fun cartoon effect photo editor moments. Super well known Spring Paris Pink channels are coming. We can try it in Photo Cartoon Camera- Planet Lab. So pink and sentimental, you won't want to miss it. Incredible across the board Cartoon Camera and Filter Camera to add additional effect and brighter vision.
Pros:
The great feature in cartoon me photo editor is that it has the wide collection of cartoon filters.
It also has auto face detection for recognizing system for selfies.
Cons:
Emoji can't be downloaded here. It is a great disadvantage when there are no emoticons for a cartoon editor.
Very few options for boys to select from, like hairstyles and clothes are lesser when compared to girls.

---
This can turn your photo into a stunning artwork, editing your photos with these amazing filters can be really great. Artista has the best imaginative Photo Filters Photo Editor Selfie Camera to help you demonstrate your masterful aptitudes by utilizing the effects and sketches. The selfie camera has moment photograph altering and stunning channels. It also allows you to share your artworks on social media with best cartoon photo editor.
Pros:
It is the lethargic filter and sketch paradise, it can generate prisms like effect and stunning visual filters.
More than fifty inspiring effects for the experimental art.
It is awesome across the board Cartoon Camera and Filter Camera and Photo proofreaders professional.
Cons:
This is really good software but there are intrusions due to advertisements on regular basis.
A busy server is a great disadvantage for a cartoon editor.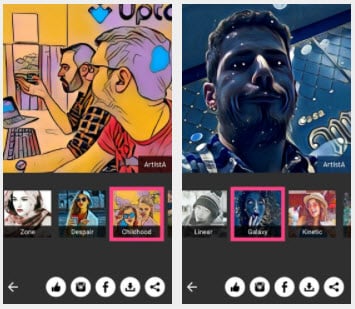 ---
#4. Cartoon Photo Editor
It is one of the most impressive free camera applications; they give an artistic effect to new or existing photos. The major advantage is that it can provide photo editor cartoon effects for your gallery photos. It can apply real-time effects to these pictures. They have a wide collection of effects to choose from.
Pros:
Share your photos with your friends using social media.
Ready to autofocus, just tap anywhere on the screen so a cartoon photo editor auto picture is taken immediately.
Cons:
You have to save your photo editor cartoon when your editing is done, there are no automatic save options.
Time consuming while getting ready for your final file.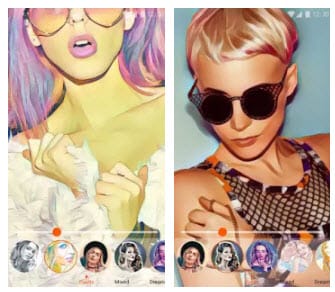 ---
#5. Art filter photo editor & oil painting darkroom
This can create pencil sketch with amazing pop art and camera with better effects for your selfies. They have best stunning and collection of filters to make your work more artistic. It can make your photo more stylish and funny. With this, you can make your gallery into an art gallery using cartoon effect photo editor. It permits you to make pop workmanship photograph, craftsmanship pics, toon pics, pencil portray photograph, a photograph of painting style, the photograph of toon motion picture style, idealize selfie picture and possess the ideal excellence camera and selfie camera & Photo.
Pros:
A full-featured cartoon photo editor cartoon effects.
Art filter based on famous artists is found here so that they can give a professionally finished work.
Cons:
It takes time to load these filters; sometimes the server might be busy so it takes time.
There is a lack of editing designs, and the watermark is also a disadvantage.