Gaming channels on YouTube are becoming more and more popular each day. As of now, there are hundreds of gaming channels that already have millions of overall views. This means that if you want to start your gaming channel, you'll have to get ready for tackling some fierce competition. Apart from understanding what games get the most views on YouTube, you'll also have to invest in quality gear to make your videos stand out in the crowd.
So, in this guide, we have decided to share a few tips for all the aspiring gamers who want to start their YouTube channel and make it a financially stable career.
Part 1: Video Games Are Trending On YouTube
It's essential to publish currently trending content to grow your channel on YouTube. If you're planning to start a gaming channel, make sure to choose video gamers that people love playing/watching. So, before discussing methods to get more views on YouTube, let's first discuss what video games are trending on YouTube.
Minecraft is among the first games that got exposure on YouTube. YouTubers like Pewdipie and Ninja were the first content creators who gained fame after publishing their Minecraft gameplay.
Today, Minecraft is the most commonly searched video game on YouTube. The game is so popular among viewers that it has an overall 53.3 Billion YouTube views and has become one of the most popular games on YouTube. So, if you're an expert in Minecraft, this would be the right time to turn your hobby into your profession.
Platforms: PC, iOS, Android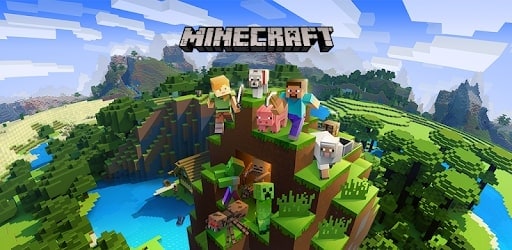 ---
Like Minecraft, Fortnite is also a popular video game on YouTube that's been watched by millions of viewers. Back in 2019, it was the most talked video game on YouTube. Thanks to gamers like Ninja and Myth, we saw hundreds of videos about Fortnite the previous year.
As of 2020, Fortnite still has a massive fan following on YouTube. This means if you're a Fortnite player, you can start your YouTube channel without any hesitation. One of the significant advantages of choosing Fortnite is that it's also a popular game on other streaming platforms like Twitch.
Platforms: Nintendo Switch, PlayStation 4, Xbox One, Android, Microsoft Windows, Classic Mac OS, iOS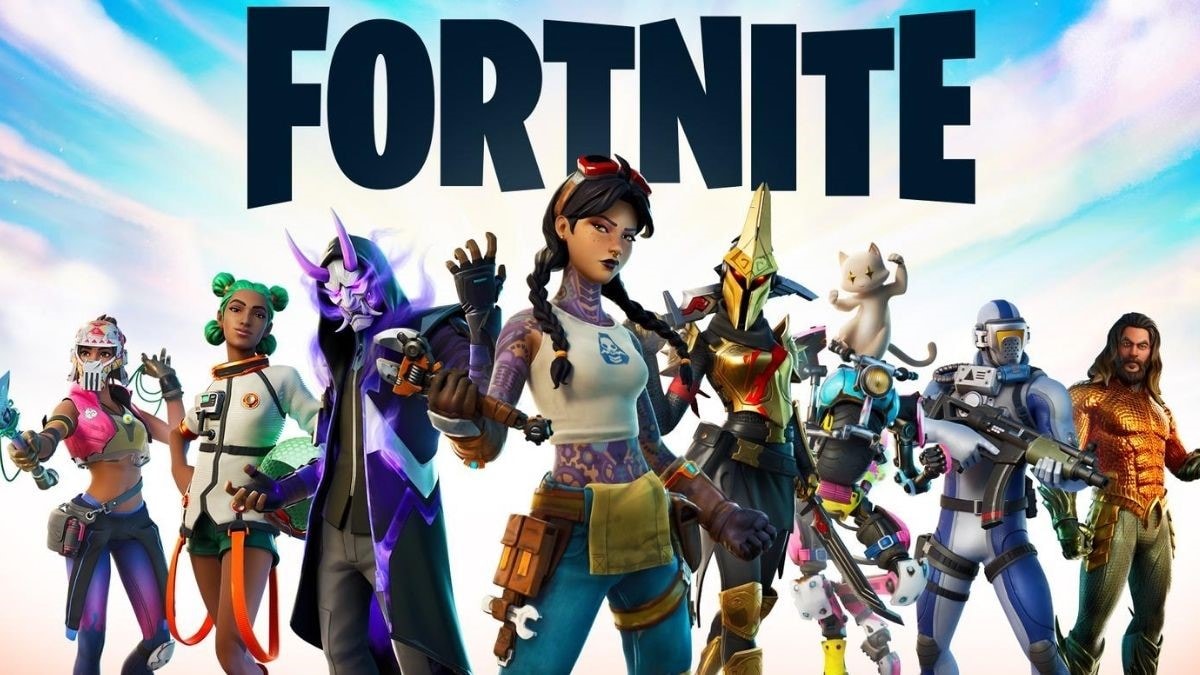 ---
Grand Theft Auto V is one of the top-selling video games of all time. The game was released back in 2013 and it still hasn't lost its charm after seven years. YouTube is stacked with "GTA V Compilation" videos that have billions of combined YouTube views.
What separates GTA V from other video games is its diversity. Unlike other video games, you can create different types of videos using GTA V. Some gamers choose to make tutorial videos on how you complete GTA V missions. In contrast, others publish videos that contain "GTA V Win/Fail/Funny" compilations.
Platforms: Playstation, Xbox, Windows PC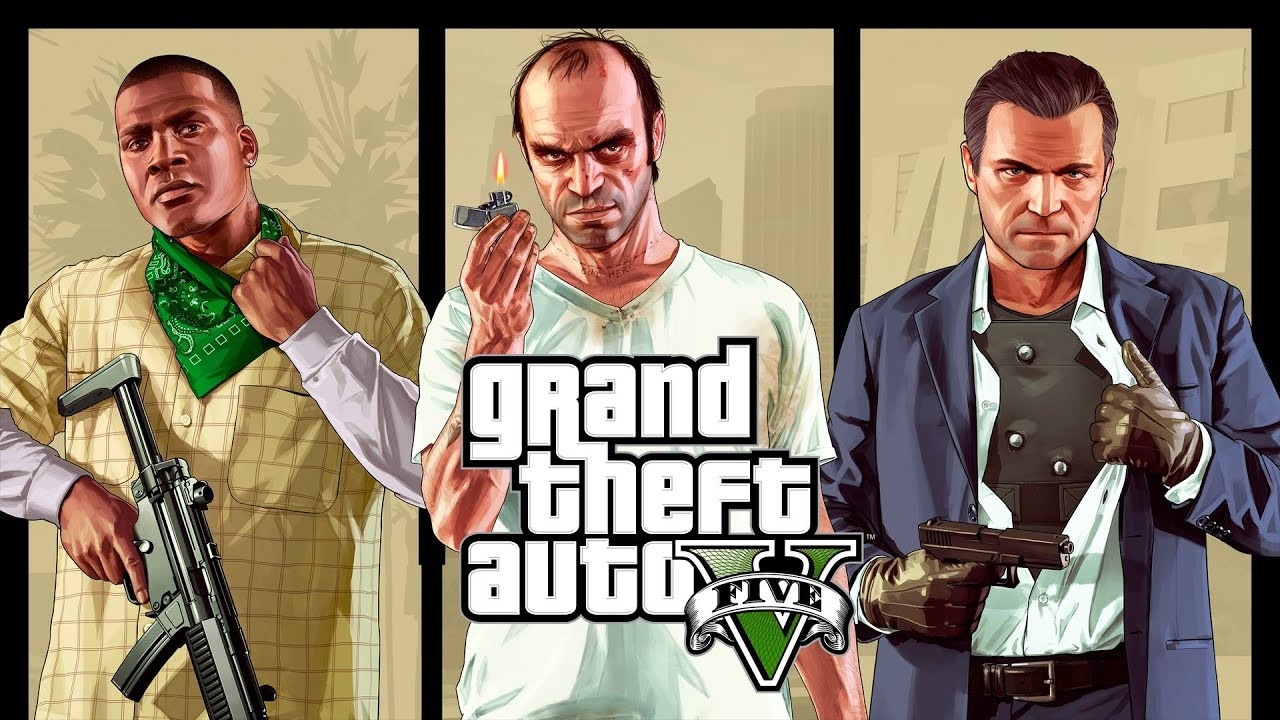 ---
Garena Free Fire is a popular Battle Royale that became the most downloaded mobile game in 2019. Being a Battle Royale, Free Fire allows players to stream their gameplay and showcase their shooting skills to the entire world.
Many YouTubers have also started creating "hack-videos" for Free Fire where they disclose tips & tricks on how to unlock events, get new items, and improve gameplay in Free Fire. It's safe to say that Garena Free Fire is most likely to gain massive popularity in the coming years.
Platforms: iOS and Android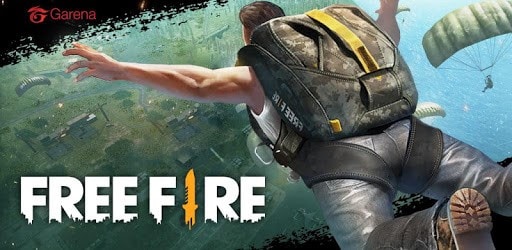 ---
Roblox is a gaming platform where users can design their games and share them with other community players. Since the platform brings such uniqueness to the table, it has a massive appeal on YouTube.
Many YouTubers have already started making Roblox videos where they either review games designed by other players or live stream their gameplay on the channel. Roblox is a one-of-a-kind platform, which means it'll allow you to create unique content for your channel.
Platforms: Microsoft Windows, Xbox One, Android, macOS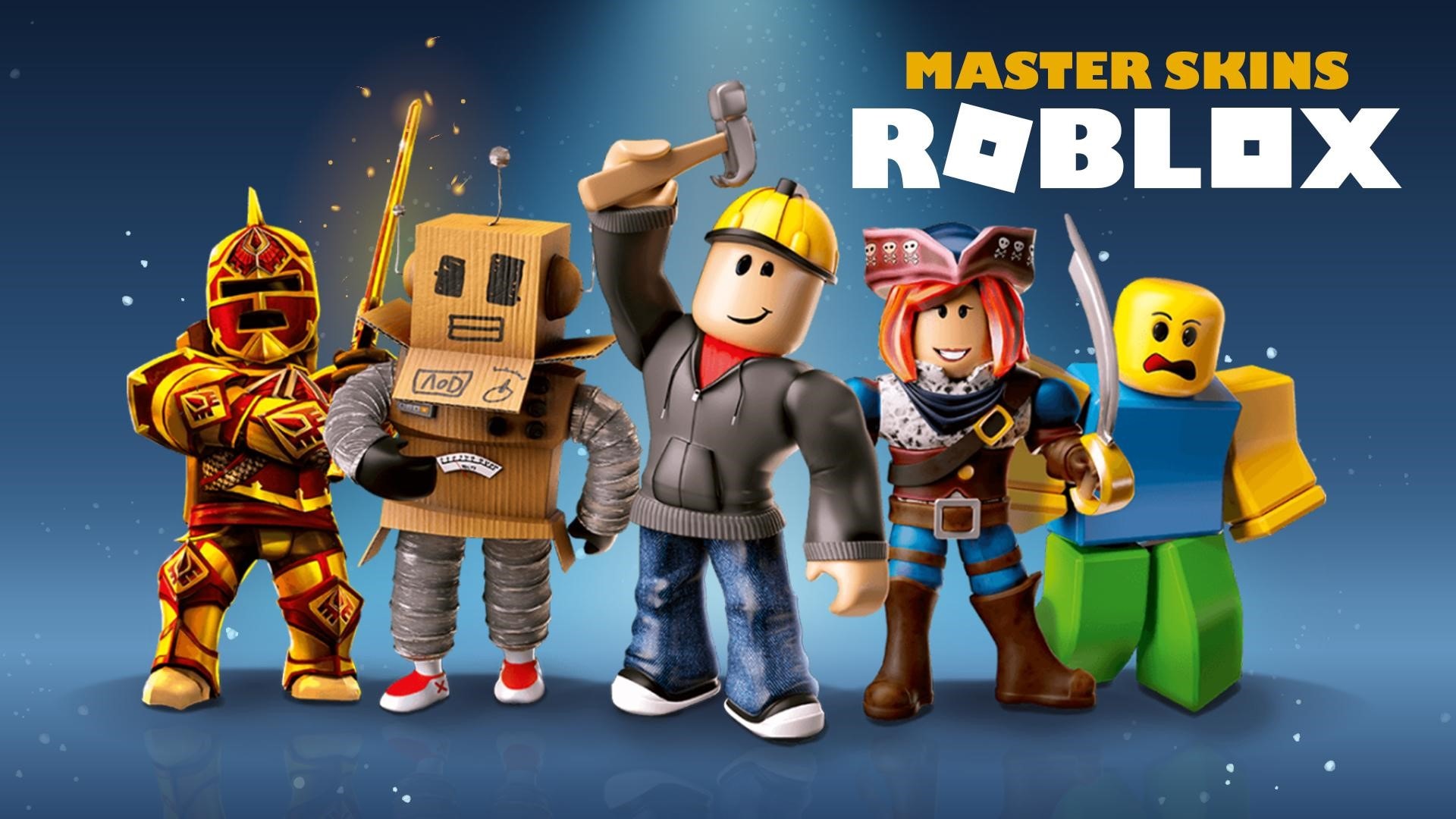 ---
PUBG Mobile is yet another Battle Royale for smartphones. Although the game is available for PC, its mobile version has become extremely popular in the past couple of years. Players from across the planet enjoy playing this awesome Battle Royale game with some unique elements. Like FreeFire, you can make a diverse content on PUBG, including tutorial videos and quick hacks.
Platforms: iOS and Android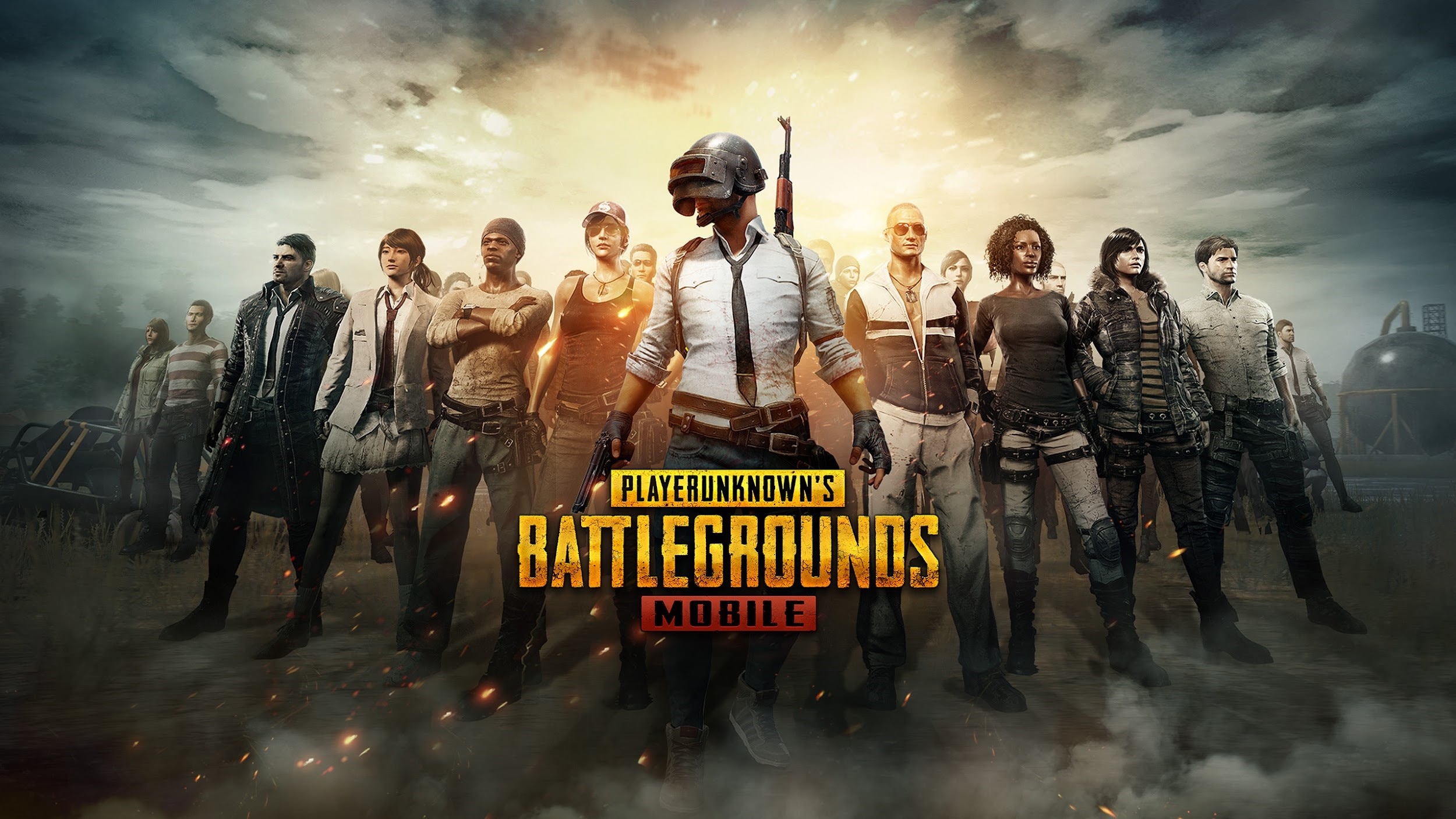 ---
League of Legends is a worldwide popular game that millions of players play every day. If you ask us what game is trending on YouTube, the answer would be League of Legends. Why? Because it has a vast community of players. Moreover, you can participate in daily events that continue anywhere between 2-3 hours. This will help you get plenty of watch time for your channel and skyrocket your views.
Platforms: Microsoft Windows and macOS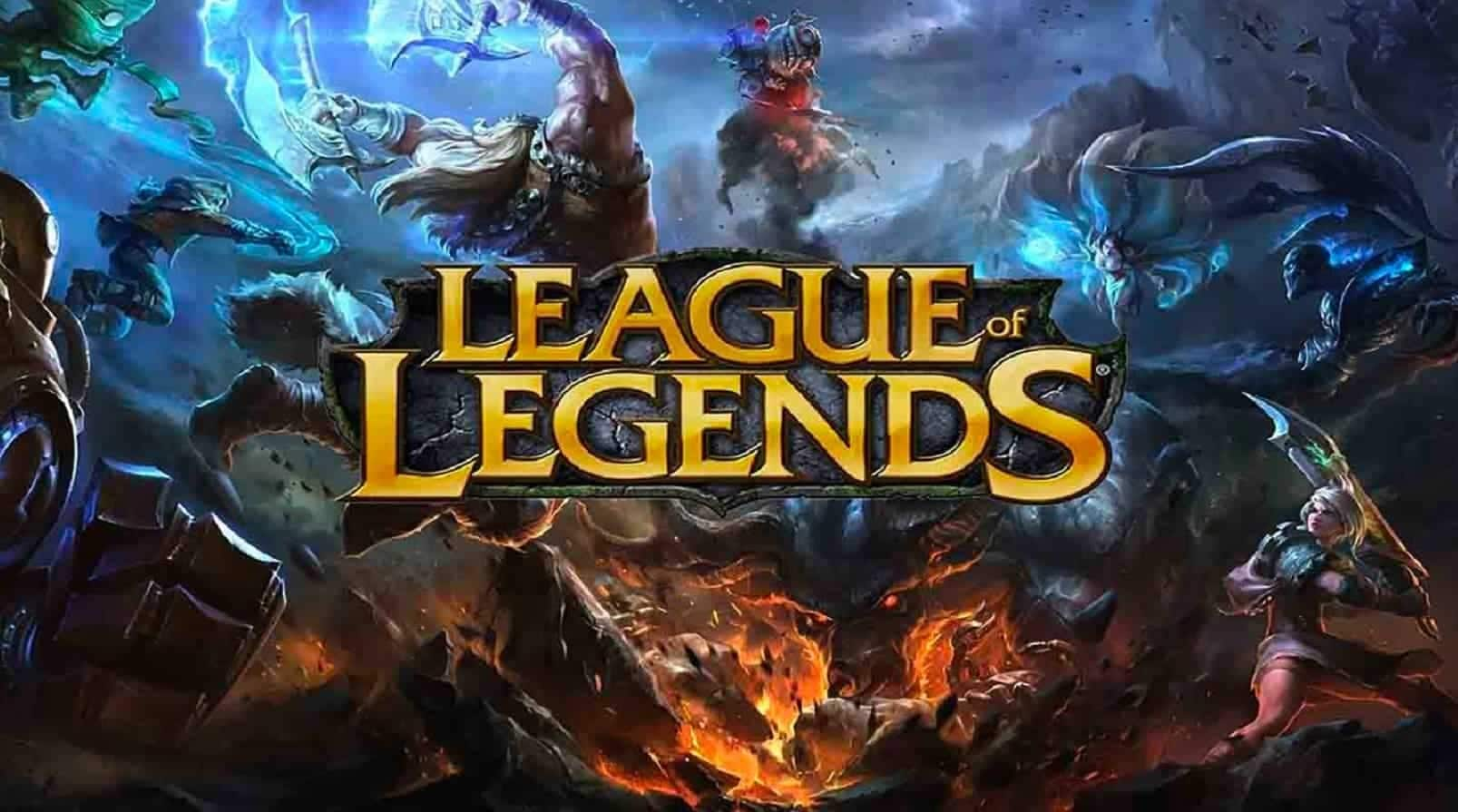 ---
PlayerUnknown's BattleGround is the desktop version of PUBG Mobile. Although it's not as popular as its mobile version, PlayerUnknown's BattleGround can help you create unique content on YouTube. Being a BattleRoyale, you'll have to fight a group of 30 people on a deserted island and protect yourself from getting eliminated. So, you can either live stream PUBG videos or record your gameplay to edit a compilation of your best moments in the game.
Platforms: Windows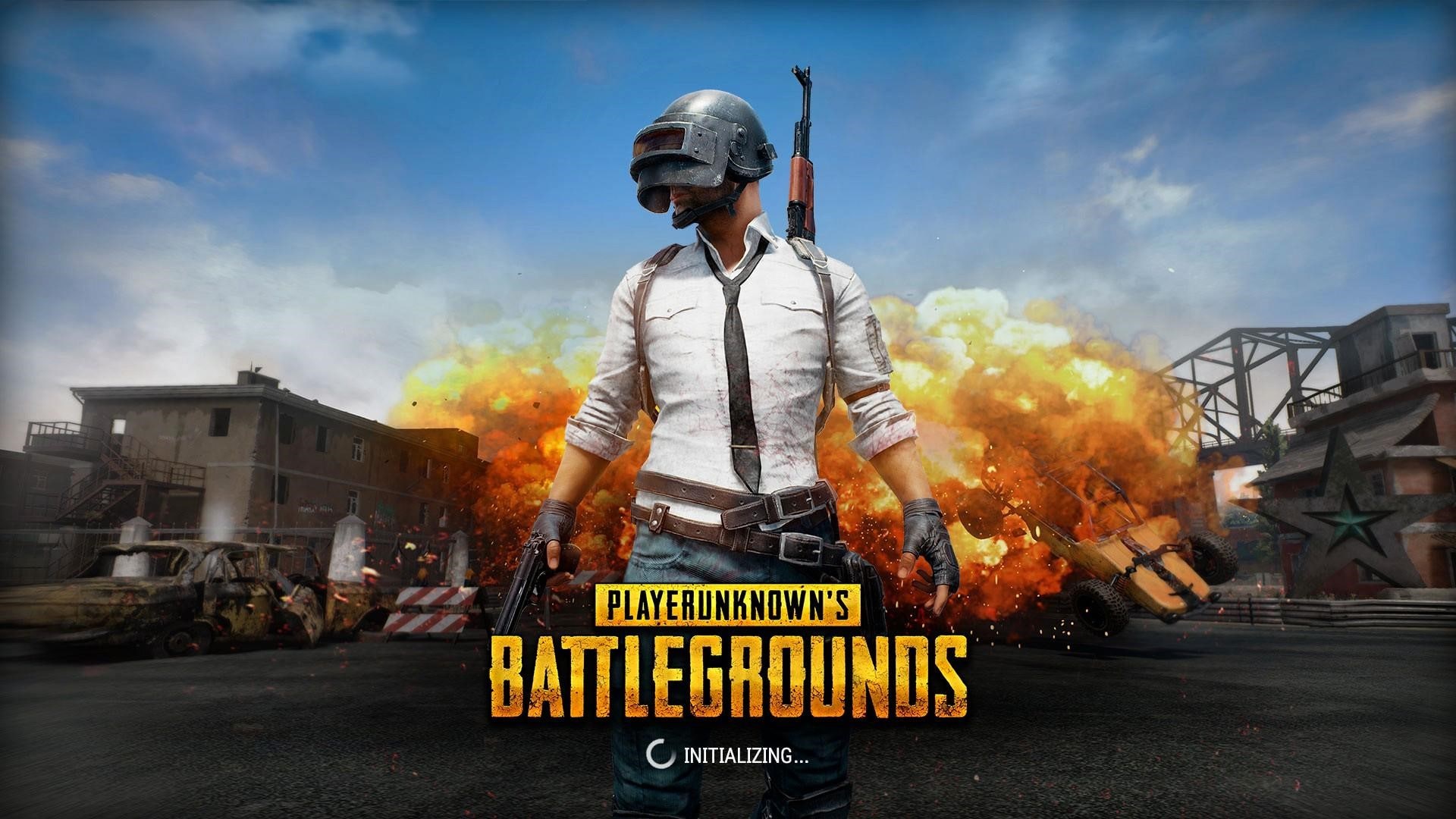 ---
Brawl Stars is a mobile game that's designed by the publishers of "Clash of Clans". With its unique gameplay, Brawl Stars appeal to viewers from different generations. With varying gameplay options like Battle Royale and PvP, you'll have plenty of opportunities to create appealing content for your YouTube channel.
Platforms: Android and iOS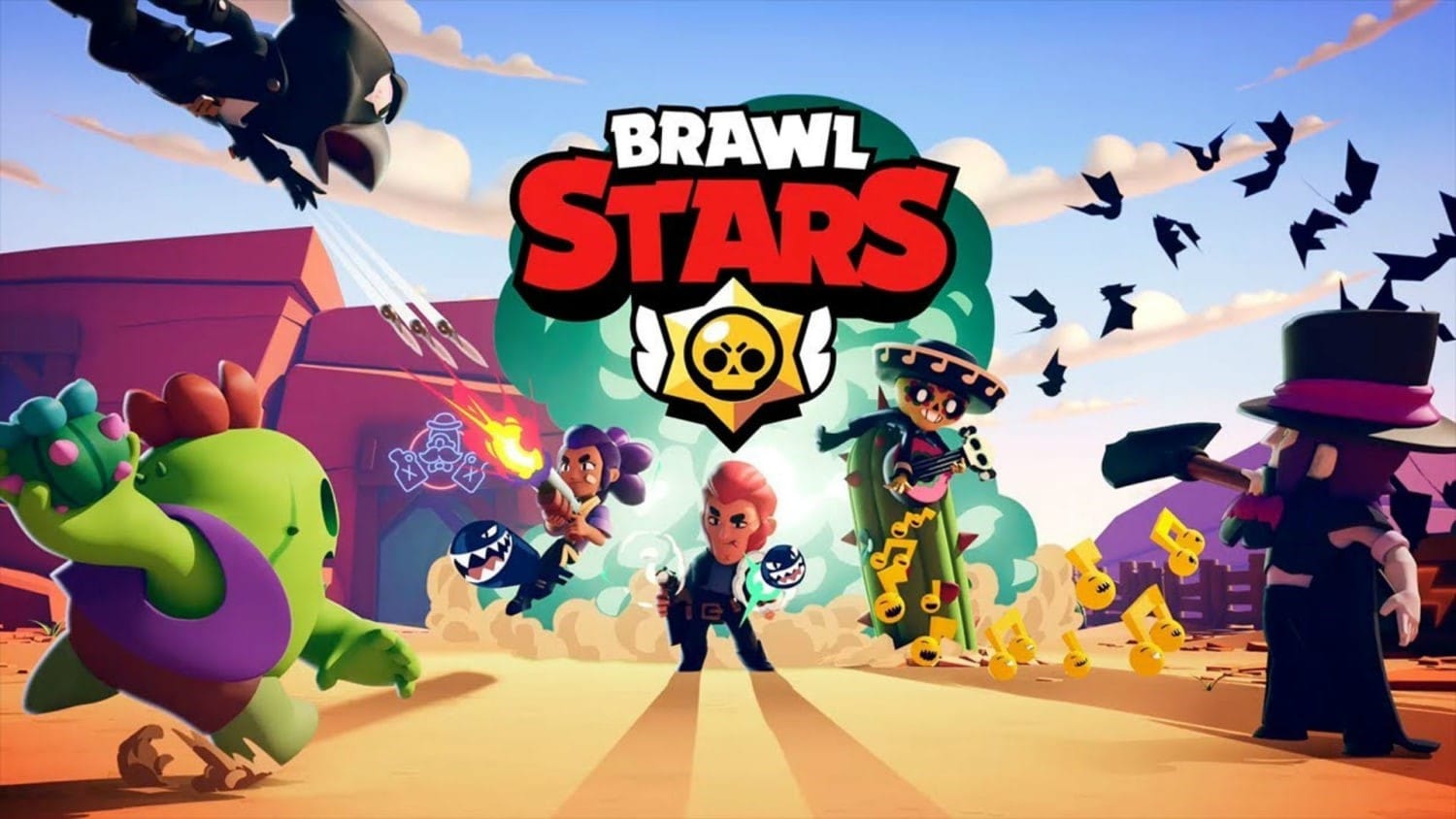 ---
Mobile Legends: Bang Bang is a Battle Arena for mobile where you can participate in 5-on-5 battles and win tournaments. With this mobile game, you can start by creating your five members' squad and go against other teams to win matches. The game is not as popular as other Battle Arenas in America. It has a massive fan-following in Asian countries.
Platforms: Android and iOS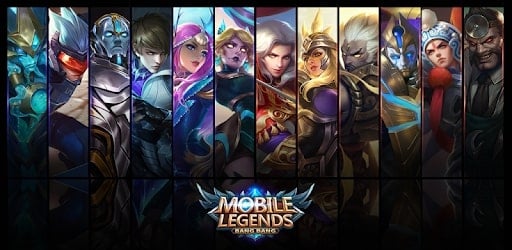 So, that's a list of what games are trending on YouTube right now. If you're planning to start a gaming channel on YouTube, these 10 games will help you establish a strong viewership and increase your channel's popularity.
But, irrespective of the game you choose, it's essential to choose the right tool to record your gameplay and edit it to compile the final episode for YouTube. Keep in mind that if your videos aren't appealing, they won't make your channel stand out, and it'll become a bit struggling to get the desired YouTube views.
Therefore, you need to determine what games are most popular on YouTube. After you've picked the right game, the next thing would be to choose a video recording software to record your gameplay.
---
Part 2: Find Your Best YouTube Video Game Recorder --- Filmora Video Editor
After testing a wide variety of video game recorders, we've concluded that Filmora Video Editor & Filmora Video Editor for Mac is the best option for all aspiring YouTubers. It's a dedicated video editing software for Mac and PC that's primarily designed for video editing.
The tool also comes with a built-in screen-recorder that'll allow you to record your gameplay while playing the video and edit it using Filmora's video editing tools. Let's take a few of its features that'll help you create cool content for your gaming channel.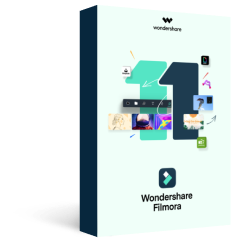 Key Features of Filmora Video Editor and Filmstock:
Record Real-Time Gameplay with One-Click.
Edit Your GamePlay using the same tool.
Has a dedicated audio-editing interface that'll help you sync your microphone's audio as per the gameplay.
Thousands of video effects to make your gameplay more appealing for the viewers.
How to Use Filmora Video Editor to Record and Edit Gaming Videos
Step 1: Recording Game Videos with Filmora:
Gaming videos depend on how well they are recorded. You can record them with Filmora. This is how it's done: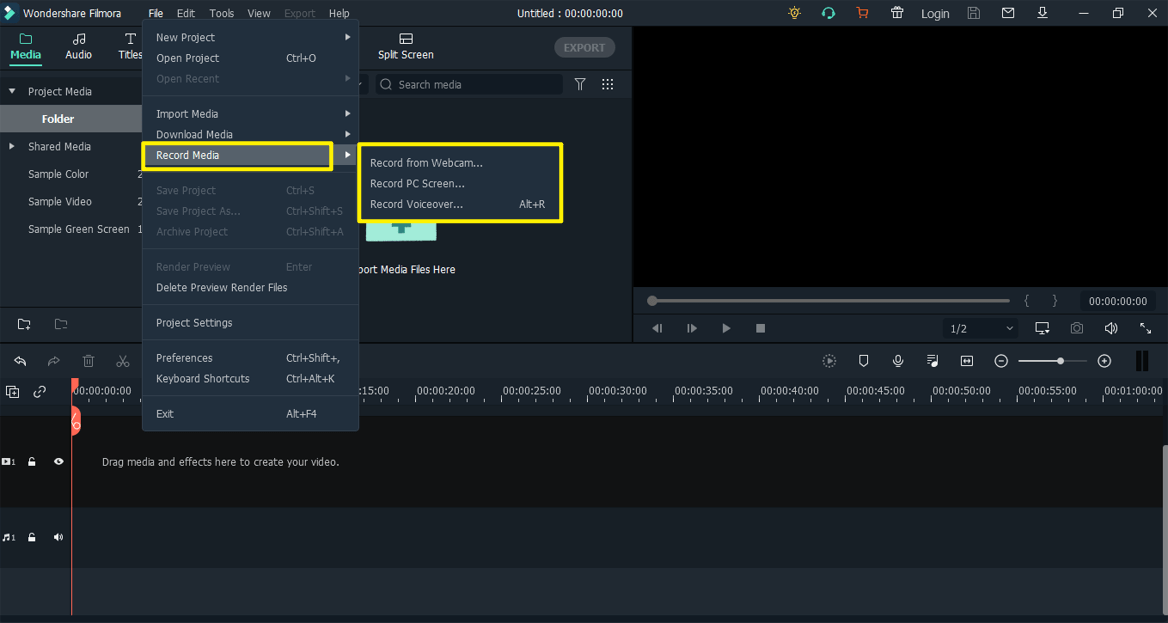 Recording can be done with a webcam attached; it also records the screen with voiceover!
Step 2: Import your recorded gaming clips
Now that the recording is done, it's show time. Add the gaming videos to Filmora's media library.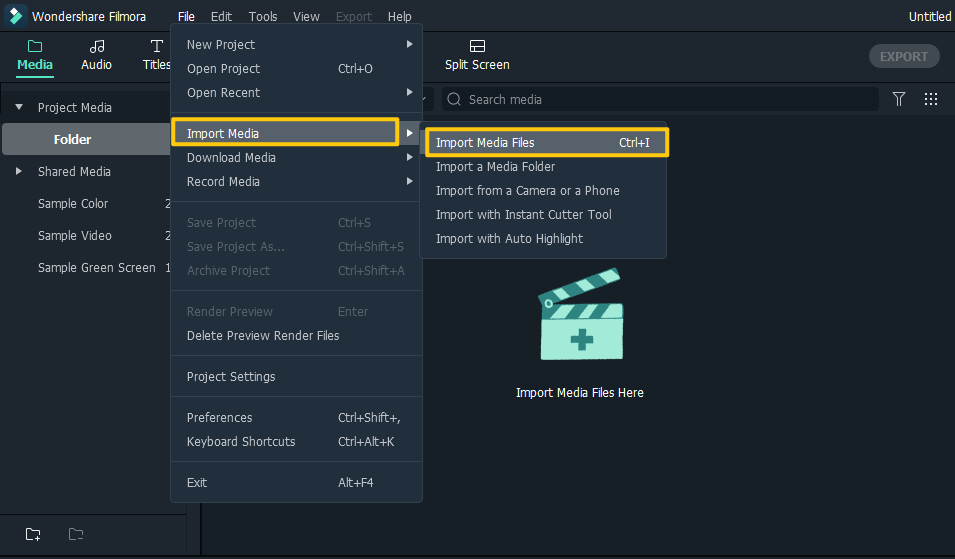 Step 3: Drag and drop the video onto the timeline
To edit the gaming video, drag and drop it onto the timeline.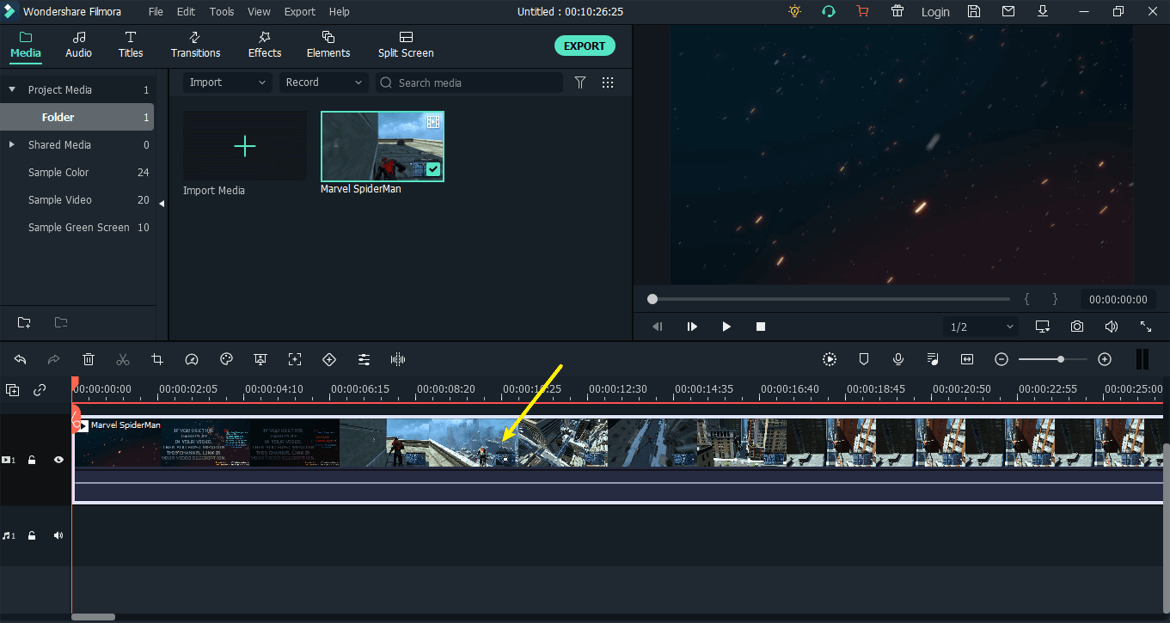 Step 4: Organize the video
Using the cut and trim tools in Filmora, you can break up a video into multiple parts. Once that's done, you can remove the unwanted parts of the video and amalgamate all the clips you want into one. All you need to do is click on the Scissor button to cut the clips directly.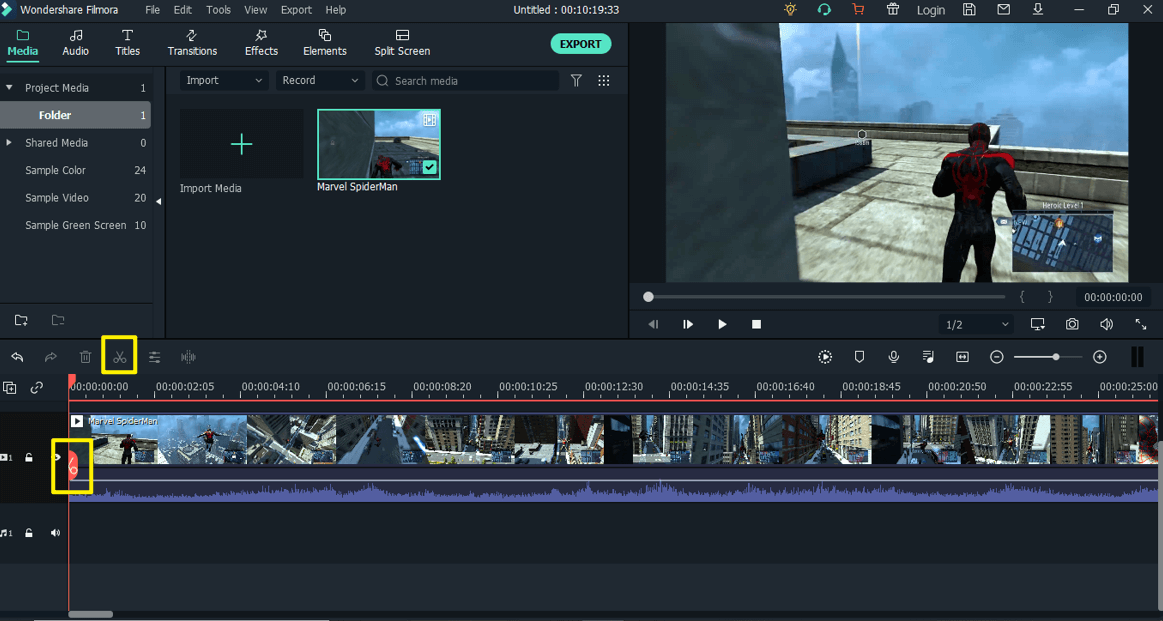 Step 5: Effects and Transitions
Using Filmora, you can add filters, motion, transition, and special effects to make your video more appealing.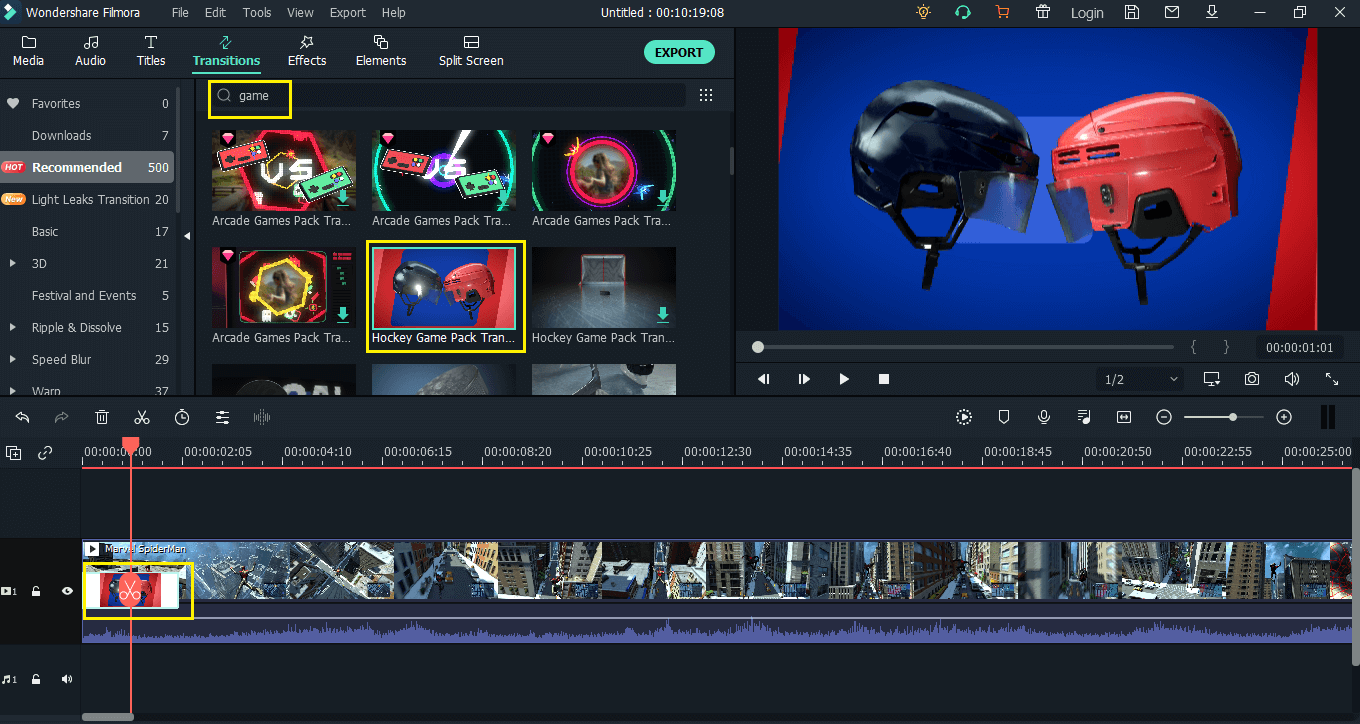 The transitions make this scene even more outstanding!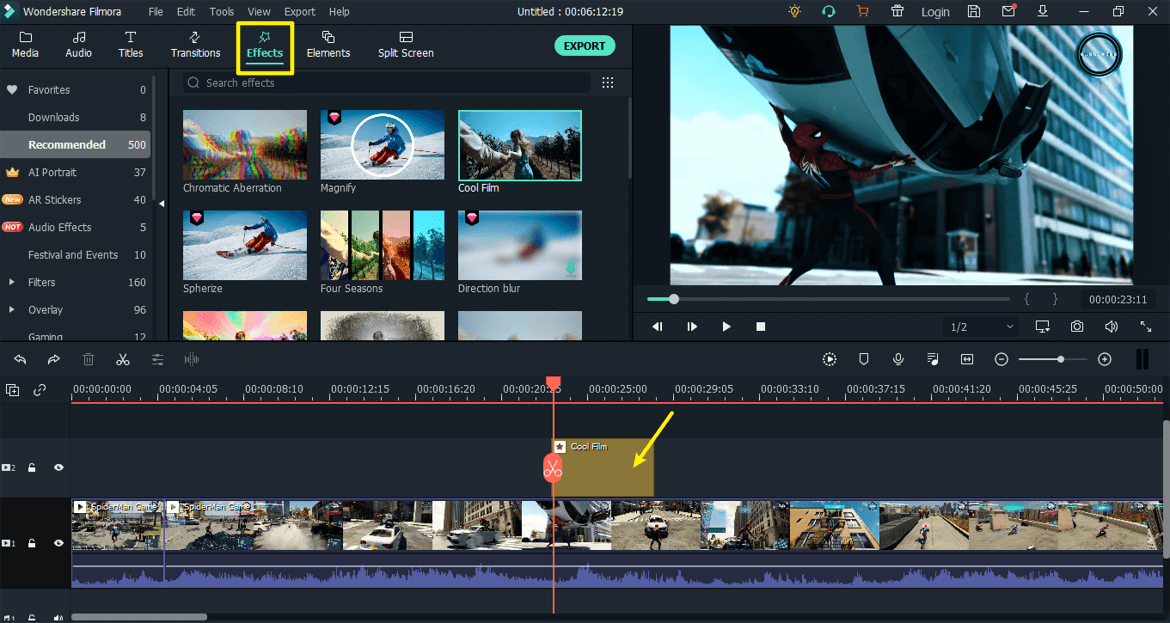 With the addition of one effect, this scene stands out!
Step 6: Add a title
The process of adding a title is easy, and Filmora offers many options. Select any title you like and add your video title over it!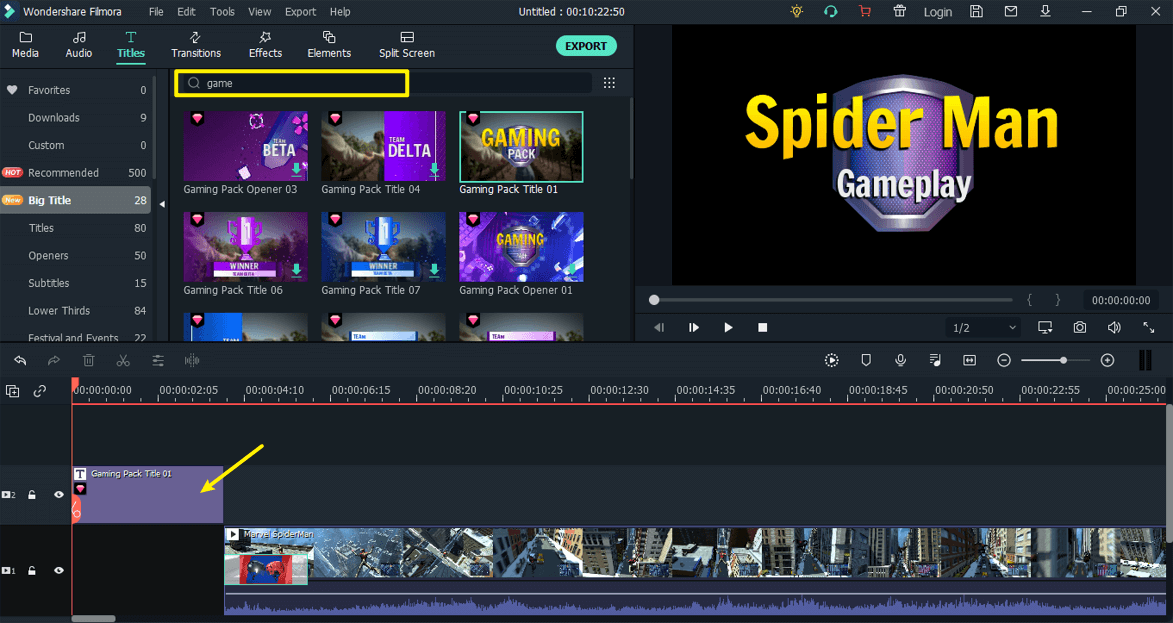 Step 7: Adding a beat
All seems done, but one thing remains. Gaming videos demand a substantial amount of beats that users like, which engage audiences. Certainly not to be missed.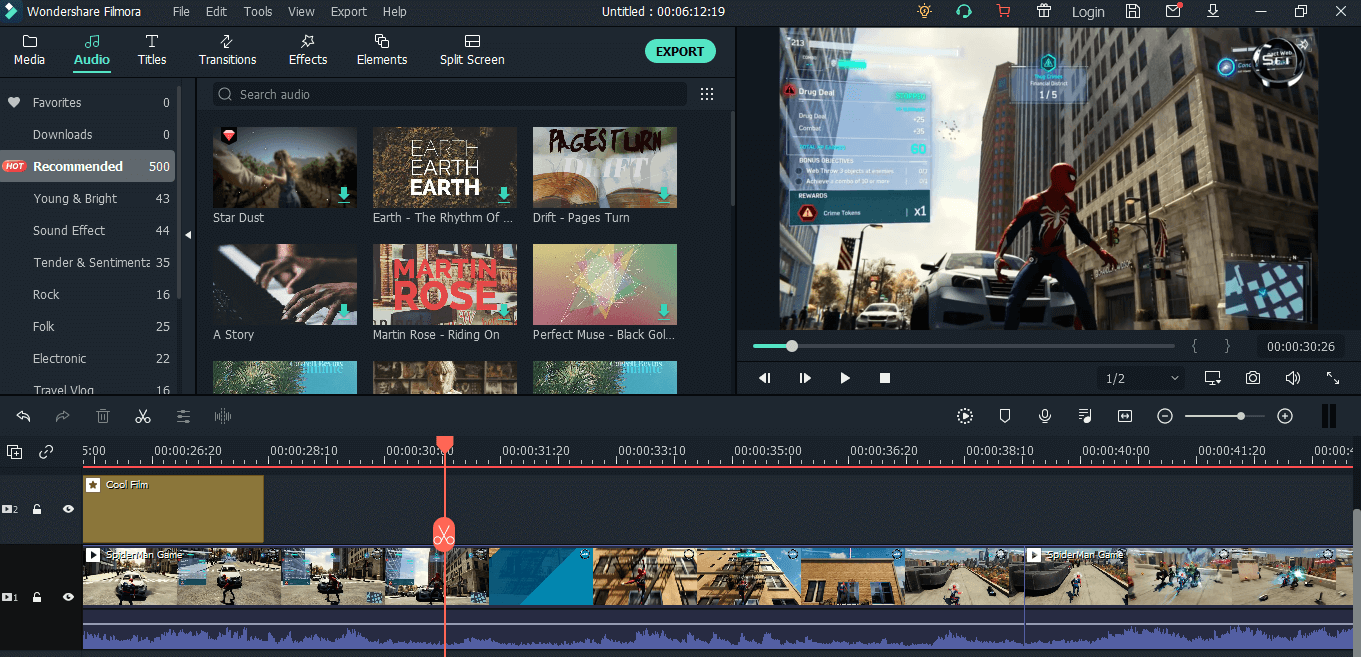 You can find tons of audio files on Filmora! In addition to Filmora Audios, you can add your own.
Bonus: How to Edit Video to Music with Beat Detection [Quick Guide]
The Filmora X "beat detection" is a fantastic feature to talk about in terms of music. The beat detection provides unique beats to your music, allowing your videos to flow together flawlessly. Don't miss this great feature!
Here's how to add beat detection!
Choose any music you want from the audio section. Before dragging music onto the timeline, right-click on it and select 'beat detection.'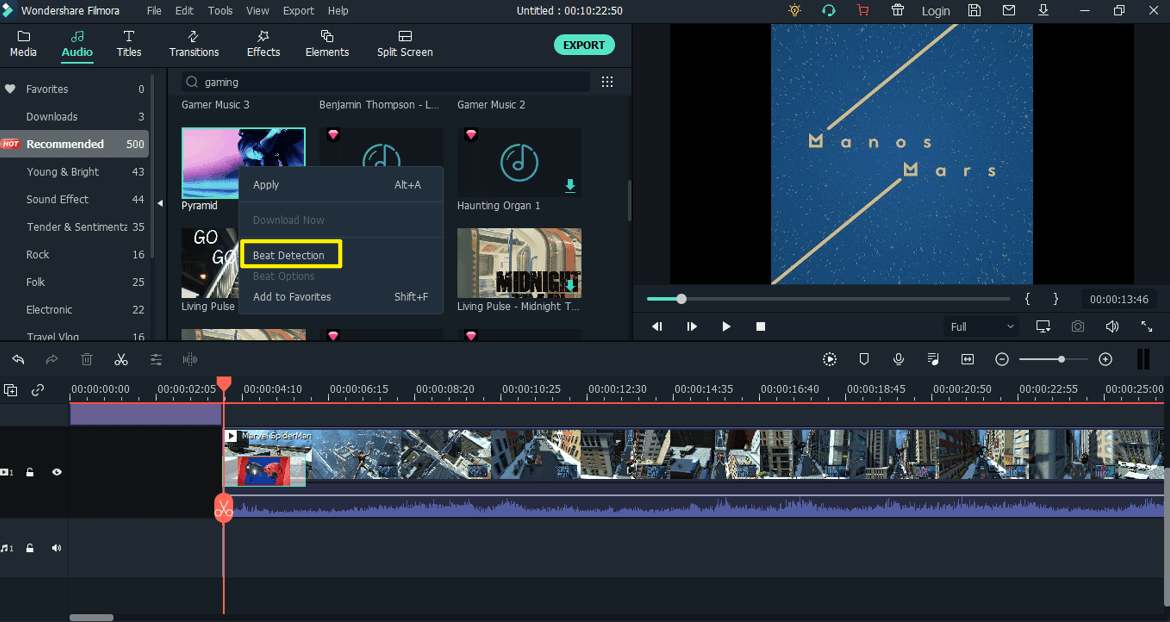 Once it's done, drag it onto the timeline! The red markers in the music indicate the downbeats.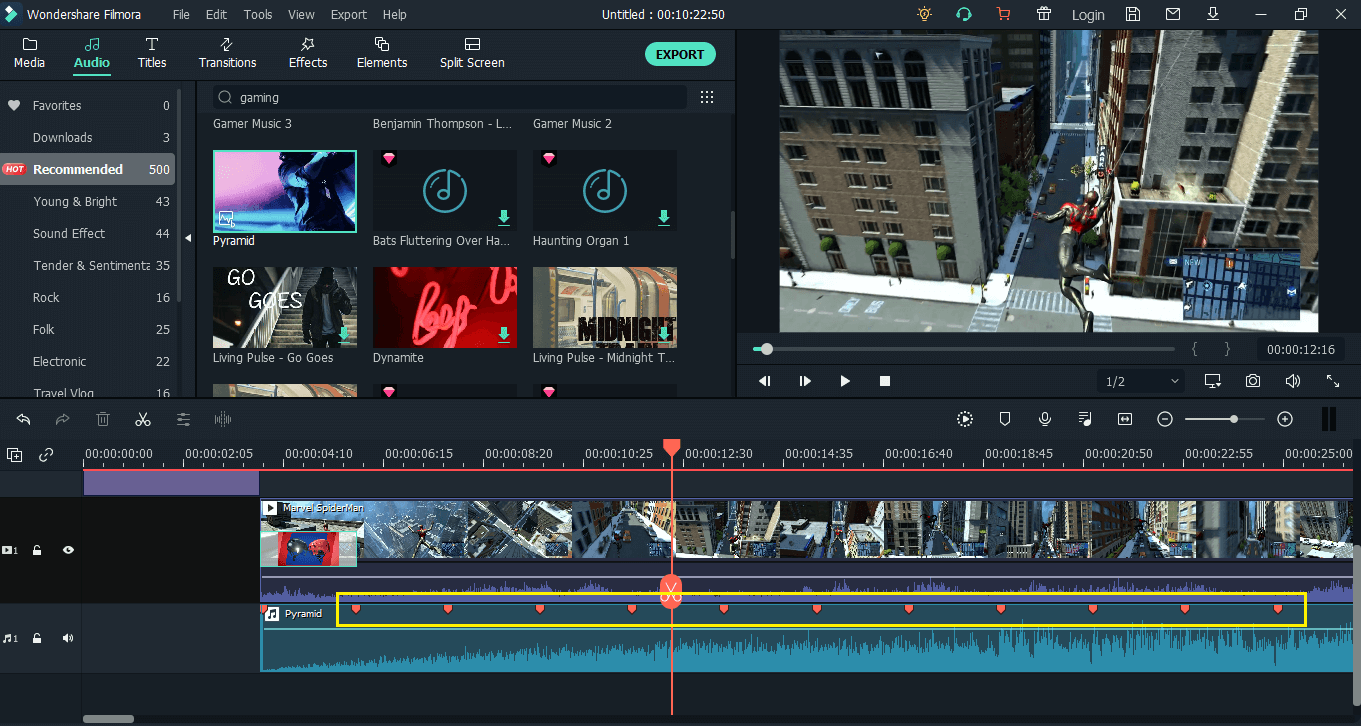 Suppose you also want upbeat music. Select the same audio and click "beat options." Unmark the option here, click OK, and drag the audio on the timeline again. Boom! You've got the upbeats too!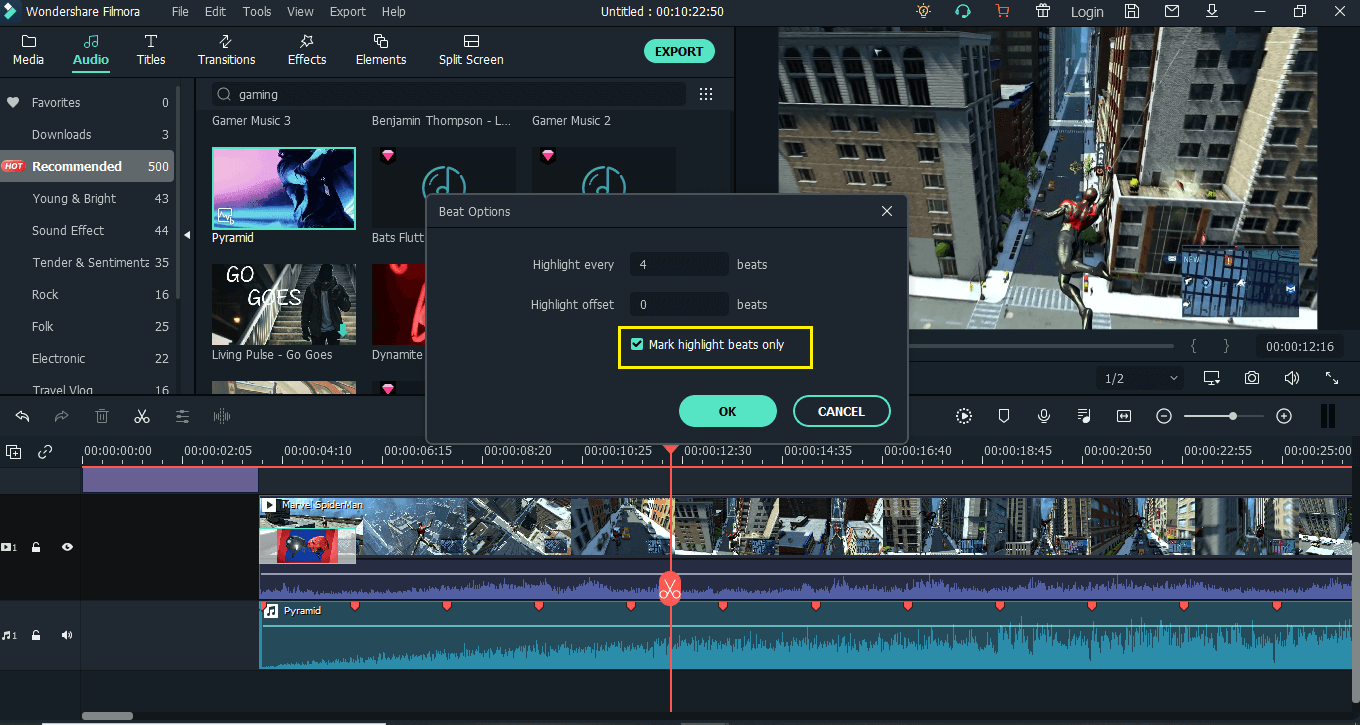 The blue markers represent the upbeats.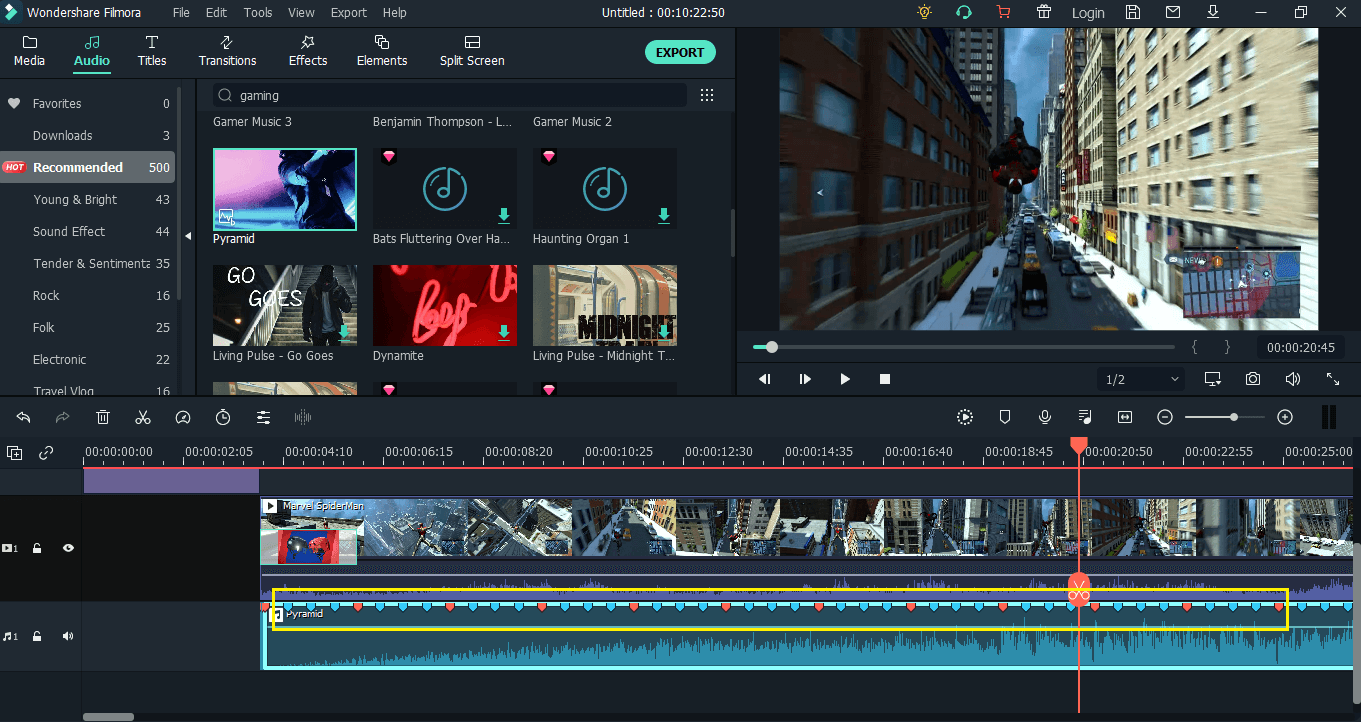 Step 8: Export the video
You can now export the video once you are satisfied with the video editing. You can then choose the specific output settings and set them to the desired output. Just wait until the input has been processed. Now sit back and relax!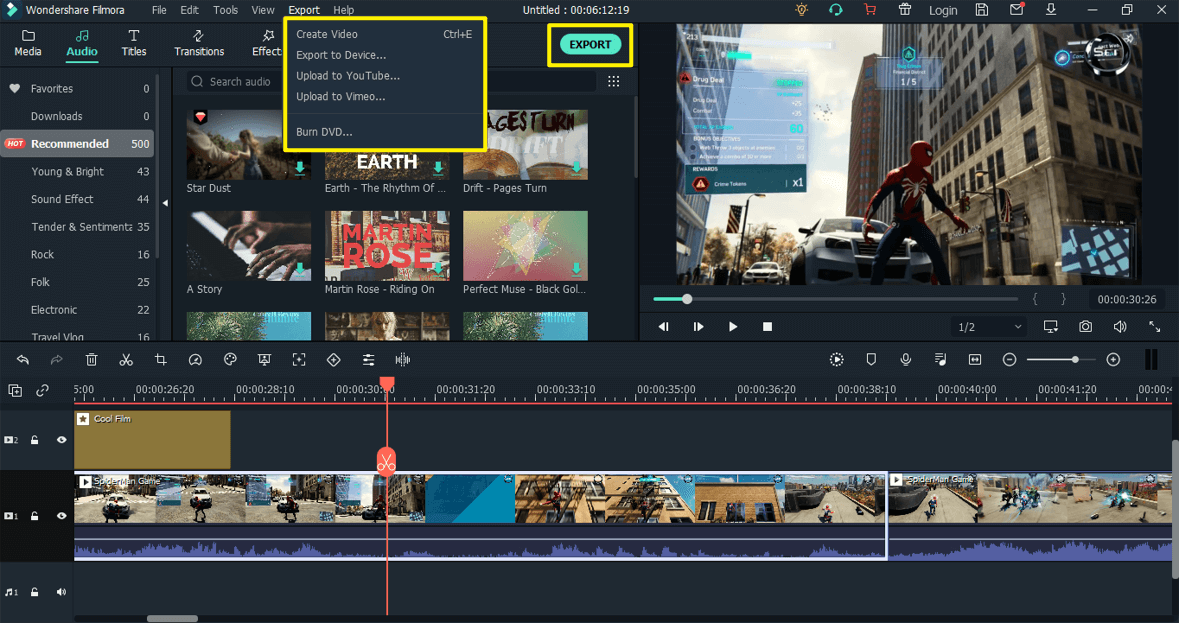 It's your choice whether you want to export video to your device or directly upload it to YouTube.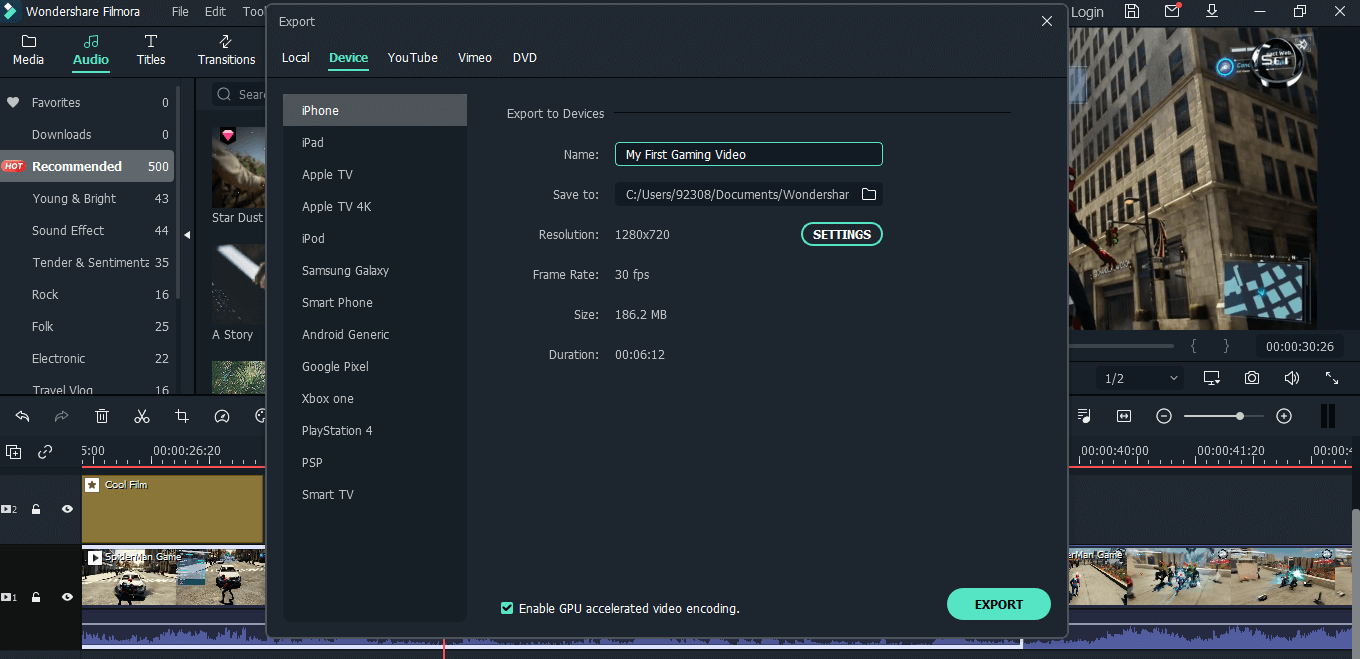 The final export - Congratulations on your first gaming video!
If you're interested in Filmora, watch the short clip below to learn more about its new amazing features. Then, start your journey of creating!
---
---
Conclusion
The reason that makes Filmora Video Editor & Filmora Video Editor for Mac a reliable screen recorder and editor for YouTube is its ease of use and an extensive list of features. Unlike other video editing tools, you won't need a separate screen recorder to capture your gameplay. Filmora Video Editor has everything you need to record the game and edit it quickly to create your episode for YouTube. Even if you have never edited a video in your life, Filmora will make it much easier to get started and start your YouTube journey as a gaming content creator. Besides, there are more ways to record gameplay on PC for game streaming platforms for you.
Thanks to YouTube, video gaming has become an avid career option for all gaming enthusiasts. But, growing a gaming channel on YouTube is not an easy job. From figuring out what games get the most views on YouTube right now to ensure that your videos stand out from the competition, starting a gaming channel on YouTube is still challenging. The good news is that once you've got everything figured out, your videos will automatically begin to attract views.