Are you interested in learning how to make a YouTube video of a video game? Or want to become a YouTuber with your gaming skills? You're in the right place!
If watching YouTube videos is a part of your hobby, or playing video games is your utmost hobby, this article is solely for you. Being a Gamer means you need to showcase your unique skills to the world, and through doing so, YouTube is the best platform. Here we will explain the step-by-step guide on making video game videos on YouTube to begin sharing your gameplay with the audience who wishes to watch gaming videos just like you when you were a rookie in this industry.
Interestingly, you might be having this query in your mind that how do YouTubers record games? If you haven't ever thought about it, well, you're about to it! But worry not, as we're here with the ultimate guide on how do you motivate yourself and all the necessary steps involved in embarking on your first video game YouTube video. You can hit a milestone just after some time but what matters is, if you've loved watching video games on YouTube, you'll surely ace the YouTube via your own now!
How can I make an attractive video game?
Concerning the YouTube stats on how to make a video game channel on YouTube? Here's the kicker for you as the gaming niche is one of the most rewarding sub-areas of YouTube, gaming influencers are earning a large number of dollars from the gaming content they're making. These massive YouTube stars have surprised the stage by posting editorial or playthroughs of games extending from rookie to maestro level games.
Regarding how do YouTube gamers record their games, it's worth mentioning this YouTube Gamer, VanossGaming, who had created his gaming channel back in 2011 but now with intriguing and stunning gaming content. He ranks in the top 15 of the most subscribed channels on YouTube, earning millions with once and for lifetime maestro experience. Although he took nine years to reach this milestone, you can ace this milestone with the modern tricks and engaging abilities in a surprisingly shortened tenure. Find out how!
Part 1: Essential Factors for Making Video Games Videos
Keep in mind the breakthrough statistics. The gaming industry has developed a vital worth in billions of dollars by now. But before diving into how to make a video game channel on YouTube, we were hoping you could create a firm grip over the essential factors we've researched out for you. Here's the list of such factors you should consider if gaming videos are on your radar.
1. Pick a Game to Record:
Before you embark on your first gaming video, you need to consider the game specs, directly impacting your success. Following the game's stats, i-e, from the monthly active viewers to the competitors, you can choose to decide the desired video game. With your skillset video game, you can quickly provide the unique content which can be standing out factor while comparing with the competitors. While at the same time, you can also grow your channel and up rank your profile to gather the audience's mass after the very short tenure.
It's often considered along with the query of how to play a game while recording on YouTube? Choosing your grip-over gaming platform is the solution to that, with that usual game, you have the complete focus on your video content. If you rush out for the top-notch game without having prior expertise, you may experience a downfall for your channel. So, we recommend going on your own choice.
2. Choose a Video Capture Device
Nowadays, video capturing software is unlimited to count and out from the mountain, which can tackle how to record video games and post on YouTube? You need a limitless and open-source platform that helps you with every milestone and deals with your video recording and editing activities. In this regard, we've shortlisted Filmora Video Editor for your gaming screen capture device. Here's why...
The Best Software for Making YouTube Video Games - Filmora Video Editor
Filmora Video Editor (or Filmora Video Editor for Mac) is an overall premium application, pre-installed with the latest and most attractive features according to the YouTube gaming community's needs. With numerous options for customizing your gaming video recordings, Filmora output videos are both fun and professional-looking, demonstrating your purpose and a guaranteed tool for gathering audiences around the globe.
This masterpiece by Filmora is the best choice that has collected all the essential requirements for your music, transition effects, powerful intro animations, eye-catchy effects, built-in, and fully customizable templates. And it much more to bias you towards its special easy-to-use standout features and user-friendly interface.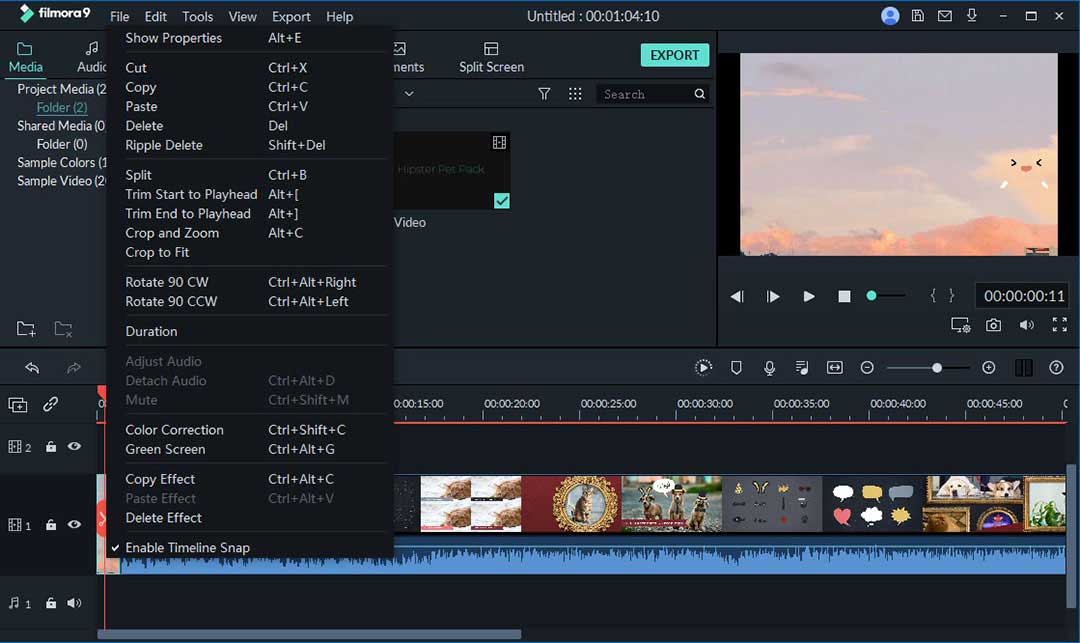 With the screen recording feature enables, Filmora also has the editing capability of editing your recorded gameplay video.
You can also choose with the microphone and system voice option to record the gaming sound and your microphone sound with a touch to the intro music.
Filmora has keyboard shortcuts, which made the gameplay recordings even more straightforward. This means now you can start and stop your game recording right from the single buttons from your keyboard.
With its built-in templates and effects, you can quickly enhance your recorded content and give it a professional touch, which your audience enjoys watching.
A Step-By-Step Guide of Recording and Editing with Filmora Video Editor
This section will demonstrate how to start with your gameplay recording and editing with this intuitive and handy software for your system.
Filmora Video Editor Recording Functionality:
The unique feature of Filmora is that it comes up with a screen recording ability to enhance the previously recorded videos and create the new videos by registering capacity. This software will carry to the next level by handy customization properties. The screen recording function has an enhanced level, and the following steps will explain it to develop your understanding of this unique feature of this software.
• Meanwhile, within the Filmora, you can head straight towards the Screen recorder, which is situated right near the Import button with the name Record drop-down menu as follows: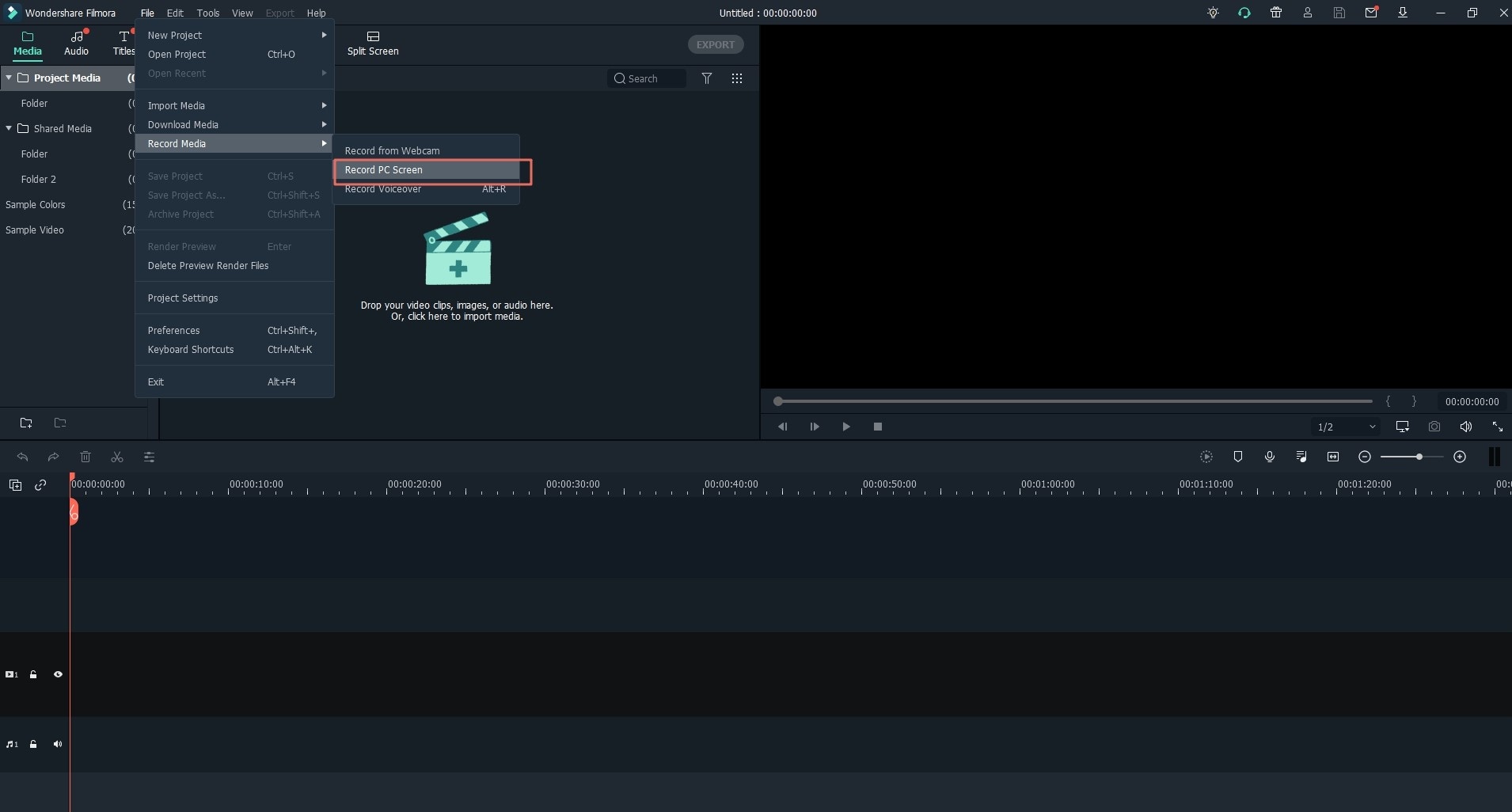 • To record your gameplay, you can select this Record PC Screen option, which shall bring you towards the Filmora Screen as follows:

• The best part is, you can customize your screen recording setting as per your requirements. To go ahead with that, hit on the Settings icon at the right corner of the Filmora Screen as follows:
Here you can customize Frame Rate, Quality, Record Timer, Mouse Cursor Effects, and much more with the visible checkbox to include your Webcam.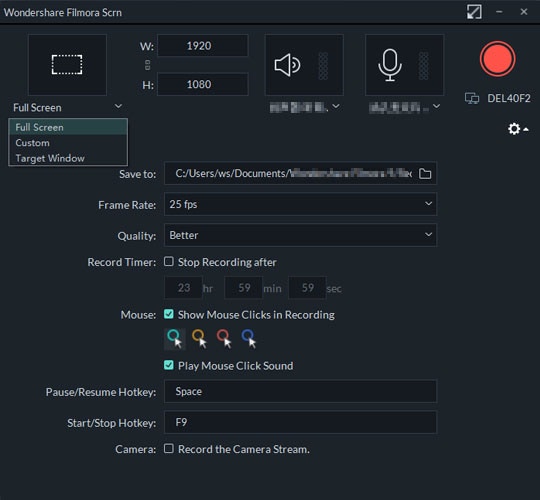 • After you're done with that, hit the Red Circled recording button at the top of this software interface, which lets you start the recording right after 3 seconds.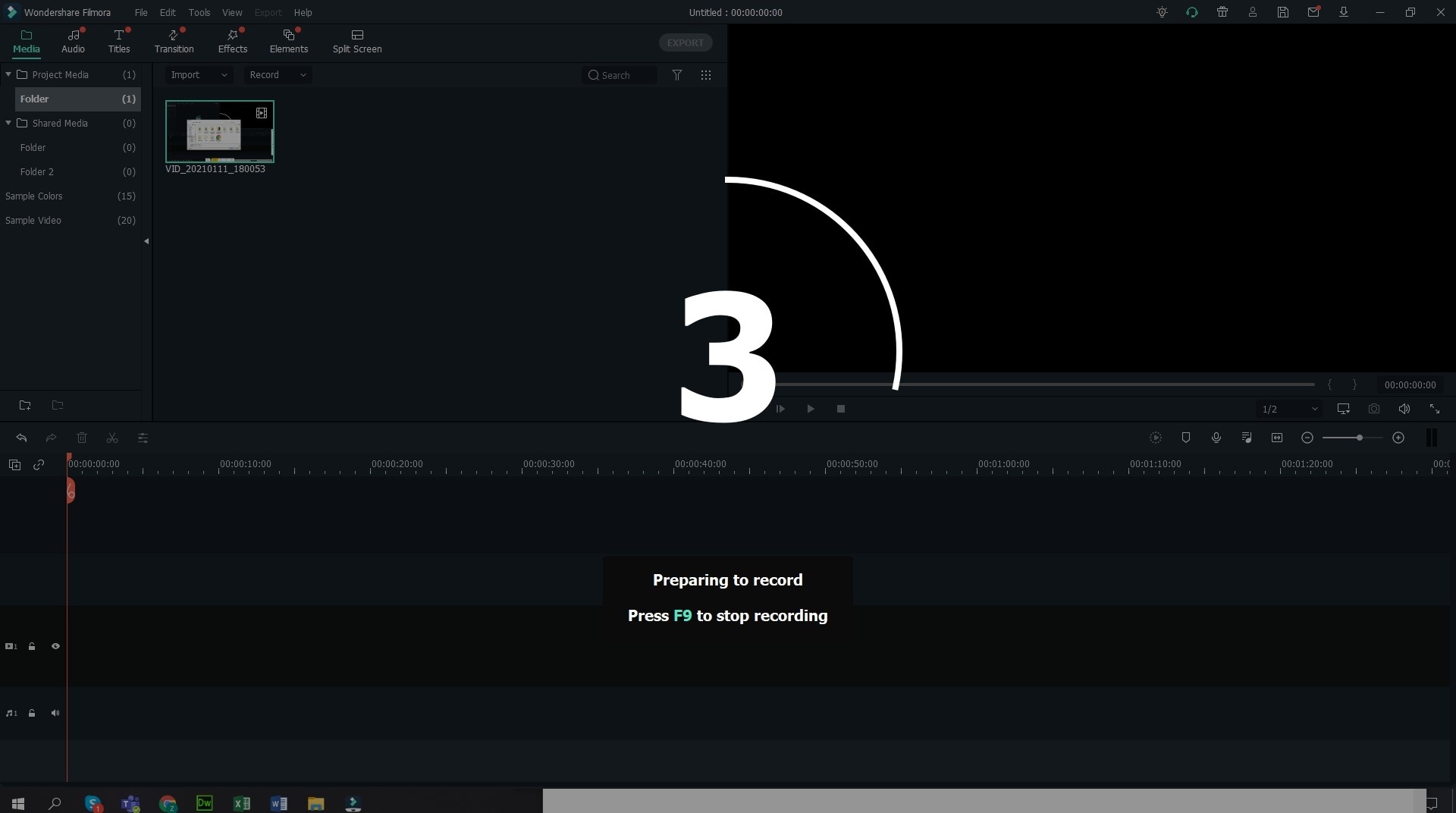 Filmora Video Editor Functionality:
Right after the gameplay recording, you'll be directed toward the built-in video editor of Filmora, which has a monopoly in the market. You'll do plenty of eye-catchy altering to your gameplay recordings via this video editor. Here we will explain the main features of how to edit game videos for YouTube via this editing software.
• To opt for the basic editing like Crop, Trim, Split and Rotate, select the video file in your timeline and opt for the intuitive editing functionalities as below: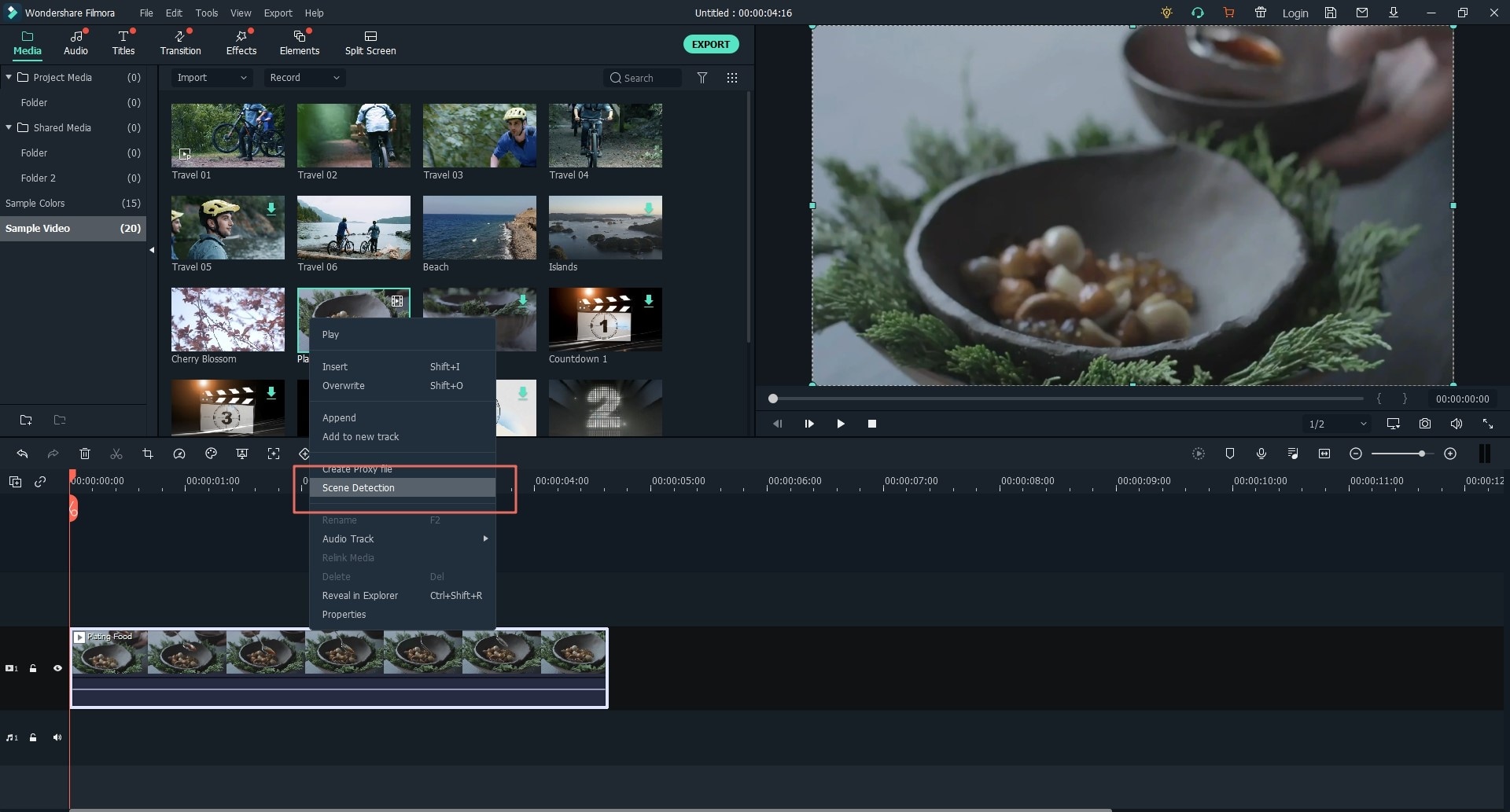 • You can add plenty of effects to your videos via the Effects menu bar and opt for the one which suits the best for your content: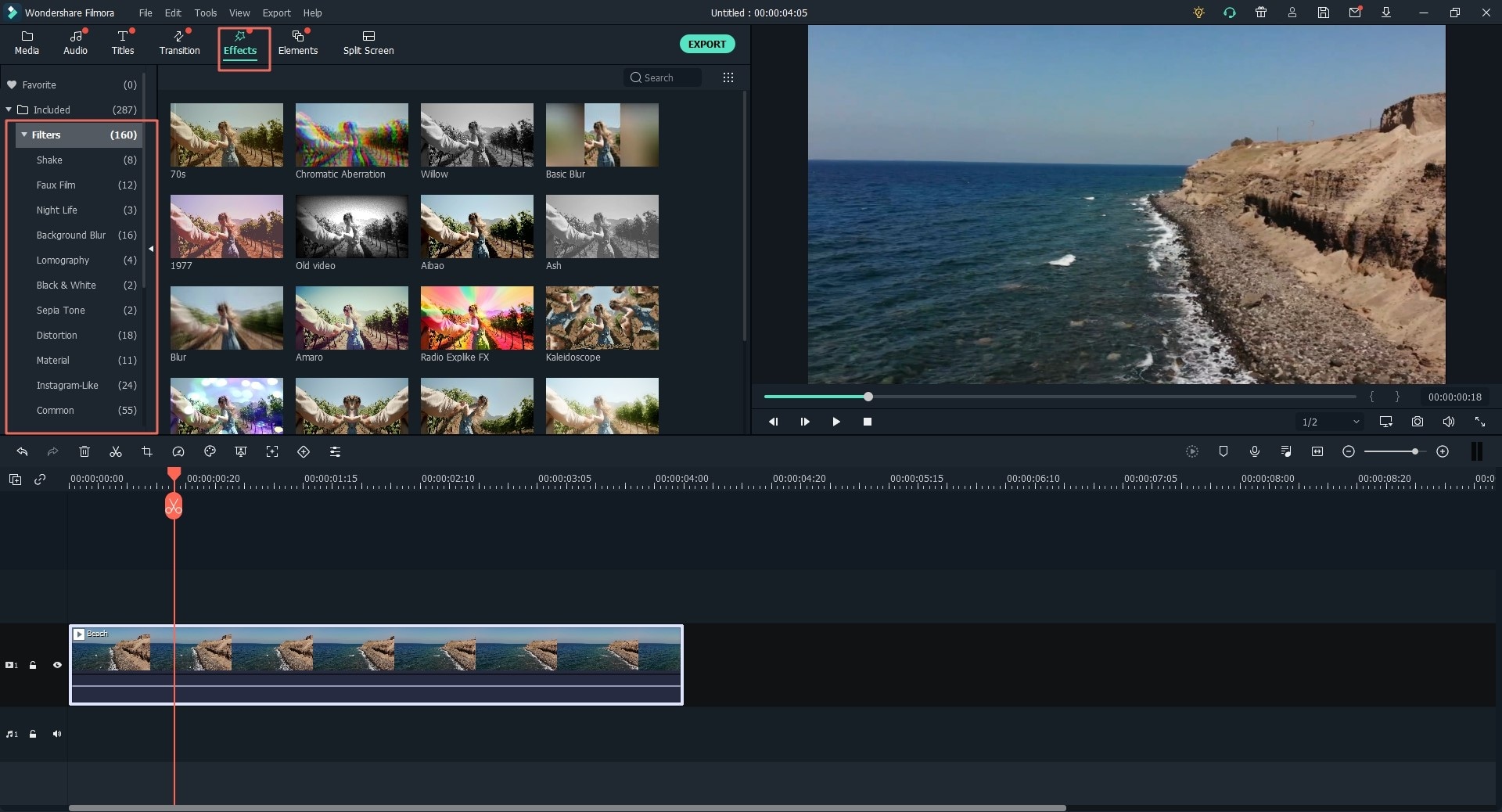 Note: You can also preview the video editor's effect to choose the best fit for your gameplay.
• To add titles to your video, hit into the Title menu bar situated at the very front of this software's interface as follows: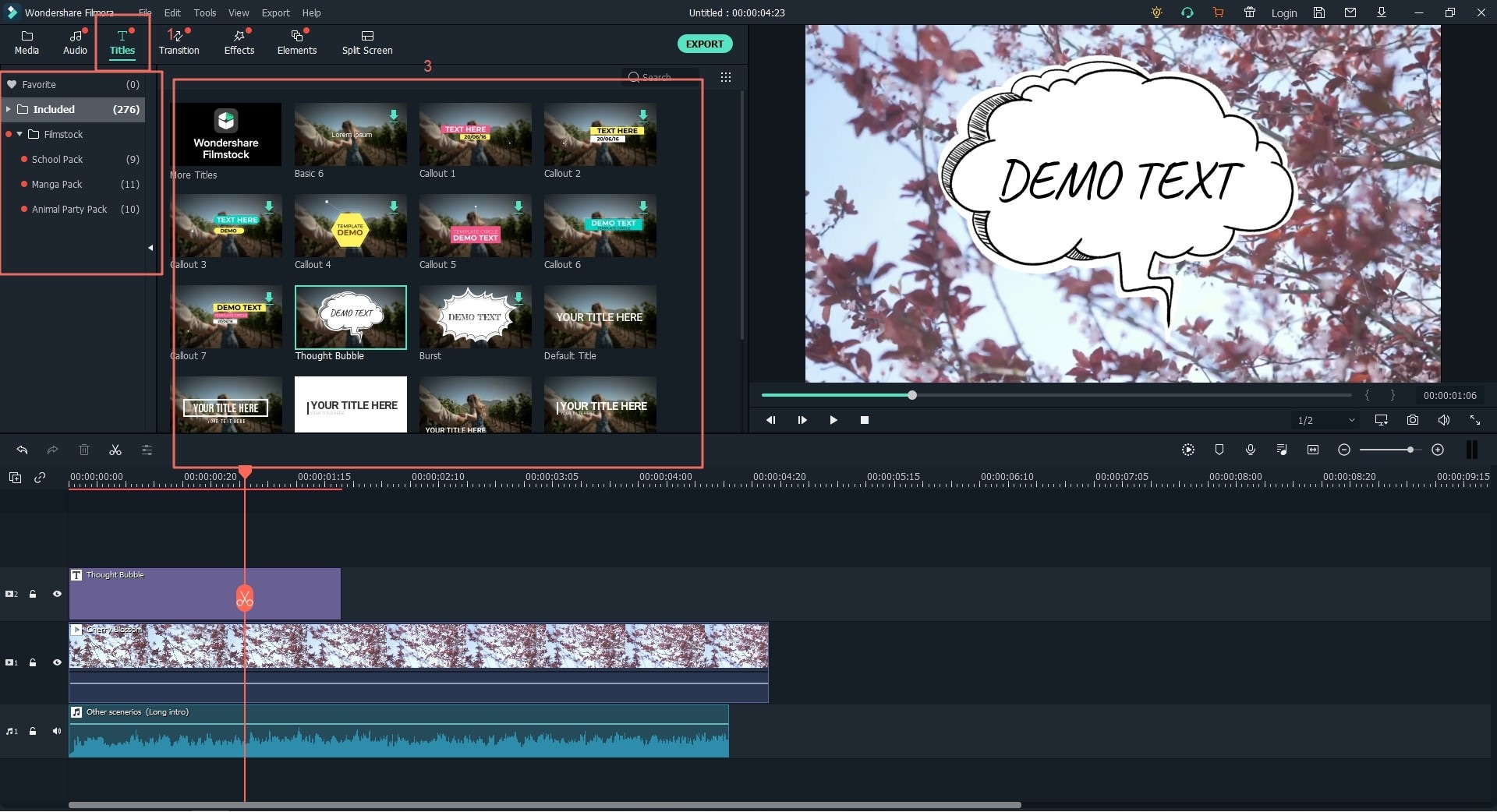 Note: You can customize to the full extent your selected title template and include in your timeline in parallel with your video clip.
• With Filmora, you've got the Transition menu from, which you can choose some eye-catchy and astonishing effects to be included within your video clips within the timeline.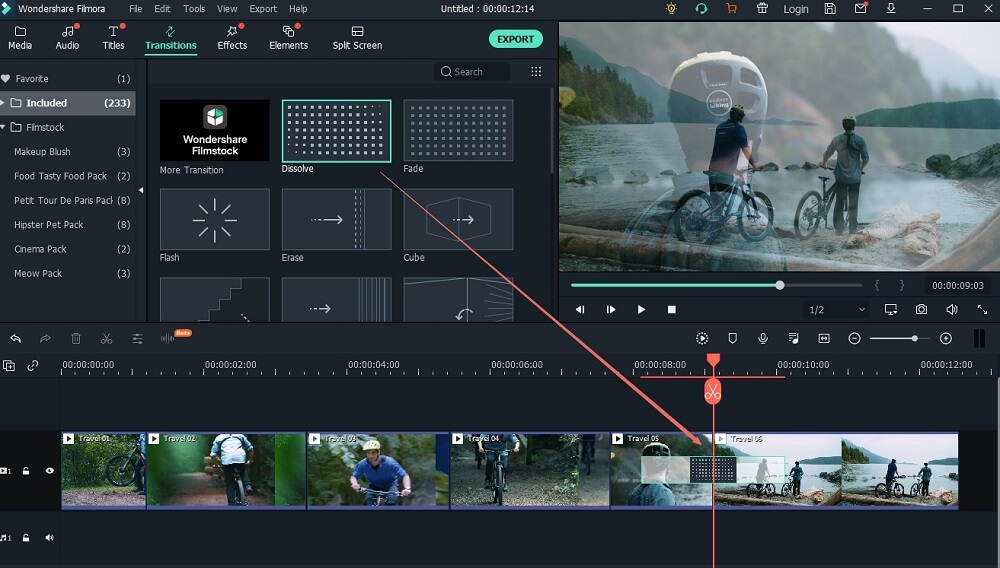 • You can also use the Elements and Split Screen functionality of this editor which lets you add various annotations to your gameplay recordings.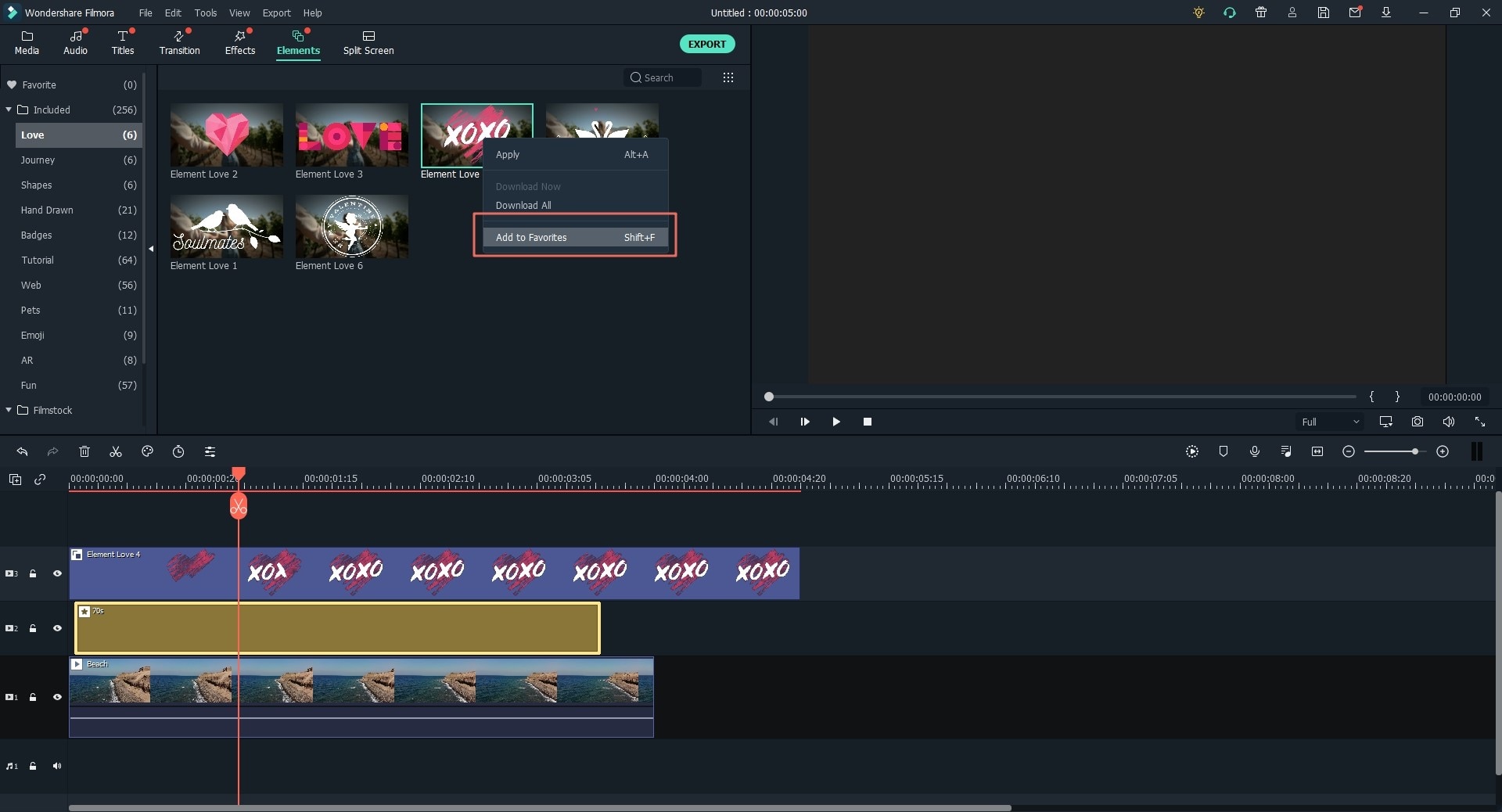 • At the end of the altering, now is the time to Export your masterpiece. With Filmora, you have plenty of Export settings to be carried out, ensuring your screen recordings' best quality with its best output formats.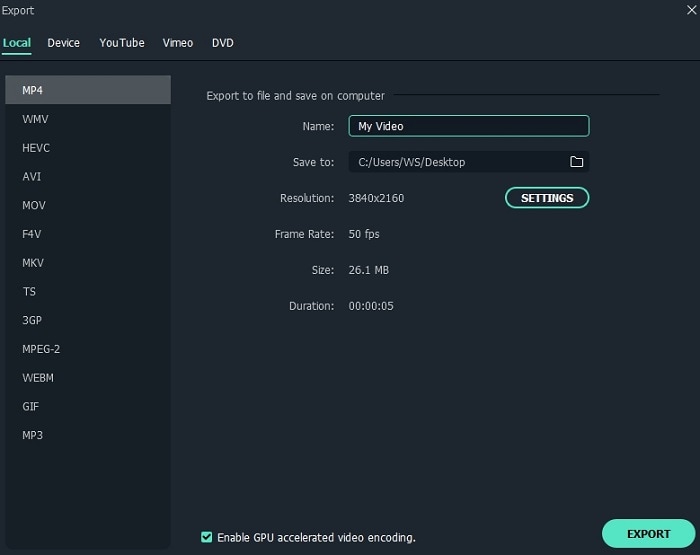 Filmstock: Largest library for digital content:
The best part is, with the Filmora, you can access this massive library of digital stock. Here's how.
• Login to your Wondershare account within the Filmora as follow: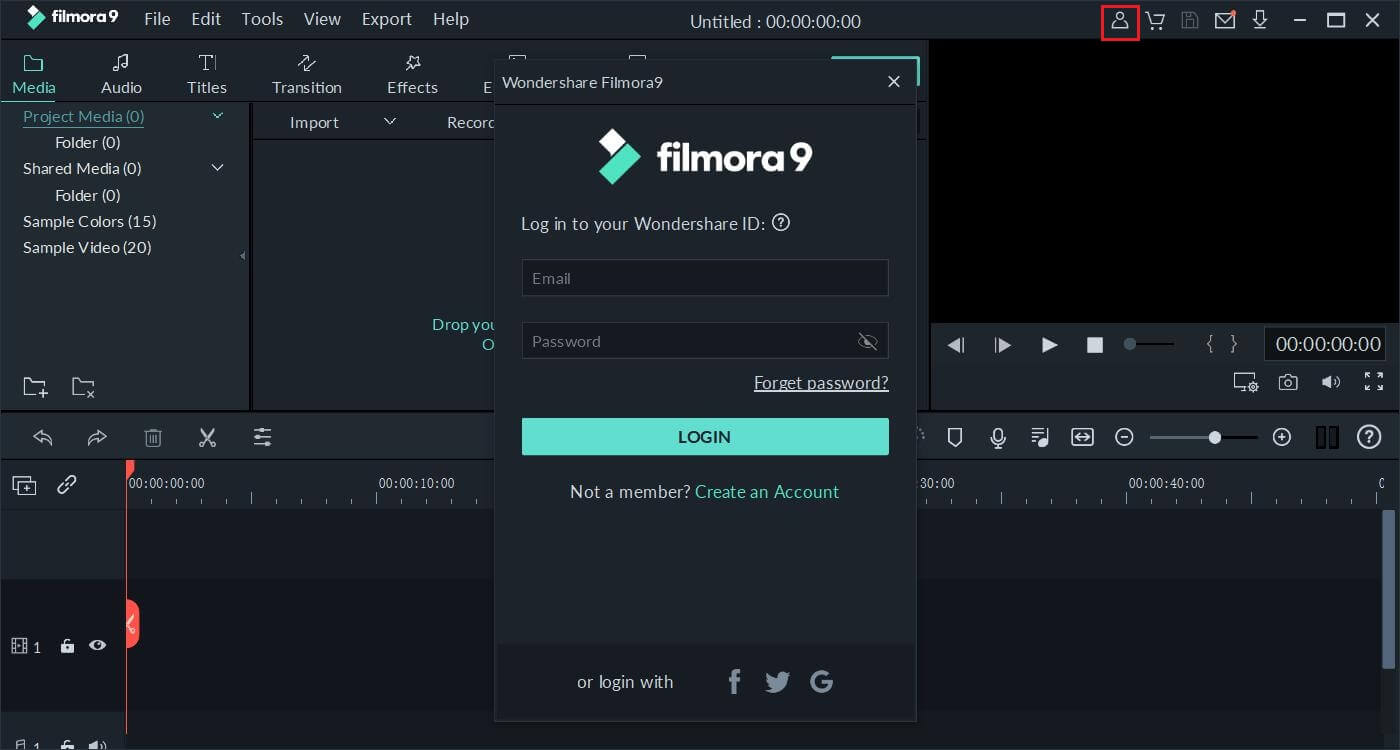 • Go to Filmstock and click the Login icon in the upper right corner. You will see a new page asking you to enter your account and password. Just enter your email and password directly in the correct location. Then click Login.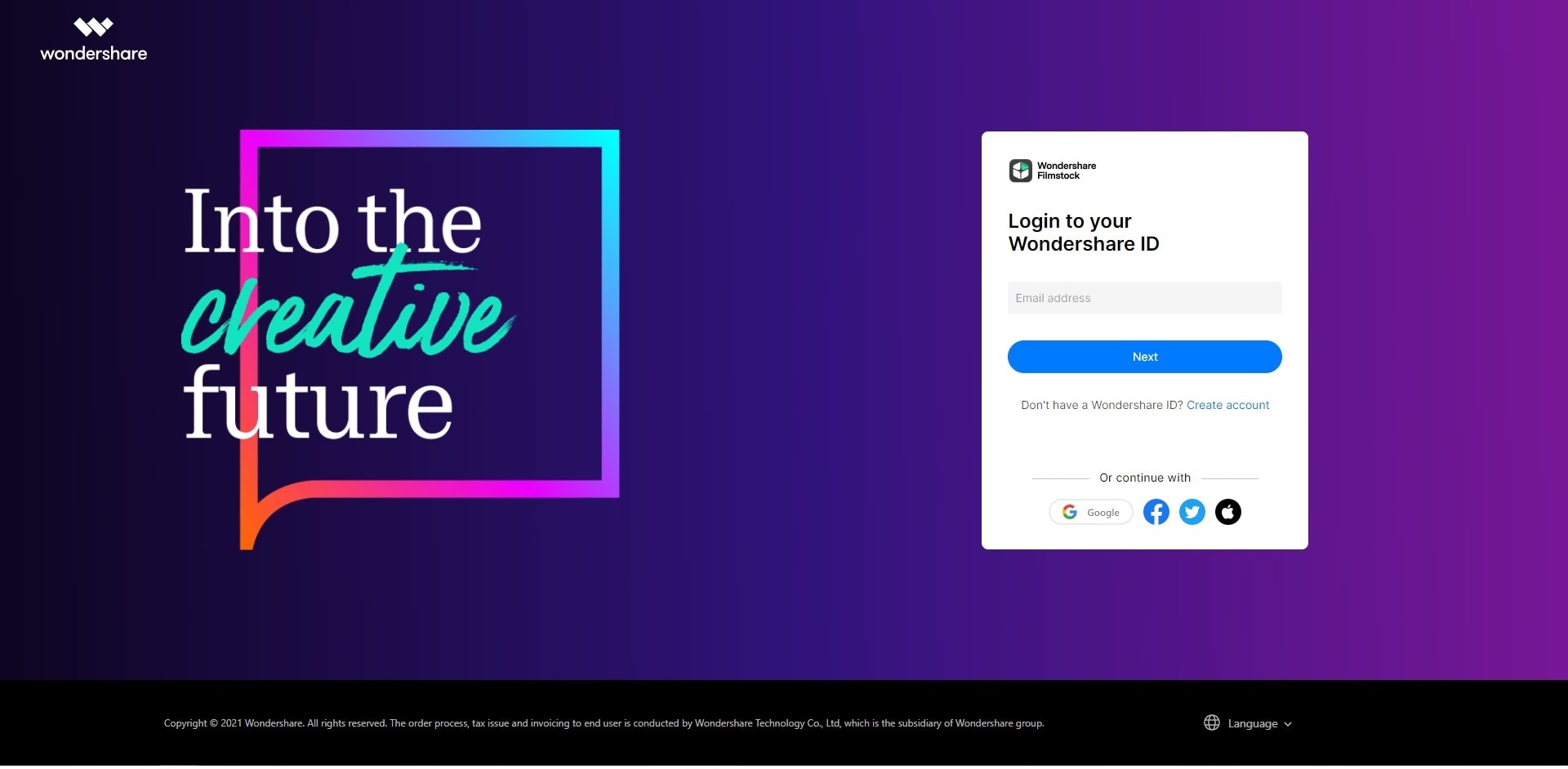 • To access the Filmstock, hit that Download button, which shall take you towards the Filmstock official page to access the numerous stock content for your video.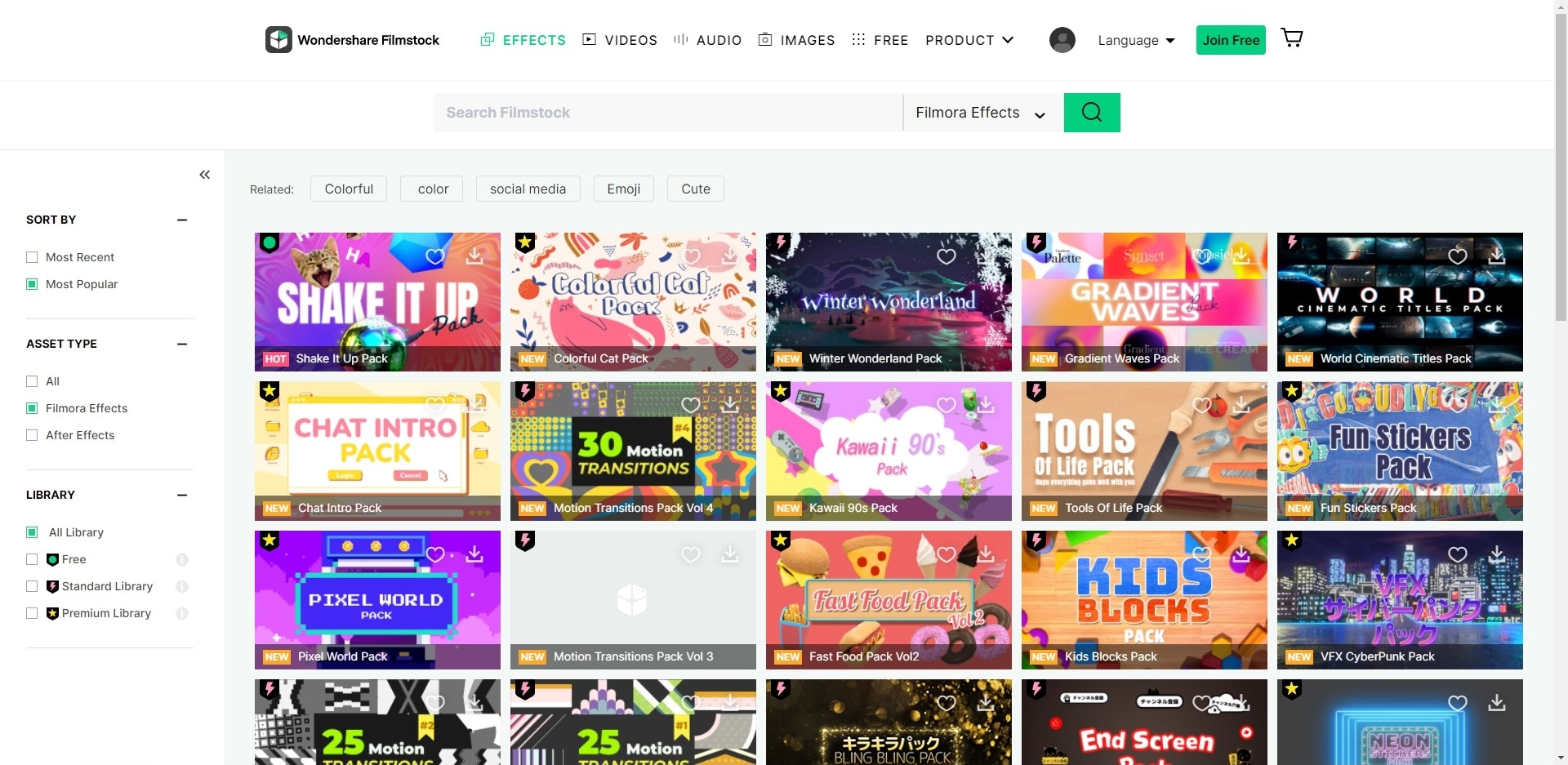 Share Directly to YouTube:
Filmora Video Editor, while pulling the barriers of limitations, allows you to directly hit the YouTube channel right from the editor so you can save the time and the memory of your system. Along with YouTube, you can also share your gameplay masterpiece video to several other platforms right from the Export settings of this video editor.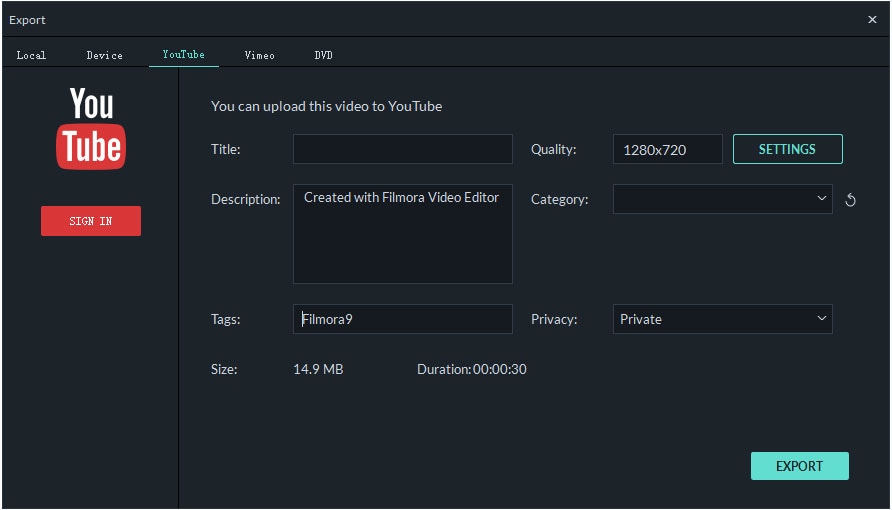 You can also use compression techniques to save bandwidth while ensuring your video content's highest possible quality.
3. Choose a Microphone and Audio Accessories
There might be a need to add your voice over to brief more about the gameplay. To do so, you require a microphone that has to be of high-quality to ensure the clean and better sound, conveying the message to the end viewers clearly and effectively. Furthermore, investing in the external microphone for quality purposes is also viable if you want to touch the top-class rating for your gameplay videos.
In a nutshell, we can say that Filmora Video Editor is an all-in-one software for all your needs, from gameplay recordings to post-production. It assists you at every step with its intuitive and easy-to-use platform. You can get a final and rendered project file at the end of the day so if you want to pursue a high-quality and stunning video project, then opting for Filmora is undoubtedly a wise choice.
---
Part 2: Top 8 Gaming Video Editor
An excellent and simplistic video editor must succeed with the gaming skillset in the video content industry. However, the video editor has only the ability to polish your game record. You can use it to beat the competition or ignore the audience in the pile of such content.
Filmora Video Editor
Filmora Video Editor (or Filmora Video Editor for Mac) is just the one and top-notch of its kind. With the overall premium package from gameplay recording to publishing your video content, this video editor classifies all the way milestones to ease your panic.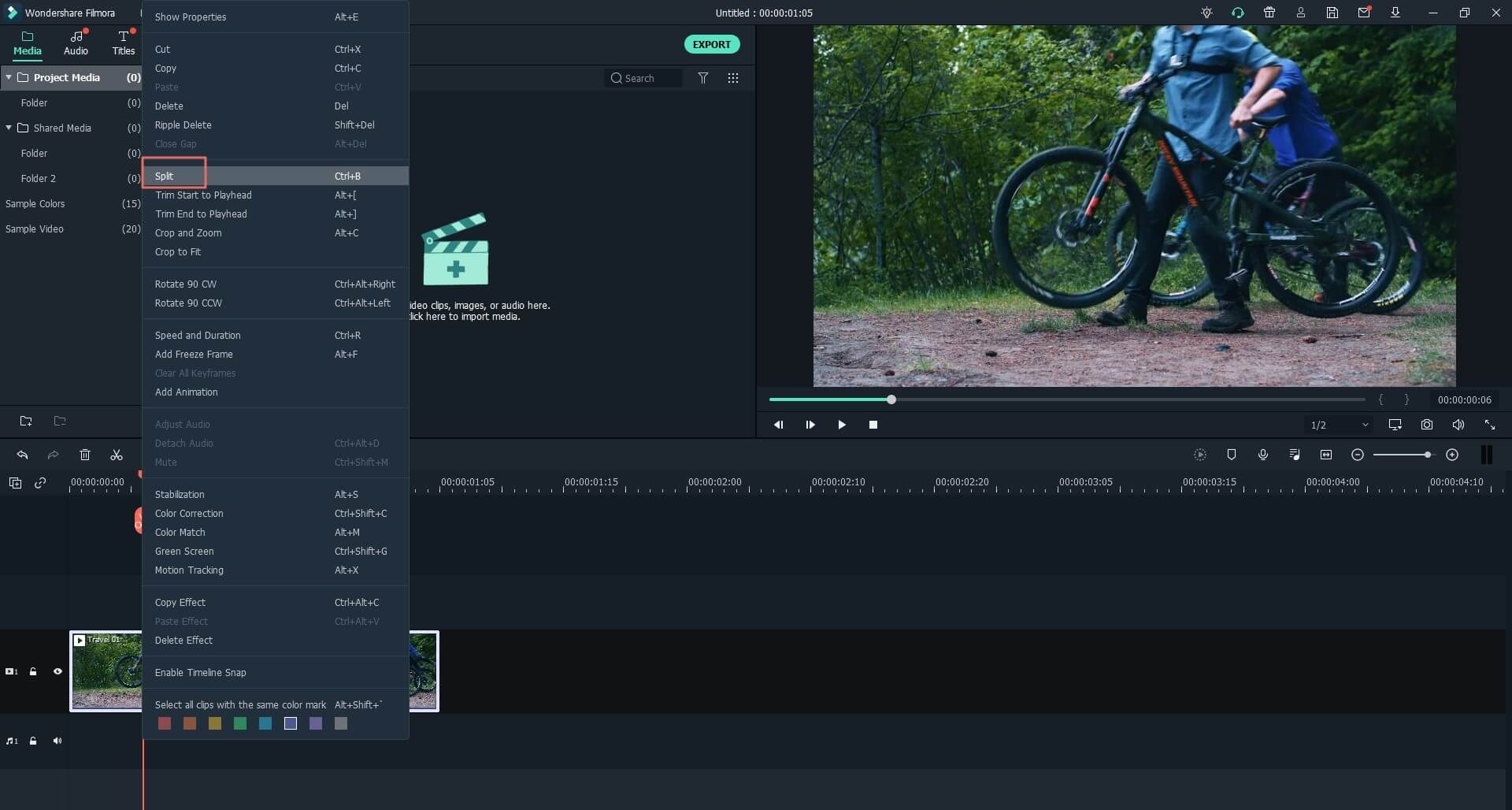 Steps Involved in Video Editing:
• The very first step is to download and install this software, which is, by default, set to have default settings for your specific system as it detects.
• As soon as you're within this software interface, hit the Import button to import your recorded gameplay for editing purposes.
• You can add audio, titles, transitions, effects, elements, annotations, and much more via this single video editor.
• After you're done editing, hit the Export button, save the desired settings output file to your system or upload it directly to your YouTube channel.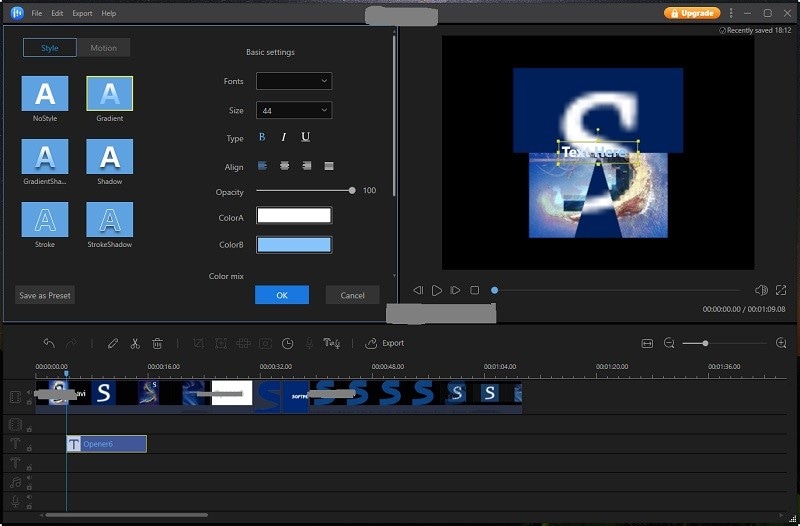 As its name suggests, EaseUS Video Editor is an easy-to-use platform for video editing purposes with the comprehensive tools of making your gameplay videos engaging enough to make them unique from the mountain of the others.
Price: $79.95
Pros:
• It allows you to import your gameplay recording from any format to polish them professionally.
• You can include titles and voice-overs with this gaming video editor and export your masterpiece in the various formats.
Cons:
• This software doesn't have the macOS version yet.
---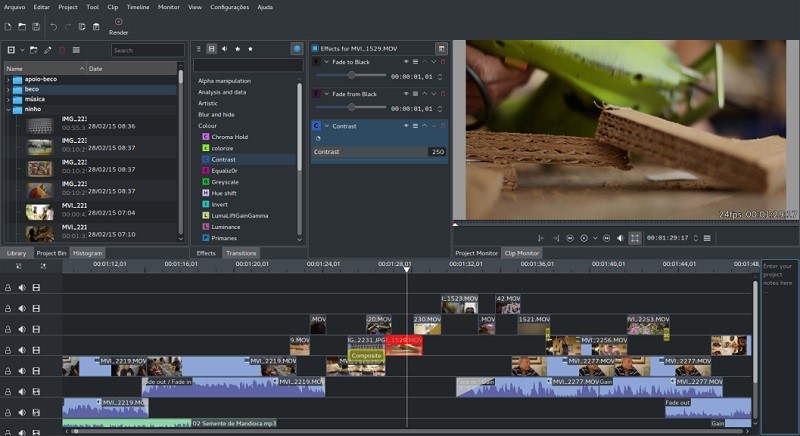 An open-source platform for gaming video editing purposes, Kdenlive is an enriched video editor with multi-tasking applicable for the audio tracks. It offers several layout options for you to customize according to your best fit while editing your gameplay videos.
Price: Free
Pros:
• You can import and edit several tracks at the same time with its multitasking interface.
• You can also use their automatic backup for all your video projects in case of any mishappening.
Cons:
• Although it's a free platform, it has some limited number of effects in the stock library.
---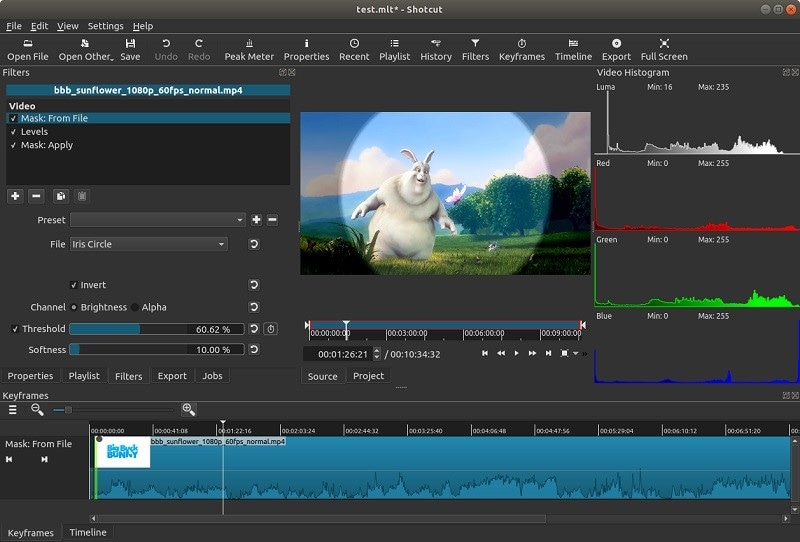 This video editing platform has formatting options for input and output project files, which means that with the Shotcut video editor, you can set the output file to the desired format in preparation for publishing on various platforms.
Price: Free
Pros:
• Along with the file format, Shotcut also allows you to add and take screenshots for the customized thumbnail purposes.
• You can also do audio editing via this platform in case of fine-tuning your gameplay audio.
Cons:
• It has a complex interface which is very difficult to understand for the beginner level gamers.
---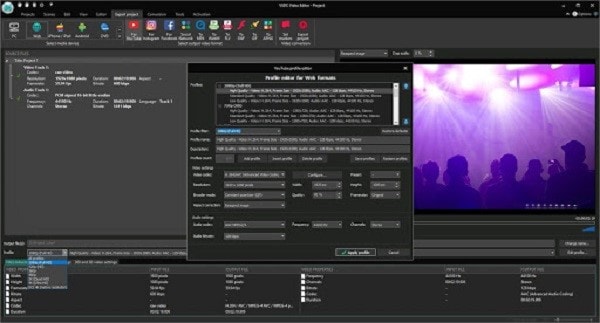 VSDC Video editor the one of its kind with the power of file format conversion to be done on your gameplay recordings. You can also use this platform to include various audio and video effects on your gameplay recordings.
Price: $19.99
Pros:
• VSDC Video Editor allows you to have various audio and video effects within your gameplay recordings.
• It also offers some advanced level tools like motion tracking and split-screen functionalities to your gameplay recordings.
Cons:
• VSDC is explicitly designed for the pro-level editors; hence, it has a high complexity level to learn for a beginner.
---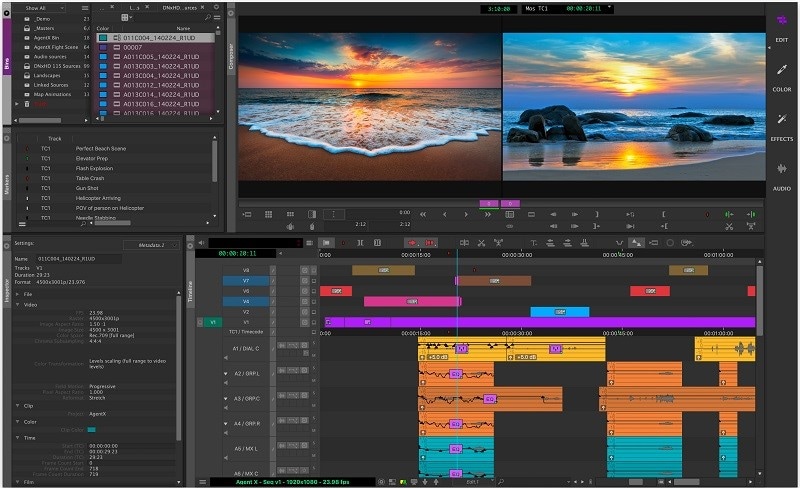 A perfect tool to give your gameplay videos a professional touch, Avid Media Composer is a gaming-specific video editing tool with some high-level gaming templates for the gameplay purpose.
Price: $49.99/Year
Pros:
• This video editor has a wide variety of gaming effects to be usable within the gameplay recording to give them a professional touch.
• It also offers Virtual effects that can bring your gameplay videos to the next level.
Cons:
• It has some limited formats which have a deficiency of unsupportable for web purposes.
---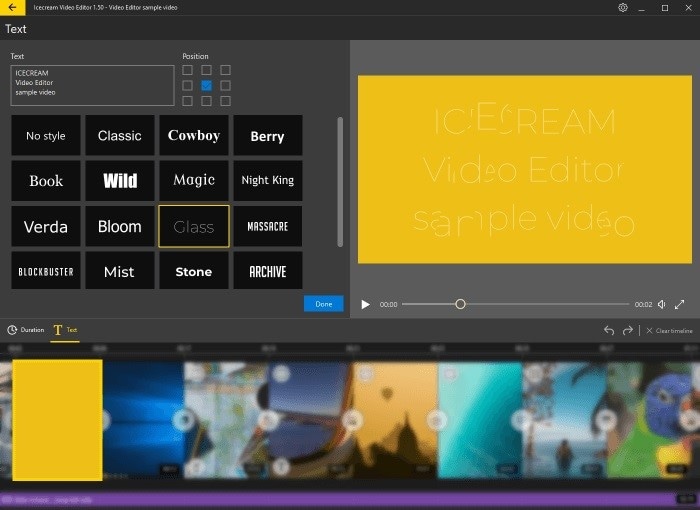 A perfect merger for your various gameplay recordings, Icecream video editor, is the one which has the specialty of giving your divided videos a perfect retouch in a way that can turn out to be a single masterpiece.
Price: $29.95
Pros:
• It has a simplistic interface that is suitable for beginners as well.
Cons:
• This video editor has limited functionality, which has some necessary editing tools.
---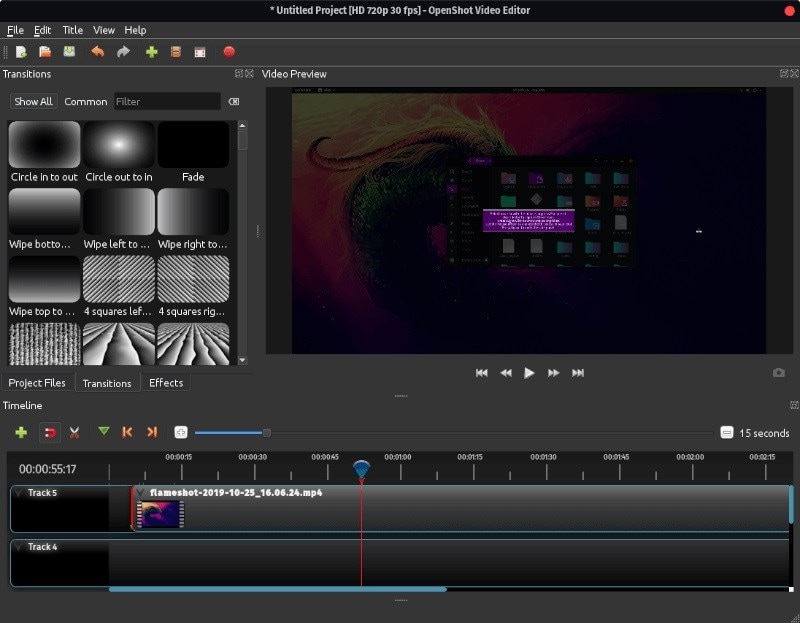 OpenShot is a user-friendly yet powerful video editor that can convert your dull and boring gameplay videos into an interactive and blooming content that your audience gaming community admires.
Price: Free
Pros:
• OpenShot, with its handy interface, has space for 3D animation to be included in your gameplay videos.
• It has a comprehensive timeline for re-arranging numerous video and audio clips.
Cons:
• Apart from an intuitive interface, it has a limited number of effects available for you to include in your gameplay videos.
---
This video editor has this ability to include pro-level features to your gameplay recordings with certainly no cost at all. You can also add various music files to merge them all for a creative and stunning output file.
Price: Free
Pros:
• It has some high-quality effects with no cost for subscription.
• Its pro-level editing features allow you to retouch your audio and video part of gameplay videos.
Cons:
• It has a complex interface that is not suitable for beginners.
---
Part 3: Tips On Make Video Game Videos For YouTube
If you feel like now, you're ready to embark with your first gameplay recording project to be made public via the YouTube platform, and you've found the answers to how to make a video game YouTube video. Then now is the time to learn some tips and tricks before practically diving into the YouTube gaming channel. Learn more here
1. Avoid copyright issues
YouTube has developed some strict policies for beginners and YouTubers to detect copyright anomalies. Hence you have to be opened eye towards the copyright claim issues. To avoid such problems in the future, you should opt for a purchased version of your audio and video clips for which you've got the legal right to include in your videos.
2. YouTube demonetization
Another useful trick for you is to take care of the AdSense program of YouTube. Apart from having a fair reward for the trending content, you still got some chance of being demonetized by YouTube. Hence, we recommend getting proper know-how of YouTube policies before diving into the monetization phase for your successful gaming video channel.
---
Conclusion
This long tail article's bottom line is to provide you wise advice to go before embarking on your first gaming video project to be made public. This includes the facts and figures upon which you can decide to go into a specified direction.
If you're a total rookie in this niche in compliance with the above-explained figures, then Filmora Video Editor is a perfect choice. As it covers all the requirements through its enriched stock library of Filmstock, you can get as many accessible templates and royalty-free music and images for your gameplay videos' polishing purposes.