Contents
2. iOS 9 Features

3. iOS 9 Preparation

4. Download & Install iOS 9

5. iOS 9 Troubleshooting

6. iOS 9 Tips

7. iOS 9 Apps & Software

8. iOS 9 Resources

9. More about iOS 9
Apple has got one of the newest operating systems designed for iOS gadgets such as iPad and iPhone. This is the iOS 9, which contains the features of iOS 7 and iOS 8 and a lot more such as reformulated features, much better services, and enhancements of performance.
Intelligence and proactivity are two main aspects of focus of iOS 9. iOS 9 acts on the information that it learns mainly from the user habits. With iOS 9, your device's intelligence will be elevated to a new level without having any compromising effect to tour security. At the helm of these changes is Siri. The personal assistant has now got the ability to create contextual reminders.
1. Siri
With the aim of improving your device's intelligence, new and very interesting features have been added to Siri. Siri is now far much better than ever and now has the ability to get any information directly from within the apps on your gadget. With this new proactive intelligence in iOS 9, Siri will have long anticipated what you would like to do or what you want before you even get the opportunity to ask.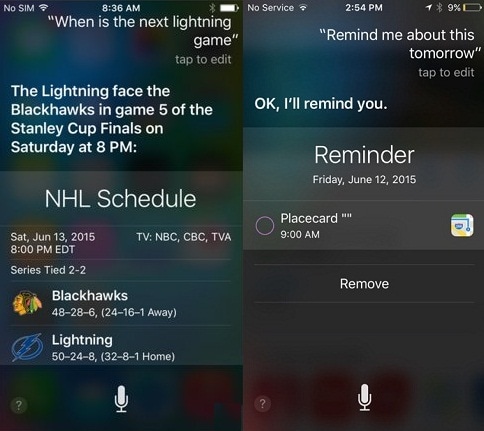 In iOS 9, Siri can perform a lot more with contextual awareness. If you are looking up at request that you have received in the messages app but can't perform the task at the time, try asking Siri to remind you later. When you say "remind me to do this," Siri will understand what you mean by 'this' thus adding an event.
It is able to perform time-based searches for things such as videos and photographs. It can conduct searches basing on time, location, and album titles. For example, if you want to watch a clip emailed to you by somebody, you can ask Siri to show them. Simply ask "show the clips that were sent to me by Merlin".
With time, iOS 9 learns more on your habits thus creating an experience that is engineered to meet your daily needs. When you plug in your earphones, Siri will automatically play you favorite music. If you are also used to checking the weather in the morning, Siri will show it to you once the morning alarm goes off. When you swipe to the left of the home screen you will access a new search window with Siri Suggestions.
2. Search Screen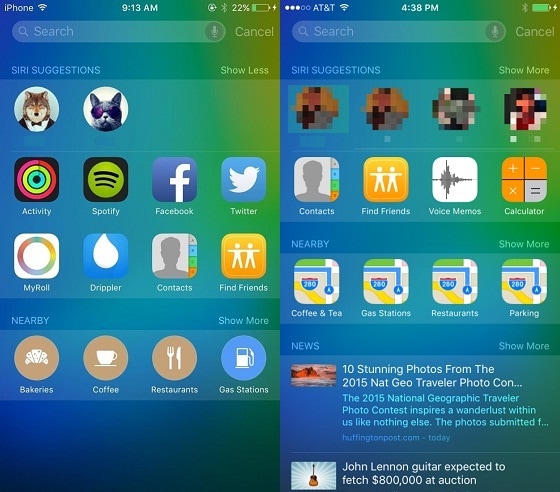 iOS 9 has made your search screen prepopulated with nearby places, contacts, and apps. It is now proactive in other places too thus making a number of things easier.
The search screen will now show the contacts you talk with often, those you last talked with, and also those you have scheduled to meet next.
Your routine usage will trigger suggestion of apps. For example, if once you wake up in the morning you always read news, the News app will automatically show up on your Search screen at the time you usually wake up.
You can also depending on your geographical location see the local news trending where you are.
3. Proactive Assistant
Another main feature in the iOS 9 is the Proactive Assistant. This is basically an upgrade to the virtual assistant Siri. You iPhone will now have the ability to anticipate your next moves based on the context such as time of the day, location and the app that you have opened and will then make suggestions to you. For example, once you leave home, it will inform you about the upcoming appointments from your calendar. It will also show you how far you still are from your destination and how much time it will take depending on the real-time traffic situation.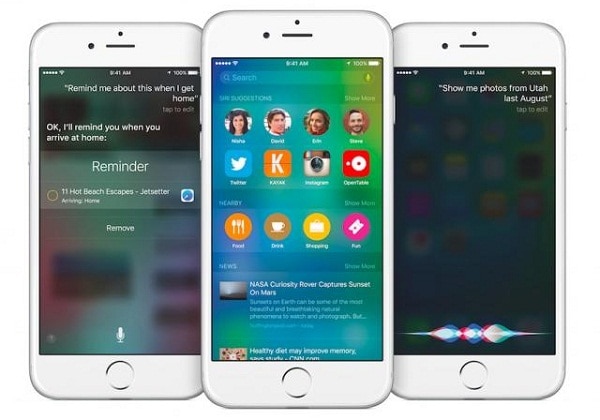 With proactive assistant, Siri will be able to suggest apps for you. If you are searching for something, Siri will find a relevant app for it. Siri will also be able to work like Truecaller. It will now be able to identify persons calling you if the contacts are not present in your phonebook.
Another smart feature in proactive assistant is that when you plug your headphones to your gadget music will play from where you exited last.
You will also be a in a position to receive notifications on calendar appointments in your mails added to the Calendar app.