Contents
2. iOS 9 Features

3. iOS 9 Preparation

4. Download & Install iOS 9

5. iOS 9 Troubleshooting

6. iOS 9 Tips

7. iOS 9 Apps & Software

8. iOS 9 Resources

9. More about iOS 9
Siri is among those few applications that has made iOS a standout. The functionality of Siri is really amazing. It's like speaking to your phone. Though now this service is available for many platforms now but if we speak of the original idea, credit goes to the developers of Siri and Apple to release it to the market with their product. Siri has made possible many additional functional such as the voice command.
Now when we talk about Siri being updated, you cannot keep your expectation low. iOS 9 brings performance enhancements, new design and features and improved functionality. The Siri has got smarter and brilliant. And from smarter we mean a product that can really setup new foundations to artificial intelligence and create a companion for the users. This time the company laid its focus to enhance the intelligence of the device and so some in-built apps like the Notes and the Passbook are improved.
Part 1. Introduced Improvements in the Siri of iOS 9
If you've loved Siri and wanted it to be more personalized, iOS 9 has heard you. Apple has worked hard on making siri more perfect, helping it become your personal assistant easily. Here are some of the ways Siri has been modified and how it can help you now.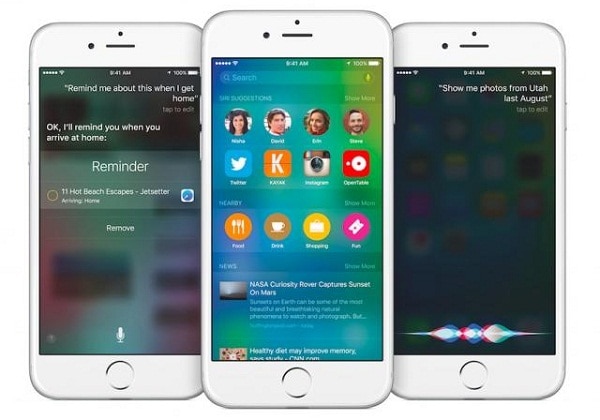 The much talked about feature the 'Proactive suggestions' is considered as a lifestyle management tools and the Siri has got many amended to become a companion for the users.
The genius Siri. This digital companion gets smarter and life like. It works similar to the Google Now. The program is smart enough to learn from the users, their behaviour, the trend and routine. It is also expected to understand your preferences for music and likes and act accordingly.
The Siri suggestions is expected to keep record of the recent and frequent activities of the user like if you use certain apps or visit certain places frequently on someday or that time of the day, Siri would recognise the pattern and would show notifications accordingly as suggestions during that time. Siri acts like a module that would monitor users' habits and proceed accordingly to improve the functionality of the device.
Now Siri has been made much more powerful. It has been granted access to almost all the applications available on your device. Even the third party applications. This means that Siri can open and run any application to perform the specific function. Like if you wish to call some, just ask Siri to do it and it will access the contacts and done.
Part 2. The Main Benefits of the Updated Siri
The improvements mean that Siri will work better than before. It also means that you will have a better user experience with iOS 9 and be able to take care of your tasks in a much simpler manner. Here are some benefits of the improved Siri: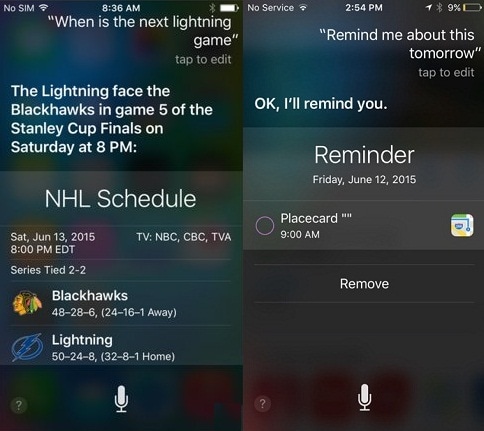 Now with the new Proactive being linked Siri, you will able to interact with your device. Your device will record your usage patterns and thus suggest accordingly. This will improve your iOS experience and also you can eliminate those which are of no use to you.
Using the search you can simply file files or data on your phone or else on the web.
The Siri will enable you to schedule tasks according to your demand.
You could play music or video on a single command, make calls, or send SMS. Your Siri could also read you the messages and reply to them.
Using Siri you can locate your contacts, people linked to network.
Users can create notes, look for directions, access web, search for news, and much more.
Instruct you device to perform some arithmetic operation.
The functionalities Siri offers are endless and if you wish to perform some action or any other function, Siri can perform that task. Siri has made the devices smarter and powerful. And now since Apple has provided access to other application, Siri has grown stronger and so has its ability to expand its performing abilities.