Contents
1. Delete Photos on iPhone

2. Delete AV Files on iPhone

3. Delete Apps on iPhone

4. Delete Contacts on iPhone

5. Delete Other on iPhone

6. iTunes/iCloud Remove iPhone
Your personal information including videos and pictures about your family and friends is sensitive. With the increase of cyber-crime including identity theft, proper care should be taken of personal information. If you are giving away your iPhone or selling it to someone else, you should delete all data including all your pictures. Although you delete them from your phone, it can still be recovered using special software. However, there are various methods you can use to permanently delete Camera Roll on iPhone.
Part 1: How to Delete Camera Roll on iPhone Permanently
Key Features of dr.fone - Data Eraser (IS)
There is so much to like about this program. It has many amazing features that you will definitely like. The following are some of the key features that it is comprised of.
1. Express Cleanup. This feature cleans up junk files on your iPhone thus creating more space and increases performance of the phone.
2. Photo Compressor. This feature compresses photos on the iPhone maintaining the same high image quality. This results in more free space on the iPhone.
3. Erase Deleted Files. This feature permanently deletes previous files that were deleted on the iPhone including messages, contacts and call logs among others.
4. Erase Private Data. All private data is scanned and you can choose which ones to delete permanently from the iPhone thus reducing the risk of data theft.
5. Erase All Data. This feature permanently deletes all data on the iPhone thus restoring it to factory setting.
Steps for Deleting Camera Roll on iPhone
If you want to delete camera roll on iPhone 5, iPhone 6s and others, follow the steps below.
Part 2: Delete Camera Roll on iPhone by Using Image Capture
Image Capture is a program on Mac that controls what happens when you connect an iPhone, digital camera or iPad to the computer. It also enables you to use the scanner without the need for any other application.
How to Delete Camera Roll Using Image Capture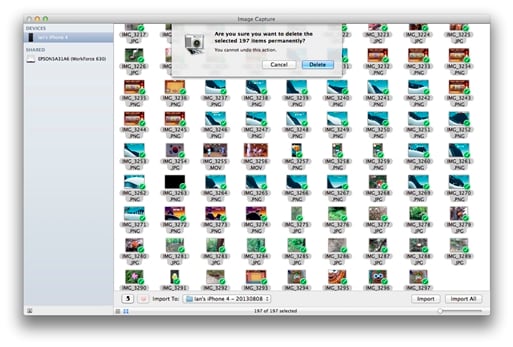 Step 1 : Launch Image Capture application on your Mac.
Step 2 : Connect your iPhone to the Mac.
Step 3 : Under 'Devices', click on your iPhone.
Step 4 : Click on the photos you want to delete and press the delete button located at the bottom of the page.
Step 5 : If you want to delete all the photos, click on 'Select All' from the menu and then click on 'Delete' at the bottom of the page.
Step 6 : You will be asked if you are sure you want to delete the items permanently. Click on 'Delete'.
Apart from deleting your camera roll using dr.fone - Data Eraser and Image Capture, there are many other methods you can use to delete your camera roll. Some of them include using iPhoto or the Photos app. When using the Photos app, there is no need to use the Mac but the process is tedious as you are not able to choose multiple photos. You can only delete one at a time. These methods are also acceptable as they permanently delete photos without the possibility of retrieving them.