You might have download or purchsed some new apps for iPhone and iPod Touch from App Store. But not long after, you will find that there are many unwanted updates on these apps or you will not need these apps any more. If you are in such situation, you will be lucky to find this guide that helps you to delete apps on iPhone, iPod Touch and iPad (El Capitan and iOS 9 supported). Follow the ways below, and you can easily delete apps from you iPhone (iPhone 6S Plus/6S/6 Plus/6/5S/5C/5/4S/4 included).
Part 1: The Easiest Way on How to Delete Apps on iPhone, iPad and iPod
To remove app from iPhone easily, you can use iSkysoft dr.fone - Data Eraser for Mac (or iSkysoft dr.fone - Data Eraser). This is a handy data eraser allowing you to delete everything from your iPhone, iPod Touch and iPad. It provides you with several erasing mode, including erase all data, erase deleted data, erase private data, compress photos and clear junk files. And it has the ability to scan your device data deeply and erase them with no recovery.
Key Features of dr.fone - Data Eraser:
• You can delete any data, including contacts, messages, photos, account information, browse history, and more.
• It can helps you to remove deleted files on your phone and your iTunes library.
• You are able to clear junk files on your phone in only 1 click.
• Both jailbreak and non jailbreak iDevice can be erased.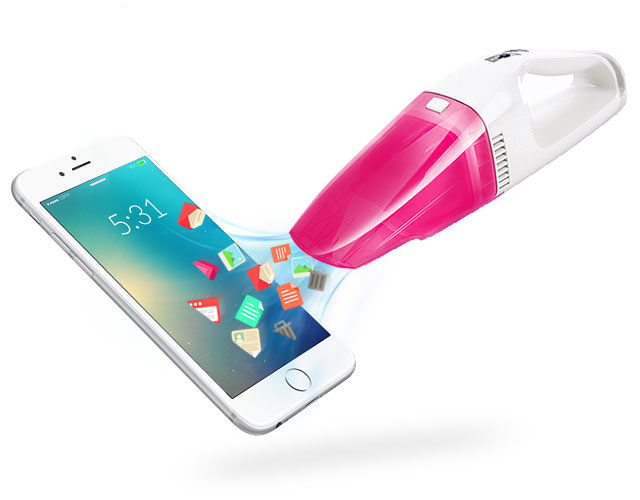 ---
Steps on How to Delete an App on iPhone
Step 1. Start the dr.fone - Data Eraser
First, download and set up the data eraser program on your computer. And then launch the program and connect your iPhone or iPod to your computer with a USB cable. Your device will be recognized by the program. And you can view your phone information in the primary window of the program.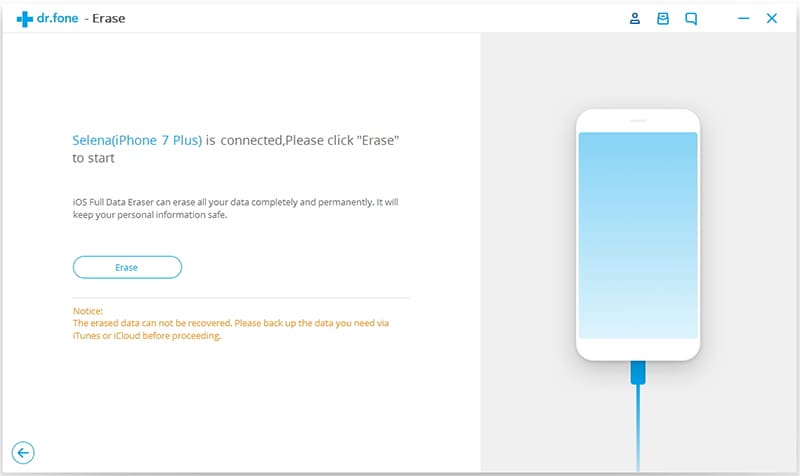 Step 2. Choose a Data Erasing Mode
To delete apps from iPhone, you can select "Erase All Data" on the left column of the program interface. And click the "Erase Now" button to move on to the erasing steps.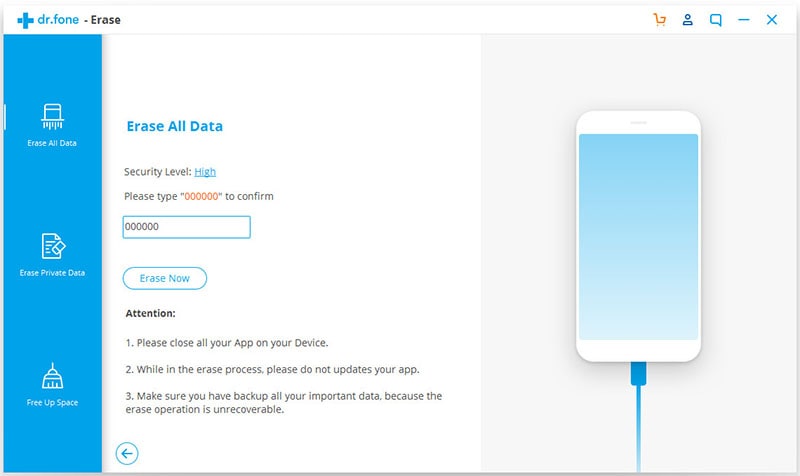 Step 3. Start Deleting Apps on iPhone
Once click on "Erase Now" button, the program will pop-up a window to ask you to type "delete" to confirm to delete all data on your iPhone. After that, you can click "Erase Now" button to strat to delete all data including apps on iPhone.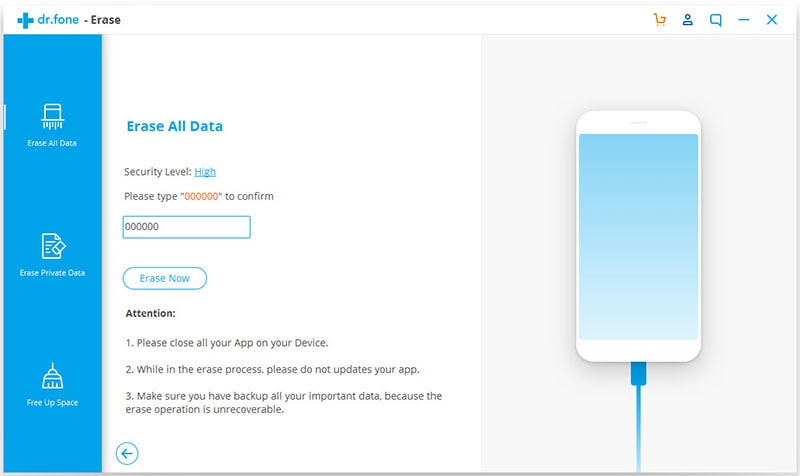 ---
Part 2: Directly Delete Apps from Homescreen of Your iPhone/iPad/iPod touch
•On the springboard, locate the app you want to delete.
•Tap and hold down the icon of the application you want to delete. After a few seconds your screen will start to "wiggle" and an X will appear next to each of the apps you've installed via the App Store.
•Tap the "x" next to the icon of the app you want to remove. When prompted, select "Delete".
•Poof !!! And now it's gone.
•If the application is listed in your iTunes Applications as well, you'll want to remove it from there - or else it will re-install the next time you sync. Alternately you can keep the app in your iTunes Applications, and set iTunes not to sync all applications, just the ones you want to keep. See the Applications tab of your device the next time it's connected in iTunes for syncing options.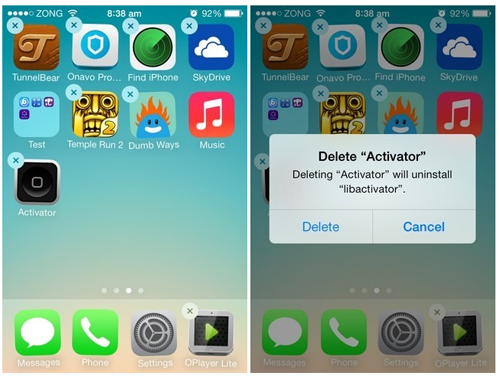 ---
Part 3: Delete Apps from the Settings Menu on Your iOS Device
•Find "Settings" on your iPhone, iPad or iPod touch.
•Then choose "General", and tap the "Usage" option under it.
•You can touch the "Show all Apps" button to get all your Apps on the device displayed.
•Now, choose the one you want to delete and tap on it, then tap the "Delete App" button.
•There will be a pop-up message letting you confirm the deleting action. Just tap the "Delete App" to confirm it.
•That's all. The app disappeared when you get back to the homescreen.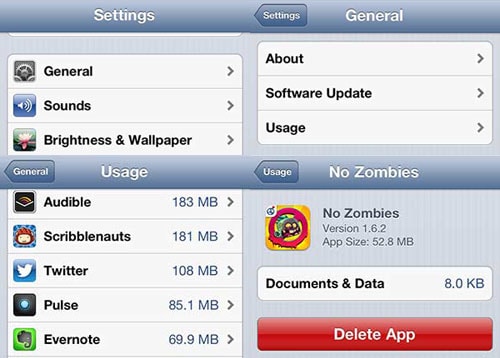 ---
Part 4: What If No "x" Appears When App Is Wiggling?
Apple doesn't allow you to directly delete some apps pre-installed on the device. So when you want to delete them by using the way displayed above, you can't make it. There is no "x" appears when the apps are shaking. Then what should you do? Is there any way you can make it? The answer is YES, and the solution is pretty simple below.
Go to "Settings" > Choose "General" > Tap "Restrictions", and enter your security code > Turn off the app that you want to delete.
After that, go back to your device's homescreen, and you'll find that the app is gone.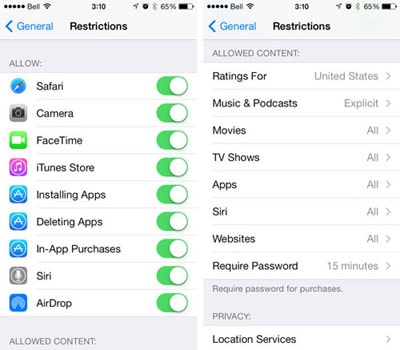 ---
Part 5: Delete Unwanted Update of the App on iOS Devices (Including iOS 9)
Regret updating the app to the newest version and want to delete the unwanted update? Honestly, there is no such a way to directly downgrade your app on the iPhone, iPad or iPod touch. The only way is that you can find the previous version of the app from other app download centers and then reinstall it.
If you really don't want to automatically update your favorite apps on your device, there is a way to stop it. you can set it up manually. How? It's simple. Go to "Settings" and choose "iTunes & App Store" under it. You'll see it as follows.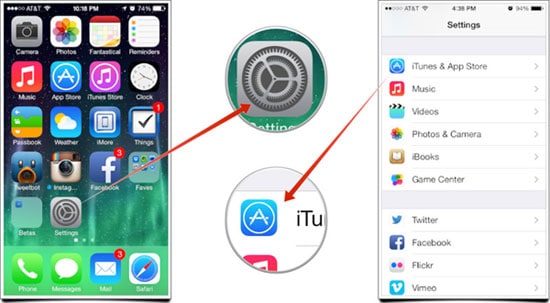 Then you'll see the menu of automatic downloads. Turn off the option of "Updates" if it's on. From now on, your apps on the device won't be updated automatically, unless you do it on purpose.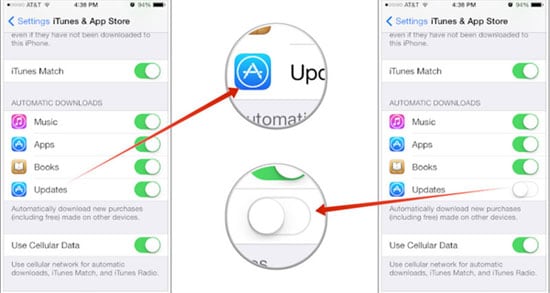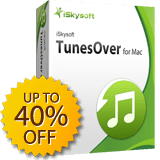 iSkysoft dr.fone - 1 Click to Copy Music from iPhone/iPod/iPad to iTunes Library on computer
Transfer music from iPhone/iPod/iPad to iTunes Library, filtering the duplicate ones ingeniously;
Copy playlists, even the smart playlists from iPhone/iPod/iPad to iTunes Library and computer with play counts, ratings and tunes.
Transfer songs, videos, and photos directly from iPhone/iPod/iPad to computer
Send songs, videos, playlists and photos directly to iPhone/iPod/iPad without iTunes and without erasing data issue.