Contents
1. Delete Photos on iPhone

2. Delete AV Files on iPhone

3. Delete Apps on iPhone

4. Delete Contacts on iPhone

5. Delete Other on iPhone

6. iTunes/iCloud Remove iPhone
Most of the people are not aware that it is possible to wipe out information from iPhone. With new models coming into the market, current phone owners may need to resell back their phones to Apple or third-party resellers. One wouldn't want to give out their iPhone with all their data thus you should ensure it is wiped out off private data. You never know whose hands your device may fall on thus wiping out the data is a precautionary measure. Apple using its iOS offers a simple way on how to delete info from iPhone. Below are tips you should know on deleting information from iPhone.
How to Delete Info from iPhone 100% Permanently
AS we know, simple delete iPhone information with the erasing function from iOS is not safe. The deleted info can be recovered with data recovery tools. So to make your private information secure, you need to use dr.fone (Mac) - Data Eraser (IS) (or dr.fone - Data Eraser (IS)) to permanently delete your iPhone info. This is a powerful application that is used to delete data. It permanently wipes out data from iOS devices and uses a military over writing technology thus ensures the data that is deleted cannot be reverted by anyone. Below are some of its features:
1 click clean up that ensures just a single click allows you to free up space on your device.
Photo compressor which compresses large images to give more space.
It deletes all your private data that is stored on your device.
It wipes out all data that is deleted with no recoverable.
It allows you to delete all data from your iOS device without having to factory reset.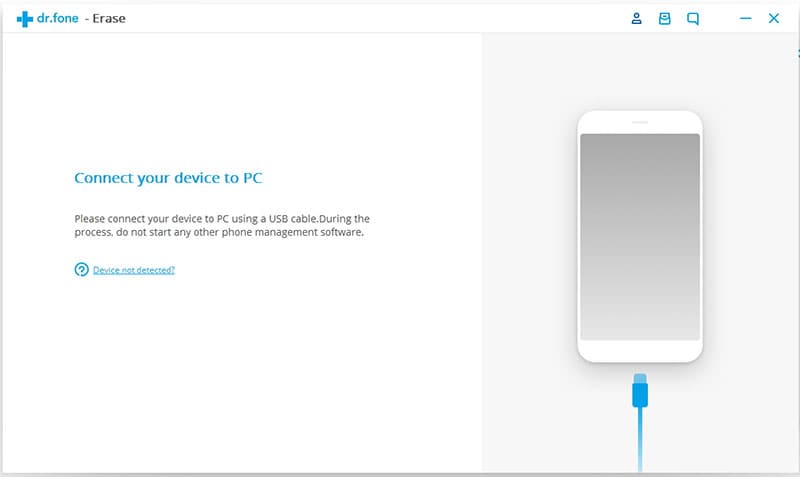 Steps on how to delete all information on iPhone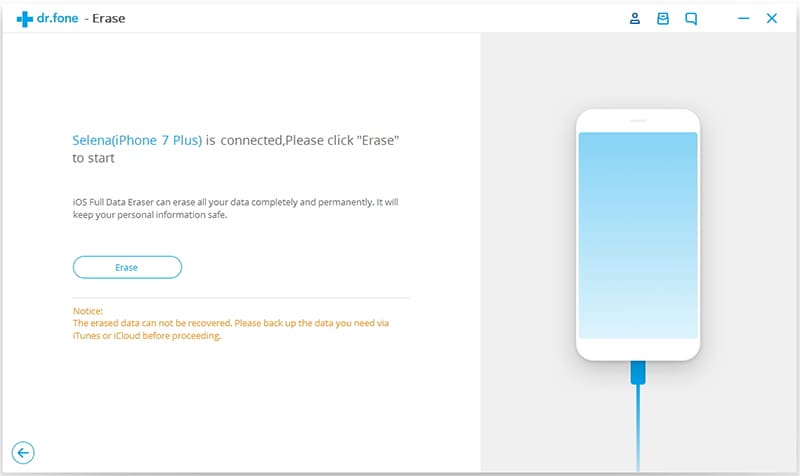 Step 1: Run the data eraser
Once you download the application and installed it on your PC, launch it and connect your iPhone to the computer with a USB cable.
The data eraser can detect your device automatically and show your iPhone information on the main interface.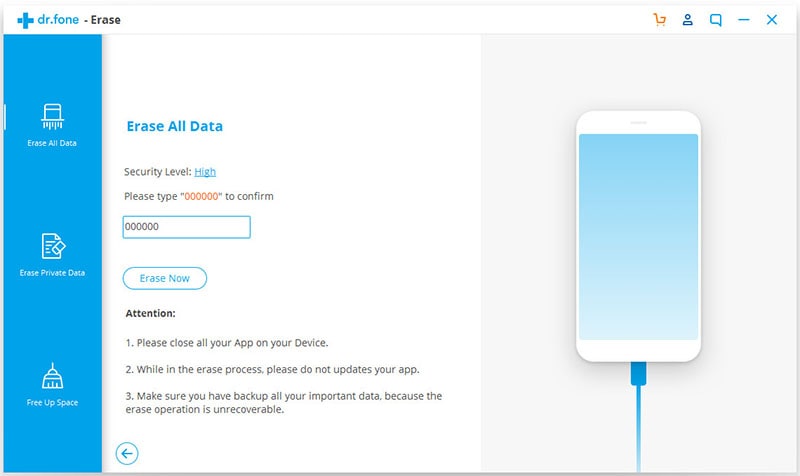 Step 2: Select an erasing mode
Select "Erase all data" from the main interface. And click "Erase Now" to open the erasing window. With this function, you are able to delete every information on iPhone.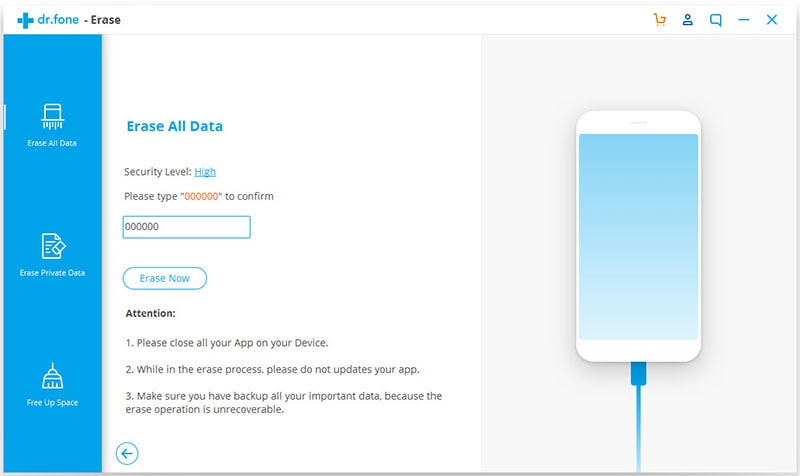 Step 3: Start deleting iPhone info
In the erasing window, a new pop-up window will appear asking you to confirm that you want to delete all your data. You will then have to type in "delete" in the space provided then click "Erase Now." The deletion process will begin.
Ensure that your iPhone is connected to the PC. Once all the data is deleted, the application will show a phone with a blank screen.
That's it! Your iPhone information is permanently deleted. dr.fone - Data Eraser (IS) is 100% safe and efficient than the normal way of deleting iPhone data. If you have been struggling with how to delete your info from iPhone, now you know what to use
How to Delete Information from iPhone with iOS Erasing Feature
Backup Your iPhone Before Deleting iPhone Information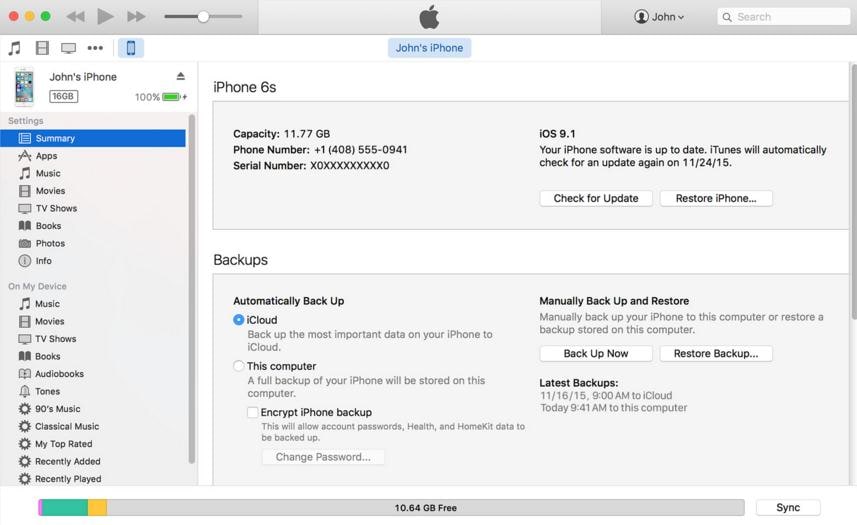 Before you let go your device, you may want to keep your contacts, photos or any other data by backing them up. An iPhone backup may either be done from via iCloud or iTunes. To successfully back up you data via iCloud, you will need to have very stable WiFi connection then go to your phone settings, select iCloud, select backup then click on backup now.
To back up via iTunes, you have to connect your phone to a PC and transfer any purchases you made to your device onto the computer. This is done by opening iTunes, selecting files, then going to devices then transfer purchases from "iPhone". Once that is done go to your device and initiate backup by going to file then select devices then back up.
How to Delete Info on iPhone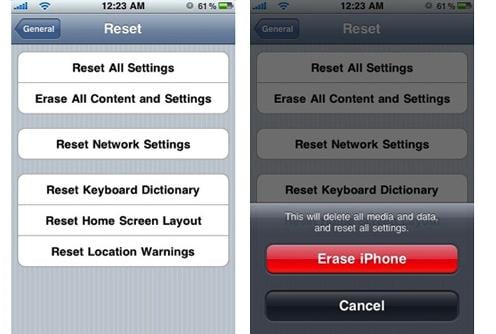 iOS devices are hardware encrypted thus if you have a passcode it will be easy to wipe out data. To use this simple methods follow the steps below:
1. From the home screen launch the Settings app on your device.
2. Select General.
3. Scroll down and select reset.
4. Select Erase all settings and content.
5. Select Erase iPhone.
6. Select Erase iPhone again then confirm.
7. Enter your passcode.
8. Key in your Apple ID password to remove the handset from finding my iPhone and turn off Activate lock.

Once the wiping process is over you can sell your iPhone or give it to someone else without worrying of someone accessing your private data.