Contents
1. Windows 10 Tips

2. Windows 10 Download & Install

3. Windows 10 Resources

4. Windows 10 Tablet & Laptops

5. Windows 10 Highlights

6. Windows 10 Problems

7. Windows 10 Software
It is almost time for people to say farewell to Windows 8.1 and Windows 7. The emergence of Windows 10 is creating waves of excitement among people that love their computers. The old operating systems will get replaced and will slowly be phased out with passing time. Microsoft Corporation is giving the people the opportunity to free upgrade Windows 10 from Windows 8.1 and Windows 7. A person has to pre book his Windows 10 operating system with Microsoft and it will remain free for 1 year. The operating system will unveil itself on 29th July 2015. It is high time people reserved their copies. People can either upgrade to Windows 10 Home edition or to Windows 10 Pro edition.
For upgrading to Windows 10 from Windows 8.1 and Windows 7, a person needs to remain prepared with certain system requirements. Without proper hardware capability a person may falter to get the upgrade done. The system requirements are:
The processor should be 1 GHz or faster or SoC (System on a Chip).
The RAM requirement is 1 GB for a 32-bit machine and 2 GB for a 64-bit machine.
The minimum hard disc space required is 16 GB for a 32-bit OS and 29 GB for a 64-bit OS.
The graphics card has to be DirectX 9 and above with WDDM 1.0 driver.
The minimum display requirement is 1024x600.
A person might get the impression that with these system requirements there will be no problem in getting the upgrade done. A person should make sure that all existing files are backed up before the upgrade to Windows 10 is done. The reason is that some files may go missing while being upgraded.
Part 1: Windows 10 Upgrade from Windows 8
Microsoft Corporation has given the opportunity for free upgrade of Windows 8.1 to Windows 10. Many people would love to take this opportunity and try out the new Windows 10. This should not be a lengthy process or a tough process. If the system requirements are okay, then it should be done within an hour. For upgrading to Windows 19 from Windows 8.1 a person needs to pre book a copy of Windows 10. The copy can be pre booked via "Get Windows 10" application. Once booked, the system will automatically start downloading Windows 10 in fragmented parts. When the release date arrives then there will be no need to make a huge download for Windows 10. A massive amount of time can be saved when Microsoft gives the go signal for Windows 10. The upgrade process should be smooth and should not erase any of the existing files. Just to be safe, it is better to keep a copy of all the existing files in an external hard disk before going for the upgrade. After the downloading of all the files is complete, then a person needs to install them in his or her computer. The installation has several steps and they are given below:
Step 3
Now the person will be given the option to upgrade or custom install. If a person is going to install in a virtual machine rather than the main PC then he or she should prefer custom install. Otherwise, the normal upgrade can also be preferred. It is totally the choice of the individual.
Step 6
As soon as the installation is complete, the PC will reboot. Then a person can set his or her preferred settings.
Part 2: Windows 10 Upgrade from Windows 7
Now there are people who are still using Windows 7. They will also get the opportunity to upgrade their operating system to Windows 10. The only thing that needs to be remembered is the Windows 7 should be Service Pack 1; otherwise, no upgrade is possible. First and foremost, check if the hardware in the machine is not lacking any of the requirements laid down for Windows 10 upgrade. If the hardware is fine, then the person concerned needs to sign up as a Windows Insider and book a copy of Windows 10. To fully upgrade, several steps need to be followed.
Step 2
A small executable file will get downloaded and that needs to be installed. This executable file will then search for the required tech preview update.
Step 3
Then the PC needs to be restarted. When the PC starts again, then it can be seen that the Windows update has automatically started running.
Step 5
After this, the follow up screen would ask for confirmation of the updates. Upon confirming, the updates will get implemented and installed.
Step 6
Then, signing into the Microsoft account will let the installation become complete and the person will easily avail and enjoy Windows 10. As and when other updates come in, a person will be asked for downloading them. The installation is similar to Windows 8.1 and so needs no further discussion.
Part 3: How to get Windows Phone Upgraded to Windows 10
Windows 10 can also be installed in certain phones. Many people would love to do that without much fuss. There are several steps for installing Windows 10 in a phone. The steps are given below for those that want to be a step ahead of others.
Step 3
The third step will require a person to sign in for Windows Insider Program. Two options will be presented to the enrolled person and they are Insider Slow and Insider Fast. A person can select any of the options. Before making a final choice, the person should keep in mind that for Insider Fast, the updates will come very fast, but there is a chance that many updates will be buggy. In case of Insider Slow, the updates will arrive slowly, but they will be more stable in nature. So the choice lies with the individual only. Once the person selects the preferred option, then he or she will need to click the arrow button at the bottom.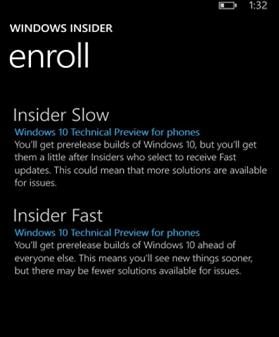 Step 6
The next step requires a person to go to the settings option of the phone. Here, there will be a "Check for Updates" button. The person needs to press that button to check the last time of updating the phone.
Step 8
Although everything is complete, the phone still has to be kept plugged in to the power source and left for some time. Then slowly all updates will start taking effect and the phone would be upgraded to Windows 10.
So the craze of Windows 10 has not only caught up with computer gigs but general public as well. Those people that love spending more and more time with their phones, they will also be not left behind. Microsoft is giving the opportunity of a lifetime by making Windows 10 free for 1 year. Although this might seem like a grand opportunity, one must remember that this will be a testing phase for Windows 10 as well. So everybody is advised to get their free offer but install them in their standby machines. Keep files in your external drives for safety. It is always better to be prepared than sorry. If by any chance the new operating system crashes, it would not be any issue for the individual concerned. Microsoft has bet a huge amount of resource for this operating system and so there is all the probability that people will love the Windows 10 and make it a grand success. This is said to be the ultimate and universally designed platform for all people to check out. It has brought so much enhancements that people are itching to experience firsthand.