Contents
1. Windows 10 Tips

2. Windows 10 Download & Install

3. Windows 10 Resources

4. Windows 10 Tablet & Laptops

5. Windows 10 Highlights

6. Windows 10 Problems

7. Windows 10 Software
It's mid-2015 and already, the three digital assistants are at it trying to outdo each other. Apple's Siri, Google's Google Now and Microsoft's Cortana have all come out to claim superiority. Here is an insight into these three digital assistants.
The Siri of iOS 9
In the yester years, Siri has just been another app on iOS skulked in a corner and used rarely. Apple engineers have noted this and made a huge leap towards salvaging Siri's image in iOS 9. Rather than just laying idly, the new Siri is now pro-active in offering assistance before-hand. For instance, Siri can now adopt to your tendencies and re-organize your smart home based on your current needs and habits. This places it far ahead the two closest competitors; they yet to achieve this.
Furthermore, Siri now retrieves important information from your apps and makes decisive deductions from the information. If, for instance, you are out biking with an objective of burning 300 calories, you can ask Siri to oversee the exercise to conclusion. Fitness fiends will definitely love this. The new Siri has also achieved parity as far as the primary functions of Cortana and Google Now are concerned. It can now track-down videos playable in an app, launch specific songs, location and time-based reminders as well as distinguish contacts through their phone number.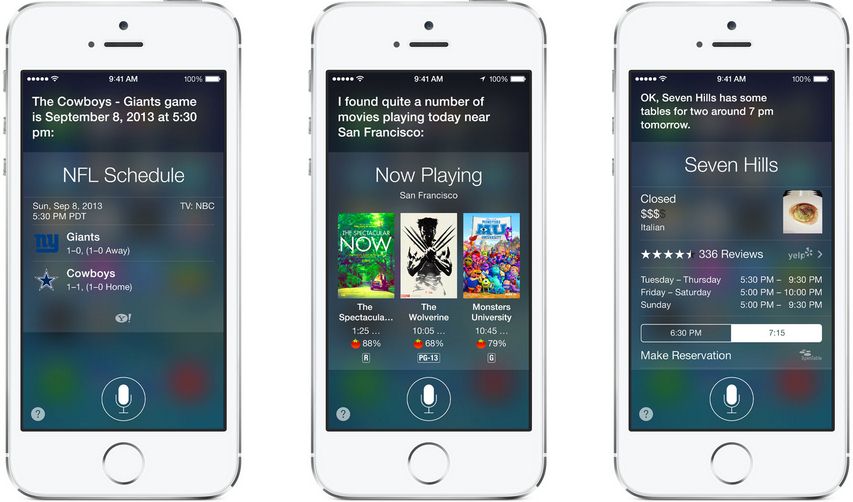 By tapping into app data, Siri is now making accurate suggestions in a more personalised language. Rather than saying Time to go to Tiffany's restaurant', it will say Time to go to your favourite restaurant'. Siri's control over other apps has significantly increased thereby allowing the user experience more convenience when using the iPhone. When going to the gym, you will no longer have to go through the trouble of compiling a bouncy mix; the new Siri of iOS 9 will have already done that. iOS have also tailored Siri to make it launch the Target app automatically.
Siri will conveniently assist you achieve your various goals without being too intrusive and aggressive in gathering personal information.
Google Now
Google Now takes a more simplistic approach yet proves that the minor details matter the most. Whereas Siri of iOS nine banks heavily on retrieving data from apps, Google Now seems to compliment this by answering the simplest yet most important questions in your everyday life like when does the next bus leave? When is the gas bill due? Where did I park?
Based on a discrete set of cards' each containing important modular information, Google Now is equipped with a handy task oriented interface. This interface accords you the luxury of flicking cards into oblivion once you are done using them. Just like Siri, Google Now can also apply internal app data in situations such as when you need a car rental in a specifically frequented holiday destination. From online surveys carried out, many people are intrigued by the way Google organizes information into cards.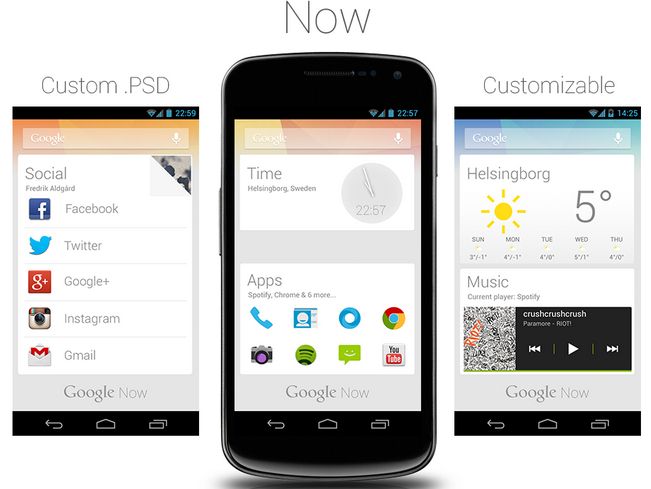 Notably through, Google Now's search definitions are not as accurate as those in Siri. Asking Google Now to play you the most popular song in 1992 will give you a list to choose from whereas a similar task carried out by Siri results in a single answer. Now on Tap, a feature in Google Now answers questions that are asked about items in focus on screen. This is done without further clarification.
On the down side, Google has been associated retrieving too much personal data from the apps. In recent years, instances of massive theft of personal information invokes queries into the privacy of Google Now. Apple have come out stating that it doesn't tie queries on the user's behalf to the user's Apple ID. The main difference between Google Now and Siri of iOS 9 is the interface.
Cortana
Having recently taken over Nokia, Microsoft is making huge leaps in the vast smart-devices market. With an already solid operating system, Microsoft has developed Cortana; a fairly good digital assistant. The platform is in its teething stages and has yet to satisfactorily proven itself. Microsoft is however optimistic of its product and even boasts of Cortana's versatility. With a unified operating system, Windows 10, Cortana unifies phones, notebooks, tablets, desktops, embedded devices and large wall sized screens. It will also include the tech giant's upcoming Edge browser. In light of this, Apple and Google could borrow a leaf and employ such diversity in their future designs. Cortana has been placed in iOS and Android successfully.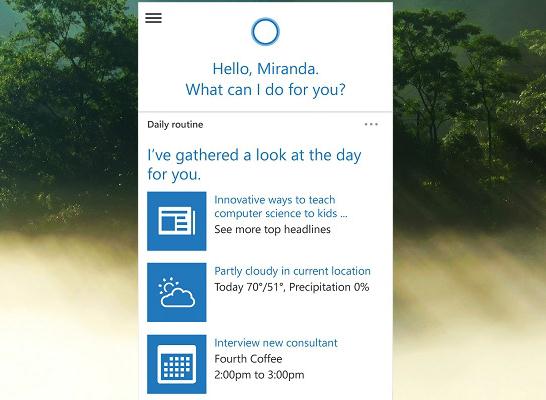 Cortana is one of the few apps Microsoft has; its app gap is notable and places it behind Apple and Google. Before jumping into conclusions though, we ought to give into the benefit of doubt and wait see what Cortana achieves with Xbox One. Any techie might have wondered why Google bothered to buy Nest. It's only now that we see the ingenious plan unfolding. Cortana surely missed a big opportunity then.
With the lack of the hardware and breadth aplenty with both Google and Apple, the Microsoft band is not as advanced. The Microsoft band is powered by a separate operating system. Cortana may be relatively new but already, it has many fans who vouch for it. It may be an appeal of freshness or simply convenience when using multiple gadgets.
With the busy lives most people live, it now almost unanimously expected that digital assistants inform people of when and where their next appointments are, where they parked their cars and how best to go about leading a healthy life amongst other expectations.
A year or so, the battle among these three digital assistants was solely based on the accuracy with which they answered queries posed to them. This has drastically changed and now, the competition has shifted to how well they function behind the scenes. The devil is the details. How well is either Siri, Google Now or Cortana managing your digital life without supervision? Having discussed at length each of these digital assistants, it's up to you to decide which one works best for you. Each one of them mirrors the other yet compliments the other in an equal stance. Siri of iOS 9 has taken the lead and continues to intoduce even newer features. Let's wait and see how Google Now and Cortana play catch-up.