Contents
6. Transfer Android Music to iPhone
Given such vast choices of devices available today, it is more than likely that you have switched from your old Android phone to a new iPhone. And you are now searching around for a way to get all your music from the old Android phone to the new iPhone. So, how to easily and securely transfer Android music to iPhone (iPhone 6)? The answer lies in here.
Part 1: A Secure Way for Moving Music from Android to iPhone
With iSkysoft Phone Transfer for Mac ( or iSkysoft Phone Transfer for Windows), you can easily transfer anything between various devices. This phone transfer is very easy to use software. Anyone can use it even without having any technical background in using a computer. Simply install it, launch it and you will be transferring bundles of data in no time. With iSkysoft Phone transfer, you can do more than just transfer photos, music, contact or other related things. As we shall see below, it offers some really great features.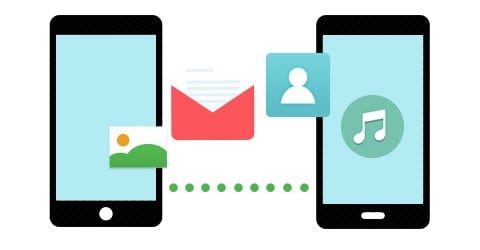 1) Transfer, Transfer and Transfer
Beware!! iSkysoft Phone Transfer can be an addictive software. Transferring is so easy with this tool that you may do nothing but keep transferring your data between one phone to another as you switch between your devices.
2) Transfer between any platform
So now you do not have to worry about having a BlackBerry and a lot of data stored on it that you may want to transfer to your new iPhone. With iSkysoft Phone transfer, you can transfer between BlackBerry, Nokia Symbian, iOS and Android easily.
3) Back-up and restore your data now
This program also lets you back-up your data on your phone to your computer in just a click. And you can restore the backup data to your phone from iTunes backup, iCloud backup, phone transfer backup and BlackBerry backup.
How to Switch Music from Android to iPhone
Let us see how you can play around with this amazing software. Below is a step-by-step guide showing how to transfer music from Android to iPhone 6.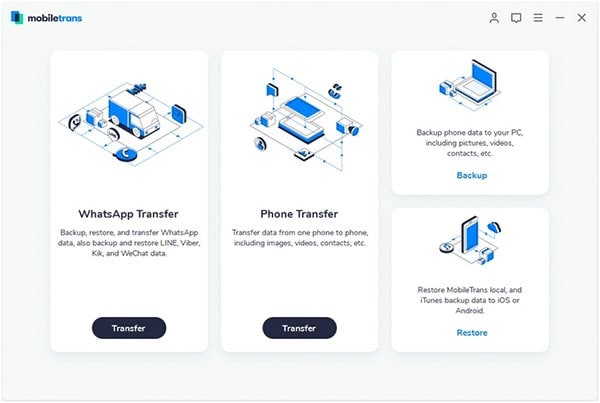 Step 1: Install iSkysoft Phone Transfer
The very first step is to install the amazing program on your computer. Once you have done that, launch the program.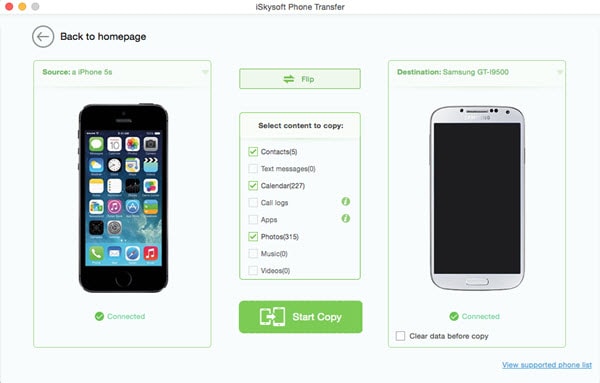 Step 2: Connect the devices
The next step is to click the "Phone-to-Phone Transfer" tab and then click "Start". You will be led to the transferring window after which you will have to connect the devices between which you want to transfer your data, via USB to your computer.
Part 2: Directly Transfer Android Music to iPhone on Computer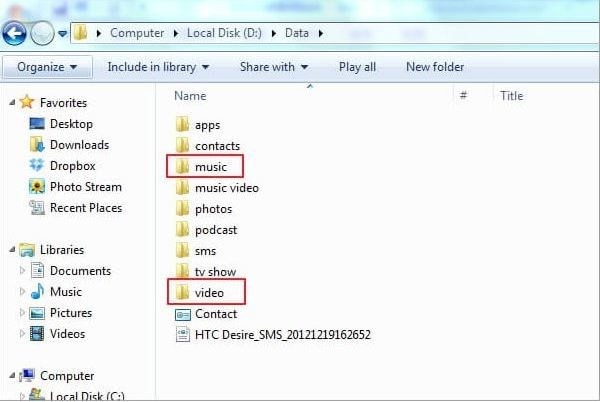 Step 1
The first step is to connect your Android phone via USB to your computer and then unlock the phone. Tap "USB Connected" and the press "Mount". Once you have done that you can open the Android Folder from "My Computer" and then open the folder where your music is installed. Select the files you want to transfer and copy them to your computer.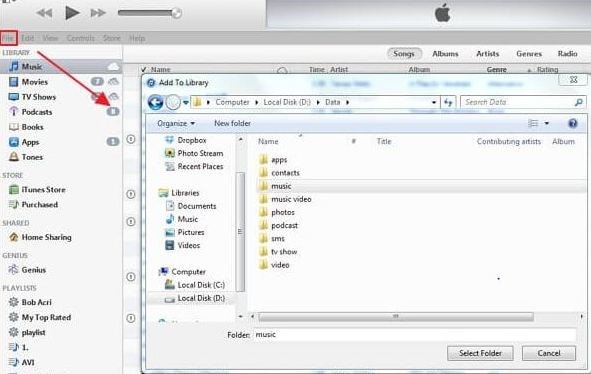 Step 2
If you do not have iTunes, install iTunes on your computer. Once you have opened iTunes, go to File and Add Folder and Library. You can then add the music on the computer to iTunes Library.s