Suppose you enter a room full of people you don't know, and your role is that of a presenter, i.e., content creator, and there's the audience. And you have 10 seconds to do anything to make a lasting impression. What do you do? Give your best in the way you introduce yourself. Right?
YouTube intros work the same way; you introduce yourself to a global audience. The world is a global village; people from all sorts of countries, races, ethnicities will be watching your content. With technology evolving and humans, you must make your intro so eye-catching that it allows you to gain the trust of your audience. It has to be so remarkable that they are confident in what you present them in your videos.
YouTube intros are a way to deliver your personality and style to the world. Good YouTube intros are a combination of graphics, text, images, and catchy music which draws its viewers and sets the tone of your channel. Once you have the idea of what you want your audience to see, the mere development of a YouTube intro is straightforward.
Now let's get started. Let's start with some eye-catching and unique YouTube intros for your inspiration to get your adrenaline running!
Part 1. Classic and Unique intros of famous YouTube channels [Editor's Pick]
Your YouTube intro gives your viewer a sneak peek into your personality. That 5 to 10-second intro can tell a lot about the theme, emotions, vibe, and much more of a YouTube channel. Content creators now create unique and classic YouTube intros for their channels, as they understand its importance. Here are some of the best intros of famous YouTube channels for your inspiration!
#1. Crash Course intros
What goes better than an animated intro? Animated intros are trendy but require a lot more effort and skill as compared to the rest. Crash course intros are genuinely one of their kind; they are precise, have catchy music, and are animated!! Check out their intros from 2012 to 2019!
#2. TED Ideas Worth Spreading
The YouTube intro of TED is just so unique, and it minimally and wonderfully delivers the essence of what the channel truly is about! That 8-second intro is truly remarkable. Here is the link to a TED talk for you to check out their intro!
#3. Gaming YouTube Intro Templates
There are so many online templates available, but what would be unique is you making your YouTube intro yourself; after all, you know yourself best! You can also check out the popular YouTubers intro 2020 to get more inspiration!
---
Part 2. How to make a YouTube Introwith Filmora [A Step-By-Step Guide]
So, you have all the ideas coming to your mind for the intro of your YouTube channel. It's time to get going. The new update of Filmora is just amazing when it comes to video editing software. It's effortless to use. It contains numerous features, whether it's themes, stickers, your very own intro/outro templates, and even more for that perfect intro you're looking for!
There are two ways to create that perfect YouTube intro with Filmora. The first is by choosing an intro template, which includes a little bit of editing for your customized intro, and you're good to go. The second is making your YouTube intro with different clips and adding a template on top of that, edit it a bit, and you're good to go! We have prepared a step-by-step guide for you to make it even easier!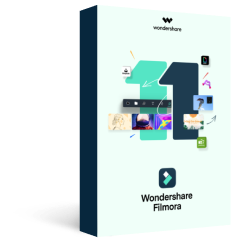 Key Features
Best video editing software for beginner and semi-professional, that comes with powerful editing skills like trimming, splitting, rotating, editing, etc.
500+ free special video effects to customize and create an awesome movie by yourself.
1000+ standalone effects downloading resources to make videos in all kinds of styles.
Record voice in real-time: you can have you voices recorded in realtime and instantly add them to the video files.
#1. Create YouTube Intro by Choosing a Template
Step 1: Choose a template
Open Filmora, and choose any openner from Title Menu you find goes with the vibe and personality of your YouTube channel. It might take a while to choose that perfect intro, but don't worry, there are just so many options to choose from! Double click on any template to preview it. Once you have selected the template, drag and drop it to the timeline, and you're ready for the next step!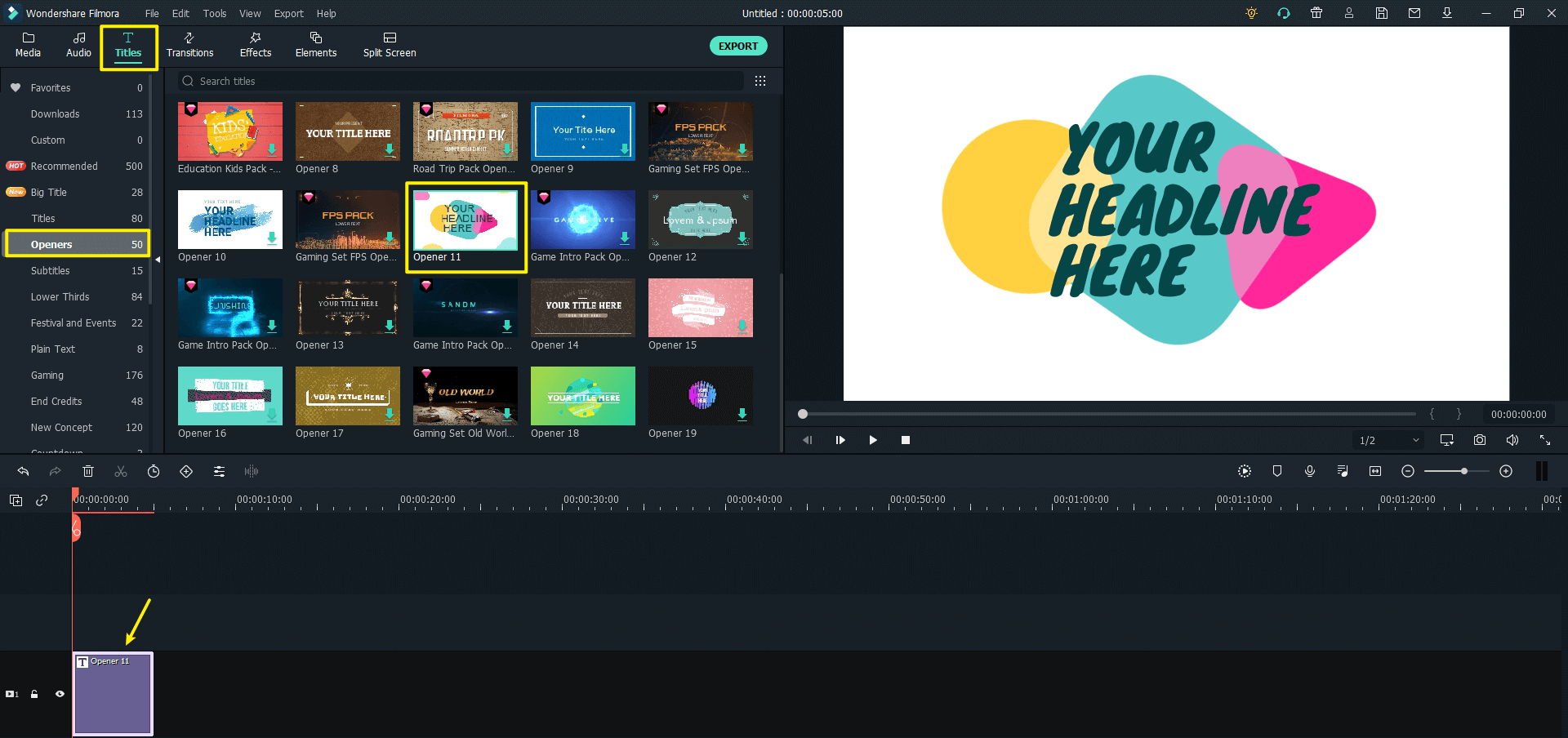 Step 2: Edit the Title
Once you're done choosing the intro, it's time to customize and edit your YouTube channel's name. Double click on the clip in the timeline to edit it. Add your name/channel's heading/title to it, as well as the subheading. Once you're done, click on OK and then hit the play button to see your work.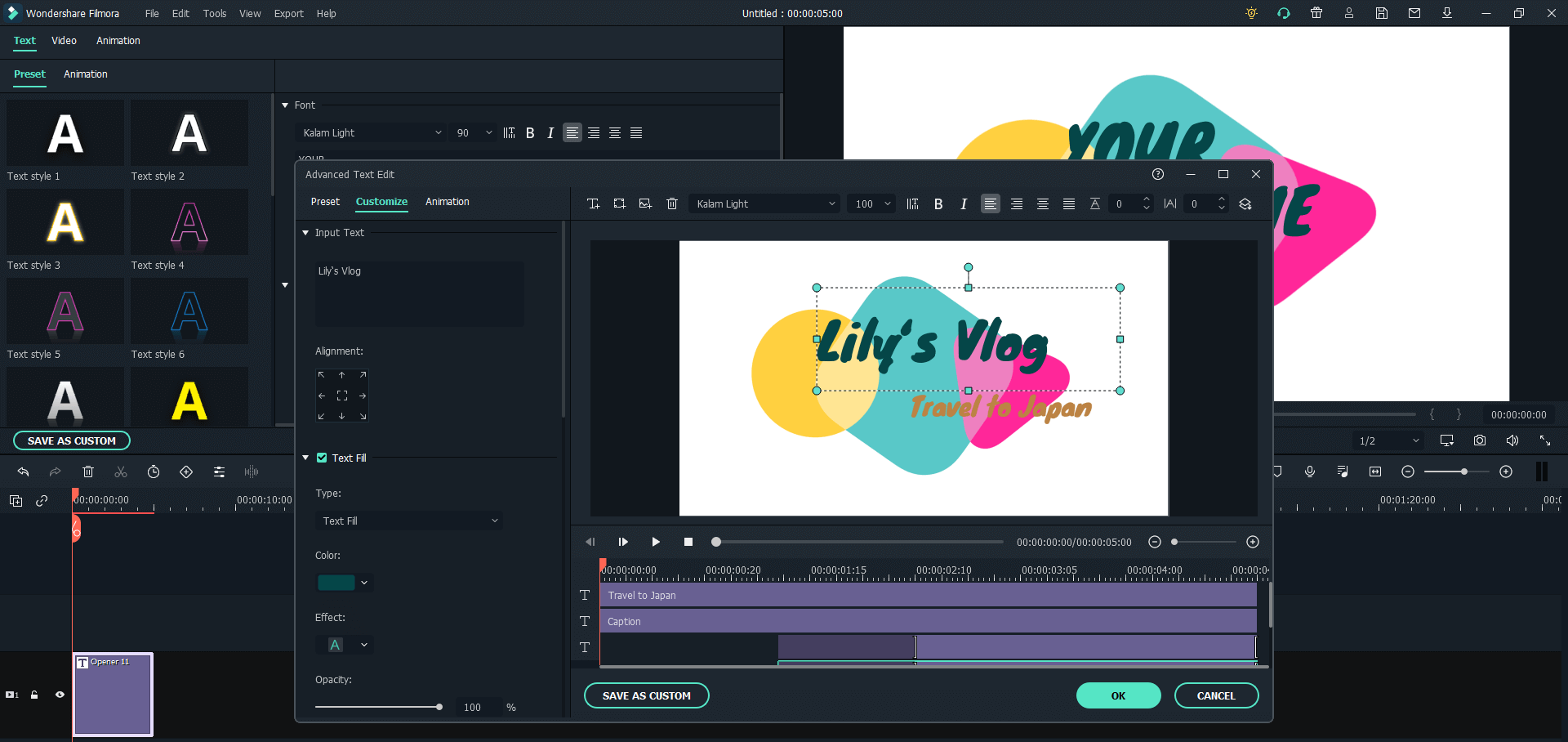 Step 3: Add music
The next step is to add music. Intros without music? Can't even think about how dry and incomplete it would look. To add music, there are two options; you can either choose from the numerous music given by Filmora or select your music and add that to your YouTube intro.
To add music from Filmora, click on the music library, find the audio button, and double click on any to preview the music. And once you're done choosing the music that suits your intro, drag and drop that to the timeline. Cut and trim the music to the length of the intro, and you're done!
Import the music file and drag and drop it to the timeline in the audio section to add your music. Cut/trim any part you want to be removed and adjust it to the length of the intro, and it's complete!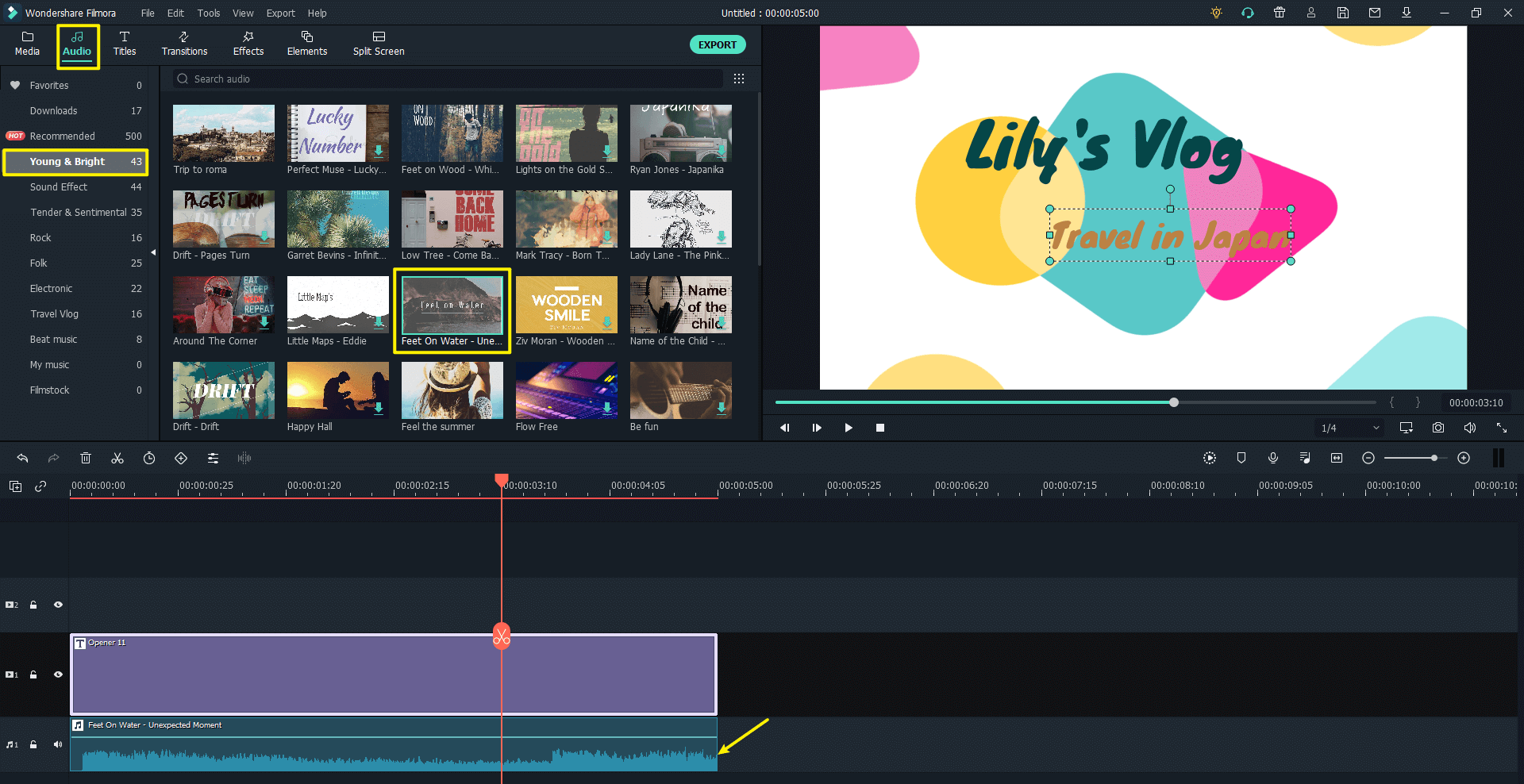 Step 4: Export the intro
Once you're done previewing your excellent final intro, it's time to export it. Click on export at the top, choose the specific output settings you want for your YouTube intro, and choose the location where you want to export it. Once you're done, click on export.
Wait for a while till your output is being processed. You can even add a helpful reminder to alert you once Filmora is done exporting your fantastic intro. Enjoy the final result!
---
#2. Create Your Unique Intro with Clips
Do you want to add more personality to your YouTube intro? Maybe spice up things a little bit? How about you add your clips and add an intro on top of that to create your unique look? Let's get to it!
Step 1. Import the videos, music, photos
The first step is to import any data you think would look in your intro, whether audio, images, videos, etc., drag and drop them into the media library. Or you can also click on shared media; further, click on Import Media and choose the files you want to add.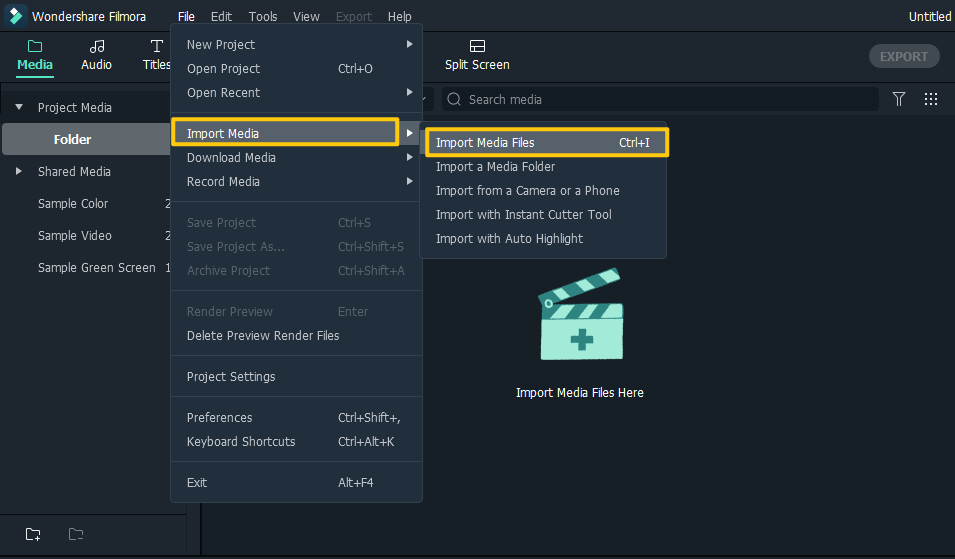 When you have imported media, simply drag and drop them to the timeline to get started with editing!
Step 2: Use cut, trim, tools
The next step is to drag media into the timeline. Cut, crop, and trim any wanted or unwanted segments of audio/video. The clips can directly be cut from any part by clicking on the timeline's Scissor (cut) icon. Do make sure the clips aren't more than 5 seconds long. Else it will seem dragged. Once refined, merge your clips into a single intro video giving you a baseline to work with.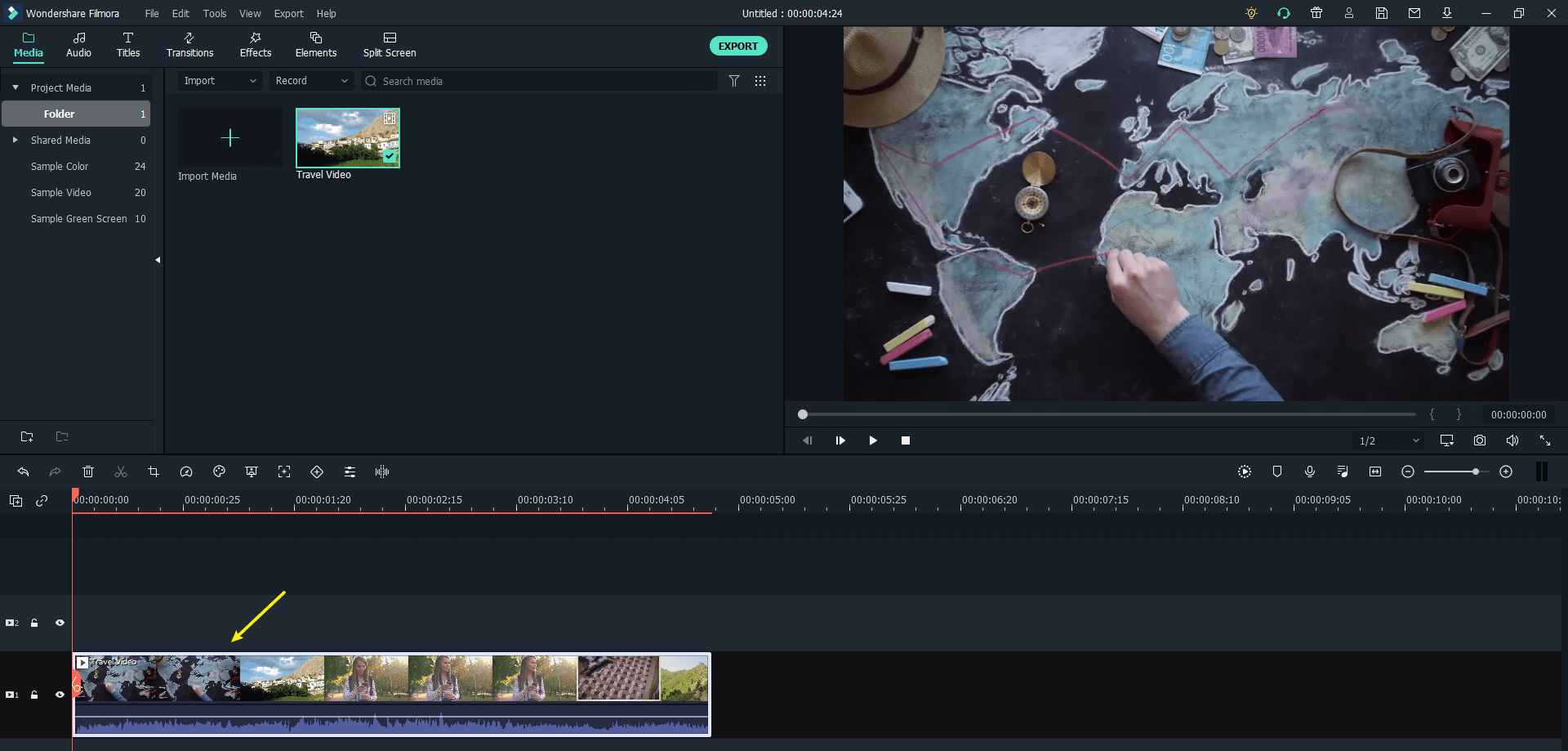 Once refined, merge your clips into a single intro video giving you a baseline to work with.
Step 3: Choose an animated title for your intro
Once you have a base for your YouTube intro, it's time to add an animated title. Click on the Titles tab, and click on any to preview it. There are just so many options to choose from! Once you've found the one matching your vibe and the intro, simply drag and drop that on the video track.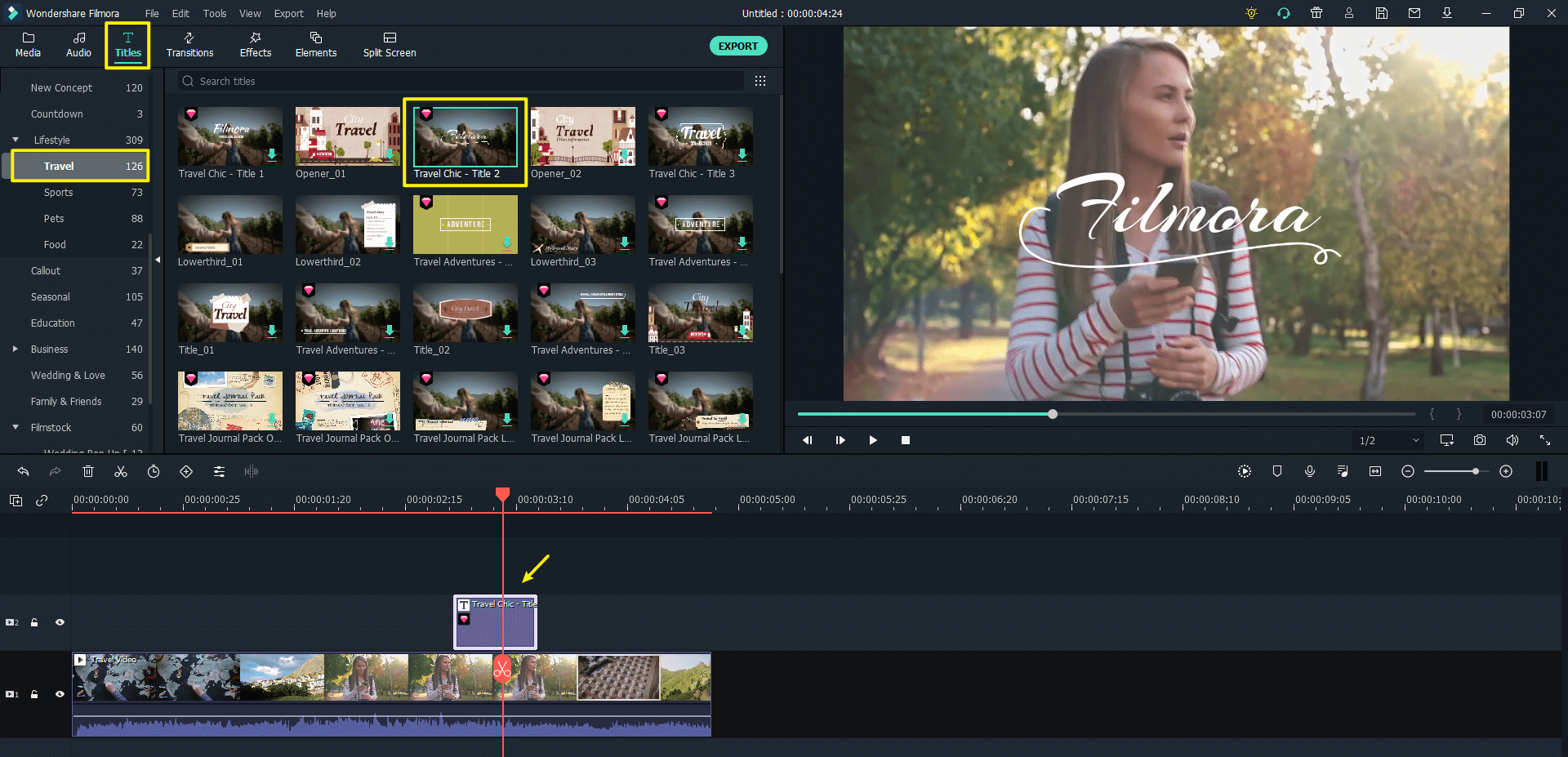 More stylish customization can be done on the Advanced Text Edit window. Here you can adjust the text font, size, fill, border, and even animation!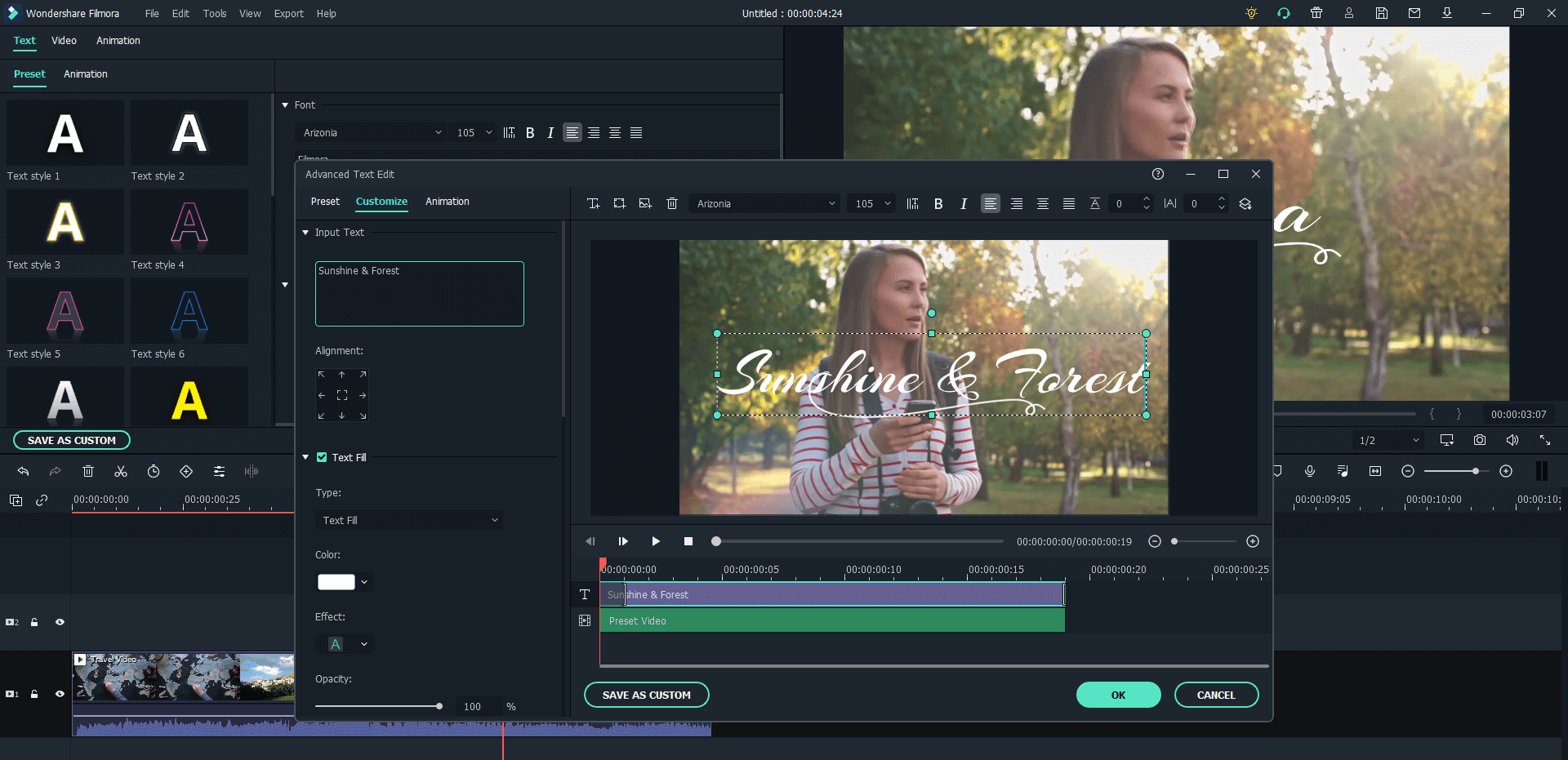 Stp 4: Add Any Effect You Like
The intro can be a round up of highlights of your shots, so adding transitions between different clips could help your intro to be more smooth and natural.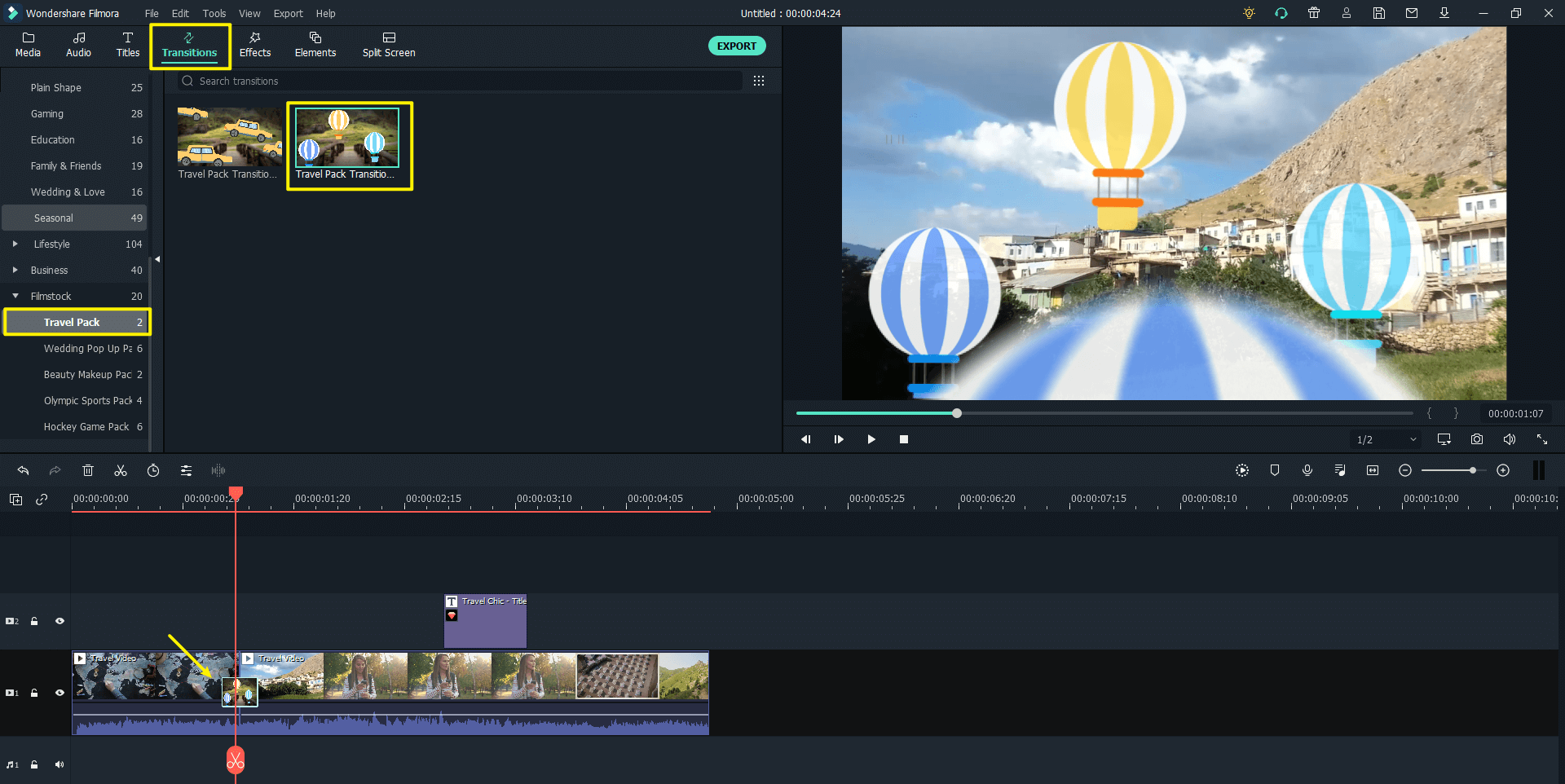 Also, adding some interesting elements could also spice up your intro!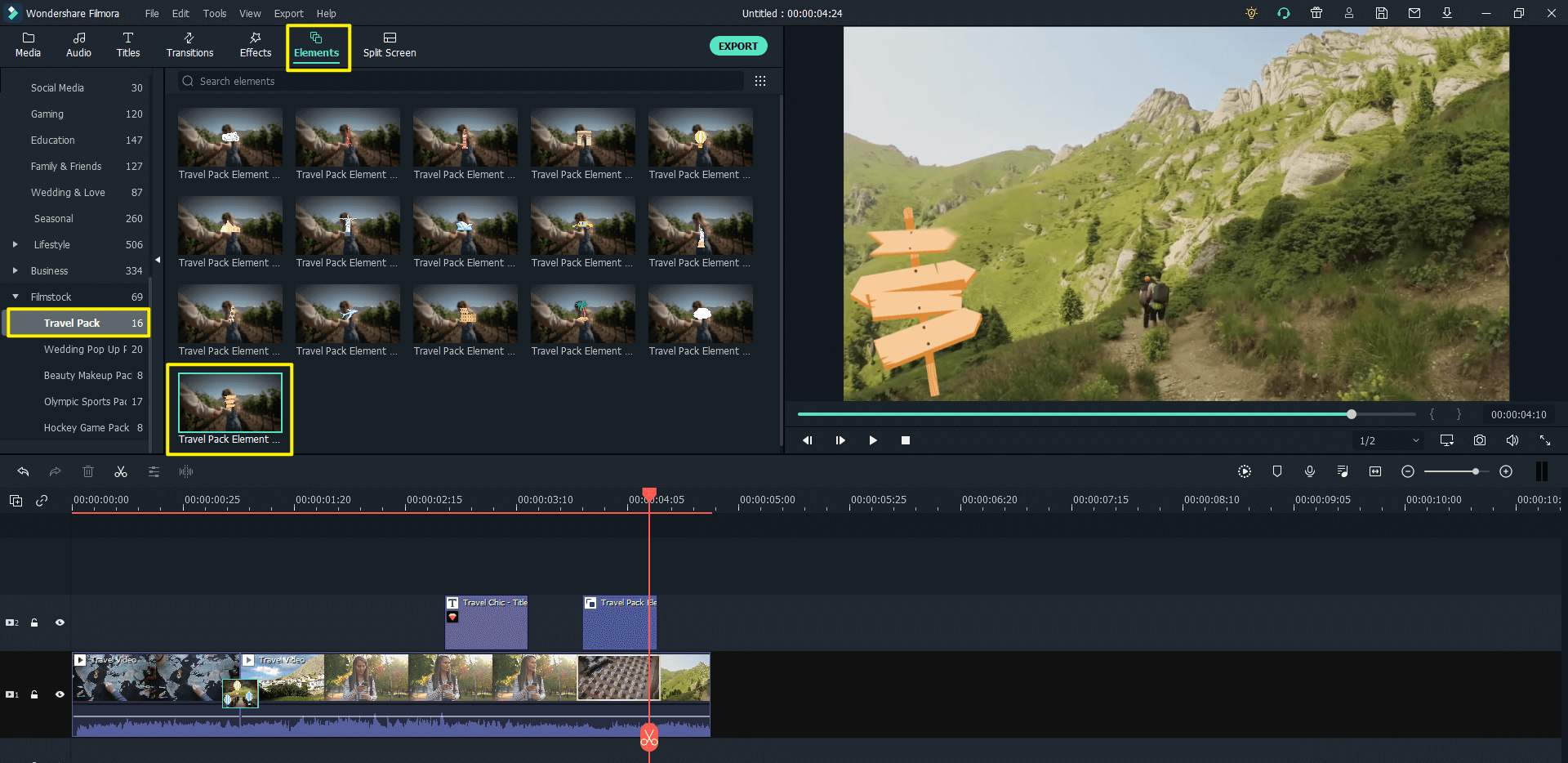 You can find all kinds of effects packs in Filmstock. Using transition/element/title from the same themed pack can make your intro unique and fun!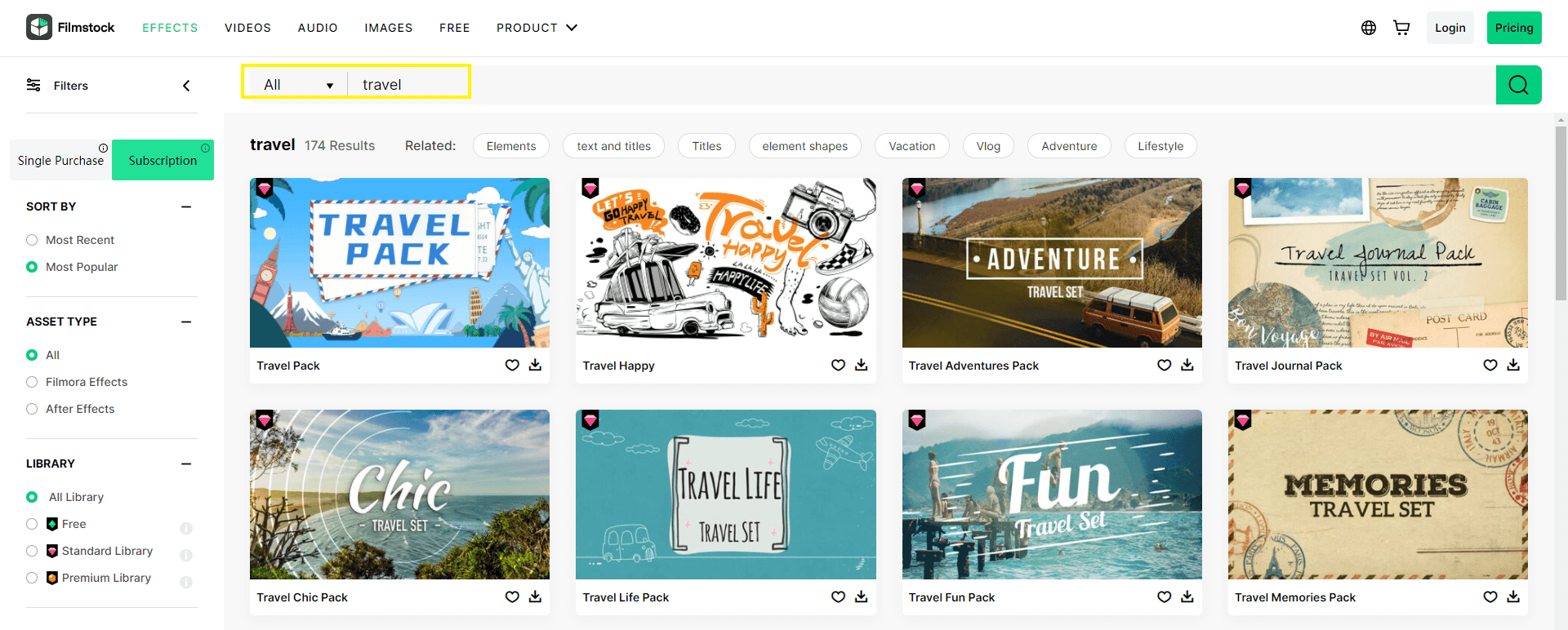 Step 5: Add music
Once you're done with the visual part, it's time to add music! Use any theme song you think goes with your personality or channel, or simply choose any audio/music from numerous Filmora media libraries. Drag and drop that onto the timeline. Cut and trim any unwanted parts and preview them with the video.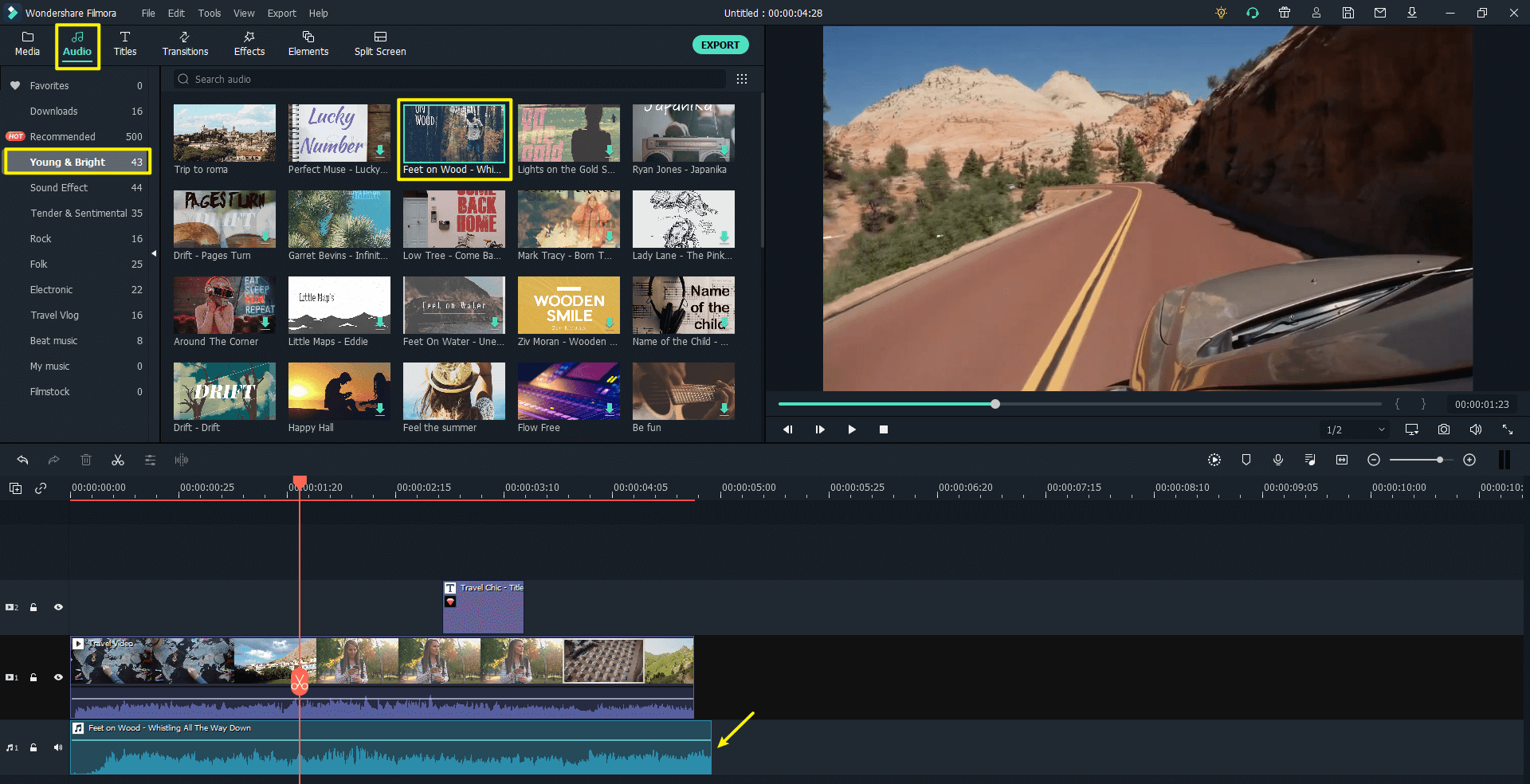 What's more, editing your video to the music beat will create atmosphere, build tension for your intro. But it always a burden work to locate the beats of a song with your own hearing. Try Fimora's Beat Detection feature and edit your intro to music easily!
Step 6: Export the intro
Once you're satisfied with how your intro looks, it's time to export it! Click on export at the top, and just as mentioned above, choose your specific settings and location. Once set, click on export. Wait a few moments till Filmora gets done with your excellent YouTube intro.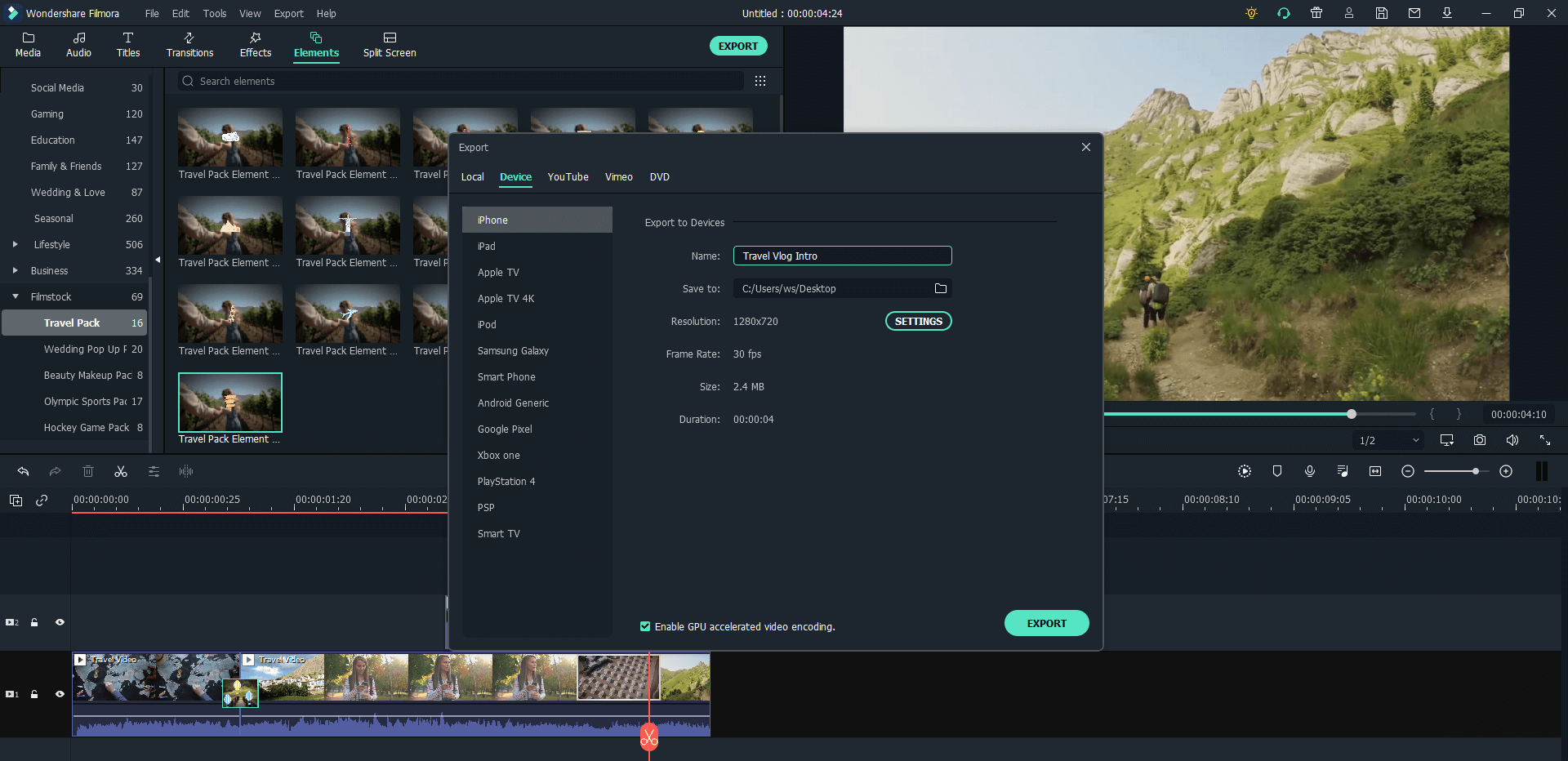 You can also add a sound reminder to be notified when it's done! Enjoy the result!
---
Part 3. Frequently Asked Questions
1. How much does a YouTube intro cost?
YouTube intros can cost anywhere between $10 to $1,000 depending on your requirements, time, style, and skill. You can either get it made through freelancing services or any other way you like, but why spend time looking for freelancers when you know best about how you want your intro to look? Check out Filmora to make that unique idea in your brain into a reality!
2. How long should a YouTube intro be?
It entirely depends on your context and the type of YouTube videos you're in the mind of creating. Remember, you have to make sure to hook your audience in the shortest time possible; the intro must be catchy for the audience to enjoy. The intro should be around 5 to 15 seconds, no more than 1 minute. If your intro is 1 minute for a 10-minute video, that's exceptionally long and might bore the audience; similarly, if your intro is around 15 to 20 seconds to give your point across, that would be amazing! Even then, it is suggested the intro is between 5 to 15 seconds.
3. How to add an intro to your YouTube videos?
When you're done editing your video for YouTube, simply drag and drop your intro into the timeline, make sure everything stays at its place and is not disrupted. And that is simply how you add an intro to your YouTube videos.
You can also add an intro video to your YouTube Channel by clicking on the manage channel or customize channel and clicking on the For New Visitors tab. Then, click on the Channel Trailer inside the YouTube frame and choose your suited intro video, the one you would want your visitors to see on top of your channel. Select that, and once you refresh your YouTube channel, you'll be able to see that intro video on top!