What do you think are the criteria for a good YouTube intro video editor online?
How to make a YouTube intro online for free?
What kind of YouTube intro creator is right for you?
Which YouTube intro editing software have you used before?
The questions mentioned above are the answers expected to be there with someone looking for a free YouTube intro maker. Well, instead of meandering here and there to find answers to the above questions and various others of such, it would be better to go through the following abstracts and get the answers right here.
See Also: How to Create the Best YouTube Thumbnail [Step-by-Step Guide]
Part 1: The 10 Best Free YouTube Intro Maker Online
#1. Canva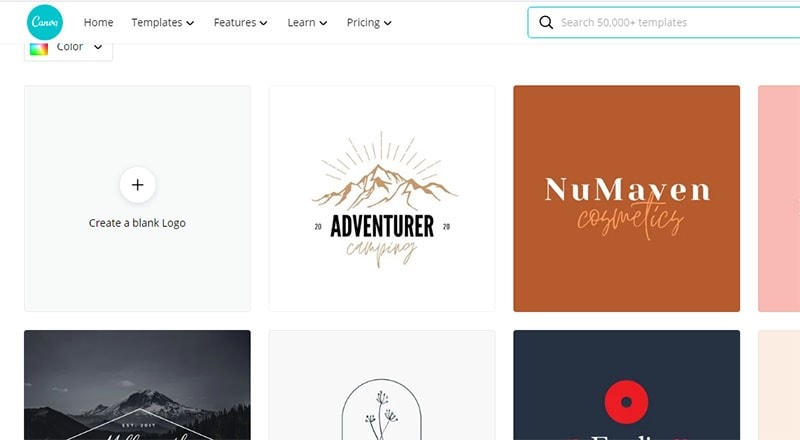 Free & Online
Canva is a useful option for everyone who works hard to make introductory videos for YouTube for free. Many YouTubers favor their particular user-friendliness.
Pros:
• One can create an intro using this without any watermark.
• Canva makes it simple to create professional YouTube intros. Within only 60 seconds, one can make the intro video ready.
• Canva is an all-inclusive tool enabling users to make custom YouTube intro free.
Cons:
• It makes things compulsive to upload an image on Canva first, which may not be liked by all.
---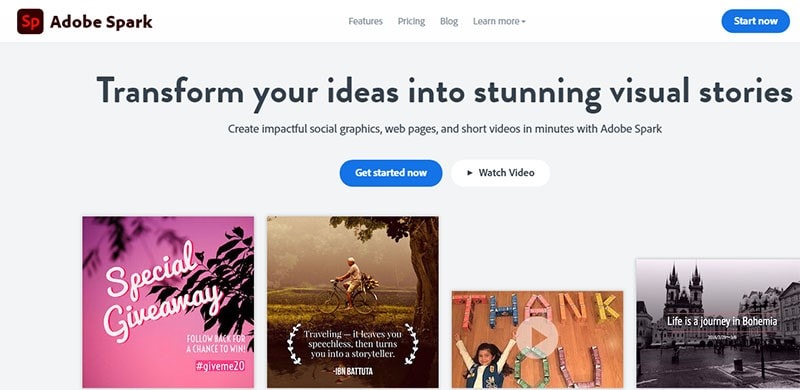 Free
Adobe Spark is another popular way for those who want to create a free intro video for YouTube. Offering thousands of free images and icons, it makes things convenient for modern-day designers.
Pros:
• It enables the user to create detailed designs from unique premium templates.
• Users can personalize any project using their logo, shades, and fonts through just a single click.
• No watermark.
Cons:
• It can be confusing on some occasions to learn, especially for beginners.
---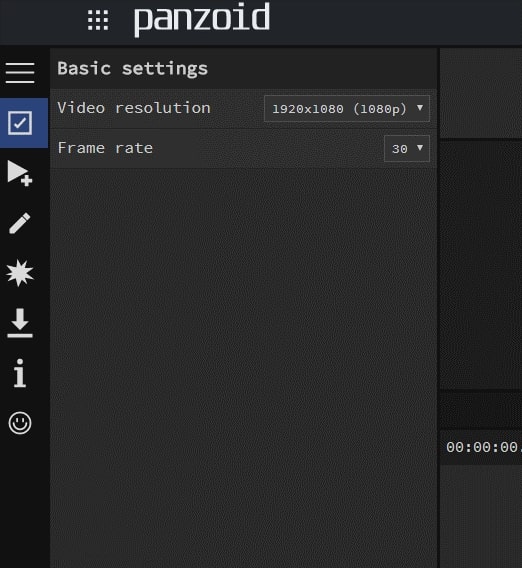 Free & Online
Panzoid can be an excellent option to create YouTube intro online free. No matter you want to start the project from scratch or select from the templates of the Panzoid community, it can be useful all the way.
Pros:
• Panzoid is known for its user-friendly editing suit.
• Explicit features that can be used to create custom content.
Cons:
• The free edition of the YouTube intro maker comes with a watermark, though paid plan stars below $2 per month.
---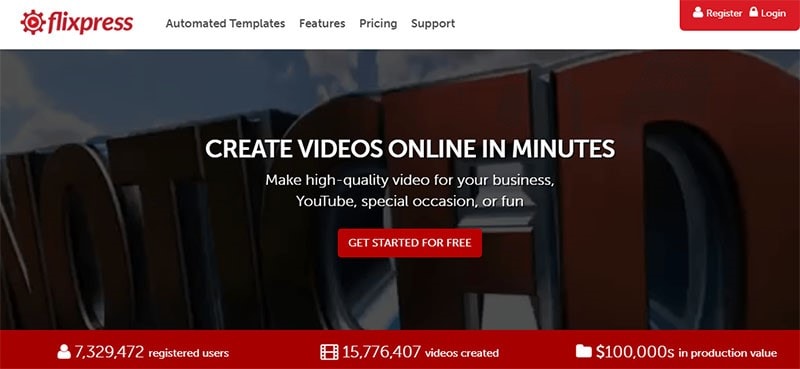 Free & Online
Those looking for suitable options to make a YouTube intro free and easy can find Flixpress a great choice. The uniqueness is that Flixpress is cloud-based, enabling users to create intro videos most quickly.
Pros:
• It allows users to make previews.
• Those looking for free intro music for YouTube can also find it incredible as it has a massive audio library.
Cons:
• The free edition comes with a limited number of features.
---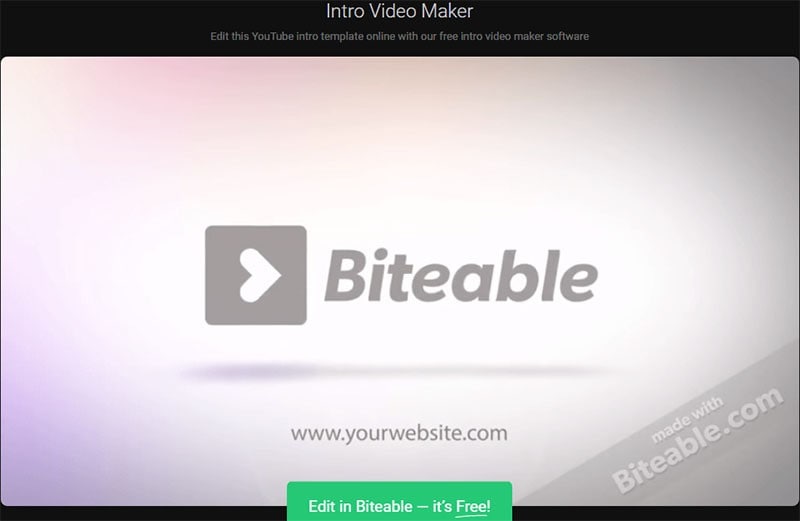 Free & Online
Biteable is another famous YouTube intro maker free online, enabling users to make incredible intros in a few minutes. It offers a massive range of video templates to explore, irrespective of the kind of video one wishes.
Pros:
• Most user-friendly platform and delivers results in the quickest possible time.
• It has numerous video templates, not only for YouTube but also for Instagram.
• A simple interface makes it suitable for beginners.
Cons:
• Templates don't consistently get updates.
• Watermark remains there with the free edition.
---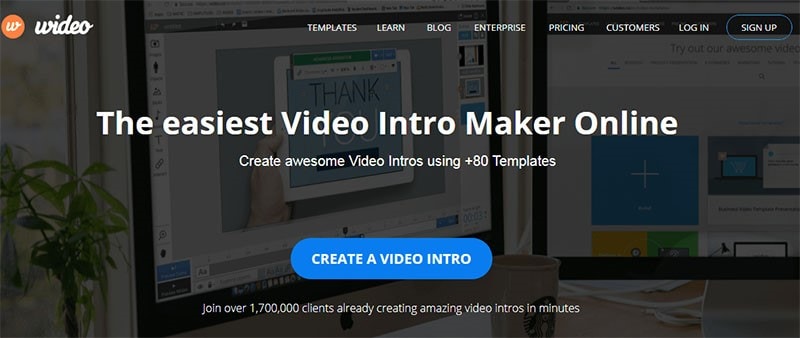 Free
Wideo can be the most refined platform for those looking for ways to make a YouTube intro for free. The specific part about Wideo is the range of handy tools it offers for making a quality animated video in the quickest possible time.
Pros:
• Enables users in saving favorite stuff like animated logos, and using them anytime within the video.
• Hundreds of catchy free YouTube intro templates to select from as per the color pattern.
• Allows saving videos within folders; those can be downloaded as well.
Cons:
• It can be used only when online.
• In comparison, its subscription cost is considered a little high at 19 dollars per month.
---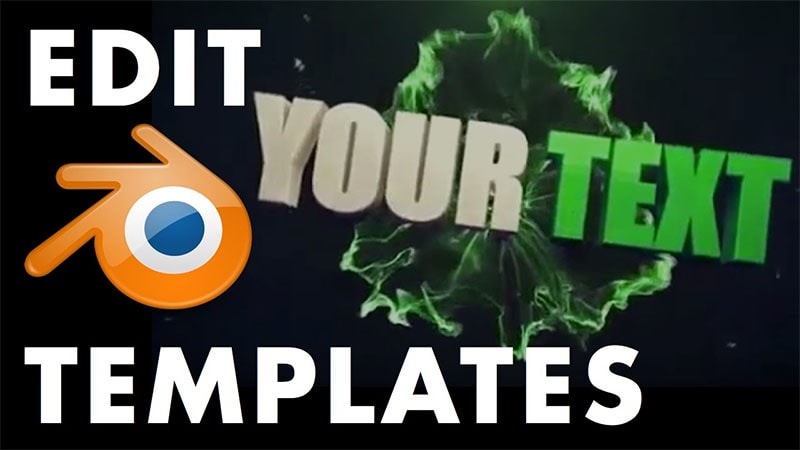 Free
Those looking forward to creating YouTube intro free, Blender can be an excellent option to try. It is quite popular among beginners for being user-friendly.
Pros:
• Being a free 3D creation tool is something that makes it distinguishing.
• One may develop something from scratch or make most of the vast number of templates that it offers.
• The sleek interface makes it possible to complete the process in the quickest possible time.
Cons:
• The user has to download it first and has to run on his/her computer to use.
---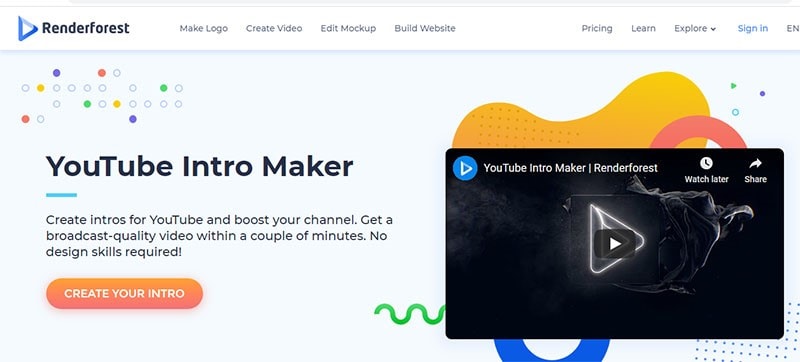 Free & Online
Renderforest is another popular platform for those who are interested in making free YouTube intro. The best part is that it enables users to create intro videos irrespective of the device and operating system.
Pros:
• Enables users in making YouTube intro videos in the quickest possible time.
• It offers a massive more than 50k templates to select from, customize, and edit.
• It offers a vast range of logos to select from.
Cons:
• Those looking for YouTube intro maker free online without watermark should not go with it.
• It offers only a few music tracks.
---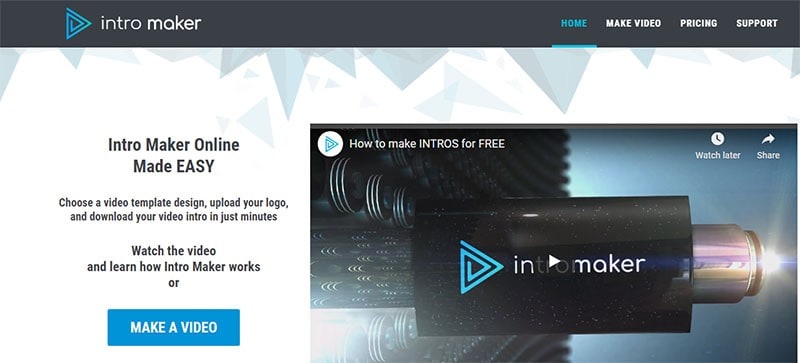 Free & Online
Intromaker.net is another acceptable option for those looking forward to creating YouTube intro free. They are quite known for offering a vast range of customization options for bringing the professional appeal.
Pros:
• It offers the facility of making use of a couple of videos in a single system.
• Users can explore a vast range of logos.
• It is most suitable for professional purposes with features of enhancing the logos within the videos.
Cons:
• It may not be a suitable option for those looking for YouTube intro maker frees no watermark; they put their animated logo.
---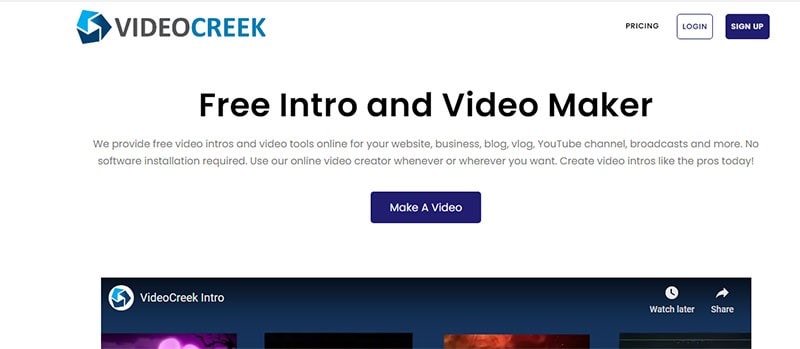 Free & Online
Videocreek is a popular platform for making free YouTube intro maker for professional purpose. This is quite known for its vast range of customization options it offers.
Pros:
• We are known for offering additional options for editing.
• It offers a massive range of video templates to make most of.
Cons:
• Allows free users to have only the videos in low resolution; it can be delivered through mail id only.
• It can't be used without internet connectivity.
These were some useful free YouTube intro makers that you can find online.
---
Part 2: Your Best YouTube Intro Maker- Filmora Video Editor
Not just the intro, the whole video should look outstanding to gather more audience. Apart from free YouTube intro makers, you must be in search of a tool that can help you edit your videos professionally and yet efficiently—introducing Filmora Video Editor & Filmora Video Editor for Mac that comes with plenty of fantastic editing features with no limitations! From transitions to mixing audios, it has got everything that a video takes for better editing. The results are undoubtedly significant. It has got a great variety of templates that can assist the intro to the video. Besides, as the effect store of Filmora, Filmstock provides users with Filmora effects and provides numerous video effects, images, stock materials, and royalty-free music and sound effects.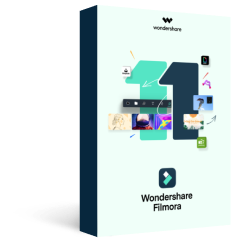 Key Features
Best video editing software for beginner and semi-professional, that comes with powerful editing skills like trimming, splitting, rotating, editing, etc.
Advanced video effects like kens burn effect, glitch effect, green screen, audio mixercan also be found and applied to your video within few clicks.
500+ free special video effects to customize and create an awesome movie by yourself.
1000+ standalone effects downloading resources to make videos in all kinds of styles.
Record voice in real-time: you can have you voices recorded in realtime and instantly add them to the video files.
---
Steps to edit videos with YouTube intro makers --- Filmora Video Editor
Step 1: Open Tool
Firstly, you need to download and install the software on your PC. Launch it afterward and click "New Project."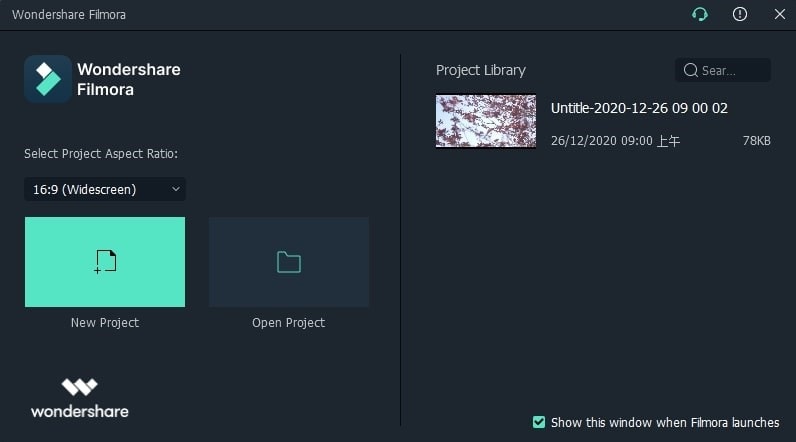 Step 2: Add Media File
You will enter the editing screen now. Tap on "File" from the top menu and import the video you want to edit. Or you can drag and drop your video too.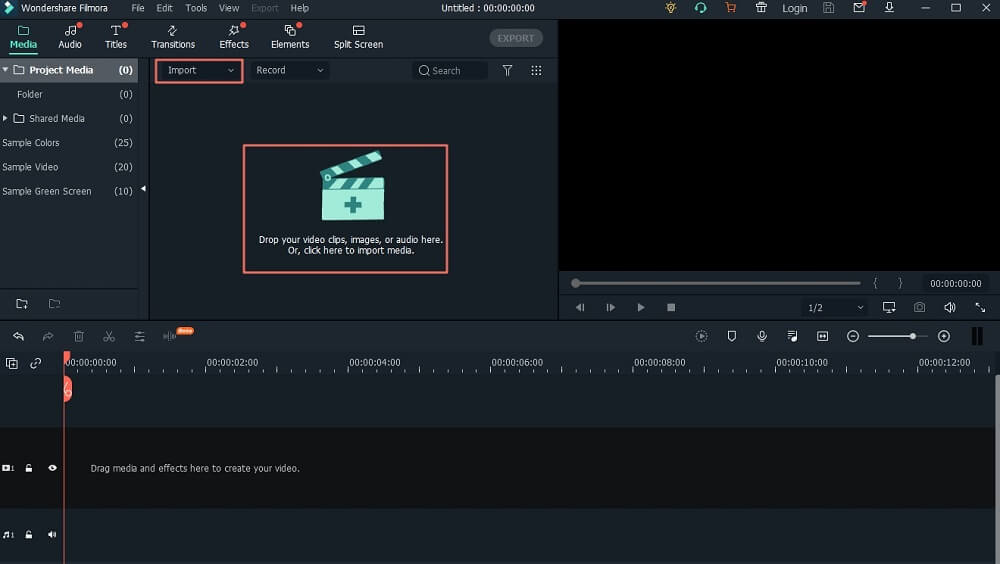 Step 3: Edit Video
To edit a video it has many options to go for. You can split video, trim or crop a video. It also allows you to resize the video, and you can even add a watermark logo to the video.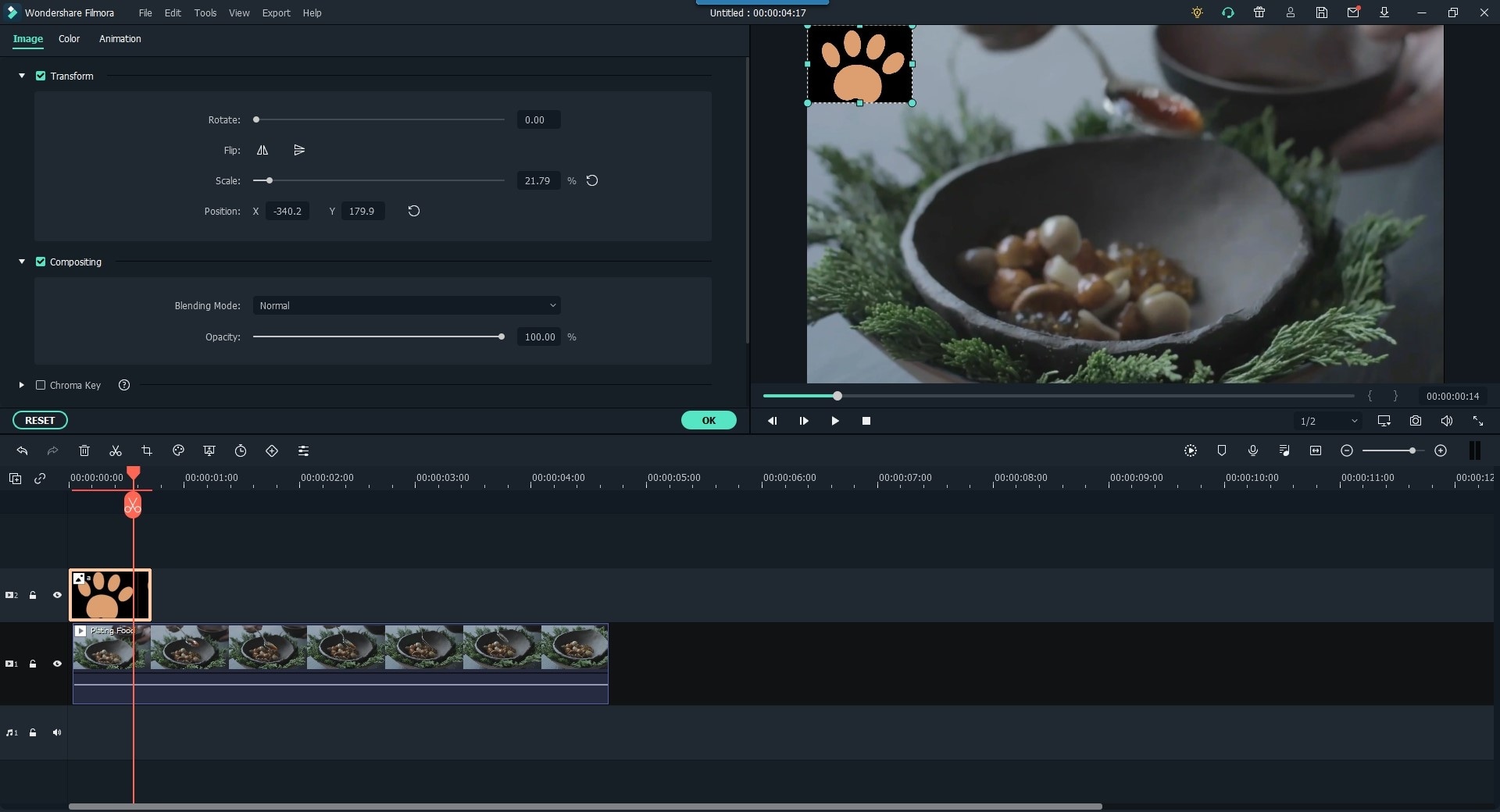 Apart from that, you can add background music to the video, adjust it as you want. You get the option of the audio equalizer, audio mixer, and even fade in or fade out music. You can start this by clicking on "Audio" from the menu bar. Add your favorite music and adjust it according to your preferences.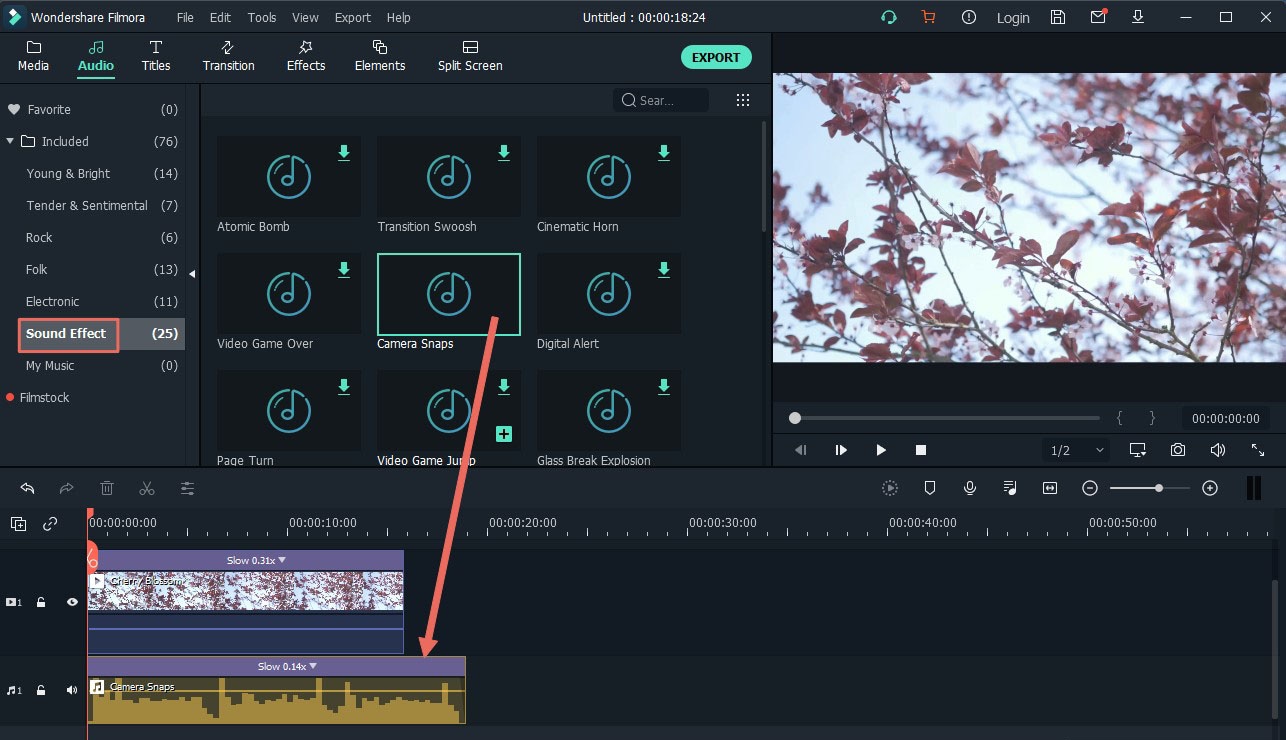 ---
How to use Filmora Video Editor to make a good Youtube intro video
As mentioned above, the Filmora Video Editor also offers many intro templates. You can head to its official website and sign in there to avail unique templates, stock videos, effects, and more. You need to follow these simple steps to get the task done.
Step 1: Click here and then log in here. If you're new to Filmora, create a new account. For this, hit on the "Create one now" button. Enter details to sign up now.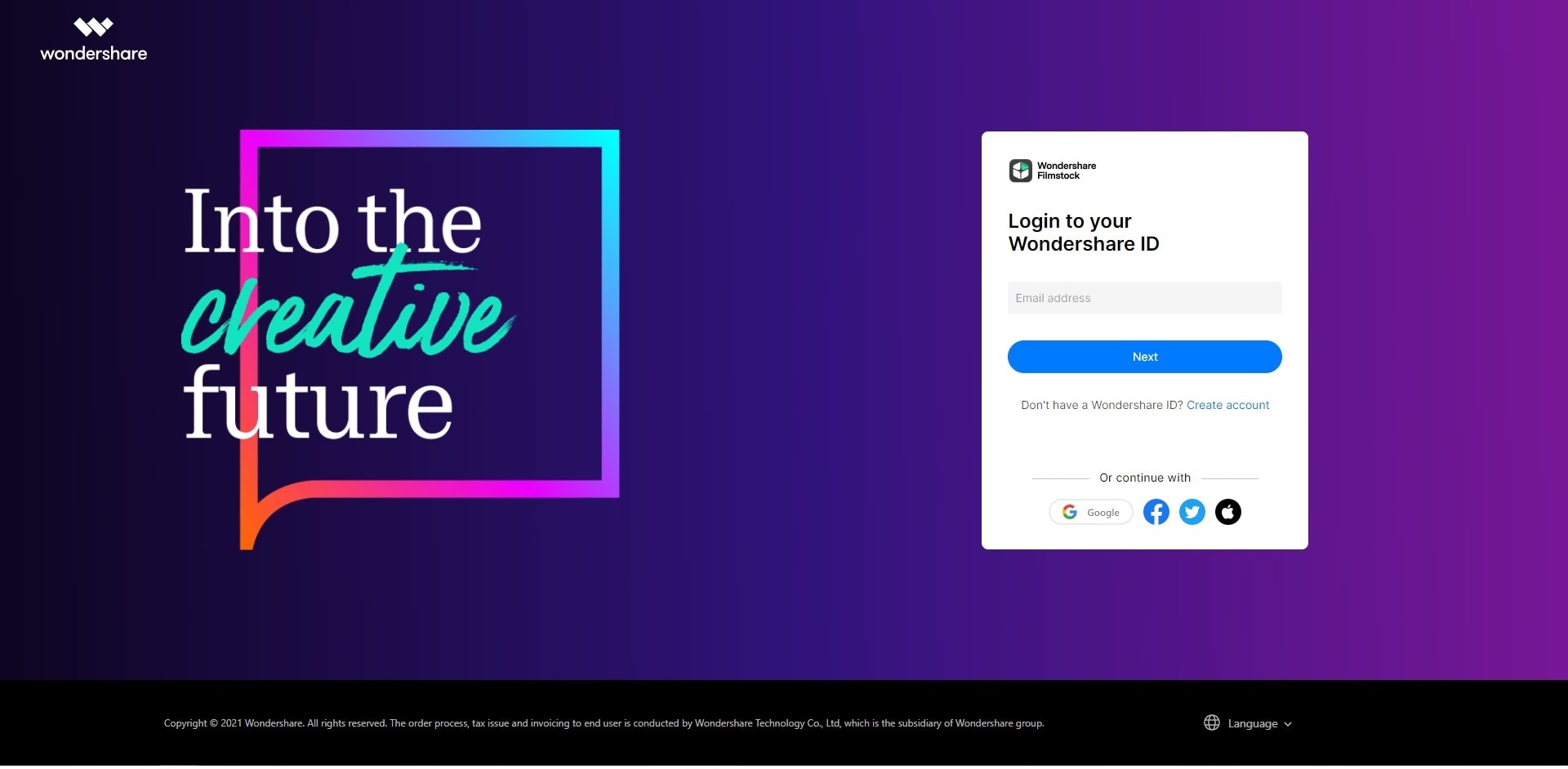 Step 2: Once signed up, it's time to select the plan from the two options, i.e.,Standard and Premium. Upon subscription, you can avail of various intro templates or effects or images and what not to enhance your project.

Step 3: Choose the desired effect/template and hit Download Now.
Step 4: You can now open the Filmora software and add your downloaded file on it. Then, edit it as per your choices following the steps we mentioned above.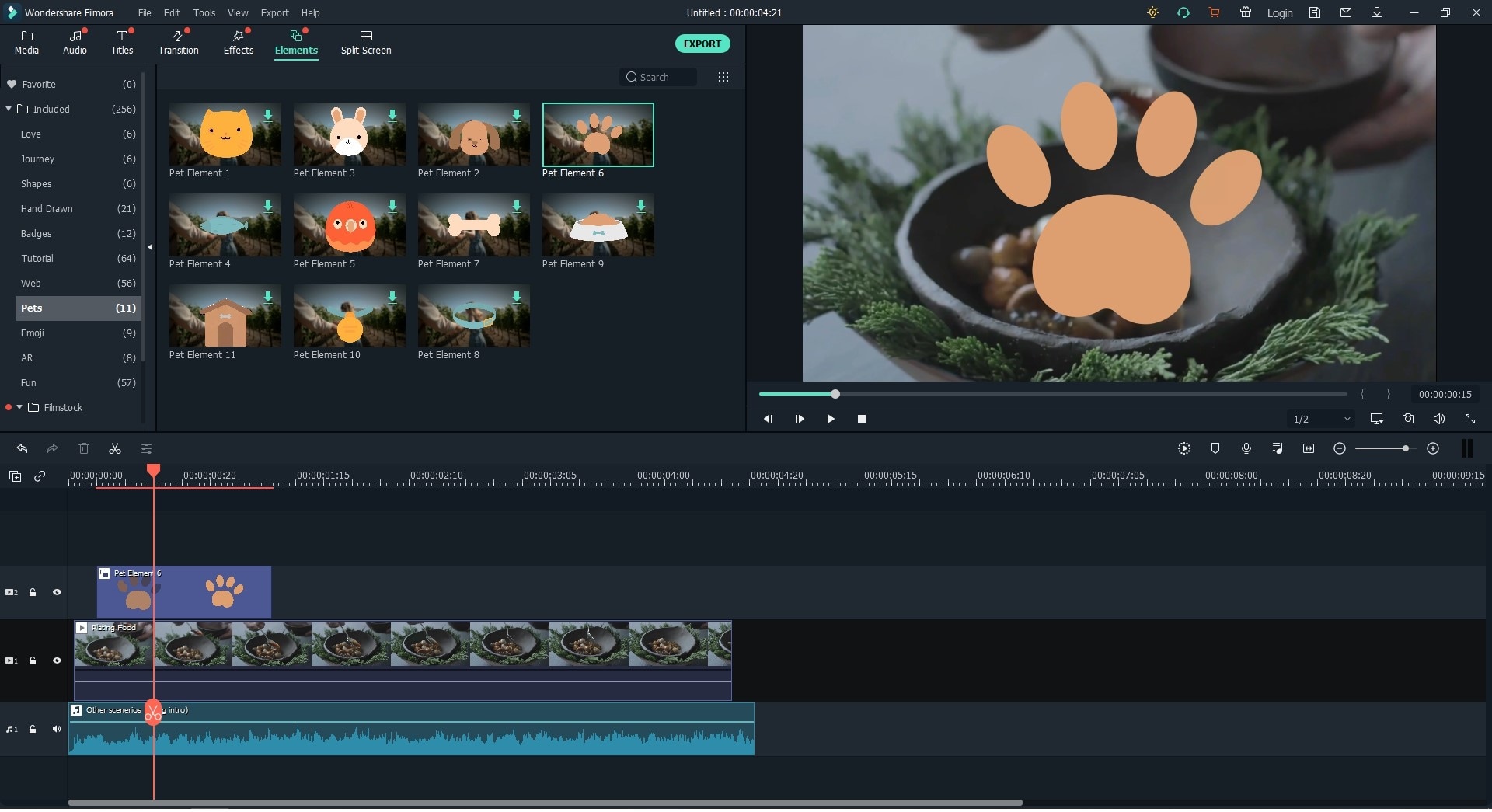 Step 5: Export Video
Once done with the desired editing, you can preview your video once. Then, export it to the format you want, and you are good to go!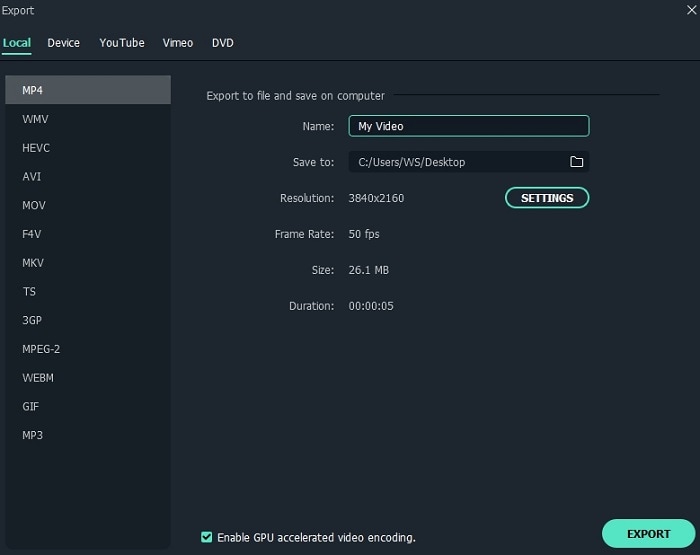 Well, free YouTube intro makers are good in their space but having Filmora Video editor is no less than a blessing. Since it has packed with stunning features and effects, one can't ask for more if they possess a tool like Filmora. Hence, choosing this over other intro makers will be a great idea.
---
Conclusion
In this digital era, the effectiveness of YouTube intro is a secret to none. Modern-day YouTubers should make the most of the internet boom in this context as they have a plethora of free YouTube intro makers online.
Mentioned above are the best 10 free YouTube intro video makers, which can be used online for free and are more suitable for beginners who create videos. Of course, if you want to make your videos more professional and stunning, you need to achieve this through more advanced editing. Therefore, to make an intro that looks more professional, desktop software may be more suitable for you, such as Filmora Video Editor. It has been very much tested and popular for anyone interested in making YouTube videos for professional purposes.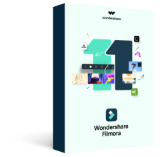 Key Features of Filmora Video Editor:
The software supports almost all available videos, images, and video formats. Besides, it also supports GIF files and 4K resolution videos.
Allows to import images and clips from Facebook, Twitter, and other social media channels.
The app also provides advanced functions, such as the audio mixer and picture-in-picture support, and basic functions.