Whether you are an expert or beginner video content creator, you need the right tools to help you create and edit your YouTube videos. YouTube has evolved passed being the average video sharing platform, and it has become much more as many people are opting to watch YouTube rather than traditional television. This evidently means that if you want to grow your channel and become a YouTube star, you need to put your best foot forward. One of the ways you can do this is by choosing the best YouTube editing applications that offer the right tools that transform raw footage to view- and likes-worthy video content.
Unlike before, when video editing software was expensive and hard to understand, there are YouTube editing apps that you can access and use directly from your mobile device. You can use this application to add filters, music, or other editing tasks. To make your decision easier, this article will discuss the top YouTube editing apps, highlighting their features, pricing, benefits, and drawbacks. So, let's get right to it.
Part 1: Top 10 YouTube Video Editing Apps for iOS and Android
1. FilmoraGo
FilmoraGo is the best choice for you if you are looking for an app with basic editing features, like ready-made templates, filters, and tests, you can use for quick and simple video edits.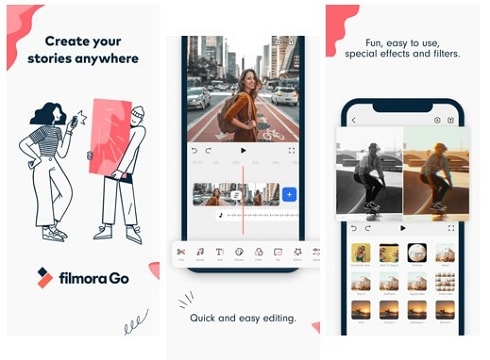 FilmoraGo is a YouTube editing application for Android and iOS that enables users to make and edit their videos with filters, transitions, texts, and music. This application allows you to insert your videos into ready-made templates or create a project from scratch. It also offers formatting options, enabling users to resize their footage to fit whatever dimensions they want. However, if you use the free version, your video will be watermarked upon export. Another thing I didn't like when using this app was that it does not support 4K export – a very important feature for a YouTube video to have.
Platform Supported: Android and iOS
4k Output Support: No
Pricing: There is a free and paid version. The paid version, which goes for $6 per month or $38 per year, allows users to export their work at 1080P with no watermark.
Pros
Supports multiple devices
Beginner-friendly
There are a myriad of editing options available
Cons
Users can only work with a single video layer
Watermarked video on the free app
Export limit of 1280 x 720 resolution for the free version
No 4K export support
No multiple track editing support
How to Download: Google Play Store/Apple App Store
---
2. KineMaster
KineMaster is the perfect option if you want an app with advanced video editing features like chroma-keying, audio mixing, and green screen editing support.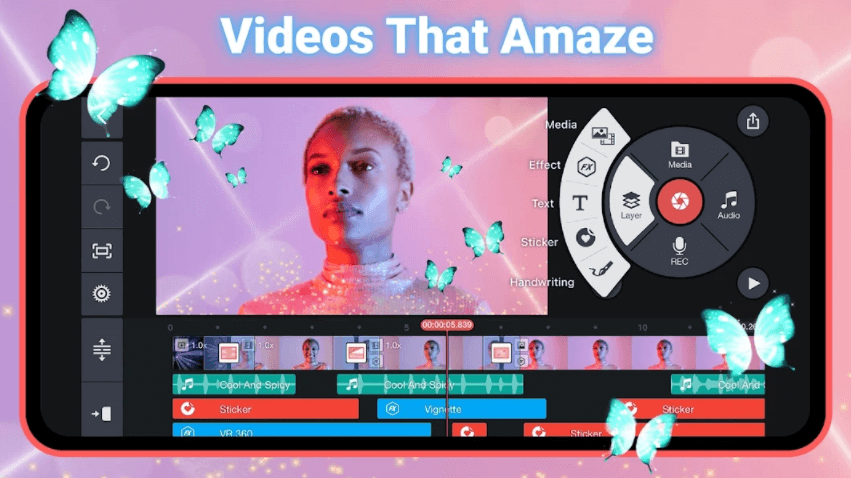 Unlike other basic YouTube editing apps, KineMaster offers advanced features to users like audio mixing, lighting adjustment, chroma-keying, and blending mode. This app can be used on Android and iOS devices, and it supports 4K video export. KineMaster's major selling point is its support for green screen editing. I particularly liked that I could edit multiple layers of video easily.
Platform Supported: Android and iOS
4k Output Support: Yes
Pricing: The standard edition is free, and the premium, which comes with access to advanced features and no watermark, goes for a fee of $4.99 per month.
Pros
Intuitive user interface
It supports multi-layer editing
It offers multiple editing features
Cons
The free version comes with watermarked finished videos
Transitions are limited to primary clips
How to Download: Google Play Store/Apple App Store
---
3. VideoShow
VideoShow is the top option if you are looking for a simple editing app with basic editing features with the opportunity to get advanced with the paid version.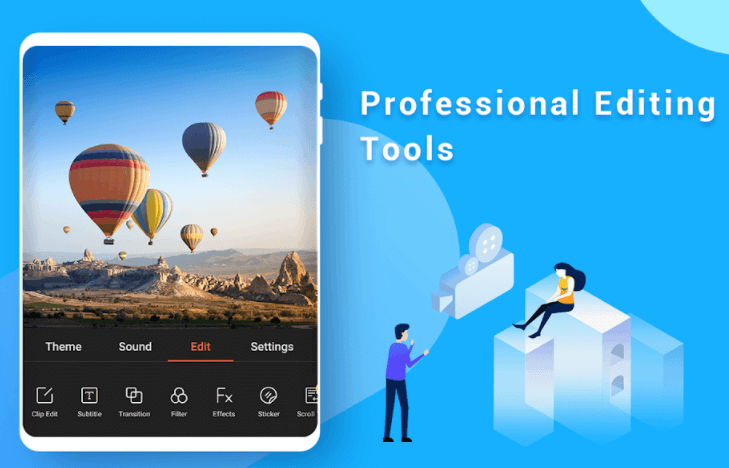 VideoShow is a YouTube editing app that offers themes, transitions, effects, and other features to aid users in editing their videos. You can cut your video to the right length, add music, add texts or add effects. It has a free and paid version, with the paid version giving you access to premium tools like Overlay, Mosaic, and Scroll Text. The major drawback of this application is that I had to agree to the app's terms and conditions, stating that they would collect my information and share it with others before accessing the app.
Platform Supported: Android and iOS
4k Output Support: No
Pricing: The premium subscription that gives you access to 1080P video export and other premium tools goes for $7.99 per month.
Pros
Easy to set up and use
Intuitive user interface
Cons
The free version is ridden with ads
It does not support 4K videos
Users are forced to agree to have personal data shared
It doesn't support multi-track editing
Export is limited to 480P or 720P for the free version
How to Download: Google Play Store/Apple App Store
---
4. Quik by GoPro
GoPro Quik is the perfect choice for you if you want an app that you can use to edit your videos quickly with access to royalty-free music.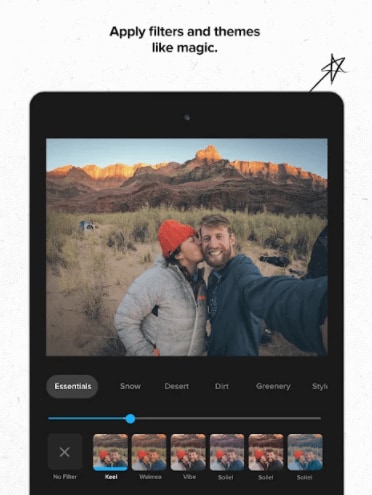 GoPro Quik app enables users to edit their videos regardless of whether they shot them on their phones or camera. Users can access royalty-free music and sync it to their videos with ease, and this app allows them to change the speed of their videos to fit their needs. We allowed the app to automatically create and edit videos from selected images in the gallery, and it did a good, albeit basic, job.
Platform Supported: Android and iOS
4k Output Support: No
Pricing: There is a free trial that enables users to test its features, but you can access all its features for a monthly cost of $1.99.
Pros
Easy to use
Access to multiple editing and filtering features
Cloud storage
Cons
No access to existing phone folders from the app
No 4K export support
The app can only export to 1440P
No multi-layer video editing support
How to Download: Google Play Store/Apple App Store
---
5. Magisto
If you want an editing app that gives you the option to edit your videos on your smartphone or online using your desktop, Magisto is the right choice for you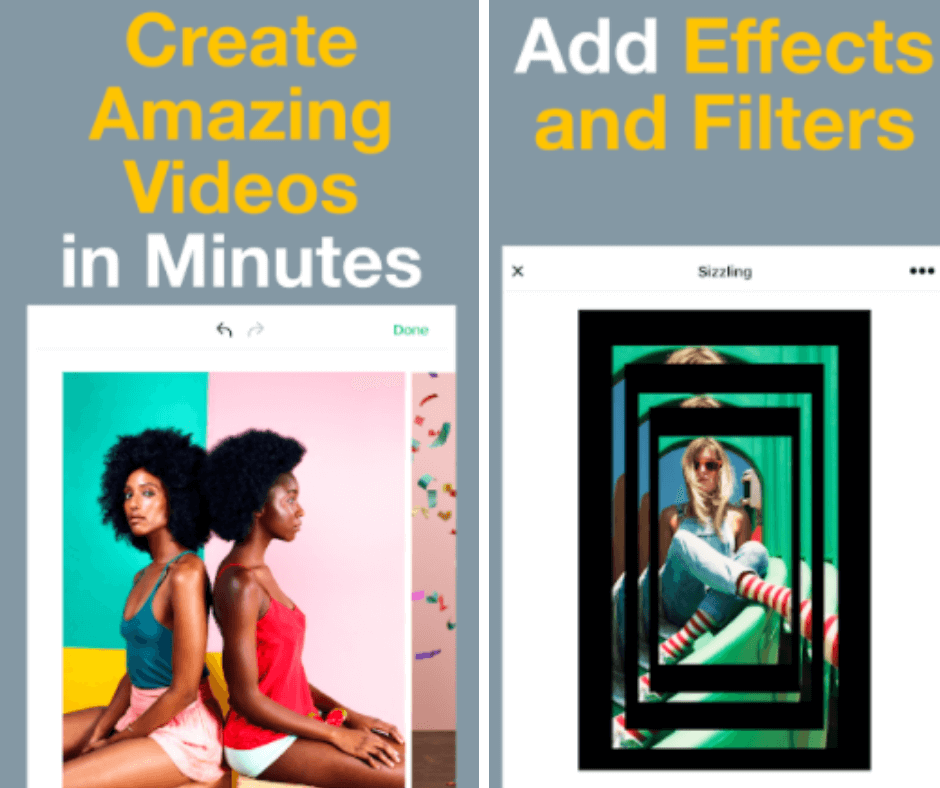 Magisto is a video editor and maker that works online and on Android and iOS devices. You can log in by connecting your Apple ID, Google account, Facebook account, or email address. This application allows users to choose project ratio, presets and maximum video duration when editing, and there is a wide variety of music available for users to choose from. However, we had to subscribe to get access to the presets feature.
Platform Supported: online, Android and iOS
4k Output Support: No
Pricing: ?Apart from the free version, there are other subscription models available. The premium version, which goes for $4.99 per month on the yearly plan, enables users to remove the watermark from their videos. On the other hand, the professional version, which goes for $9.99 per month, grants users access to iStock and Vimeo Pro.
Pros
Works on Android and iOS devices
Multiple editing features are available
Cons
60 seconds maximum video duration for free accounts
No support for multi-track editing
How to Download: Google Play Store/Apple App Store
---
6. PowerDirector
PowerDirector is the best choice for you if you want an android app to edit your videos for Instagram, Facebook, TikTok, and other social media platforms.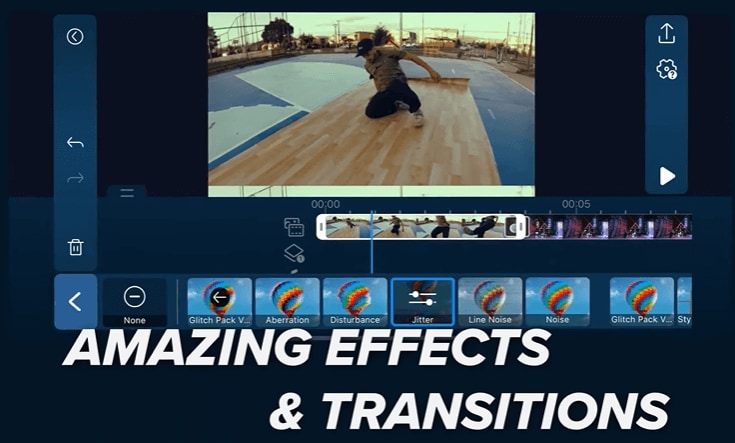 Video content creators can use the PowerDirector app to edit, cut, refine, and share their videos easily. It comes with tools that enable them to add texts, titles, shapes, and graphics to their videos. Users can choose the format they want to edit their video once they log into the application, and effects align with objects, unlike other applications. However, this application only supports 720P and 1080P video output, making it not the best option for YouTube videos. Also, the lack of layers was a challenge for us when using this app.
Platform Supported: Android and Windows tablets
4k Output Support: No
Pricing: A free trial is available with the pro version going for $19.99 monthly.
Pros
It offers multiple editing features
It is easy to use
Small video processing downtime
Cons
The reverse layering feature can be very confusing
No multi-track video editing support
No 4K video export support
How to Download: Google Play Store
---
7. Splice
Splice is the best option for iOS device users as it offers basic editing functionalities like effects, music catalogues, animation, and other filters.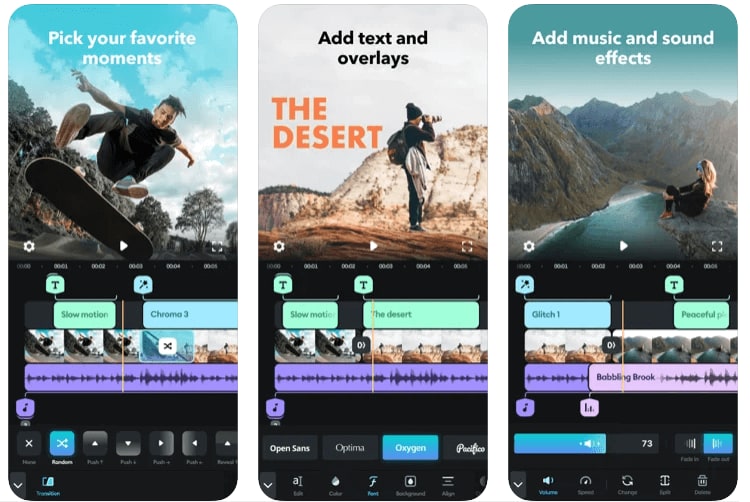 This mobile video editing application works on only iOS mobile devices, and it offers a variety of editing tools like music, animation, cropping, trimming, effects, and speed control. They offer one of the largest music and sound effects catalogues, enabling users to add them to their videos. Users can easily insert transitions, add custom text, or apply effects to their video to enhance the quality.
Platform Supported: Android and iOS
4k Output Support: No
Pricing: It is free to download
Pros
Easy to use
It offers a variety of editing features
Multiple sound effects and music are available
Social sharing options
Cons
No 4K output support
No multi-track editing
How to Download: Google Play Store/Apple App Store
---
8. Adobe Premiere Rush
If you are looking for an app with cutting-edge features like colour correction and speed adjustment, you should choose Adobe Premiere Rush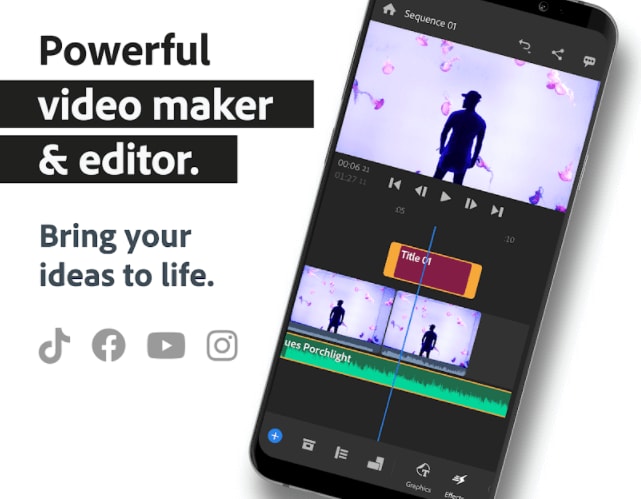 Adobe Premiere Rush enables video content creators to use their mobile devices to colour correct, adjust speed and resize their videos for YouTube. With the drag-and-drop feature, users can quickly edit their videos on the go. This app gives users access to Adobe Stock for graphics and images, and they can also add voiceovers to their videos easily. The major selling point of this app is that you can create a project on your desktop and continue the editing on your smartphone. Additionally, Adobe Premiere Rush does not allow you to edit 360-degree VR videos.
Platform Supported: Android, iOS, macOS, and Windows 10
4k Output Support: Yes
Price: The free app comes with a 2GB cloud storage limit, but you can get 100GB of cloud storage when you subscribe for $9.99 per month.
Pros
Fast video export
Cross-platform compatibility
Intuitive interface
Cons
Limited audio options
No green screen editing functionality
No multi-layer video editing support
How to Download: Google Play Store/Apple App Store
---
9. VN Video Editor
If you are looking for an app with plenty filters and effects that you can use from your smartphone, tablet, laptop, or desktop, you should opt for this one
VN Video Editor is a multimedia application that users can use to edit their video content directly on their smartphone, tablets, or desktop devices. This application features numerous effects like picture-in-picture mode, filter adjustment, key frame animation, and others. Users are also allowed to customize their export settings, and they can export their edited video in $K or 60fps. The major feature that drew us to this app is that it is free to use and there are no watermarks attached to the videos despite its free nature.
Platform Supported: ?iOS, Android, Windows, and macOS
4k Output Support: Yes
Pricing: VN Video Editor is free to use but you need to create an account to be able to use it.
Pros
Free and easy to use
No watermarks
It supports multiple images and videos
It allows custom fonts
Multiple filters and special effects
It supports 4K export
Cons
The apps for iOS and Android are not identical
No multi-layer editing support
How to Download: Google Play Store/Apple App Store
---
10. iMovie
iMovie is the perfect option for you if you are new to video editing and you want to start with basic video editing features like filters, effects, and voiceovers.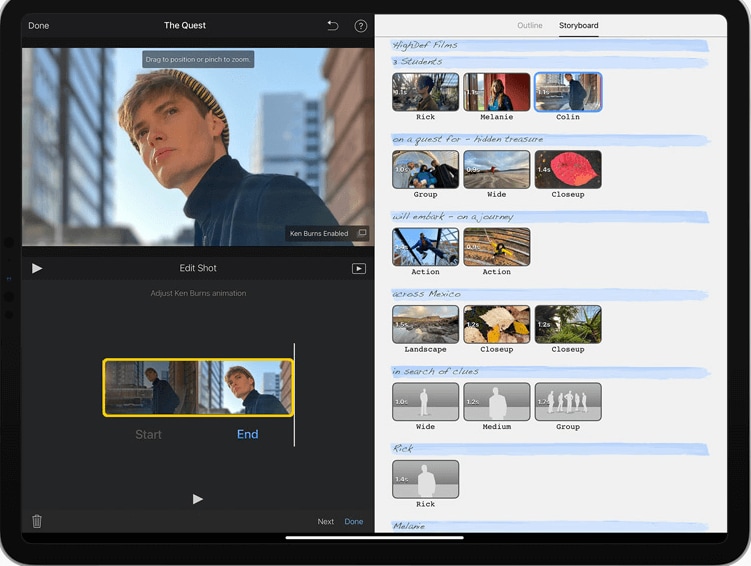 Final Cut Pro is a video editing application that allows users to edit and modify their videos. There are different preset windows and features like noise filters and colour tools available for users to use to edit their videos. This app enables users to merge different clips into one sequence, and there are multiple video transitions available for them to choose from.
Platform Supported: iOS and macOS
4k Output Support: Yes
Pricing: Format Cut Pro goes for a one-time payment of $300 from the Apple App Store.
Pros
Supports 360 degrees VR footage
Unlimited number of video tracks
High output resolution
Cons
It is costly
No multi-layer editing support
How to Download: Apple App Store
---
Part 2: Best YouTube Video Editor for Beginner and Semi-pro -
Highly Recommended
Many people edit videos on their computers. Whether creating a professional film or just editing some home footage, it's easiest to use an all-purpose computer than a phone or tablet. The reason is that phones and tablets can't handle as much data as an entire computer.
But lately, there has been a new trend: mobile video editing apps. After all, it's easier to edit footage on an app than transfer files from a computer to your phone! For people who edit videos only occasionally, simpler apps work just fine for their needs. However, if you're looking to make professional films or publish them online, you might want something more powerful!
The desktop alternative is Filmora, and it's much better for complex tasks like color correction, HDR (High Dynamic Range) rendering, and 3D text if you need to use your footage in another non-video program! And several other advantages make desktop editing far more convenient than mobile editing.
We'll show you how simple editing and making videos using Filmora with a step-by-step guide.
Simple and intuitive user interface:
You will fall in love with Filmora as soon as you open it because its UI is simple to use and navigate. Drag and Drop options will make things much easier!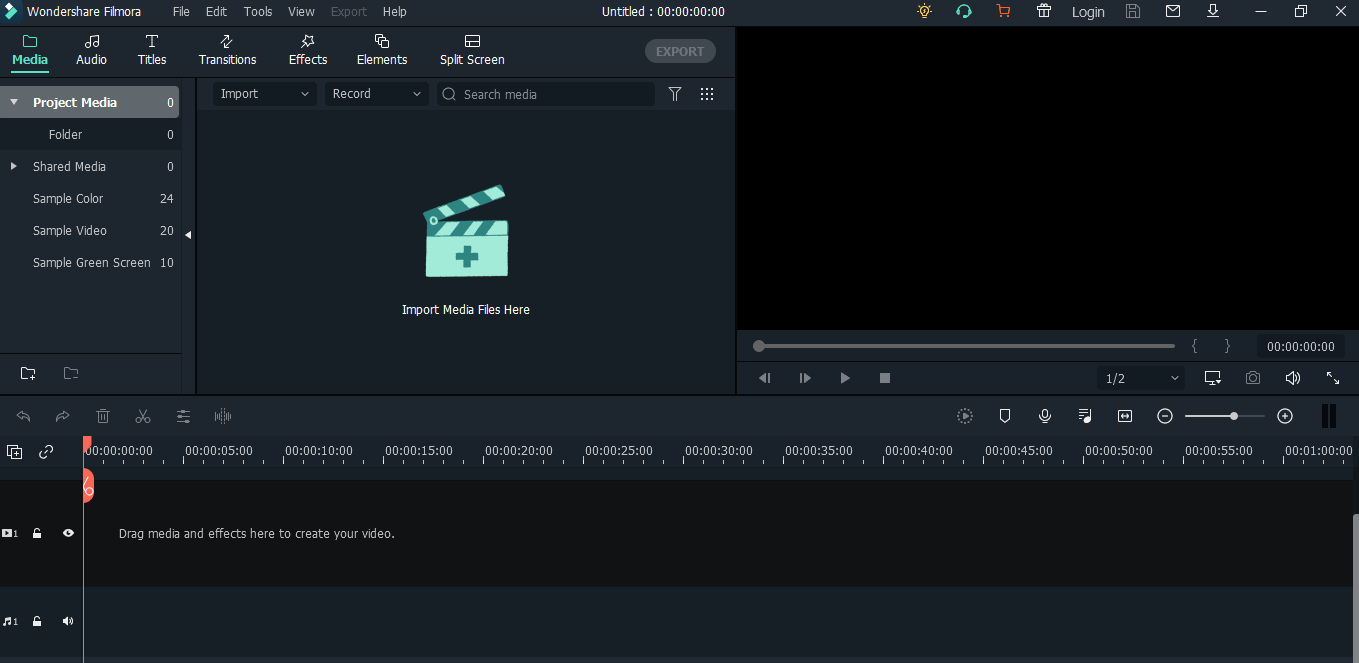 The first step is always the same: you must import media in the form of photos, videos, and audio to begin editing!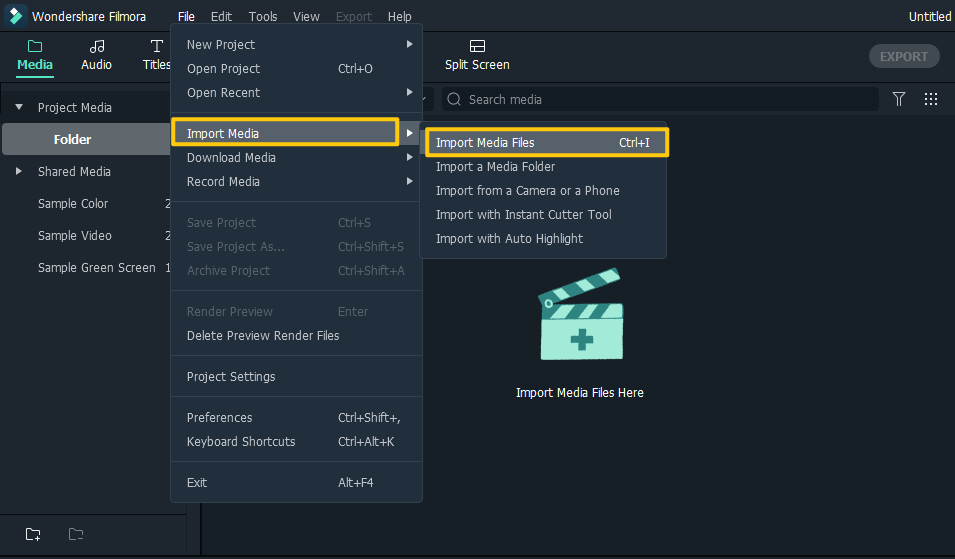 Click on Import and add the files you want to use in editing and drag them to the timeline!?
Trim. Split. Edit
As the video is on the timeline now, you can easily trim the unwanted part by clicking on the scissor icon you see just above the timeline!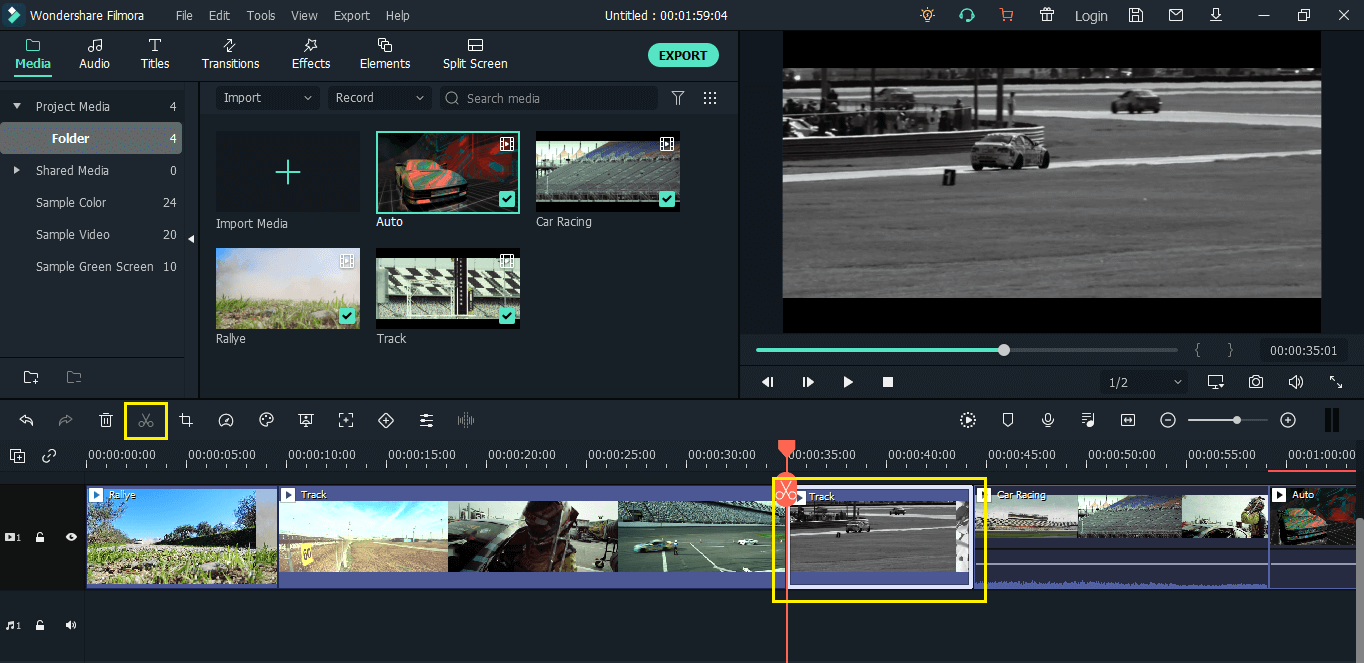 You would suppose that this kind of editing is possible with mobile video editing Apps, so what does Filmora do? Filmora X introduces many new features – basic to advanced! Allow us to demonstrate!
Stunning Effects
On Filmora, you'll find a plethora of effects. They have an endless library! So if you're editing a Christmas video, you can acquire everything connected to Christmas! If it's a wedding film, there are a lot of effects to choose from!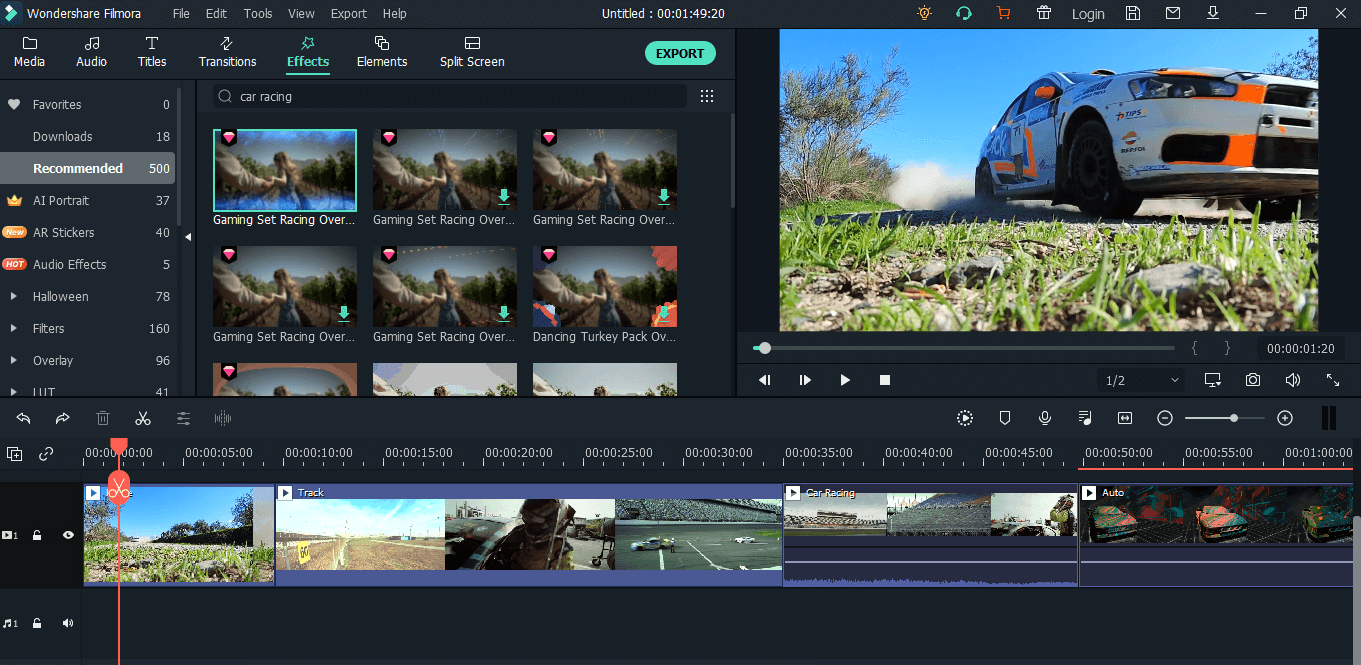 Transitions & Filters
Filmora will offer and suggest transitions and filters based on the video's requirements! If you're preparing an explainer or commentary video, you can search for the transition you desire!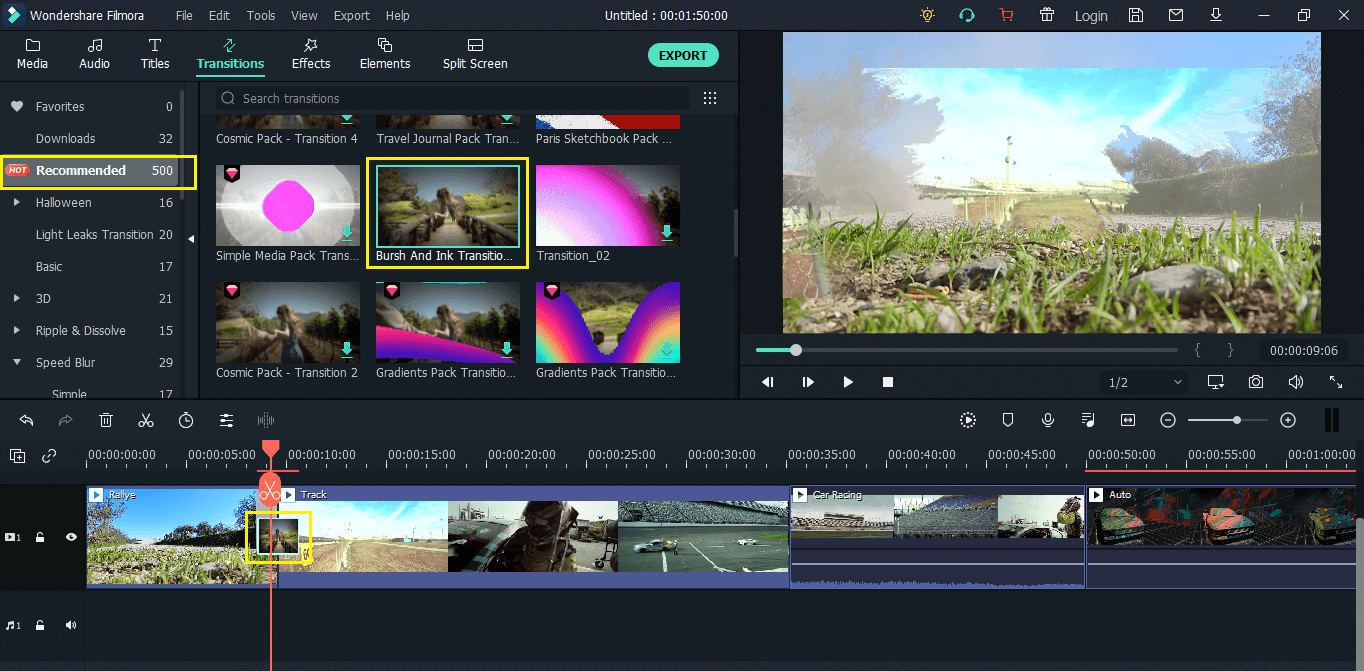 ---
An Ultimate Comparison of Desktop Software and Apps
There are many different types of video editing software out there, both desktop and app. Some powerful, some user-friendly, some professional, some cheap, etc., each is unique in its way. Here is an ultimate comparison of various video editors to help you make your choice more easily.
The world is full of choices. Whether you are communicating with the next-door neighbor or buying a car, you will need to choose one product to compare others. This is also true for video editing tools. While there are many types of video editors, desktop software and apps are worth examining!
Desktop software includes Filmora X, Adobe Premiere Pro CC, Apple Final Cut Pro X, Sony Vegas Pro 13, etc. They are paid ones with lots of functions and customizable options. On the other hand, apps are free-to-use video editors that mainly serve to help you make home movies without too many detailed editing settings.
Convenience: Apps are more convenient to use as they don't require too much computing process and storage space. However, no app can compare with professional desktop software. So if you have lots of time on your hands and unlimited storage, the best one is the desktop software. Otherwise, apps are good enough.
Professional: Since functionality is the most important factor to define whether a video editor can be considered professional, apps merely pass this test. On the other hand, desktop software should have more features than apps to come out better in terms of professional results. But it may not apply to many cases because sometimes the app's simplicity can yield a better result.
Price: Apps are cheaper than desktop software, but not all of them can be free. Most of the professional ones cost more than $100, making them more expensive than some good desktop software that has yearly subscription fees as an option.
---