Want to be a youtuber?
As we can see, YouTube is the most famous video sharing platform that is accessed by millions of people every day. YouTube video creators are taking this profession seriously because YouTube marketing is the future of online marketing. Promoting brands and products, even yourself is easier when you have a YouTube channel with good content. So, editing audio on YouTube video is a very important factor for you who want to be a youtuber.
Still don't know how to cut/extract the audio from a YouTube video? Can't change, replace or edit audio of YouTube video, even after uploading it?
Then this article is for you. It will help you learn everything about YouTube audio editor online and how you can use it even after uploading your video on YouTube. You also learn about the best YouTube audio editor from here as you read further. There are two ways to help YouTubers edit audio on YouTube, so let's start.
How to Use YouTube Video Editor to Edit Audio on YouTube?
YouTube's video editor will offer you an audio library that you can use to add audio on your videos. It's huge library with thousands of music files. This part will help you to learn about YouTube audio editor online and how you can use it to edit audio on YouTube. You can add and edit audio of your uploaded YouTube videos directly from there.
Step 1: First you need to log into your YouTube account and click on your profile. Then select the "Creator Studio" option to proceed.
Step 2: Now from the left panel, you need to select "Video Manager" and then select "Videos". Then you need to select the video that needs audio editing and click on "Edit" option. From the dropdown list select "Audio".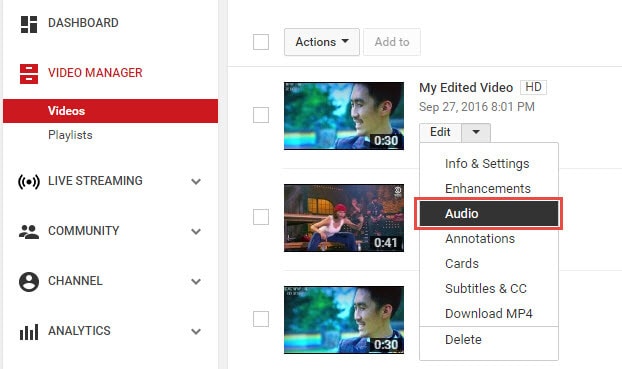 Step 3: Next you will easily be able to add or change the audio from the video. You will find a huge list of songs from YouTube audio library. You can select any song and click on "Add to Video" to add the song to your video immediately.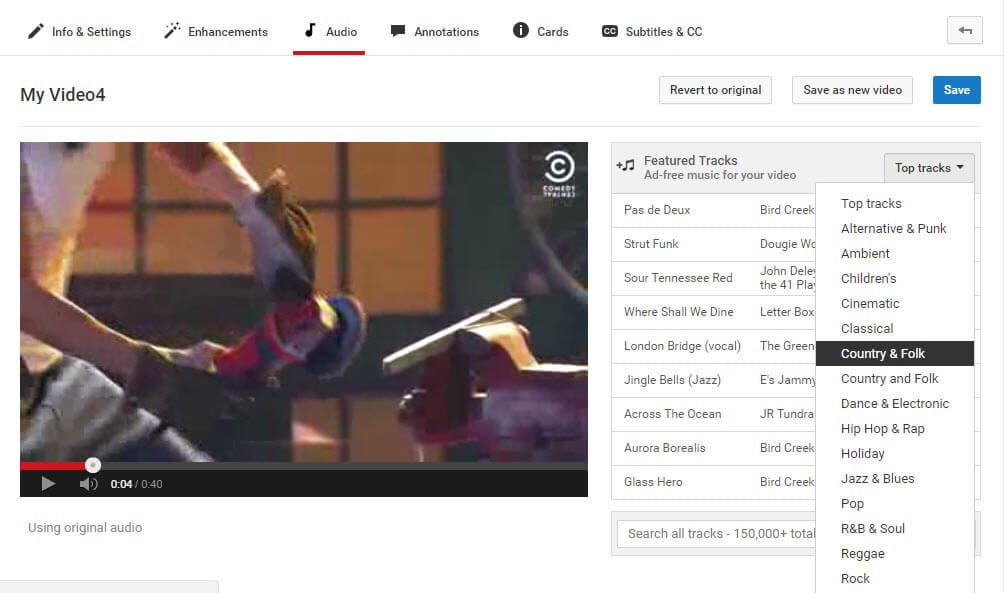 Step 4: Finally, you will find the audio track down to the video player. You can easily trim and drag the audio to position it according to your choice. If you want to trim the audio, you need to click at the beginning or end of the audio bar and move it left or right. After trimming the audio, you can move it to left or right to adjust the position.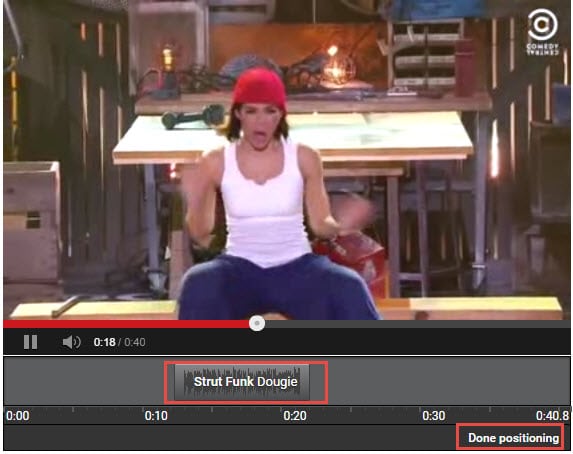 Though YouTube's audio editor has some basic features that you can use even after uploading the video, it has huge limitations when it comes to a standard YouTube audio editor. It will never be able to meet the advanced needs of audio editing for a YouTube video. If you want more control on the audio, you should start using other external tools that can help you to become a professional even when you are new.
---
Filmora Video Editor - Awesome Youtube Audio Editor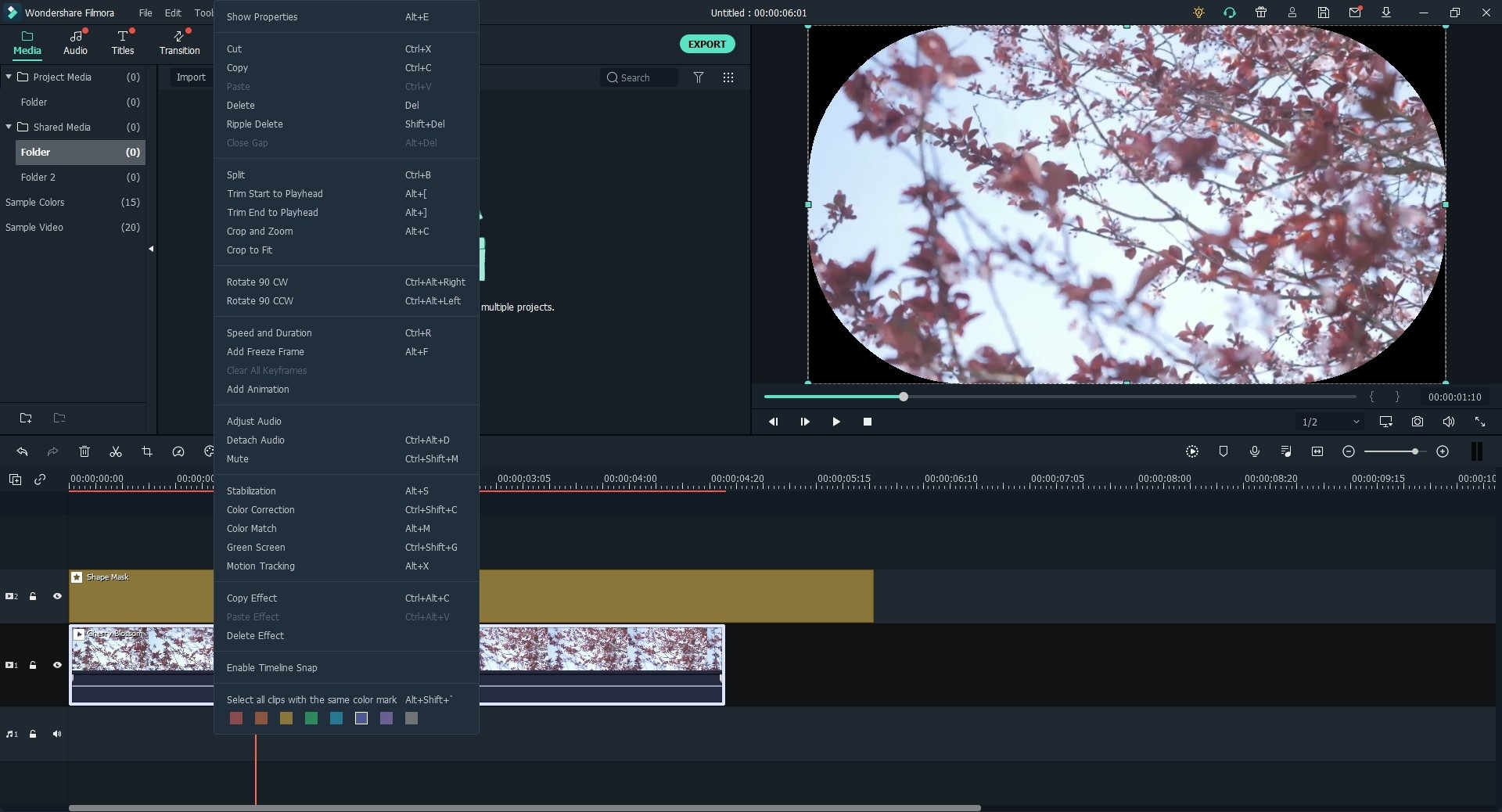 If you are not satisfied with YouTube video editor and you want to find a better alternative, then Filmora Video Editor (ou Filmora Video Editor pour Mac) should be your best choice. This amazing tool will help you to edit your YouTube videos like a pro, even if you don't have any experience of video or audio editing. It will provide you with various sound effects and advanced editing tools. You can use this software to customize and edit your YouTube video performance on your own. You will be able to completely edit any audio file of your choice and have full control on the audio. There is no limitation and there is no stopping you! It's the most efficient and effective video editing tool that will give you control over the audio and video to create something beautiful.
Key features:
It will help you to get full control over any audio file of your choice by using the audio editing options of this tool.
You will get various audio effect options that can be used in one click.
It will allow you to remove audio, remove the noise and mute the audio of any video file from the editor timeline.
It has a built in equalizer that will allow you to create unique audio effects on your own.
You will be able to upload your videos directly to any social media sites such as YouTube, Facebook, Vimeo etc.
---
How to Edit Audio on YouTube with Filmora Video Editor
Step 1: First you need to import video files into the software library from the "Import" option.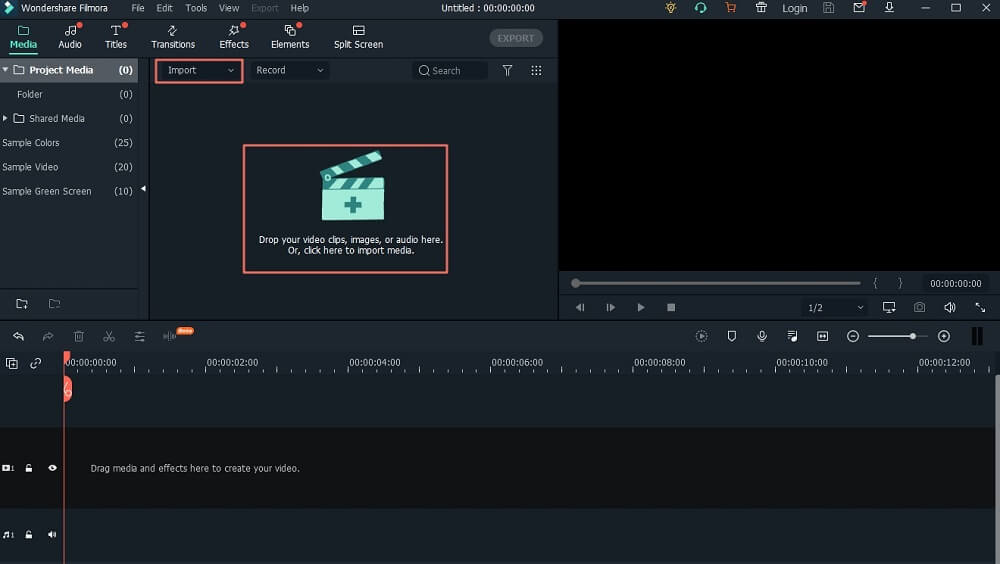 Step 2: For editing the original audio that is already added with the video, you need to split the audio from the video first. Right click on the video timeline and select "Audio Detach" option. This will separate the audio and video into 2 separate timelines. Then you can easily trim or remove the audio if you want.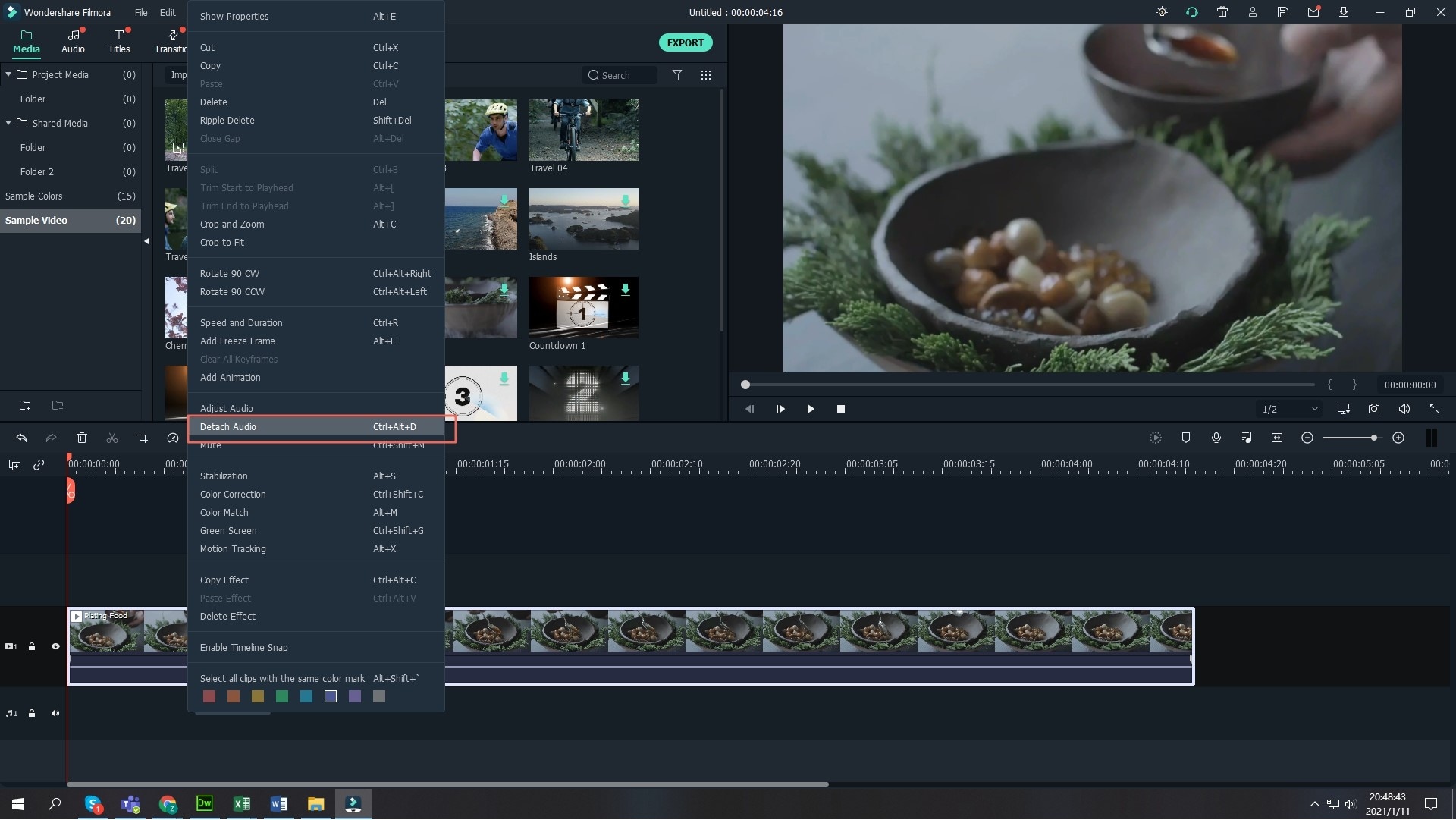 Step 3: You will be able to add royalty free audio effects and audio files from the audio library of the software. Also you can add your own music or audio to the video if you want. Make sure that the audio file you are using is royalty free otherwise you won't be able to avoid copyright issues.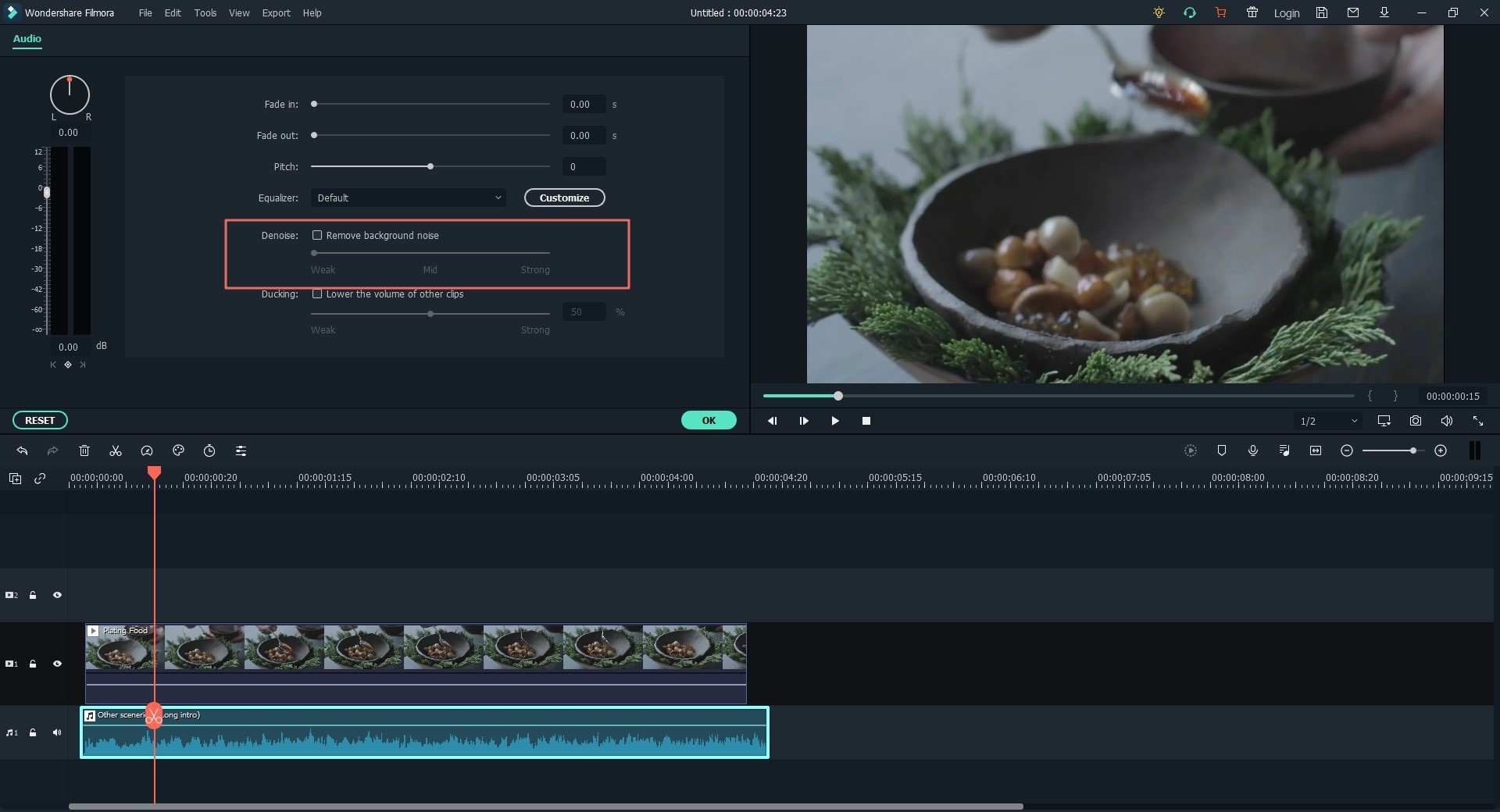 Step 4: Double click on the audio timeline and you will find the audio control panel on the screen. You can easily adjust the volume, speed, fade in or out, pitch settings from here. You can also use the audio equalizer, remove noise, the audio mixer from here.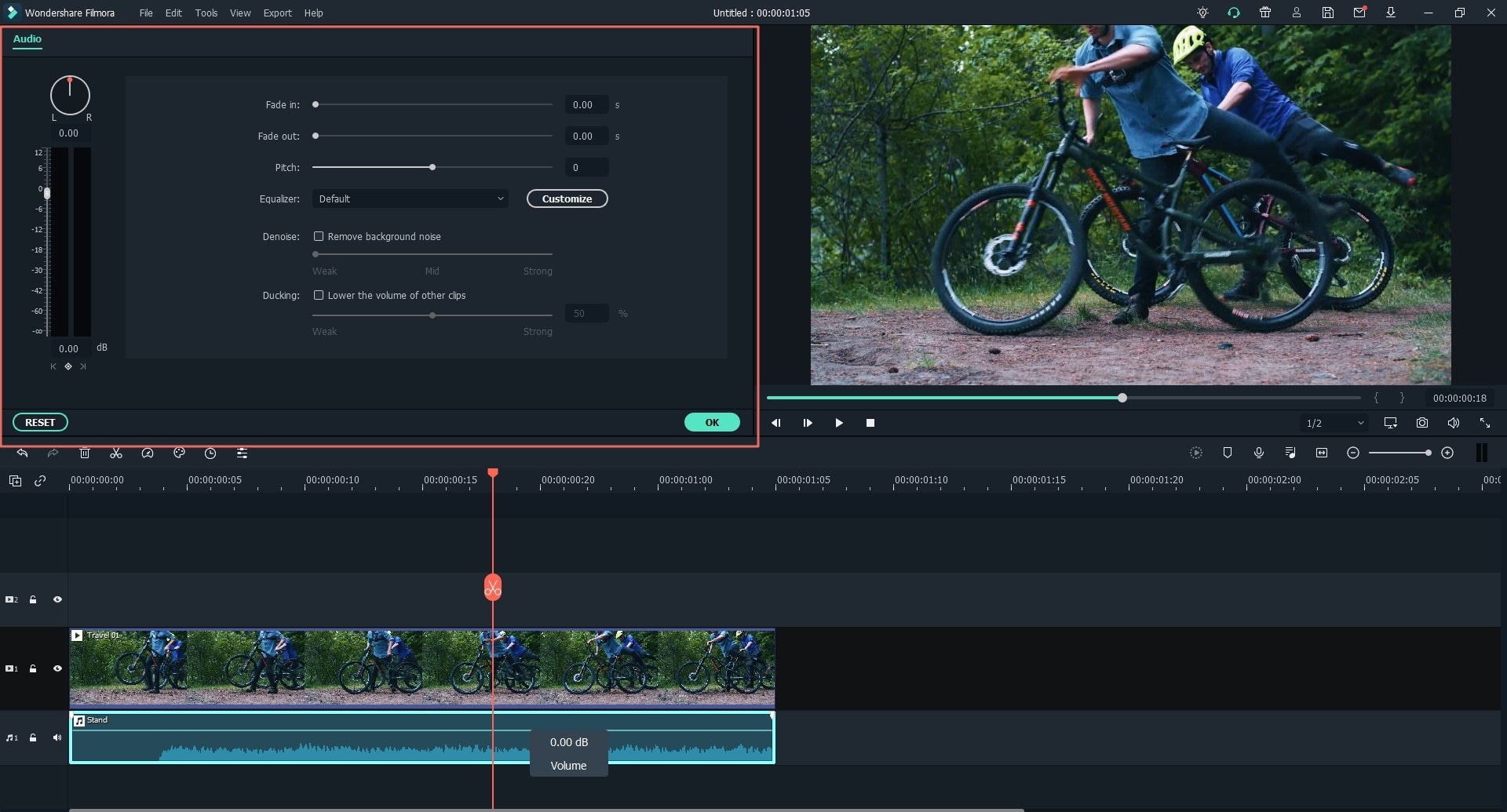 Step 5: Finally, when you are done with editing the audio part of your video, you can easily upload it to YouTube. All you need to do is, click on the "Export" button from the top menu bar and select "Upload to YouTube". Then you need to log into your YouTube account and upload the audio with the video file.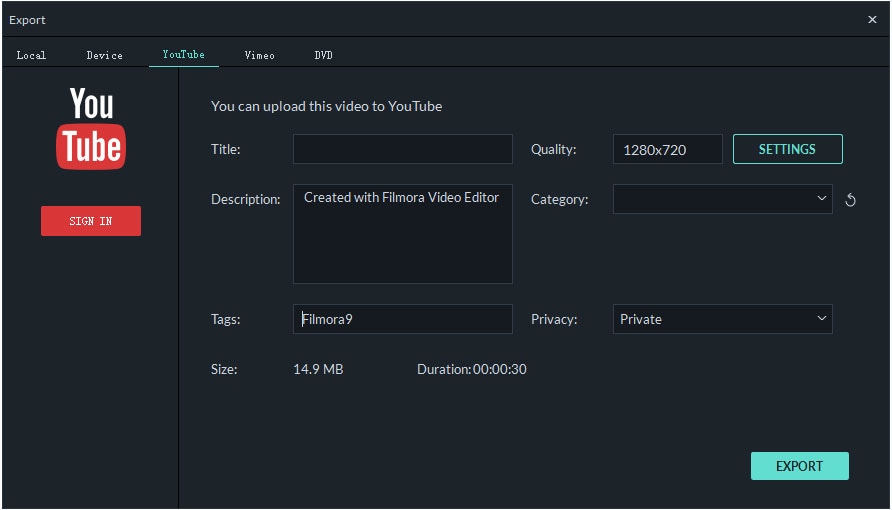 ---
Final Thought
Now, all you need to know about YouTube audio editor online and how can you edit audio on YouTube video is here on this article. Which one would you choose?
In fact, in order to ensure more audio editing to choose and make your Youtube video with audio look more professional and attractive, il would be better to edit audio avec Filmora Video Editor before you upload your video to Youtube. It will help you to fully control the audio file and you can edit the audio with various effects and effective options just the way you want.
If you are interested in making a youtube video, you can see also:
How to Add Background Music to YouTube Videos
How to Add Texte to a YouTube Video Efficiently