Designing an attractive thumbnail for a YouTube channel is just as important as creating a great video.
YouTube has become more than a video-sharing platform over the last decade or so. According to a recent survey, more than 120 million users are logged into YouTube each day and indulge in this new form of entertainment. The reasons for its popularity might be many; however, one of the factors for this platform that stands out from the rest is its User Interface (UI), mainly the visually pleasing thumbnails.
For those new to this term, a YouTube Thumbnail is a disclosed image primarily utilized to grab the viewer's attention. So, it might be the first thing that you notice once you load your video feed. It behaves as a determining factor for your target audience and makes them feel obligated to click on your video.
YouTubers add a thumbnail to video to engage more audience and improve their click-rate, providing them with more views. There are many ways to create YouTube thumbnail design ideas, but the most common is the free online YouTube thumbnail maker, which we will discuss today. So, let's get into it!
Part 1. Filmora Video Editor X - the Best Video Editor for Creating Youtube Thumbnail
To instantly create the best YouTube thumbnails, one of the tools you will be needed is none other than Filmora X. It comes with all the bells and whistles that will help you design an attractive thumbnail for YouTube channel within the right thumbnail sizes.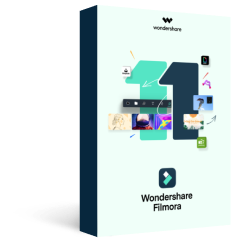 Key Features
Best video editing software for beginner and semi-professional.
Advanced video editing functions like AI Portrait, AR Sticker, motion tracking, keyframe is available for use.
500+ free special video effects to customize and create an awesome movie by yourself.
1000+ standalone effects downloading resources to make videos in all kinds of styles.
Step-By-Step Guide on Using Filmora to Create a YouTube Thumbnail
Step 1: Download Filmora Video Editor
The first step is to download Filmora on your device and it supports both Windows and Mac platforms. Once you have completed the download, install the software. Just click the button here to have a try!
Step 2: Import the thumbnail materials you prepared into the Filmora Video Editor and change the aspect ratio
Now you have installed Filmora, the next step is to import the pictures or videos that you want to make a thumbnail with. Just open the program and import the videos. Many youtubers choose one frame from their clips as the thumbnail picture, because it can show the theme of the video for the audience if selected properly.

Tips:
The ideal size for any YouTube thumbnail is within 1280x720 of the resolution, in a 16:9 aspect ratio. So, never forget to make the aspect ratio for your thumbnail to this standard.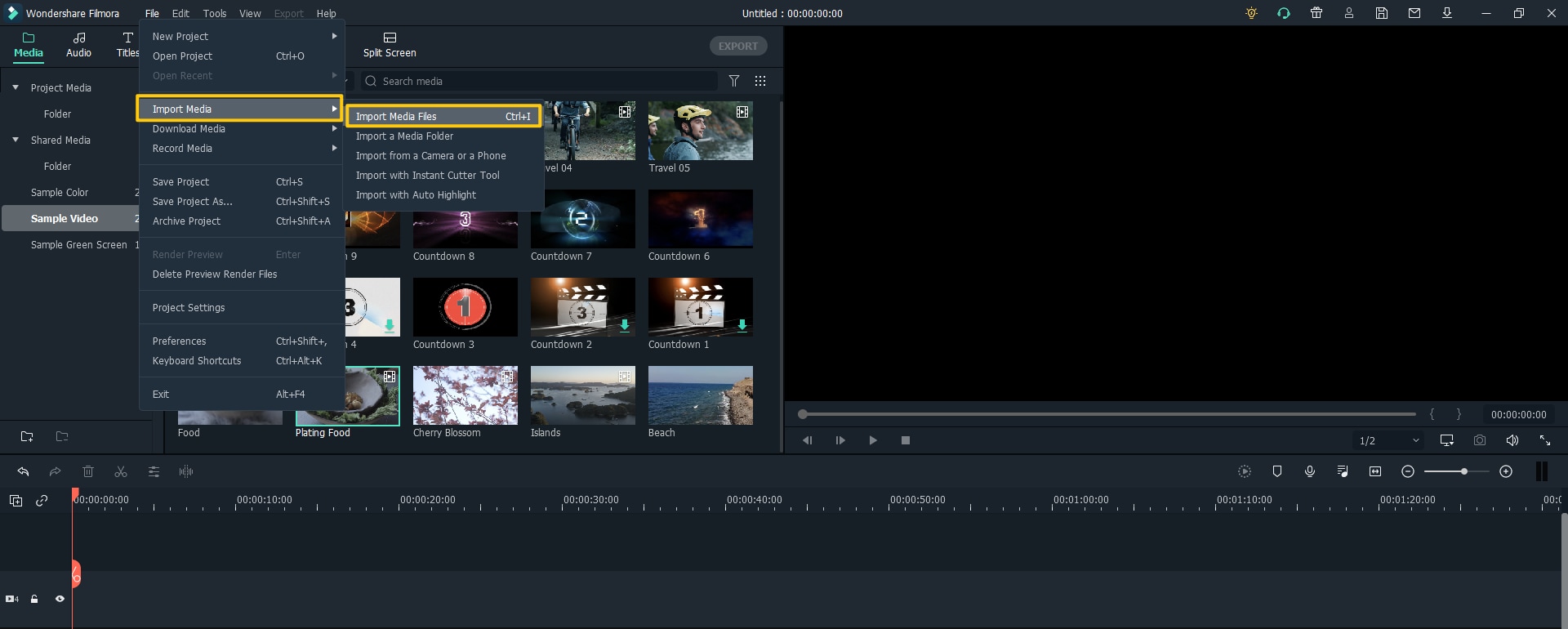 Step 3: Choose a color as the background for your thumbnail
Depending on the topic of your video, choose an appropriate background color from the Sample Color Folder and drag it to the timeline, and you can always adjust its value, threshold, etc by right-click it to enter the Adjustment Panel.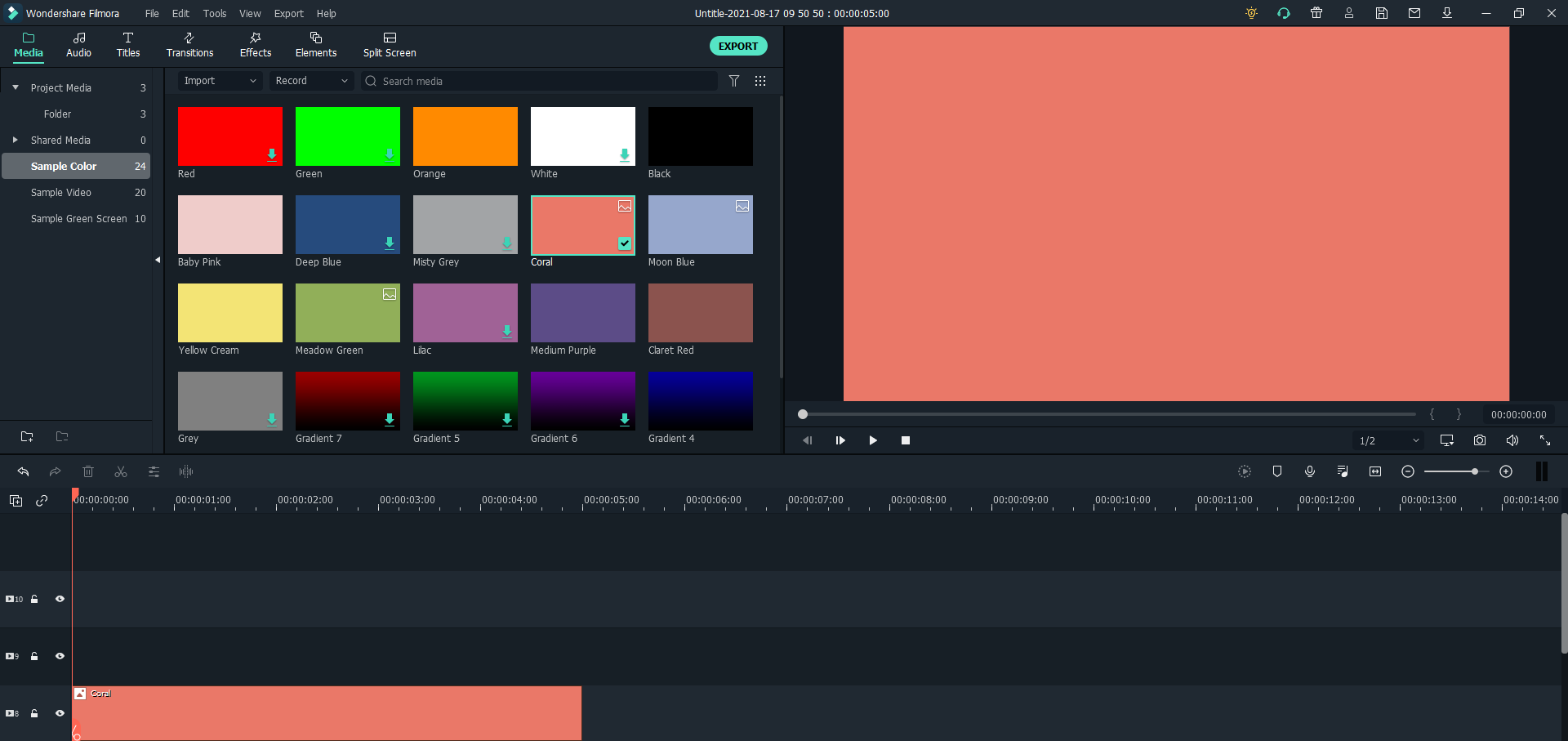 Step 4: Add a title for your thumbnail
Your Next step is to select a catchy title template and drag it to the timeline as well.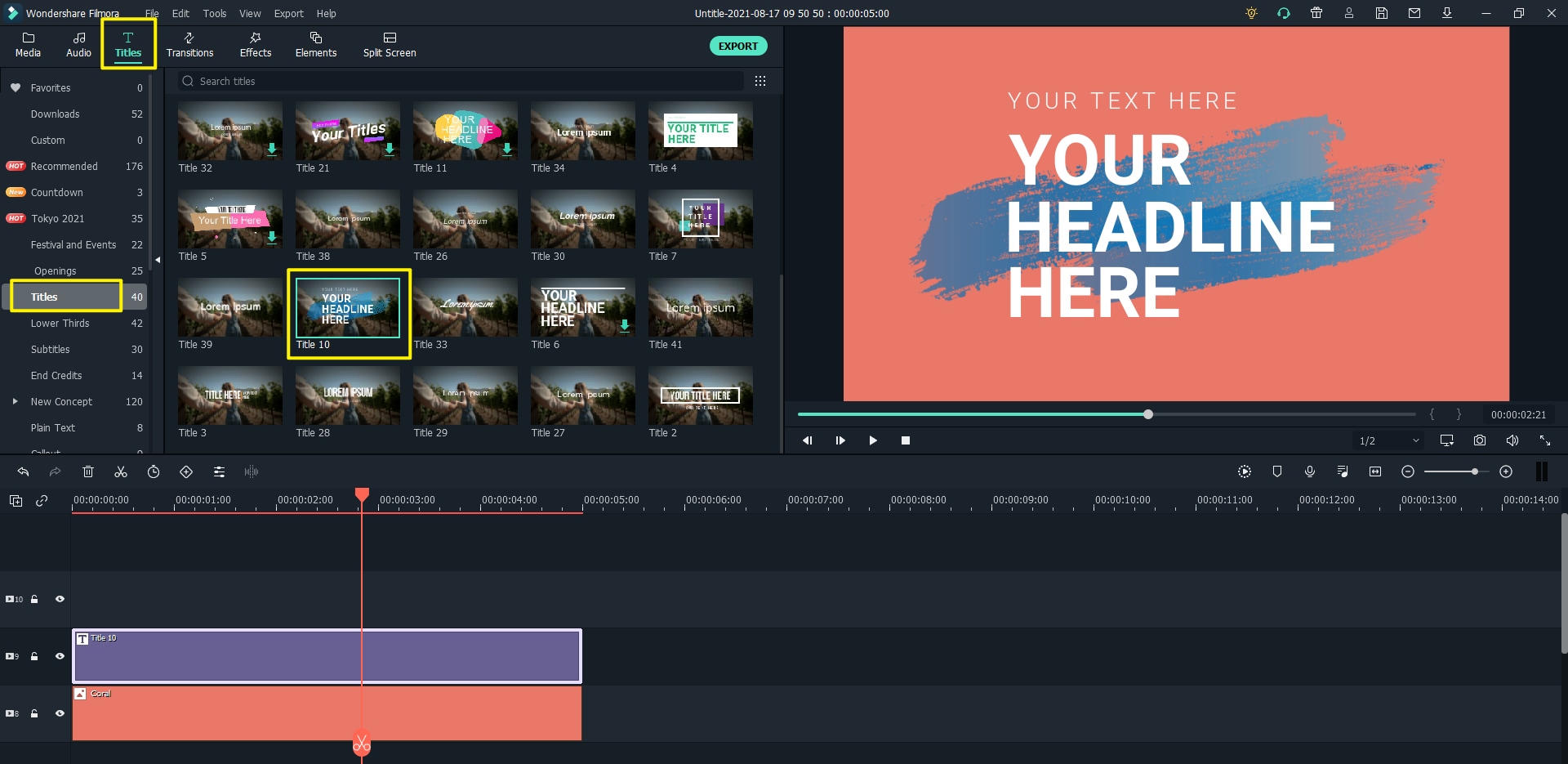 Enter the text you choose as the thumbnail title to replace the template. Then, you can right-click it to enter the Title Adjustment panel and change whatever part you feel unsatified about it, including text font, text color, text fill, text shadow, text border. The panel is so convenient and you can soon get used to it and customize your favorite text style.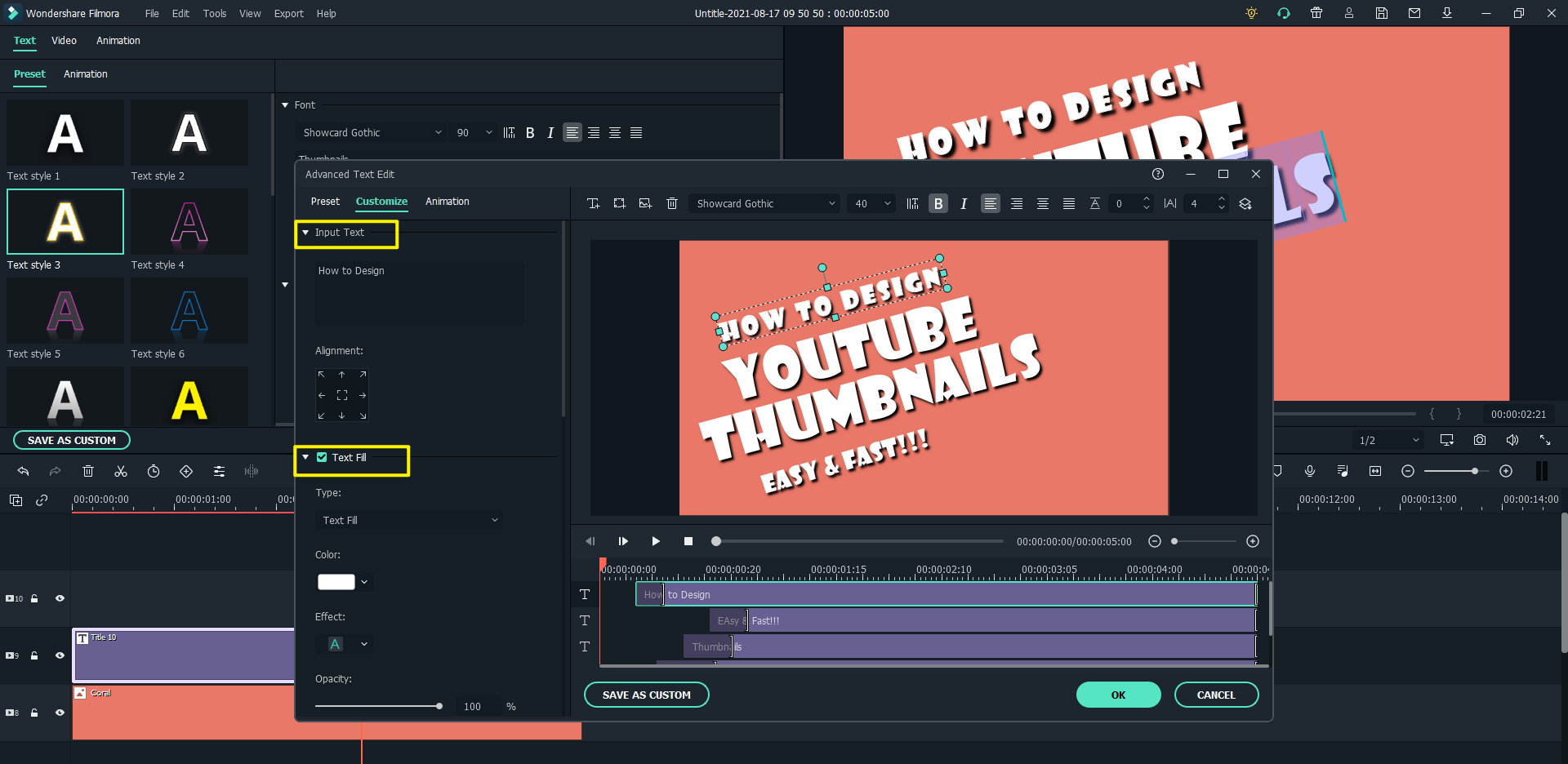 Step 5: Add funny and catchy elements to make it more interesting
Now, you can add all kinds of funny effects and elements to spice it up. There are countless effects and elements displayed and for you to choose from. Just drag anything you like to the timeline to see how it works.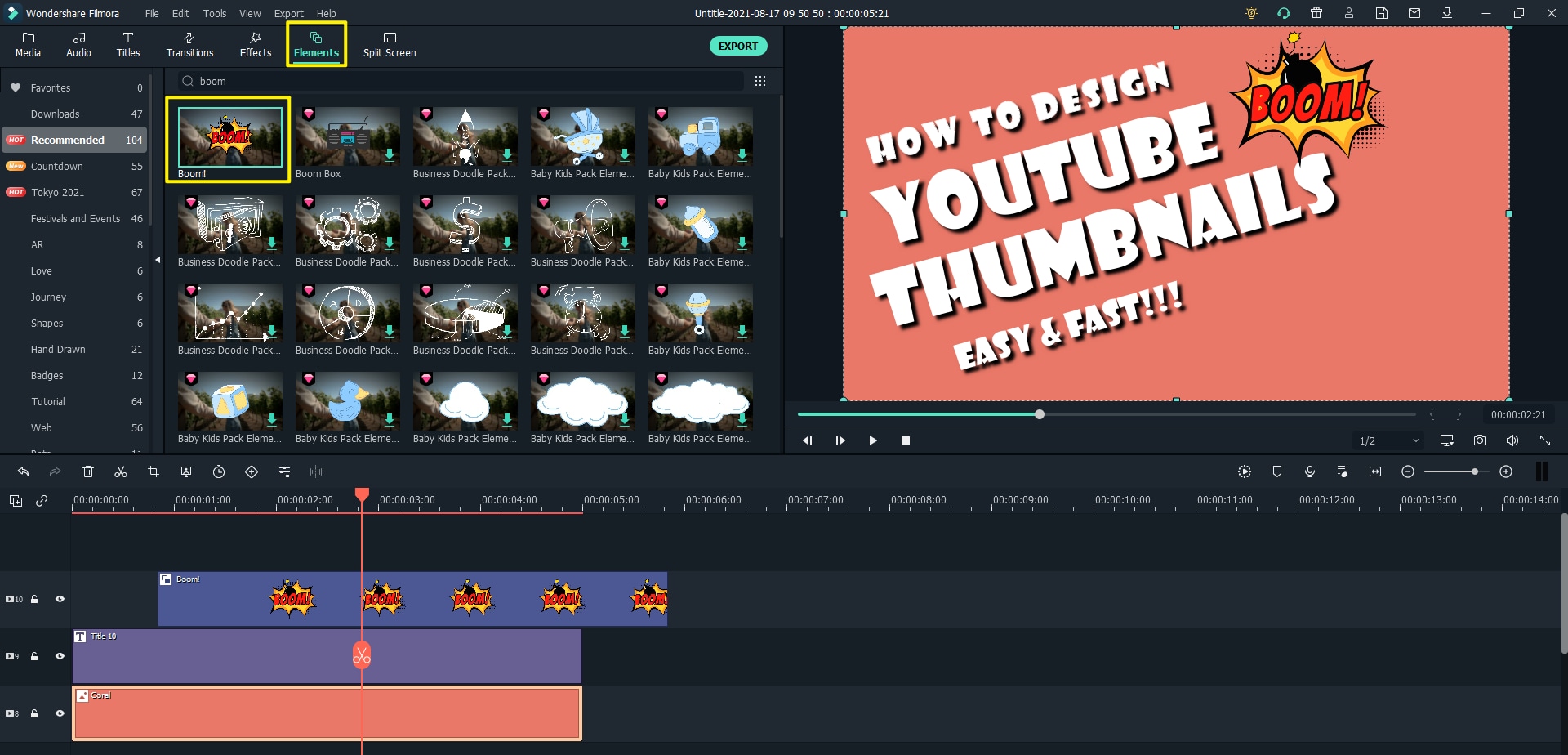 Step 6: Take a screeshot of the completed thumbnail and find it in the project folder
Once you're done with your thumbnail, now you can play the video to any frame you want and pause it to take screenshot.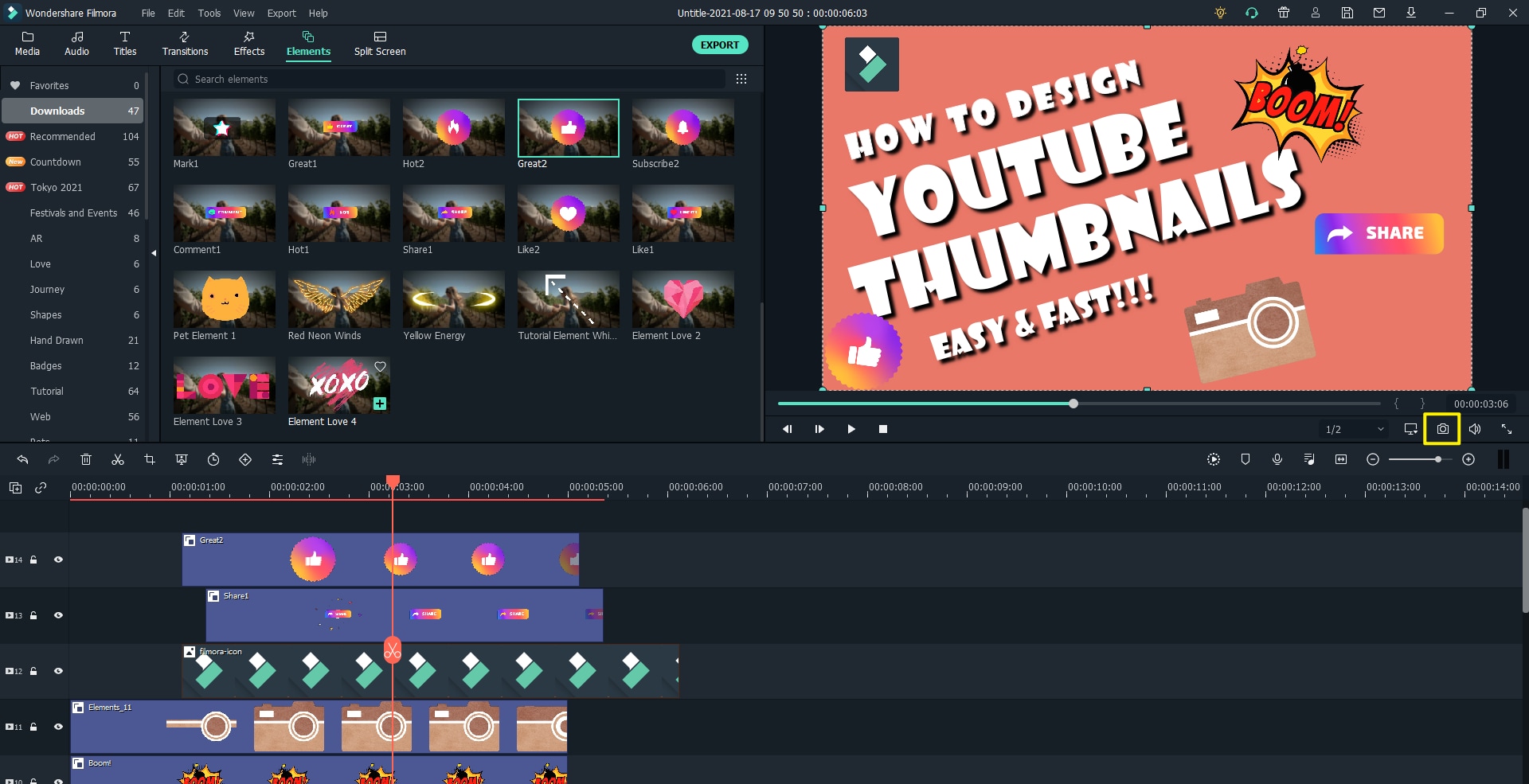 Then, you will be able to find the screenshot in the Project Media - Folder. Just download it for free and go upload it on youtube now!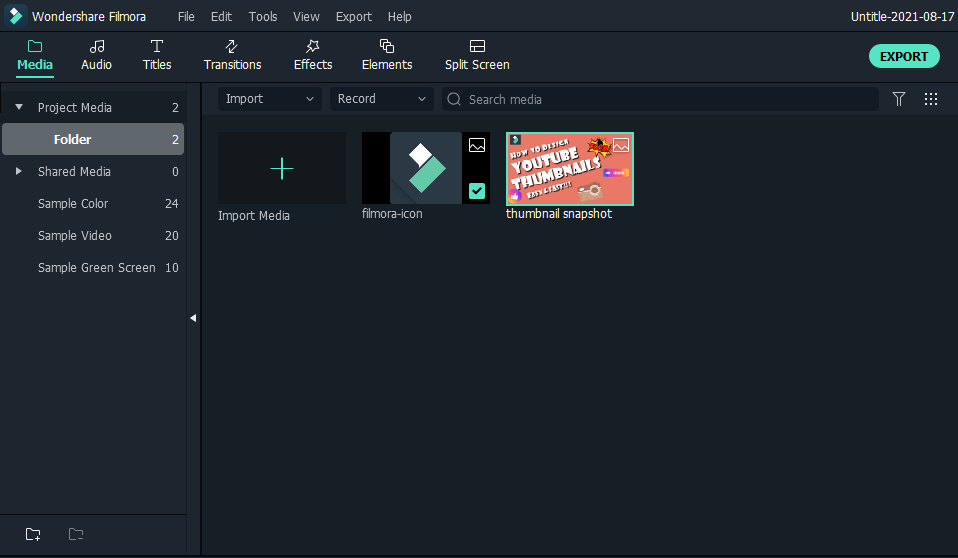 Tips:
Apart from adding unique titles to your thumbnail, there're lots of tricks you can do with Filmora. You can use AI Portrait function to separate the person and background of a video or photo, thus you can add the potrait of yourself without messy background to the thumbnail as well.
---
Part 2. Important Tips on How to Make Thumbnails That Attact More Audiences [Proved]
There are several tips that anyone should follow who aims to attract more audiences with their YouTube thumbnails. Scroll down to learn some of the most critical tips now!
#1. Try to remain consistent with your thumbnail layout
Most people do not realize that the key to ranking their content on platforms like YouTube is to remain consistent with their layout, especially in terms of the actual thumbnail. You want to make it easy for your viewers to recognize your content and create a somewhat fanbase within the platform. That's why we would advise you to utilize the same fonts, text size, styling, and effects, whenever you tend to create a thumbnail.
#2. Make sure that your thumbnail is optimized for several platforms
Adding thumbnail to video through any free online YouTube thumbnail maker like Filmora X is simple, but optimizing its aspects for multiple platforms is quite different. That is why you need to consider all types of devices that your viewers use before you create your next YouTube thumbnail.
#3. Find a clear, high-resolution image
One of the ways to make your thumbnail stand out from the competition is by using an image with clear context and intuitive colors. If the color contrast of your thumbnail image is not optimal, you won't be able to create a solid impression.
#4. Thoroughly analyze your competition
When it comes to the competition, it's a good idea to look at other YouTube channels' thumbnails that rank for the same keywords as yours. This will give you a brief statement on what kind of thumbnail styling, layout, and color scheme the viewers tend to fall for.
#5. Try to personalize your YouTube thumbnail as much as you can
Do you know why channels like that of PewDiePie or MrBeast are quite popular on YouTube? The main reason behind them is personalization. They tend to communicate with their audience in a broader spectrum, which can be seen in terms of their thumbnails. Things like facial expressions and eye contact draw the audience's attention and give you more views.
If you're interested in Filmora, watch the short clip below to learn more about its new amazing features. Then, start your journey of creating!
---
Part 3. Conclusion
The giveaway here is that YouTube thumbnails are undoubtedly an effective way of attracting viewers and building an audience. Without a solid thumbnail, you will miss out on potential views. Although the great thing is that making them isn't as complicated as one might think. You don't require expertise in high-end tools like Adobe Premier to get the desired results. And you can easily get away with a free online YouTube thumbnail maker, the Filmora X. If you are interested, click the button below and try it for free now!
---
Frequently Asked Questions
1. How much should I pay for a YouTube thumbnail?
The average cost for a YouTube thumbnail is around $5-$15 per video; however, you can easily save your bucks by exploiting free yet easy-to-use software like Filmora X.
2. What are the right thumbnail sizes?
The ideal size for any YouTube thumbnail is within 1280x720 of the resolution, in a 16:9 aspect ratio. Although if you want a perfect YouTube thumbnail size, then you should defiantly opt for Filmora.
3. How to add a thumbnail to a video?
Adding a thumbnail to a video, simply open the YouTube Studio app and select the media file you want the thumbnail for. Once done with it, confirm the selection and click on Save.