A YouTube banner is an image (also known as a graphic, cover art, or wrapper) displayed on the main page of a YouTube Channel. It may also be used as thumbnails for all your videos. The banner needs to be high definition and follow some guidelines set by the staff members at Youtube.
For example: If you are a gaming channel, your banner should contain pictures or graphics related to the game/video you are uploading. Or, if you are a cooking channel, it can be an image related to food items.
The following are some of the advantages of using a Youtube Banner:
Youtube Channel Art helps you to attract more people to your videos.
Youtube banners are the easiest ways to market online, get more views, and quickly discover new audiences.
The banner will help your channel, and in the long run, you would be able to raise a brand for yourself which would help improve your earnings by a tremendous amount over time.
This will help you have better views and have more popularity in your field so that people would want to follow you on social media platforms because of how well you present yourself in front of people.
So, one should be able to use the banner cleverly to get more likes and comments on their videos. Let's learn how to make a YouTube banner.
Part 1. How to make a YouTube Banner with Filmora
So, there must be a lot of ideas popping up in your mind to create the perfect banner for your YouTube channel. It's time to get started. The new update of Filmora is just phenomenal when it comes to video editing software. You can also create that perfect banner! It's extremely easy and simple to use and contains numerous features, whether themes, stickers, or even YouTube Banner templates!
There are two ways to create that perfect YouTube banner with Filmora. The first is by choosing an intro template, which includes downloading it, a little bit of editing for your customized banner, and you're good to go to upload it on your YouTube channel. The second is making your YouTube banner with different images, elements, and titles; edit it a bit, and you're good to go! We have prepared a step-by-step guide for you to make it even easier!
Here's a Step-By-Step Guide on Making a Youtube Banner with Filmora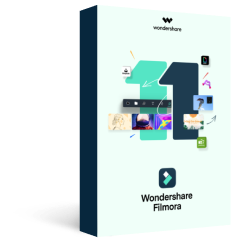 Key Features
Best video editing software for beginner and semi-professional, that comes with powerful editing skills like trimming, splitting, rotating, editing, etc.
500+ free special video effects to customize and create an awesome movie by yourself.
1000+ standalone effects downloading resources to make videos in all kinds of styles.
Record voice in real-time: you can have you voices recorded in realtime and instantly add them to the video files.
1. Create YouTube Intro by Choosing a Template
Step 1: Choose a template from Wondershare Filmstock
The first step is to choose a template from the outstanding Filmstock where you can discover abundant royalty images, videos, templates, and more! Your channel might be about Beauty, Gaming, Travel, Lifestyle, or anything! Choose the template that goes with the theme of your channel, and download that and open it in Photoshop or Filmora.
Tips:
Remember the dimension must be 2550x1440, and the maximum file size should be 6 Mb. You can also change it in the project settings in the file tab.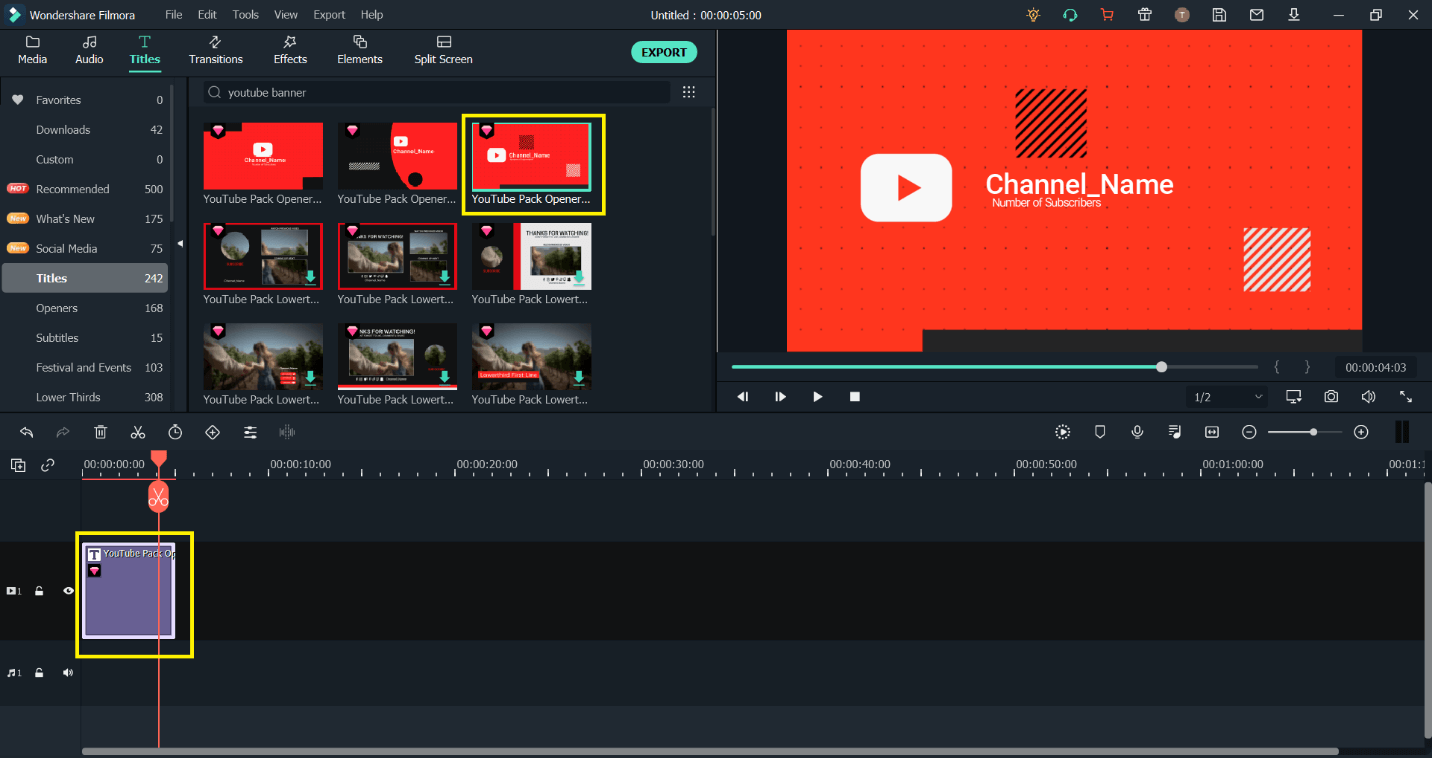 Step 2: Edit the Template Banner
Once you're done downloading the banner, it's time to customize it with your YouTube channel's name and add more spark to it. To do this, double click on the title to edit it, add your channel's name. You can also format it any way you like.
Next is to add filters, images, and elements. Add any image or your own image to the banner. Now add elements such as arrows for "Subscribe" or "Follow me," or any element you like. Be as creative as you can be!
Tips:
Make sure to keep the images and text inside the banner length as it'll be viewed differently from TV, Mobile Phone, and Laptop.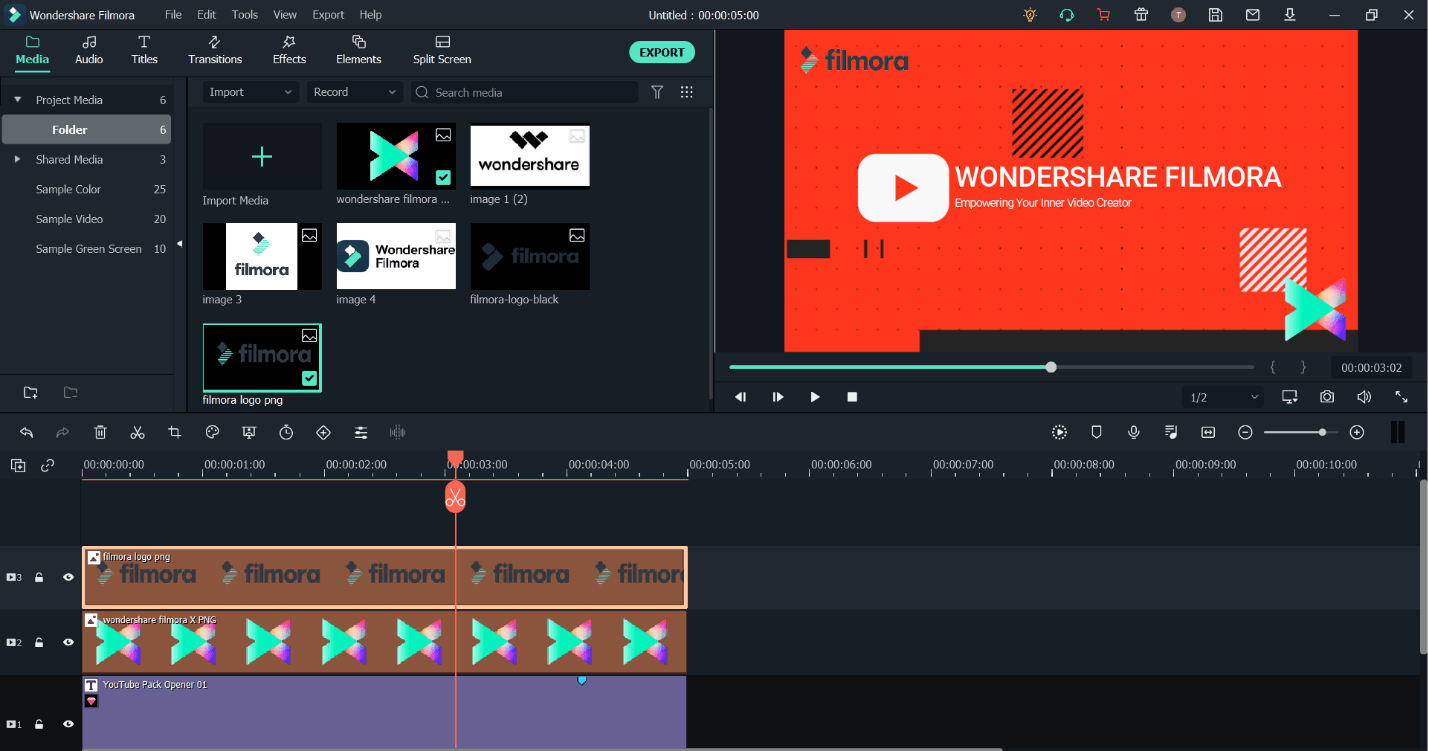 Now, all you have to do is take a snapshot of your banner by clicking on the camera icon below the preview pane. This will save your banner in an image format. The image will be saved in a specific location where program files of Filmora are saved, so make sure to check where it is saved.
Lastly, go to your YouTube channel and click on customize channel, then go to customization and further branding, find YouTube Channel Banner and upload your banner, publish it and you're done! Super simple, wasn't it?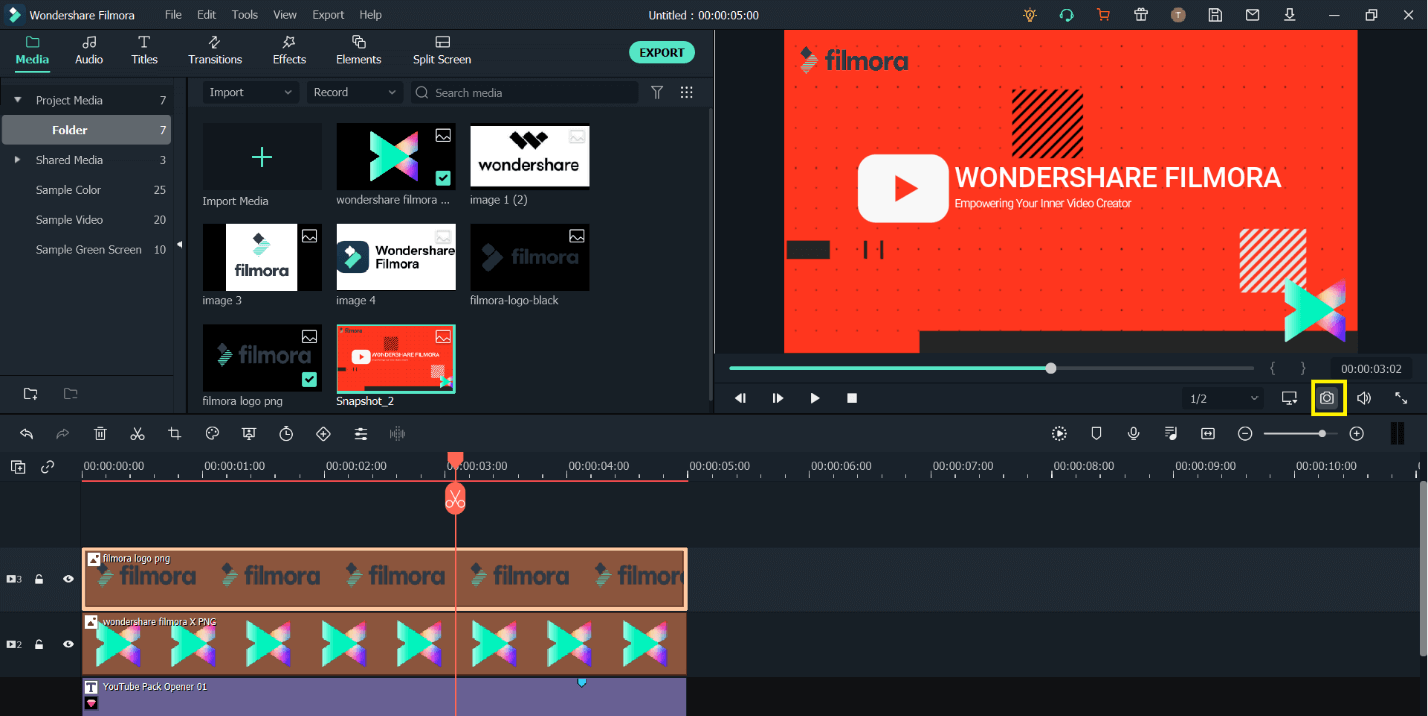 2. Create Your Unique YouTube Banner using a Blank Canvas
Do you want to add more personality to your YouTube banner? Maybe spice up things a little bit? How about you create your own banner from scratch and create your unique look! Let's get to it!
Step 1. Download the YouTube Recommended Template image
First, go to your channel and click on customize, click the link mentioned, scroll down a bit and find the template image with the YouTube Banner Dimensions mentioned. Download that and import it to Filmora to start working on it. Or you can simply type, YouTube banner template and download it.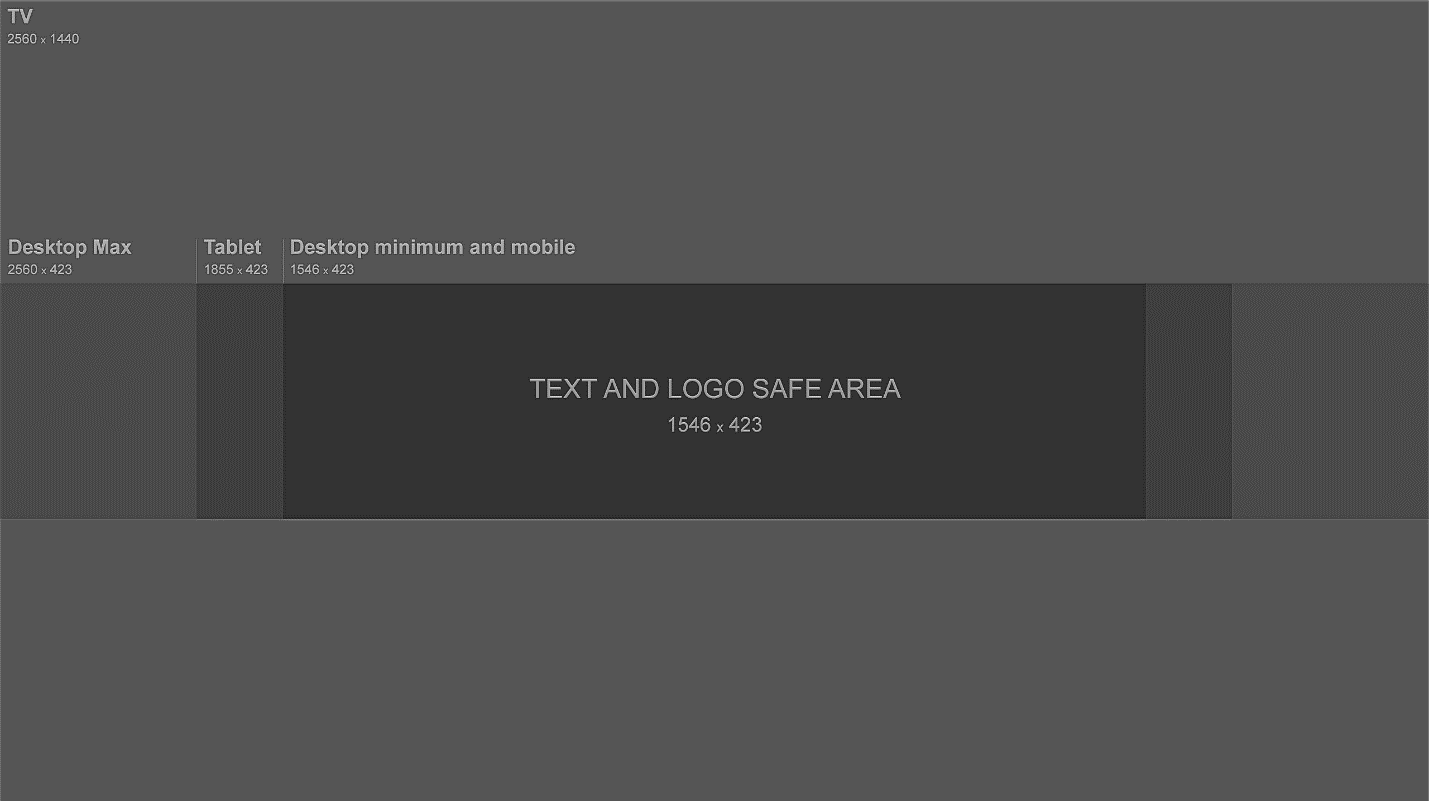 Step 2. Import the images, titles, elements etc.
Open Filmora and add a new project. Import all the images you want to add to your banner. For this, click on media and then import, choose your desired images, and hit open; Filmora will import them.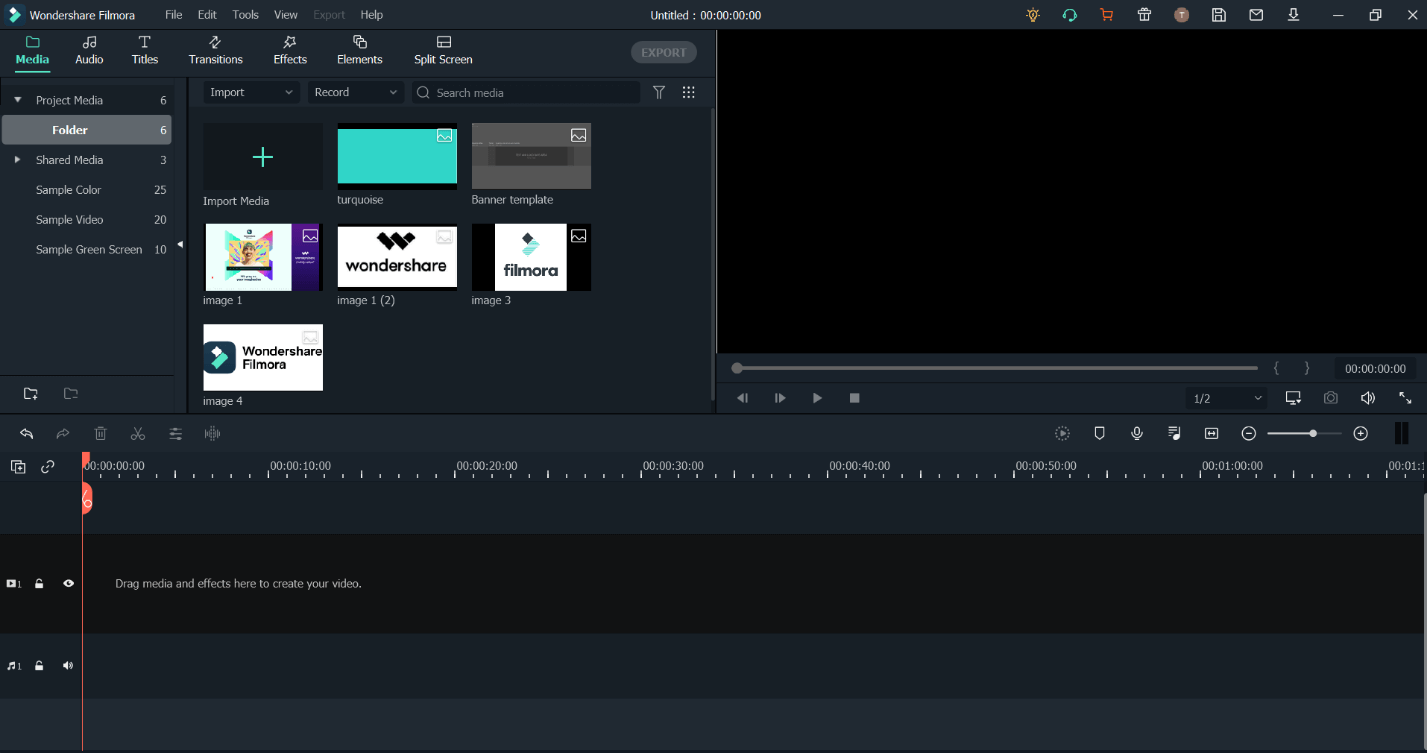 Next, change the project settings to 2560x1440 by clicking on File and then Project Settings. Now select them and drag them to the timeline how you want them to start working on it.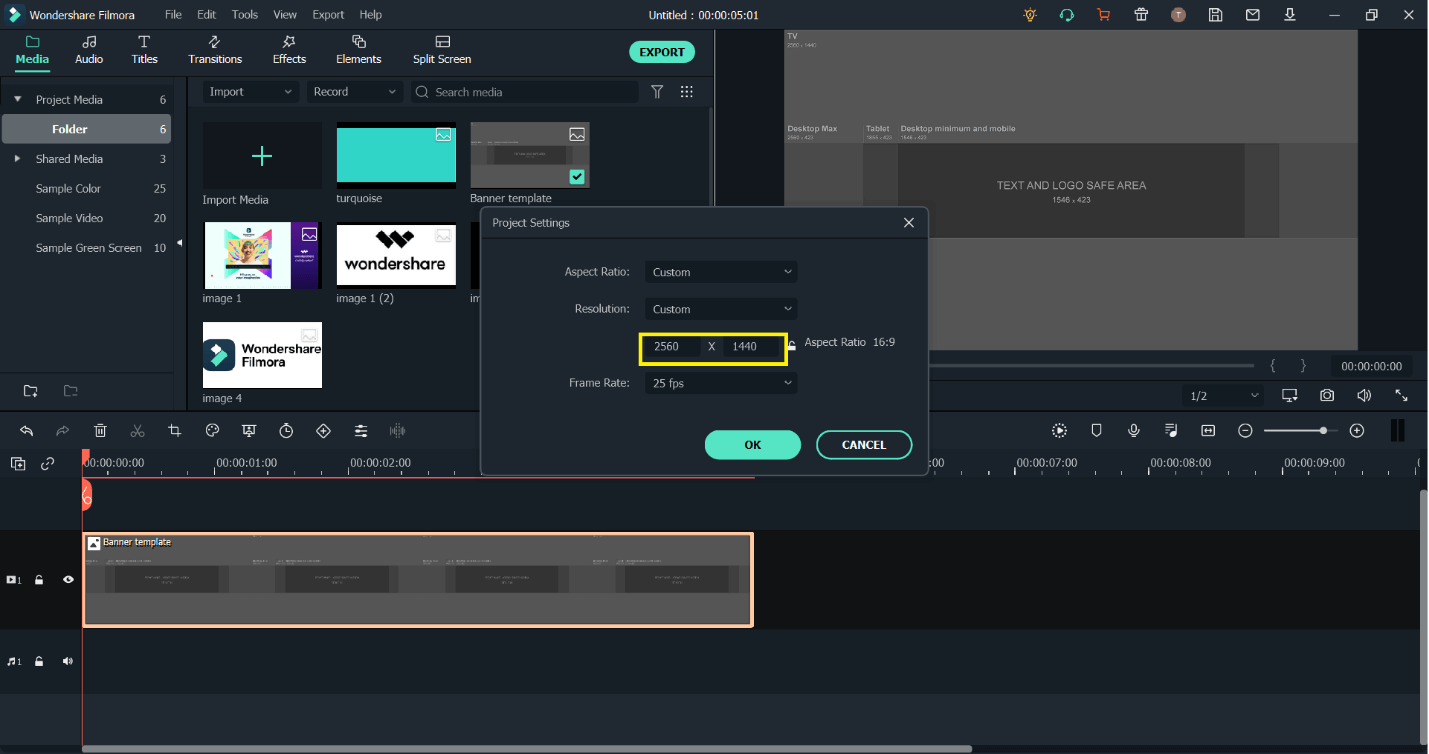 Step 3. Add Images, Title, Elements
Choose a title for your YouTube banner by clicking on the Title tab, and drag and drop it to the timeline. Now double click to edit and add your YouTube channel's name to it.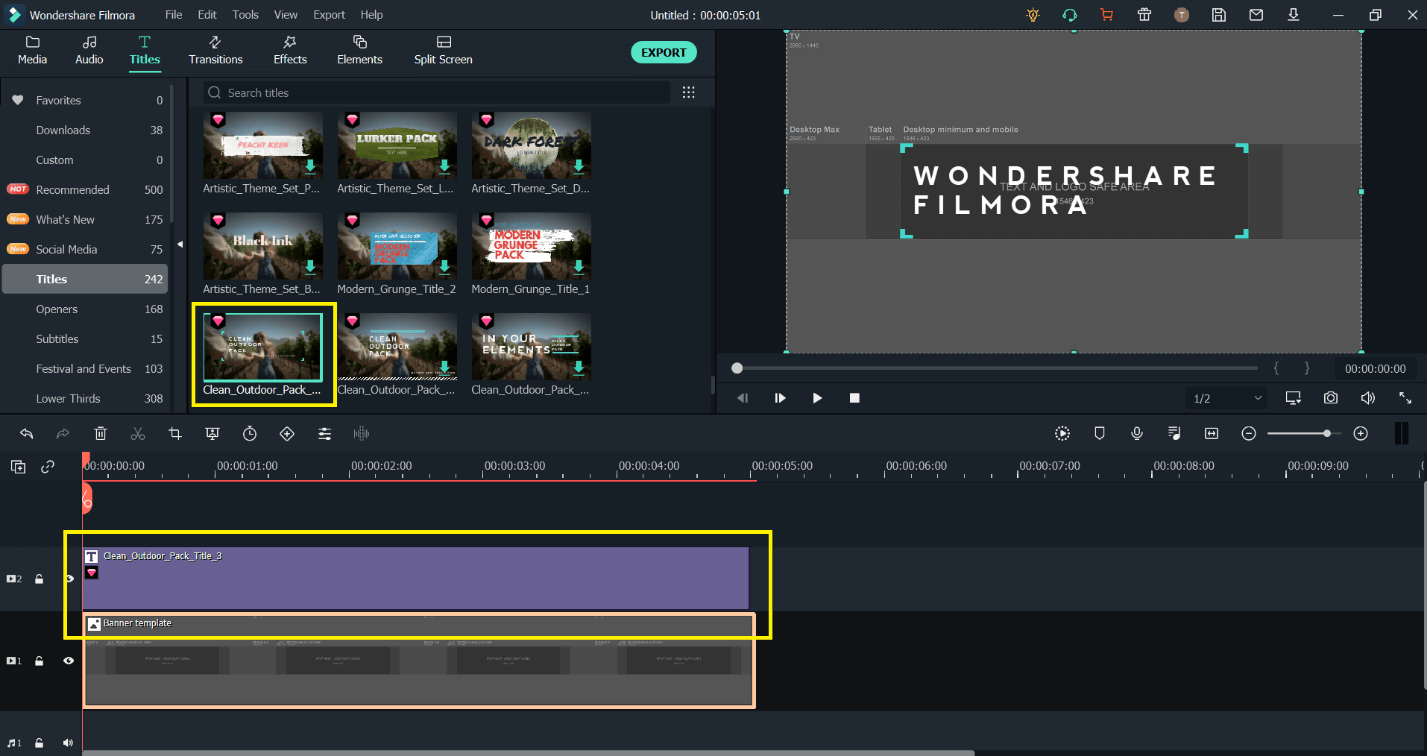 Next, choose the elements you want to add and drag them to the timeline on a video track above one another and place them on the banner, adjusting their size and orientation.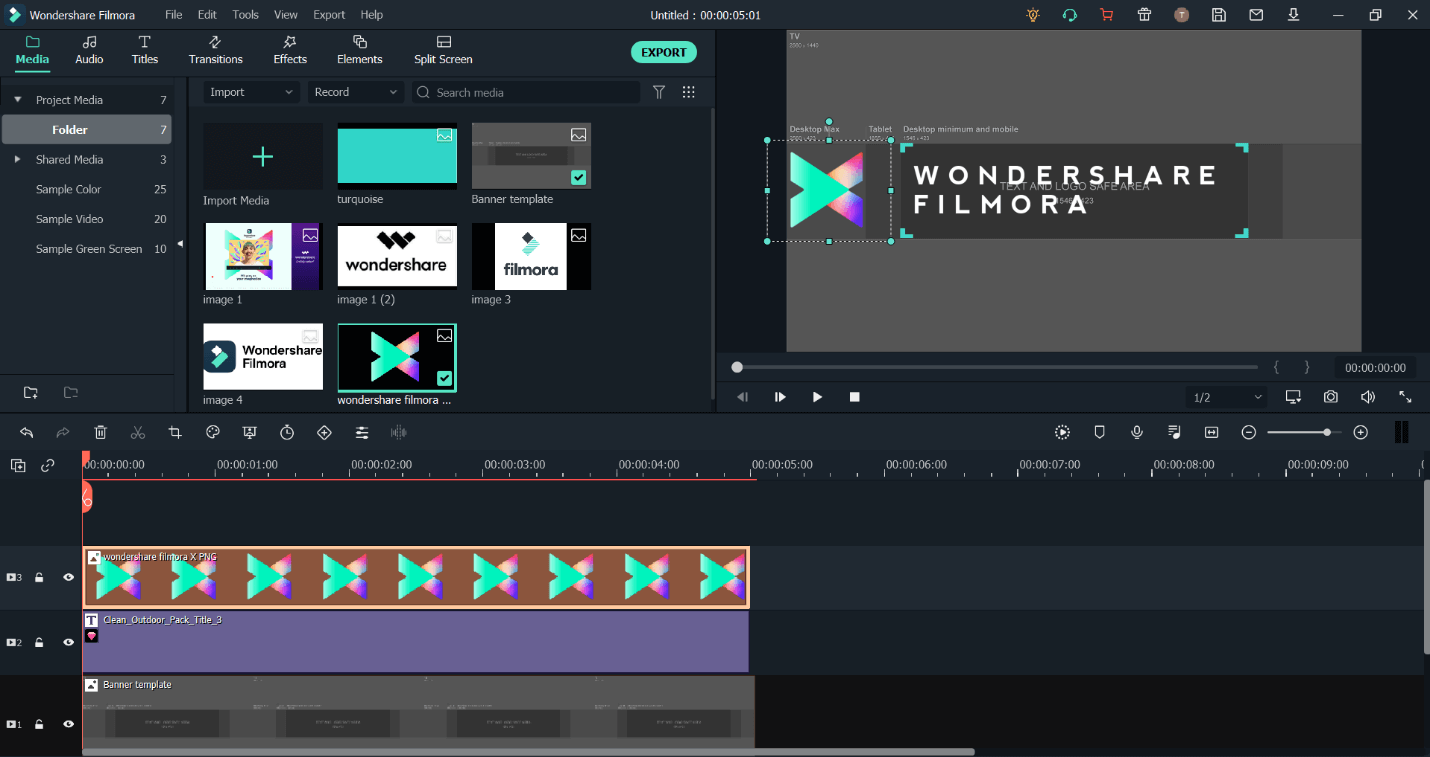 Again, make sure everything stays inside the banner dimensions as it will appear differently on different devices. Lastly, add a background image for your channel on a video track above the template image, which will appear the same for all devices.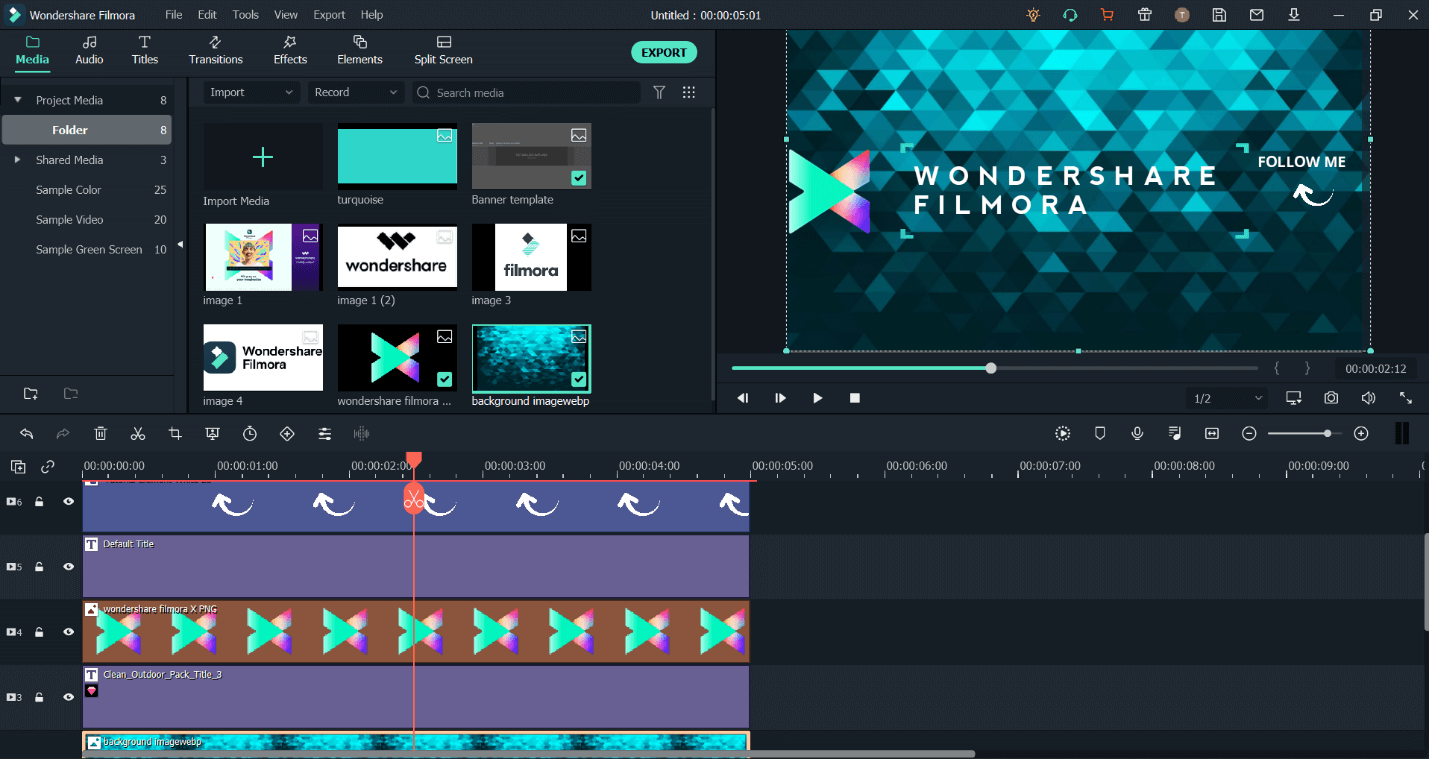 Step 4. Take a Snapshot and Add it to Your YouTube Channel
Now, all you have to do is take a snapshot of your YouTube banner by clicking on the camera icon just below the preview pane. This will download or save your banner in an image format. The image will be saved in a specific location where program files of Filmora are saved, so make sure to check where it is saved.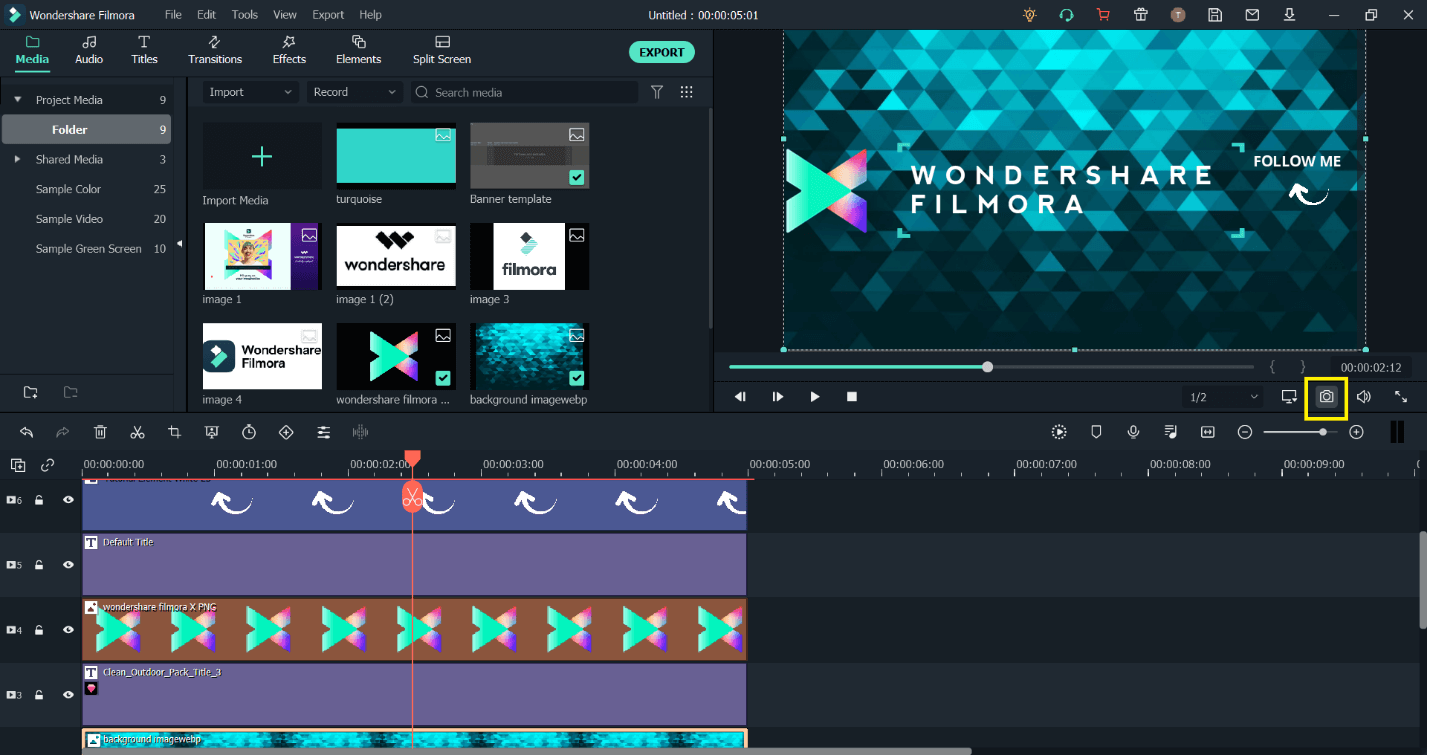 Finally, go to your YouTube channel and click on customize channel, then customization, and go to branding. Now find YouTube Channel Banner and upload your banner, and hit Publish. You're all done! Now your YouTube channel has its very own unique banner!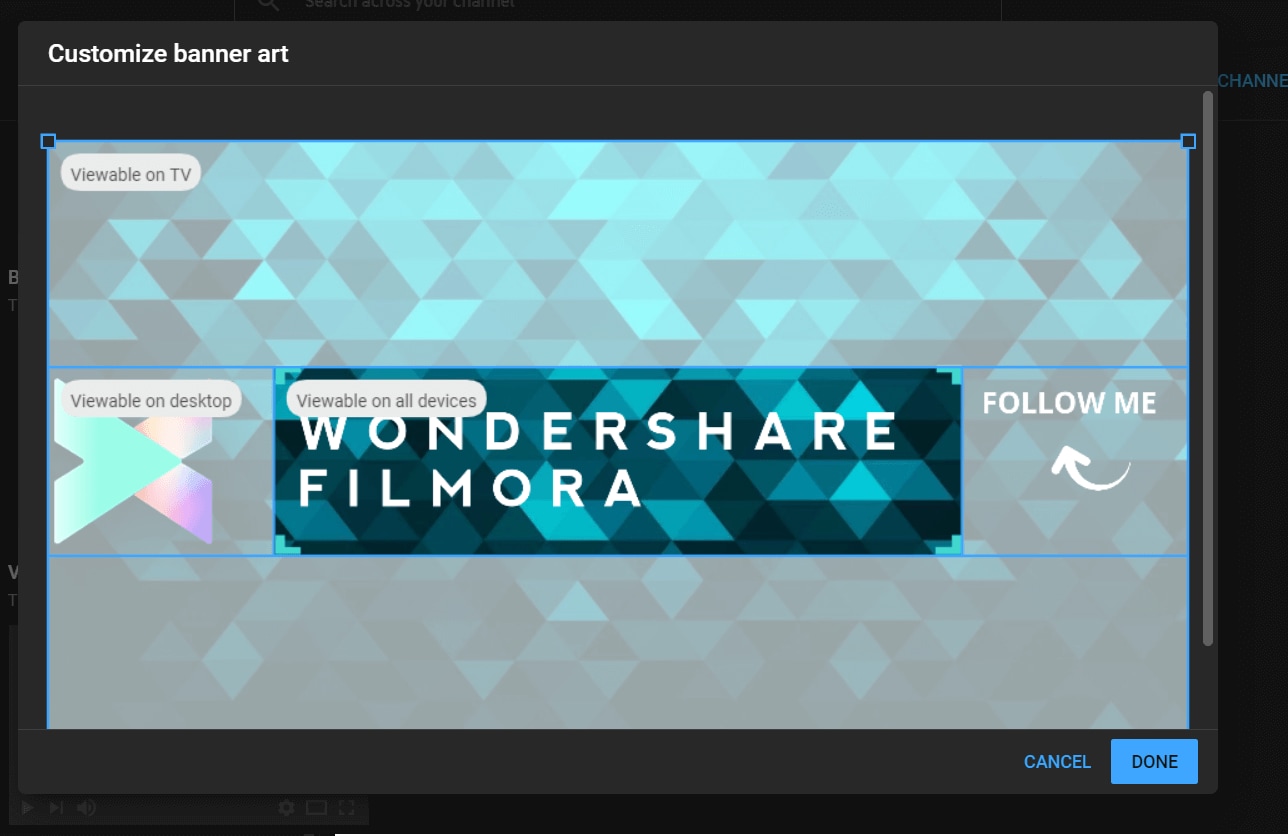 ---
Part 2. Best 5 Youtube Banner Makers [Online & Desktop]
1. Picmonkey (Online)
When it comes to creating YouTube banners, Picmonkey has way too much to offer! You can add text, images, backgrounds, stickers, and other things. It's excellent for making edits from premade graphics, or you can even upload your own! In addition, Picmonkey has a ton of different fonts and colors to choose from, so it's pretty easy to match the graphics with your blog's theme.

Pros:
People can use the website on their computers or their tablets or phones.
Variety of available tools allows people to make tons of different edits and add cool effects to their photos.
The people in charge of this site often develop new tools that allow people to edit in even more ways, such as drawing within the photo using a brush tool.
Cons:
There is also a limit of 60 projects per month.
Picmonkey does not offer any additional services (such as photo printing) and does not allow for editing of videos.
Pricing:
PicMonkey has three subscription options: Basic: $7.99/month, Pro: $12.99/month and Business: $23/month!
---
2. Adobe Photoshop (Desktop)
Adobe Photoshop is a famous image manipulation tool. It comes with many features that make creating a Youtube banner a breeze! Among those features are clear and dynamic water effects without the need for 3D renders. Hue/Saturation controls for colorizing objects in your image. Brightness/Contrast controls for exclusive photos. Excellent filters, text layouts, and much more!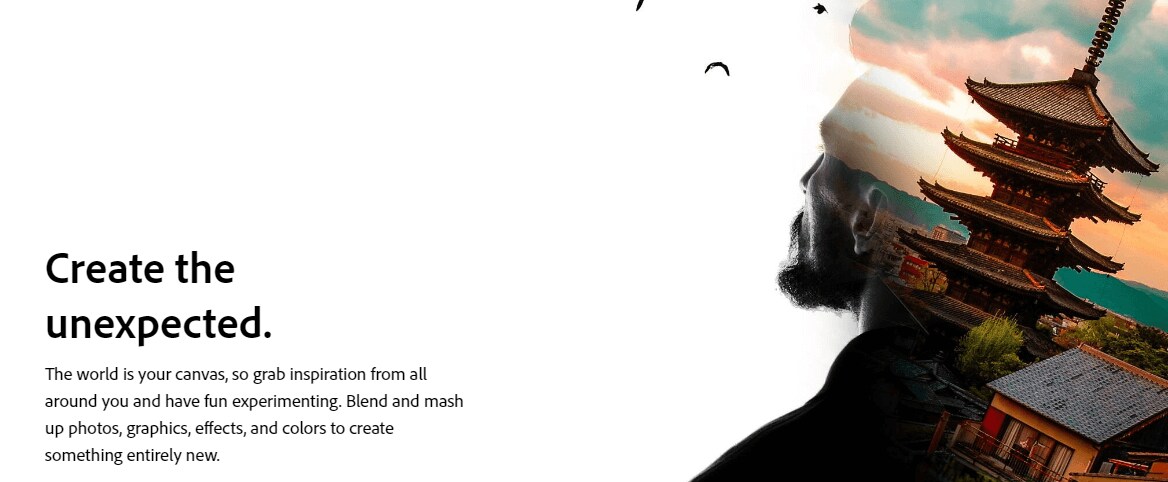 Adobe Photoshop Pros:
It easily sharps edges and smoothes textures.
The ability to do advanced photo manipulations!
Many website templates are designed in Adobe Photoshop, which allows for easy access to Photoshop features
Many stock photo companies will enable you to buy images from Photoshop, importing the images directly into your file.
Adobe Photoshop Cons:
No link between layers in different files.
Too many functions and filters to choose from, making it difficult to sort through all the possibilities.
Doesn't always play nice with other Adobe software, such as Illustrator or Premiere Pro.
Pricing:
Photoshop can create stunning photos, detailed graphics, and stunning artwork. Starting at $20.99 per month.
---
3. Snappa (Online)
Now, you can make videos and Youtube banners with Snappa- a super easy video editor! Snappa is an online platform that allows anyone to create amazing banners. It's sleek, simple & fun- and it's free! You can choose from 100s of professional design templates to make your perfect banner. If you want more options, you can create your designs with custom shapes, text & filters!

Pros:
No software is needed to create images.
Create images in popular social media dimensions.
Automatically takes you to an image sharing page when your image is complete.
Images are made in the browser to be shared via link or embedded code provided by Snappa.
Cons:
Some paid users report bugs and glitches on occasion.
Frequent promotional messages get annoying (can be turned off though).
Limited editing options for free users, although what's included should cover most users' needs!
Pricing:
Snappa offers two packages: $10/month and $20/month.
---
4. Canva (Online)
Canva is a web application that makes it easy for anyone to create images. From Youtube banners to social media posts to advertisements and infographics, you can make so many types of graphics with this one tool. It is easy to use and has many features that make creating graphics simple. It has templates, stock photos, and thousands of fonts to choose from.

The pros of Canva:
It's effortless to use! A great feature about this app is dragging and dropping different elements onto the page. Some other apps don't allow you to do that, and it's pretty frustrating. The other pro is that it has a variety of fonts and colors that you can choose from.
The cons of Canva:
The designs provided in the app aren't enough! People want more variety - more options on what they want their final product to look like. Another con of this app is that it can be slow, especially if you try to make multiple designs at once.
Pricing:
Canva Pro costs $119.99 per year or $12.99 per month for up to 5 individuals.
---
5. Befunky (Online)
BeFunky isn't just another photo editor. It's much more than that. With its extensive features for tweaking, shading, coloring, and editing photos, you'll quickly realize that BeFunky offers everything you've ever wanted to customize your digital images. BeFunky also uses a unique graphic processing technology that ensures all the edits you make are non-destructive, meaning you never have to worry about losing quality or worrying about a change you make not being reversible. It's a fantastic way to create YouTube banners!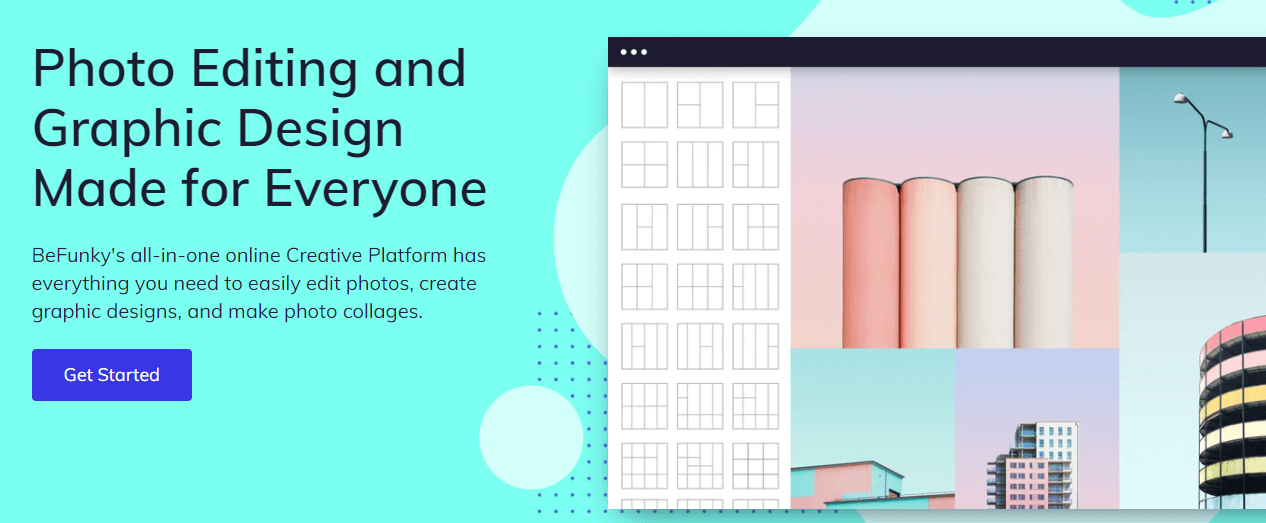 Some pros of Befunky:
It has many effects that can be applied to any uploaded image.
Allows users to upload and edit images and create images from scratch (by drawing onto a blank canvas).
It offers an option where you can share your edited images on Facebook or Twitter.
Some cons of Befunky:
Image sizes are limited, so it will refuse the photo if you try to upload anything larger than that limit.
Some users report that Befunky's effects can cause images to become blurry.
If the website is too slow for you, it sometimes freezes and won't load properly. It might take a while for an image to be uploaded as well.
Pricing:
All of the benefits for one affordable fee that is $ 4.99!
---
Part 3. Keep these Guidelines in Your Mind before Starting
Before beginning to create a Youtube Banner, users should keep the following guidelines in mind.
1. Using the correct size:
YouTube banner background should be 21:9 ratios and width should be 1920 pixels, and height is 1080 pixels with an aspect ratio of 1.77:1.
2. A clean, simple design:
The banner shouldn't have too much information, or it might look unorganized, so keep it clean and simple. A few primary sections will be enough to make a recognizable banner.
3. Maximize your engagement:
The banner should look like it belongs on the channel, so everyday things you might see are similar colors used in the banners or logos of the channels with some abstract creative design if needed to make it unique.
4. Being legal:
Your banner should not have features that disable the use of any other content from being used. For example, it could include the logo of a publisher or music that is already copyrighted, and you would need to get permission from them before using their work, which will probably cost you money./
5. Some examples of other banner:
You should find a few other banners on the channel pages that will give you ideas or inspiration as to how to make your banner.