In some cases, people wants to remove unwanted part of a MP3 which could be having an irritating part or a part which you could want some people not to hear. Or extract a specific part of the MP3 which you could be interested in or which could contain specific information. For this reason, you need a MP3 cutter to achieve this. So many online MP3 cutters were developed and most of these online MP3 trimmer are free. In this article, we collect top 10 MP3 cutter online to freely cut MP3 track.
The Best Desktop MP3 Cutter - Filmora Video Editor
Filmora Video Editor for Windows (or Filmora Video Editor for Mac) is one of your best choice to cut mp3 music track on Mac or Windows PC. Besides, it provides lots of audio editing tools such as adjusting audio speed and volume, adding fade in and fade out effect, adding qualizer and recording voiceover. It meets your every needs when dealing with cut MP3 file.
some of the exciting features of the software:
Super easy to use for both beginners and experts.
You can detech the audio from a video and extract it for editing.
Supports all the common media formats.
Provides a bulit-in music library with multiple songs for you to choose.
Has voiceover recording feature for users to record voiceover and editing the audio track.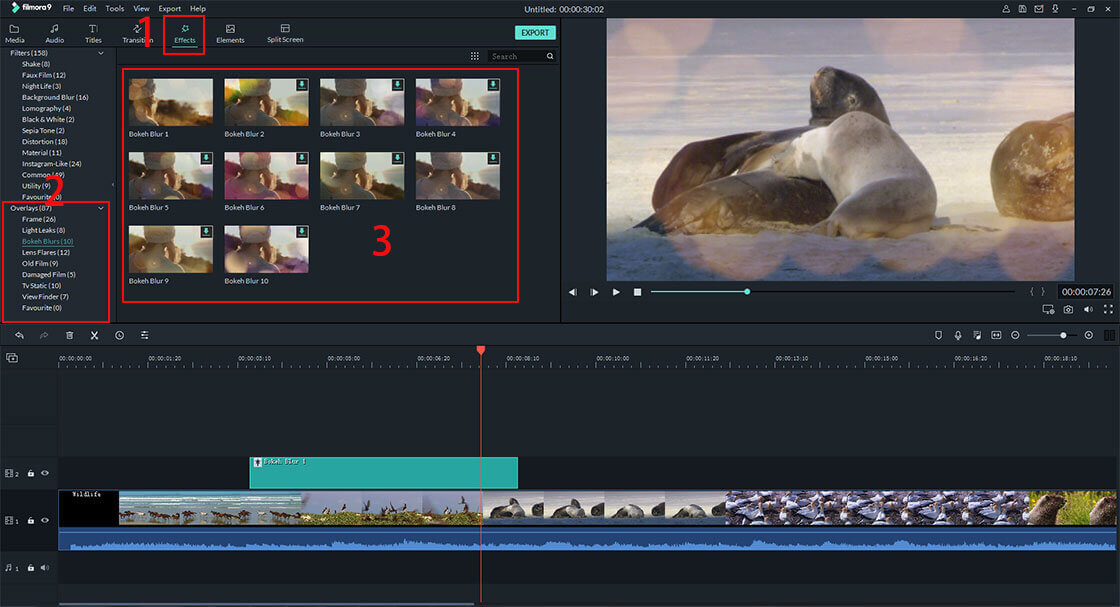 Top 10 Online MP3 Cutter
#1. Online MP3 Cutter
This app can for trimming mp3 online right in the browsers. It's very fast and stable and has the ability to support over 300 audio formats. Audio cutting is very accurate because of its ability to edit video on both sides and track the time of the audio. This software is a bit more complicated than other software and requires a lot of online tutorials for you to master the software properly.
#2. Ringtone Cutter
Majorly used to make audio ringtones this software is simple to use and it's freely available online. It does not require any mastering for you to use it. After cutting the MP3 files to your satisfaction, you simply download and play. This software is good for a shot and medium-sized audio files. If you add largely sized audios, you would have problems with the software not responding and would require a re-launch.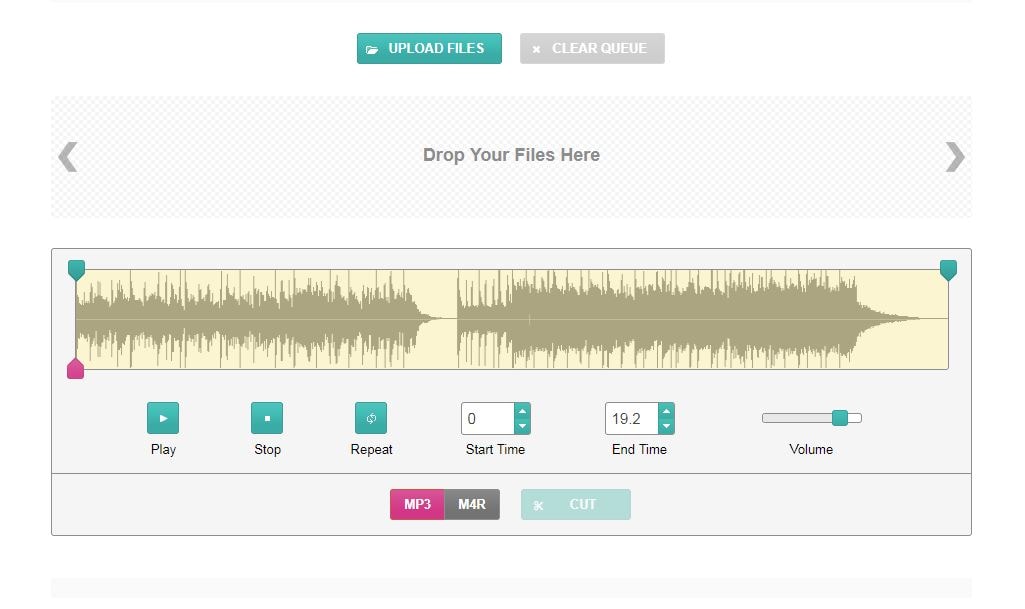 #3. Wincreator.com
Wincreator.com is yet another simple to utilize site to cut mp3, wav, aac and so on for nothing. Presently Cutting and Trimming your most loved sound documents to your own particular custom style is less demanding with wincreator. Utilizing Wincreator you can likewise Download Youtube videos and later you can Cut it with this online MP3 cutter.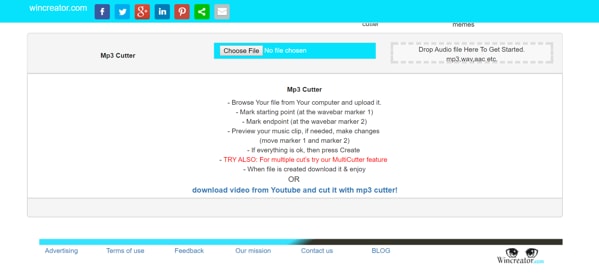 #4. Toolur MP3 Cutter
Toolur Mp3 cutter instrument we should you to Cut your most loved part from a sound and Video. Spare the Trimmed record as a .MP3, AMR, WAV, Or M4R document and make ringtone for your cell phone. As of now Toolur bolsters Convert Video to MP3, MP3 Cutter, MP3 Converter, Audio Converter, Ringtone Maker, Ringtone Cutter, Cut Songs Online, Audio Trimming Software, WAV to MP3, MP4 to MP3, FLV to MP3, WMA to MP3, OGG to MP3, FLAC to MP3, M4A to MP3, MP3 to WAV, Increase Volume of MP3, Decrease Volume of MP3, Fade in And Fade out Audio, and so forth.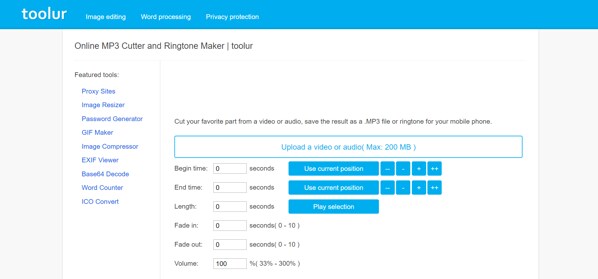 #5. Audio Cutter Pro
Audio Cutter Pro is an online app that can be used to cut audio tracks right in your browser. Fast and stable, with over 300 supported file formats, fade in and fade out features, ringtone quality presets, our app is also absolutely free. Striking as a standout amongst the most favored online mp3 cutters 2017, Audio Cutter gives you a chance to trim protracted sound records inside only a squint of an eye. All you require is to transfer the sound document, select the part you need to trim, and spare it on your hard drive. Another significant fascination is that it underpins more than 300 record positions. You can even concentrate a sound from a video document.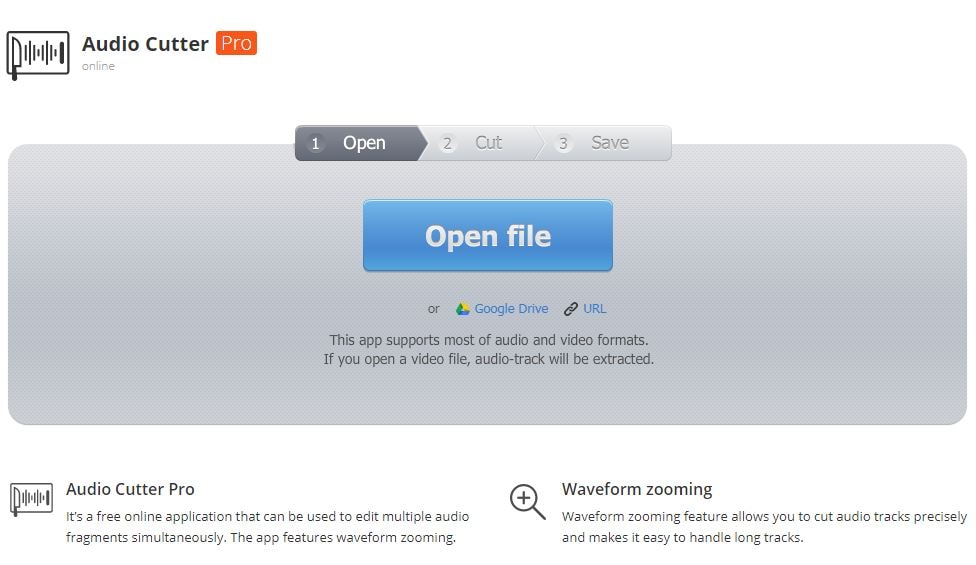 #6. Magicode MP3 Cutter
Magicode MP3 Cutter is the last passage in our rundown of the best online mp3 cutters. The web application gives you a chance to trim media records online without losing the sound quality. Likewise, there is no restriction on the document estimate. Keeping in mind the end goal to trim your sounds utilizing MagiCode, simply transfer the sound document your need to cut, select beginning and end focuses, lastly tap on Cut and Download catch. The trimmed record will be saved money on your PC. Since MagiCode MP3 Cutter depends on HTML 5, it doesn't require streak for working.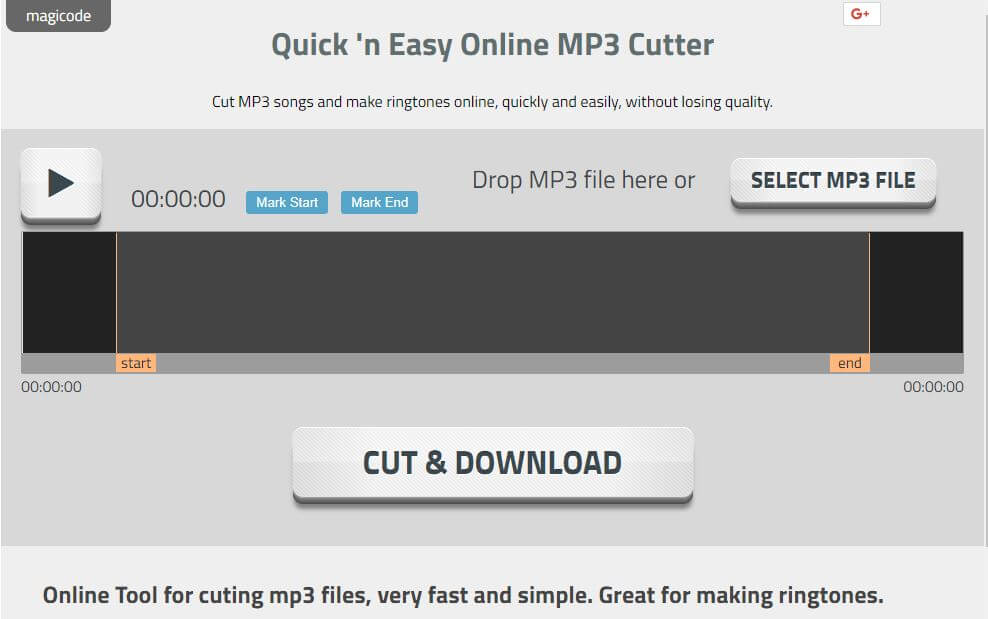 #7. Audio Trimmer
Audio Trimmer is anothereasy to use online mp3 trimmer. Just simply browse your device and upload an audio track. Then cut it as according to your needs and save it back to the PC. It's your another best choice to trim mp3 online.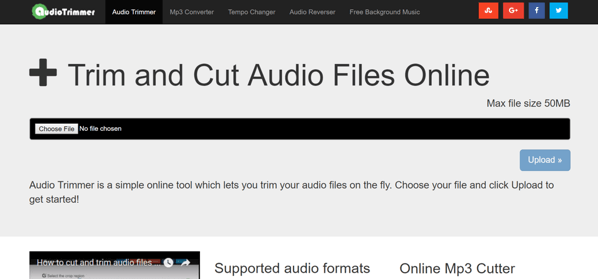 #8. CutMP3.net
CutMP3.net supports all popular audio formats and is a very easy to use mp3 online cutter . Just choose the file you want to cut, choose the starting and ending point and click cut button. You can use CutMP3.net to adjust audio volume and add "fade in" and "fade out" effect to the audio.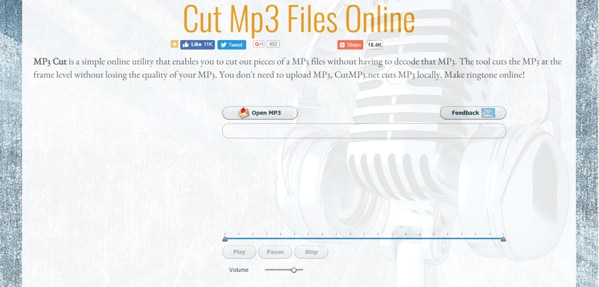 #9. Toolster MP3 Cutter Online
Toolster MP3 cutter Online can help you to cut audio file and create ringtone for your device. With this online mp3 cutter, you can cut mp3 file with ease and quick and set the preferred part of mp3 as a ringtone for mobile phone or alarm tone.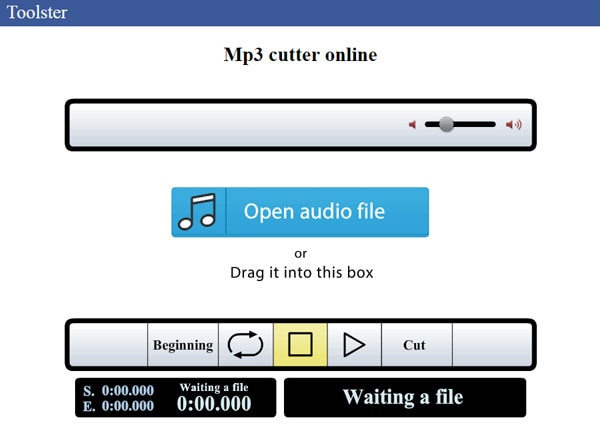 #10. MP3Cutter.in
MP3Cutter.in is also a nice choice to be your online mp3 cutter. This mp3 song cutter is also requires latest version of Adobe Flash player like most of other online mp3 song cutter. Have to make sure you have installed it first. What's more, you could find and download ringtones from this site.