Not found iDVD on Lion? iDVD disappeared after upgraded from Snow Leopard to Lion? Just take it easy. From Lion, iDVD no longer comes with every new Mac. It's ridiculous the latest Lion does not come with iDVD, but the Mac Book Pro, running Snow Leopard, has iDVD installed. The current Apple wants people to distribute home movies to friends and relatives via iCloud or the advanced Final Cut Pro X by Apple, rather than send them a DVD disc burned with iDVD for free.
Obviously, iCloud is not everyone's choice. DVD is still a convenient media to transfer movies, or to watch movies on TV. Here is the solution. If you think iDVD is a must-have, you can complaint on Apple's site (some people get free iDVD copy by this way), or if you have iLife '11 DVD, you can install iDVD from the DVD. The last way is to find an iDVD for Mac equivalent that works on Lion. My recommendation is iSkysoft DVD Creator for Mac. It's a great DVD burning application similar to iDVD Lion that lets you author DVDs with beautiful menus and burn movies to DVD disc for playing on any home DVD player. Download iDVD Lion alternative now for a free trial.
How to Use This iDVD Lion Alternative
iSkysoft DVD Creator for Mac is a program with most likely features to iDVD, and even better than iDVD. Apart from burning video files to DVD, it also features slideshow making tools to transform your photos to slideshow with music, and then burn to DVD with your DVD burner on your Mac. Below I'll show you how to burn video and photo files to DVDs without Lion iDVD. If you're using Mountain Lion, see iDVD for Mountain Lion.
1
Drag and drop to import video/photo files
When installation complete, run the program and select to create a new project. After selected your media files in Finder, drag and drop them to the program. If multiple photos are imported, they will be weaved into a slideshow automatically. To customize it, simply select the slideshow and click the Edit button to open the editing window. You are able to set duration, add captions, and add background music (drag a music file to the specified rectangle with a music note).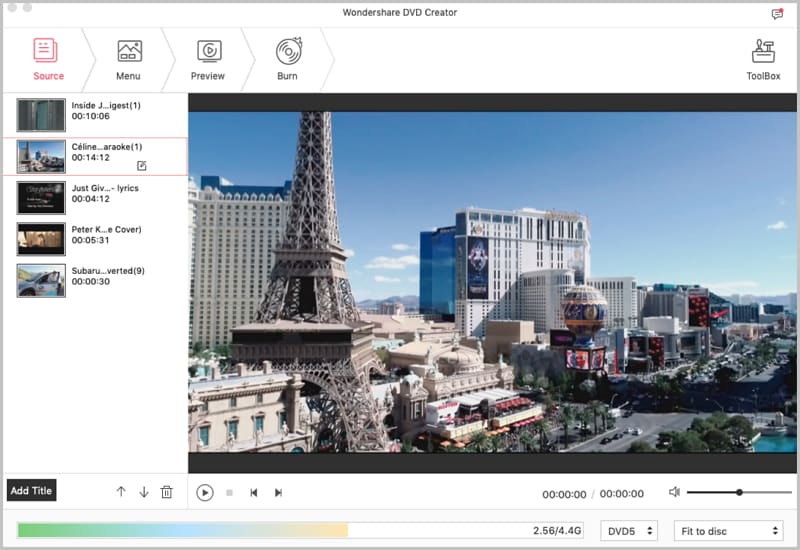 Note:Also drag and drop an item to arrange your files on the right side.
Tips: Hold your Command key on keyboard while selecting multiple files.
2
Create a good looking DVD menu
A wide range of DVD menu templates are included so that you can make a gorgeous DVD menu in clicks. Animated DVD menu templates are also provided.
3
Burn DVD with iDVD for Mac OS X
Click the Play button at bottom to make sure everything is OK. Then click the Burn button to burn movies to DVD. Don't forget to give a name to your DVD movie which will display when you insert DVD disc to DVD drive.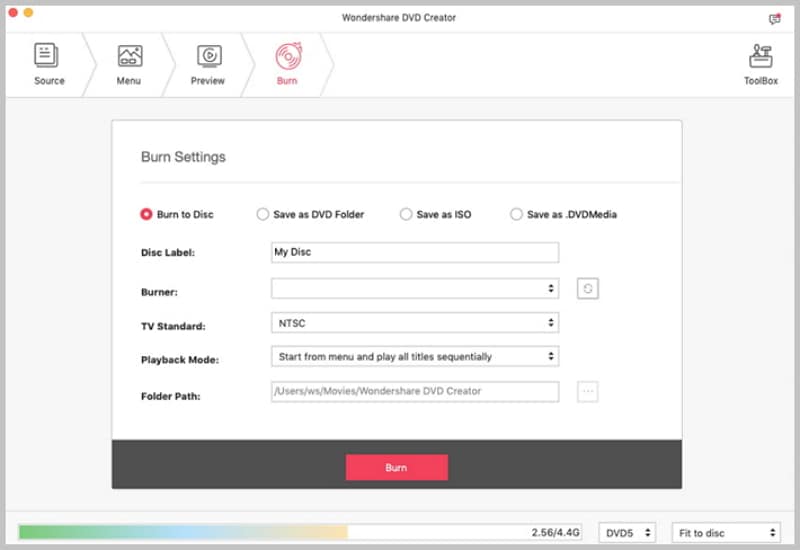 1. It's a good habit to save project file in DVD Creator, which allows you to continue editing later. 2. There are 4 output options in all: DVD Disc, ISO file, DVD Folder (Video_TS) and .dvdmedia file. ISO and DVD Folder can be burned to DVD disc with a third-party software, while .dvdmedia can be played with QuickTime Player directly.
Download iDVD on Lion?
No, it's impossible. There's no iDVD download for Mac at all on the Internet and Apple stopped to deliver it. However, you can install it if you have the iLife'11 box, which includes iDVD. If you have no, but still want to use iDVD on Lion. Try to buy it on Amazon.com.
Also see the video tutorial about how to use iDVD Alternative to burn DVD movies on Mac: