Content marketing is one of the best ways of increasing online presence. When thinking of creating online content, you must decide which format you should use. In addition to the classic Blog, which comes in the form of text and images, there is also the choice of Vlogs, which involves content in videos. Both are very effective, but how can you decide which of these formats is the right choice? What is the difference between blog and vlog?
This article will focus on blog vs vlog to help you decide which one will work best for you.
Part 1: Blogging or Vlogging - What is the difference?
1. Definition
- Blog: The term Blog is a truncation for the weblog. Blogging is about creating relevant and engaging written content. Nowadays, Blog posts are often complemented with images.
- Vlogs: Instead of text and images, a Vlog features a video (or a link to a video) embedded on a website or uploaded to a video platform, such as YouTube or Vimeo.
2. Popularity
- Blog: Blogs are very widely used and are popular as the main component of inbound marketing because they drive traffic to websites. Blog posts will not only raise credibility as an authority in a niche, but they also help in generating new leads and boost SEO to improve rankings in organic search results.
- Vlogs: According to recent statistics, more than 70% of internet users prefer to consume content in the form of videos more than any other type of format. Video is increasingly becoming the main way for businesses and content creators to communicate with their target audiences.
3. Budget
- A Blog is fairly inexpensive to start. To set up a Blog, you only need to cover costs for a domain name, hosting fees, and a content management system. Although not the best idea, you can also eliminate all costs by registering an account in a free blogging platform such as Medium, WordPress, Wix, or Weebly.
- A basic Vlog is even cheaper to start as you only need to register an account with a video sharing platform such as YouTube, Vimeo, or IGTV. As a beginner, you can use your smartphone to record videos and use a free video editing app such as Filmora Video Editor to enhance Vlogs.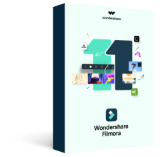 Key Features of Filmora Video Editor:
Use various transition effects to make the video interesting with rich graphics and design elements.
Filmora Video Editor provides users with various sound effects and editing tools to help you use it to customize and enrich video performance.
Filmora Video Editor helps users cut, trim, and split videos easily.
Allows saving the video in popular formats, such as MP4, MOV, M4V, FLV, etc.
Cross-Platform Compatibility (Filmora is compatible with both Windows and Mac).
---
Part 2: Blog vs. Vlog: What Do You Need to Start?
After setting up your Blog website or free blogging account, your next step should be to find inspirational and engaging ideas for your Blog posts. They should be about things that you are passionate about. Things that truly interest you. Once that is established, create a design. The layout should be simple and clear with a good font choice to encourage reading. Now you are ready to begin publishing Blogs. Start with about 3-5 detailed and well-researched Blogs. Make them at least 1,000 words each.
To start a Vlog that will get thousands or even millions of views, you first need to think of interesting stories and ideas. Think about who you want to watch your Vlogs and then research them to find out which topics they are interested in after you start creating Vlogs and setting and maintaining a posting schedule. Consistency allows your audience to look forward to your next video. You should also keep in mind that in vlogging, video editing is crucial. Use a video editing program or app to make sure that your videos are optimized by creatively adding transition effects, titles, intro/outro, background music, etc.
Steps to use Filmora Video Editor for Vlog video editing
Step 1: Import media files from camcorders, cameras, and phones.
- You can directly import videos and photos taken by a camcorder, camera, iPhone, or Android device into Filmora Video Editor for editing.
- Click the "IMPORT" button at the top of the software to display a drop-down list and select the source you want to import media files.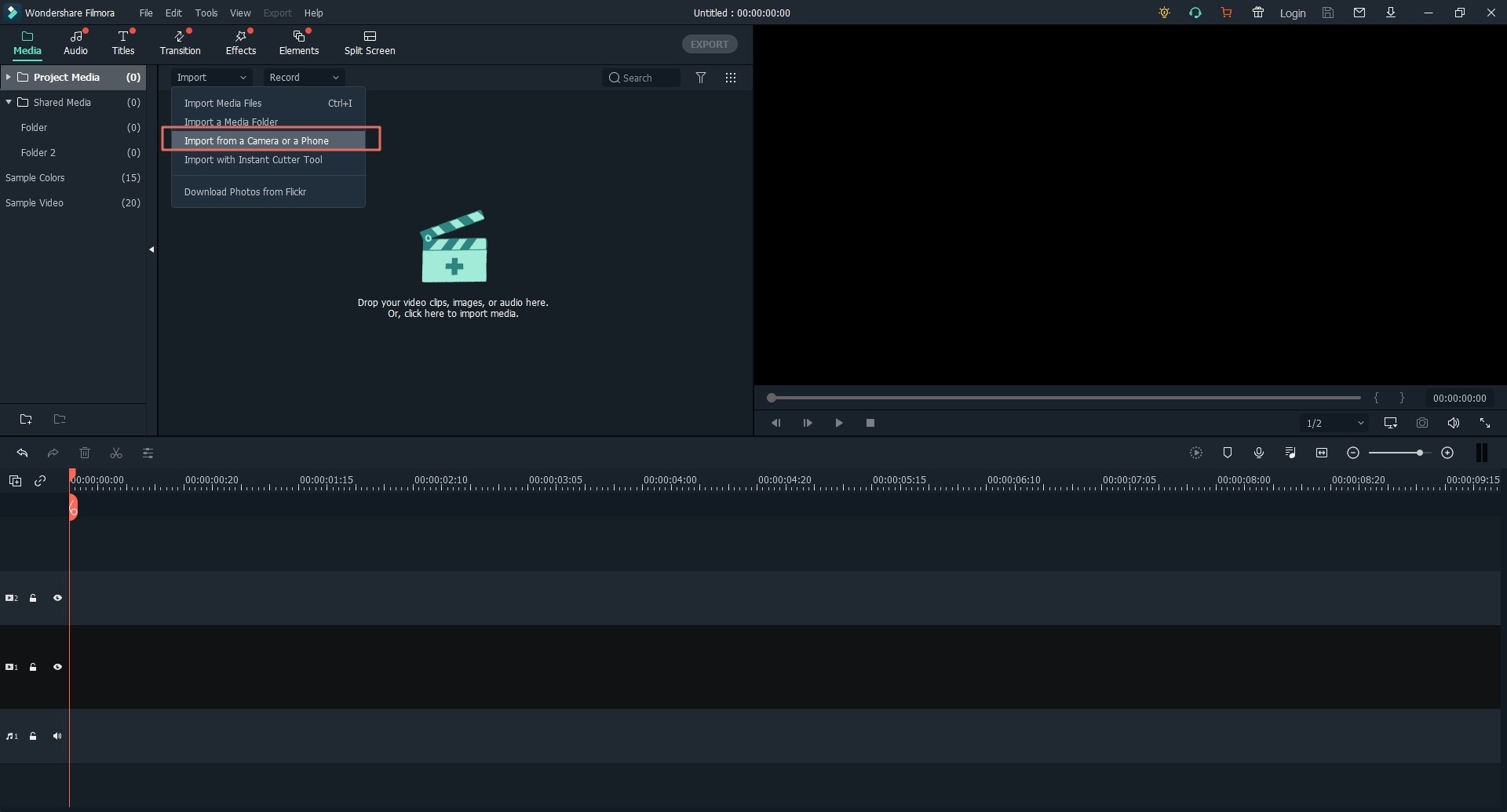 Tip: If you need to import files from camcorders, cameras, and other smartphones, please connect the device to the computer first.
You can also add background music (sound effects) to your Vlog video with Filmora.
Step 2: Trim video clips.
- Trim the video from the beginning or end of the video
Drag and drop the video to the timeline. Move the cursor to the beginning or end of the video clip until you see the pointer. After that, move the pointer forward or backward to trim the beginning or end of the video.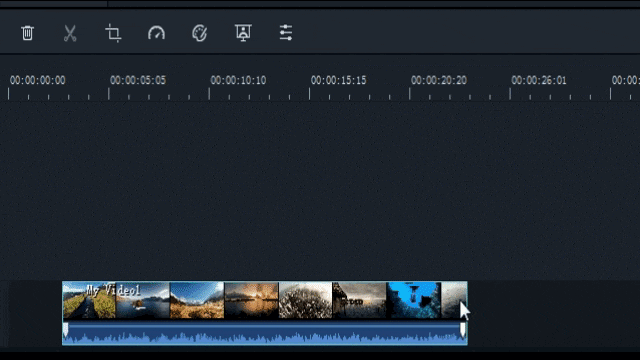 - Cut the middle part of the video
To cut a video part, first set it as an independent part. Move the cursor to the beginning and end of the part of the video you want to cut and click the scissors icon to separate it from the original video clip. Then, click the right mouse button on the video and select Delete.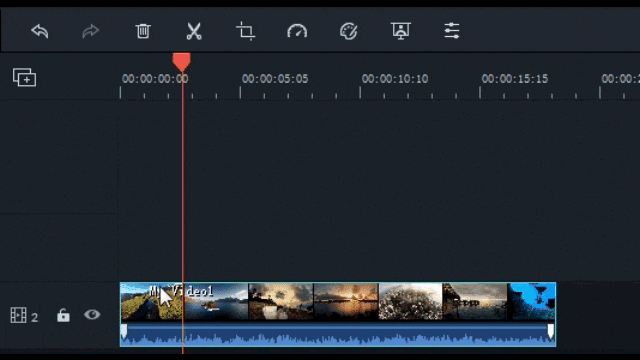 Step 3: Combine video clips.
With Filmora Video Editor, you can add multiple video clips and photos to the video. Combining videos and photos into one file is simple: drag and drop video clips and photos into the timeline in order. When you export them, they will become a single video.
If you want to get a detailed guide on how to combine photos to make a video, please check this page for more information.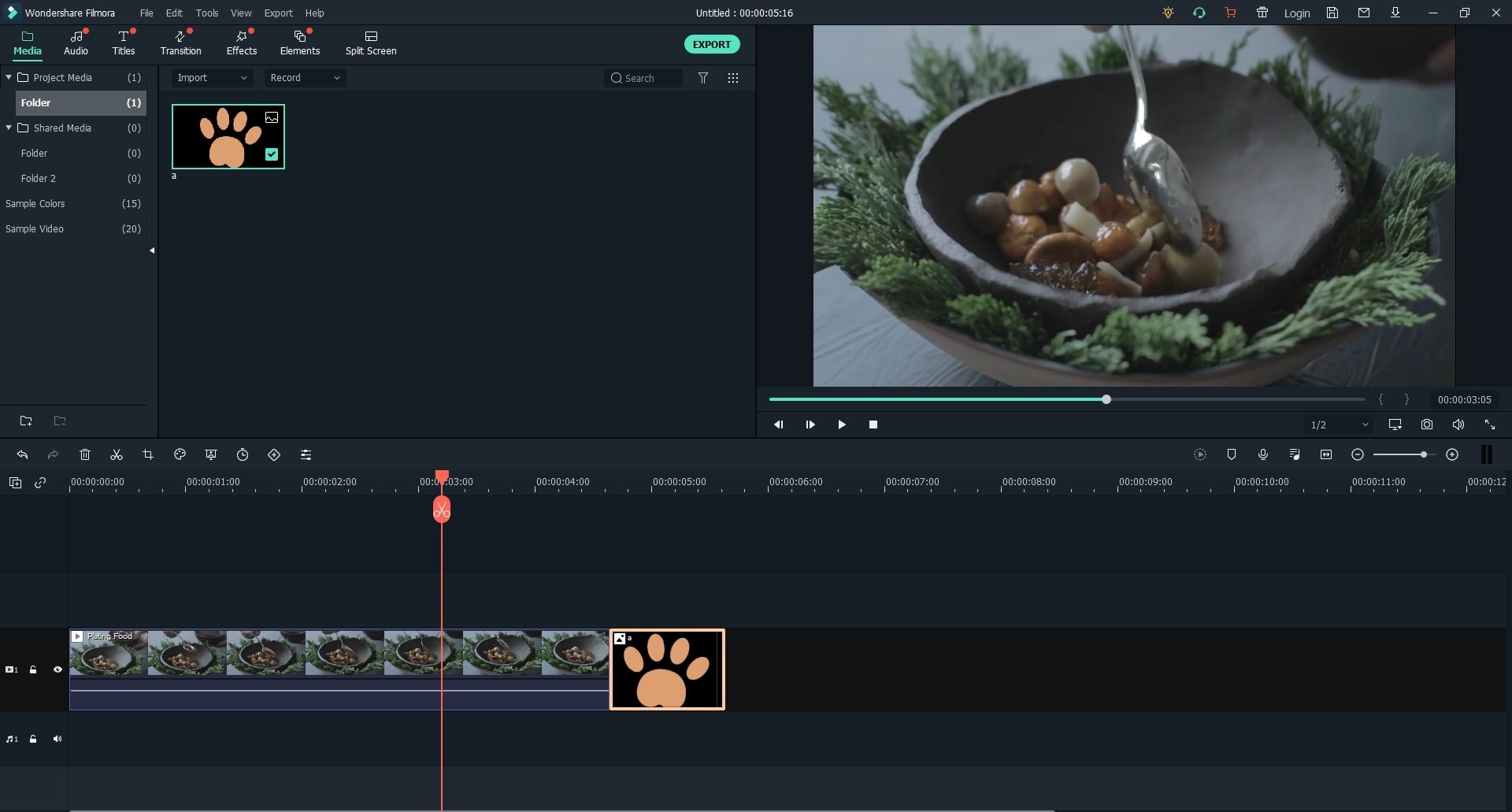 Step 4: Add filters or overlays to the video
- Find the Effects option in the media library, and then you can browse these filters or overlays in the Filmora Video Editor.
- Find the filter or overlay you want to add to the target video, click the + icon or directly drag and drop the effect to the timeline.
- Now, the effect will be applied to your video.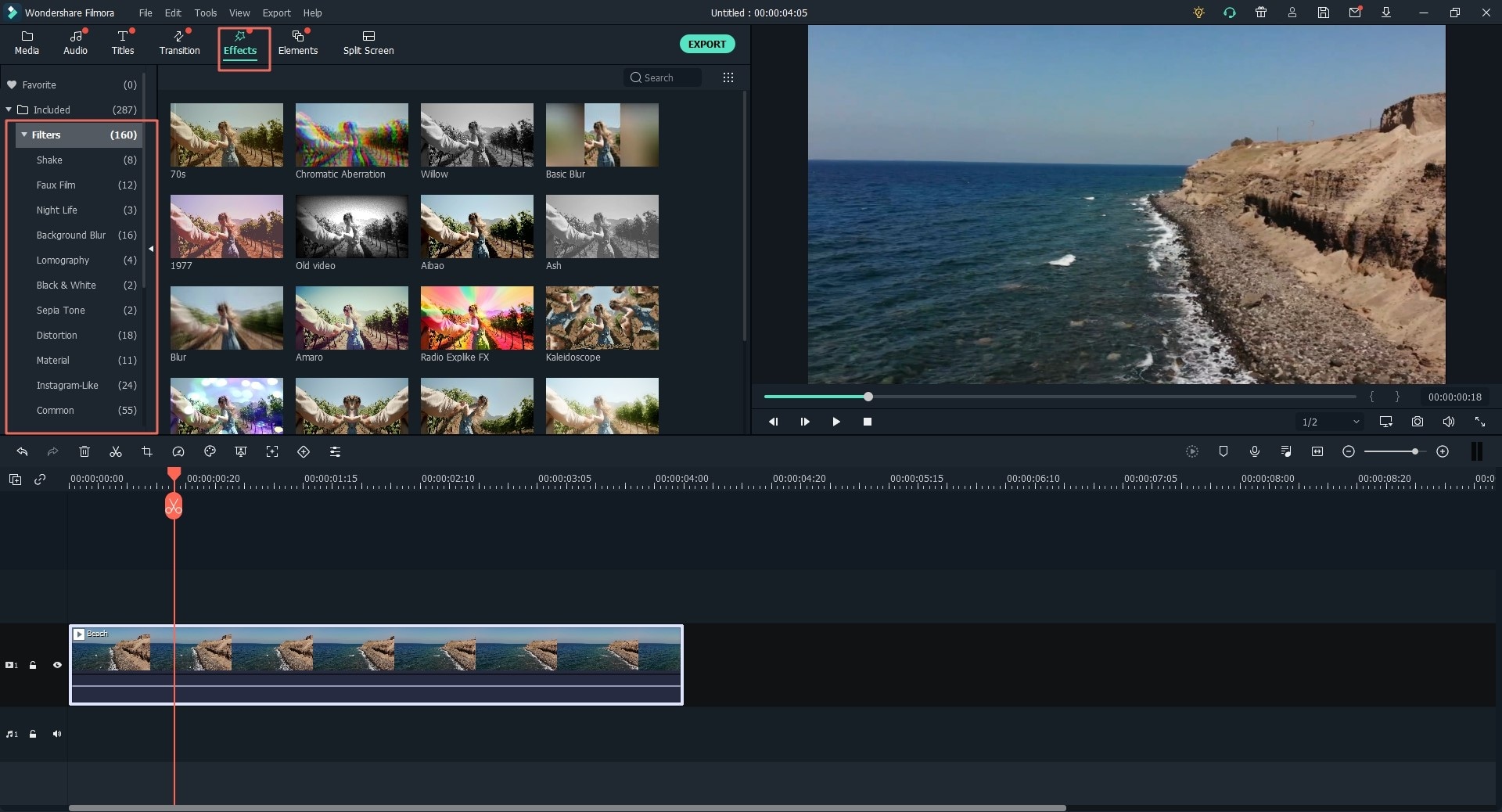 Note: If you want to edit a portrait (9:16) clip in a 16:9 video, you can add a background blur filter to replace the black bars.
In addition, Filmora has its own effects store --- Filmstock . It not only provides users with Filmora effects, but also provides a large number of video effects (AE effects), images, stock footage, and royalty-free music and sound effects. You can download and use these video effects, images, royalty-free music, and sound effects, and stock footage in the Filmora video editor (v9.1 or above version) and Adobe After Effects completely.
How to Download Effects in Filmstock
#1: If you can access Filmstock through Filmora Video Editor (v 9.1 or above), you will directly enter the following default video effect collection page of Filmora Video Editor.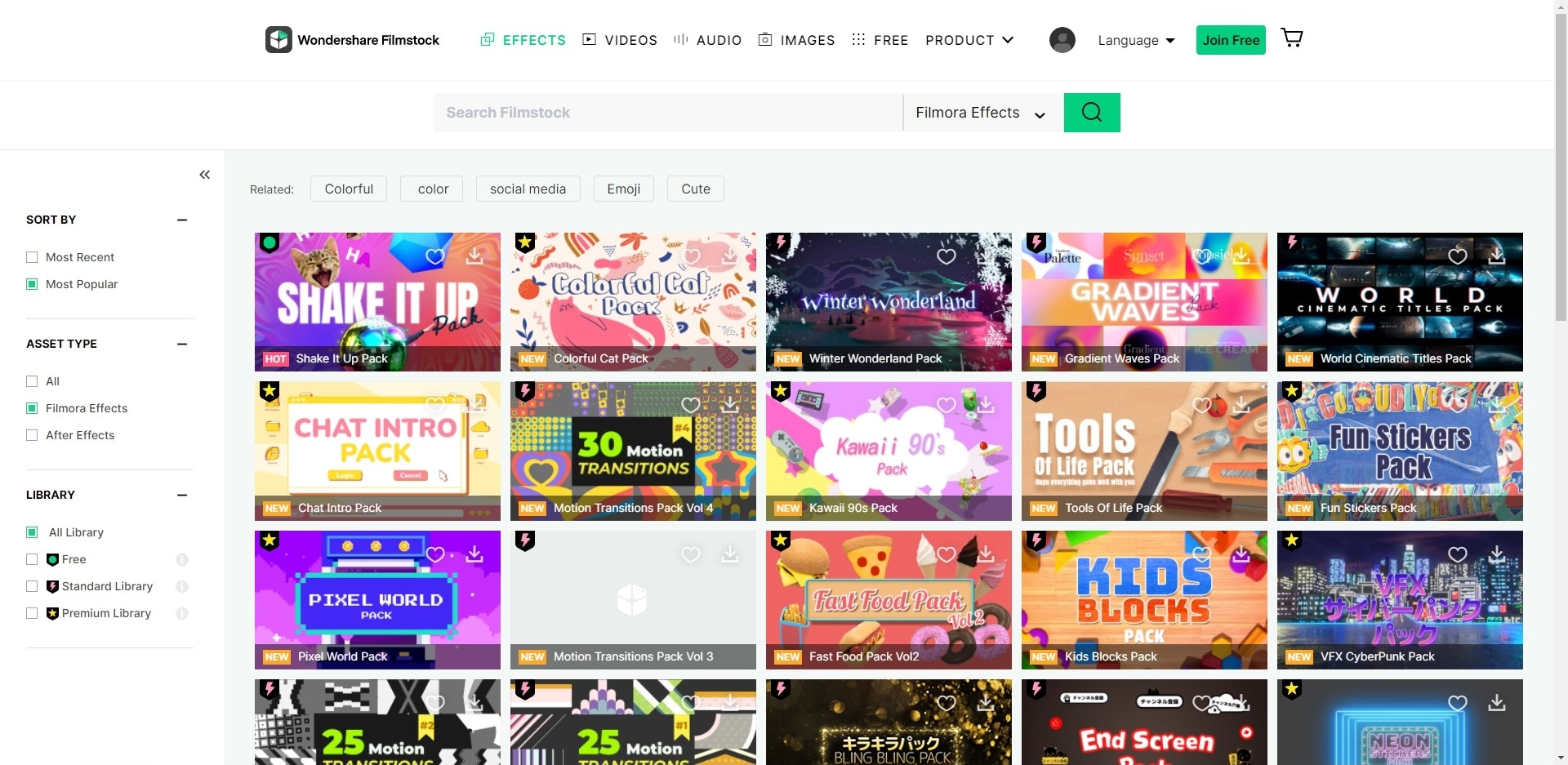 #2: You can filter and sort the effects by Most Recent, Most Popular, or Category.
#3: Find the effect you are interested in, and then click it to the detailed page, as shown below:
#4: Click the Download Now button to add the package to the My Effects list. Simply click the Install button to complete the process. You can find all the effects in Manage Account> Download.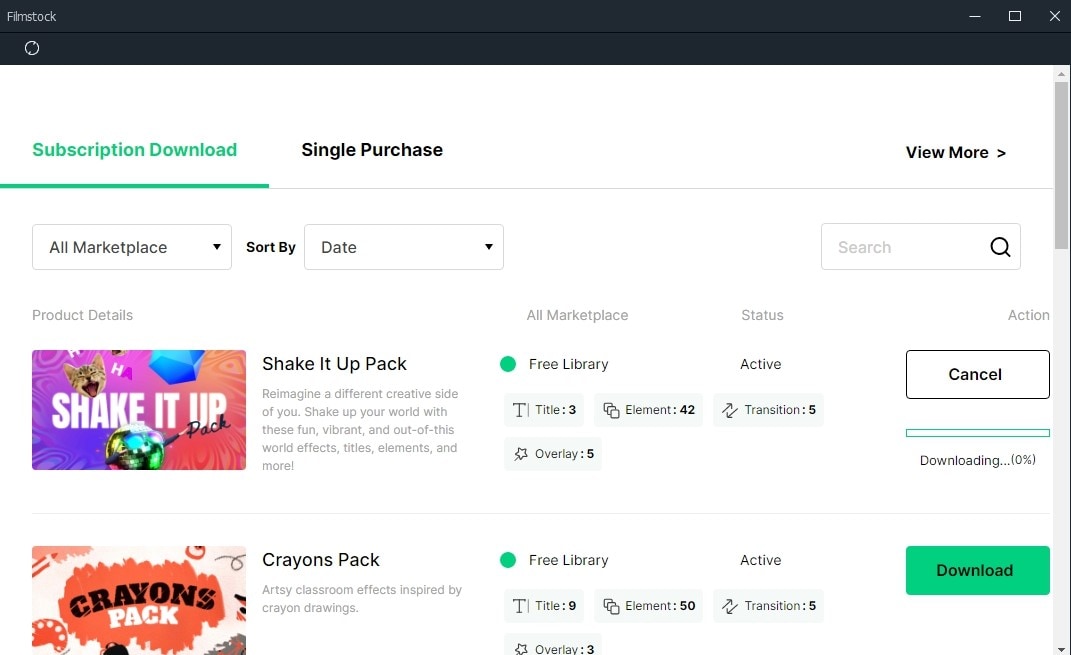 Two ways to add background music to your video.
#1: Import music files from your local computer.
- Just click the Import button to browse audio files on your computer. After finding the desired target music or audio file, you can select it and import it into the Media Library. After that, you can drag and drop the audio to the Audio track of the timeline for further editing.
#2: Use Built-in Music from Filmora Video Editor.
- Click the Music tab at the top of the menu, select a sound effect, and drag it to the timeline's soundtrack.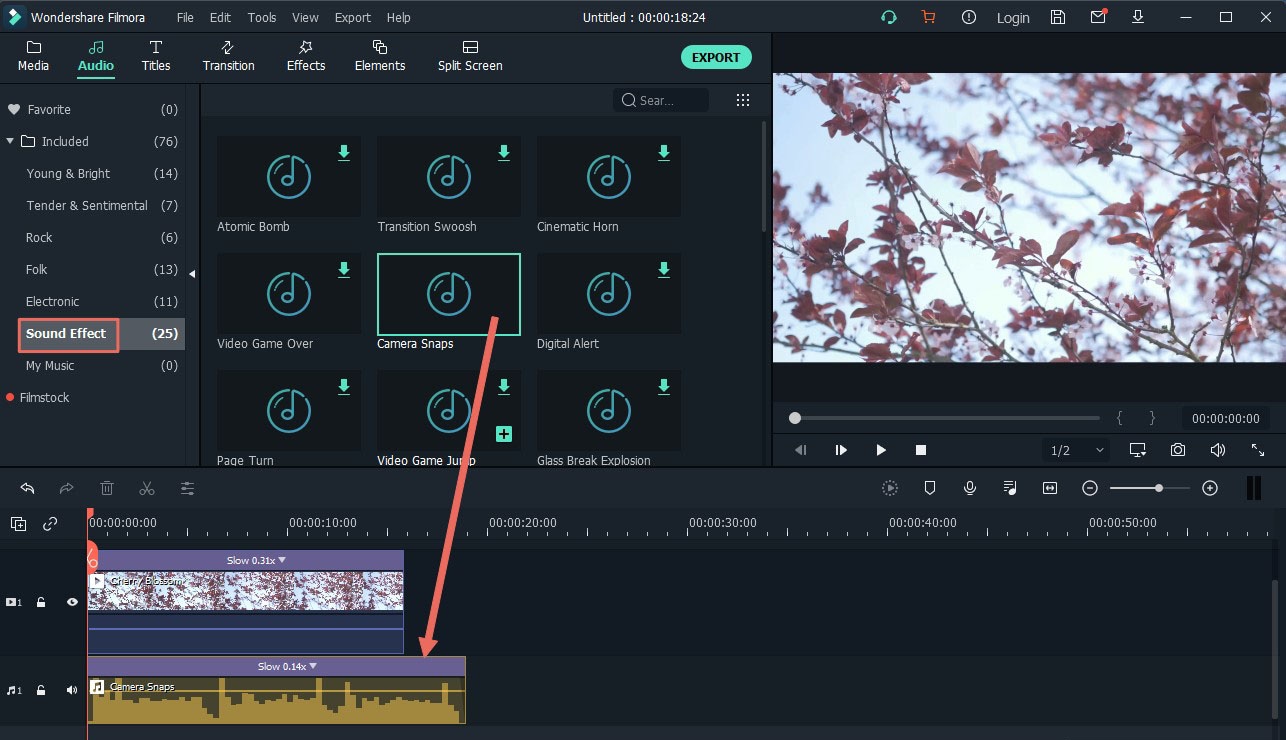 #3: Need to adjust the sound effects?
- Double-click the audio track in the timeline to open the sound editing window. You can adjust the sound speed, fade-in, and fade-out the volume, and more. You can also eliminate background noise.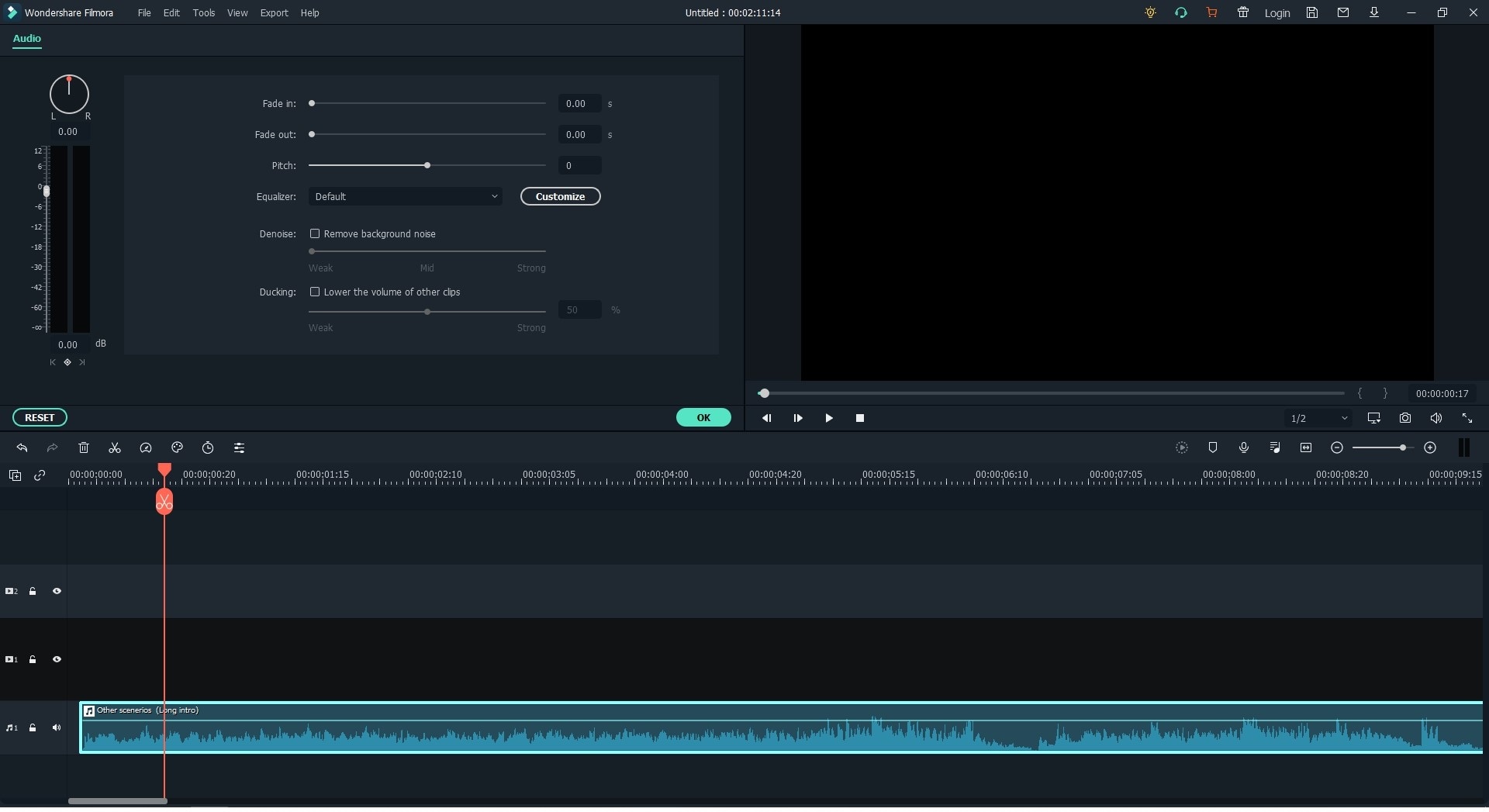 Step 5: Share Your Edited Vlog Video to YouTube, Vimeo, etc.
Filmora Video Editor allows you to directly share and upload your edited video to your YouTube channel and Vimeo.
You just need to click on the YouTube or Vimeo option on the top menu, then enter your account, select the video category, name the video, and choose its quality and description. And upload.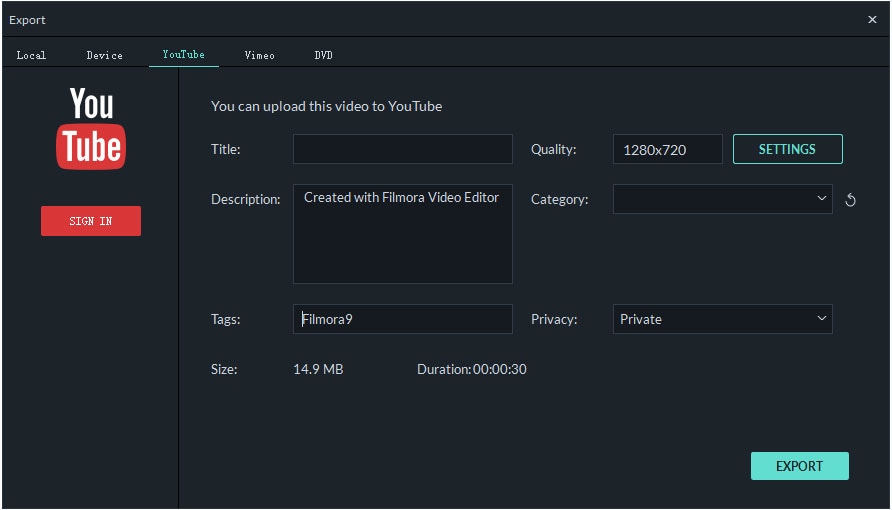 The above are the steps to edit Vlog video using Filmora. If you now want to have a video camera dedicated to shooting your Vlog, you can read the 10 best Vlogging cameras.
---
Part 3: Top 10 Popular Types of Blogs and Vlogs
#1. Gaming: Video game content is very popular in 2020. This content features a professional or highly skilled person playing a game, often with video commentary. Gaming Blogs have written walkthroughs and game reviews.
#2. Product reviews & Unboxing: Most people today research a product before buying. This has created a huge demand for product review Blogs and unboxing videos. Audiences highly value honest reviews.
3. Pranks/comedy: These are usually short videos of people playing pranks on their friends, strangers, parents, or even pets. They are a lot of fun to watch, highly addictive, and can go viral.
#4. Beauty/Fashion: Nowadays, both men and women look for tips to look better and keep up with the latest fashion trends. Beauty and fashion Vlogs/Blogs cover a wide range of topics, including hair, makeup, the latest clothing, etc.
#5. Health/Fitness: With so many people recognizing the need to live healthier lifestyles, health and fitness Vlogs are now very popular. Creating content in this category requires that you be knowledgeable about training and nutrition and, if making videos, be physically fit.
#6. How To/Instructional: When people want to find out how to repair something or learn how to do something new, they search for it online. Creating relevant and informative instructional content will attract a lot of traffic.
#7. Reaction: These fun videos involve someone offering their honest thoughts and opinions in real-time about an event, news, TV show, music video, prank, etc. They often get lots of views when they are about trending items.
#8. Lifestyle: Here, the content showcases the daily activities and interests of a person. They cover personal aspects of everyday life to the enjoyment of viewers and readers. Wealthy and luxury lifestyles are particularly popular in this category.
#9. Travel: Thanks to cheap airfare, more people can now visit interesting and exotic locations around the world. There are lots of people interested in content about these travel experiences.
#10. News/gossip: Most people are interested in the latest gossip about their favorite music artists and celebrities. Especially when controversial, this type of content can get millions of views.
The above are the top 10 popular Blogs and Vlog types, and you can explore more creative vlog ideas if you're interested. There are already many Vloggers making money by shooting these types of videos. You can learn How do you make money blogging or vlogging by getting to know those wealthiest YouTubers.
---
Conclusion
The perfect content format does not exist.
Whether its blogging or vlogging, they both have the potential to do really well when carefully planned. When making your choice, think about your preferences, your target audience, your available time, and what your budget allows. By considering these factors, you should be able to find a middle ground and then (initially) focus on one content format.