As is known to all, online tools are famous for its convenient operation - no system requirement, no complex installation process, and no professional technical skills requirment. The only requirment of using these online tools is to make sure you have a steady network connection. Thus, when people talk about how to edit videos by themselves, lots of them will try to find a free online video editor online and hope these kinds of programs can help them create an awesome video at the shortest time.
Can online video editor free meet your editing needs? This varies from person to person. Why? Every tool has its own targeted users, and the provided functions are also different. So, if you can find a free online video editing software, which can satisfy all your editing needs, then just use it to create your awesome movie. If you can't find an ideal tool, you can also take a free trial on desktop software, because this kinds of tool always works well than the online software.
See Also: Top 5 Video Editor for PC/Mac You Worth to Own
Thus, in this post, I'd like to recommend 7 top-rated free online video editor for your reference. You can compare their functions and try them one by one as you like. And I also take an advanced software as an alternative to free online video editing program when the 7 top-rated online video editor free cannot meet your demand.
Part 1. Top 7 Free Online Video Editor Software - No Need to Download
#1. WeVideo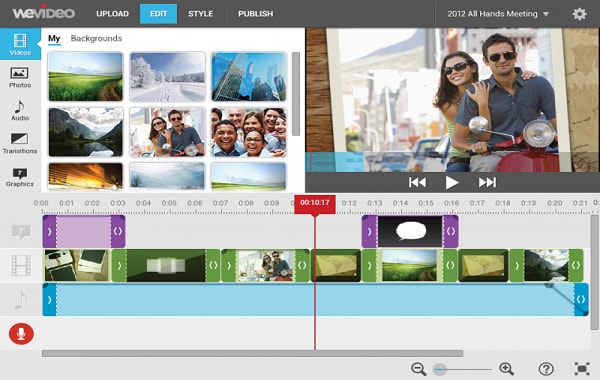 WeVideo always be considered to be one of the most useful and sought after free online video editor. It allows users to load media files like video, audio and images to the tool, and edit them as you like. This online video editing software can be found on their official site or Google Play well, and it provide users with online tutorial, so that you can learn how to use it in details.
However, this tool is not a totally free online video editing program. Because the free version only provides users with the ability to 5 minutes per month. And if your video exceeds the pubilsh time limitation, you need to pay for it. The price is started from $3.44/mo. What's more, the free trial plan not provide users with premium and advanced editing functions, including split, cut, crop, trim, join, motion title, green screen, slow motion, etc.
Pros:
- Capture, edit and share your video story online;
- Provide users with premium and advanced edtiing skills;
- Easy to use and detailed tutorial to guide you edit videos.
Cons:
- The free trial version only allows users to publish 5 minutes per month, and if your video exceeds the publish time, you should to choose a purchase plan.
- No editing functions with the free trial version.
---
#2. PowToon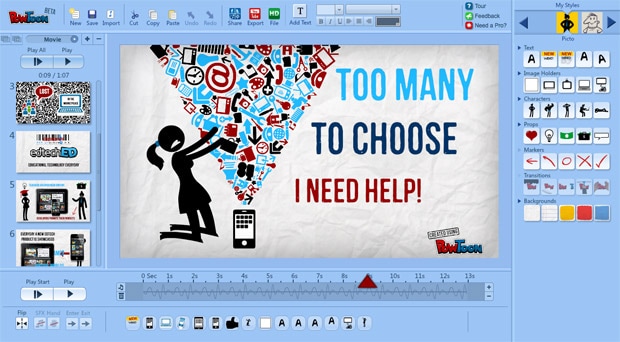 This free video editor online tool is very useful for all those who wish to make an awesome videos and presentations. It has many features attached to it and includes the capability to use digital version in the form of cut-outs. The ready-made templates can help you create a high, fast yet professional looking results in just 20 minutes, which can greatly save your time on video editing. So PowToon is also said to be a "drag and drop" tool for users.
However, there are some shortcomings that need to be pointed out. The user gets only 45 seconds of time of edited videos, and all videos exported from free plan will be added PowToon watermark. So if you really want to enjoy the full benefits of this software then you should buy the full version. The price is started from $16/mo.
Pros:
- Provides users with lots of ready-made templates, so that a brief, professional yet high quality video slideshow can be made within 20 minutes.
- Easy to use and the drag and drop mode requires no professional skills for every users.
Cons:
- The free trial version not provide enought function to their users.
- The starter plan with $16/mo only allows users to create 1 premium video per month (no PowToon watermak), the price is a little bit higher than other tools.
---
#3. Wideo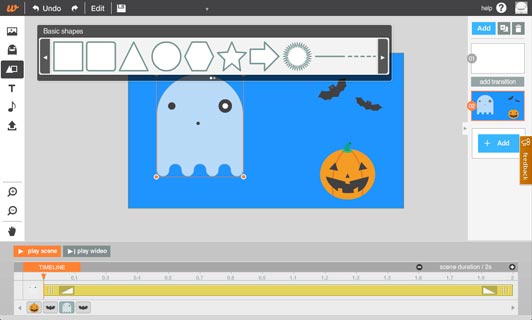 This video editor free online tool is very useful for creating animated videos, and also conventional videos. It is also one of the few software that allows free online creation of craft-esque videos. It also follows the drag and drop option which is user-friendly for many users. One can use as many elements as possible for as many times. You are not hamstrung when it comes to using of cartoons, text, drawings and images. It also allows users to upload video files and also audio files.
However, just like the above two tools, the full features of the program can be enjoyed only when one buys the paid version. Its purchase plan starts from $19/mo, that allows users to create 1 minute videos, 10 downloads and 20 video templates. If you want to enjoy the unlimited templates, downloads and videos, you need to pay $79/mo, this price could be high for some people.
Pros:
- Create animated videos and presentations within few minutes;
- Share your videos online or download it in MP4 format.
Cons:
- The functions of the free plan are limited, and the price plan is little bit expensive.
- Output video format is limited.
---
#4. Weavly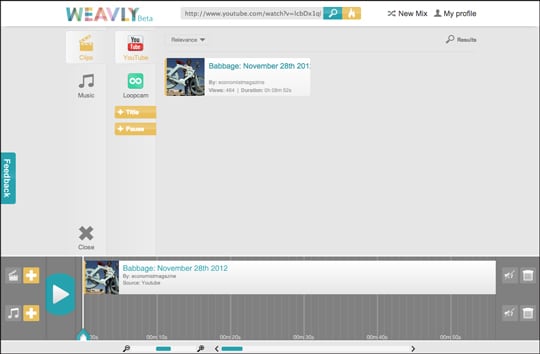 It certainly is a great video editor website for free online editing and creation of videos. It is very user friendly with drag and drop features and allows for trimming, mixing and combining of tracks online and it is quite fast and dependable. For a trial version it offers a number of features.
Another great feature as far as this software is concerned is that it allows you to use video and audio files from sites like YouTube and Sound Cloud. It also allows the user to import various types of GIFs from reputed sites like Loopcam, Imgur and others. At the end of the day there is no doubt that there are hardly any shortcomings as far as this free online video editing site is concerned. Naturally the paid version offers much more facilities and is very feature rich.
---
#5. Kaltura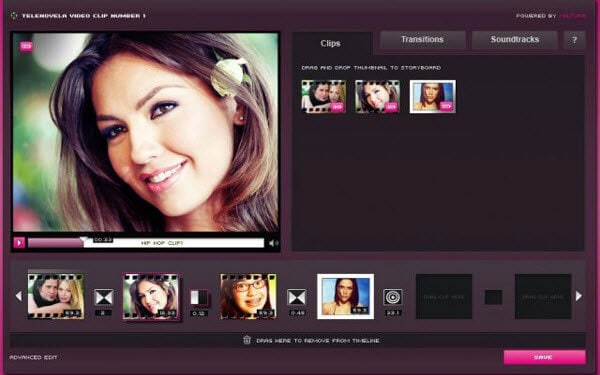 This online free video editor is perhaps one of the first open source online video service provider in the entire planet. Though the best features can be enjoyed only in the fully paid version, using the free online editing feature allows users to have a small glimpse of the various facilities and features that this product offers to its customers.
Though it is very suitable for commercial and professional video editors, even beginners can handle it easily and get into the process of learning in the right earnest. It is also reputed because of continuous and round the clock support services even for beginners who are using the trial version. It also offers community based solutions. On the whole it is a great website even for beginners.
---
#6. Loopster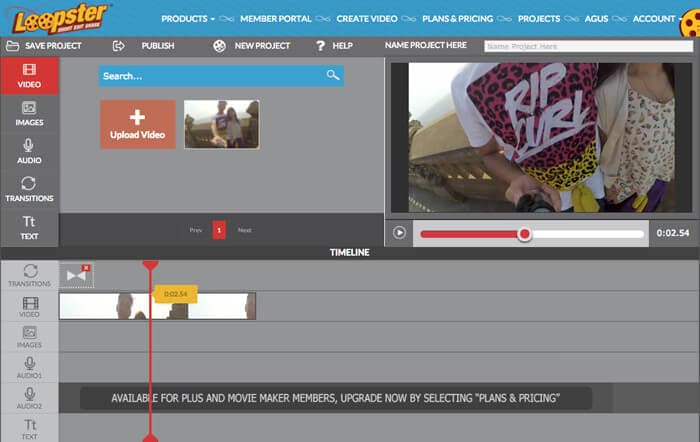 According to many users, this is perhaps one of the easiest online video editor that are available on the internet. It has a very user-friendly interface and the adding new projects and having them uploaded to various other sites like Youtube just takes a few minutes.
The service provider offers one month free trial by which time one certainly can a very good idea about the various features and specifications that they could be having. The dashboard is quite impressive and even beginners will be in a position to make use of the same.
---
#7. Filelab Video Editor

It is also considered by many users to be one of the most sought after free online video editing software. It allows easy editing of videos, and also allows other major functions like splitting, merging, and cutting, mixing and rotating of videos.
There are around 24 special effects to choose from which goes a long way in making it very user friendly. It also allows the users to add transitions apart from providing the chance for overlaying of video and also for managing the various video formats.
---
Sum Up
There are 7 top-rated free online video editing software for your reference, which one are you going to try first?
Obviously, you might have found that these free online video editor is not really free, right? Actually, we have pick up hundreds of tools on the Internet, and found that there are almost no really free tool to edit videos online or offline, especially when you have a requirement on the output quality. So, not too tangled whether it is free, you should more focus on the functions the tool will provide and the output quality.
Generally speaking, these online video editing tools can help users to create an animated videos or presentations within minutes, but the cost is not cheap as I imagine. And sometimes, when the network is not well, the performance of these online video editor will be affected. So here, I'd like to recommend a professional yet cost-effective video editor for your reference - Filmora Video Editor.
Now, let's read the following part to learn more about this tool.
---
Part 2. Filmora Video Editor - Best Alternative to Online Video Editor
Online video editor free software might come with many limitations. So you need a reliable desktop video editor like Filmora Video Editor for Mac (or Filmora Video Editor for Windows) to help you with best video editing experience. It comes with multiple new features and templates, which can help you edit a cenimated movie title, transitions, or filters as the Hollywood does.
Besides the built-in basic and advanced editing functions, this program also comes with various special effects for different topics. You can use all of them for free if you take part in its subscription plan. What's more, unlike the online video editor, Filmora video editor free trial version allows users to use all functions it has, and no publish time limitation. But every exported video has a Filmora watermark. If you're not mind this, this program can works free for you all the time.
If you don't like the watermark, or you wish to enjoy more further upgraded functions, you can take part in the 1-year license or lifetime license with $39.99 or $59.99. These price is really cheaper than the online tools' monthly payment.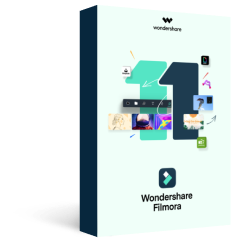 Key Features
Easy mode and full feature mode to fit your different editing needs and help you save your time.
Import most format videos, audio and photos for editing and output the edited videos to various formats as you like.
The basic editing tools helps you to edit, trim, crop, rotate, split, combine, etc. video while the advanced editing tools help you to add transitions, filters, overlays, etc. to the video.
Apply 300+ effects and audio effects to make the video special and awesome.
Export the video directly to YouTube, devices, DVD and more platforms.
---
Brief Instructions on How to Perform the Best Video Editing Software
Step 1. Launch the program and choose the editing mode according to your own needs. Then load your video files into the media library by clicking "Import Media from Here".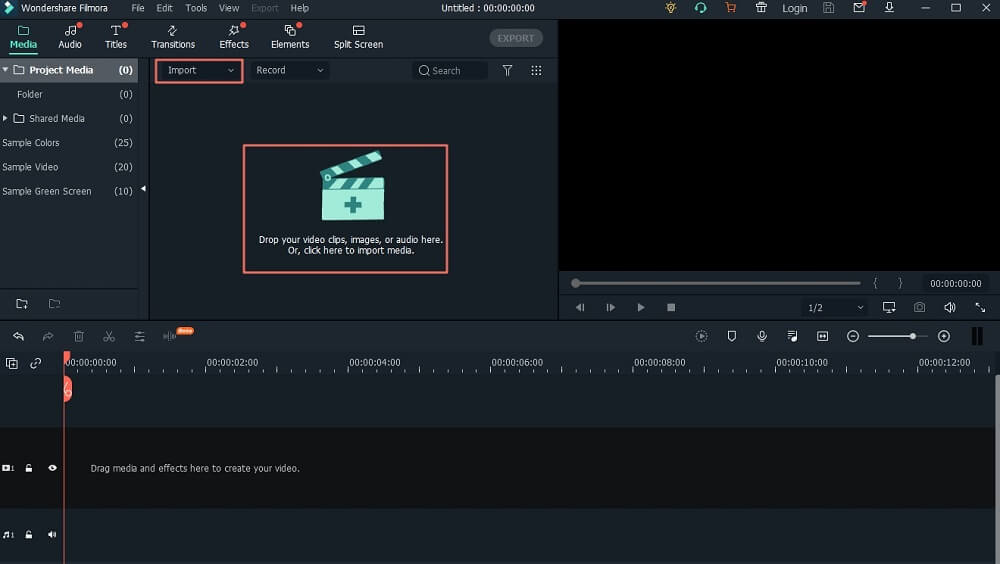 Step 2. Drag and drop the video to the TimeLine, then you can start to add the video as you like. For more detailed steps, please check here to learn how to edit a video step by step.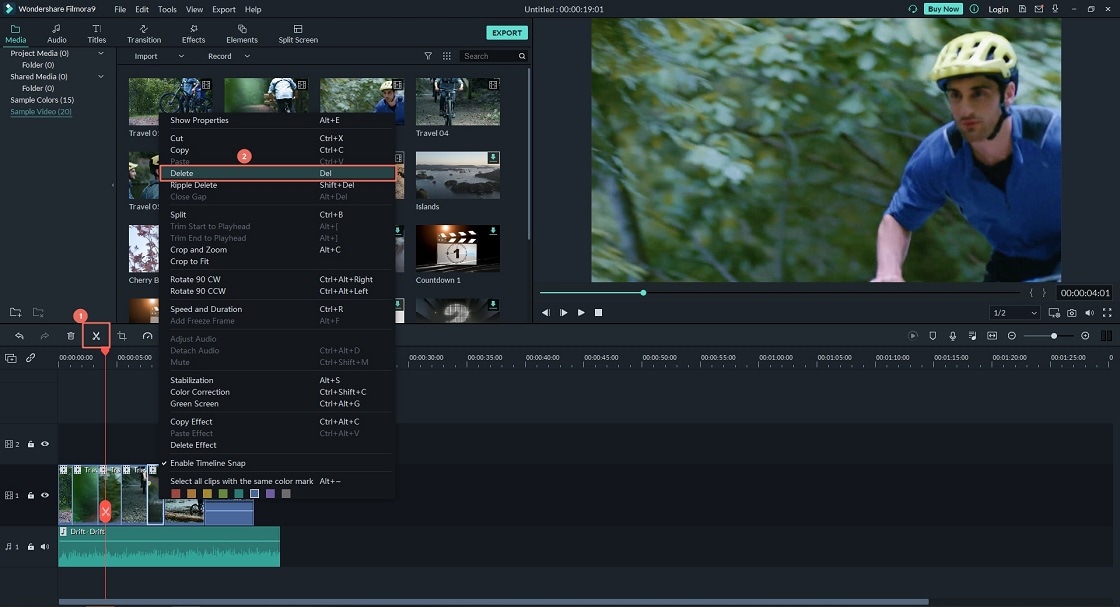 Step 3. When all editing have done and saving, you can click "Export" button to choose an output format, and then finish the whole process soon.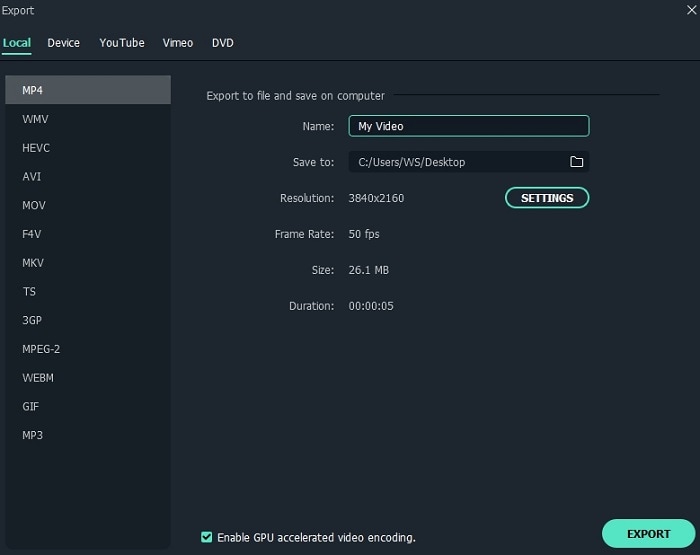 ---
Write in the End
Now, what your opnion about the free online video editing tool and desktop video editor?
In fact, I think there are no program which is "REALLY" free, so why don't you choose a program which can provide you with the best video editing skills and acceptable price? Personally speaking, Filmora Video Editor or Filmora Video Editor for Mac will be the 1st choice when I need to edit a video for YouTube, Viemo, or simply sharing with my friends, because this program has powerful video editing skills, detailed tutorials and 7*24 technical support.
If you have no idea about which kinds of video editing program is best for you, you can start from Filmora Video Editor by clicking below icons.