Let's start this guide with what is an unboxing video. An unboxing video is a recording of a person unveiling products for the first time. Unboxing videos are a popular video genre on YouTube. These videos mainly focus on fashion or tech products. Other types of unboxing videos are also on the surge, such as toys, luxury goods, food, beauty products, and the list goes on.
Why are unboxing videos so popular? Unbox Therapy, Ryan's World, and UNBOXING Fashion & Sports are popular YouTube channels with massive subscribers, earning a handsome amount of revenue. People love unboxing videos as they are more curious to know about new products and these channels give them insights. Moreover, they can get help before buying a product. Kids and youngsters especially feel connected with the unboxing videos as they get the feel of buying something new and enjoying it for the first time.
If you are a social media influencer, unboxing content can be a great way to cash your social media identity. We hope you're inspired now to create your own unboxing YouTube channel.
But you need to know the proven practices to win a bigger audience. You might be wondering how to do an unboxing video. We are here to help you out. In this handy guide, we will provide you the expert tips about how to do a good unboxing video. Are you ready? Let's deeper dive into how to make great unboxing content for your unboxing channel.
Part 1. Proved Tips on creating an unboxing video
Unboxing videos have a homemade feel. It focuses on the real people providing honest reviews about a product rather than professional productions. You can take start by capturing an unboxing video with your mobile phone to get some experience. Over time, you may go with the professional tools to create an engaging video. Follow our expert tips to get started:
#1. Specify Your Niche
The market is evolving each day with new products. You need to tackle a specific product for your unboxing video content. Here the important thing is to get stick with one idea to be specific. For example, if you have decided to target the unboxing toys, you won't need to create a video about power tools. You may lose your audience if you switch your product niche.
Selecting a niche for unboxing videos depends on your passions and area of expertise. Are you a game enthusiast? You can find your place in tech tools. And fashionistas can make their videos about popular clothing and accessory brands. Taking time to choose your passion can attract massive viewership.
#2. Clear Communication
Communication can make or break your unboxing video. Before starting your channel, we recommend you take some time to improve your communication skills. You'll likely speak more slowly than in your daily conversation. Explicit communication can help your viewers to understand your words. Instead, you can add captions or subtitles using Filmora X to make your videos more understandable.
#3. Use a Quality Camera
Although a studio set-up is not necessary to shoot an unboxing video. All you need is to use a quality camera to capture video shots. We recommend you use a tripod as an edge to get stable shots. Once you have captured the video shots, use Filmora X for editing purposes.
#4. Use Matching Background
Capture your video in front of an uncluttered background. We recommend you use a matching background with your content theme. For example, if you're targeting kitchen products, make your set up in a kitchen, keeping the counters clean and decluttered.
#5. Target the latest Product
Unboxing videos are fiercely competitive. At a time, you're competing with the popular channels. To come into the race, you need to target the latest products. Make market research for unboxing retro items as these products have appeal.
Keep yourself updated about product launch, release dates and unbox them as soon as possible. Targeting the products at the right time can earn a massive viewership for your channel.
#6. Unboxing the Product Quickly
You may find it wise to increase video length for suspense. Is it good practice? Absolutely not! We recommend you keep it 5 minutes and try to unbox the product quickly. The shorter videos get more attention than the lengthy ones.
#7. Use the Product in Use
To add more flair to your unboxing video, we recommend using the item after unboxing it. It can take your video to the next level as the audience can feel more connected. For example, you're unboxing a new kitchen product, use it by cooking your favorite dish. It strengthens your position as an expert in your targeted area.
Once you have captured your shots, it's time to kick start the editing process.
---
Part 2. How to make an unboxing vlog with Filmora [step-by-step guide]
Filmora is the best video editing software to make a stunning unboxing vlog. It's free, and you can use it even as a beginner. Let begin:
Prerequisites:
Before starting, make sure you have downloaded Filmora on your PC. You can download it in a single click. Capture the unboxing video using a quality camera.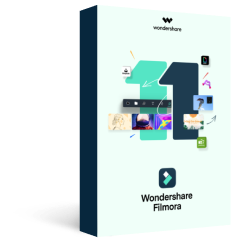 Key Features
Best video editing software for beginner and semi-professional, that comes with powerful editing skills like trimming, splitting, rotating, editing, etc.
Advanced video effects like motion tracking, AI Portrait, AR Sticker, Audio Ducking can also be found and applied to your video within few clicks.
500+ free special video effects to customize and create an awesome movie by yourself.
1000+ standalone effects downloading resources to make videos in all kinds of styles.
Record voice in real-time: you can have you voices recorded in realtime and instantly add them to the video files.
Step 1: Import Unboxing clips
Once you have captured a high-quality unboxing video, import it to the Filmora media library.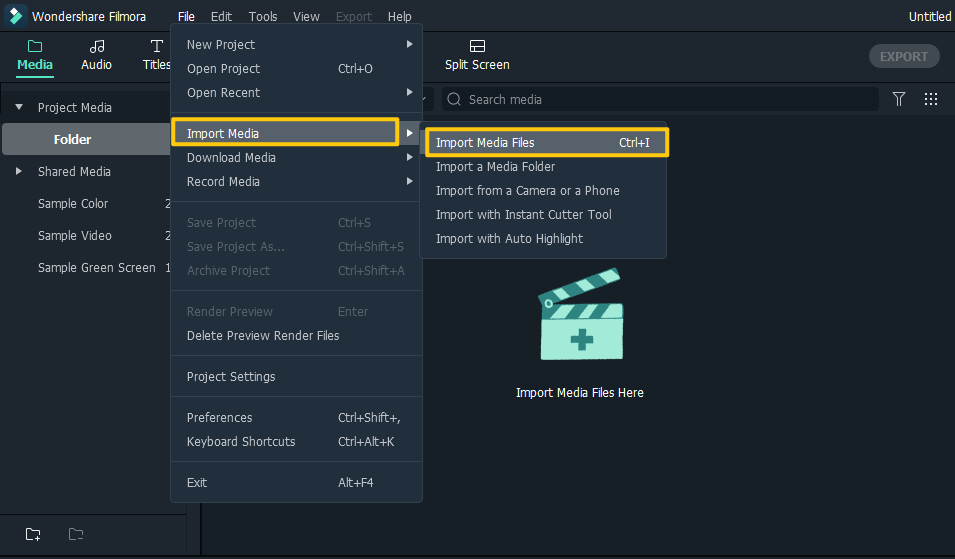 Step 2: Drag and drop video to timeline
Drag and drop the unboxing video to the timeline to start editing your video.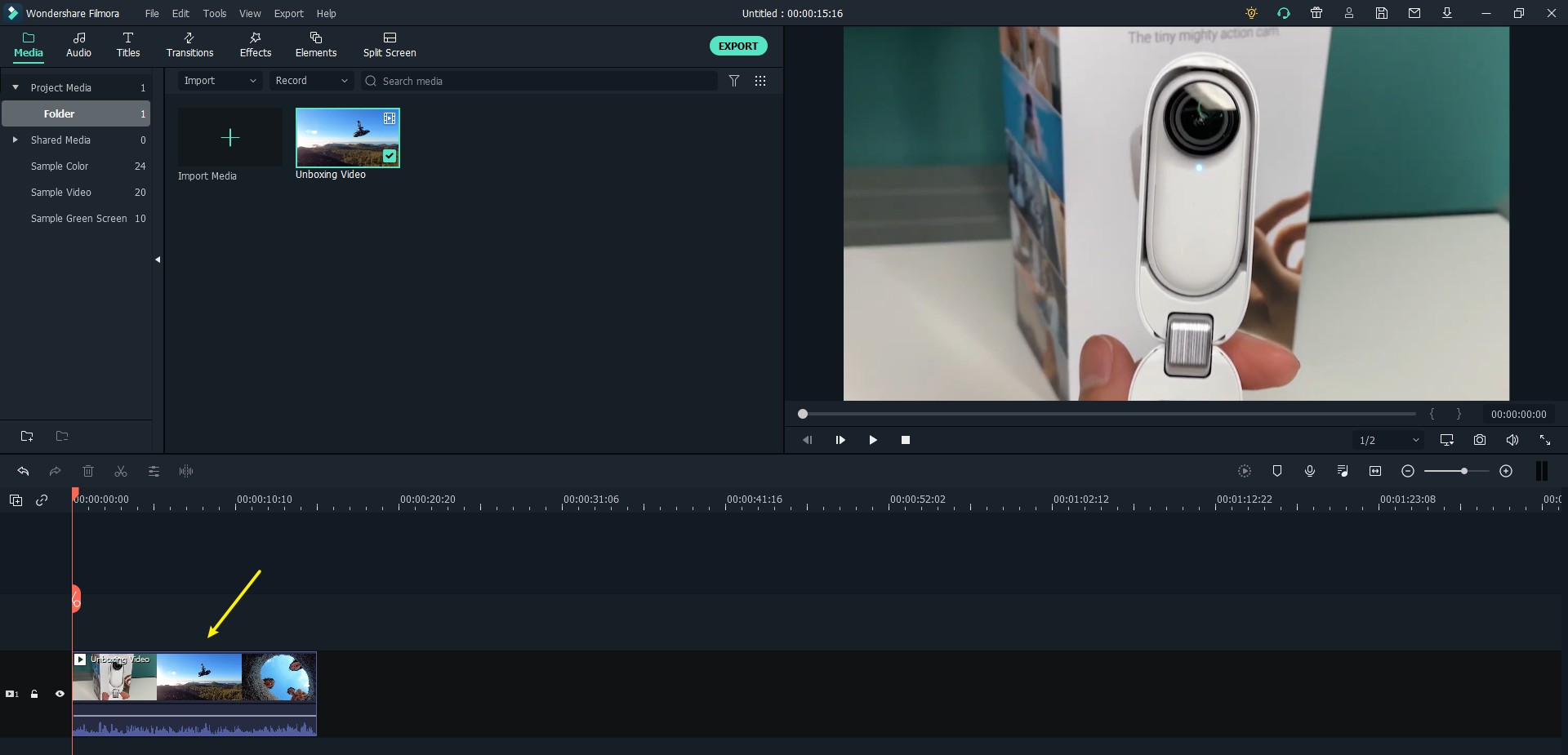 Step 3: Rearrange the video
Filmora allows you to use cut, and trim tools to seperate a whole video into multiple parts. Then you can delete the unwanted parts of the video and merge all the clips you want in a single video. To cut the clips directly, all you need is to click on the Scissor button.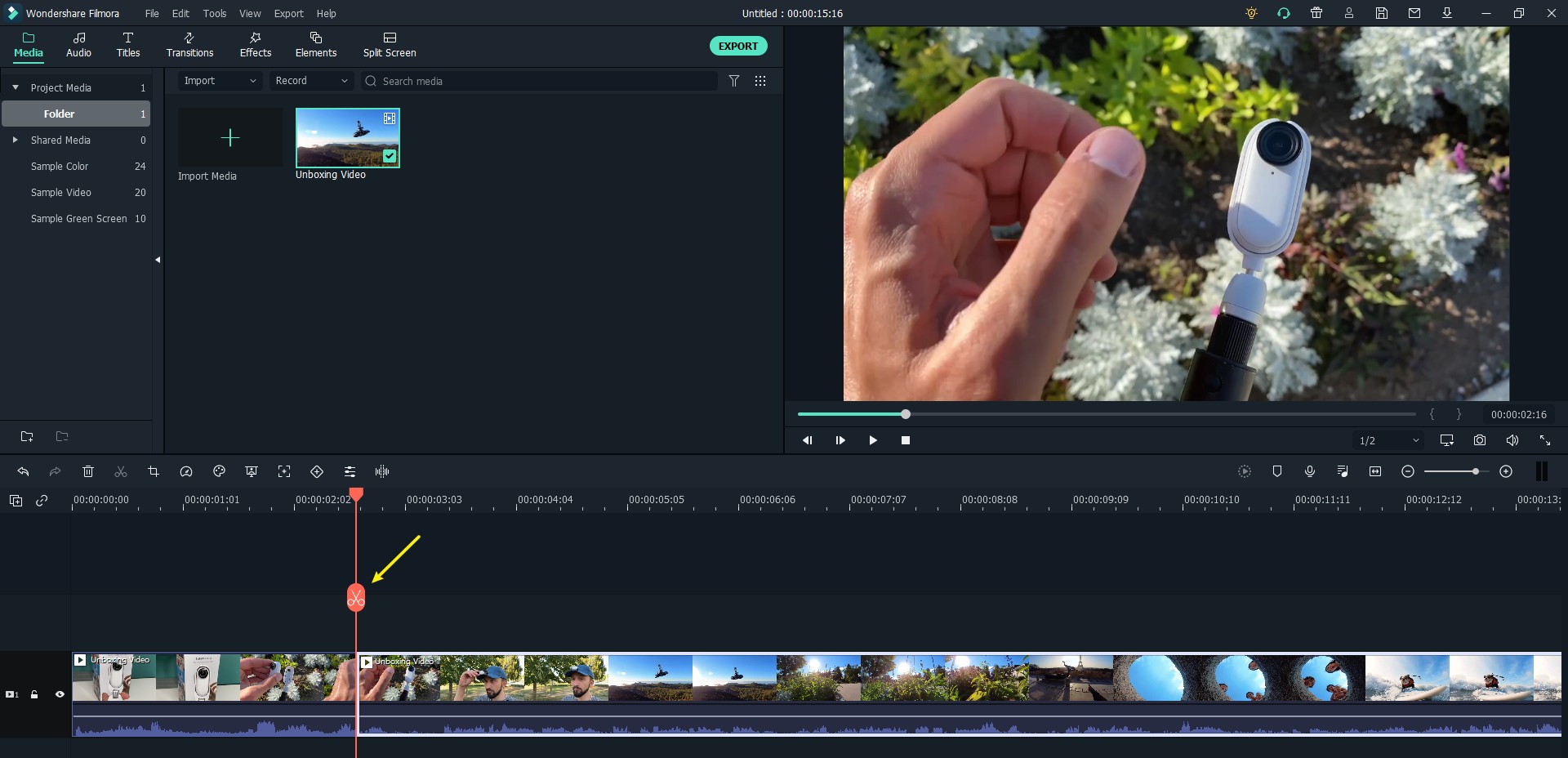 Step 3: Discover amazing theme filmstock packs
Filmora offers various theme packs which contain transitions/titles/lower thirds/elements under the same theme. You can easily find a complete suite of effect packs in Filmstock. Here our unboxing target is Insta 360 cam, so we search for "Tech Review" in the search bar. Boom, here pops up a bunch of great tech-style effects to use.

Step 4: Add Title, Effects and Transitions
Filmora is the best editing software to make vibrant unboxing video for your YouTube channel. Using Filmora, you can add titles, filter, motion, transition, and special effects to make your video more appealing. Here we use effects from the "Tech Review pack" to make all the elements consistent. You can also select other effects from the each menu as you like.
Let's firstly add a lowerthird introducing the new feature of the product. Just drag the lowerthird to the timeline.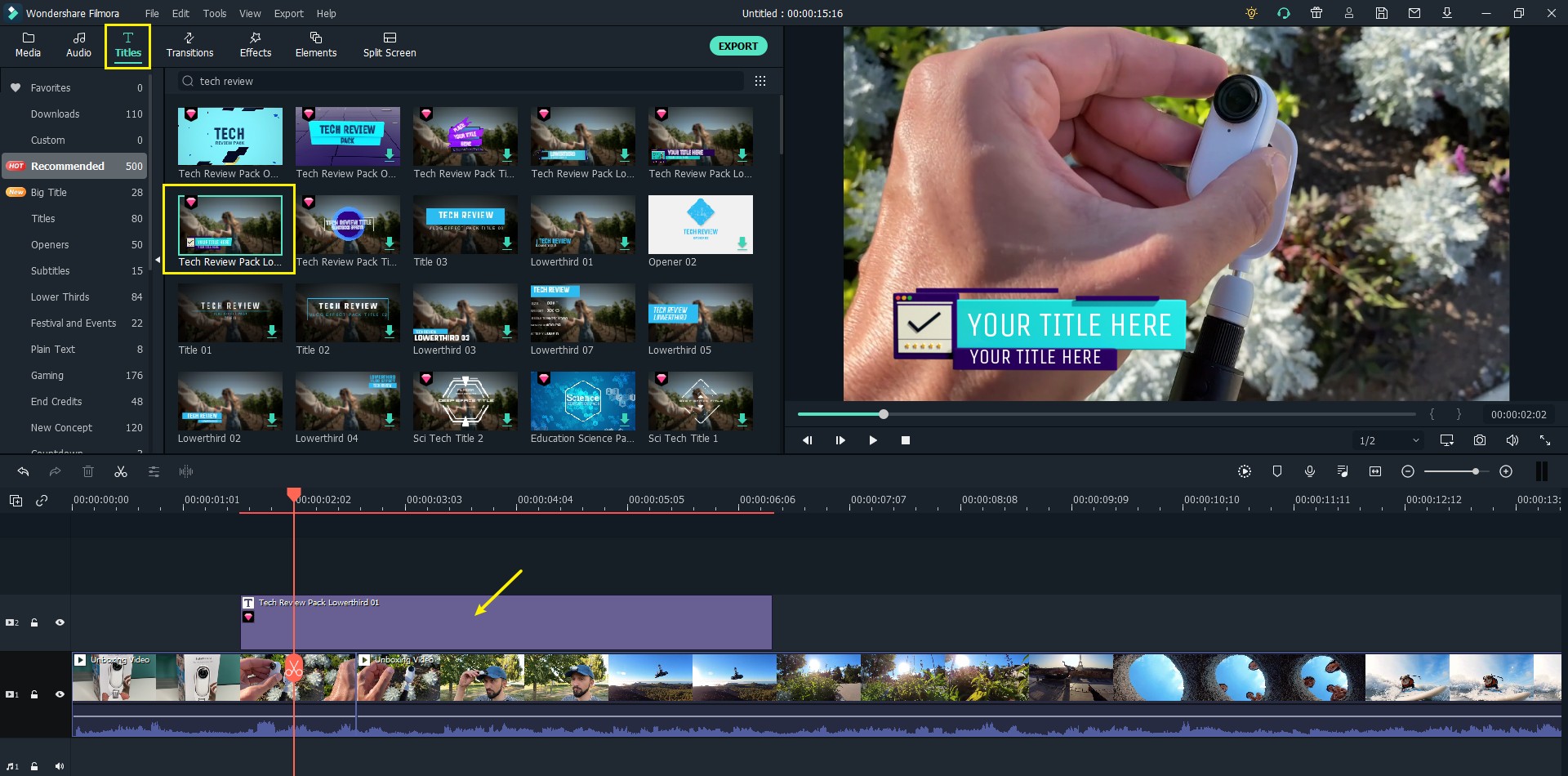 Furthermore, you can customize the lowerthird as you like by changing its font, size, color, text fill & border, etc. Believe me, you can always diy your ideal title using all the customization options. You can even easily add animation to the text!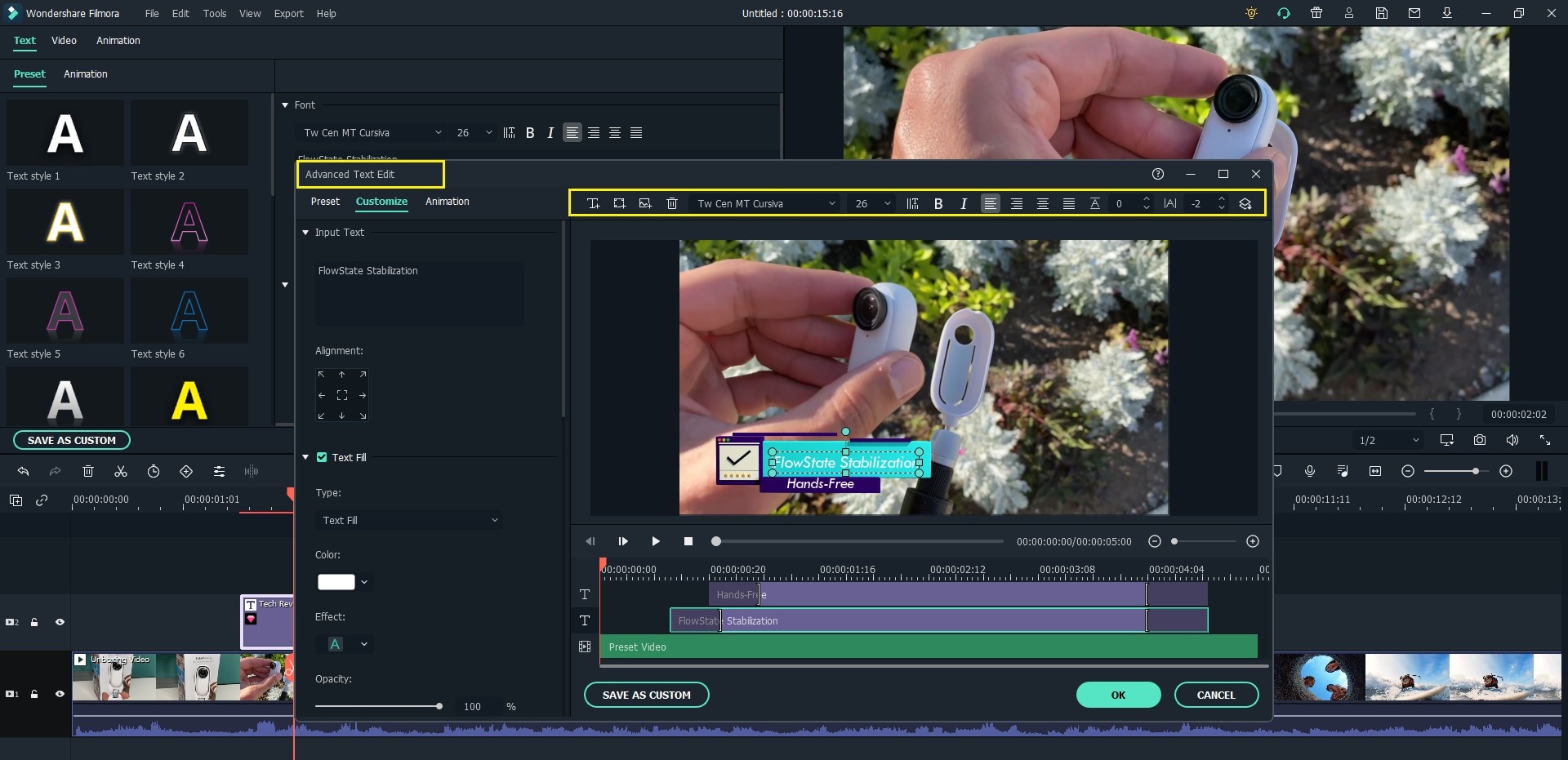 Then, you can add attractive elements to make the video more interesting and creative.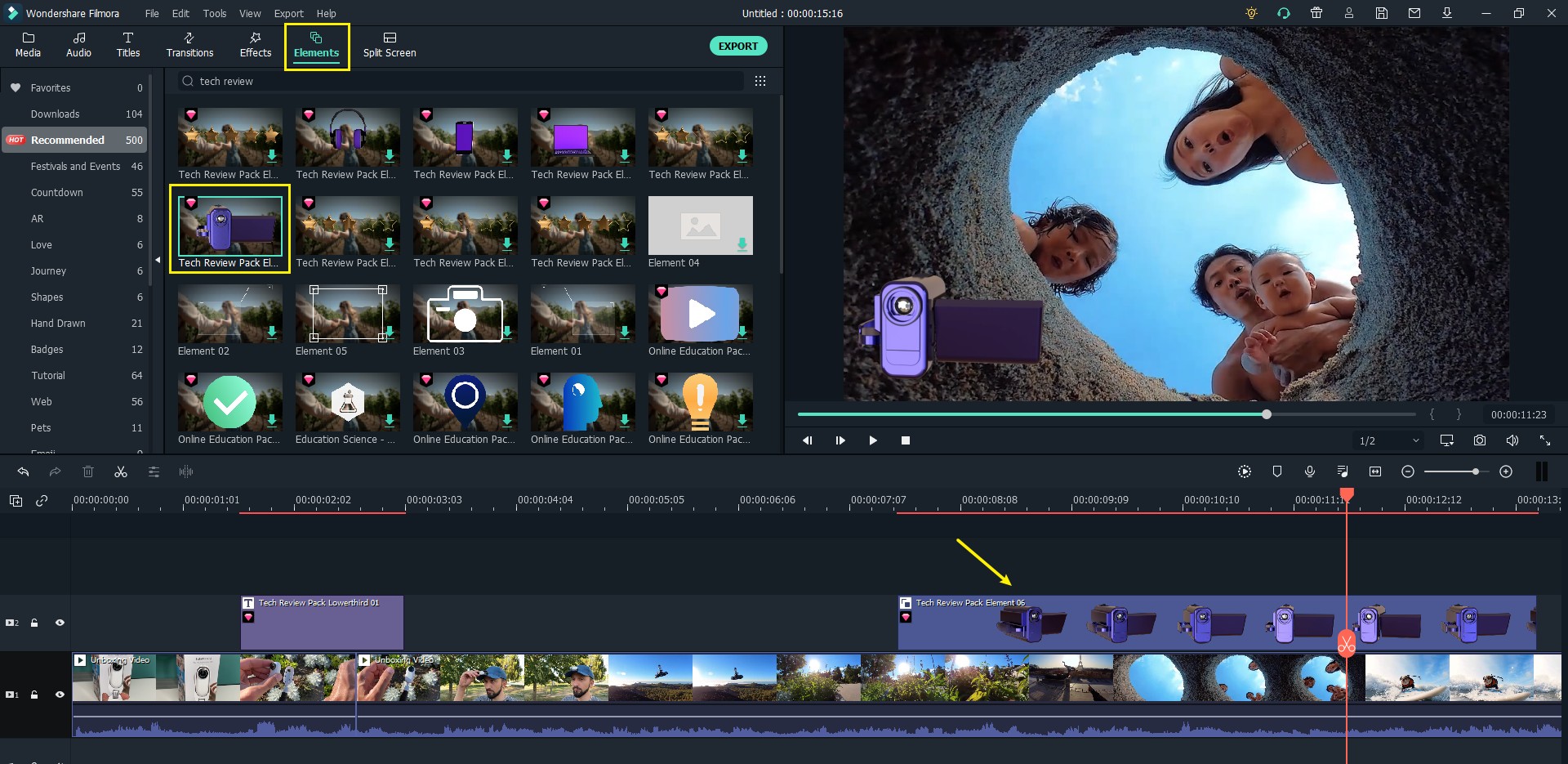 Adding transition is also the same, choose one from the library, then just drag and drop it to the timeline.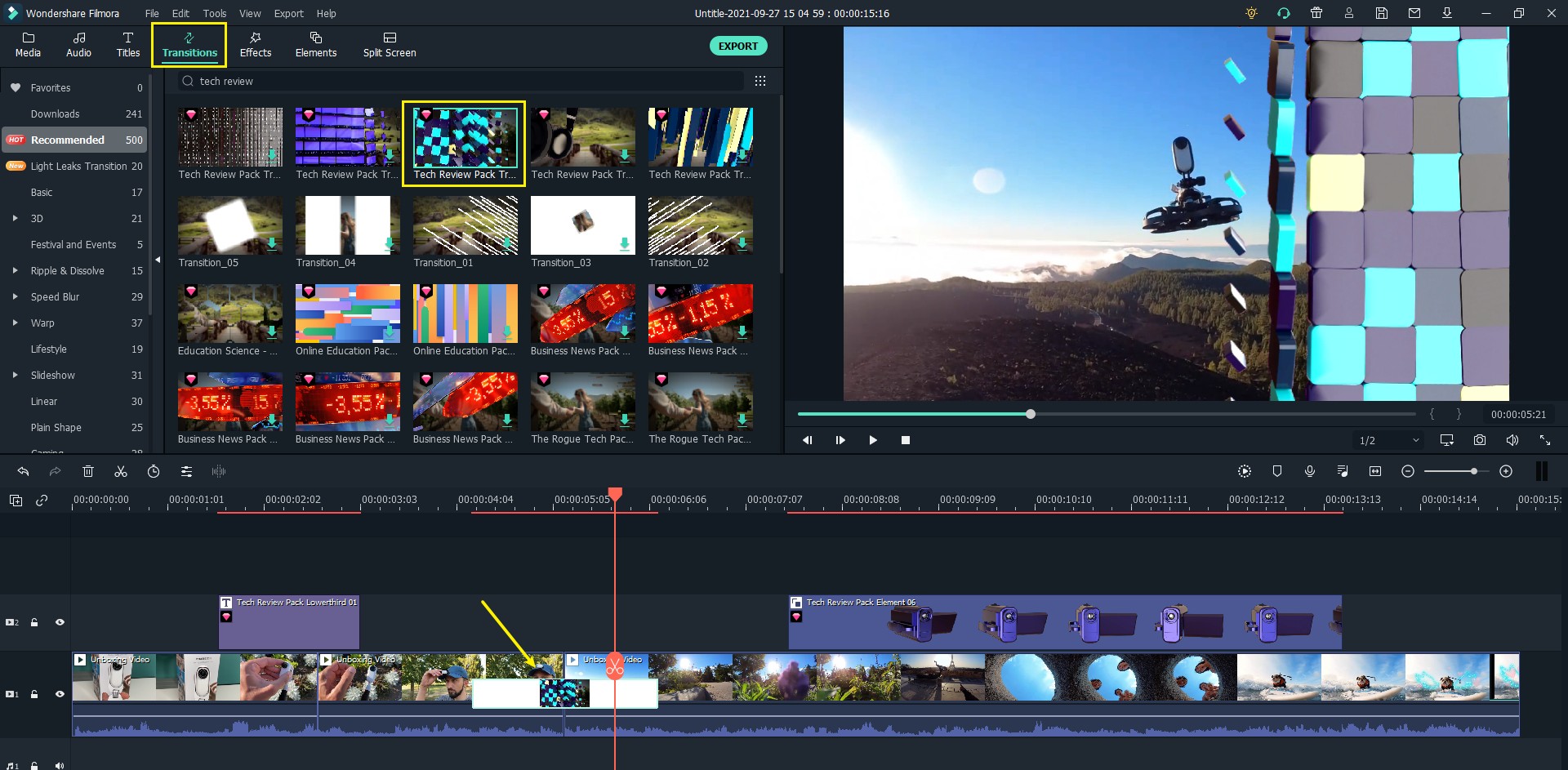 Tips:
You can also adjust the colors by color correction, setting the highs and lows and many more options to make your video more vibrant.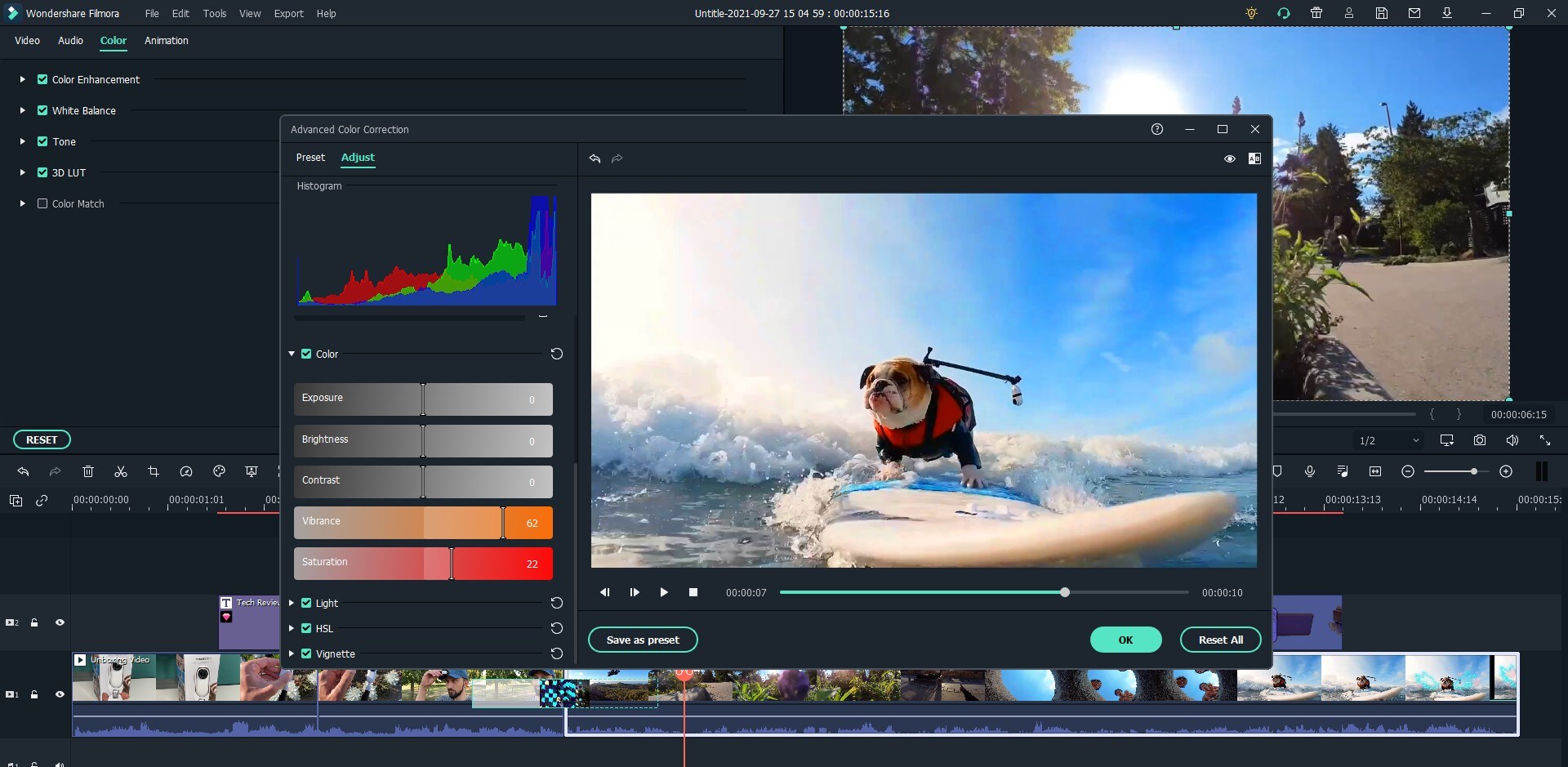 Step 5: Export the video
When you feel satisfied with the video editing, its time to now choose the specific output setting and export it, wait for a while till your input is being processed into output. And enjoy the amazing final result!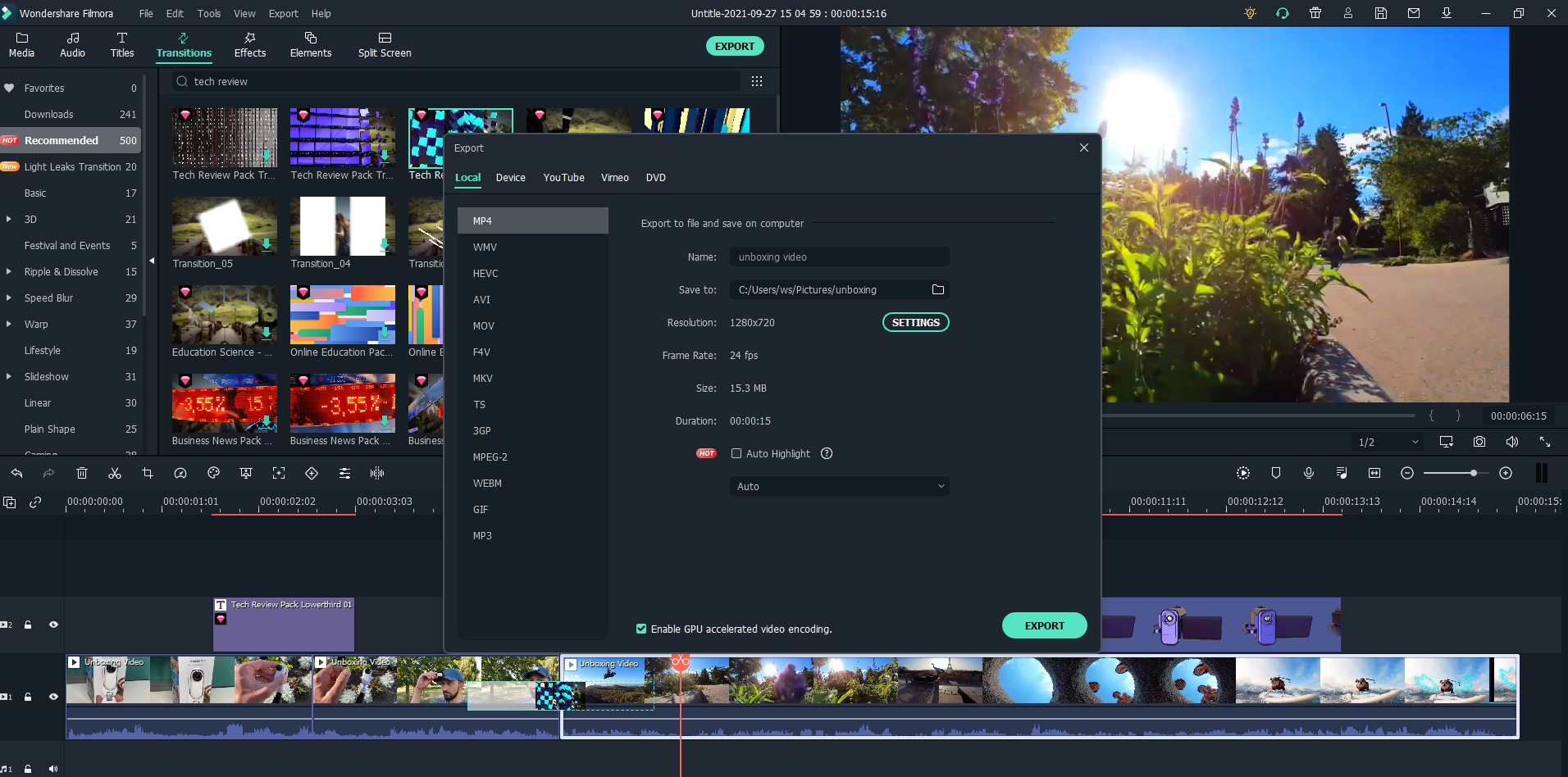 Step 7: Upload to Youtube
Then, you can directly export the video to platforms including youtube, vimeo. Or, you can burn it into DVD as well.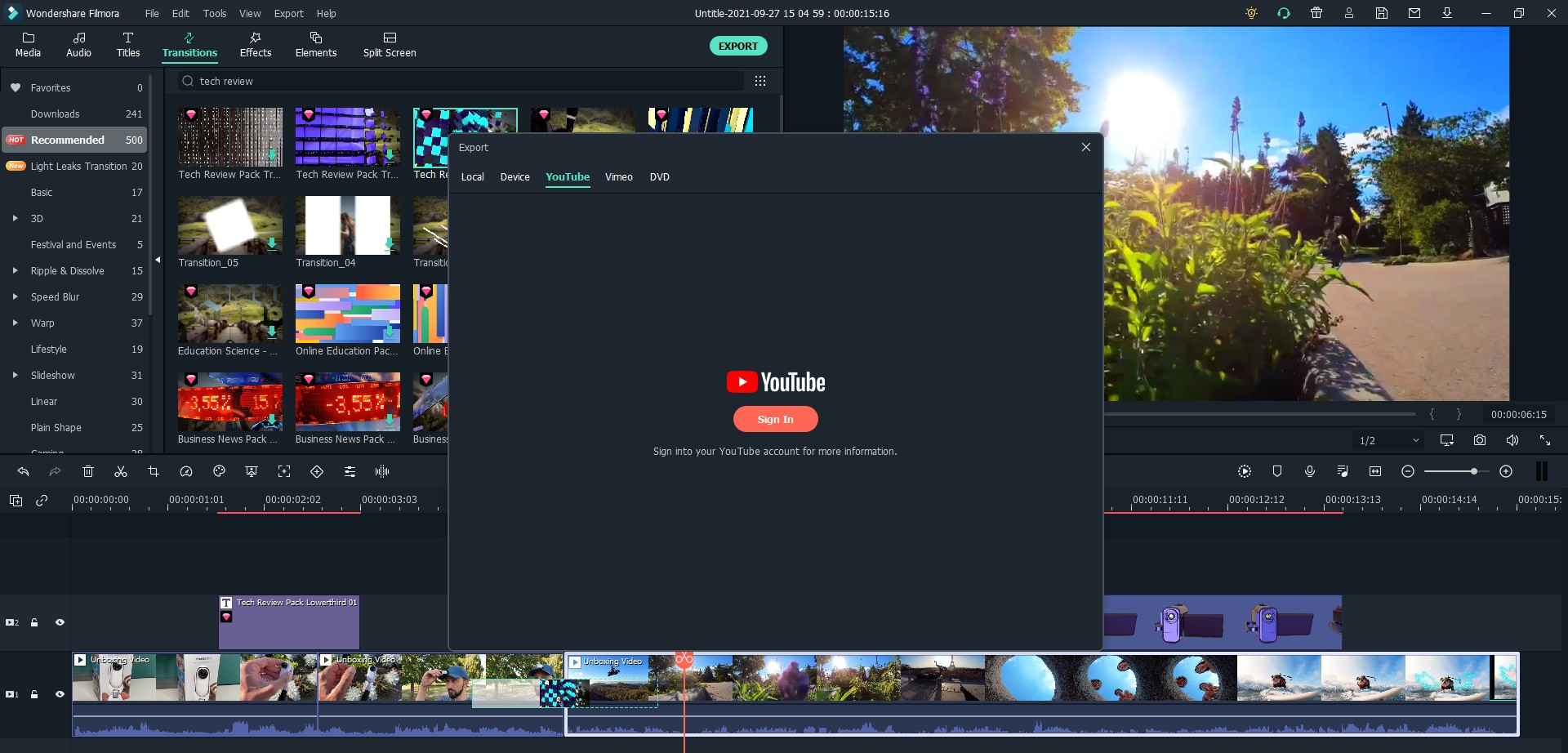 Congratulations! You're done with your first unboxing video!
---
Part 3. Conclusion
There you go! We hope you can create an engaging unboxing video for your YouTube channel. Before starting, we recommend you do deep research to specify your niche. For editing purposes, you can use Filmora to make aesthetically appealing unboxing videos in no time.
If you're interested in Filmora, watch the short clip below to learn more about its new amazing features. Then, start your journey of creating!
---
Part 4. Frequently Asked Questions
1. How do unboxing videos make money?
Unboxing is the most popular video genre on YouTube, and these videos are taking the internet by storm. Unboxing videos have millions of views and are a great way to make money. DisneyCollectorBR features hundreds of videos of beautiful hands opening Disney toys with the narration about the packaging in an accented voice. The 21-year-old young woman has anonymously earned $4.9 Million in 2014 just from her YouTube channel. Isn't it a huge number? You can also create unboxing videos with Filmora to make money. Once your channel is monetized, no one can stop your growth. Moreover, you can earn through paid advertisement and product promotion.
2. Why is Ryan's World so popular?
Ryan's World has been featured as the most popular channel on YouTube in the US, and the second largest in the world, a bigger attraction for the kids and family members. Ryan loves to play with toys. He started with toy reviews with his first YouTube channel named Ryan Toys Review back in 2015. At that time, he was three-year-old. The channel name was later chosen as 'Ryan's World'. The channel has a massive audience of 25.8 million subscribers.
3. How long should an unboxing video be?
The video length depends on the product type you're unboxing. We recommend you keep it under 5 minutes to engage your viewers. You can capture short video clips and merge them in Filmora to add more appeal for your viewers.