The gaming industry has been around for a while, and it was expected to surpass 180 billion dollars by 2021. Despite its enormous size, what do people like you and me who are diehard gamer-lovers gain from it? Plenty. Money, fame, and everything a person could desire - what a goldmine of an industry! Therefore, the question arises: how can a gamer make some money by leveraging the gaming industry? Answer: YouTube! With each passing day, this genre is becoming increasingly popular, and YouTube has become one of the top platforms for the gaming community.
On YouTube, you can find any video because it is a source of all types of content. Many gaming enthusiasts enjoy watching people play their favorite games. Gaming streamers embrace this opportunity, and they use Youtube to engage with their fans and earn money while doing so. Famous gamers on YouTube include PewDiePie, JuegaGerman, Fernanfloo, ElrubiusOMG, VEGETTA777, Markiplier, Jacksepticeye, Total Gaming, and others. These aren't just names; they're recognizable brands in the gaming community, reflected in their fan following and the number of views on their streams. Their videos get millions of views in no time. When we sum up the last year's statistics - gaming videos reached a billion views. Wow!
These Youtubers all share one thing in common: Playing games! All jokes aside, they have been playing and streaming games continuously on their Youtube channel. Consistent streaming is the key to their success. Success will be all yours for those of you who have been very consistent for the first few years!
Part 1. Creative Gaming Video Ideas for Every Vlogger [Editor's Pick]
When it comes to making gaming videos, you can explore different ideas and themes. YouTube offers a wide variety of gaming and other topics that you've never heard of before, so it's not just one-dimensional. Each channel is made up of different individuals, so you can see how their videos are made. Below are some examples of rapidly growing content on YouTube.
#1. Streaming/ Vlogging
Youtube is a popular place to vlog, and in this category, people communicate daily with their target audience. You can also start a channel in this category. How does gaming relate to vlogging? Let us explain. You can vlog about games, telling your audience what you are playing right now.
Additionally, you can display your gaming steps, tours of rooms, and much more. Stream your live gaming sessions as well, as that's the best way to engage your audience. YouTube users love watching games such as Minecraft, Fortnite, PUBG, and others.
#2. Game reviews
Other than game vlogging, what other options are there? There are many. Take a look at the game reviews as it's another popular category. For that, you must be aware of the games - that will ensure your success. How can you work in this category? It's easy.
Play a trendy game. As soon as you're done with the game, you need to provide users with an honest opinion—the overall quality of the game, its graphics, controls, story, theme, etc. You can record your video and edit it in Filmora X, then upload it to YouTube! Isn't it easy? 
#3. Tutorials to complete games
You can make how-to videos if you have completed a game. It is something new players or people look up to when they get stuck in a game; you can make a gaming video on YouTube by revealing all the game's secrets. Having trouble beating monsters in games annoys people.
For example, Bela was difficult to kill in Resident Evil Village. There was a video on YouTube showing how to beat opponents in the game, and I could beat them. Show users how to win and beat opponents by recording the games you love to play!
#4.Updates on gaming news
You can make a channel to share the latest gaming news and updates on different genres of games. As viewers learn about new games' basic information and ratings, they tend to watch these videos and also get to know about the latest games on the market.
I was eager to learn about the new FIFA 21, as I love this game. I couldn't wait until the date was announced, and I eagerly followed different Youtube channels to learn about the new features and elements. So this is another category to explore!
---
Part 2. How to Make a Gaming Video with Filmora [Step-by-Step guide]
As you think about your initial gaming video, all kinds of ideas come to your mind. Your raw recorded gaming video needs to be turned into a top-quality video once you have implemented those ideas. How will you accomplish this? With Filmora!
Video editing software for gaming just got a whole lot better with the new update to Filmora. It is the best platform for those who are not skilled at video editing. It is simple and easy to use; it includes several features, including themes, stickers, text, and more, to create the perfect intro for any occasion! Don't worry; there is a simple step-by-step guide waiting for you.
Let's begin with some eye-catching and unique features and steps for your inspiration to get your adrenaline running.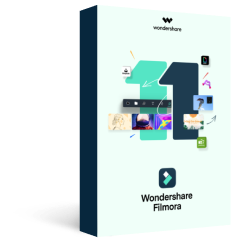 Key Features
Best video editing software for beginner and semi-professional, that comes with powerful editing skills like trimming, splitting, rotating, editing, etc.
500+ free special video effects to customize and create an awesome movie by yourself.
1000+ standalone effects downloading resources to make videos in all kinds of styles.
Record voice in real-time: you can have you voices recorded in realtime and instantly add them to the video files.
Step 1: Recording Game Videos with Filmora:
Gaming videos depend on how well they are recorded. You can record them with Filmora. This is how it's done: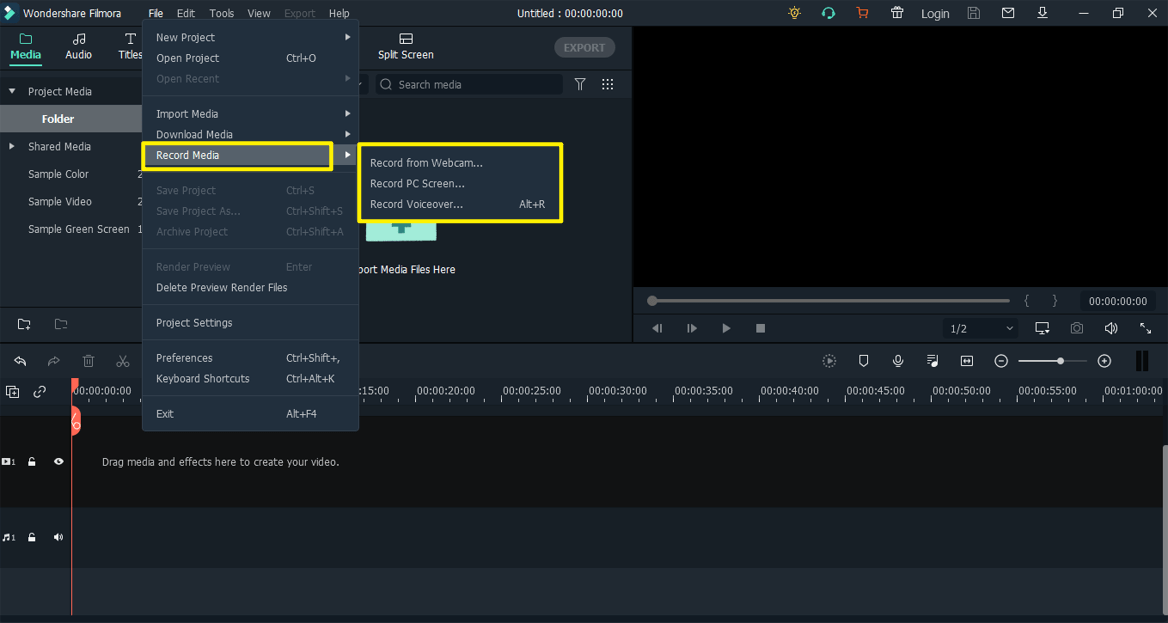 Recording can be done with a webcam attached; it also records the screen with voiceover!
Step 2: Import your recorded gaming clips
Now that the recording is done, it's show time. Add the gaming videos to Filmora's media library.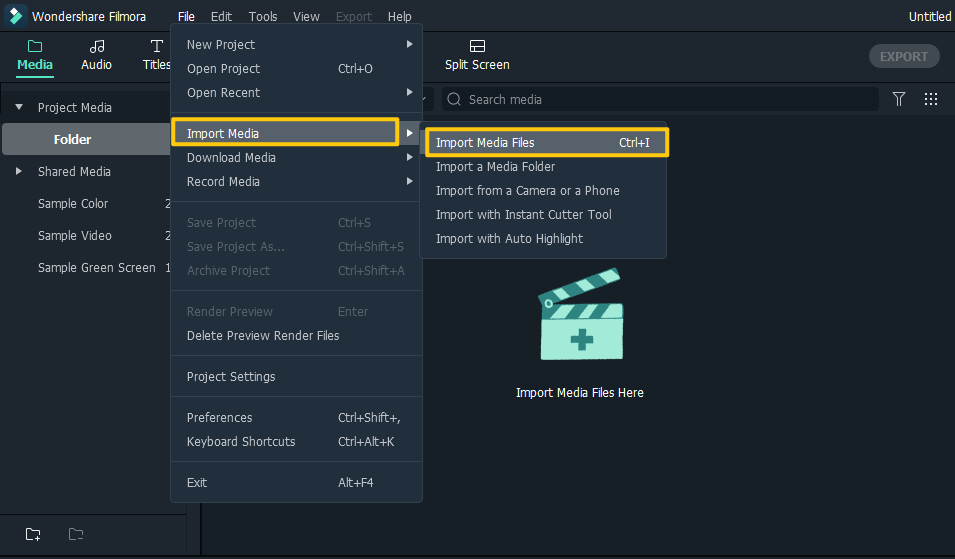 Step 3: Drag and drop the video onto the timeline
To edit the gaming video, drag and drop it onto the timeline.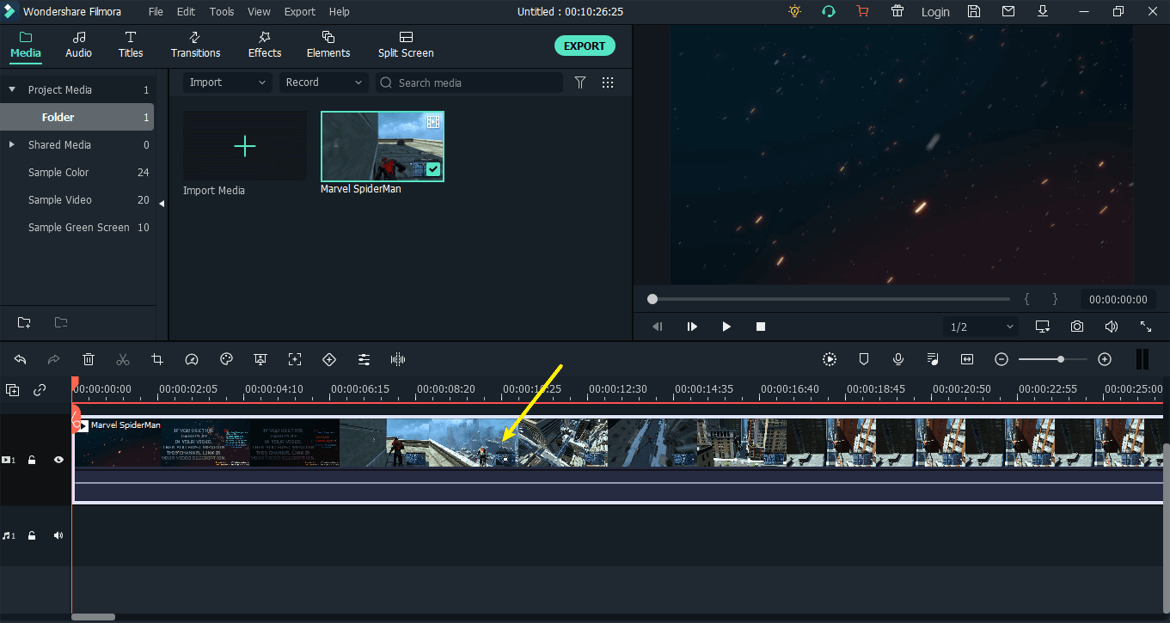 Step 4: Organize the video
Using the cut and trim tools in Filmora, you can break up a video into multiple parts. Once that's done, you can remove the unwanted parts of the video and amalgamate all the clips you want into one. All you need to do is click on the Scissor button to cut the clips directly.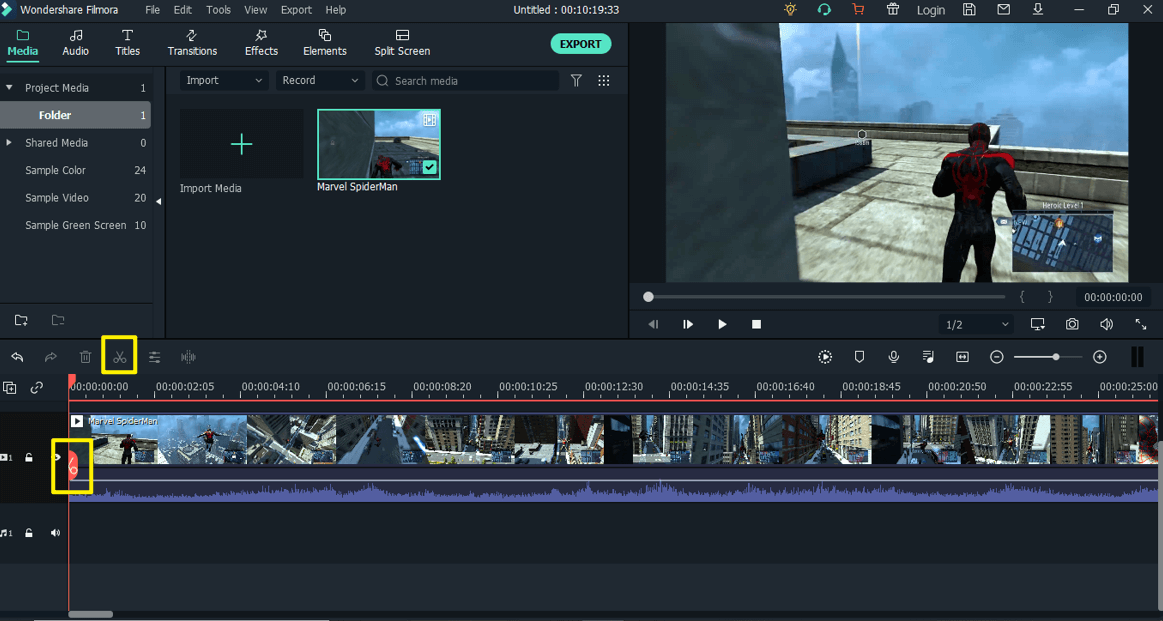 Step 5: Effects and Transitions
Using Filmora, you can add filters, motion, transition, and special effects to make your video more appealing.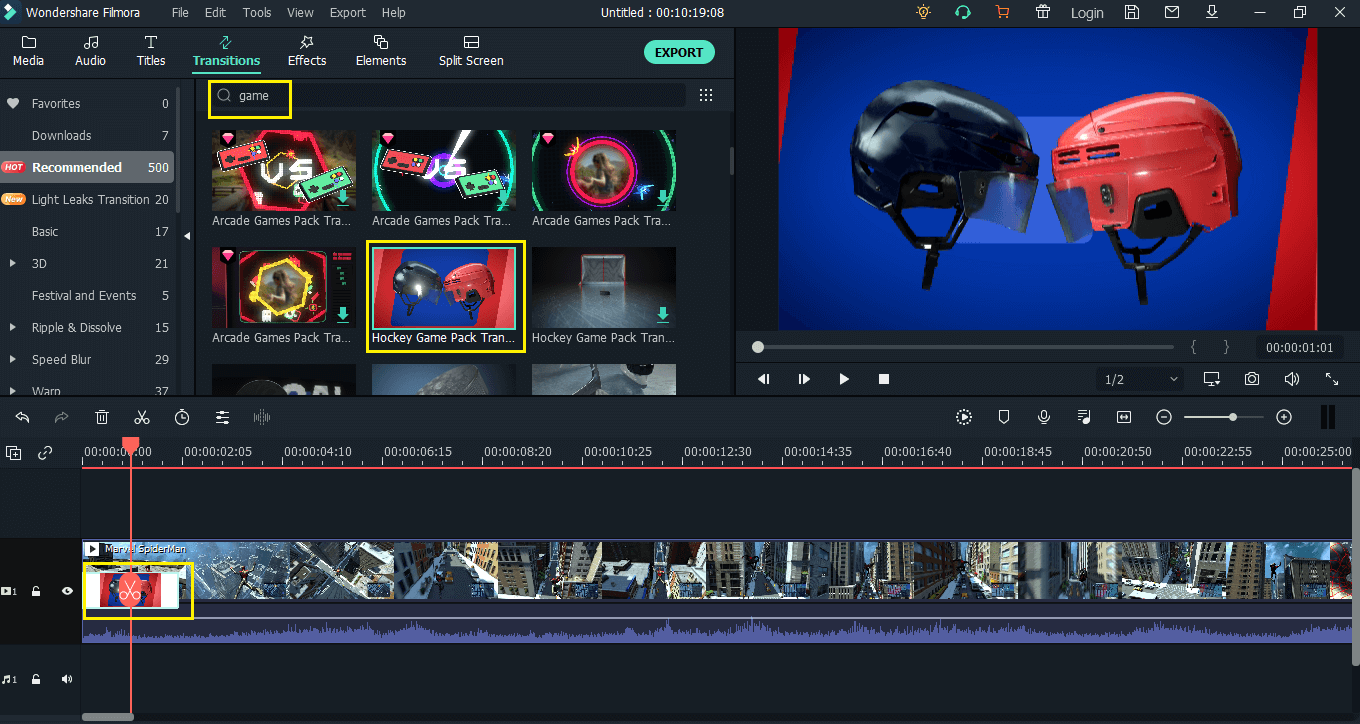 The transitions make this scene even more outstanding!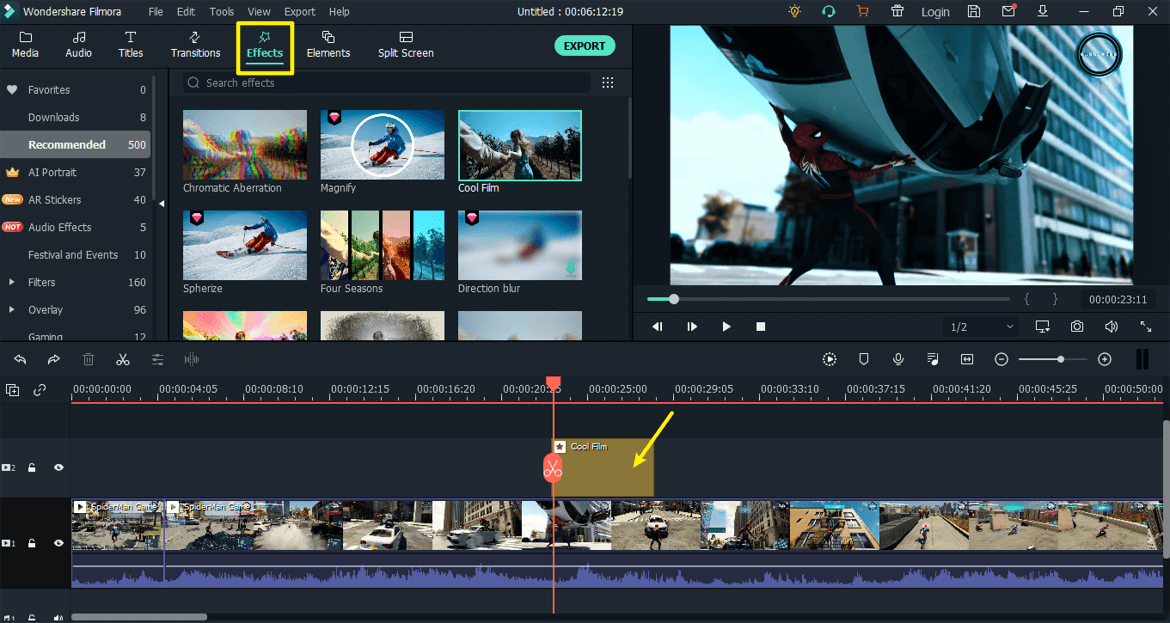 With the addition of one effect, this scene stands out!
Step 6: Add a title
The process of adding a title is easy, and Filmora offers many options. Select any title you like and add your video title over it!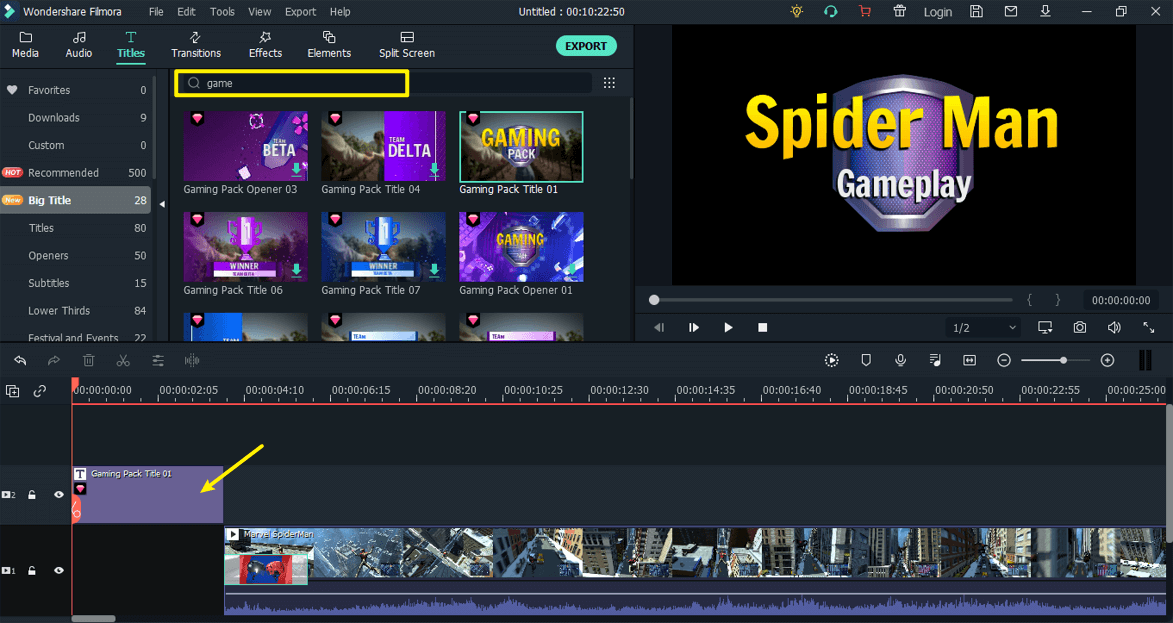 Step 7: Adding a beat
All seems done, but one thing remains. Gaming videos demand a substantial amount of beats that users like, which engage audiences. Certainly not to be missed.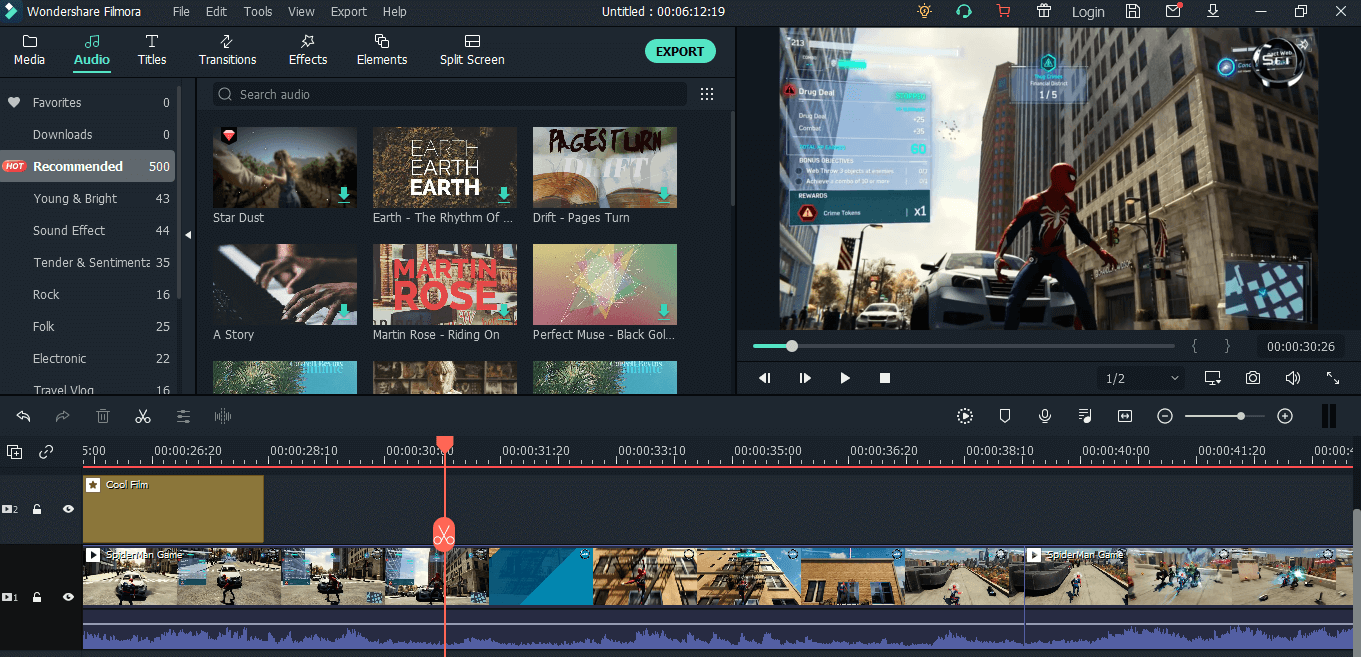 You can find tons of audio files on Filmora! In addition to Filmora Audios, you can add your own.
Bonus: How to Edit Video to Music with Beat Detection [Quick Guide]
The Filmora X "beat detection" is a fantastic feature to talk about in terms of music. The beat detection provides unique beats to your music, allowing your videos to flow together flawlessly. Don't miss this great feature!
Here's how to add beat detection!
Choose any music you want from the audio section. Before dragging music onto the timeline, right-click on it and select 'beat detection.'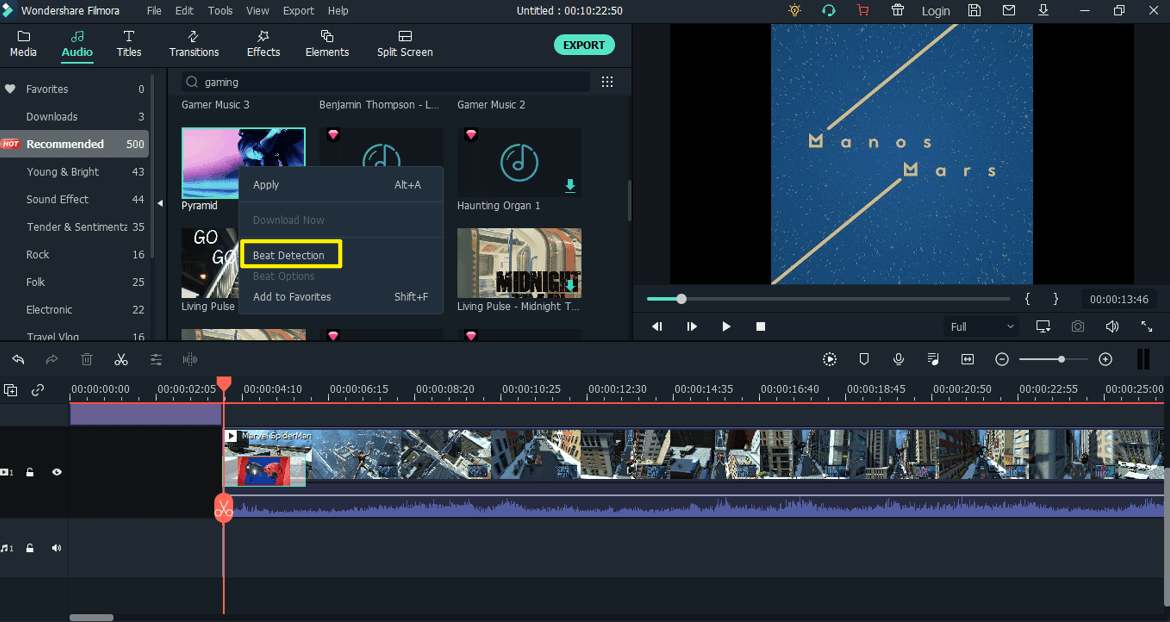 Once it's done, drag it onto the timeline! The red markers in the music indicate the downbeats.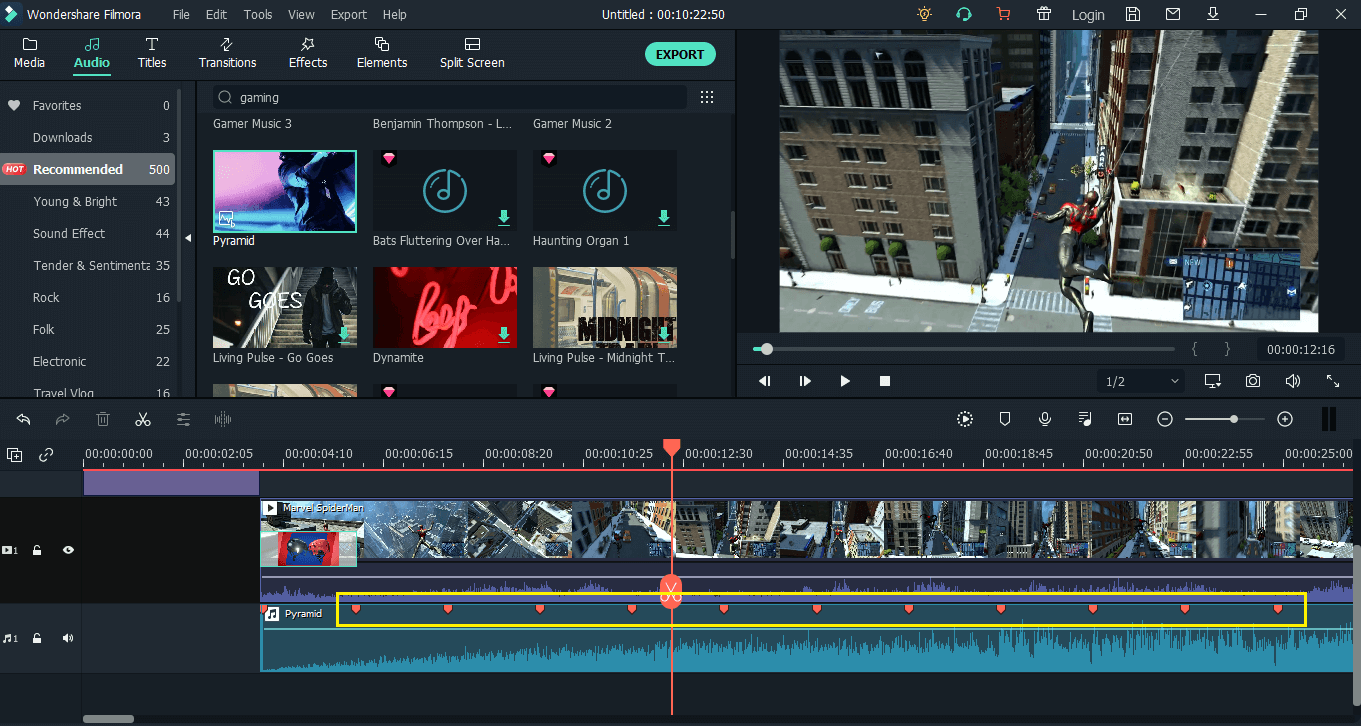 Suppose you also want upbeat music. Select the same audio and click "beat options." Unmark the option here, click OK, and drag the audio on the timeline again. Boom! You've got the upbeats too!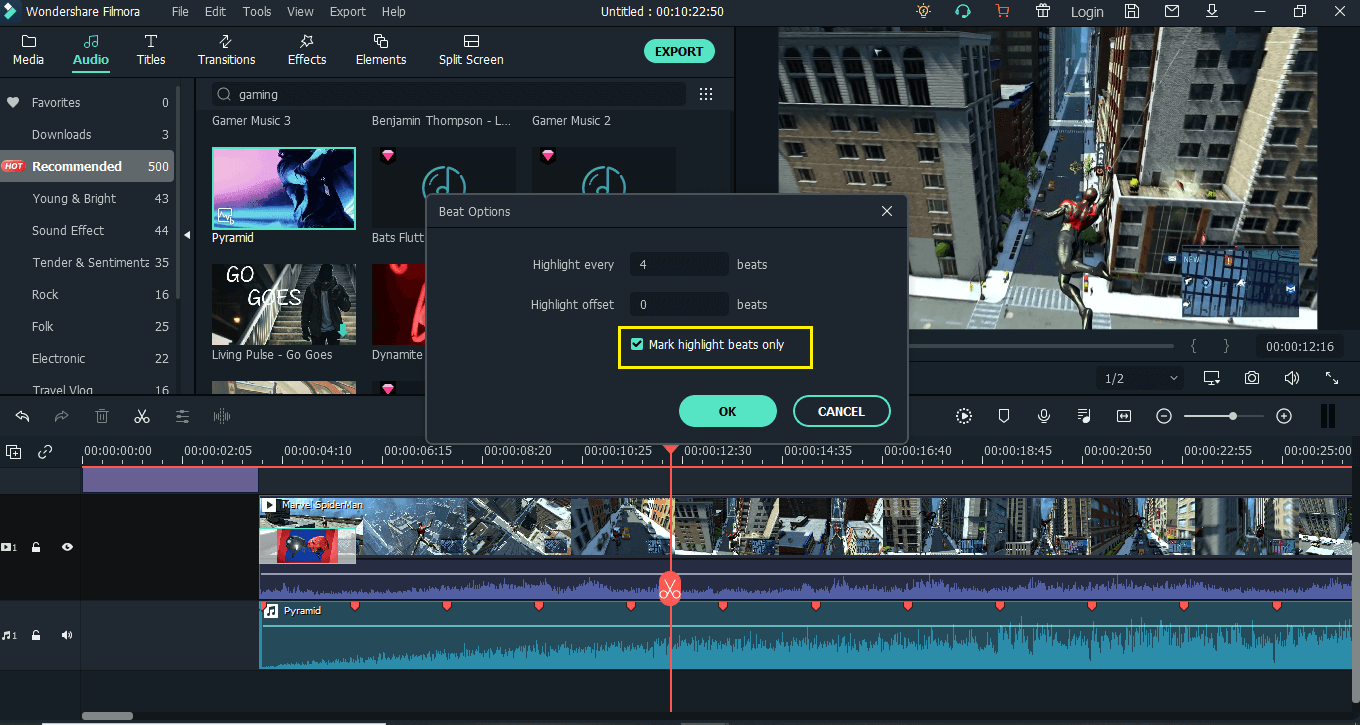 The blue markers represent the upbeats.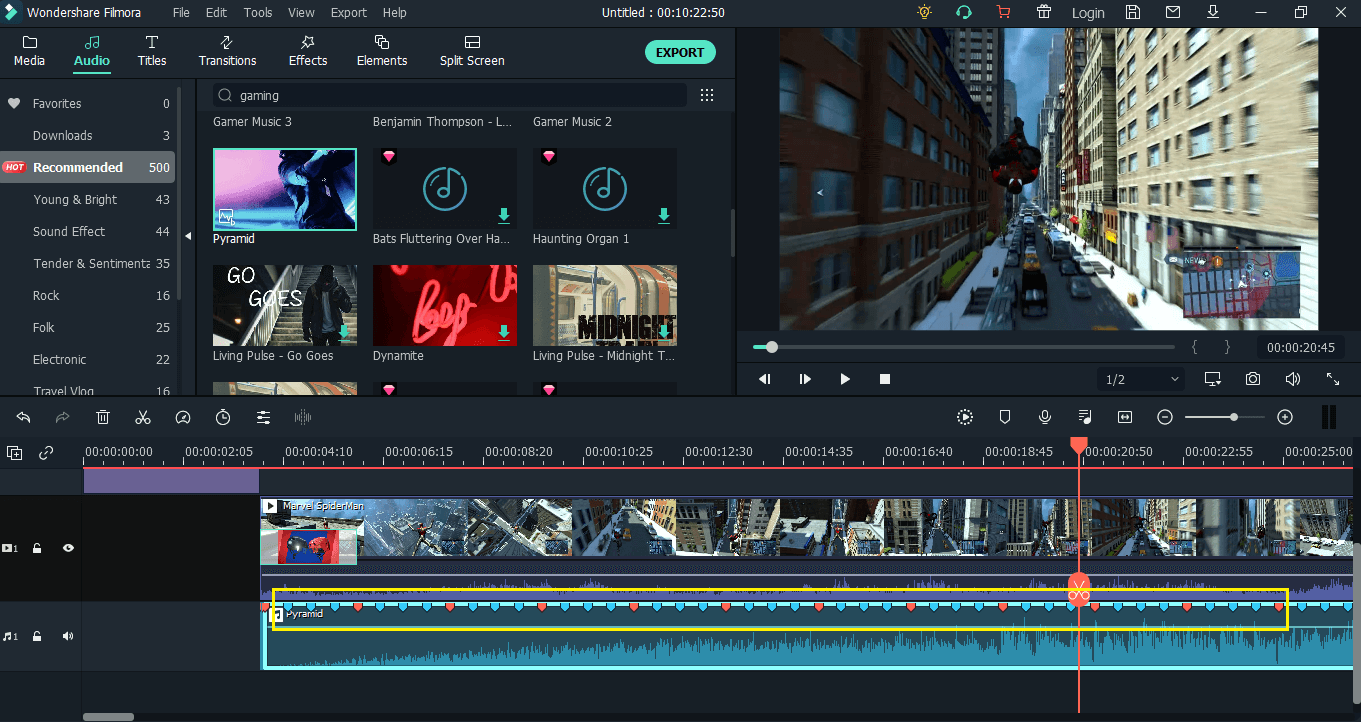 Step 8: Export the video
You can now export the video once you are satisfied with the video editing. You can then choose the specific output settings and set them to the desired output. Just wait until the input has been processed. Now sit back and relax!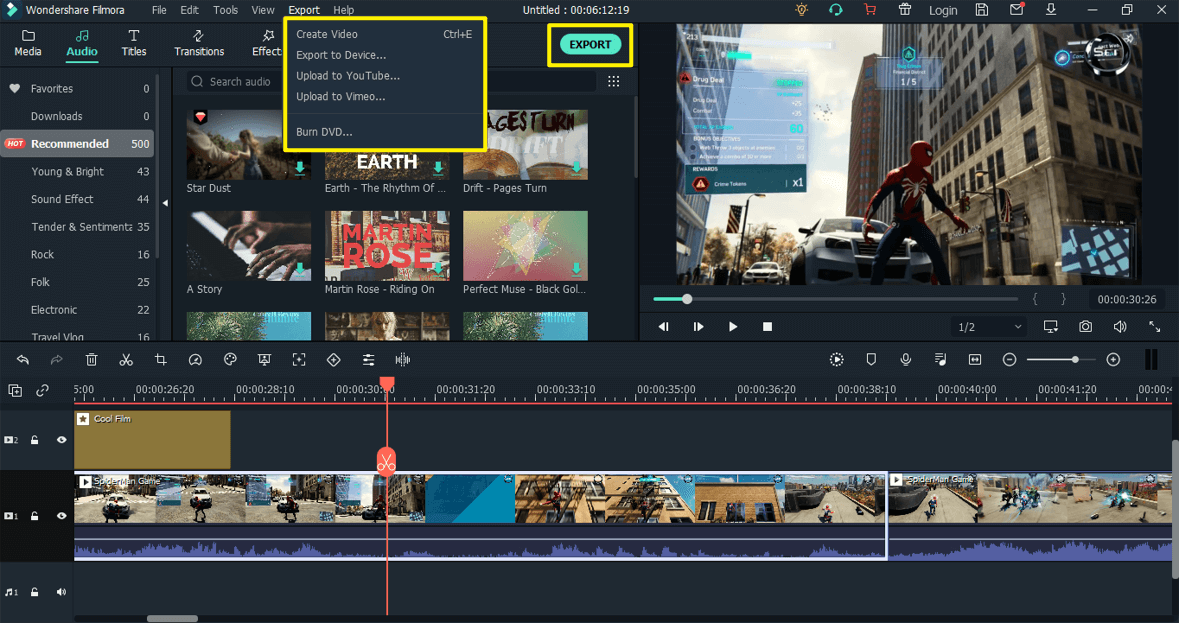 It's your choice whether you want to export video to your device or directly upload it to YouTube.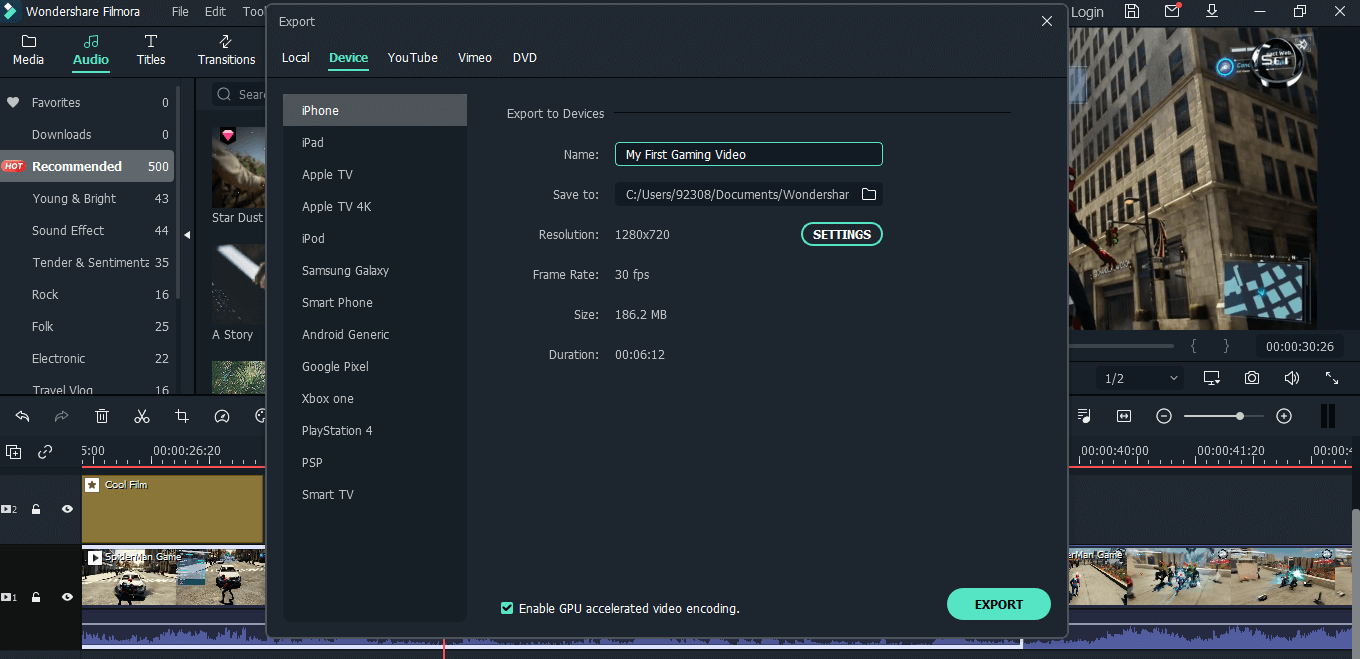 The final export - Congratulations on your first gaming video!
If you're interested in Filmora, watch the short clip below to learn more about its new amazing features. Then, start your journey of creating!
---
Part 3. Frequently Asked Questions
#1. Are game laptops good for video editing?
Video editing can be done on game laptops. If you're starting, you don't need to spend a fortune on equipment. There are lots of editing softwares that work well on most laptops. The best, however, would be Filmora X since most devices easily meet the system requirements for Filmora.
System Requirements: Intel i3 or better multicore processor, 2GHz or above. 4 GB RAM, Intel HD Graphics 5000, NVIDIA GeForce GTX 700.
#2. What do gaming Youtubers use to edit their videos?
Youtubers who upload gaming content have to spend many hours editing. Video editing software such as Filmora, Adobe, Final Cut, and others are widely used by Youtubers. A simple drag and drop interface makes Filmora perfect for newbies!
#3. How to get paid for gaming videos?
Youtube allow users to monetize their content so that they can get paid. When you are just starting out, you'll need to meet the basic requirements which vary from platform to platform. Following that, you'll be paid based on the number of views and other factors.
#4. How to make gaming videos on mobile?
Game videos can be made on mobile as well. All you've to play popular games, screen record them and then edit them. That's all. For recording different apps can be used. And for editing FilmoraGo App can be used.