A meme is a short duration video or a still photo with expressive emotions or message. Memes are used all over the internet to express happiness, sorry, joy, adventure and much more. Thus, it is confirmed that meme is a popular way for communication in all kinds of social platforms. But do you know how to make meme video edits on computer?
Now, if you have a meme with a certain quote but you want to change the quote written on it to express a different emotion. You need to edit the meme but this is not that easy as you think. Editing a meme would take you a little more time as short files are difficult to handle but if you have a video editing software for memes, then you would find it smooth.
In this post, you'll learn how to make & edit video mems on computer with different meme video editor software.
Now, let's check them one by one:
Part 1. Filmora Video Editor - Best Video Meme Editor or Generator for PC/Mac
Filmora Video Editor is a precisely configured software for professional and normal video files where you get all the tools on the timeline interface. It allows users to use 100+ different templates to create a video meme easily. This program will never let your memes be dreams! Now, let's check the detailed functions of the best video editing software for memes.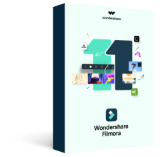 Works well as the combination of a video meme maker and video meme editor software. It provides users with 1000+ video effects to customize your memes in few seconds.
Comes with 100+ different text templates to help you add text to a video or photo as you like.
Freely split or cut a long video file to several parts, and remove unwanted files with 1 simple click.
You can export the editied memes to 24+ different formats, devices or upload and share it on YouTube, Viemo directly.
---
Steps on Editing Meme Videos on PC or Mac with the Best Meme Video Editor
Step 1. Download, install and launch Filmora Video Editor on your PC or Mac, then choose the ratio aspect and enter into the "Full Features Mode".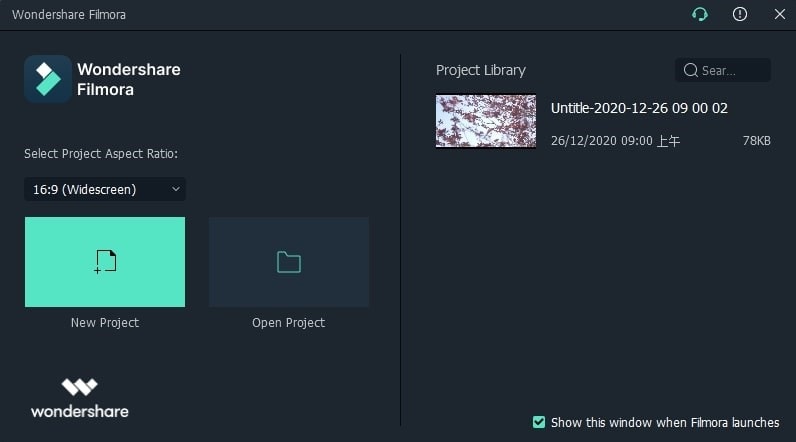 Step 2. Hit "Import" button to choose a way from its drop-down list to load the video memes into the media library.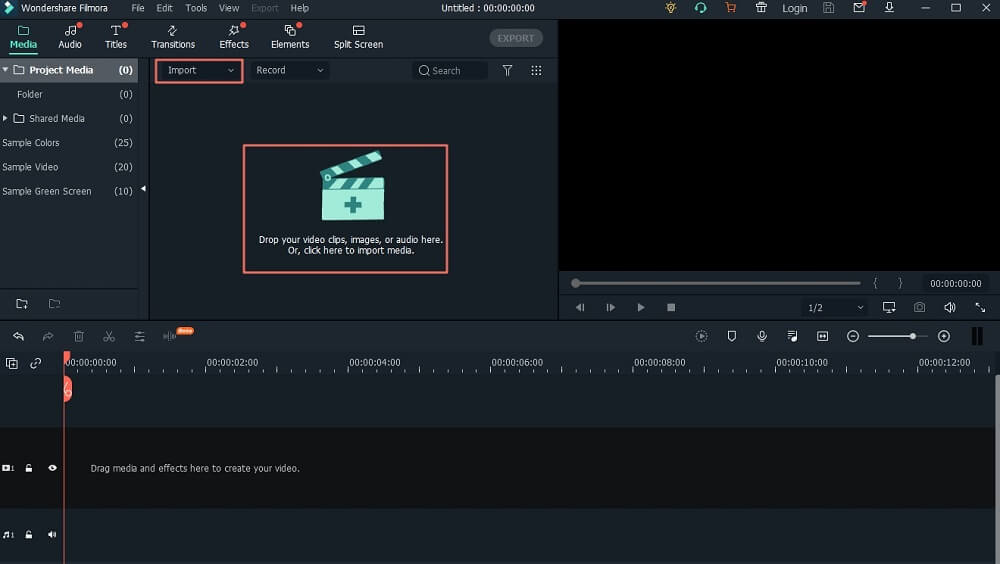 Step 3. Now, drag the meme video into the Timeline and then, you can edit the meme video as follows:
[Attention] If you can find the orginal video without any editing, then it is better for you to use it to create a meme video easily. If you can't find it, you can follow the below tutorial to edit your meme video.
- Overwrite Original Text
Click "Text/Credit" to choose a text template to overwrite the original text effect in the meme video. Then drag and move the new added text effect to completely cover the text area in the meme video. Here, you can type the new text as you like.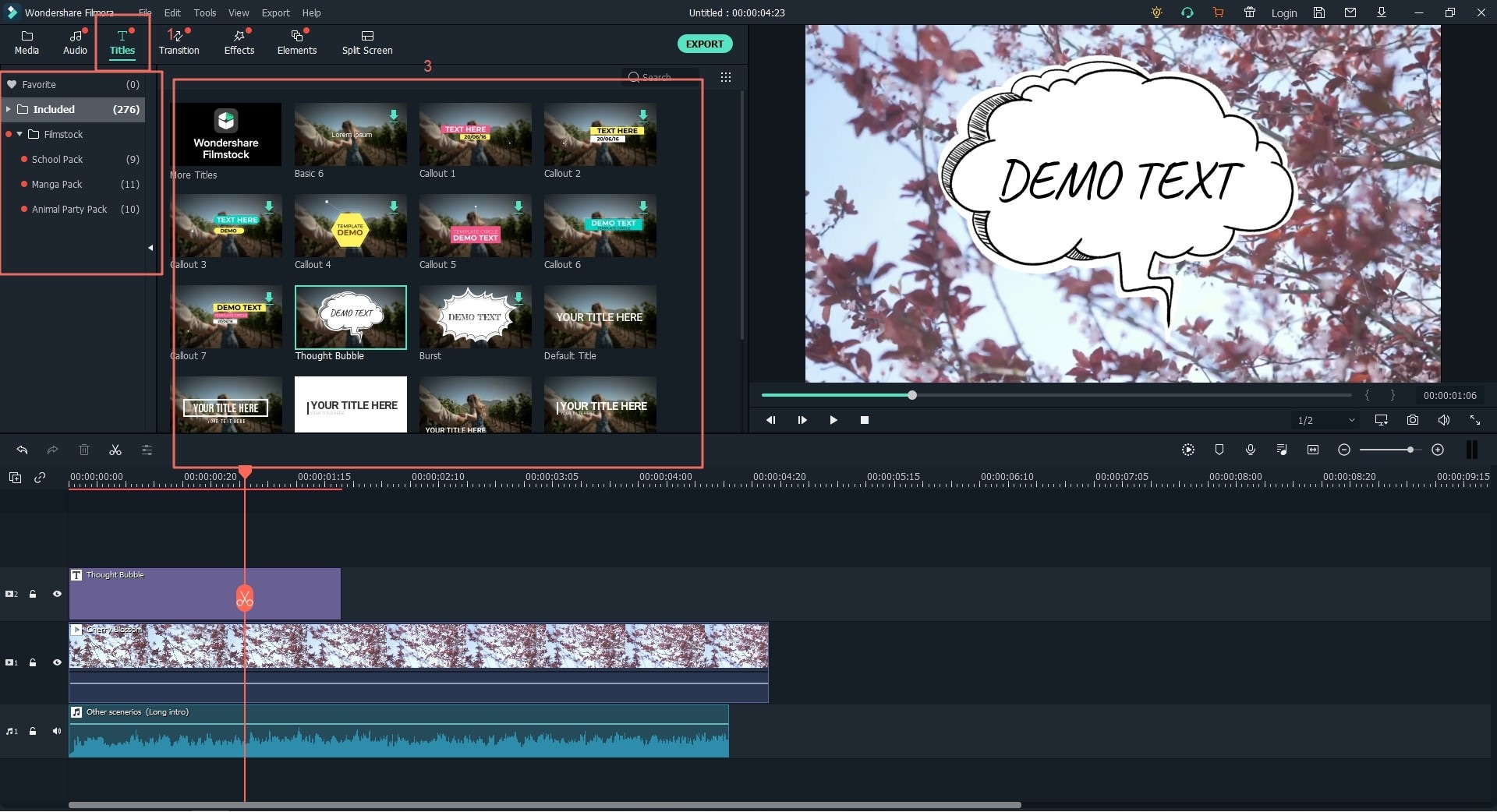 If you need to customize the text, or the text template cannot satisfy your needs, you can click "Advanced" button to customize your own overwrite text.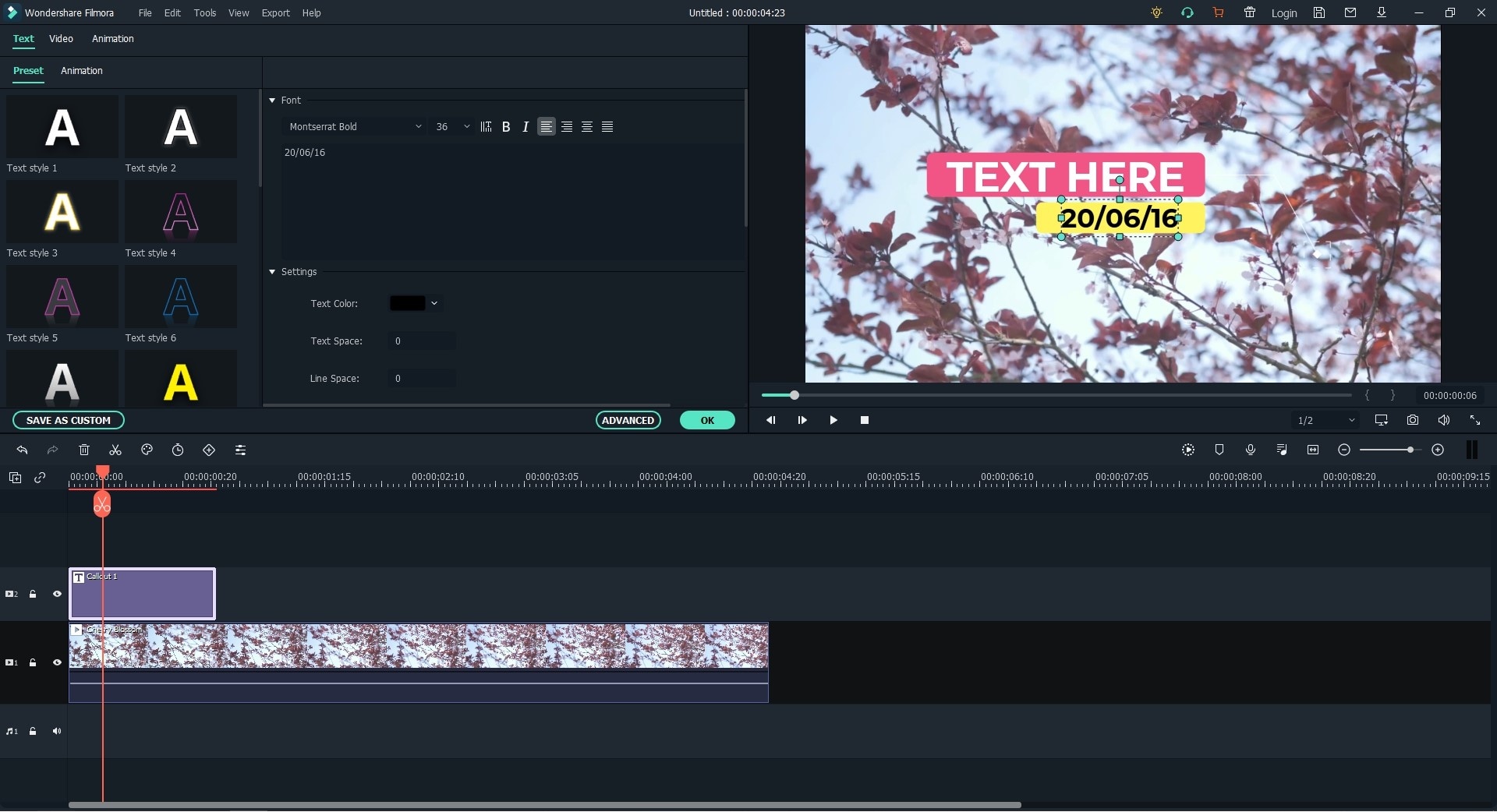 In the customization window, you can click the text, image, etc. icon to select a background picture, graphics, etc. to cover the orginial meme text. Then, type the words as you like. Here, you can click on the item you wish to change, and click "Color", "Effect", "Opacity", etc. to customize the text, background, etc. as you like. After that, click "OK" to save the changes and back to the main editing window.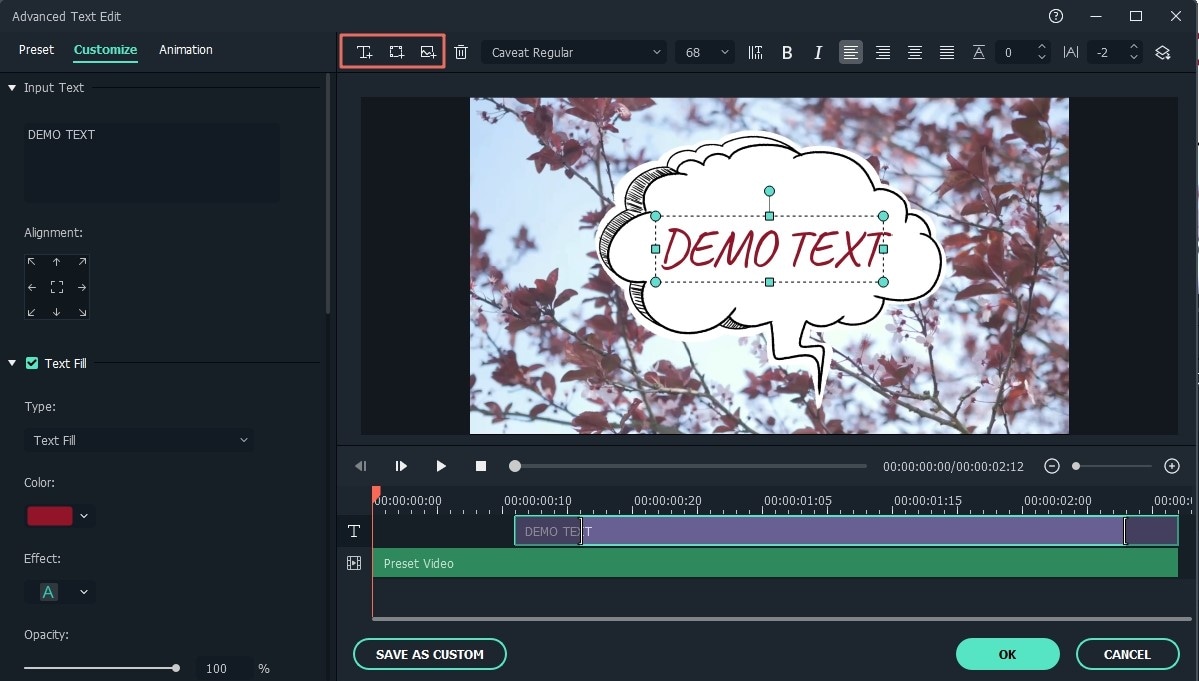 If you need to make further editing on the meme video, you can do it as follows:
- How to edit audio files completely
- How to add sound effect to videos
- How to add background music to a video
Step 4. When your meme video is editied, you can click Export button to save it as a specific format as you like. Then, you can share this new meme video on any social platforms as you like.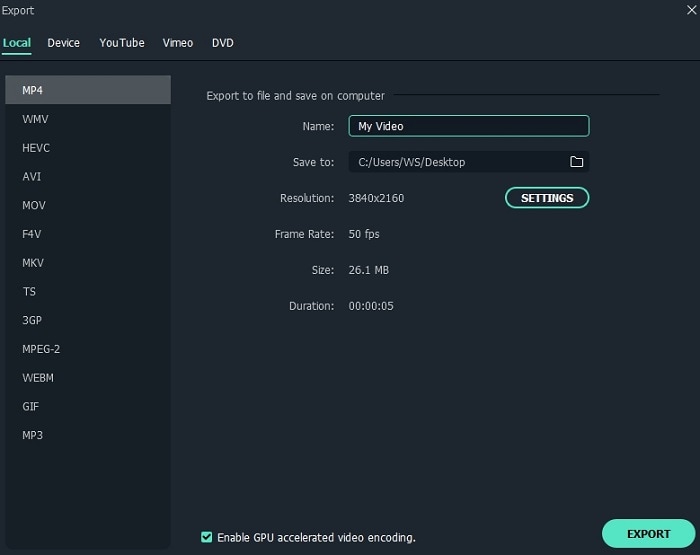 ---
Part 2: Top 4 Video Editing Software for Memes [Alternative]
#1. Movavi Video Editor
Movavi meme video editor is specially designed for people who want to share emotions through video easily. Easily create warm wedding videos, unforgettable birthday movies, fascinating travel clips, and family movies. It is a relatively affordable video editor that can create your meme videos with numerous built-in transitions, filters, preset titles, video, and effects. When making videos, the intuitive user interface and smart workflow are very easy to use. With Movavi's free downloadable video software, you can become the director of your own story. Click here and buy now.
Pros:
- The user interface is simple and intuitive.
- There are a lot of cool transition effects, filters, and preset titles inside the program.
- Faster video rendering speed.
Cons:
- Color grading tools are more basic.
- Unable to use copy and paste video effects.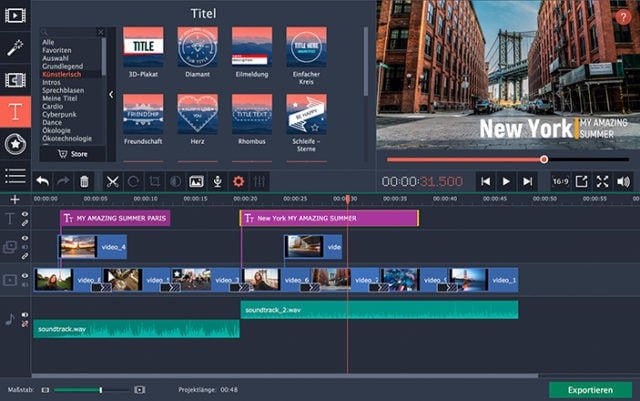 ---
#2. Pinnacle Studio
Pinnacle studio is great performance software that has several options beyond simple editing. It is a professional software in terms of quality and capacity with the range of tool it has. With it, you can create a time-lapse, stop-motion, slow-motion or fast-motion video without any restrictions. What's more, this program allows users perform 360 degree editing easily.
Pros:
- Pinnacle studio combines the storyboard and timeline workflows to increase the usability for the new and advanced users.
- Support almost all basic and batch of advanced editing needs you might meet in the digital life.
Cons:
- To use the function like 4K support, 360 degree editing, and video stabilization, you need to upgrade to the ultimate version.
- Comes with 3 different versions: standard, plus and ultimate. And it is sold from $59.95.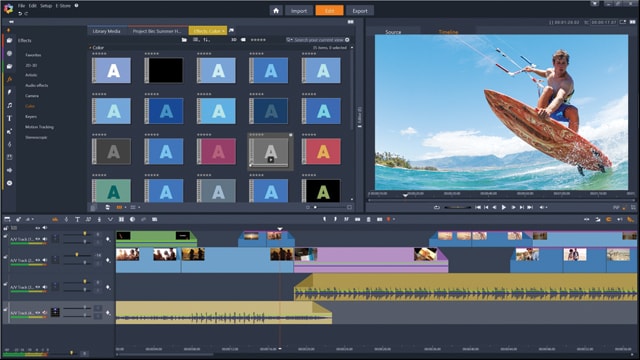 ---
#3. iMovie
If you are a Mac user and only need a tool to help you edit a video simply, then iMovie is the best program for you that is being consistently liked by the top users. With it, you can easily cut, crop, rotate and join your videos with simple clicks and it would help you better in meme video editing. And it supports all the formats on audio, video and images.
Filters and overlays are also supported by iMovie, you can use them to customize your video on Mac without any restrictions. And these special effects can help you create a eye-catching meme video simply.
Pros:
- You can add background music to make the video sound perfect in the frame.
- It enables you to add text and captions that surely helps in customizing the video.
- You can change the audio on the video and add another to it by default.
Cons:
- Something that disappoints is that it is only available for Mac and OS.
- You would face a little issue while importing the video formats on the timeline, such as app crash, dead, etc.
- Lack of some advanced editing skills.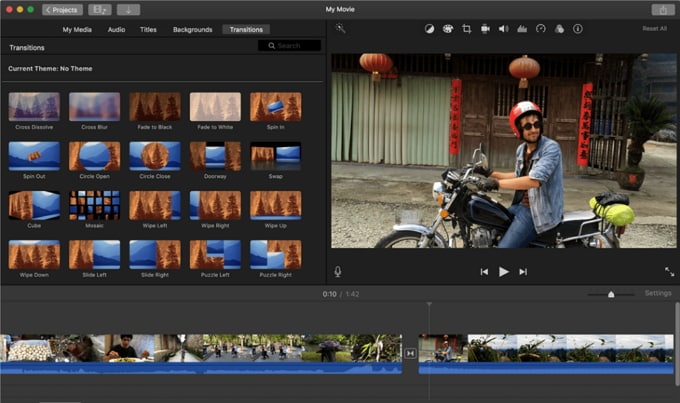 ---
#4. Openshot Video Editor
Openshot can help all of you edit meme videos to get some good experience over it. And it is a free program and supports almost all operating systems, including Windows, Mac and even Linux. With it, you can easily add watermarks, 3D effects, animations in the video, or trim, crop and slice the video in every way you want it to be. Moreover, you can also make your audio track visible on the video as waves.
Pros:
- Openshot is a free and good source of video editing that is available online for the community.
- This software always gets an update with time with a wide range of tool and transitions.
Cons:
- Many users complains that this program is easier to crash, freeze, etc.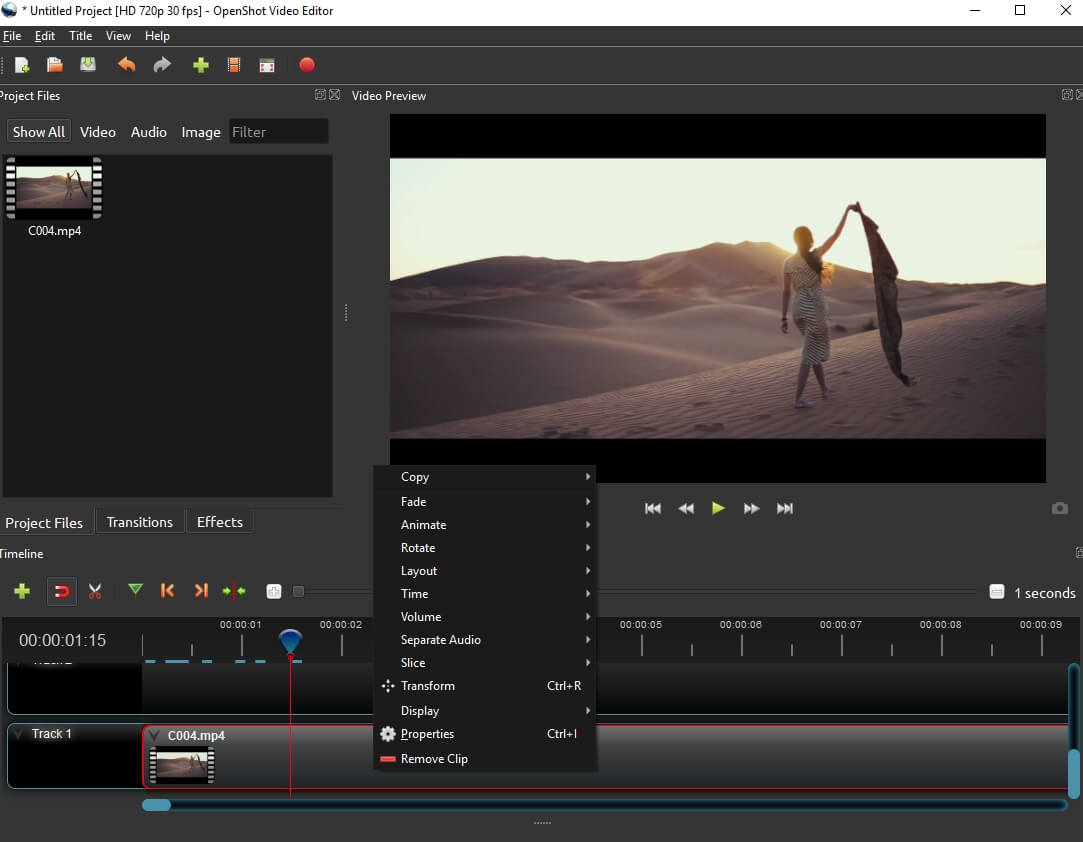 ---
Conclusion
Now, do you know how to eidt meme video by yourself?
If you have no idea about it, I could like to strongly recommend Filmora Video Editor or Filmora Video Editor for Mac for your reference.
Believe us, it will help you make your digital video life more exciting. And if you still doubt it, you can click the below icon to download this powerful program and take a free trial.