The internal storage of your MacBook Pro may not be sufficient enough that is why you need an external storage. So what offers extra storage for your workings? The best device to go for is external hard drive. These devices also act as a back up of your data files. Be smart and get one for yourself, but before that I need to give you the best external hard drive for Macbook Pro. Besides, I will also tell you how to recover files from external hard drive for Macbook Pro, helping you avoiding data loss.
Part 1. How to Recover Files from Macbook External Hard Drives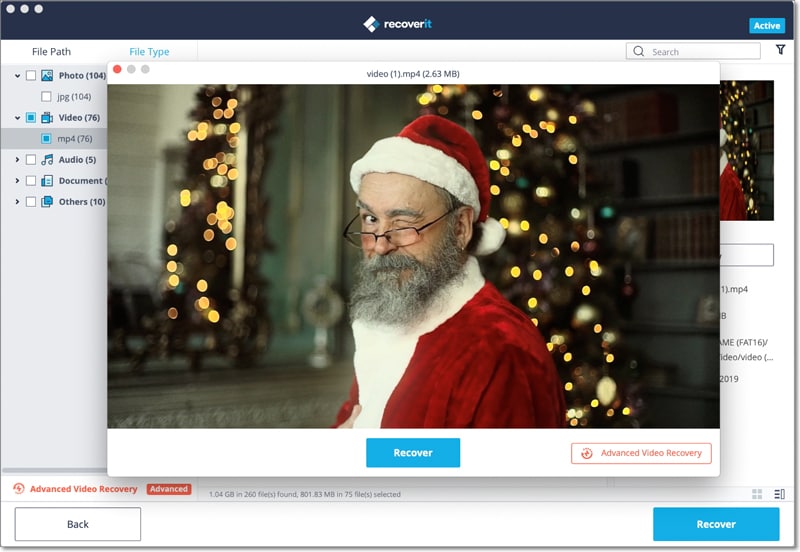 Despite the sleek features that these external hard drives for MacBook's Pro have, you can still lose data in them. One of the major causes that have been noted is when upgrading the system to Mavericks. In some occasion you can accidentally delete data that you have stored in it which calls for a data software recovery such Recoverit (IS) for Mac.
This program enables you restore all your file formats such as documents, videos, audios, photos emails from Apple devices including MacBook Pro. It also recovers data from digital cameras, media players, memory cards etc. You only require three steps to recover data using this software. Moreover you can preview what you want to recover.
Steps to Recover Deleted Photos and Videos from Macbook External Hard Drive
Step 1: First connect the external hard drive to your MacBook Pro. When you install and open the program you will see several file types on the main window. Please select the one you hope to recover and hit "Next" to continue.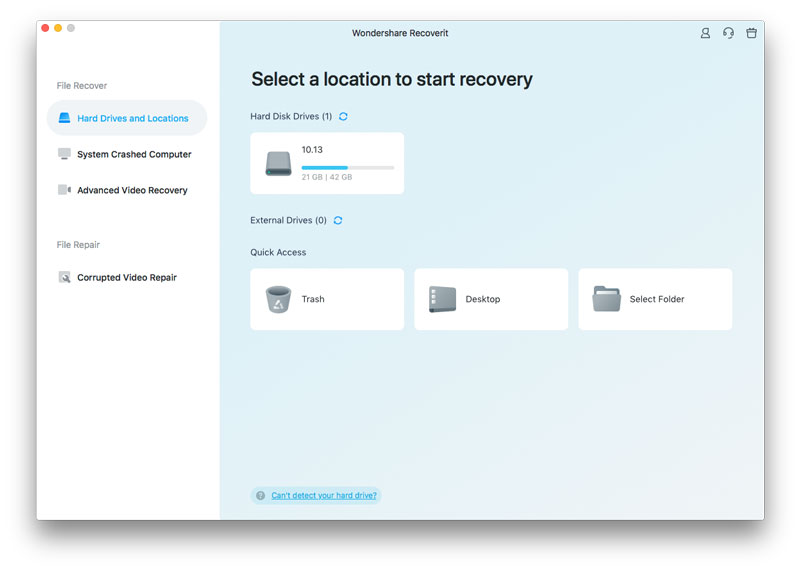 Step 2: On the next window click on your external drive. Click "Scan" to let the program starts searching lost data for you.
Step 3: You will preview the files when the scanning process is complete. Then mark them and click on "Recover". Choose a destination and save them. But if you don't find you lost data after the scanning process, you are supposed to select the "Deep Scan" mode and let the software to scan deep on your drive. In this way you will get more recovered data.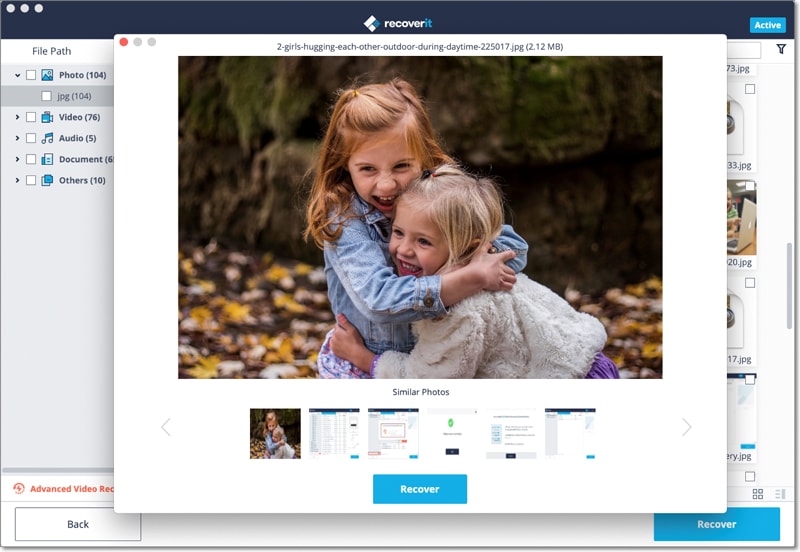 With Recoverit (IS) you can easily and securely recover data from any kind of your external hard drive for MacBook Pro.
---
Part 2. The 5 Best External Hard Drives for MacBook Pro
In order to get the best hard drive for your MacBook pro they are a lot of factors to consider. Despite going for big brands you should also look at the affordability in relation to capacity. Also look at the reliability of the HDD, get something that is USB powered so that you don't need to carry the charger wherever you go. Also look at the write and read speed of the hard drive. Do not compromise the warranty because you may need to replace these gadgets. With that in mind let's choose the best portable external hard drive or Macbook Pro.
1. LaCie 5Big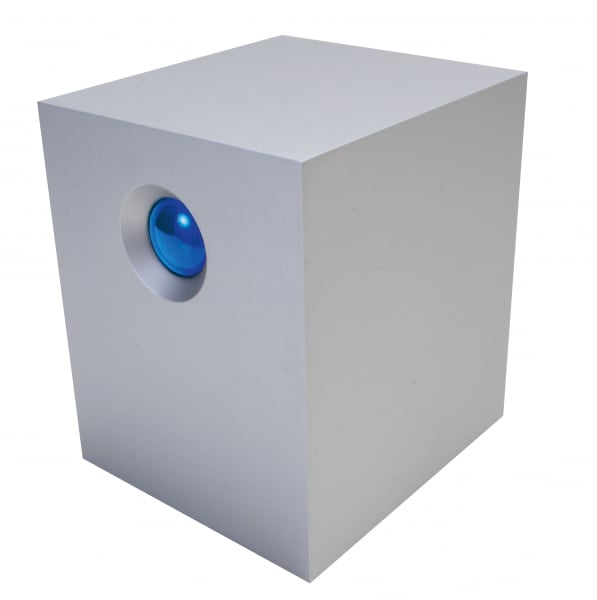 This external hard drive is one of the fastest hard drives that you can have. It boasts of a write speed of 677 MB/s and read speed of 645MB/s. Its massive storage will blow your mind. Within a single raid it has a capacity storage of 20TB. LaCie 5Big goes for about $2000. If you are that kind of person who needs a crazy storage to edit your videos then this hard drive to go for. Moreover, LaCie 5Big derives its name from the five big drives that it has.
Pros:
● It has dual thunderbolt ports.
● Has whisper quiet fan.
● It has five drives.
● Easy thunderbolt interface
Cons:
● It is expensive as compared to other external drives.
● It lacks 3.0 USB connectivity and eSATA.
● It requires external power supply.
---
2. Apricorn Aegis Padlock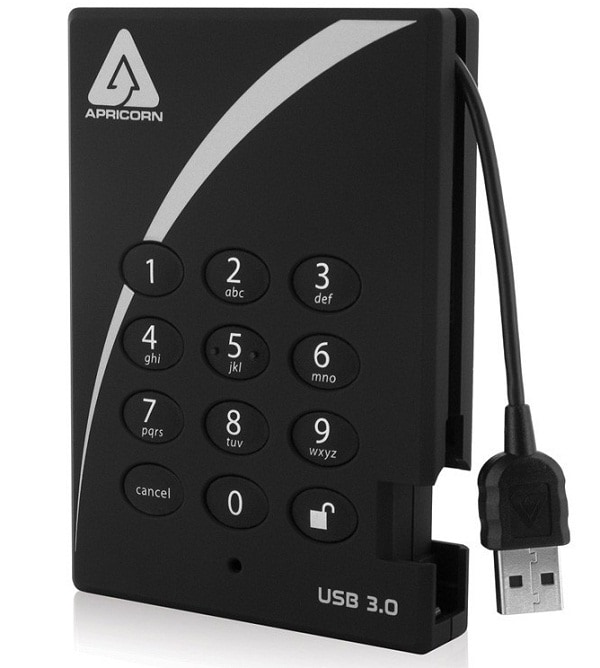 This 3.68-ounce hard drive is taking the world of hard drives to another level with it lock buttons. It has a ten-digit keypad that enables your lock your data. This security is also applicable in its rugged drives. Its connectivity is USB 3.0. a 480GB of this Apricon Aegis Padlock goes for $799 which is relatively expensive for external drives despite its amicable speed.
Pros:
● It is fast in performance and easy to use.
● It has a security keypad.
● It has a rugged framework.
Cons:
● It only has the USB 3.0 connectivity.
● It is costly.
---
3. Seagate Backup Plus Fast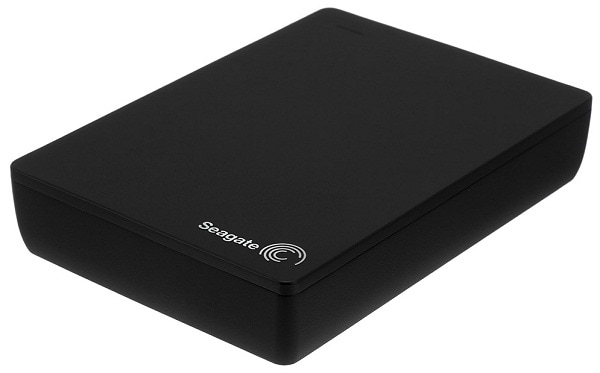 Seagate Backup Plus is also the best companion for your MacBook Pro. It is a portable hard drive with USB3.o connectivity that also powers this hard drive. It has a write speed of 212MB/S and 235MB/S Read speed. A 4TB of Seagate Backup Plus will only cost you $270.
Pros:
● It is speedy.
● It is cheap.
Cons:
● High risk of failure due to its RAID 0.
● It is heavier as compared to other Drives.
---
4. Promise Pegasus R4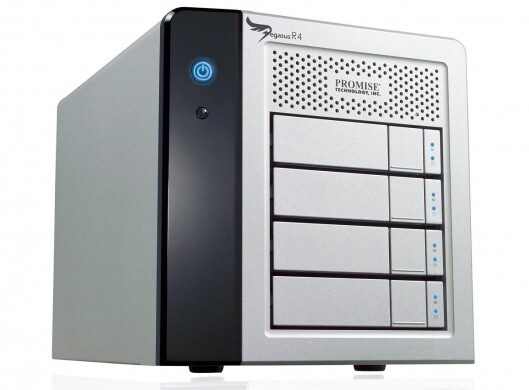 If you looking for a hard drive that comes with HFS + format then settle for Promise Pegasus R4. It is compatible with your MacBook hence no need of formatting. It speed rates of525MB/S read and 630MB/S write also comes in handy to its excellent performance. It has four drives each with 1TB.
Pros:
● It supports multiple RAIDS that is 50, 6, 5,1.
● It has two speedy thunderbolt.
● It has an internal power supply.
Cons:
● It lacks USB 3.0 and eSATA connectivity.
● Its capacity is limited as compare to other brands.
---
5. Western Digital My Passport Pro 4TB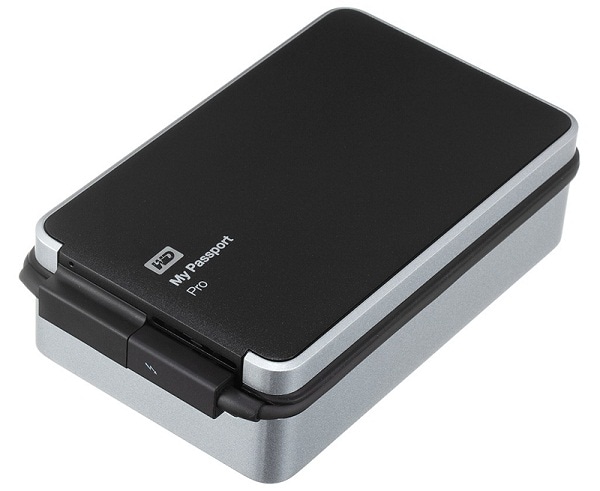 Although western Digital My cloud work with both Mac and windows, it is best when use it with mac such as MacBook Pro. This kind of hard drive comes with a huge capacity of 4TB at $430. Its speed rates range at about 640MB/S thus records a good performance. It has both thunderbolt and USB 3.0 connection.
Pros:
● It has a bus power supply. ● It offers a large storage. ● It is fast.
Cons:
● It is heavy and bulk. ● It has a noisy cooling.